Many people enjoy the rejuvenating effects of a steaming hot shower. It's a moment of indulgence when we can forget our worries and simply enjoy the water massaging our bodies. Except when the shower only produces a disappointing trickle due to low water pressure.
If this sounds familiar, what you need is a special shower head that can restore power to your shower, despite the problem of pressure. For anyone looking to buy one, here are our top picks for best shower head for low pressure to put the enjoyment back into showering.
Aqua Elegante High Pressure Shower Head
This is a simple but highly effective solution for giving your shower a power boost if your water pressure is low. And, It sells for a very reasonable price.
The Best Shower Heads For Low Water Pressure of 2022
1. Aqua Elegante High Pressure Shower Head (

Our Top Pick

)
This is a wall-mounted shower head with a 3" diameter. It is made of durable materials and is built to last, featuring a thick layer of tough ABS thermoplastic resin that is certified as being BPA-free.
It has a chrome ABS body and the fittings are made of brass, meaning they will resist corrosion and won't crack or start leaking like shower heads made of inferior materials.
The head itself boasts 42 jet nozzles that resist the build-up of calcium and other minerals. This is important for maintaining strong water power when the pressure is low since mineral-build-ups can block the flow – especially in hard water areas.
The nozzles are also self-cleaning. This way, maintenance is kept to a minimum and you won't need to resort to using any chemical products.
Most importantly, this compact shower head will help increase the power generated by your shower, even with low water pressure. This would be a great replacement for a regular shower head that can only give you a light trickle of water – you will notice a big improvement.
It also comes with a flow restrictor. If you find the power of the spray too high or you want to conserve water, you can leave it in place, but if you prefer maximum power, you can remove it to increase the flow of water.
This is useful because after installing this shower head, you may decide the power is too intense, and the restrictor gives you a way to control it.
This shower head is extremely easy to install. It comes with the necessary Teflon tape as well as some very clear illustrated instructions. Most people will be able to fit this shower head and be ready to go in a matter of only three minutes or so.
Finally, we also think it looks great and will add to the overall look of your bathroom. It is compact and unobtrusive, and it's even available in a choice of four different colors, allowing you to pick one that best matches the décor of your space.
Overall, this is a simple but highly effective solution for giving your shower a power boost if your water pressure is low. It sells for a very reasonable price and is a great option if you are looking for an inexpensive and easy-to-install shower head for an improved shower experience.
2. YOO.MEE High Pressure Handheld Shower Head for Low Pressure Water
If you are looking for an affordable way to enhance the water flow in your shower, this shower head from YOO.MEE could be worth a look.
Even in homes where the water pressure is extremely low, this model will give you an impressive increase in water power.
It is a handheld shower head that can also be used as an overhead shower in a bracket. It comes with a long 79" stainless-steel hose that is rust-free and made to last, and it also features brass connection fittings that are designed to resist cracks and leaks.
The bracket and the shower head itself are made of high-strength ABS engineering-grade plastic – the whole unit is built to last. The shower features a brushed nickel finish.
The silicone rubber jet nozzles are designed to resist the build-up of any calcium or other water deposits, which helps maintain the water power. Otherwise, power could be lost as deposits begin to block the holes.
The nozzles are also easy to clean and maintain. You can clear them of deposits as they begin to form simply by rubbing them with your fingers.
This means you won't have to resort to using any chemical cleaning products, and keeping the shower head in optimum condition requires only minimal effort.
It also includes a flow restrictor, giving you a way to limit the flow if you find it too powerful or simply want to reduce your water consumption and lower your water bills.
We also like the way this shower head offers you three different spray options. You can choose between Powerful Shooting mode, Pulse Massage mode and Mixed mode, allowing you to customize your shower experience to the way you like it.
Installation is quick and easy, and the pack includes washers, Teflon tape and everything else you need. By following the clear instructions, you will be able to have this fitted yourself in no time.
We like this shower head because it is highly effective at what it does, namely turning a low-pressure water supply into a high-powered water spray. If that's what you need and you also place importance on getting great value, then this is an option that's well worth checking out.
3. NearMoon High Pressure Shower Head
If you are looking for a touch of luxury in the form of a rain-style shower head while at the same time resolving the issue of low water pressure, this is an option you will be interested in.
Rain-style shower heads can turn shower time into a moment of indulgence, but if your water pressure is too low, the tiny trickle of water your shower produces will be nothing but a disappointment.
If that sounds like a familiar problem, this shower head could be the answer. It boasts a 6" shower face with 60 food-grade self-cleaning silicone nozzles that prevent the build-up of hard water deposits, maintaining the powerful flow of water.
We love the stylish and elegant ultra-thin design – and the whole thing is made of stainless steel, meaning it will last much longer than lower-quality plastic shower heads. It is designed to be leak-proof and rust-resistant, and you should be able to enjoy it for a long time to come.
It is also extremely easy to fit. Installation is a simple two-step process and should take no longer than around five minutes. Everything you need is in the box, and we love the way it even includes a mini wrench, the only tool you'll need.
It also includes one extra filter gasket, which extends its lifespan even more.
If we have to find faults with it, we might say that there are no spray adjustments, so you can't choose, for example, a massage mode – but that's not something this shower is designed for, and most people will be content with just the one rain mode.
Also, we could complain that it's slightly loud. However, this is simply due to the size of the shower head and the amount of water coming through, and it's something that's easy to put up with.
Overall, we love this shower head for its ability to generate such impressive power – even from water at low pressure – as well as the luxury this type of shower allows. If you want a rain-style shower but have an issue with low water pressure, this could be an obvious pick.
4. JACS High Pressure Shower Head for Low Water Pressure
This is a wall-mounted shower head designed to increase spray power if your water pressure is low.
It is a well-made item. The body is made of heavy-duty ABS plastic with a chrome finish, and it features brass threads that are designed to resist corrosion and damage.
The shower head itself has a diameter of 4", and it incorporates 64 silicone jet nozzles that disperse the water evenly. This helps avoid the stinging feeling some other high-powered shower heads can create by concentrating the water spray into needle-like jets.
The nozzles are self-cleaning and are designed to help keep the water flowing freely. The shower head is also anti-leak and anti-clog, helping to ensure it remains in optimum condition.
It is resistant to rust, calcium build-ups, lime build-ups, build-ups of hard water deposits and all other kinds of minerals. The pack also includes a hard water filter, all of which ensures your shower experience is as close to perfect as possible.
We like the five different spray modes it offers. You can choose between Pulsating Massage, Power Mist, Rain Massage, Power Rain and Rain Mist, allowing you to replicate a spa-like level of pampering in the comfort of your own bathroom.
It's also very easy to fit. Everything you need for installation comes with the shower head, including a roll of plumber's tape. You can have it installed without the need for professional help in a matter of minutes.
To summarize, this is an affordable option that will help give you a much more powerful shower, even if you have problems with low water pressure.
It is stylish and will look great in any bathroom – and it also comes with a money-back guarantee, making it a risk-free purchase. This is another solid pick that should be worth a look.
5. Aqua Elegante 6 Function Shower Head for Low Water Pressure
This is another shower head from Aqua Elegante that boasts many of the features that made the one we looked at above a great option – but this model also boasts some additions that make it an upgrade pick.
As with the first version, this shower head has a thick layer of ABS thermoplastic resin that makes it tough and durable, meaning it can easily stand up to daily wear and tear while resisting rust and corrosion.
It also has a brass connection fitting that won't crack or split, ensuring that it remains in perfect working order and that you don't lose any water pressure through leaks.
It features the same mineral-resistant silicone jets that prevent deposits of calcium or minerals from forming and blocking the flow. The nozzles are also self-cleaning, meaning that with this shower head, maintenance will be minimal.
Installing this shower head will help increase water power, even if your water pressure is low, just like with the other model, but what sets it apart from the first model we looked at is the six different spray modes you can choose from.
It offers Saturated mode, Slow Flow mode, Massage mode, Mixed 1 mode, Mixed 2 mode and a Pause mode. These options allow you to customize the water flow so you can enjoy a spa-like shower experience without needing to leave the house.
We like the large shower head and we also like the style. It will bring a modern, contemporary feel to your bathroom, enhancing the aesthetics and adding a touch of class.
It comes with a clear instruction manual and everything you need for installation – including Teflon tape to help ensure it has a watertight seal.
It includes a flow restrictor, allowing you to increase or reduce the water flow as required, and it also has a five-year guarantee, giving you complete peace of mind that you will be able to use this shower head hassle-free for a long time to come.
This is a slightly more expensive option than some of the other picks in our review, but we think it still represents great value for money.
If you want a reliable, good-quality shower head that will help improve the power of the water in your shower as well as giving you a range of spray options – and you don't mind paying just a little extra for it – then this could be just the shower head you're looking for.
6. High Sierra's All Metal High Efficiency Low Flow shower head (

Upgrade Pick

)
This high-quality shower head from High Sierra is another upgrade pick that will help increase spray power in your shower if your water pressure is low.
It will also help conserve water, saving up to 40% and reducing your water bills at the same time. It is so effective that it has received Water Sense certification. If you care about the environment – as well as your monthly outgoings – this could be worth a look.
While it is more expensive than many of the other options in this review, it features solid metal construction, meaning it will far outlast cheaper plastic shower heads that you might be tempted to buy at lower prices.
It's also available in a choice of four different finishes, chrome, brushed nickel, oil-rubbed bronze or polished brass, allowing you to choose the version that most closely matches the style of your bathroom.
In terms of spray, it produces a full, powerful jet of water consisting of large droplets which are comfortable and pleasant on the skin. It is able to do this due to its award-winning patented nozzle.
This nozzle is also designed to resist mineral build-up, ensuring the power of the water will remain unchanged, even after prolonged use. It is naturally anti-bacterial, too, making it a hygienic choice for you and your family.
This product is made in the USA, and the company is so sure of its quality that they are willing to back it with a 30-day money-back guarantee – meaning if you aren't completely satisfied, you can simply send it back for a refund. It also comes with a two-year warranty.
All in all, this is a shower head that will appeal to people who like a high-quality product that does its job extremely well and who don't mind paying a little extra for it. If that sounds like you, this is a shower head that should be high on your list of possibilities.
7. Fire Hydrant Shower Head for Low Water Pressure
This shower head is designed as a solution for households with low water pressure. It is a simple, no-frills option that will give you a much more powerful shower without any of the unnecessary clutter that comes with some other similar shower heads.
It is sturdy and built to last and features a solid brass ball joint that allows you to choose the angle of the water.
Installation is a breeze. It should be no more complicated than unscrewing your old shower head and screwing this one on in its place. This unit also comes with Teflon tape to help you establish a watertight seal.
On the downside, for some people the aesthetics might be a little hard on the eye – this is perhaps the kind of item for people who place functionality above prettiness in their list of priorities.
However, if you are looking for a simple but effective solution to your low water pressure issues, this is another option that should be worth considering.
Buyer's Guide
If you're interested in purchasing a shower head for low pressure, you're probably wondering about some of the features to look for when choosing. Let's think about some of these now.
Pressure
The first thing you should look at when choosing a shower head to resolve the issue of low water pressure is how well it actually performs this function.
Many shower heads claim to be able to give you a strong jet of water, even with low water pressure, but not all of them quite deliver. For this reason, make sure a shower head can do what it promises before you look at any other features.
Style
Low-pressure shower heads come in a range of styles, allowing you to choose the one you prefer. Some are wall-mounted only, meaning you just stand under the water to wash, while others are handheld, allowing you to hold it in your hand to get clean.
Another option is a rain-style shower head. These have a larger diameter and deliver the water in a rain-like effect, giving a more luxurious shower.
Spray modes
Some shower heads offer the possibility of changing the spray mode, giving you, for example, Regular Shower mode, Massage mode, Spray mode and so on.
If you want a spa-like experience in your shower with different spray options, make sure the shower head you choose has this capability. The number of options can vary from just two or three up to six, seven or even more.
Easy to clean
Calcium, lime and other mineral deposits that build up in your shower head can restrict the flow of water, reducing the power – which is something you want to avoid if you have low water pressure and weak water flow already.
Make sure you choose a shower head with nozzles that are either self-cleaning or easy to clean simply by rubbing with your fingers. This will reduce the time spent on maintenance and will also mean you don't need to resort to using any chemical cleaning products.
Some shower heads are also designed to be resistant to mineral build-ups, and this could be an especially important consideration if you live in a hard water area where such build-ups occur more quickly.
Durability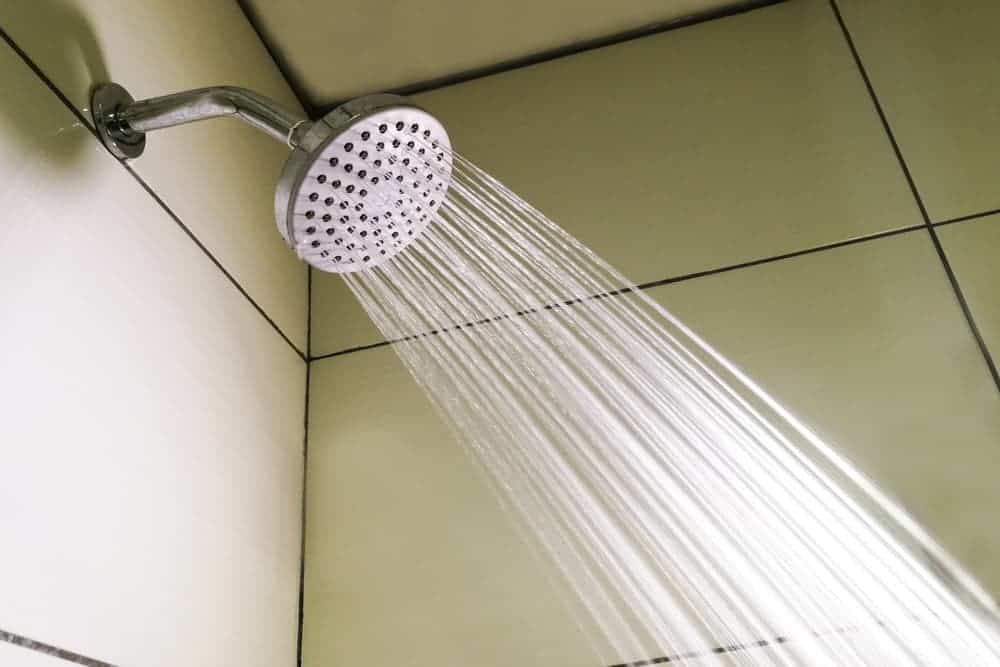 If you want to be using the shower head for more than just a few months or a year before you need to replace it, make sure it is tough and built to last.
The cheapest versions are largely made of plastic, but better ones have more components made of metal. If you want one that is really durable, choose one that has all-metal construction as well as anti-corrosion brass fittings.
However, for something like this, you also have to be ready to pay more money – as you would expect.
Easy to install
Ease of installation could be something to pay attention to. Many shower heads are designed to be installed without the need to call in a professional, potentially saving you quite a bit of cash. If you plan to install it yourself, check how easy the installation will be.
Also worth paying attention to is what comes in the pack and what you will need for installation. Will you need any special tools? Does the pack include washers? What about Teflon tape? Consider all these points before buying
Plenty of great options for putting the pleasure back into showering
If you're fed up of washing in an underpowered shower and have started looking for a shower head that can solve the problem, you will have seen that there are many options available, in various styles and at a range of price points.
For anyone who has decided that a special shower head is the right solution but who hasn't quite made up their mind which one to go for, any of the picks in our review would be a great place to start your search.