If you have mobility difficulties, getting in and out of the bath can be risky or even impossible. With a walk-in bathtub, those problems are over.
But with a variety of models on the market, how do you know which one to choose? We're here to help. We're going to review ten of the best walk-in bathtubs out there. And our buying guide will walk you through the questions to ask yourself before you make your pick.
So let's get started!
Empava 52.5 inch Acrylic Walk-in Tub
If you're looking for a more economical option, take a look at Empava's walk-in tub. Considerably cheaper than almost every other bathtub on our list, it nevertheless has plenty of features.
The Best Walk-in Bathtub on the Market 2022
1. Ariel Whirlpool Walk-In Bathtub
Ariel's tub allows you to walk in on the right-hand side. It's 60 inches long by 30 inches wide and 37 inches high, and holds 83 gallons. And despite being one of the larger tubs on our list, it's one of the least expensive. So what do you get for your money?
It's made from heavy-duty reinforced fiberglass on a stainless steel frame, so it's nice and strong. And it's white with a high-gloss finish, so it looks smart.
The support frame has adjustable feet, so you'll be able to get it level even if your floor isn't perfect. And there are plenty of safety features too.
The door is reinforced, so there's no risk of it buckling. There's a built-in grabrail to help raise and lower yourself into the bath. The bottom of the tub is textured to avoid slipping. And there's a contoured seat, so you can bathe in comfort.
So much for the basics. But despite being one of the more cost-effective walk-in bathtubs out there, you won't have to skimp on extras here.
This comes with no fewer than 18 air jets. Large hydro jets are positioned for a great lower back massage, while whirlpool jets produce a full body massage. It's a great way of relaxing those muscles and easing aches and pains.
One thing to be aware of, though, is that this tub does have particular requirements. Two 20 Amp circuits are needed to run all the pumps and the heater. If you've got an older house, you may need to install new wiring.
And remember too that you'll need a water heating system able to cope with the 83 gallon capacity. In practice, you won't need quite this much hot water, as you won't be filling the tub to the brim. But it's still a big tub. You may need to fill it slowly to avoid robbing the rest of your home of hot water.
Last but not least – although it comes with faucets, you'll need to cut out the holes for them yourself.
2. Ella's Bubbles 60″ x 30″ Companion Massage Walk-In Tub
This 60-inch long by 30-inch wide tub from Ella's Bubbles is more than twice the price of the Ariel EZWT-3060. So is it worth the investment?
Well, if aesthetic appeal is important to you, then the answer could be "yes". The transparent door has been made into a real feature, allowing you to see through it to the water. It actually looks more like a hot tub than a bath.
That impression continues with the seating arrangements. It offers two 20-inch seats facing each other, allowing you to bathe with a companion. Both seats have removable back supports for comfort.
The tub is finished in glossy white acrylic, and there's plenty of bling on display. The faucets, hand-held shower head, water and air buttons, even the air jet surrounds, are all finished in chrome. The result is a modern and stylish appearance.
But this is a practical bathtub too. There's a low threshold, so it's easy to get in, and there's a grabrail for safety. The floor is slip-resistant.
There are two plugs to drain the water away quickly, both with their own overflows. The drain openers are independently operated too, with extended handles so they're easy to use. Expect the tub to empty out in around 80 seconds.
The air therapy system here offers plenty of options. There's a choice of three different air speeds, an in-line water heater, and ozone sterilization. The MicroBubble Therapy option releases tiny oxygen-rich bubbles into the water to exfoliate and hydrate your skin.
And when you've finished bathing, it's possible to remove the door entirely to make cleaning easier.
There are just a couple of things to be aware of here. There's no hose with the shower attachment, so you won't be able to add a curtain and shower standing up. And this is an expensive bathtub – you'll need to have deep pockets.
3. Empava 52.5 inch Acrylic Walk-in Tub
Our Top Pick
If you're looking for a more economical option, take a look at Empava's walk-in tub. Considerably cheaper than almost every other bathtub on our list, it nevertheless has plenty of features.
It's traditionally styled, with a paneled side and glossy white acrylic finish. The fittings are stainless steel, and there's a cushioned black headrest at one end. There's nothing here that will look out of place in any classic bathroom.
It's exterior measures 52.5 inches long, 26.5 inches wide and 40 inches high. The integrated seat means you'll be able to relax and bathe safely in water up to your shoulders.
There are three grabrails positioned around the top rim of the bath. There's one more inside too. So whatever position you're in, you should be able to reach one easily. And the base of the tub is textured so you won't slip.
There's no drilling to do with this tub either. The faucet, knobs, shower head and overflow are all pre-installed.
The one compromise here is that it's strictly a bath. There are no air jets or hydrotherapy settings. But if that's not important to you, this offers a good, cost-effective bathing solution.
4. Ella's Bubbles 55″ x 30″ Deluxe Massage Whirlpool Walk-In Tub
If a whirlpool bath is a must, consider the model 93057 from Ella's Bubbles. This measures a generous 55 inches long by 29.5 inches wide. Unlike the 60 inch model from the same manufacturer reviewed earlier, this one is designed for individual bathing.
There's a single contoured seat, complete with its own cushioned headrest. The headrest is finished in white, matching the gloss acrylic finish.
The door here is positioned on the left-hand side of the tub. It's made of stainless steel and tempered glass, giving it a cool modern look.
There are plenty of bubbles on offer. The air therapy system offers a choice of three different air speed settings. There's also a "purge" function to remove any remaining water from the jets.
The air massage system uses 10 jets, and there are another 12 jets for the hydrotherapy system. There's an inline heater too, so the water coming out of the jets stays warm. It's great for delivering a soothing massage to the lower back, hips, legs and feet.
There's also an ozone sterilization system that prevents mildew and mold building up around the jets. And a thermostat control blends hot and cold water as you're filling the bath, keeping the temperature at safe levels.
The tub comes with grab bars, a hand-held shower and faucets. There are two drains, so when you've finished bathing it can be emptied quickly.
Just beware that this isn't a fully sealed unit. It will need to be installed against a wall. If you're looking for a tub to replace a freestanding bath, this won't be the right choice.
5. ANZZI Whirlpool Massage Tub
If you're looking for a mid-priced option with plenty of bells and whistles, Anzzi's whirlpool bath should make your shortlist.
First up, there are the jets. There are plenty of them – 30 in fact. 12 of those are fully adjustable whirlpool jets. The inline heater means these will push out lovely warm water, offering a soothing hydrotherapy massage.
In addition, there are 18 air jets. These will produce loads of bubbles to help exfoliate and hydrate your skin.
If you're looking for a little extra, how about aromatherapy? Anzzi's system offers the ability to infuse your massage bubbles with fragrance.
And you can complete the spa experience with colored lights – or chromatherapy, as it's known. Dim your bathroom lights, and choose the shade to suit your mood. Two LEDs in the base of the bath emit a choice of violet, blue, green, red or white light. There are matching lights around the console too.
The overall effect is incredibly relaxing.
All the safety features you could want are present and correct. There's a comfortable seat and a non-slip finish to the floor of the tub. There are three safe-hold grab bars. And the threshold for getting in is just 4.25 inches high.
The jets and lights are controlled from a digital pad. Also included is a hand-held shower head, with a generous reach of 60 inches. That's perfect for washing your hair.
Getting it ready to use doesn't need to take long. There's a quick-fill faucet as well as an auto-drain feature that will empty the tub in less than a minute. (The standard draining time if you decide not to use the feature is three to four minutes.)
The dimensions of 52.5 inches long, 26.5 inches wide and 40 inches tall mean this is a reasonably large bathtub. So just make sure your wiring and water heating system are up to the challenge.
6. American Standard Value Series Walk in Whirlpool
American Standard's walk-in bathtub measures 52 inches long and a generous 32 inches wide. The 40 inch exterior height includes a low threshold entry point. And it's deep enough for you to relax on the contoured seat with water up to your shoulders.
Its shorter length means it uses less water. And if you're planning to replace a standard bathtub, there's an extender kit to enable you to do so.
The tub both fills and empties quickly. The specially designed faucet will fill it at a rate of 16 gallons per minute at standard water pressure. And the patented quick-drain technology means you won't have to wait ages before opening the door to get back out.
This is another bathtub with a whirlpool feature, but there are fewer jets here. The focus is on hydrotherapy, with six jets and an inline heater to keep the water warm. There's a legs-only massage option, but no air jets.
Other features include a built-in grabrail and textured base to prevent slipping. There's also a hand-held shower wand included as part of the package.
This is pretty expensive for a tub with only six water jets. But the major advantage here is the size of the door. It's one of the most generous out there, and its contoured shape is a great safety feature. If you need more room to enter and exit comfortably, this is a great option.
7. Spa World Venzi Rectangular Soaking Walk-In Bathtub
Taking joint honors with the Empava for the cheapest bathtub on our list, the Venzi VZ3060SILWS is all about simplicity.
It has a clean design with the door opening on the left-hand side. It's made of white acrylic, with a smart gloss finish. The bath panel is almost completely flat, so it's easy to keep clean.
It measures 60 inches in length, so it will sit comfortably in the space occupied by a standard bathtub. The 30 inch width is nice and generous too.
The threshold here is very low – just a few inches. So although you will have to bend your knees slightly to enter, it won't require much effort for most people.
This doesn't have any extras though. There's no handrail, and no seat. Once you've stepped in, you will need to be able to bend in order to sit on the bottom.
And without those basics, you won't be surprised to hear that there are no jets either. This is plain and simple all the way.
Bear in mind that, whilst this is inexpensive, it doesn't include the accessories you get with Empava's tub. You'll need to buy the faucet separately. And we'd strongly recommend buying at least one grabrail for anyone with restricted mobility.
8. Ella's Bubbles Front Entry 32″ x 40″ Acrylic Walk-In Bathtub
If you're looking for a space-saving bathtub, check out the OAF3240 from Ella's Bubbles.
It's just 40 inches long and 32 inches wide. But despite this, it includes an extra-wide 24 inch seat to allow comfortable bathing.
The door is positioned at the narrower end of the bath, near the taps. That makes it slightly cosier than some tubs to get in and out of. There's just enough space to turn around once you're inside and lower yourself onto the seat. The floor is non-slip to make the operation safer.
As with the doors of the other Ella's Bubbles tubs, the central section here is tempered glass. In this case, though, the frame is plastic composite rather than stainless steel. But the chrome finish on the handle and fittings still means it looks smart.
The acrylic shell is coated in fiberglass gel. It's both scratch and mold resistant. And the plain design is easy to keep clean.
There's a fast-fill faucet so you won't be shivering while you wait for the tub to fill. Expect the process to take about nine minutes. You'll need to wait about two minutes for it to drain.
Although this is a small tub, there are plenty of options when it comes to bubbles. You can go for the soak-only option, without jets. Or if you're prepared to splash out, there are water jet only, or air and water jet options. At the top of the range is a combined hydrotherapy and MicroBubble model.
The price difference is considerable though. Even the soak-only option is much more expensive than the Anzzi bathtub. Choose the combined hydrotherapy and MicroBubbles model, and you'll have to pay over half as much again.
9. Ella's Bubbles Malibu Soaking Acrylic Walk-In Bathtub
If you're looking for a soak-only option that takes up less room than a standard tub, consider the OA3052-L. With a length of 52 inches, this gives you a little more space to maneuver than the OAF3240.
The door here is on the longer side of the bath, and it's positioned towards the left. It has the same tempered glass and plastic composition as its smaller cousin. And the same combination of white gloss acrylic and chrome fittings gives it a stylish finish.
The built-in seat here is slightly narrower, at 20 inches. That makes it better suited to people with smaller frames.
There are two stainless steel grabrails, a low threshold and a textured non-slip floor for safety. Two independently operated drains empty out the tub quickly when you're finished.
This comes with a choice of two different faucets. Choose the fast-fill option if speed is your priority. But if you need the confidence of knowing the temperature is right, go for the faucet with thermostatic control valve. This will automatically mix hot and cold water for a comfortable temperature.
And if you want bubbles, you can upgrade the model to get those too. As with the OAF3240, though, be prepared to pay considerably more.
10. Ariel Walk-in Bathtub
The second walk-in tub from Ariel to make our list, the EZWT-3054 is six inches shorter than the model reviewed earlier. If you like the features and competitive price tag of the 3060 but need something more compact, it's worth considering.
The door here is positioned on the right-hand side of the bath. There are all the safety features you'd expect: a built-in grabrail, textured base and low threshold. And adjustable feet mean your bathtub will be level, even if your floor isn't.
There's a contoured seat on which to relax in comfort, and a hand-held shower wand for easy washing. You get bubbles with this one too: 18 air jets and six hydrotherapy jets. There's a heat pump too, so you won't have to worry about cold water spurting out.
This comes with an impressive lifetime warranty on the shell and door seal, and a one-year warranty on all parts. You will, though, have to pay for any labor costs. And take note: with this one, you'll need to drill the holes for the faucet yourself.
Buying guide
If you're still wondering with is the best walk-in bathtub for you, our buying guide is here to help. Read on for the factors to consider before you make your final choice.
Size matters
There are several important dimensions to consider here.
First of all, the length. If you're looking for a walk-in tub to replace a standard bath, you'll probably want one about 60 inches long.
Bear in mind that the larger the tub, the longer it will usually to take to fill. One alternative is to look for a shorter tub with an extension kit. That will allow it to occupy the same space as your standard bath, without leaving any unsealed ends visible.
Check out the width too. Most walk-in tubs have seats, so make sure you look specifically at the width there. Get a seat that's not wide enough, and you won't be able to relax in comfort.
Finally, check the height – both the overall measurement and the height of the threshold. The first of those is important if you want a bath deep enough for the water to reach your shoulders. The deepest tub on our list measures 40 inches.
The threshold height is important if you have difficulty bending your knees. It's the height you'll need to raise your foot in order to step into the tub. Look for baths with low thresholds for easy and comfortable entry and egress.
Still or sparkling?
Many walk-in tubs offer jets that can massage the body. They can be great at relaxing muscles, but they come at a price.
Hydro jets are ideal for deeper massage of larger muscles in the lower back and hips. Air jets will give a lighter massage in more sensitive areas. And some tubs feature MicroBubbles, which aim to exfoliate and hydrate your skin.
And if you're looking for a real spa experience, some models offer colored lights and aromatherapy too.
Watch out for fill and drain times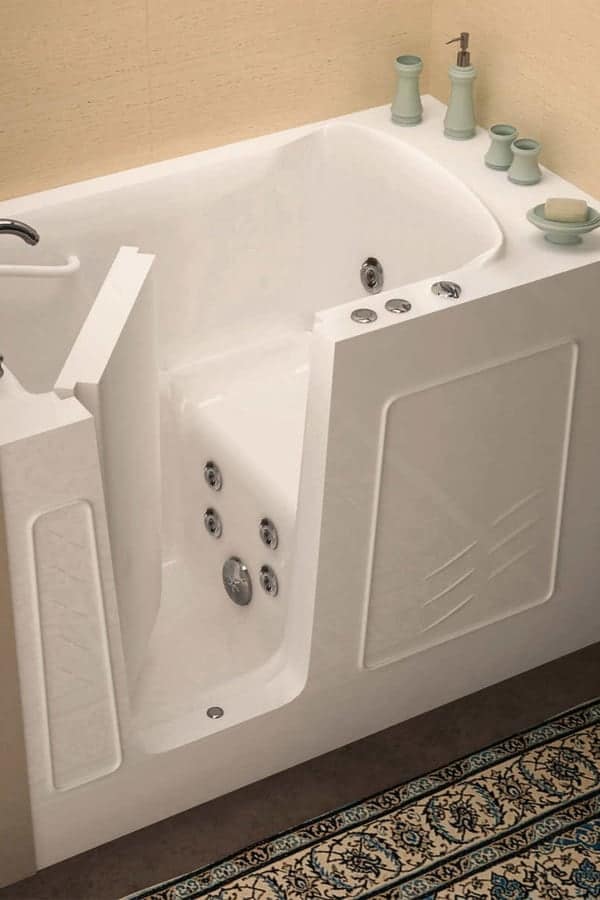 With a walk-in bath, remember that you'll need to be inside the tub when it's filling and emptying. Try to open the door when there's water inside and you'll be dealing with a flooded bathroom!
That means that the time taken to fill and drain the tub is particularly important. You don't want to be sitting there shivering while water trickles in and out.
Some tubs have specially designed faucets that allow the water to enter at speed. When it comes to draining, American Standard use patented fast-drain technology to get the job done quickly. Other tubs, like those from Ella's Bubbles, use twin drains for the same purpose.
And whatever tub you choose, remember to check the electrical and water heating requirements. New wiring or heating systems will be expensive, so factor in the cost before you buy.
Ready to choose?
That brings us to the end of our run-down of ten of the best walk-in bathtubs available today. We hope it's helped you choose the one that's right for you.
Our favorite is Empava's 52.5 inch bathtub. It offers comfortable bathing and a full range of safety features at an unbeatable price.
But if bubbles are an essential part of the package, choose the 2753WILWD from Anzzi. You'll get 30 jets, aromatherapy and colored lights for the full spa experience. And you'll still be paying less than some of the soak-only options out there.
Whichever option you choose, a walk-in tub can be a life-changing purchase. We hope you're soon enjoying the pleasure of relaxing in the bath in complete safety.