Fizzy bath bombs are quite the treat after a rough day at work. But with all those bubbles and all that color, kids get excited about them too. And you can make those DIY bath bombs for kids extra special. Just stuff a bath-safe toy inside – magic foam toys are especially popular.
Bath bombs can be fancy and pricy. But you can make them at home at a fraction of the cost. And you can get your kids involved in making their own bath bombs. If your kids are the type that constantly dodge the bathroom, making bath bombs can sneakily improve their hygiene!
1. Three Sisters' DIY Rainbow Bath Bombs
You could look at DIY bath bombs for kids in two ways. One, the recipe is simple enough for (supervised) youngsters to make. Or two, the ingredients are suitable for sensitive skin – which children often have. This recipe is both. It has a trademarked KidSafe blend of essential oils, Epsom salt, olive oil as a carrier, baking soda, citric acid, and food coloring.
2. Coconut Kids' DIY Bath Bomb
Just like adult recipes, DIY bath bombs for kids will sometimes use water. But this water can prematurely ignite the frothy reaction between baking soda and citric acid. This will make the bath bomb fizz prematurely. So when you finally drop it in the bath, it'll be flat and unfizzy. To avoid this, dry it completely. This recipe uses coconut oil, corn starch, and fine sea salt.
3. So Bomb DIY Bath Bomb
Here's another handy trick to prevent your baby bath bombs from pre-fizzling out. Mix the dry ingredients separately and the wet ingredients separately. That way, any water you use will emulsify with the oils and be less likely to pre-emptively react. This recipe uses branded So Bomb DIY starter kits. The box has everything you need plus deeply detailed instructions.
4. FCL DIY Bath Bomb
Can you make DIY bath bombs for kids on a budget? Frugal Coupon Living says yes! And they even have Magic Grow animal pills in the middle of each bath bomb. If you don't have citric acid for your bath bombs, you can use lemon juice. But if you use juice, add it slowly and carefully. Because the water content in the lemon could make your mixture fizz.
5. Katie's Mini DIY Bath Bombs
Mini molds make great DIY bath bombs for kids because they fit perfectly into their little hands. Kids love holding the bombs underwater and feel that tickly frothy foam in their hands. This recipe uses silicon molds in three shapes – hearts, stars, and truffles. The bath bomb ingredients include grapeseed oil, Epsom salt, cornflour, and bright food coloring.
6. DIY Buggy Bath Bombs
Bath bombs for adults often take the form of balls. And it takes extra effort to achieve and retain that spherical shape. But for kids, any mold will do – just press it flat and pack it tight. This DIY recipe for kids uses a bug-shaped cake pan as a mold. As you add the liquid ingredients, mix them in quickly so you don't use up all the fizziness in the bomb.
7. DIY Magical Unicorn Bath Bombs
What makes this DIY bath bomb recipe so kid-friendly? Simplicity – it only has three ingredients! Also, with all that mixing, the process is bound to get messy, and children love making a mess. Especially when their designated adult is in on the fun and won't punish them for it! Try this recipe with corn starch, lemon juice, baking powder, and vanilla extract.
8. Ice Cream Scoop DIY Bath Bombs
When you're doing a creative activity with kids, you need playful shapes, exciting colors, neon, glitter, patience, and a high tolerance for mess. And because the trickiest part of molding bath bombs is getting them to stick in that ball, use a simpler mold for kids. Like an ice cream scoop! But don't infuse ice cream flavors into the soap or the kids may eat it!
9. Dollar Tree DIY Bath Bomb
Here's a tip for making DIY bath bombs for kids: silicone. Instead of struggling with those spherical bath molds, use bendy silicone ones. It's so much easier to wiggle the mold and pop out the bath bomb. This recipe uses silicone Halloween molds. The carrier oil is olive, and the other ingredients are scented Epsom salt, bicarbonate of soda, citric acid, and water.
10. DIY Grinch Bath Bomb
Should you add your liquid quickly or slowly? Well, the point is to do it carefully. Because yes, the mixture must fizz before it forms. But if it fizzes too much, there'll be nothing left to fizz in the bathtub! So use deliberate movements to minimize the fizz. As for the Grinch factor, color the bath bombs green with a decorative heart toy that 'explodes' in the bath.
11. DIY Surprise Bath Bombs
Keep in mind you're working with kids here. And they love that effervescent effect. So rather than getting cross, panicking, or pushing them to work faster, let them mix and fizz their batches as much as their want. Then – as the supervising adult – make more careful bath bombs that the kids can use since theirs will probably be flat by the time they hit the bath.
12. Glow-in-the-Dark DIY Bath Bomb
Children enjoy bright hues, yes. But glow-in-the-dark tones are even better! So these neon-colored DIY bath bombs are a hit with kids. The fizz in this recipe comes from the reaction between cream of tartar, baking soda, and citric acid. The glow is from mica powder and cosmetic glitter. The recipe has coconut oil, Epsom salt, and polysorbate to emulsify the oils.
13. Sonia's Easy DIY Bath Bombs
Branded Epsom salt is sometimes scented with lavender or eucalyptus. So if you use a scented salt, you may not need essential oils, which can sometimes be too intense for young children. This recipe still needs a carrier oil – try coconut or olive. You'll also need baking soda, citric acid, and a little water. Add food coloring or soap coloring of your kid's choice.
14. DIY Galaxy Bath Bombs
Some DIY bath bomb recipes for kids say you should add liquids slowly. Some say to add them quickly. The most important aspect is to add a little liquid at a time while whisking. This reduces the loss of fizziness. And if your kids are science-oriented, they'll love making (and using) these intergalactic bath bombs. The trick is in the swirling spirals and glitter.
15. Craft Kit DIY Bath Bombs for Kids
Before doing any project with your children, it's best to test it yourself. You want to see if it works as advertised. Or whether it will disappoint your kids and leave you with tantrums and meltdowns. This video tests two DIY bath bombs for kids (Mine 2 Design and Klutz). They both fizz fine but Klutz holds better, so go forth and order a few boxes. Do it for the children!
16. Yummy Mummy DIY Bath Bombs
Kids love marshmallows. And these boxy DIY bath bombs feel soft, squishy, and spongy in the bathwater, just like real marshmallows. And they fizz and foam too! Make these in bulk and pop a handful into your children's bath. The ingredients include citric acid, baking soda, almond oil, and kid-friendly essential oil blends. Use a silicone ice cube tray as a mold.
17. Crafty Girls DIY Bath Bombs
Coconut oil does make a good carrier oil for bath bombs. But if you're using solid coconut oil, melt it before you mix it. This DIY bath bomb for kids also has the usual components – citric acid, baking soda, essential oil, and corn starch to bulk it up. You can use food dye, but soap dye is safer for your bathtub and tiles. Essential oils are optional, but be sure they're kid-safe.
18. Slap Das Mom DIY Bath Bomb
DIY bath bombs often default to food oils as carriers. So you'll see coconut, olive, or sweet almond. But this recipe gives another option – pumpkin oil. And since it doesn't use essential oils, these bath bombs for kids are flavored with lemon zest, lemon juice, and vanilla extract. For that fizzy foundation, mix in citric acid, corn starch, and baking soda.
19. Step by Step DIY Bath Bomb
To make a DIY bath bomb for kids (or adults), you need acid and alkali, sometimes called a base. Citric acid is the commonest acid for these recipes. If you can't find it, substitute lemon juice or cream of tartar. The recipe used here has baking soda and Epsom salts too. If you can't find Epsom salt, try magnesium sulfate flakes or pickling salt instead.
20. Cough Suppressant DIY Bath Bomb
One tip to get past the 'add quickly' vs 'add slowly' conundrum is to use a spray bottle. Mix all your liquid ingredients (or just your water, if you prefer) in a mister and use that to gradually clump your DIY bath bomb for kids. This particular recipe is medicinal too – great for kiddie coughs and colds. The secret is adding eucalyptus and peppermint vapor rub.
21. Dominique's DIY Bath Bombs
If you're working with your kids, you want tools that won't easily break. So you can try child-friendly bath bomb mold alternatives. Like the packaging from assorted chocolate, mini muffin pans, ice cube trays, or cookie cutters. A common tactic is to cut a Christmas bauble in half. This colorful recipe has coconut oil as a carrier and essential oils suitable for kids.
22. Valentine's DIY Bath Bombs for Kids
Does that sound strange to you? Well, most of us love our children. And a lot of us enjoy soothing home spas as a 'Lover's Day' treat. So why not? To make these bath bombs kid-friendly, use cutely shaped molds and hide some toys or sprinkles inside them. Edible sprinkles work well, but watch your kids so they don't eat them – they'll have a soapy taste!
23. Alex Spa DIY Bath Bomb Kit for Kids
Here's another adult testing a DIY bath bomb for kids. This one is called Alexa Spa. Some kiddie kits come with colored baking soda so there's less mixing. This one comes with soap coloring and fragrance oil. Also, it comes with perforated bath bomb molds, corn starch, Epsom salt, and succinic acid instead of citric. It holds, but you don't get much color or fizz.
24. DIY Easter Egg Bath Bombs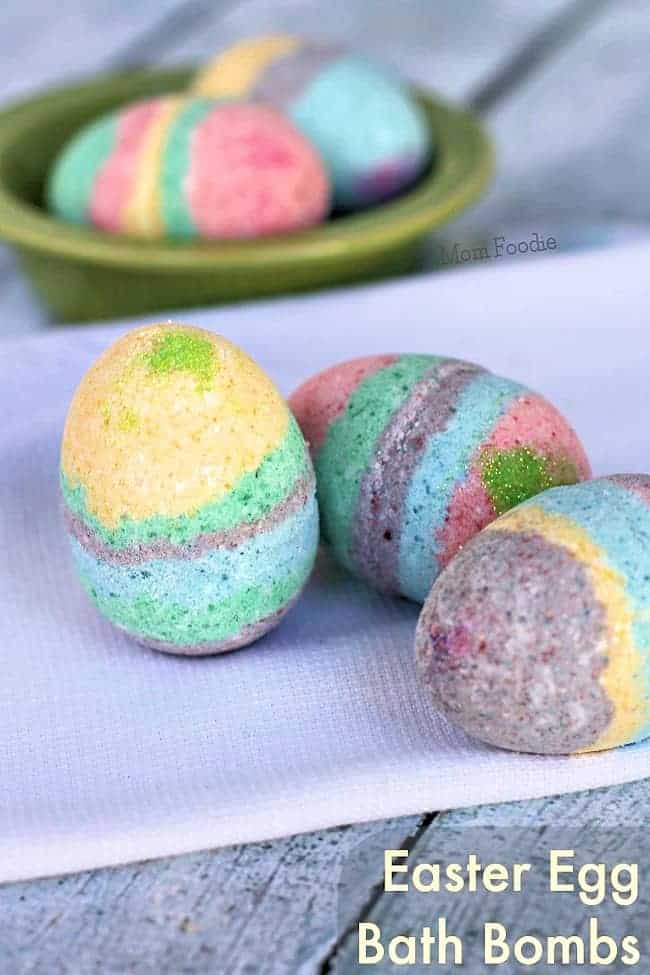 Can the Easter Bunny persuade your stubborn kids to get in the bathtub? With the help of these bath bombs, probably. It's not a complex recipe. Use almond oil as a carrier and add the usual suspects (citric acid, baking soda, Epsom salt, corn starch, water, and essential oil). You can also add glitter and color if you like. Use plastic Easter eggs as your bath molds.
25. Fizzy Funtastics DIY Bath Bombs
So after Katie tested the Alexa Spa Kit that made beautifully form bath bombs with minimal fizz, here she is demonstrating a recipe with her daughter. And Lily is 2, so if she can pull this off, you know your kids will love it too. The tutorial shows soap jelly and DIY bath bombs for kids, so try both recipes with your children. And experiment with others types too!
26. DIY Birthday Bath Bombs for Kids
Yes, your child can carry cupcakes to their school on their birthday. But they can also amass a crowd of fans by giving out birthday gifts to the class. Though they'll be more like party favors. Get the birthday girl or boy involved in making the bath bombs. They'll learn the joy of achievement and the pleasure of sharing. Plus it builds their confidence as well so yay!
27. DIY Rainbow Bath Bombs for Kids
You can use mica powder to add sparkle and shimmer to DIY bath bombs for kids. But look for eco-glitter if you can find it – it's biodegradable. Apart from those glossy particles, this bath bomb recipe has Epsom salt and essential oils plus the standard baking soda and citric acid. Use a spray bottle to control the liquid amounts and thus limit the excess loss of fizz.
28. Glittery DIY Candy Corn Bath Bomb
A helpful hint when making DIY bath bombs for kids is to grease the mold. Just like a baking tin, spread solid oil (or your recipe's carrier oil) on a bath mold. This makes it easier to pop out the bath bomb without losing its shape. The bath bombs here use candy corn colors and fragrance plus SLSA and polysorbate, meaning they fizz, foam, and bubble too.
29. Fizz & Spin Bath Bombs
Some bath bombs float. Others sink. And then there are some that fizz and spin, delighting young hearts everywhere. Your kids will love these rotating bath bombs. The trick is to spritz the bath bombs with a mixture of witch hazel and rubbing alcohol as you mix the ingredients, so you don't want the kids trying this alone. Dry powdered coloring also maximizes the fizz.
30. DIY Unicorn Horn Bath Bombs
Unicorn bath bombs often have rainbow stripes. But this is a unicorn horn DIY bath bomb for kids. Meaning the bath bomb mold is shaped like a horn and dripping in glitter. You can try a popsicle mold – that works well. Also, your foaming bath bomb mixture contains clay (Bentonite or Kaolin), bubblegum oil, a surfactant (SLSA), and an emulsifier (polysorbate).
31. Amy's DIY Bath Bomb for Kids
So you're working on a DIY bath bomb for the kids. And you realize you're out of citric acid (aka sour salt). And not a lemon in sight! A convenient substitute is apple cider vinegar, though it doesn't smell as nice. Luckily, your fragrance oils can mask that smell so you can still enjoy the fizz. Solid coconut oil is safe for kids, and you can use cookie cutters as molds.
32. DIY Gingerbread Bath Bombs
When the house is full of holiday guests and your kids are too over-excited to settle down, a gingerbread bath could calm them. In addition to the regular ingredients used in DIY bath bombs for kids, you'll need molasses, ground ginger, and cinnamon powder. Coconut oil is the carrier oil. Use a spray bottle to spritz water as needed and use gingerbread molds.
33. Lori's DIY Bath Bomb
Our last recipe sneaks a secret toy into each bath bomb mold. And while it uses coconut oil, the texture will vary. You can use solid oil (at room temperature) because it's easier to mold, but this oil will sometimes blob in the bath. So consider melting before mixing. For the fragrance, you can either use essential oil (for big kids) or soap scents (for small babies).
What are your favorite DIY bath bombs for kids? Show us your version in the comments!