Using fancy products can transform a basic bath into a luxurious home spa experience. But those products are expensive! Luckily, you can reproduce each one at home for less than $10! Between Dollar Tree hauls and online orders, you can simulate tons of DIY bath products.
So let's look at 33 things you can do at home to heighten your bath time pampering. The products you can clone include bath bombs, bath fizzies, bubble bath bars, bath melts, bath oils, and even the occasional bathroom 'hardware' item like a pillow, tray, or shower caddy.
1. Complete Home Spa DIY Bath Pillow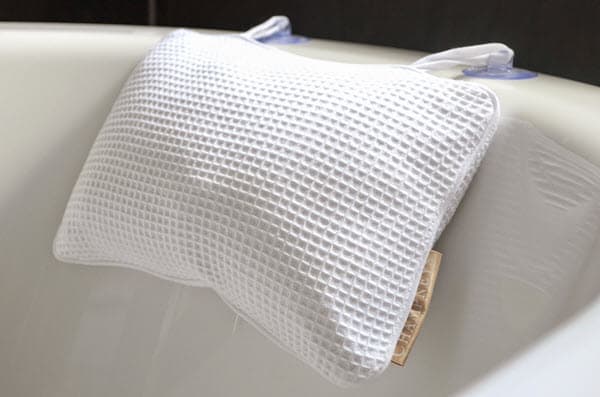 Do you prefer your pillows soft or hard? This article gives you both options, but we'll focus on the softer one. And they use items you can easily find at home. We all have towels, so just grab an old one and stitch the edges to form a pillowcase. Stuff your pillow with sponge or Styrofoam. Both will float on the water and it's easy to squeeze excess moisture out of them.
2. Tidbits DIY Bath Mat Pillow
While this DIY bath pillow isn't intended for use in the bathroom, you can repurpose it. Start with a beautifully textured bathroom mat. But clean it thoroughly because it's been on the floor and was trampled by feet for ages, so it may make your skin break out. Once it's disinfected (and fabric-softened), stitch the hems together and insert water-friendly stuffing.
3. Dunn DIY Bath Tray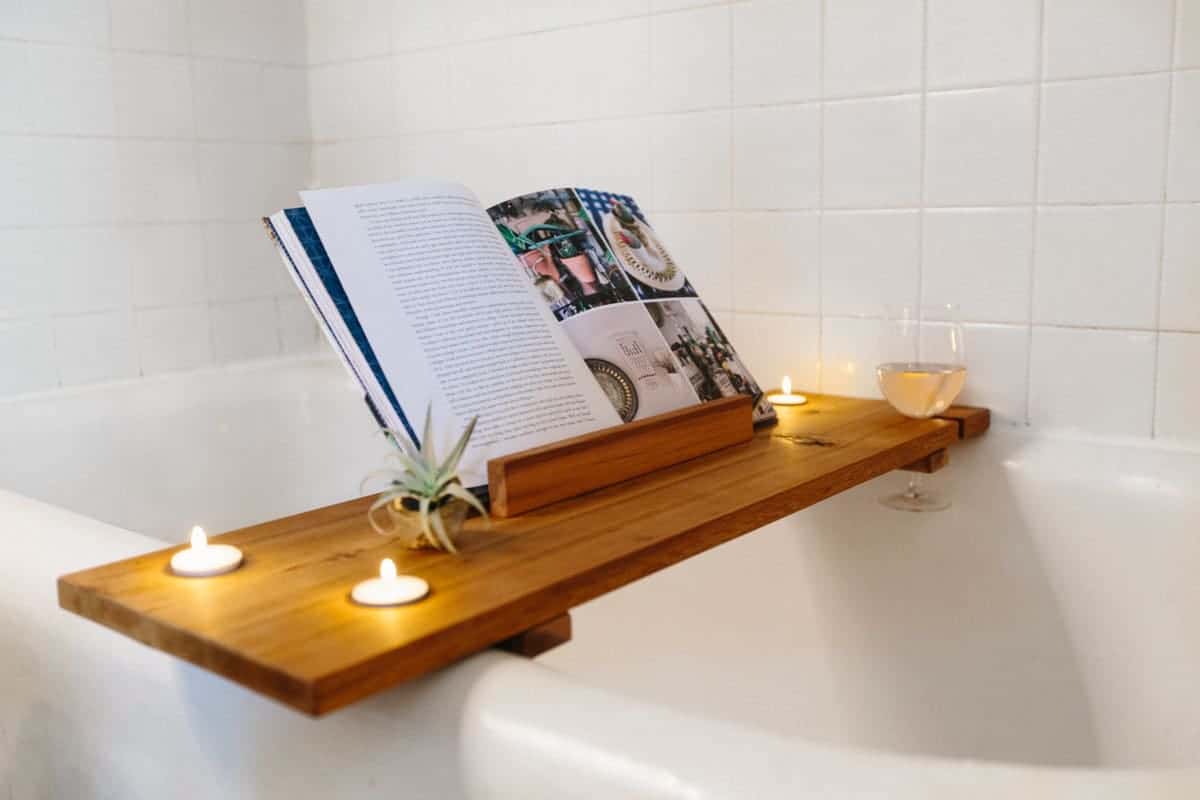 Bath trays aren't the simplest DIY bath products to make. They're quite hands-on and require a well-equipped toolbox. But it can be cathartic and satisfying if you're starting out in DIY. And you can ease the process by using wooden planks that are pre-cut and pre-sanded at the store. You can even find (and reclaim) pre-stained or pre-painted pieces at junkyards.
4. Swartland DIY Bath Tray
How long do you generally sit in your bathtub? Therapeutic tub-time should take at least thirty minutes, but it depends on how much bath-time heat you can stand. On the other hand, if you have a book, some music, or a movie, you might stay in the water until it gets cold! A bath pillow helps, and a DIY bath tray will protect your bath-time entertainment choices too!
5. Martha Stewart's DIY Bath Fizzies
Bath fizzies fill your tub with delightfully ticklish effervescence. Some prefer to step into the bath before adding these fast-melting fizzies. They foam in the water creating tiny bubbles that fizzle in minutes but feel great on your skin. The trick is to use an acid (like citric acid) and a base (like baking soda) then add a fragrant essential oil. This recipe has cane sugar too.
6. Carnegie's DIY Bath Fizzies
Effervescent DIY bath products are a smart idea for home-grown science experiments. And because it's a pampering product, it's a fun, sneaky way to make science fun for girls. (It's equally exciting for boys in touch with their softer sides!) Add corn starch to bulk up your bath fizzies. Epsom salt is optional – it's great for sore muscles. Add color and fragrance.
7. Byrdie's DIY Bath Bombs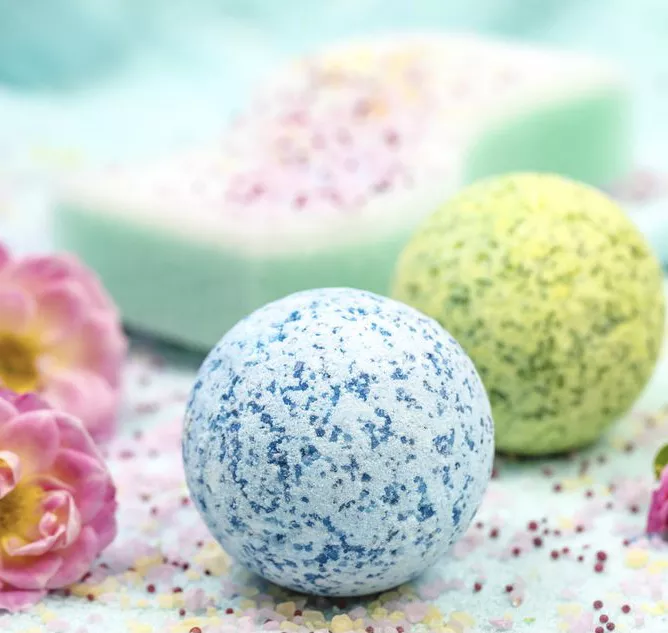 Some DIY bath products are quite similar with a few elements separating them. For example, bath melts, bath bombs, shower steamers, bubble bars, and bath fizzies all melt in the bath. But there's a slight difference in their texture, format, and proportions. Bath bombs have more oil than bath fizzies, and are almost always round. You can hide toys in the middle.
8. Carina's DIY Bath Bombs
Bath bombs have the same set of ingredients as bath fizzies. But these DIY bath products are intended to last longer than fizzies. So they're denser and more compact, with essential oil and a carrier oil. You can use witch hazel or rubbing alcohol to help the bath bomb hold together. Choose a mold that's easy to open without cracking or crumbling your bath bomb.
9. Too Much Love DIY Shower Steamers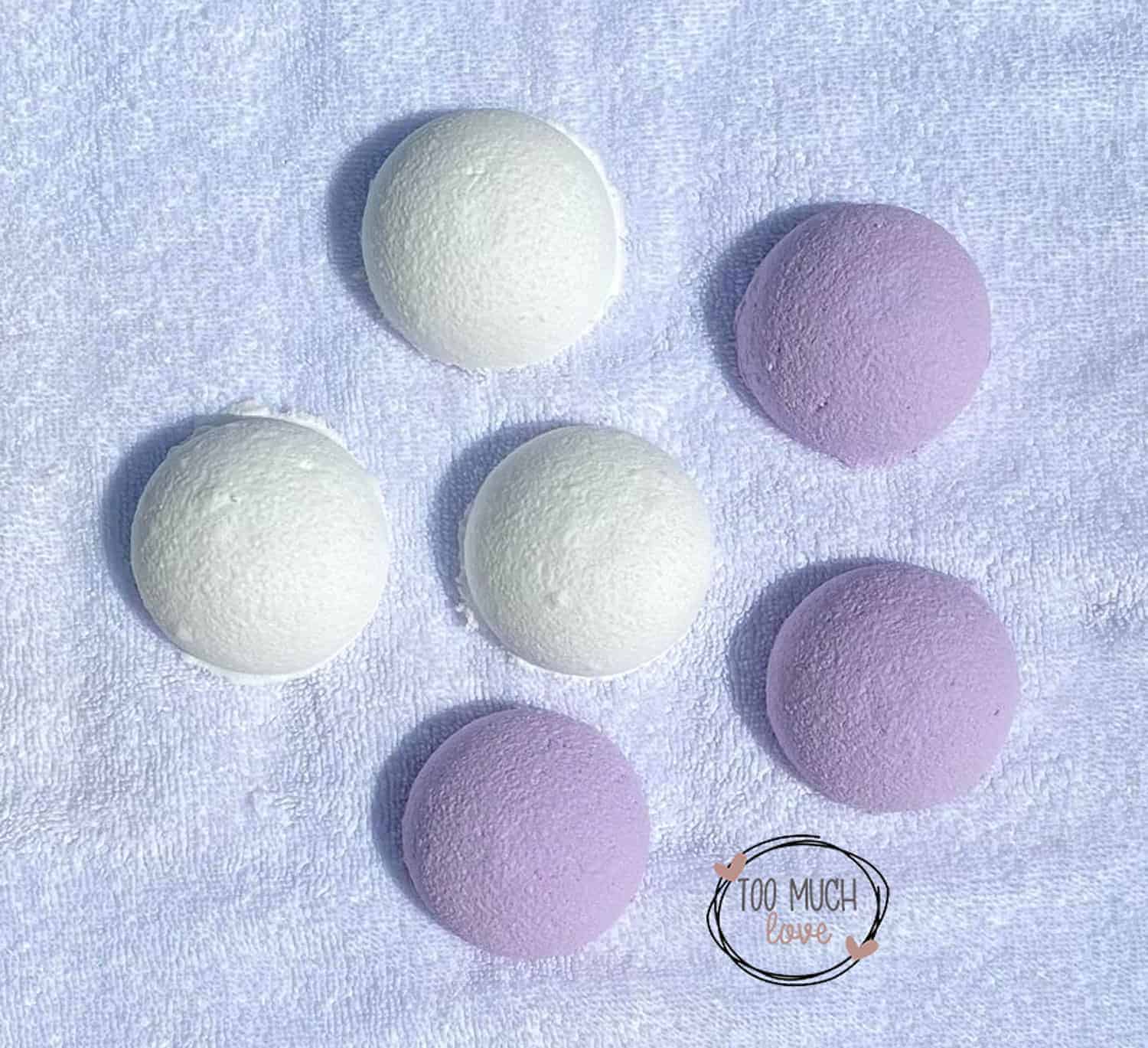 Shower steamers are thought of as derivative DIY bath products. Think of them as bath bombs for people without bathtubs. Steamers have the same ingredients as bath bombs, but they often have less oil and a flat bottom so they can sit on the shower floor or shower shelf. And they're designed to dissolve faster since showers are generally quicker than tub soaks.
10. Tara Lee's DIY Shower Steamers
Because shower steamers are meant to melt faster than bath steamers, they will have essential oils but will generally leave out the carrier oil. And because the essential oil won't be diluted (by a vegetable carrier oil), you'll use less than you would in a bath bomb or bath bomb. This recipe uses a blend of spearmint, peppermint, and sweet orange essential oils.
11. Sweet Living Room DIY Bath Pillow
Do you have a swimming pool in your backyard? Then you probably have some pool noodles lying around. But even if you don't, you can get them cheap at many stores. So go find some, because they make amazingly simple DIY bath pillows. Just cut it to the right size and you're done! The noodles are narrow, so place them under your neck as you float in the bath. Enjoy!
12. Sporty DIY Bath Pillow
Here's the thing about repurposed DIY – you have to get creative. It's crucial to think outside the box. The only rules for DIY bath pillows are they should be easy to clean and handle getting wet. You don't want to use your bedroom pillow – it'll get soaked! These bath pillows are made by cutting camping foam, which you can find at Walmart or any grocery store.
13. DIY Aromatherapy Shower Fizzy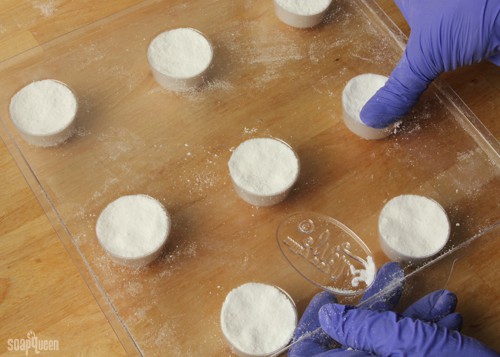 There's no difference between shower steamers and shower fizzies. But the essential oils you use change the aromatherapeutic effects. These DIY bath products use a base of witch hazel, citric acid, and baking soda (aka sodium bicarbonate). For a soothing shower fizzy, blend y-lang y-lang with lavender. To wake yourself up, blend litsea and mandarin essential oils.
14. Updated DIY Bath Pillow
Earlier, we showed you how to make DIY bath pillows by cutting and folding camp foam. But you can make the pillow comfier by rolling it up after slicing. This way, the bath pillow curls around your neck and is comfier to use. You'll have to roll the pillow before each use to help it retain its coiled shape. And these foam pads can easily be wiped clean after use.
15. DIY Oatmeal + Milk + Honey Bath
Oatmeal makes a great breakfast. It's also good for your skin, especially when you're itchy from an allergy, sunburn, or eczema. You can use bath oats (sometimes called colloidal oats) but in a pinch, just toss some kitchen oats in a blender or coffee grinder. For this DIY bath product, mix the powdered oats with honey, whole milk (full fat), almond oil, and lavender.
16. DIY Bath Milk
As a teen, you may have heard that toothpaste or milk could get rid of zits. You probably tried it out on picture day or date night. And it may even have worked! So now you can extend this treatment to your whole body with DIY bath products. To make this skin-brightening bath milk, mix whole milk powder, baking soda, Epsom salt, and flower petals.
17. DIY Oat Bath Salts
Colloidal oats are bath oats. They're ground finer than commercial oatmeal flour and are sometimes mixed with Avena sativa. While oat baths are considered milky baths, you can add Epsom to make them oat salts. For a layered effect, add oat extract, oat oil, and a fragrant essential oil blend of oats, milk, and honey. If colloidal oats out-price you, try kitchen oats.
18. DIY Foaming Coconut Bath Milk
Bath milks are sore-soothing, skin-softening DIY bath products. And you can use any kind of milk, whole or powdered. Examples include cow, goat, buffalo, soy, nut, or coconut milk. You can even use buttermilk. This DIY bath milk recipe layers coconut milk powder with colloidal oats and corn starch. It's foaming milk, so it uses a bubbly surfactant and no carrier oils.
19. DIY Bath Products for Prostate
Some doctors swear by sitz baths. Others rage and curse against them. So before you dash out and buy a sitz kit from the pharmacy, get your doctor's take. If s/he says yes, sit in a sitz bath filled with 3 or 4 inches of hot water and Epsom salt for 3 minutes. Keep it as hot as you can stand. Chase that with a 1-minute soak in cold water laced with lavender essential oil.
20. DIY Scented Bath Salts
Sometimes, you're in the mood for elaborate DIY bath products. And you can mix art with science by mingling various salts, colors, textures, and ingredients. This makes a great home experiment for kids. And because it ends with a playful, sparkly bath, you can clean up the mess with bath bubbles! Just be sure to gather all those ingredients before you start!
21. DIY Copycat Lush Bath Melts
Copycat DIY bath products are sometimes called dupes or clones. The idea is to find a commercial bath product you love then make a fake version at home on the cheap. And because craft packaging products are so affordable, you can make your faux spa pieces as elegant and expensive-looking as the original! This Christmas-themed set has 4 butters.
22. DIY Bath Crayons
It's tough getting wax crayon drawings off the wall. And while Crayola has a commercial line of bath crayons that are easier to wash off, they can be pricy. So consider making do with pigmented bath crayons. These DIY bath products are easier to clean up, but keep in mind they won't draw as clearly as wax crayons because the coloring agents are far less intense.
23. Dixie Crystals DIY Bath Crayons
Generally speaking, lake colors are stronger than micas. And in DIY bath products, soap colors are safer than food colors because they're less likely to stain your skin or bathtub. So you can try using lake powders with brown sugar, Vitamin E oil, and melt-and-pour soap for your next batch of bath crayons. Experiment with gradually increasing pigment amounts.
24. DIY Buttery Bath Melts
In the DIY bath products category, bath melts are made with body butters to give them a solid appearance at room temperature. So you need a hot bath to gradually melt them down. This homemade recipe has coconut oil and cocoa butter as a base, but other popular body butters include cupuacu, kokum, mango, or shea. Use chamomile flowers and chamomile oil.
25. DIY Gelatin Shower Jellies
Shower jellies and bath melts are similar DIY bath products. But they have a few key differences. Bath melts are often opaque and are made with moisturizing body butters. Bath jellies are more likely to be see-through and are made with liquid soap or unscented gelatin. For this shower jelly recipe, you'll mix gelatin or agar with a body wash or a bubble bath.
26. DIY Dried Flower Bath Soak
Not all DIY bath products are molded. Some are sold (or stored) in powdered form with cute scoops and playful ribbons. But you need to keep these powders dry or they'll clump. If they're fizzing powders, atmospheric moisture can fizzle them flat! For this bath soak, you'll need pink salt, Epsom, dried petals of your choice, and essential oils that match the flowers.
27. DIY Tub Tea
Herbal tea is calming, whether you drink it or soak in it. And yes, you can make a quick soak by steeping tea bags (yes, the ones in the kitchen) in your bath. Don't sweeten the bath – add ten or so teabags for a small tub. Alternatively, make your own bathtub teabags (and don't mix them with the drinking ones!) These DIY tub teas have oats, flowers, and essential oils.
28. Emilie's DIY Bath Tea
Here's a more convoluted example of the same DIY bath product category. You can buy re-usable tea bags for your tub teas. And while the bath salts will leach into your bathwater and dissolve, the petals stay in the bag. So you can toss these teabags (and their petals) into the final rinse of your washing machine. They're great for scenting towels, sheets, and intimates.
29. DIY Bath Soak Teabags
With most DIY bath products, you'll need to add an emulsifier like polysorbate. It helps the oils disperse in your bathwater, which makes the bathtub less slippery and easier to clean. But with bath teas, you can use cloth teabags to keep the petals, paint, and oils from clogging your drain. This recipe has Epsom salt, coconut oil capsules, and lavender buds in bags.
30. DIY Rainbow Shower Jelly Soap
Shower jellies aren't just for kids. But when you make them for adult use, pick essential oils that suit your mood. You can use more of the oil since your adult senses can withstand a stronger dosage. These DIY bath products use unsweetened gelatin, an ice cube tray, and swirls of color to form that rainbow effect. Use a see-through body wash for that bubbly glow.
31. DIY Essential Bath Oil
Most people are wary of greasy DIY bath products like bath oils. But you can take steps to make it less slick. Polysorbate or any other emulsifier is ideal. You can pour bath oils into the tub or you can apply them to your wet body after stepping out of the shower. The base recipe for DIY bath oils is to mix an ounce of any carrier oil with 15 to 3o drops of essential oil.
32. Brooke's DIY Bath Jellies
Bath crayons are strongly stained so they can leave actual marks on the wall. Bath jellies look similar, with the same translucent glow and playful shapes. But they're not necessarily intended for bathroom art – they're just slightly squishy soaps to entertain kids in the bath. Use your kids' favorite molds in melt-and-pour soap since it's less likely to sting their eyes.
33. Ten DIY Detox Bath Options
To close this list of DY bath products, let's talk detox. These baths are more like saunas and are designed to sweat out body toxins. So if you start to get uncomfortable, don't panic! It's a normal response and you need to be aware that you may not stand it as long as soothing bubble baths. Try to stay in the tub for 10 to 15 minutes to get the most out of the process.
What are your favorite DIY bath products? Show us how you make them in the comments!