DIY bath products leave you feeling pretty and pampered without draining your wallet. And many of these products have similarities. Bath fizzies can be bath bombs. And shower steamers can be bath melts. But there are some slight differences within the overlaps.
Bombs, fizzies, and steamers all use essential oils and carrier oils that are often liquid at room temperature. But bath melts use body butters that are solid under regular conditions. They thaw when they touch your bathwater. So let's check out some DIY bath melt recipes.
1. Creamy Lavender Meadow DIY Bath Melts
DIY bath melts are designed to moisturize your skin in the bath. So they don't necessarily need a soap product or surfactant. But they should have an emulsifier to disperse the creamy fats inside the tub. This recipe uses shea butter, cocoa butter, and three essential oils (lavender, fir, and spruce in a 10:7:5 blend). These melts are molded in a heart-shaped tray.
2. DIY Naturals Bath Melts
Bath melts are the smallest DIY bath products. They should be 5g or less so they can swiftly thaw in the bathwater. You'll need tiny molds and it's okay to use four or five melts per bath. The main goal is to moisturize your skin, so you can use butters like shea, cocoa, mango, or kokum plus an emulsifying wax for diffusion. This recipe has dried herbs as well.
3. Ellie's DIY Bath Melts
It's okay for DIY bath melts to have carrier oils and essential oils. They all help soften the skin, and those fragrances can soothe and heal your body and mind. This recipe has a mix of shea, cocoa, and mango butters plus an essential oil of your choice. You can also enrich the bath melts with unsweetened Earl Grey tea, mica powder for sparkle, and sweet almond oil.
4. Ten-Minute Bath Melts
Not everyone adds emulsifiers to their DIY bath melts. But as you saw in the video above, not including an emulsifier can make your butters thaw into greasy blobs that stick ickily to your skin and slobber fats all over the bath. So toss in that polysorbate please! Then add some dried flowers, shea or cocoa butter, a carrier oil like almond, and hydrating Vitamin E oil.
5. DIY Coconut Shea Bath Melts
For this recipe, the DIY bath melts are built on shea butter and solid coconut oil. The melts are scented with freeze-dried rose petals, so you can add some complementary rose essential oil or a rose geranium blend. Fragrance oil is lighter and more dilute than essential oil, so your proportions will depend on which variant you pick. Spread the petals before they set.
6. DIY Foaming Bath Melts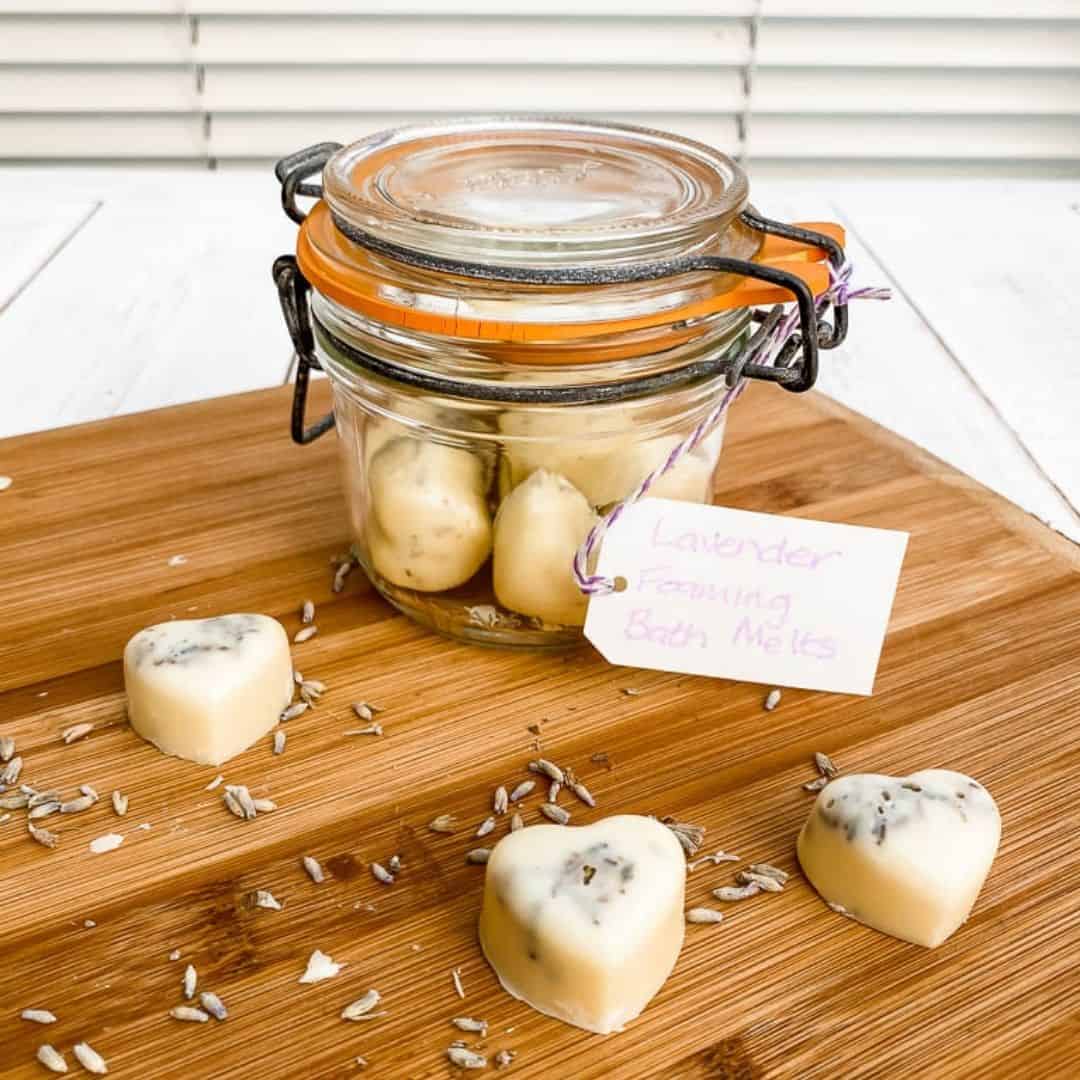 Just like any other DIY bath product, carrier oil options for DIY bath melts include jojoba, safflower, grapeseed, or coconut plus compatible essential oils. But since these bath melts are foaming, you'll need a surfactant (like liquid soap) and an emulsifier. This recipe uses a waterless surfactant called Lumorol that doubles as an emulsifier. The base butter is cocoa.
7. Siddhi's DIY Bath Melts
In some parts of the world, DIY bath melts are sometimes called lotion massage bars. And while coconut oil is a common ingredient, you'll want to start with solid oil then melt it down before re-solidifying it in the fridge. Other additives to your coconut bath melts include tea tree and eucalyptus essential oils. Use an oil-soluble colorant or it won't mix into the melts.
8. B+C DIY Bath Melts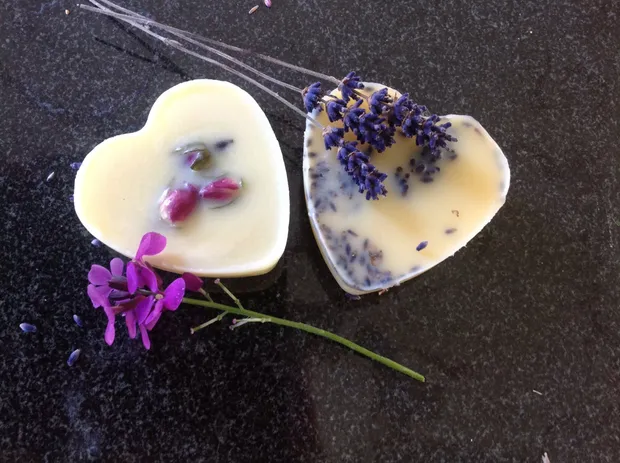 DIY bath melts are tiny and creamy. So while you can embellish them with dried herbs and flower petals, you can't exactly put them in a baggie since the melted butter will stick to the fabric fibers and get wasted. So use petals sparingly to avoid cumbersome clean-up or clogs. Use cocoa butter for harder melts or shea butter for softer ones. Sweet almond is the carrier.
9. Three-Ingredient DIY Bath Melts
Another name for bath melts is bath truffles, and they make the perfect treat for personal pampering. The three ingredients are cocoa butter, shea butter, and jojoba oil. Shea butter is naturally soft, so you can substitute it with equally creamy mango butter or aloe butter. You'll need a bubbling water bath to melt the butters because a microwave might burn them.
10. Paleo DIY Bath Melts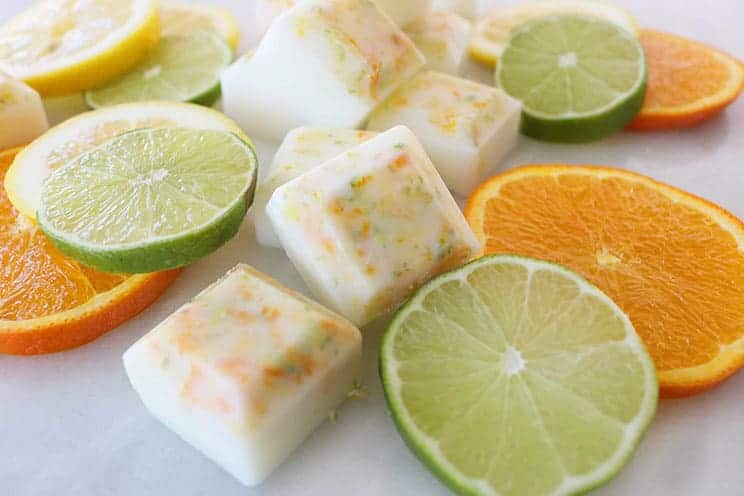 You know the paleo lifestyle is all about good fats, so these DIY paleo bath melts will are the ideal moisturizer. You need virgin coconut oil and the zest from citrus fruits like lemons, lime, oranges, tangerines, or grapefruit. Coconut is light and non-greasy so you can get away with skipping the emulsifier. You could use a mini ice cube tray as a mold for your melts.
11. DIY Lush Bath Melts
Lush makes amazing bath products. But if your pocket is pinching, you can reproduce dupes of these goodies at home. Try this recipe for Lush DIY bath melts. It uses cocoa butter cream (instead of raw butter) to gives your melts a luxurious consistency. Add olive oil, Vitamin E oil, ground ginger, and essential oil. Lavender works well, and you can add colorant too.
12. Lavender Cocoa DIY Bath Melts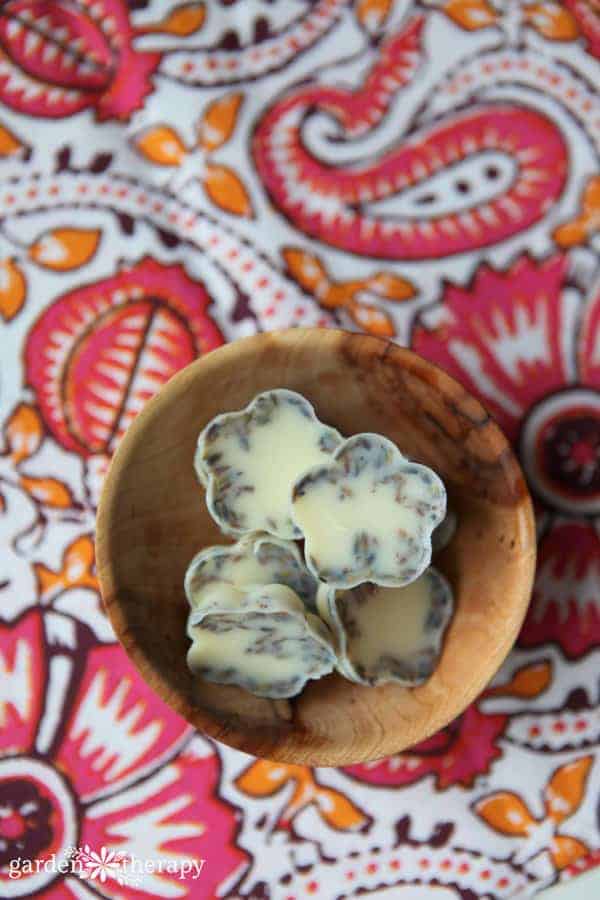 Yes, cocoa butter comes from the same plant used to make chocolate. Hence that mesmerizing scent. Its creamy antioxidants promote elasticity and keep your skin younger and healthier. For this DIY bath melt recipe, mix cocoa butter with coconut oil and lavender essential oil. You can layer that lavender flavor by adding fresh or freeze-dried lavender buds to the melt.
13. Laura's DIY Shower Melts
Shower faucets are often hotter than bathwater. Plus, the pressure and highly conductive shower walls enhance steam and condensation. So when you don't have the time (or tub) for a bath, use a DIY shower melt instead. This one has baking soda, sea salt, water, and essential oils. It doesn't have butter because butter doesn't melt as effectively in the shower.
14. Loving Essentials Lemon Bath Melts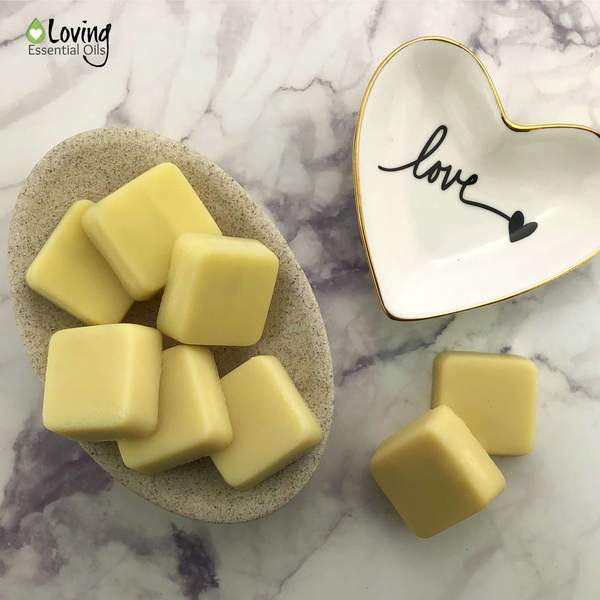 Lemon juice is a good natural toner. And the scent of lemon is refreshing and immunity-boosting. So try these DIY bath melts infused with lemon essential oil. You can garnish them with lemon rind too. The base fats are a blend of shea butter, cocoa butter, and coconut oil. Don't melt the fats directly in a saucepan. Use a double boiler or a hot water bath between.
15. DIY Honey Oat Bath Melts
Basic bath melts just have body butters and scented oils. But you can jazz them up with skin firming ingredients. Oats relieve itchiness and heal rashes while honey reduces inflammation and softens your skin. Add both to your DIY bath melt recipe, molding them together with shea butter, cocoa butter, and coconut oil. They all smell great so you won't need a fragrance.
16. Creamy Fizzy DIY Bath Melts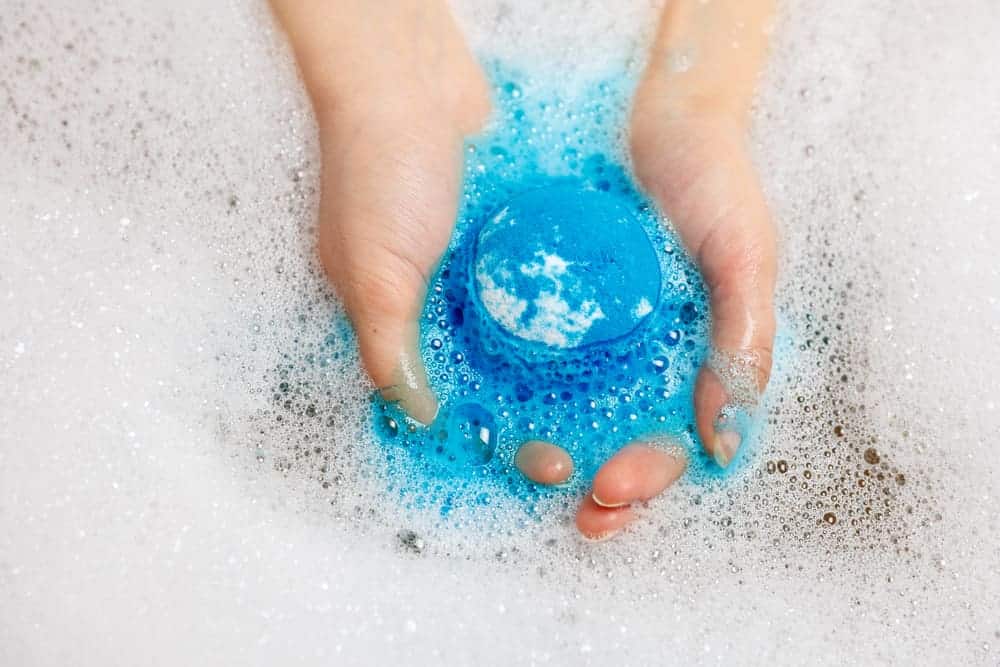 Baking soda is a mild exfoliant and deep cleanser, so it makes your skin feel softer. And if you using a fizzing product in your bath, that tickling sensation as it froths against your skin is all part of the pampering! So try this fizzy DIY bath melts with baking soda, citric acid, essential oils, and melted cocoa butter. Melt and mix them in a double boiler then freeze.
17. DIY Geode Crystal Bath Melts
DIY bath melts last longer in the tub than other kinds of bath products. It's because those other bathtime goodies are made with liquid oil (as opposed to melted moisturizing body butter). So adding some glimmering geodes can add shimmer and shine to your tub. Use colored Epsom salt or pink salt for the geodes and bind with coconut oil and shea butter.
18. Lia's Homemade Bath Melts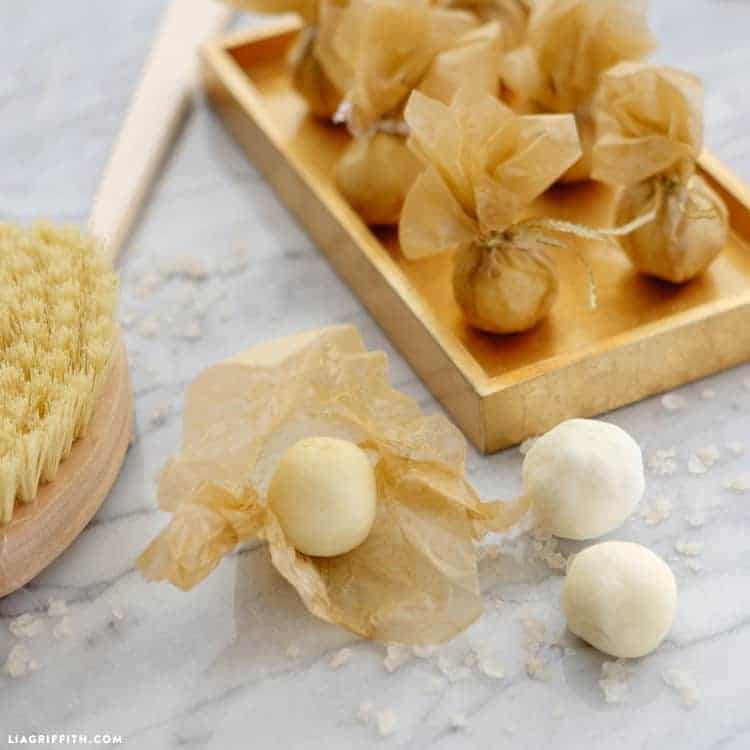 You can make fizzy or non-fizzy bath melts, depending on your preference. For the fizz, mix citric acid or cream of tartar with baking soda and essential oils (bergamot + orange to relax or rosemary + ylang-ylang to restore your spirits). But the bulk of the melt comes from cocoa butter. Form the mixture into balls, wrap them in wax paper, and tie them with twine.
19. DIY Bath Melt Geode Embeds
All DIY bath products can include embeds if you want them. An embed is a micro-product hidden inside a larger one. It could be a secret toy or just a concentrated mini version of the bath bomb, bath melt, or bath fizz, often in a different color or flavor. Use coconut oil and colored Epsom salts of different textures (fine to coarse). Embed these in butter bath melts.
20. Soap Kitchen DIY Bath Melts
Sweet almond oil is an amazing carrier oil for bath melts. But double-check whether the person intending to use it has any nut allergies since the oil might trigger reactions. These DIY bath melts also have essential oil or fragrance oil and melted cocoa butter. Colour and glitter are optional, but see if you can find edible glitter or eco-glitter that has zero plastic.
21. Beauty Snoop's DIY Bath Melts
The Lush products at the start of this video can be jarring on your pocketbook. But watch till the end and you'll see a DIY dupe for Lush bath melts. Melt cocoa butter and shea butter together, then add essential oils and botanicals like orange zest, rose petals, lavender buds, or chamomile tea. Use essential oil blends that match your choice of freeze-dried botanicals.
22. DIY Rose Bath Truffles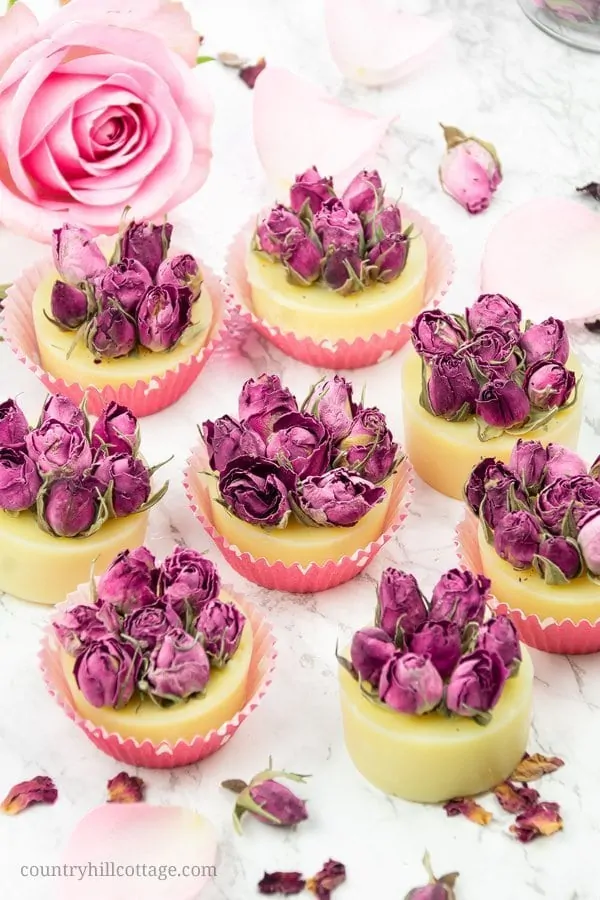 DIY bath melts often have flower petals mixed in. But if you're extra ambitious and aesthetic, you can wrap the truffles in cupcake liners and top them with dried flowers or soap frosting. You need a hard butter like cocoa, or kokum, a soft butter like shea, avocado, mango, or coffee, a fragrance oil like rosehip, and an emulsifying wax like polysorbate to kill greasiness.
23. Better Shea DIY Cocoa Butter Bath Melts
Calendula and chamomile are soothing flavors for DIY bath melts. And their dried petals are great for garnish as well. These homemade bath melts also contain cocoa butter and coconut oil. For essential oils, you can use chamomile and calendula to match the dried flowers. Chamomile tea bags are a handy flavoring shortcut as well. Use a crockpot to melt.
24. Live Fit Girls DIY Bath Melts
Just like Goldilocks and her stolen porridge, cocoa butter is too hard and shea butter is too soft. But mix the two and add a dash of coconut oil … perfect consistency for your DIY bath melts. Use more of the cocoa butter because it gives your bath melts their solid shape. And you can try the peppermint essential oil used in this recipe or try any variant you prefer.
25. Four-Ingredient DIY Bath Melts
It's easier to make DIY bath melts than any other DIY product. Just melt all the ingredients in a crockpot, pour them into molds, and set them in the fridge. This recipe is aimed at dry skin so it uses a lot of oil. The four ingredients are shea butter, coconut oil, olive oil, and a blend of citrusy essential oils (lemon, orange, grapefruit). Consider adding polysorbate too.
26. DIY Fizzing Bath Melts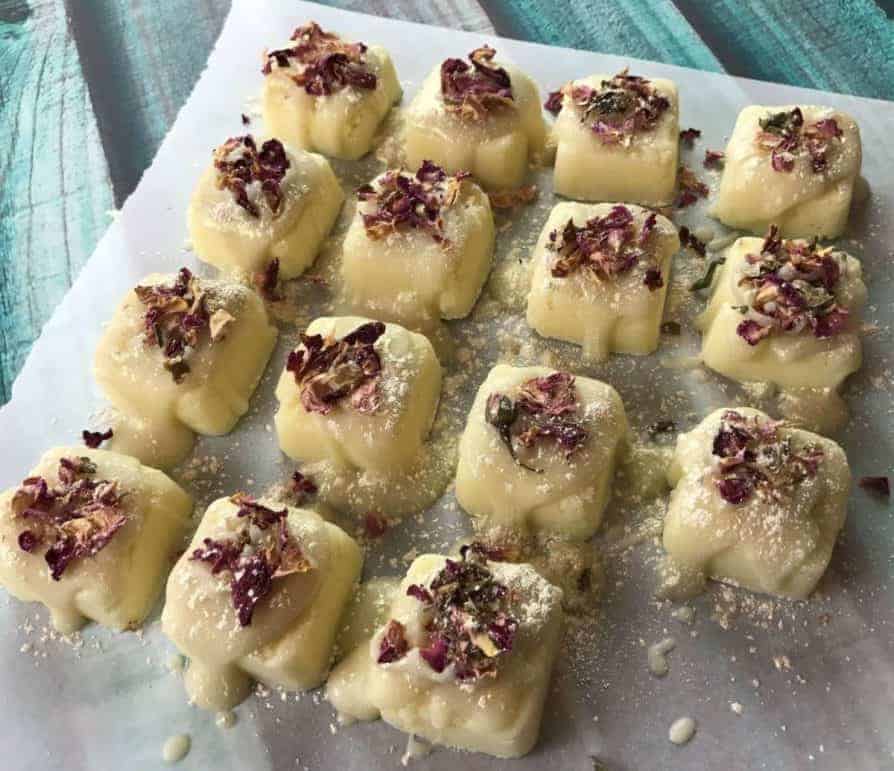 You can drop your bath melts in a hot bath and let them moisturize your skin as they dissolve. Or you can rub bath melts on your wet body during or after a shower for that extra burst of hydration. And this DY bath melt recipe has a rich list of ingredients that include kokum, shea + cocoa butters, mica, dried flowers, essential oils, baking soda, and citric acid.
27. Mud & Magnolias DIY Bath Melts
This DIY bath melt recipe guarantees a fizzy fix. So yes, there's baking soda and cream of tartar. You should include Epsom salt for sore muscles and dried flower petals for extra pampering. The natural oils in these petals soften your skin while the flowers themselves are psychologically pleasing. There's no body butter in this recipe – just solid coconut oil.
28. Rebooted Mom's DIY Lavender Coconut Bath Melts
Coconut oil has a lot of amazing benefits. But it's not as moisturizing as body butters. Still, if you don't like that greasy feeling in the tub (which you can fix by adding emulsifiers to your bath melts – just saying!), try this coconut recipe for DIY bath melts. Add lavender essential oil to melted coconut oil then pour the melted mix into soap mold or muffin pans.
29. DIY Foaming Bath Melts
Fizzy bath melts release quick, tiny bubbles that quickly dissipate. The fizz comes from an acid and an alkali. But foaming bath belts have large frothy bubbles that hold their shape longer. They come from surfactants. This DIY bath melt recipe has colloidal oats, powdered honey, 2 waxes, 3 milk powders, 4 butters, SLSA, emulsifiers, titanium dioxide, and glitter.
30. Slashed Beauty DIY Bath Melts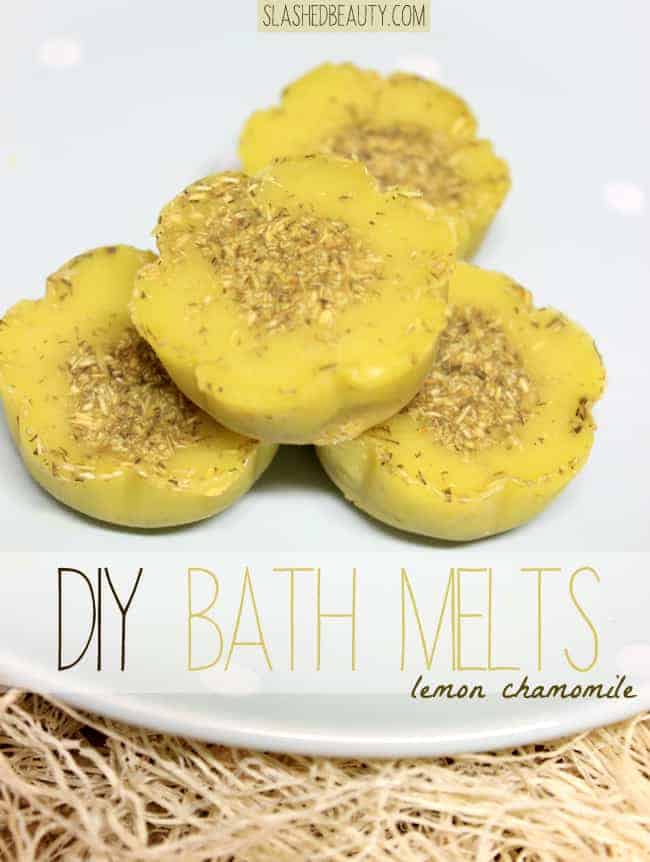 This recipe has baking soda for itch-relief, skin softening, and exfoliation, but it has no acid so it won't fizz. It also has flavored Epsom salt infused with milk and honey. The fats come from shea butter and coconut oil. Add a split chamomile tea bag and lemon essential oil. Food coloring or soap coloring are both fine but only use a little to avoid staining the tub.
31. Vegan DIY Bath Melts
Let's close the list with something for the vegans. It's the same ingredients – cocoa butter, shea butter, coconut oil, and lavender essential oil. But as an ethical lifestyle influencer, you'll want to double-check your brands and ingredients to ensure they're fair trade and cruelty-free. You can sprinkle lavender buds on top of your bath melts for a touch of décor.
What's your favorite DIY bath melt? Show us how you make it in the comments!