Is there anything better than relaxing in a sauna? Yes – relaxing in your own sauna at home!
More and more people are now installing their own home sauna. It can be a great idea – but it's important to spend some time on getting the design just right.
If you're looking for inspiration, you've come to the right place! We're going to look at 24 sauna design ideas. Whether you're looking for a compact single-person unit, or a larger space, there's something here for you.
So step this way to get your creative juices flowing!
Interiors & Outdoor Sauna Design Ideas
1. Dark and soothing
Most saunas use natural wood tones, but here the walls and benches have been stained black. The design works brilliantly with the pale gray marble elsewhere in the bathroom. And it provides a soothing space to work up a sweat.
The styling here is masculine and pared down. But it would look just as good dressed with potted plants and fluffy towels for a more luxurious vibe.
2. Feature heater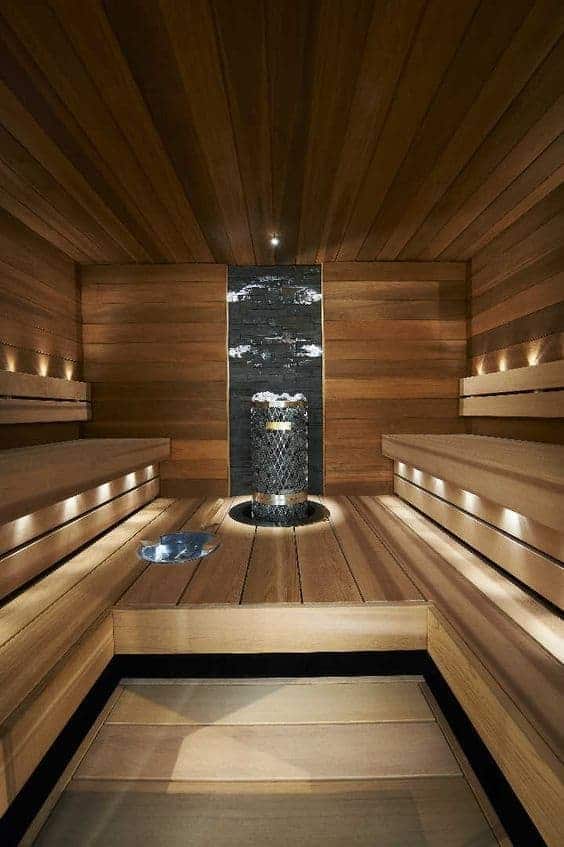 In this sauna, the heater has been turned from a utilitarian necessity to a fantastic focal point.  A simple spotlight above adds drama. A strip of stone behind the heater complements the hot rocks and creates interest and texture.
This design shows that you don't need a huge space to create a jaw-dropping sauna. Step inside, and you might never want to leave!
3. Let the light flood in
Glass walls are a great way of preventing your sauna feeling claustrophobic. And they can also keep bathrooms feeling light and spacious.
In this design, the flooring is uninterrupted between the sauna and the rest of the bathroom, helping the space to flow. And the blonde wood benches and ceilings contrast beautifully with the dark gray stone tiles and vanity unit.
4. Mix it up
This sauna mixes together a range of different styles and textures. There are wide blocks of rustic wood. One wall features a classic mosaic panel, while the others are contemporary glass. The heater has an industrial look. And futuristic strip lighting behind the benches is colored pale blue.
It shouldn't work, yet somehow it does! The lesson from this sauna is don't be afraid to get creative. Mixing up different styles and looks can be very effective. In this case, the neutral palette and high quality materials pull everything together beautifully.
5. Outdoor charm
If you're pressed for space inside, why not take your sauna outdoors? This charming design shows how good a sauna cabin can look in your garden. And it incorporates both a sauna and an adjacent wet room.
A comfy chair outside provides a convenient space to relax as you cool down. Adding a small table means there's a handy place for a jug of cool drink. It's the perfect spot to sit back, gaze out at the garden, and rehydrate.
6. Keep it natural
This traditional sauna design uses the same materials for the floor, ceilings and benches. A panel of stone in one corner keeps things from becoming too uniform. The result is a space that's harmonious and free from distractions.
We particularly like the back rests that have been incorporated along the walls here. They'll help you to stay comfortable if you'd prefer not to lie down.
7. Seated sauna
This sauna is a great design if you want to keep users sitting upright. Using chairs in place of benches means there's no way to squeeze in more people than the sauna was designed for. And as each user means more power is required to heat the space, that makes this a subtly energy efficient option.
It's still a comfortable and relaxing room, with the stove acting as a stylish centerpiece. The distinctive wall lights are another clever touch.
 8. Light fantastic
Lighting can be a great way to pick out individual features in a sauna. But it can also create a focal point itself, as in this stylish design.
Here, one wall is made from blocks of pure Himalayan salt, backlit so that they appear to glow. Wooden sauna pillows invite you to stretch out and relax. And as you lie back, you can take in the unusual ceiling panel, created from rustic sawn-off logs.
9. Amazing curves
If you have lots of space – and an impressive budget – to play with, this sauna provides a magnificent design template. The curved benches provide a luxurious perch on which to relax and enjoy the stunning views across the mountains.
The sauna heater here is suspended from the ceiling. Its curved base echoes the natural, organic lines of the wooden clad walls and seating. And the floor to ceiling glass invites you to imagine stepping out into the scene beyond.
10. Stunning simplicity
If you're looking for a tranquil space, free from distractions, this design could be the perfect solution. The floors, ceiling and benches are all finished in the same natural cedar. Even the sauna heater is surrounded in the same material.
Simple downlighters and a corner light give the room a warm glow. And despite the space being relatively small, there's plenty of room for multiple users. Double height benches offer the chance to choose between warmer and cooler zones.
11. Multiple height seating
In this sauna, there's even more choice about where you sit. No fewer than three tiers of benches have been fitted along one wall, with a further two tiers at right angles.
There are some compromises with a design like this. You'll need to avoid standing up straight when leaving the topmost bench, or you'll smack your head! But it does allow the sauna to be used by people with very different heat tolerances at the same time.
12. Hidden lighting
This clever design takes an interesting approach to lighting. It's hidden away behind the vertical sections of the benches. The technique allows a golden glow to stream through the slats, creating a subdued atmosphere in which to relax.
The multiple heights allow you to sit on three different levels, or lie on the two upper tiers. Go to the top, and you'll also be able to take advantage of the comfortable back rests.
13. Long and thin
This design takes an innovative approach to making the most of a long, narrow space. Rather than position the benches along the longer wall, two lounger-style structures have been placed alongside one another. It's the perfect design to enable a cosy tête  tête during a sauna.
It does, however, mean you'll need to squeeze past the heater on your way out. A wall mounted model will make that easier.
14. Bathroom highlight
In this bathroom, the sauna takes center stage. The glass walls allow anyone walking into the room to see straight inside. We challenge you to resist stepping in!
The height of the upper tier # benches has been carefully chosen to mirror that of the vanity unit. The natural wood is also duplicated in the shelves beneath the vanity. The result is a space where all the elements fit seamlessly together.
15. High and mighty
Whether to have the wood in your sauna running horizontally or vertically along your walls is up to you. In this design, vertical panels alternate with narrow strips of mosaic. The striped effect draws the eye upwards, creating an illusion of height.
It's a clever way to give a small sauna a spacious feel. The glass wall allows the light from the bathroom to flow through. And a shower is neatly tucked into the same area as the sauna.
16. Reflected glory
This design positions the sauna immediately next to a walk-through wet room. It's a clever and convenient way of using the space. As soon as you've finished sweating, you can rinse yourself off under the bracing water.
Glass walls avoid any feeling of claustrophobia in the sauna. And here, the wooden slats on the floor, ceiling, walls and benches are laid horizontally, creating a harmonious look.
17. Looking up
This sauna follows a simple plan that's free of distractions. But lie on the bench and look up, and you'll see a design of concentric ovals set into the ceiling. It's a great place for your eye to rest as you zone out and let the heat do its work.
Elsewhere, every surface is covered in natural cedar. Even the salt shelf and stove surround are made from the same material. The simple scheme is designed to induce a Zen-like state in sauna users.
18. Room with a view
If you're lucky enough to have a view like this one, arrange your sauna to take advantage of it. This design uses three tiers of seating to create hot and cooler zones. The bench edges are subtly curved to give a naturalistic feel that works perfectly with the ocean view.
The use of a deep window sill provides another spot to take in the vista. And simple, natural materials keep the attention where it should be – on the seascape outside.
19. Ship ahoy
Here's another sauna with an amazing sea view. And although this is larger than most home saunas, there are still plenty of great design ideas to copy. Here again we find curved seating facing floor to ceiling windows.
In this case, the glass slopes outwards, creating the feeling of being on board a ship. And two different tones of lighting add a warm glow to the room.
20. Natural art
If you don't have a window with a great view, why not create one yourself? As this design shows, there's no reason you can't hang art in a sauna. We'd recommend using prints, though, rather than hanging a priceless Picasso! The heat won't do any favors to real paint.
Positioning benches along two walls maximizes the space for sauna users. And three tiers of seating allow plenty of choice when it comes to the temperature.
21. Futuristic fantasy
This striking sauna shows just how effective the simple lines between wooden slats can be as a design feature. The wood here is almost white, and it's been attached to a dark background. The result is a stark grid pattern that looks almost space age.
It's the perfect partner to the white up-lighting at the base of the walls and behind the benches. If you're looking for a clean, ultra-modern look, this is a great choice.
22. Floating elegance
If you want a truly distinctive look, why not ditch conventional benches? Here, sauna users lie on floating versions, each one providing a private spot for one person.
The design also utilizes a mixture of flooring materials. Light is reflected through the benches onto the matte white tiles, mirroring the lines of the duckboard. The result is simple yet stylish.
23. Perfect pairing
Everything about this deceptively simple sauna has been designed to integrate seamlessly with the bathroom.
The interior is clad in the same wood from which the bathtub and vanity countertop are made. The same goes for the two-tier seating. And the stone feature wall continues beyond the glass wall of the sauna, creating the illusion of uninterrupted space.
24. Clever contrasts
This design showcases how effective it can be to use different materials for your sauna walls and seating. Here, black wood and stone contrast sharply with the pale cedar. Small, bright LEDs add to the dramatic look.
A cut-out around the heater allows every square inch of space to be utilized. Three people could use this small sauna in perfect comfort.
Ready to design your own home sauna?
That brings us to the end of our look at 24 great sauna design ideas! However much space you have to work with, and whatever your budget, there's something here for everyone.
If you're looking for classic minimalism, cedar is the way to go. But as these designs show, mixing things up with mosaic and stone can be very effective. And clever lighting can lift a simple design, creating a cosy feel or a dramatic edge.
Good luck with your sauna design – and we hope your soon enjoying the real thing in your home!