Your hygiene habits largely depend on where you grew up and how you were raised. Some of us shower twice a day while others do it twice a week. Some apply lotion after every bath while others save their glittery, perfumes creams for date night. Some scrub every inch from our scalps to our toes. The rest of us only shampoo our hair and rinse off the falling foam.
But whatever your bathroom routines are, everyone agrees on soothing baths. They calm our moods and relieve aching muscles. So they're just the thing after a rough day or a tough week. But that hot water and long soak can end up over-drying our skin. That's where bath oils come in. Pour some in the tub for a silky treat! And here are 31 DIY bath oils you can try.
1. DIY English Garden Bath Oil
This English Garden recipe contains a total of six oils. Two are lighter carrier oils (turkey red oil and olive oil) so they disperse easily into the bathwater without making your skin feel greasy. The others are volatile essential oils (rose geranium, lemon, neroli, and petit-grain). So when they hit your bathwater, they evaporate and release that healing aromatherapy.
2. Six DIY Bath Oil Blends
Whenever you're making a DIY bath oil, consider using turkey red oil. It's sulfated castor oil (meaning it's infused with sulphuric acid). This makes it easier for the oil to 'emulsify' into tiny droplets without forming greasy blobs in your bathtub or on your body. Try these six essential oil blends that you can mix with your chosen carrier oil according to your mood.
3. Aroma Hut DIY Bath Oil
You want your DIY bath oil to feel silky, not greasy. And the secret is to use carrier oils like fractionated coconut or sweet almond, or olive oil. This recipe uses a sweet almond carrier, cypress essential oil, with lemon + sweet orange fragrance. Cypress essential oil stimulates your circulation and is thought to reduce cellulite. It works wonders on your lymph nodes.
4. Savvy Homemade DIY Bath Oil
Apart from using sulfated oil, there are other tricks you can use to stop your bathtub from feeling too greasy. Add aloe vera or bath salts (to the bathtub, not the bath oil bottle!). They break up the oils into smaller particles, coating your skin in that silky salve. And since this layered DIY bath oil recipe has distilled water, you need a preservative like Plantaserve P.
5. DIY After-Shower Bath Oil
DIY bath oil recipes sometimes need Plantaserve, Optiphen, or a similar product. This helps the oil and water mix thoroughly without forming mold or breeding germs. Glycerine and sunflower oil are excellent carriers. And if you don't want to pour the oil into the bathtub (or you don't have a tub), apply the oil to your damp body after showering or bathing. It works!
6. Herb-Infused Bath Oil
When you're making a DIY bath oil, add as many blends as you like. Consider using avocado oil as a carrier because it helps other oils emulsify (disperse into the water without forming those nasty floating blobs). This recipe also has argan oil, sweet almond oil, vanilla oak oil for fragrance, plus chamomile and calendula essential oils. You could use their dried petals too.
7. Lush-Inspired DIY Bath Oil
https://www.youtube.com/watch?v=rV-PqRUiWCg
Lush has plenty of ASMR videos showing how their bath oils are made. But they don't often list the ingredients or measurements. So here's a DIY bath oil recipe derived from Lush. It uses shea butter, cocoa butter, and coconut oil. You can add any essential oil and soap color you like. Put them in soap molds. They're solid at room temp and will melt into your bath.
8. DIY Aromatherapy Bath Oil
Looking for a last-minute gift that works? Pick any bath oil from the grocery store. The blander and more generic, the better. Now enrich that off-brand oil with your personal blend of essential oils. It could be a soothing lemon + lavender. Or a healing eucalyptus + tangerine. Put this in a pretty bottle with a ribbon and a label. You can even gift it to yourself!
9. DIY All-Natural Bath Oil
This blend of oils naturally soothes and pampers your skin. And it's not greasy, so you can mix it into the tub or apply it on your body after a shower. It works best when used on damp skin, so lay it on before you towel yourself dry. The oils used here are avocado, jojoba, olive, and peanut. Tea-tree essential oil gives your bath oil a mild fragrance. Plus, it's anti-bacterial.
10. DIY Bath Oil Melts
If you'd like to mix a DIY bath oil but you're unsure if which carrier oil to use, try blending sunflower, rice bran, coconut, almond, avocado, hemp, or castor oils. You could also make solid bath oils that melt slowly as you soak in the water. This recipe uses cacao butter, coconut oil, and essential oil to make white chocolate bath melts. Freeze them before use.
11. DIY Cleansing Shower Oil
By now you know DIY bath oils don't need a bathtub. You can put some in a bucket of warm water and rinse yourself. Or you could assemble a makeshift shower to pour the enriched water over your body. And they're cleansing, so they can work as a kind of dry shampoo. This version has Vitamin E oil, emulsifiers, essential oils, polyglyceryl, surfactant, and carrier oils.
12. Sulfated DIY Bath Oil
Is castor oil a good carrier for DIY bath oils? Well, its smell can be off-putting and it can get sticky, but it has the same consistency and chemical content as sebum, the oil our bodies naturally produce. So it easily absorbs and infuses into our systems. Or try turkey red oil instead – which is sulfated castor oil (infused with sulphuric acid). Add polysorbate too.
13. DIY Blooming Bath Oil
https://www.youtube.com/watch?v=m7FhqWlfkHM
Sumalisa's homemade recipes are sometimes called miracle bath milks or blooming bath oils. She mixes them in different colors and flavors like yellow banana, green tea, or red tutti frutti. She makes them as a dupe of the LaRic line, and ingredients include Polysorbate, lotus extract, and various oils (shea, grapeseed, Vitamin E). You can add mica for sparkle.
14. Six Skin Softening DIY Bath Oils
When you're making a DIY bath oil, you have three choices. One, use synthetic Polysorbate 20 to emulsify the oil (break it into tiny particles that easily blend into the water). Two, use a natural commercial emulsifier like Ecomulse (coconut oil + sugar). Three, use turkey red oil, which is self-emulsifying. It helps the other carrier oils emulsify. Try these versatile variants.
15. DIY Soothing Oat Bath Oil
Fruit and nut oils make good carrier oils because they're light, food-grade, and gentle. Try macadamia, peach, or watermelon oil. You can also add alcohol, castile soap, or mild shampoo to emulsify your DIY bath oil. This recipe uses labdanum and lavender essential oils and colloidal oatmeal. The carriers are sweet almond, sunflower, and shea butter.
16. DIY Bath Blend Oils
For true fans of DIY bath oils, it can help to buy carrier oils and essential oils in bulk then just mix and match. You could try olive and lavender for sleep. Or sage and marjoram for men. Or jasmine and patchouli for date night. Or bergamot and neroli when you're feeling blue. You could even soak in rosemary for cellulite. This article has 10+ recipes you can try.
17. Soap Kitchen Luxury Shower Oil
If you can use it straight after a shower (and ideally on wet skin), then it works as a bath oil. The trick is it has to be usable on damp skin, which means it emulsifies in water. Otherwise, it'll feel heavy and greasy on your body. So try a few ounces of this cold-processed luxury DIY shower oil in your tub. It has soybean and jojoba oil plus emulsifiers and vitamin (E+B5) oil.
18. DIY Foaming Bath Oil
Some shower gels leave your skin feeling silky and moisturized. So why not try a recipe that does the reverse? This DIY bath oil has a foaming element so it feels both bubbly and milky. The recipe uses Lumorol as an emulsifier and surfactant. Rice bran is the carrier oil, but the recipe also has 58% cocoa butter. The article suggests essential oil blends for various needs.
19. Kin DIY Shower Oil
Here's a shower oil recipe that still works in the bath. It's based on 'food oils' or 'edible oils' that each serve your skin in different ways. The recipe blends avocado, sweet almond, and fractionated coconut oils as carriers. You can then add any essential oil. But be wary if your skin is sensitive because 'hot oils' like citrus can go from an irritating tingle to a visible burn.
20. Four Indian DIY Bath Oils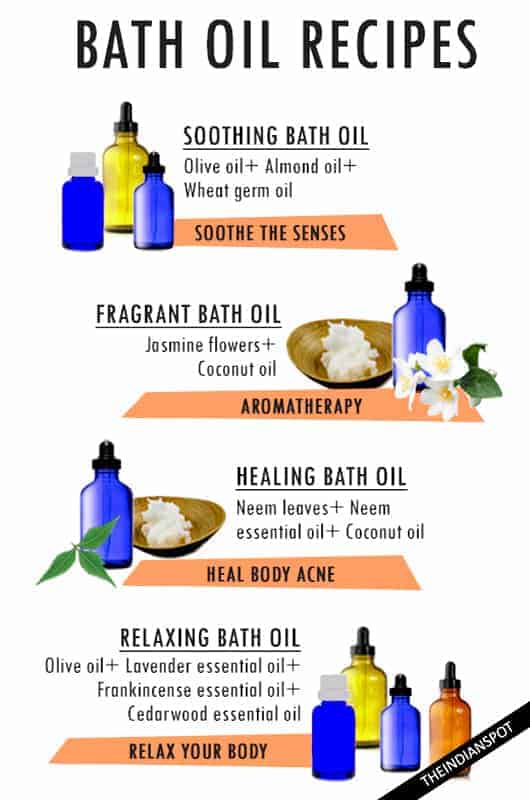 What drives you to the tub? Depending on the type of pampering you require, these four DIY bath oil recipes are sure to hit the spot. Try coconut + neem when you're under the weather. Or coconut + jasmine to get you smelling sweet and sultry for date night. Stressed out? Olive + almond + wheat germ combine to form a soothing tonic. You can add rose essential oil too.
21. DIY After-Shower Moisturiser
Do you rinse off after taking a bath? Some people prefer to remove that residue from flower petals or colloidal oats. So whether you're washing off the bubbles or taking a regular shower, try this after-shower oil which also works as a DIY bath oil. It's a blend of oils that range from coconut, olive, jojoba, avocado, sweet almond, and argan plus lavender essential.
22. Easy Homemade Bath Oil
Did you know you can use bath oil before getting into the bath or shower? Apply the oil all over your body, massage it gently into your skin, then step into the bathtub or shower. If you like, you could dry-brush your skin before layering the oil. A DIY bath oil recipe you could try is based on apricot kernel oil as the carrier. It's great for sensitive skin and anti-aging treats.
23. DIY Witch Bath Oil
The best part of DIY bath oils is discovering new combinations. Try safflower (high in linoleic acid aka Vitamin F) or pomegranate (nourishing and ant-aging) as carriers. This recipe has jasmine and lemongrass essential oils plus blended waters (rose, orange blossom, mint). And because of all these oils and waters, you do need polysorbate 20 to disperse them.
24. Happy Home DIY Bath Oil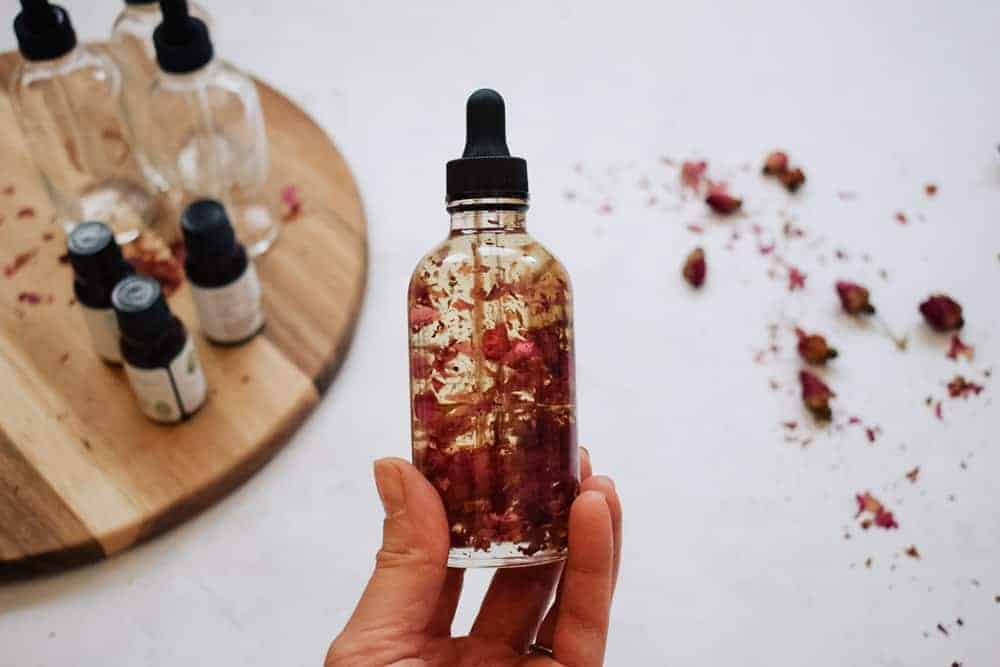 Essential oils are quite concentrated. So if your DIY bath oil is heavy on carrier oils, then you're okay. But if the bulk of your recipe is essential oils, use a tit dropper to avoid harming your skin or respiratory system. This blend sits in a tit dropper and is filled with rose petals so it's quite potent. The bath oil has almond as a carrier. Try the listed roller blends too.
25. doTERRA DIY Bath Oil Concentrate
The basis of these DIY bath oils is either doTERRA fractionated coconut oil or your chosen brand of jojoba or sweet almond oil. They're versatile carriers for endless healing tonics. You'll want 10 drops of essential oil to 50ml of carrier oil. Or a dozen drops of essential oil for every 12oz of carrier oil, if that's easier to remember. One tablespoon is even for a full tub.
26. DIY Balancing Bath Oil
When your spirits and hormones are out of whack, aromatherapy could help you find your balance. So if you're out of sorts from PMS, HRT, and the general (and highly unnecessary!) drama of the female reproductive system, try this balancing bath oil. Use almond or jojoba as a carrier oil then add clary sage, geranium, chamomile, cypress, and lavender essential oils.
Click for More Details
27. Mother's Day DIY Bath Oil
As we mentioned, booze can make a handy emulsifier and preservative for DIY bath oils. This one uses sake or vodka, though they're optional. Then there's a host of oils – glycerine, Vitamin E, and a carrier (olive and sweet almond work great). The recipe also has water (hence the need for emulsifiers) and essential oils. Pick your mum's favorite floral scent.
28. Happy DIY Bath Oil
The scent of sweet orange can instantly brighten your mood. And bergamot is known to be effective against depression as well. So when you need a bath to cheer you up, try a sunny formula that blends these two essential oils with geranium. Good carrier oils to go with these solutions include grapeseed oil or jojoba oil. They'll retain that saccharine citrusy kick.
Click for More Details
29. Rose Elixir DIY Bath Oil Salt
The beauty of DIY is you can create multipurpose products and merge functionality. So you could garnish a bath oil with pink salt. Or infuse a bath bomb with aromatherapy oils. For this recipe, we're fusing bath oil (specifically, rose essential oil) with bath salts (Epsom and Dead Sea). This is sometimes sold as elixir. You can use magnesium flakes instead of Epsom.
30. Super-Relaxing DIY Bath Oil
Relaxing baths are a common remedy for insomnia. But you don't always want to nod off. Maybe you just want to unwind before your partner gets home so you can hang out. Or you could be getting ready for a sultry date night. So dodge the Nyquil and opt for cedarwood and sandalwood. You can still add a touch of lavender, but not too much. Jojoba carries this well.
Click for More Details
31. DIY Rose Bath Oil
Our final DIY bath oil isn't strictly a bath oil – you can use it after a shower, on your hair, for manicure maintenance, and yes, in the bath. And it's a great way to use rose petals before they wilt. Shred the fresh petals into a cup of grapeseed, olive, or jojoba oil. This will be your carrier. Swirl the petals in the oil then put the covered cup into hot water to steep. All done!
What's your favorite DIY bath oil recipe? Show us how you make it in the comments!