If you're like us, you use the bathroom every day. Maybe more than once. And whether you have a full bath (tub, shower, and toilet) or a powder room (toilet and sink), you may be in there for an hour or two in total. And your guests will be too – so you want to make an impression.
Bathroom accessories are a clever way to make your mark. They're practical and functional, but they can also be pretty and personal. They show off your character, your sensibilities, and your style. Beyond basic soaps and shampoos, what accessories should you consider buying?
1. Glossy Gray Soap Dishes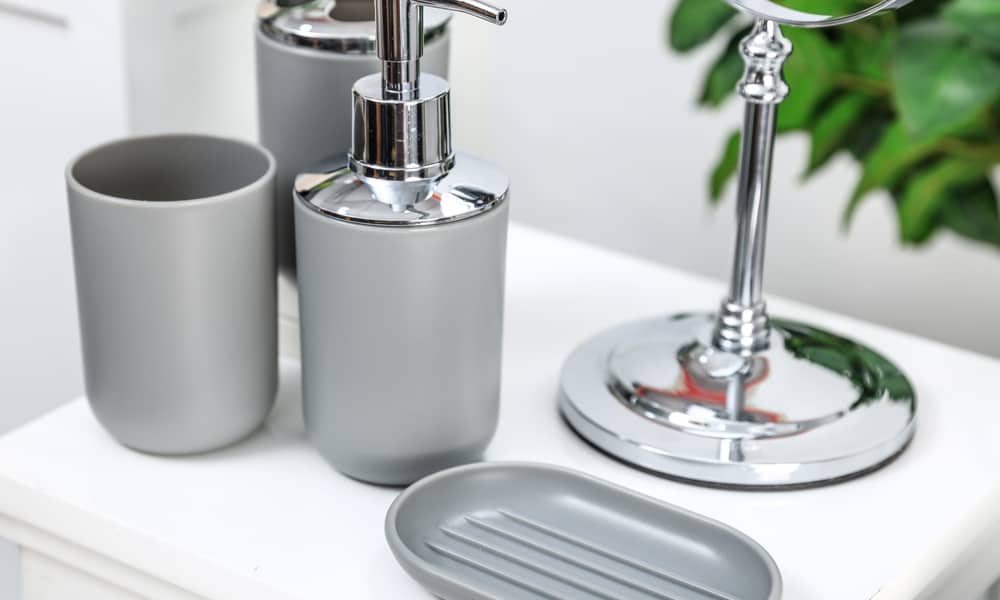 Gray is conservative and understated. It marks you as mature and sophisticated, so it's great for your quarter bath downstairs. The soap dish will prevent scum from soiling your small bathroom surfaces. A soap dispenser with stainless steel accents elevates your style and décor.
A tumbler reduces the indignity of cupping your palm under the tap and is essential for guest rooms. Why? Because many guests will bring a toothbrush, but few will bring a mug, and they may be embarrassed to borrow one from your kitchen. Countertop mirrors are ideal if your quarter bath is too small and cramped to have a mirror installed over the sink.
2. Sunny Home Spa Accessories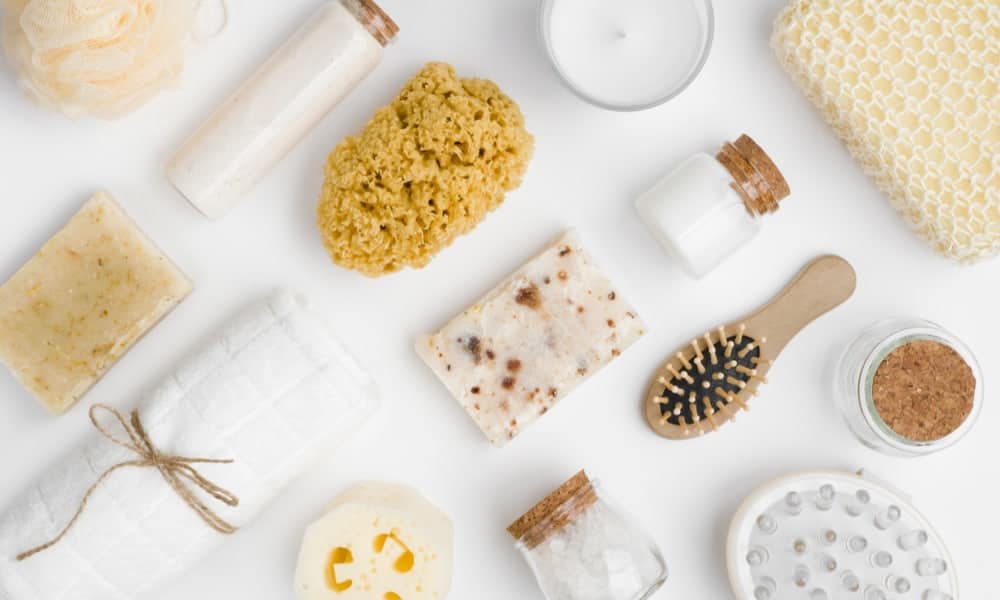 When you're at a health and wellness center, you probably don't pay attention to your surroundings. You're too busy being all zen and pampered. But you can bring that spa experience home simply by loading up on suitable bathroom accessories.
This set uses warm yellows to up the comfort factor and keep your cheerful. Get exfoliating loofahs, fancy bath mitts, fluffy flannels, and skin brushes. Use small, intricate glass containers to add luxury to your bathroom, even if they're filled with cheap everyday bathroom products.
3. Hardy Bath Sponges
When you hit the bathroom aisle at the supermarket or grocery store, you'll probably be drawn to bright colors and fluffy items. These may include those plastic washing mitts with fluffy folds and cute decorative baubles. But if you want to peel off dead skin, get a natural loofah.
They're made from plants, so they're eco-friendly and biodegradable. Alternatively, you could buy a tough sponge. Get one with a fancy finish if you don't want it too Spartan. You can tuck it into terry cloth and stitch a hand-flap for your palm, making it easier to use when it's wet, foamy and slippery. The flap is especially helpful for those hard-to-reach portions of your back.
4. Ceramic Bathroom Dishes
Some people like bright, cheerful colors. Others prefer something simple, clean, and minimal. In the bathroom, some people go for dark items that don't show dirt. Others prefer lighter ones because the highly visible dirt will prompt them to clean more thoroughly … and more often.
This set of bathroom accessories falls into the 'clean and minimalist' category. They're delicate, white, and sparse – a glass vase, a tumbler with a saucer, and a  ceramic soap dispenser. If you'd like a soft touch, you can add a doily or a wicker ball for ornamental purposes.
5. Cozy Cabin Accessories
Of course, if you prefer a more rustic approach, you could buy wooden (or wood-themed) bathroom accessories. These could be coated in wood trim, or you could use glass and plastic with wooden prints on them. You can even knit fabric covers for your bath-wear.
It can be brown or beige. This set of accessories is ideal for a log cabin, outdoor shower, or any lumber-based home. The whole bathroom doesn't need to be wooden – you can simply match the accessories to the wooden baseboards, curtain boxes, mirror frames, or timber-paneled roof.
6. Step-Ladder Shelving
Yes, storage is a form of practical bathroom décor. Usually, there's a cabinet behind the mirror, or maybe some drawers beneath the sink. You might even have recessed tile shelves in the shower cubicle. But maybe your small bathroom has limited space and few storage options.
In that case, a ladder shelf is a good choice. This white one maintains hygiene and opens up the room. It's an open shelf, so it allows free circulation of moist air. This reduces the potential damage caused by humidity. The 'ladder' also allows access to higher sections of the room.
7. Rainbow Room
If you're the type of household that likes to change things up, why not have a color-coded selection on bathroom accessories? Buy this set in six colors and you can change them every week. Just make sure your towels are machine-washable and the tumblers/soap dispensers are dishwasher safe. This helps you keep everything stainless and scum-free.
8. Declutter with Wicker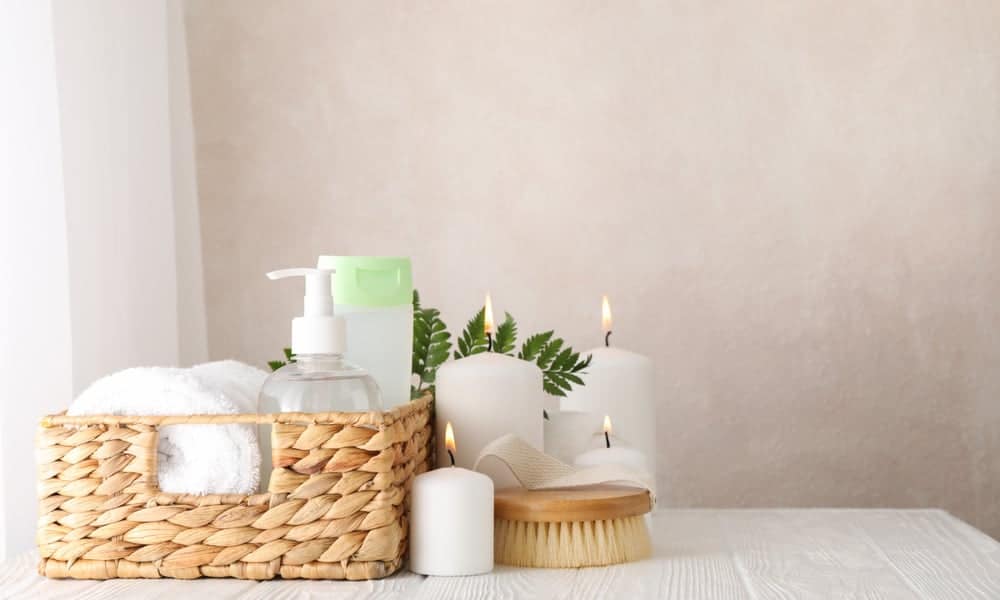 We veer towards glass and metallic items for our bathrooms. They're easier to maintain, and the psychologically imply hygiene. But wicker and wood are good choices too. You may worry they'll attract mold, so you'll pay more attention to them. You'll wipe them more often, meaning your bathroom is cleaner overall. Plus, the wicker baskets will help you cut down on clutter.
9. Timber Trimming
Natural bathroom accessories may be better for the environment, but they can also dent your budget. So try using natural trim instead. This set of accessories matches the wood grain on the countertop. That counter may be solid wood, veneer, or printed tail, or water-proof paint.
Either way, there's a narrow matching border at the bottom of your soap dispenser and tumblers. This unifies your bathroom décor while elevating the ambiance of your bathroom. Printed borders are best since they don't need as much care as actual lumber trimmings.
10. Contemporary Couture
Bathroom accessories aren't always small countertop trinkets. Sometimes, you can use larger pieces to accentuate your room. In this case, a chrome floating ladder is both functional and decorative as a towel rack. A stainless steel bin and its matching reflective toilet brush holder add to the metallic effect, widening the room. The tufted bath mat softens the room just a touch.
11. Blushing Peach
On the other hand, if you want to soften your bathroom, you could go for gentler hues likes pinks and peaches. Take a light approach – nothing too drastic. A simple softwood table with a glossy stain to keep it waterproof. A sprinkling of feminine accessories in similar colors will finish the look. You could throw in some trinket trays or wooden jewelry boxes.
The idea is to make yourself feel spa-like and pampered, so include various brushes, some exfoliating scrubs, and lots of cute product bottles. If you want to feel luxurious, watch YouTube tutorials and make your own bath products at home. Use lots of scent and glitter!
12. Sleek not Goth
Let's check out the other extreme. You may want your bathroom to look professionally coordinated instead of cozy and homely. In that case, mimic the sleek blacks and glossy metallic of modern hotel bathrooms. Focus on detail as you browse the hardware store.
Buy minimalist soap dishes, faucets, towel hooks, and toothbrush holders. Opt for hollow railings rather than solid housings and closed cases. Veer towards see-through glass casings in smaller sizes. This enhances the sense of openness, improves ventilation, and is easier to clean.
13. Natural Bathroom Accessories
Many bathroom accessories are cheap and disposable. They're made of plastics and poly. But whether you're vegan or have less restrictive green leanings, you can add a lot of nature to your bathroom. Invest in toothbrushes, soap dishes, bathroom containers, and even hairbrush bristles made of natural materials. Bamboo is good, both in color and texture. Pretty too!
14. Handmade handicrafts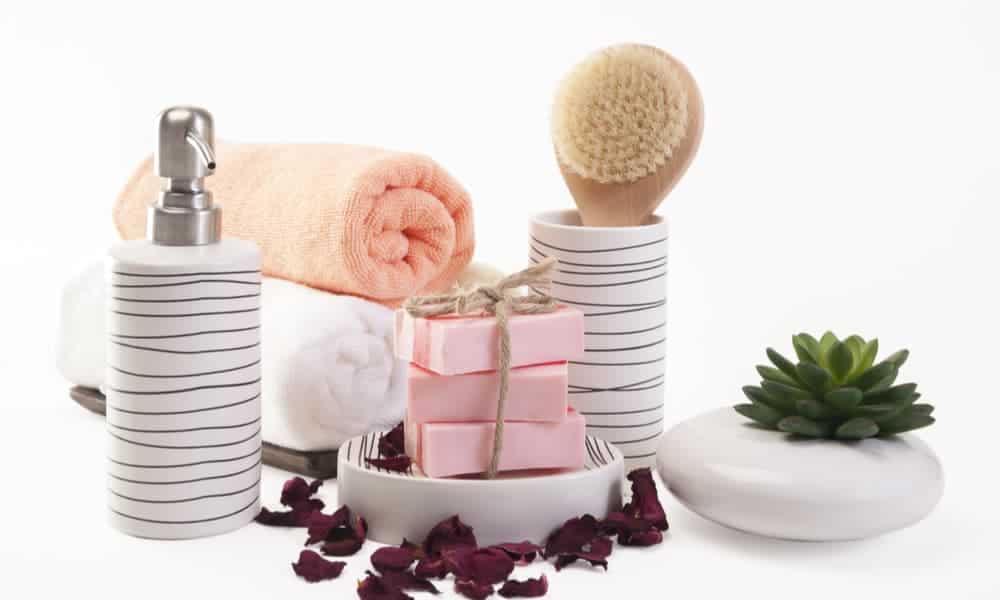 If you prefer to craft your bath products at home, you can be as complex as you like. You can mix scents, play with potpourri petals, and shape DIY aromatic candles. But since your crafting process is intricate, use simple bath containers to balance things out. Try this simple white set with black stringy stripes. Its low maintenance and works with any bath product color selection.
15. Float your Bathroom Boat
If you're working with limited bathroom space, your accessories have to get creative as well. This attic space has been converted into a bathroom, so there's no room for extras. In such cases, keep your bathroom accessories equally sparse. The floating shelf opens up the bathroom.
This is ideal since it improves air circulation and psychologically makes the bathroom feel bigger. A vessel sink, heavy vase, and loose mirror complete your countertop. High wire-frame light fixtures are useful. Drawers hide clutter while a single soap dispenser keeps things clean.
16. Busy but Simple
This bathroom is deceptively simple, with its white and gray décor. Plus, it has two white cabinets – it doesn't get simpler than that! But as you can see, the set-up is still unsettling and busy. You can resolve this by placing the trinkets and plants on an open shelf or wire rack.
The gold-and-gray color scheme is classy, but you could also use a tray for all those dishes and dispensers. But everything would look less crowded if they were laid out better. At the very least, hang the bathroom linens to prevent them from accumulating dust and damp.
17. Woodsy Wonder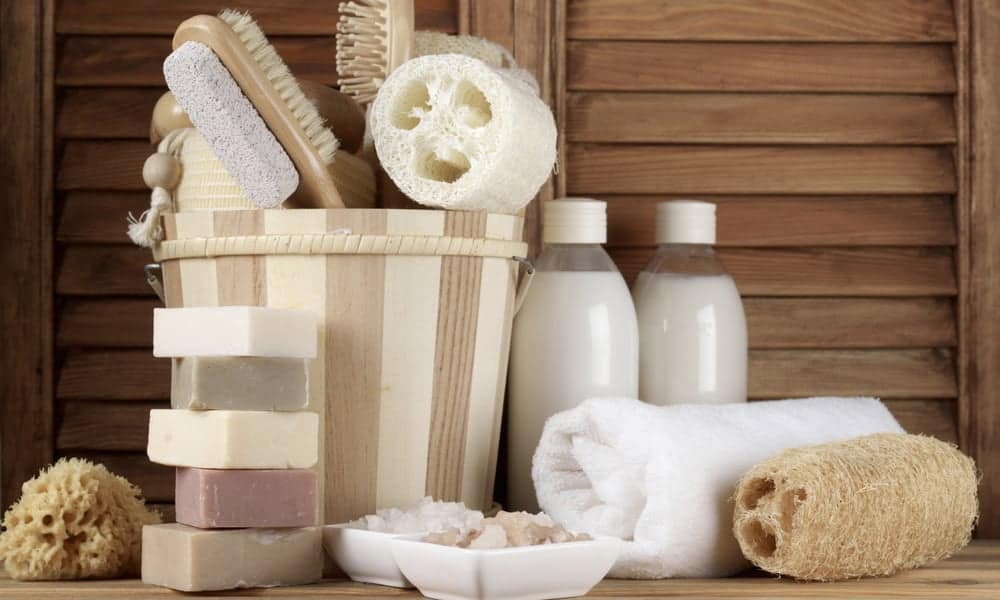 When you choose a wooden theme for your bathroom, pale colors are better. They brighten the room and lighten your mood. They also show dust more clearly – which some people see as a weakness … but others see as a reminder to clean more frequently. Use pressure-treated wood.
You can also use engineered wood or water-proofed wood to avoid cupping, warping, rot, fungi, or water damage. Pair your wooden walls, shelves, and dishes with other natural accessories. These may include bamboo bristles, plant-based loofahs, and sea sponge bath mitts.
18. Sweet and Simple
How often do you change your bathroom products? We're advised to change toothbrushes every 3 months and your razor after 5 to 10 shaves. So why not use your bathroom accessories as a reminder? Have a single clear glass tumbler for your toothbrush and two or three razors. The glass shows dirt easily so you won't forget to rinse it and replace your disposables …
19. True Baby Blue
Before the 21st century, babies were mostly dressed in white or pale blue. Even baby girls. And baby clothes were similar for all genders. So while we think of blue as a boyish color, it can still be soft and gentle in the right shade and context. The pastels on this bathroom wall work beautifully with the glossy blue soap dish, vase, and soap dispenser. It's quite calming.
20. Basket Cases
Bathroom accessories can make your space look less clinical. It adds that soft, cozy touch of home. But if you have small kids with curious hands, clutter is not your friend. In such cases, the less stuff lying around, the better. Consider installing high open shelves that kids can't easily get too. Then invest in pretty sorting baskets. You can have one for soaps, one for towels, and so on.
21. Walls of White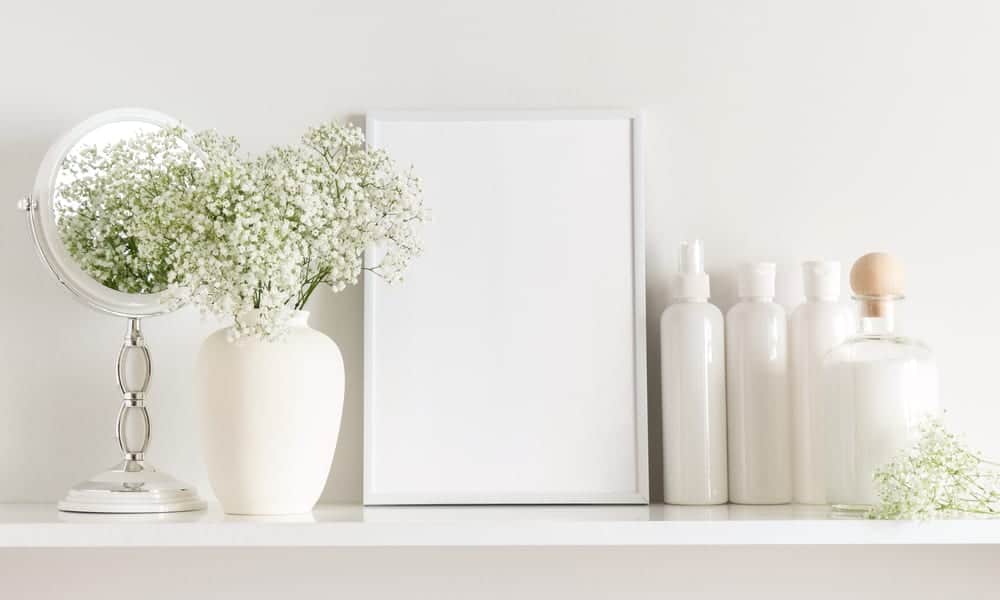 Here's another decorative solution of you don't have small kids with stained hands. If you're neat enough to keep a white bathroom spotless, go white. All your jars, soap dishes, tumblers, and soap dispensers can be glistening ceramics. You can also buy clear glass accessories then stick to white soaps and lotions for the same effect. Frame your mirrors in white as well.
22. Two-Tone Tabletops
His-n-hers bathrooms don't have to be gendered. The same goes for bathrooms shared by siblings or roommates. This bathroom is done in blue and green for simpler separation. It establishes bathroom duties too since everyone cleans their towel, brushes, and color-coded items. We recommend hanging towels though – they're less likely to get moldy that way.
23. Pale Perfection
When you combine colors, you don't have to be loud. This bathroom has pale blue walls, so the owner accessorized in white and gray. The curvy soap dispenser and dark vase catch your eye, and these selections are accented by the white and gray towels. The white product bottles polish off this understated layout. Again, we recommend hanging over folding for your towels.
24. Low-Fuss Layout
Some people believe the less stuff you have, the better. In bathrooms, this could be a good thing or a bad one. Fewer bathroom accessories mean larger open surfaces for dust to settle on. This could lead to longer cleaning sessions. This bathroom goes that route.
Rounded river stones flank a single succulent while soaps and towels are decoratively strung together. Where possible, check that your seashells, pebbles, and trinkets are machine-safe or dishwasher-safe, since you'll have to rinse them regularly in mild soap.
25. Textured Trinkets
Tile is a treasure. Especially in bathrooms. It keeps the room cool, is easy to clean, and can mimic the appearance of any other material, from timber to tinsel. In this bathroom, the striations on the counter provide a wider variety of colors to play with. Those multiple shades of gray are then distributed as accents in your towels, tumbler, and soap dispenser.
26. Gilded Tropical Touch
When we think of tropical set-ups, our minds lean towards pinks, peaches, sandy tiles, limestone surfaces, and sunset shades. But it can be far simpler and way less subtle. On a backdrop of pale pink, use large gold-coated leaves to craft that tropical appeal. They could be spray-painted potpourri selections or brass-tinged sculptures. Stiff dried leaves could serve as soap dishes too.
27. Cubes and Cylinders
Sometimes, you're not clear on your decorative direction. You want things simple but classy, elegant but fussy, plain but pretty. These bathroom accessories use basic shapes to show their Spartan leanings – unadorned cylinders and clean rectangular lines. The items are carved out of white ceramic blocks. They're tinged with gold flecks and copper handles to make them fancy.
28. Just a Little Pink
Not everyone likes seeing things on their bathroom counters. Some of us would rather hide everything behind locked doors. Especially is we have nosy little ones with sticky fingers and clumsy hands. If that's your home situation, keep your bathroom trinkets basic. Pumice stones can be decorative as well as functional. Beyond that, bright one-flower vases are all you need.
This idea of using minimal accessories is helpful because there are fewer surface items to clean. Also, long-stemmed flowers need less attention and care than potted bathroom plants. They can still brighten the room and cheer up your bath time, but they won't spread soil or attract bugs.
29. Bold in Black
We've seen an example of white bathroom accessories with black stripes, but what about the reverse? This set of shiny black ceramics will stand out in any bathroom. But the stringy off-white detail will brighten the space a little, softening this potentially dreary accessories.
Plus, because they're bold blocks, you don't need any additional décor. Place this tumbler, soap dish, and soap dispenser on your white sinks or counters and leave the rest of the bathroom bare. Being glossy and black, soap scum and bathroom stains won't be seen as easily.
30. Chocolate Glass
We rush for clear glass in bathrooms and kitchens. This is probably psychological – see-through glass seems cleaner. But for decorative purposes, brown glass can be a pretty touch. These bathroom accessories are tinged in chocolate tones and highlighted by gold and silver handles.
The brown doesn't show dirt, streaks, or finger marks as clearly as plain glass. Brown glass may also be harder than clear glass, so it's potentially less fragile. For this bathroom, curvy black glass is combined with colorless containers. They're ideal for hygiene-conscious items like cotton pads, wet wipes, make-up removers, sanitary products, and q-tips.
31. Low Profile
Your bathroom accessories don't have to be fussy or fancy. The simpler the better, especially for high traffic bathrooms. If you buy items that have too much decorative detail, your bathroom will take longer to clean. This accessory set is smooth, unadorned gray, so there are no contours.
No crevices or writings or relief carvings to clean. The shallow uncovered soap trays and trinket dishes are even easier to maintain. If possible, check that your ceramics are safe for the dishwasher. Otherwise, you can clean them in the sink using steam and non-abrasive sponges.
32. One-Piece Accessorizing
If you could only have one bathroom accessory, what would it be? We recommend a liquid soap dispenser. Liquid soap generates less scum than bar soap, and its spills are easier to clean up. This simple metallic soap dispenser looks cool, requires minimal maintenance, and is conveniently refilled. Plus, it will match any color scheme or theme in your bathroom.
33. Morning Amenities
These days, it's not just the ladies who focus on skincare routines. And it helps to have a designated 'beauty spot' with as little contamination as possible. White ceramics are good because they'll clearly show any oil spots or spilled product that may cause your skin to break out.
Keep the 'face station' uncluttered. A single soap dish, tumbler, and toothbrush will do. Don't use your face soap for your hands as it may spread sebum and germs. A plain ceramic or metallic soap dish will also raise your hygiene standards and reduce the likelihood of acne and pimples.
34. DIY Décor
You don't have to refurbish your whole bathroom to jazz it up. You could visit a local craft fair, junkyard, or even walk around the house and see what you can use. This bathroom has a home-spun feel. An old wooden crate is used as countertop storage to get rid of clutter. Assorted glass dishes complete the look. A sundae glass can hold toothbrushes and combs.
Candy jars and mason jars can be used for loofahs, soap bars, q-tips, or powder detergent. Tumblers and mismatched glasses can hold cotton balls or hair ties. A seashell or starfish adds that seaside ambiance and provides decorative detail. A tote bag can be useful for tissue rolls.
35. Tantalizing Texture
Some people think going 'all-white' is a lazy shortcut to decorating. Others think it's a remarkably brave choice because white attracts so much dirt. For your bathroom accessories, white ceramics are a safe choice because they're easy to clean. Especially after a steamy shower.
But throw in some pizzazz by using textured clay. The varied depths, shadows, and reflective surfaces will add interest and enhance aesthetics. You can also use a plastic basket with relief designs, perforation, or decorative elements. They'll add to the textured effect.
36. Matte Magic
Still following the white-on-white theme, texture isn't always about studs and ribs. These speckled bathroom accessories have a highly textured effect. The matte surfaces also add visual depth to these seemingly smooth bathroom products. The thick clay base is heavy and sturdy, so it's less likely to shatter, scratch, or break in case they fall off the counter.
37. Repurposed Remedies
We've already mentioned scouring junkyards for bathroom knickknacks. Here's another example of the same concept. These bathroom accessories are made from re-used glass bottles and jars. Keep your sponges and loofahs dry and mold-free by drip-drying them.
Then store them in a covered mason jar. Old pickle jars and sugar dishes work just as well. Clear corked bottles can carry liquid soap, bath oils, creams, and lotions. Your kids' old treasure boxes or aquarium ornaments are great for storing small bits of soap or random bathroom items.
38. Gilded White
Often, your bathroom décor depends on the space available. This powder room barely has space, so it makes the most of its large wall-mounted mirror and floating vanity. To psychologically widen the space, gilded bathroom accessories are strategically used. They reflect the light.
This reflection visually expands the bathroom. The flower pots, mirror frame, towel hook, and dispenser handles all have gold accents The decorative border divider between the painted wall and ceramic tile is gilded as well. These gold-plated accents help bring the room together.
39. Singular Shapes
If you've had square burgers, French bread, or even curly fries, you know shape makes all the difference. And in this contemporary bathroom, the shape-shifting starts with the sink. The curvy cubed top and angular sides already make your bathroom unique. Follow this up with similarly shaped accessories. These included squarish tumblers and toothbrush holders.
The soap dispenser is also a rectangular bottle with rounded sides. To keep up this theme, use a foldable fabric hamper as a towel rack. Open shelves and wicker baskets wind up the overall effect. You can match the colors on your hampers, towels, and soft furnishings.
40. Origami Towels
Folding napkins isn't quite origami, but some fancily folded linen could be the perfect accessory for your bathroom. This particular bathroom has a shallow vessel sink in white. The sink is complemented by a simple slate-gray ceramic tray and an equally simple soap dispenser.
The tray and soap bottle are both rectangular so if you'd like to gain them a little more attention, places ornately folded hand towels on the trays. This is a nice touch in guest bathrooms. Have a conveniently placed towel rack nearby. Otherwise, guests will be in there for hours, struggling to replicate your ornate folds, and filing your bathroom with damp, musty, used towels.
41. Boxy Bundles
We're still on the theme of simplicity, using plain wooden boxes to decorate the bathroom. Wood isn't the best material for tumblers unless the inside is reinforced with waterproof material. But this soap pad has hollows between its racks to let excess moisture seep through. That reduces water damage. Timber is also a safe bet for the soap dispenser and the planter.
42. Glitz and Glam
From the super simple, let's look at the super fussy. These gold-tinged bathroom accessories are bejeweled with rhinestones and topped with gilded trim. They'll glitter in your bathroom as they reflect rays from the mirrors, polished faucets, and light fixtures. The set includes dishes for q-tips, cotton balls, and a dispenser for liquid soap. The rhinestones are easily steamed clean.
43. Gestures for Guests
It's not a good idea to leave candles unattended in the bathroom. They're great aromatics during that soothing soak, but don't leave them lit. That said, lighting candles in your guest bathroom can be a cozy touch – as long as the guest is nearby. You can also include one-time touches like ribbons on your towels or a knotted macramé case for your tumbler or soap dispenser.
These are intricate bits of bathroom décor, but they can only be done once. It's tedious and impractical to tie your towel in decorative string every day. So these types of bathroom accessories are one-night-only for your hot date … or that one-day visit from your in-laws.
44. Segmented Shelves
On occasion, the shelves themselves are part of your bathroom accessories. In this industrial bathroom, the white brick walls and freestanding bathtub are statement pieces. You don't want to cover up their beauty with massive vanities and floor-to-ceiling cabinets. Instead, install a few floating shelves above the tub. They fully display the rich textures of this wet room.
The storage panels on the shelves match the gapped lumber panels that make up the wet room floor. They allow water to seep through the shower enclosure and below the tub. This is great for maintaining ventilation and avoiding mold, but it also unifies the room's decorative theme.
45. Accessorizing Large Bathrooms
A massive standalone bathtub is perfect in a bathroom this large. But you don't want to fill the room with furniture that will dwarf it and close those spaces. Maintain wet room ambiance instead. This bathroom retains the wide-open mood through floating shelves and a ladder shelf.
These two floating storage options leave the floor empty and uncluttered. But the shelves are numerous, so there's space for all your bath bombs, bubbles, oils, and tinctures. Also, check that all the shelves are painted or coated in waterproof hues to avoid moisture damage.
46. Accessorizing Small Bathrooms
Let's visit the opposite extreme. This quarter bath barely has legroom, but you can still make it gorgeous. Instead of a solid vanity, this sink sits on half a pedestal and is surrounded by an open shelf of wood and glass. The gray stripes on the clear glass mimic the linear patterns of the glistening metal rails. Both the rails and glass create an open ambiance that enlarges the space.
Meanwhile, the tabletop above one shelf provides a surface for the black-and-white tumbler, soap dish, and soap dispenser. The foldable rack on the side plus the foot rails and towel rails add storage space without taking up too much floor space.
47. Hanging Tight
You probably take your towel hooks and towel racks for granted. But when it breaks … or when you move into a house without one … you see their purpose. Buying a towel rack can instantly clear the mess in your bathroom. Be sure it's easy to clean, rust-proof, and low maintenance.
Also, check that it's easy to install. Some have suction cups you can clip onto wall tiles or any suitable surface. Others have to be screwed or drilled into place, which may involve breaking your wall tiles. Not ideal in a rental. Still, a simple stainless steel towel rack laden with colored towels can liven up your whole space. Double-check that it can support the weight of wet towels.
48. Timber Tubs for Bathrooms
The home spa experience is about soothing scents, aromatic ambiance, and an aura of relaxation. This could come from pricy bath salts or spa décor. Add a few spa items to your bathroom and feel the instant luxury. A wooden storage tub is one of the best shortcuts to this pampered feeling. It kills clutter and makes your bathroom seem instantly fancy.
Keeping the storage 'basket' dry at all times to avoid damp smells. You can also invest in exfoliating brushes, macramé loofahs, decorative candle cases, elaborate pumice stones, and fluffy deep-pile towels. These little touches turn your daily bath into a home sauna experience.
49. Home Spa-fection
We've mentioned having a little 'face corner' in your bathroom. A section that only has your facial skin routine products. Now let's discuss your spa section. This isn't where you take your daily shower. It could be a cordoned off portion with a Jacuzzi, a corner tub, or an inflatable.
This is where you go for some home pampering, so you can set it up to look like a spa. Typical bathroom accessories for your home spa include a refillable diffuser and an aromatic bottle. The corked bottle could be filled with distilled water and healing herbs or sliced roots. You could also have a pretty pestle and mortar for grinding your tubers and mixing your massage oils.
50. Stone Surroundings
Many bathrooms are tiled, but some are finished in natural stone. If that's the case, you could use stone accents in your bathroom accessories as well. A marble soap dish or sandstone trinket bowl seem subtle. But you could go a step further and have your soap dispensers stone themed.
They could be carved out of stone-print ceramics. Or they could be plastic or metal pieces labeled with stone-printed paper. Speckled plastics are attractive and affordable, so they're a good selection. You can also get a stone stool or pedestal for your accessories to sit on.
51. Brown and Silver
Fancy faucets can make any bathroom look executive. And the angles taps in this bathroom certainly keep it classy. Couple those water outlets with dark wood bathroom accessories. These seem carved out of solid mahogany and topped with white tops and metallic accents. These boxy accessories are simple and sturdy, reflecting the white sink and dark wooden doors.
52. Placid and Playful
Blue is often described as a calming color. But some shades of blue can invigorate your spirits instead. And the hue used in these bathroom accessories expresses puerile energy. From the trapezoidal shapes to the smiley face on the toothbrush holder, these accessories are perfect.
They're ideal for younger bathroom users – and the young at heart. The plastic is easy to clean and tough to break. These items can be stored in a plastic picnic basket lined in the same shade of blue. All the individual pieces of this bathroom accessory kit are dishwasher safe.
53. Trinket Treat
Speaking of spa accessories, here's a good kit you can make at home. You could also give it out as a gift. The pieces are basic spa essentials, but they add fizz and fun to any bath time. Plus, the process of making these bathroom accessories are a relaxing way to spend an afternoon.
The kit includes home-made bath bombs, colored bath salt crystals, and decorative wicker balls (You can replace these with balls of yarn, woven leaves, or synthetic fiber reeds.) Finish off by stitching a gourd-like cloth bag full of bath herbs. You can dunk these in your bath.
54. Kiddy Bath Time Fun
Kids are great at losing and breaking things. And while bath time can be a great bonding session, it quickly turns to tantrums once there's a little soap in the eye or water in the nose. So bathroom accessories are crucial for kids. But you don't want pricy things they'll lose … or worse … toss into the toilet causing clogs. So placate your kids with colorful home-sourced accessories.
Buy a rubber ducky and a fluffy towel. But for soap dispensers, soap dishes, wash towels, and tumblers, repurpose colorful household items. Keep their old juice packs, and collect any bright product containers you may have. It could be an old tube of shampoo or a plastic tub of margarine. If it has no sharp edges and is dishwasher safe, move it to the bathroom.
55. Collectible Couture
Every once in a while, you'll spot a quirky bathroom accessory. It could be an old gravy boat repurposed for soap jelly. Or a car spray battle reborn as a dispenser hand lotion. But whether you found it at a garage sale or on eBay, these unique trinkets stand out. This miniature bathtub soap-dish-dispenser definitely qualifies. Just keep it away from clumsy kids and skittish pets!
56. Golden Grounds
If these bathroom accessories look familiar, it's because we looked at them earlier. They were sitting atop white shelves and furniture-based accessories. But even on their own, these coffee-colored trinkets would grace any bathroom sink. The gold specks in the glass jar are especially arresting. The textured spirals on the two dispenser bottles are lovely as well.
57. Boxy Basics
When you're in a rush and on a budget, there's one sure way to level up your bathroom. Simply by adding a soap dispenser and a hand-lotion dispenser, you've made your bathroom more luxurious. White raises perceptions of sophistication because it implies you have superior levels of hygiene. Get a plain plastic soap dish and square-shaped bottles for that extra touch of class.
58. Eco-Friendly Bath Time
Whether you're a vegan or just millennial, green bathroom products may draw you in. In this case, start with a bamboo toothbrush and a home-made bath mitt with a stitched on hand-strap. Whittled driftwood makes a suitable soap dish. You could make your own soap or buy leaf-shaped eco-friendly formulations. Finally, feed some home-made toothpaste into a pretty jar.
59. Sandless Sea
A lot of us love the beach …not so much the sand. It's so scratchy … and it gets everywhere! So when you want a seaside theme in your bathroom but none of the clean-up, consider this set. It has artificial seashells and pearls, adding a luminescent glow to your sink as they reflect your fluorescents. The kit also has a sea sponge and smoked glass containers for your bath products.
60. Sea 'n Spa
Still on the seaside theme, here's a bath table you'll enjoy playing with. It has exotic-looking spa items that will be entertaining to explore as you figure out what they do. The soap dish is a playful raft-like number made of twigs and sticks tied together with string.
Other accessories include creams in smoked glass dishes, knotted loofahs, bath bombs, and assorted exfoliant brushes. Faux seashells and starfish drizzle the collection. Complete your home spa experience with essential oils, bubble bath, and cutely shaped bars of soap.
61. Beautiful Bathroom Blues
Kids have beach buckets for all their tools and spades. As a grown-up in this bright blue bathroom, your bath bucket will store your stray accessories. The bathroom tile has tiny assorted shades of blue. You could complement with bath products in equally varying hues.
The pretty timber bath bucket holds any smaller brushes or items that may otherwise fall off the floating shelf and break, spill, or slip down the drain. This shelf is inside the shower enclosure though, so ensure the shelf material and bathroom accessory components are all waterproof.