Kitchen sinks come in different material, which can give homeowners a difficult time trying to choose from available options. The first thing to have in mind is how to find a sink that will best suit the purpose.
Fortunately, we've selected the best Kitchen sink material you will find on the market. Hence, once you make up your mind concerning size and color, selecting the best sink material for kitchen won't be a problem.
1. Stainless Steel Kitchen Sink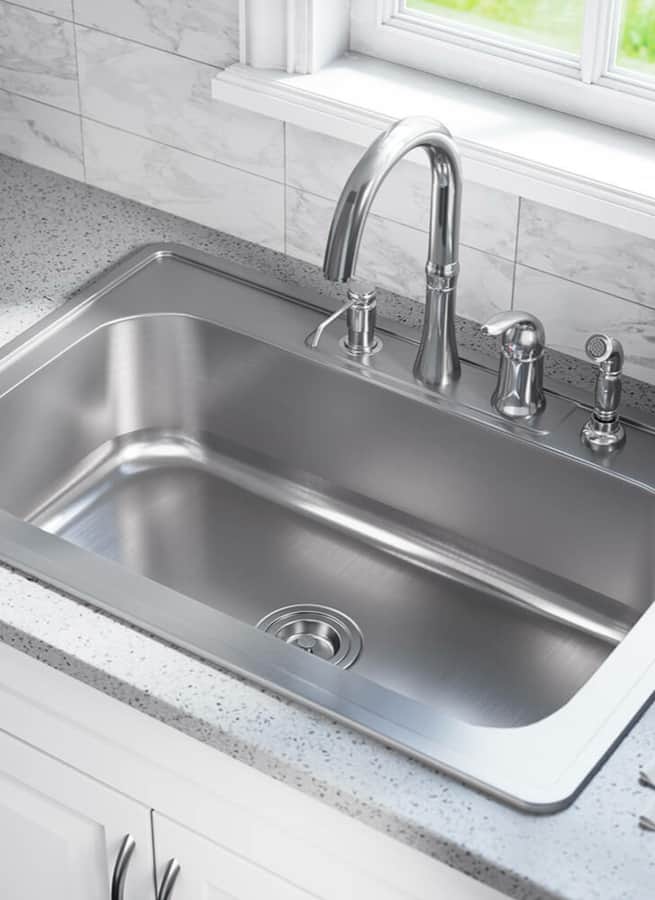 Items made of stainless steel are always on top of the list for most shoppers. Apart from Kohler and Blanco, it is often affordable. Also, about 70% of kitchen sinks are made of this material.
Stainless steel products are classified based on gauge. The higher gauge is more expensive, while the lower one is lesser. The gauge of most sinks is between 15-24, and many use it with either 18 or 22 types. These sizes indicate that the thickness of those sinks falls within 0.48 to 0.30, respectively.
Most users think that the heavier a sink, the better it is, but that isn't always true. Consumer Reports indicate that gauge has little or no impact on the quality of kitchen sinks. However, heavier sinks are not noisy and are even more resistant to denting than lighter one.
In terms of noise, stainless steel is louder than other materials, which is why most manufacturers spray coating or padding.
Drawback
Stainless steel shows water spots more easily and can show signs of scratch compared with other materials. This makes it difficult to maintain, but the only upside is that it can resist both heat and stains.
2. Granite Composite Kitchen Sinks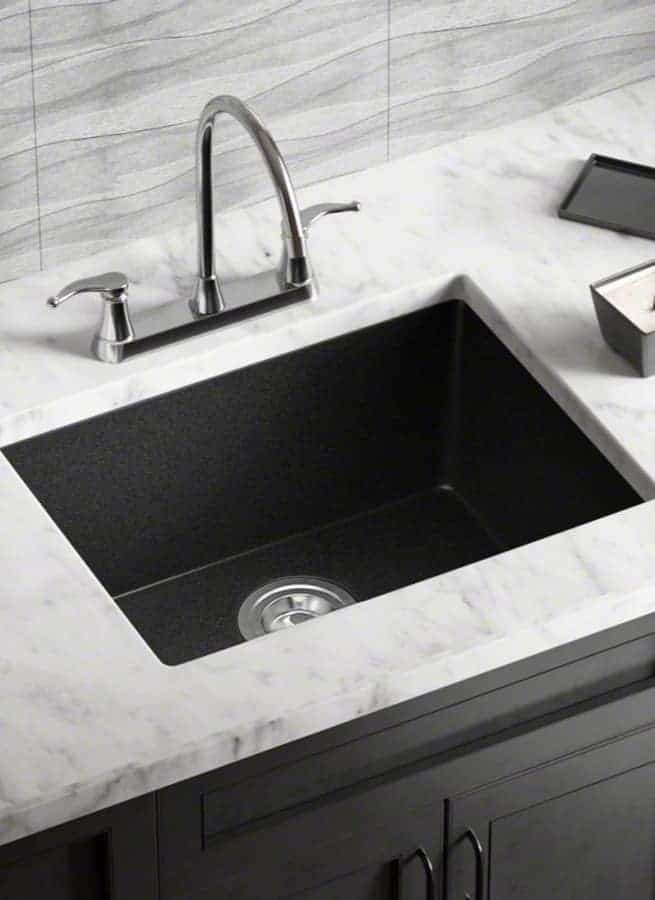 Composite kitchen sinks come as either granite or quartz materials. That means they are made from a mixture of crushed granite or quartz filled with resin. There are differences in the mix, but most sinks are 80% stone and about 20% resin.
The finished products usually have the same quality as real granite or quartz. The only advantage is that they do not have maintenance issues associated with products made of pure granite or quartz.
Opinion and Drawbacks
While both composites are sturdy and resistant to stains and scratch, granite can hold water more than quartz. However, there are claims that sinks made of granite composite are the most durable sinks anyone can find.
3. Copper Kitchen Sinks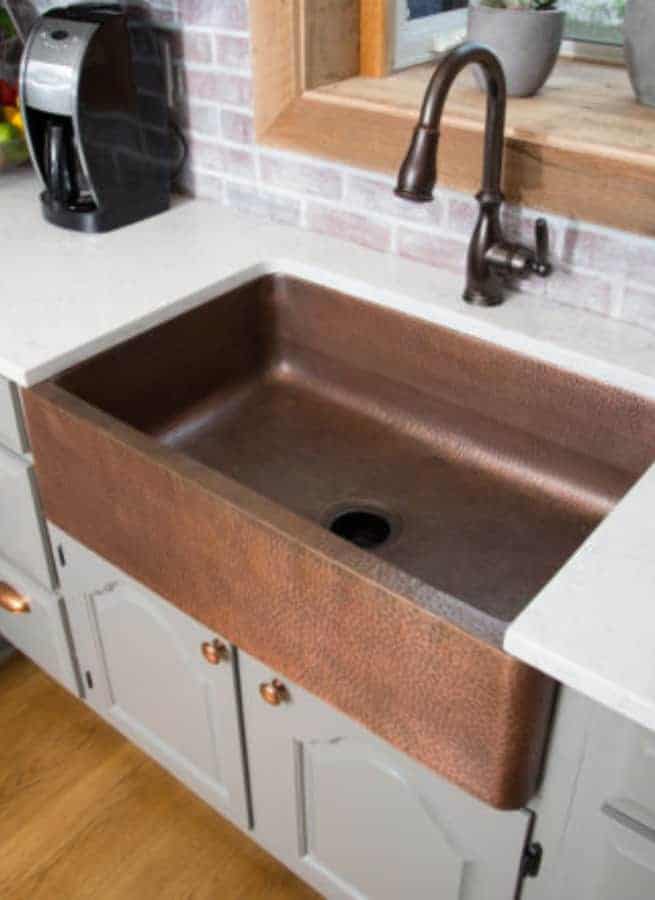 Copper products usually look attractive to the eyes, but their special characteristics make them stand out more. Like stainless steel, copper is measured in gauge and can be noisy, depending on the thickness.
Due to its unique features, artisans make copper products by hand to give it that attractive looks. This process makes it possible to find products of different quality and beauty in the market.
Copper sinks come with the finished quality known as a patina, which is the shiny appearance that most of us notice. This quality also promotes the development of brown discoloration on the surface of the sink. Although the patination can be slowed down, it is difficult to stop from spreading all over.
Manufacturers often advise users to accept copper sink the way it is rather than trying to fight off the flaws.
Opinion and Drawbacks
Compared to other types, copper kitchen sinks are difficult to maintain. A high-quality one only requires minimal maintenance and occasional deep cleaning with soapy water.
Other problems you can find with copper sinks are improper drainage and differences in size. You should do your research before going for copper sinks to avoid such issues.
4. Cast Iron Kitchen Sinks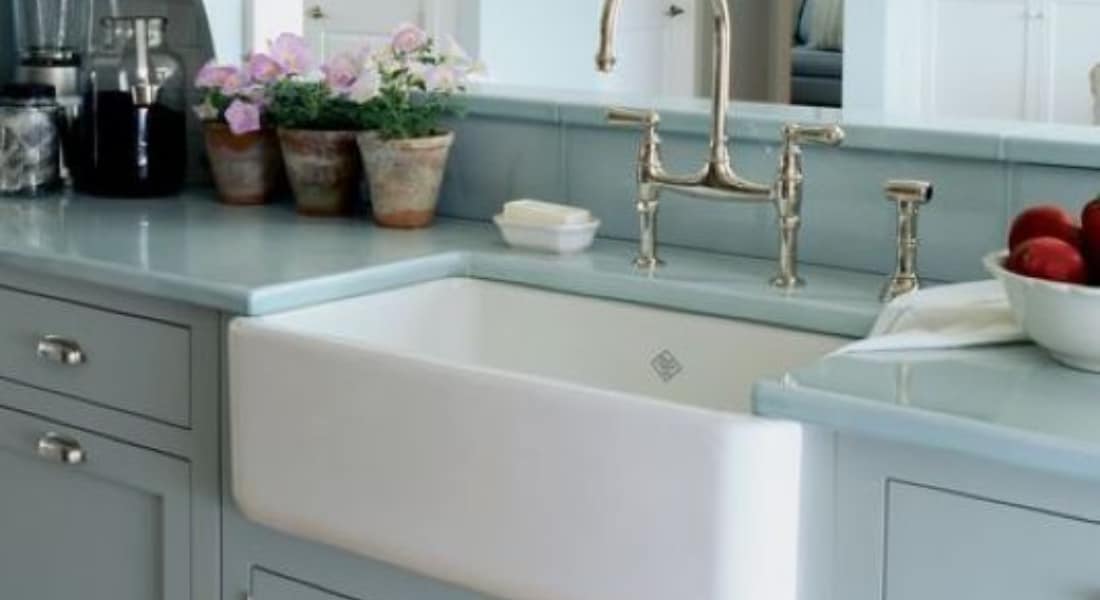 The bright, smooth, and shiny appearance of cast iron sinks makes it one of the favorites for most homeowners. Cast iron sinks are durable and in many cases, can last for several years without losing its natural beauty.
Irons are prone to rust, and not many people like that. That is why some sinks are made by casting iron by heavily coating them with porcelain enamel finish. Try peeling off the enamel on a cast iron sink, and you will see the same rough iron texture.
The enamel coating on cast iron sinks helps to prevent it from rust and stains. This enamel is not merely painted on iron but melted glass made to fuse with the original iron material underneath. The glass in the enamel is melted into the metal, so you don't have to worry.
Classy enamel is suitable for iron as it hides water spots, and it makes maintenance of the sink easy. Also, porcelain enamel makes iron resistant to light and fading, which every homeowner wants.
There are different colors and styles of cast iron kitchen sinks to choose from when you are ready to buy. You may pay more if you prefer ones with cashmere, black or any other color other than the standard white.
Opinion and Drawbacks
The enamel on the cast iron may break off, or the iron quickly rusts when it is left exposed. Porcelain enamel is now made stronger that it doesn't break or allow rusting to set in anymore. You don't have to worry about these issues when deciding on the best kitchen sink material.
Another drawback of cast iron is that it weighs about three times the weight of a stainless steel kitchen sink. Its weight makes it quite hard to find strong support to mount the sink, especially when placed under the counter. With the weight and size, it can be expensive to buy and could cost about $300.
5. Fireclay Kitchen Sink Material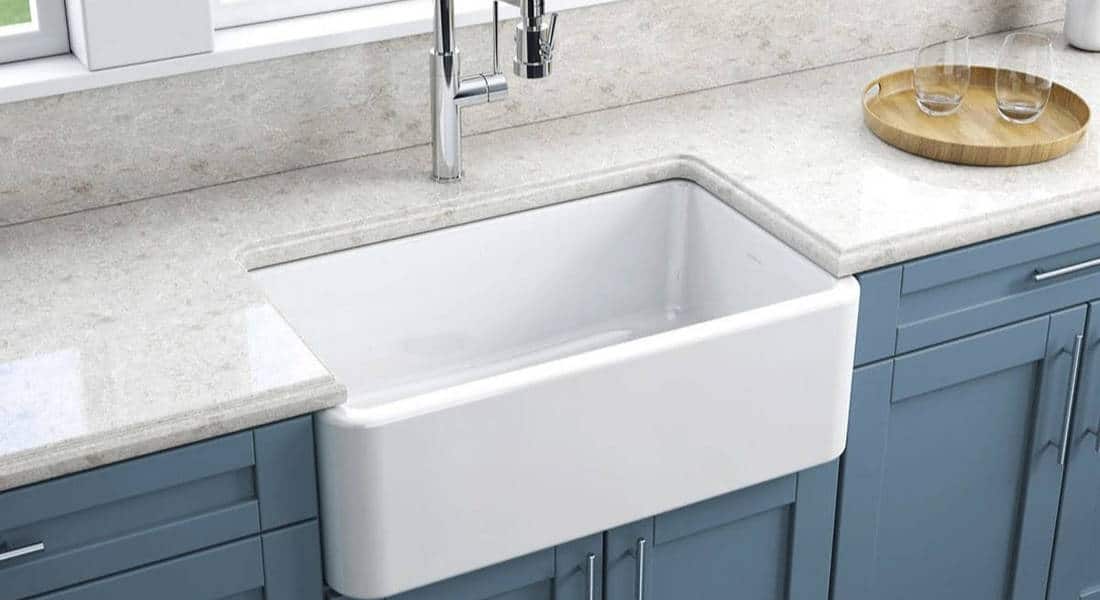 One of the best kitchen sink materials is fireclay formed by molding ceramic clay into the shape of a sink. It is then left to dry for 40 minutes at a high temperature. Next, porcelain enamel is applied to the ceramic at a temperature as high as 200 degrees Fahrenheit for 20 hours.
Applying heat to the process helps fuse the material and the enamel, thereby increasing the strength of the product. This combination doesn't make it durable as it can break when accidentally dropped on the floor.
Fireclay sinks come in different styles and modes of installation. Most of these are used on farmhouses as farmers prefer this material due to its importance.
Opinion and Drawbacks
During installation, fireclay can develop cracks unless it is handled with extreme care. The kitchen sink made of this material is often on the high side. Smaller sizes cost between $400 and $500 while bigger ones cost up to $750 and above.
6. Enamel Kitchen Sinks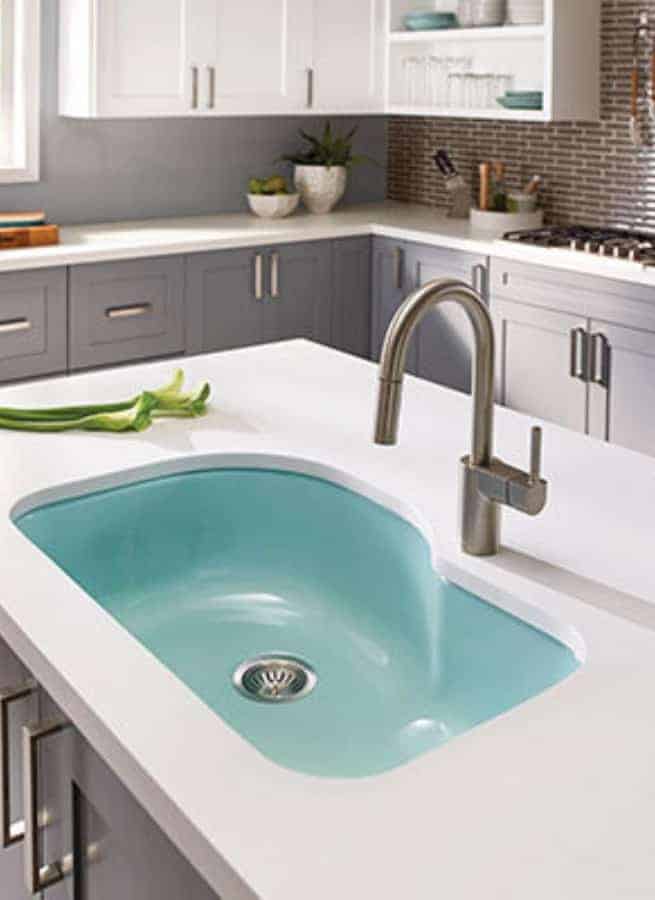 The enamel is an old-fashion kitchen sink formed by fusing cast iron with glass-based glaze. It has many colors and looks smoother and softer than a stainless steel kitchen sink.
Although one of the best sink material for the kitchen, enamel products are usually heavy and require strong cabinet support.
Opinion and Drawbacks
 The enamel coating breaks off easily, and using abrasive sponge can ruin the smooth surface. However, you can fix any damages by using a DIY kit instead of seeking the help of a professional.
7. Stone Kitchen Sinks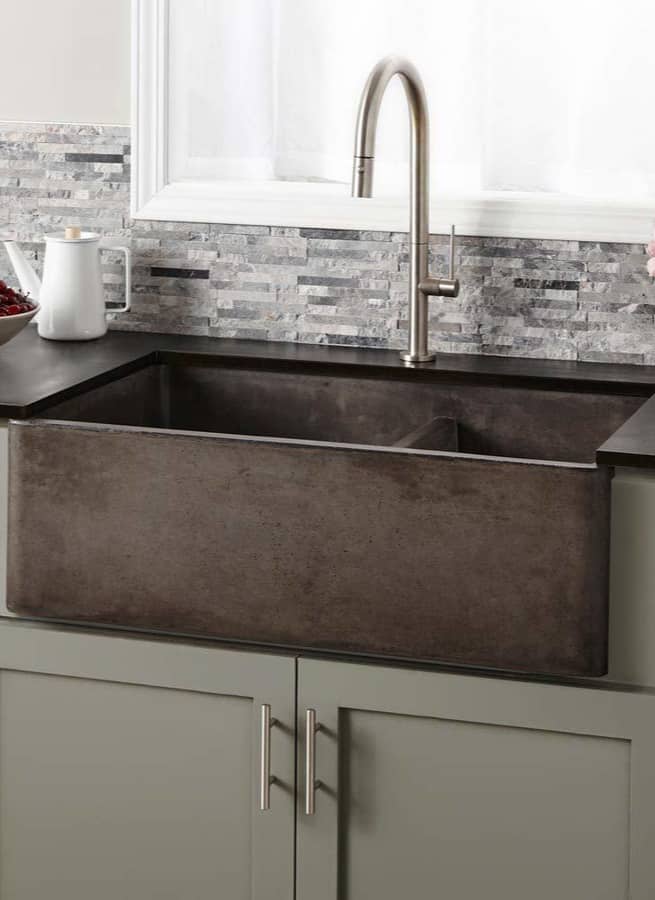 On the list of best kitchen sink material, here is one made of stone such as marble or granite. The polished and shiny nature of such sinks can make your kitchen sparkle. What makes stone kitchen sinks unique is that it is a single block of stone.  The cost of such sinks may be as high $1000 if they are made from pure granite, slate, or marble.
Opinion and Drawbacks
Stone products are porous, and single contact with cleaning agents can cause severe damage. Stone sinks are heavy and will require a sturdy cabinet to mount it.
8. Acrylic Kitchen Sinks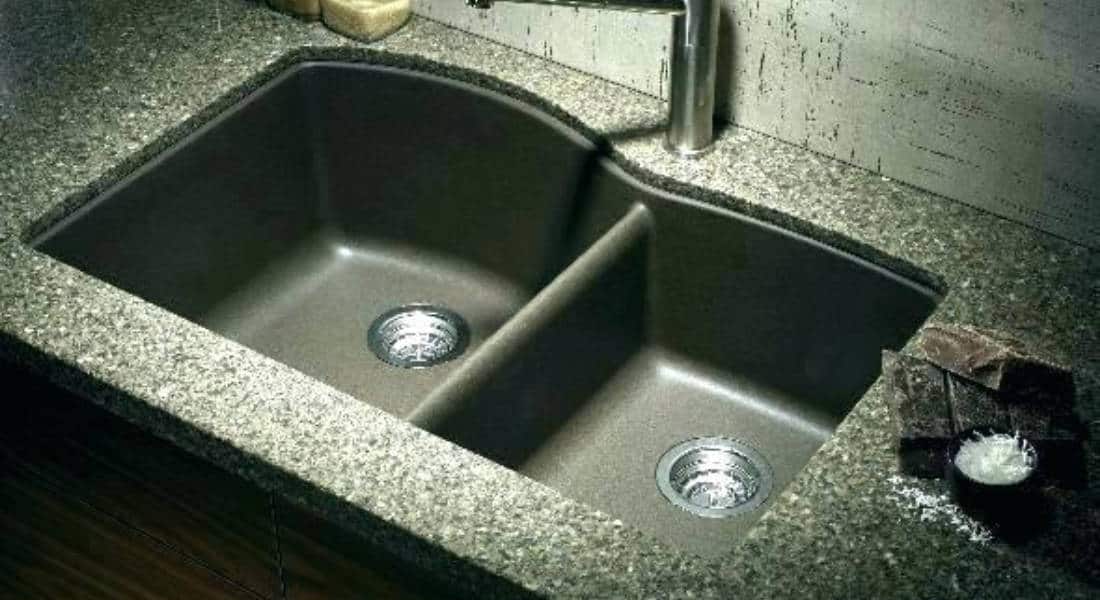 This attractive material is cheap and comes in the form of plastic or fiberglass. It has many colors and designs and is often lightweight. Due to the nature of the material, you can sand or polish off rough surfaces.
An advantage of this kitchen sink is its endurance and the fact that you won't break your dishes while washing.
Opinion and Drawbacks
The major downside to acrylic is that it cannot stand the heat, which made some manufacturers devise solutions.
9. Kitchen Sinks Made of Solid Surface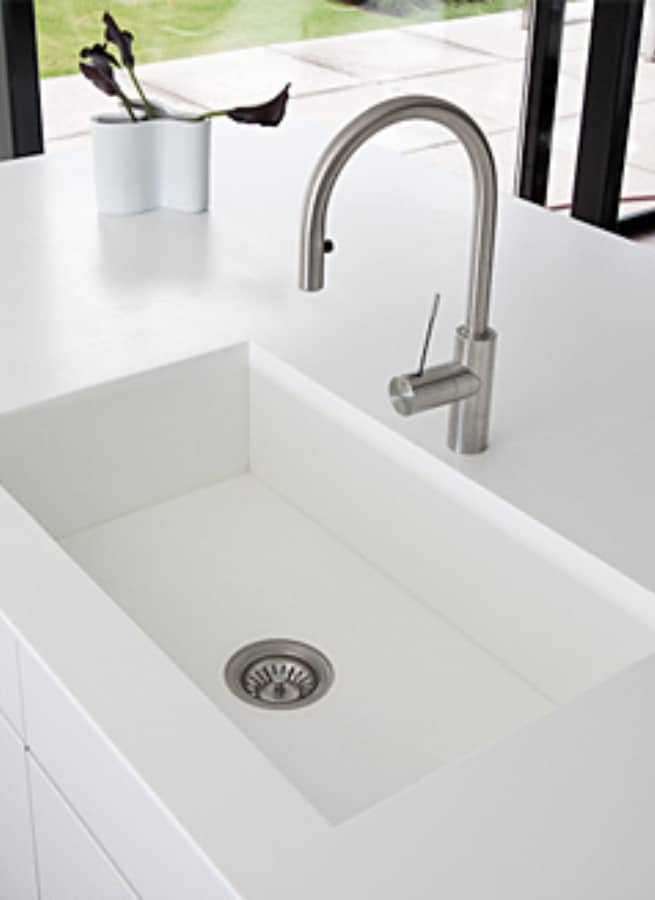 There is a lot to select from when considering the best kitchen sink material for kitchen. Resin and minerals serve as better alternatives to porous stone material. These materials are suitable for sinks, countertops, and tubs though they serve diverse purposes as well.
You can smooth rough surfaces and won't worry about chips breaking off. They can withstand a high temperature of about 400 degrees, making them the best options.
Opinion and Drawbacks
Although solid surface sinks are easy to clean, you must avoid using metal scouring pads
Tips on Choosing the Right Material for Your Sink
You will come face-to-face with the question of which kitchen sink material is best. The first step is to consider your family habits and the use you want it to serve. Different purposes like dishwashing, cleaning of pans or pots are some of the determinants of what material to buy.
Families with a heavy washing period may go for stainless steel or granite composites. That means they must avoid sinks made of porcelain enamel due to the possibility of scratches.
Why You Need To Right Kitchen Sink Material
The material from which your sink is made can determine the level of care needed to handle it. A family that does a lot of dishwashing will need sink materials that last long and easy to wash off. If you are more interested in showing off to friends, more expensive types of kitchen sink materials may be ideal.
You don't have to worry about which kitchen sink material is best. Each one serves a specific purpose and works well with what you have in mind to do with it. Whether copper, stainless steel, or fireclay, there is the best kitchen sink material to select from.
Wrap Up
Choosing the best kitchen sink material shouldn't be a tough job. Once you know what purpose it will serve, you can choose from the many available options. Family washing habits will help you make better decisions on the type of kitchen sink material to buy.
Just keep the following in mind, and you are good to go:
Kitchen sinks come in different brands
Consider and family needs before making a decision
Stainless steel and granite sinks are best for heavy washing
Whether or not you are looking for the best kitchen sink for hard water, following these steps is useful.
If you are not sure what you need in your kitchen, post your questions in the comment section below. You are going to get advice from other experienced homeowners and us too.