Hot tubs are a wonderful luxury, but they don't come cheap – and even just maintaining them can cost a lot. Hot tub covers are expensive too, but if you're willing to make your own, that can be at least one way of reducing the amount you spend on running your tub.
For anyone who thinks they might like to have a go, we've scoured the internet to see what other people have been doing – and as a result, here are our favorite 17 DIY hot tub cover plans you might like to try copying at home.
1. DIY Hot Tub Cover – Make Your Own Spa Cover
Here's an interesting post for those who are thinking about trying to save themselves a bit of cash by building their own spa cover. This tutorial is actually written by a professional spa cover maker, but he still wants to help those people who want to go it alone. At the end of the post, he also gives you a few reasons for not making a DIY version, which will help you make up your mind about choosing the best solution for you.
2. Cheap, Light, DIY Hot Tub Cover!
As this YouTuber explains in the intro to his video, a new spa cover was going to cost around $300-400 – so he decided he could DIY one for a whole lot less. The result was lightweight, didn't allow water to pool on top and, most importantly, kept his hot tub covered over and ensured that no twigs or leaves could get in. Want to know how he did it? Then give the video a watch to find out.
3. DIY Rollable Cedar Hot Tub Spa Cover – Hometalk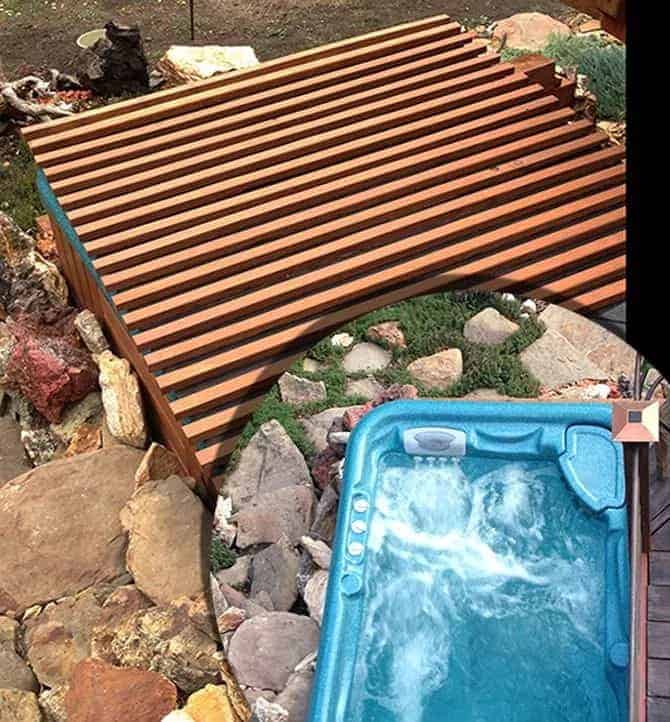 When this hot tub owner started researching the price of covers, she realized that buying the kind of thing she wanted was likely to stretch into the thousands of dollars. Instead, she decided to DIY one – and the result was stunning. This is such an impressive piece of work, and we're sure it's something that lots of other ambitious DIYers will be keen to try. Check out her plan and see if you're one of them!
4. DIY Hot Tub Insulated Foldable Cover
The problem this YouTuber was facing was that his old hot tub cover didn't provide enough insulation, resulting in lots of heat loss and low energy efficiency. To rectify this, he decided to make a new cover himself, and this video shows how he did it. It's an impressive design, and it looks like it does the job he needed to do. Give his video a watch and see if this plan might work for you too.
5. Build a Hot Tub Cover in Seven Steps – DoItYourself.com
Here's a well-written tutorial that teaches you how to make an effective DIY hot tub cover in seven easy-to-follow steps. It's estimated that you can finish the job in only around four or five hours, and it shouldn't cost any more than about $50-75. It's rated as being easy enough for a beginner too, so this is the kind of plan that anyone will be able to manage, making it well worth a read.
6. How to Make a Cheap Hot Tub Cover – DoItYourself.com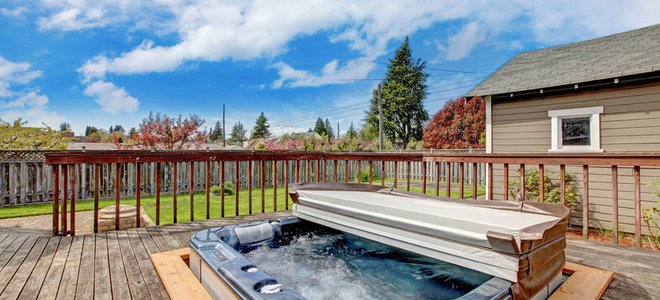 This is another plan from the same site that gave us #5, but this one is slightly different, making it worth checking out too. As with the previous plan, this one is well-written and easy to follow, and by using this tutorial, you'll be able to make yourself a new affordable spa cover in no time. Another great plan that we enjoyed a lot.
7. Jacuzzi/Hot Tub Cover
In this video, this YouTuber demonstrates the carpentry techniques required for making an attractive yet functional wood spa cover. It's a simple design, but when it's finished it looks highly professional – this doesn't look like a DIY job at all. It's the kind of project that anyone with basic woodworking skills will be able to manage, so why not give the video a watch and see if it's a job you think you can tackle?
8. How to Build a Hot Tub Cover – Sfgate.com
Here's a very simple plan for building a homemade hot tub cover. You'll find a list of all the materials you'll need along with clear explanations for what you need to do. As the post explains, covers like this can be a little heavy and cumbersome, so to make it more practical to use, this cover also includes handles. Another recommended plan that's well worth a read!
9. Western Red Cedar Hot Tub Lid
What we like about this tutorial is the way this YouTuber has found the perfect balance between explaining what needs to be explained and just demonstrating the techniques you'll need to use. That way, anyone with the right level of woodworking skills will be able to copy the plan without too many problems.
10. DIY Hot Tub Cover – Doubledeckerdiy
This blogger begins her post with a familiar story – she and her husband had a hot tub that needed a new cover, but when she started researching prices, she found them all to be far more expensive than she hoped to pay. Undeterred, she decided to make one herself (or rather, to get her husband to make it for her), and the rest of the post details how they did it. It turned out perfectly, and they did such a good job – so we're sure plenty of others will want to try copying their plan.
11. How to Build a Cheap Hot Tub Cover – Sapling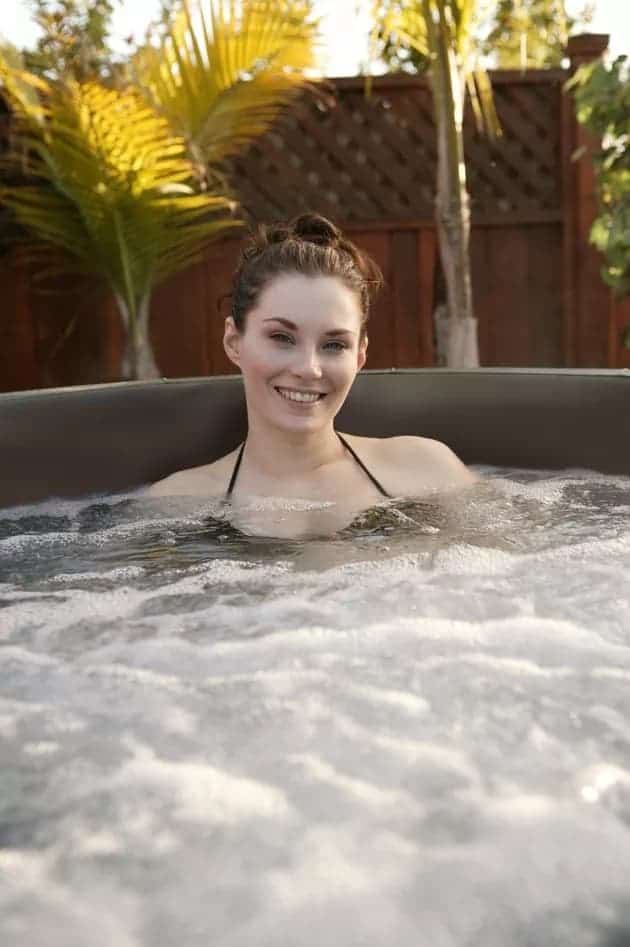 In this useful post, you'll learn about how to make a cover to keep leaves and other debris out of your spa. It breaks it down into simple steps, and the plan takes you through the whole process in a logical progression. All in all, a great plan that lots of people will find interesting, and one that's well worth checking out.
12. How to Make a High-Quality Spa Cover
This video isn't a guide for making a DIY spa cover – rather, it's a video uploaded by a company that makes covers to demonstrate their product. However, by seeing how the professionals do it, you can understand a bit more about how high-quality covers are made, and you can then think about incorporating some of the techniques or design features into yours when you start making it.
13. Homemade Spa or Hot Tub Cover – ThriftyFun
In this post, this blogger gives an overview of how they knocked together a rather makeshift cover for their spa when the one that came with it was destroyed by a pit bull puppy. It sounds like a rough-and-ready solution, but if you're looking for a temporary way to cover your spa while you save up for a more permanent one, this is a plan that should be of interest.
14. Spa Cover Repair
If your old spa cover is damaged, you might not want to make a new one from scratch because it might be possible to do some DIY repairs instead. That way, you might be able to save yourself some money and some time – and if that sounds like the kind of thing you might be willing to try, this video tutorial should give you some ideas about how to do it.
15. How to Build a Spa Cover
Here's a very simple video from a few years ago that teaches you how to make an affordable yet highly effective and functional spa cover. Most of the video consists of time-lapse shots of the YouTuber demonstrating what you need to do, but there are also a few sections where he explains what he'll be doing. Although the video is not particularly sophisticated, the plan is excellent, so this could be a great way for you to save money on buying a more expensive cover for your tub.
16. How to Make a Light Top for a Lay-Z Spa Hot Tub
As the title of this video tells you, this is a tutorial for making a DIY top for a Coleman Lay-Z Spa hot tub. The video explains that this YouTuber was unimpressed by the cover that came with his, so he set about making an improved version of his own. We think he did a fantastic job, and this is a plan that many Lay-Z owners will probably find useful. You can also adapt the idea for other types of tub, making this video a recommended watch.
17. DIY Hot Tub Spa Cover
As he explains, this YouTuber didn't like the prices of new spa covers, and he didn't like the way they worked either. Instead, he decided to design his own, and this video shows how he did it. It looks great, and it certainly does the job he made it for. This is the first video of two – check out the second as well to see how it looked when it was done.
Lots of great ideas for building inexpensive hot tub covers
As you can see, there's no shortage of plans for building DIY hot tub covers, and some of them are highly sophisticated designs.
We've enjoyed collecting these plans for you, so we hope you've enjoyed reading and watching them all too. And above all, we hope you've found the ideas you needed for building a DIY hot tub cover of your own.