If you dream of owning a hot tub but are limited by the amount you have to spend on one, building one yourself can be a great alternative, and wood is among the most popular materials to use.
For anyone who wants to try, we had a look online to see what other people have been doing – and as a result, here are our favorite 19 DIY wood hot tub plans you might like to have a go at copying at home.
1. DIY Wood Fired Cedar Hot Tub: 9 Steps (with Pictures) – Instructables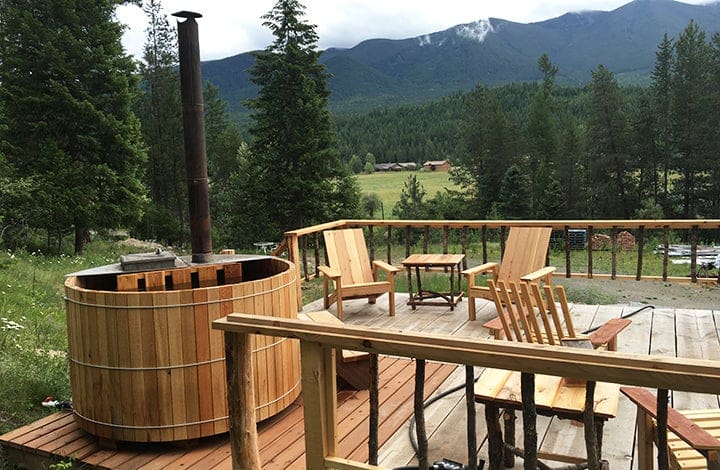 The wood-fired cedar wood hot tub this couple built to install on their deck looks fantastic. It's a big job, but they give you clear instructions for constructing it, so if you like the look of what they did – and you're not afraid of a little hard work – this could be a great plan to copy.
2. I made a Wood Hot Tub out of 2x6s
Building a hot tub for your home doesn't need to be expensive, and it doesn't need to be complicated – as this video shows. In it, we get to see how this YouTuber made a DIY hot tub based on 2x6s. It might not be a large and luxurious spa-style tub, but it's enough to allow you to soak in hot water in the comfort of your own home – and if that's all you want, this is a plan that's worth checking out.
3. Cedar Hot Tub from Nancy Quan Builds
The cedarwood hot tub this talented YouTuber shows us how to build is highly impressive – you'd hardly be able to guess that it was a homemade model rather than one she bought and had installed professionally. We can always learn so much from skilled DIYers like her, so why not give her video a watch and see if you can pick up a few hints and tips?
4. How to Build Wooden Hot Tub – Wooden SPA Solutions
If you're looking for a detailed plan for building a hot tub from wood, this one should be of interest. In it, you'll find advice about all the steps of the process, including buying the wood, cutting it, doing the joinery and more. This kind of plan will help you build a high-quality wood tub of your own, making it another recommended read.
5. Making a Cedar Hot Tub from The Samurai Carpenter
In this video, this YouTuber demonstrates the kind of carpentry work that's required for building a DIY wood hot tub. If you have the necessary skills and tools, you should have no trouble copying his plan to build a beautiful hot tub of your own – so why not see if you're up to the challenge?
6. How to Build a Cedar Hot Tub – Home, Garden and Homestead
This is a plan we enjoyed reading because of all the detail this blogger goes into. The tub itself is a round model made of cedarwood, and the tutorial takes you through the whole process of building it. The post starts with the DIYer's original thoughts and research and takes you right through to a "post-mortem" and his reflections on having completed the project. A well-written plan and one that anyone thinking of tackling a similar project would do well to read.
7. Western Red Cedar Hot Tub Construction from Sullivan Waterworks
This video was uploaded by a professional company rather than by a DIYer, but we can always learn so much from watching the pros at work, so we thought it was worth including. In it, you get to see a wood hot tub take shape as the workers prepare the area, build the tub itself and finally install the heating system. It's fascinating to see how it all goes together, and perhaps it will inspire you to have a go yourself.
8. Build a Rustic Cedar Hot Tub for Under $1,000 – Make
Depending on the kind of tub you want, even if you DIY it, you'll still have to be prepared to spend some money on the project. The tub this plan shows you how to make can be built for around $1000, and while that's not cheap, it's still far less than it would cost to buy a similar tub ready-made and have it installed professionally That means if you want a high-quality tub but are looking to save yourself several thousands of dollars by building it yourself, this tutorial is for you.
9. DIY Low-Cost Plywood Hot Tub
If you're looking for an even less expensive hot tub plan, this one could be worth a look. In it, you'll see how this YouTuber built a large DIY tub based on plywood. It might not have the visual appeal of those made of attractive woods like cedar, but it will still allow you and your family to own a hot tub without spending a fortune on it. Check it out and see if this is the solution you're looking for.
10. DIY Hot Tub – MOTHER EARTH NEWS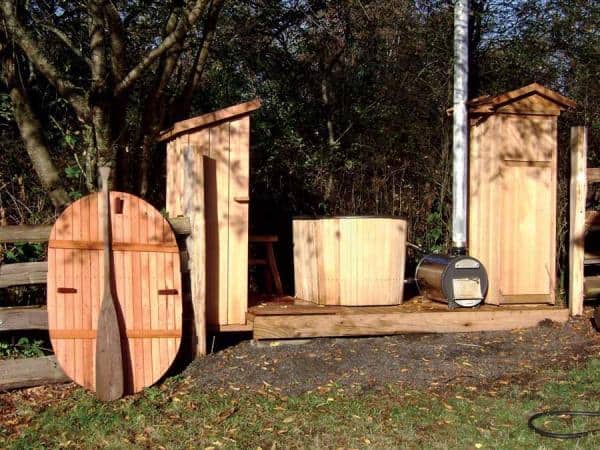 For those who want to enjoy the benefits of being able to soak in a hot tub but who also care about minimizing their environmental footprint, this is a post that's worth a read. In it, you'll learn all about hot tubs, their benefits and how to run one. Following that, you'll also be given advice about the best way to build an ecological wood hot tub, allowing you to enjoy the tub you build guilt-free.
11. Timelapse: Wood Fired Hot Tub Built by Couple in 13 Min
Building a hot tub can be a big project, and many people don't quite understand what they're getting themselves into when they start. If you're worried that building a tub of your own might be too ambitious for your abilities, you should give this video a watch before you start. It features a timelapse video of the whole process from start to finish – which should help you decide whether it's a project you really want to attempt.
12. Woodworking – How to Make a Wooden Bath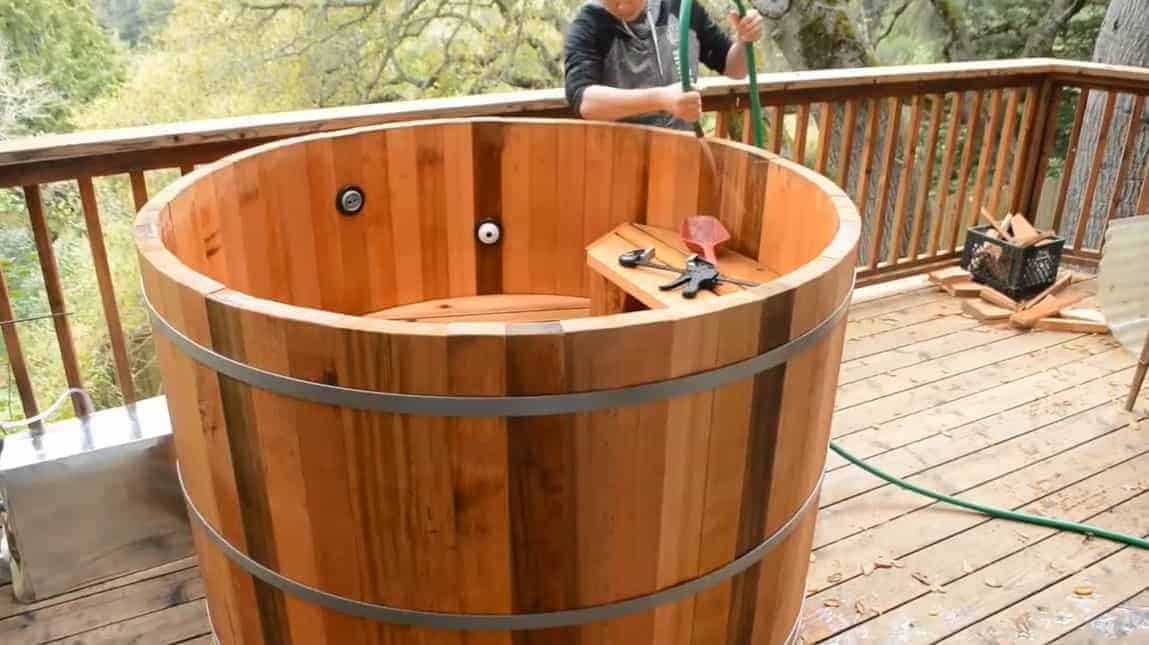 Here's a video that's a little short on explanations but that should give you an idea of the kind of thing that's possible if you know what you're doing. In it, these YouTubers build a beautiful wood hot tub – and they make it look easy. Want something similar in your home? Then check it out to see how they did it!
13. Summer Hot Tub Build from Penguido
In this video, you get to watch as a large wood hot tub takes shape. It's an ambitious project, but these guys obviously know what they're doing, so they make short work of it. This is the first part of a series of three videos – check out the others too to see how it looked when it was finished.
14. How To Make a Floating Hot Tub
Here's an amazing idea – it's not just a plan for a regular hot tub you can install in your yard but for one that actually floats. That way, you can enjoy your soak in the middle of a tranquil lake where nothing can bother you. The only thing you'll need to do is make sure you can get back home when your soak is over! A fantastic plan and one that's worth a look, even if you don't plan to build one yourself.
15. How to Build a Cedar Wood Hot Tub
This plan is for a classic cedarwood hot tub. It's deep and round, and it looks beautiful, making the kind of thing that lots of people would love to own – if you're one of them, why not see if you can build something like it yourself?
16. Cedar Hot Tub Build
In this video, you'll get to see how this YouTuber went about building a three-person cedarwood hot tub on a remote island. It's an impressive design, and as he says at the end, he was pretty happy with the result. Give it a watch and see what you think!
17. DIY IBC Tank Hot Tub
If you want to know what a homemade wood hot tub looks like, give this video a watch. In it, this YouTuber gives us a guided tour of the one he made, and it looks like he's more than satisfied with the result.
18. Okeya Kondo How to make a wooden bathtub using Yoshino cedar
For those who might be interested in building a Japanese-style hot tub, this video is essential viewing because in it, you'll see the process required for making one. Then, if you think you also have the necessary skills, you can try copying it yourself.
19. DIY Wood Fired Hot Tub
The story behind this video is inspirational since this YouTuber tells us it was always his dream to build a hot tub of his own. In this video, he shows how he finally did it, and the results are fantastic. We're sure he's not the only one who dreamed of owning his hot tub, and if it's a dream you share, why not see if you can recreate his plan yourself?
Plenty of great ideas to help you get inspired
As you can see, there's no shortage of plans to help inspire you to build a hot tub of your own, whether you just want a simple, basic version or something more sophisticated.
We've enjoyed collecting these plans for you, so we hope you've enjoyed reading and watching them too. And above all, we hope we've helped you find the ideas you needed for building a DIY wood hot tub of your own.