For many people, owning a hot tub is a dream, and if you want to save yourself some money by building one yourself, a wood-fired version is among the most popular options since they're both the most traditional and arguably the most economical.
For anyone who thinks they'd like to have a go, we've had a look online to see what other people have been doing – and as a result, here are our favorite 17 plans for DIY wood-fired hot tubs you might like to try building yourself.
1. DIY Wood Fired Cedar Hot Tub: 9 Steps (with Pictures) – Instructables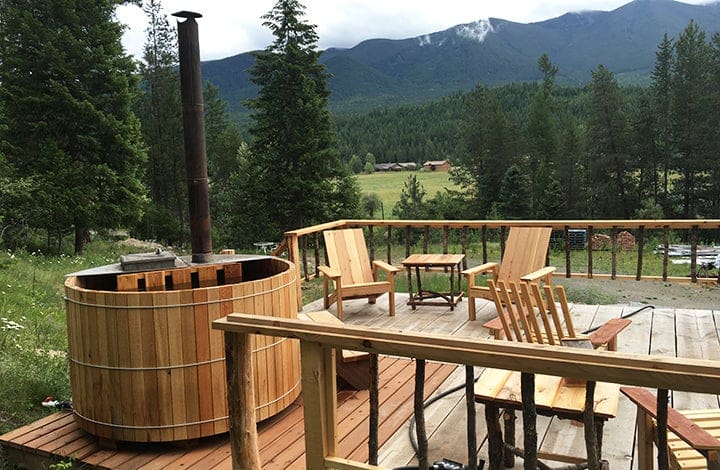 If you're looking to learn how to build a wood-fired hot tub, this tutorial would be a great place to start. In it, you'll find out how this couple built a beautiful cedar wood hot tub for their off-grid home. It provides clear step-by-step instructions as well as videos to show you how they did it. Constructing something like this will be a significant undertaking, but if you're up for a challenge, it could be just the plan you need!
2. DIY Wood Fired Hot Tub from HomeMadeModern
In this video, you'll learn how to make a basic wood-fired hot tub that is easy to build and that will allow you to enjoy the pleasures of long soaks in steaming water without needing to spend lots of money. This tub is nothing fancy, but it does the job it was made for, and if that's all you need, it's a plan that's well worth checking out.
3. How to Build a Wood Fired Hot Tub – The Cover Guy
For those who like the idea of owning a wood-fired hot tub but who haven't got past the planning phase, this post is recommended reading. It gives you an overview of the different options you have when deciding which type of tub to go for, helping you choose the most suitable one for your situation. Then, when you know which kind you want, all you need to do is find a detailed plan for building it.
4. DIY Wood Fired Hot Tub from Dahlin Dwelling
This is an inspirational video because in it, this YouTuber tells the story of how he realized a childhood dream by building his own DIY hot tub. It's a great plan and one that most people with reasonable DIY skills should be able to copy – and it will be a job you can be proud of completing once you've finished.
5. DIY Wood Fired Hot Tub – Tiny Life Consulting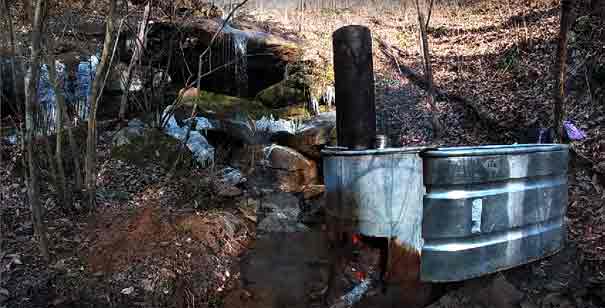 Here's another plan for building a rudimentary wood-fired hot tub, and in this plan, you'll find plenty of details about constructing the heater itself. The heater is one of the most important features of a hot tub, so this is a great resource if you want to find out about keeping your water hot while you soak.
6. Timelapse: Wood Fired Hot Tub Built by Couple in 13 Min
If you want to know what awaits you if you decide to build a wood-fired hot tub of your own, this video is worth checking out – because you get to watch a time-lapse video of this couple building theirs from start to finish. It might not give you detailed instructions for constructing one yourself, but at least it should help you decide if this is a project you want to tackle.
7. Wood-Fired Hot Tub from Cut Bank Creekside
In this video, this YouTuber explains the process he went through for building his own steel wood-fired hot tub. As he tells us, other solutions weren't working for him and his family, so this is the design he came up with to resolve all the issues. It's an impressive piece of work, and if you have the skills and dedication, it's a design you should be able to copy too.
8. Off-Grid DIY Wood-Fired Stock Tank Hot Tub
Sometimes the simplest designs are the best, and if that's a philosophy you agree with, this is a plan you should enjoy. The wood-fired hot tub in this video is far from being the most sophisticated version we've seen, but if all you want is an inexpensive tub for soaking in – and you don't need all the bells or whistles – it could be the perfect option. Check it out and see what you think!
9. DIY: Make Your Own Hot Tub – Skimag.com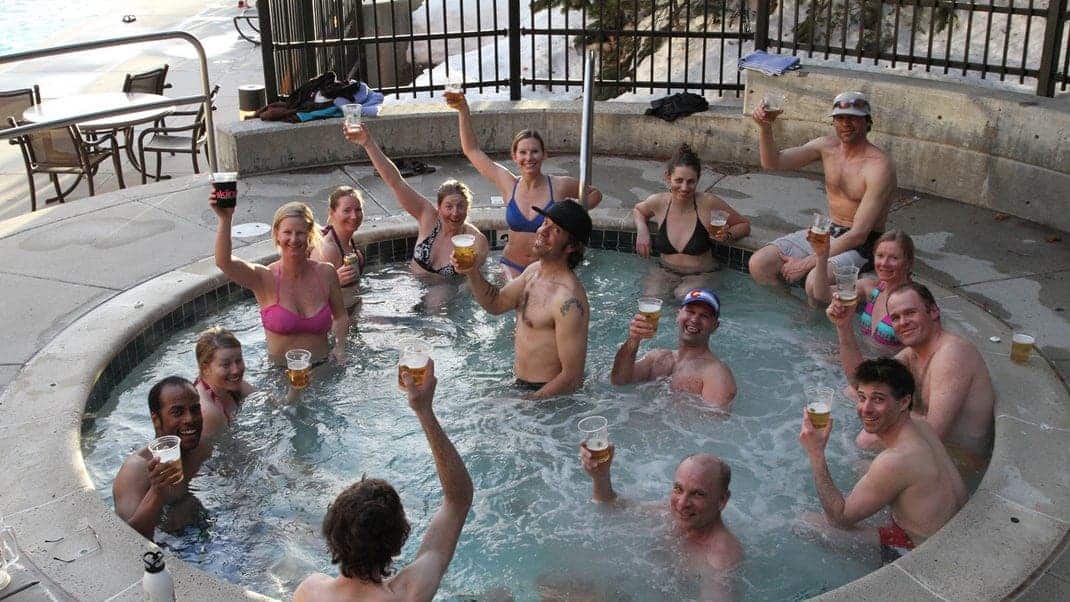 The hot tub this tutorial teaches you to make will require a significant investment in time and hard work. However, as you can see from the photo, it's the kind of thing most people will love owning when it's done, so we're sure there are plenty out there who will think it's well worth the effort to make it.
10. DIY Hot Tub – MOTHER EARTH NEWS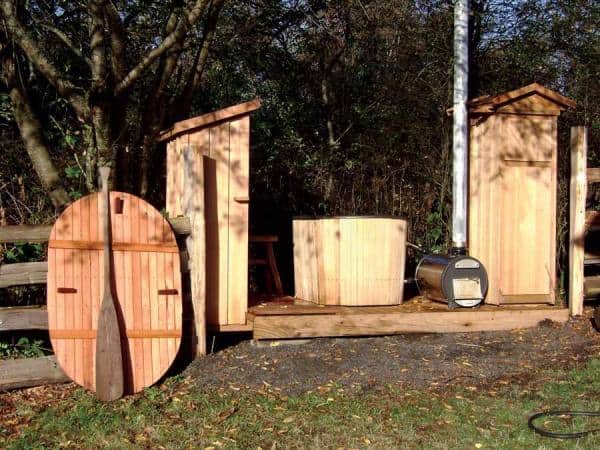 Here's a great design for an environmentally friendly wood-fired hot tub that we loved. The post also contains plenty of useful info about owning and operating a hot tub, and the plan itself gives you lots of options allowing you to customize it to your requirements. A great tutorial and one we enjoyed reading a lot.
11. DIY IBC Tank Hot Tub
This short video isn't so much a tutorial for building a wood-fired hot tub as it is a guided tour of the features of the one this YouTuber made for his family. However, it's useful to see all the different aspects he had to think about while making it, and the finished job looks great – all of which makes this a video that merits a watch.
12. Building a Backcountry Hot Tub – Teton Gravity Research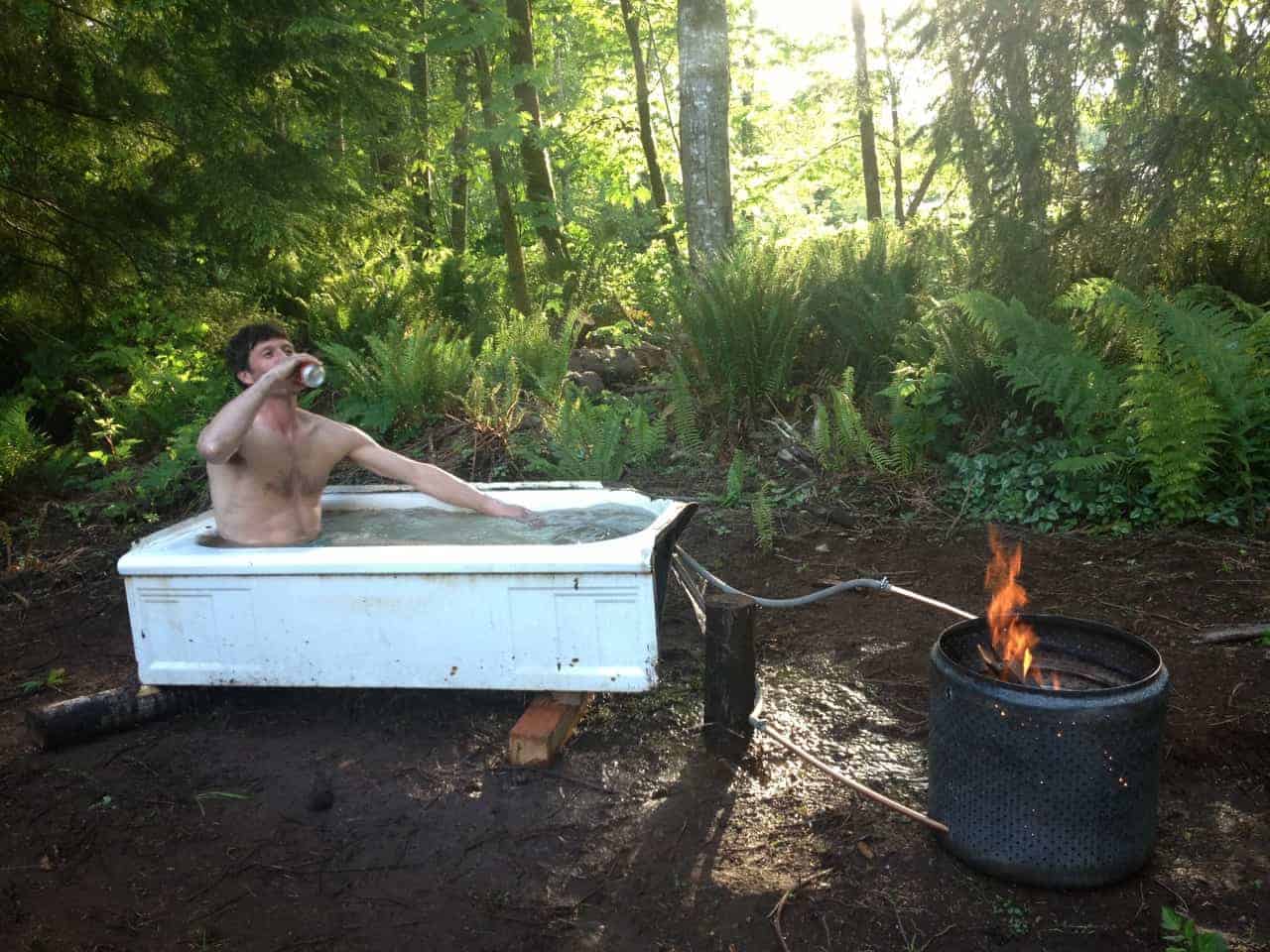 The backcountry hot tub featured in this post is among the most basic and rudimentary designs we've seen, but the fact that you can easily build it in the wilderness and enjoy a soak far away from the worries of city life makes it a plan that many will appreciate. We love the photo of the DIYer who built it sitting in the tub in the forest and enjoying a beer, and if you'd like to experience something similar, head over to his blog to see how he did it!
13. DIY Stock Tank Hot Tub – The Filson Journal
This plan for a stock tank hot tub is quite similar to the one in #12, so if you're looking for more details about how to build something similar, you'd do well to check out this post too. This tub looks like the kind of thing that's fun to build and even more fun to use, so why not see if you're up to the task of making one just like it?
14. How to Build a Soothing Wood-Fired Hot Tub – Hometalk
If you're looking for a simple plan that will allow you to enjoy the pleasures of soaking in a tub in your backyard, here's another one that should be of interest. It's based on a regular bathtub that's rigged up to a wood burner to heat it. There's nothing too complicated about it, but it looks like it does the job, so we're sure it's an idea plenty of people will be keen to copy.
15. DIY: Constructing a Wood Fired Hot Tub – Azjunkremoval.com
Here's a simple plan for constructing a high-quality wood-fired hot tub in just five steps, and according to this post, it should cost you less than $1000. While many cheaper versions exist, this is a very reasonable price for something of this standard – so if this is the kind of budget you have in mind, it could be just the plan you need.
16. DIY Wood Fired Hot Tub – Homesteadlifestyle.com
If you liked the plan in the video in #2 but are looking for some further guidance for putting something like that together, here's a post that should be worth a read. In it, this blogger has borrowed the same idea and written a step-by-step guide for building a tub just like it. They've included the same video, but this blog adds extra details, so it's an interesting read if you're thinking of trying it out.
17. Wood-Fired Stock Tank Hot Tub — Stock Tank Pool Tips, Kits, & Inspiration
This post gives you information about the kind of heater you'll need to use if you want to make your own wood-fired hot tub. We've already mentioned that this is one of the most important aspects of the project, and this post gives you the essential info you need to ensure you get it right.
Lots of great ideas for homemade wood-fired hot tubs
As you can see, if you're hoping to build a wood-fired hot tub of your own, there's no shortage of plans to guide you, whether you want one of the more basic, rudimentary versions or a more sophisticated model that will rival the kind of thing you can have installed by a specialist.
We've enjoyed collecting these plans for you, so we hope you've enjoyed watching and reading them all too. And above all, we hope we've helped you find the ideas you needed for building a DIY wood-fired hot tub of your own.