Hot tubs came in various styles from 28-jet commercial models to inflatable plastic ones. You can even construct your own hot tub using bricks, tiles, or wood if you have sufficient skills. But while the tub itself might be made from metal, plastic, or fiberglass, the surround can be tile, vinyl, or even glass. You can stick to a skirt that covers the flat sides of the tub.
Or you could get elaborate with a hot tub grotto that rises above the tub to form a spa-like cave. Of course, Jacuzzi is a trademarked brand, but because we often use it to generically describe hot tubs, and we'll do the same here. So let's look at some DIY hot tub enclosures you can work on as you prepare for the holiday chill. They range in complexity and skill level.
1. Garden Umbrella
If you have an inflatable hot tub, you may be better off with a portable DIY hot tub enclosure. That way, you can easily shift the enclosure when you need to deflate the hot tub. You can also move the umbrella as the sun moves, allowing you to enjoy maximum sunlight exposure.
These umbrellas often have adjustable heights and angles, so you can even position it to block the wind if it gets too chilly. The umbrellas have sturdy feet and broad diameters so they can completely cover the hot tub, even though the sides of the 'enclosure' will stay open.
2. Canvas Enclosure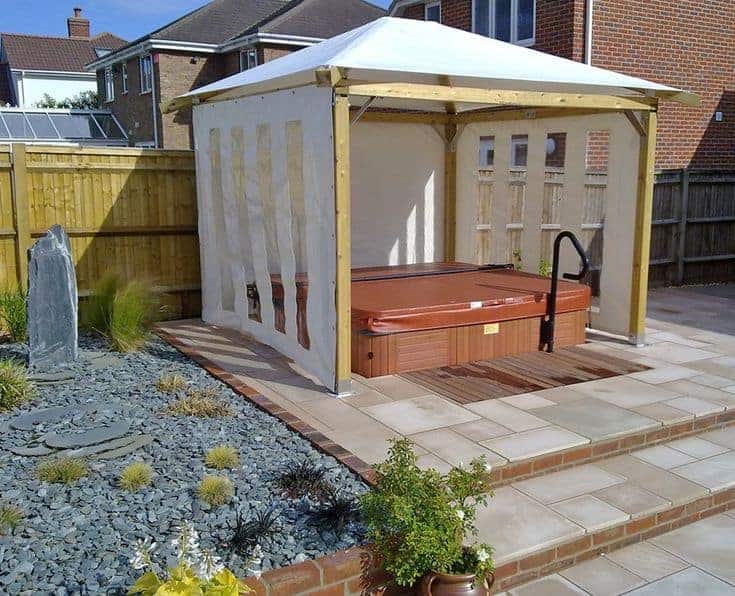 You know those tents they use for outdoor events? The kind that get decked with ribbons or sashes then filled with plastic chairs? That kind of canvas cave makes the perfect DIY hot tub enclosure. The sample pictured here has see-through windows so you can enjoy the view.
Of course, if you like to bare it all in the tub, you may not want those plastic peep holes exposing you to nosy neighbours. But the canvas enclosures often have loose flaps that you can tie to the side if the hot tub gets too steamy. These tents can handle harsh weather too.
3. Wooden Frame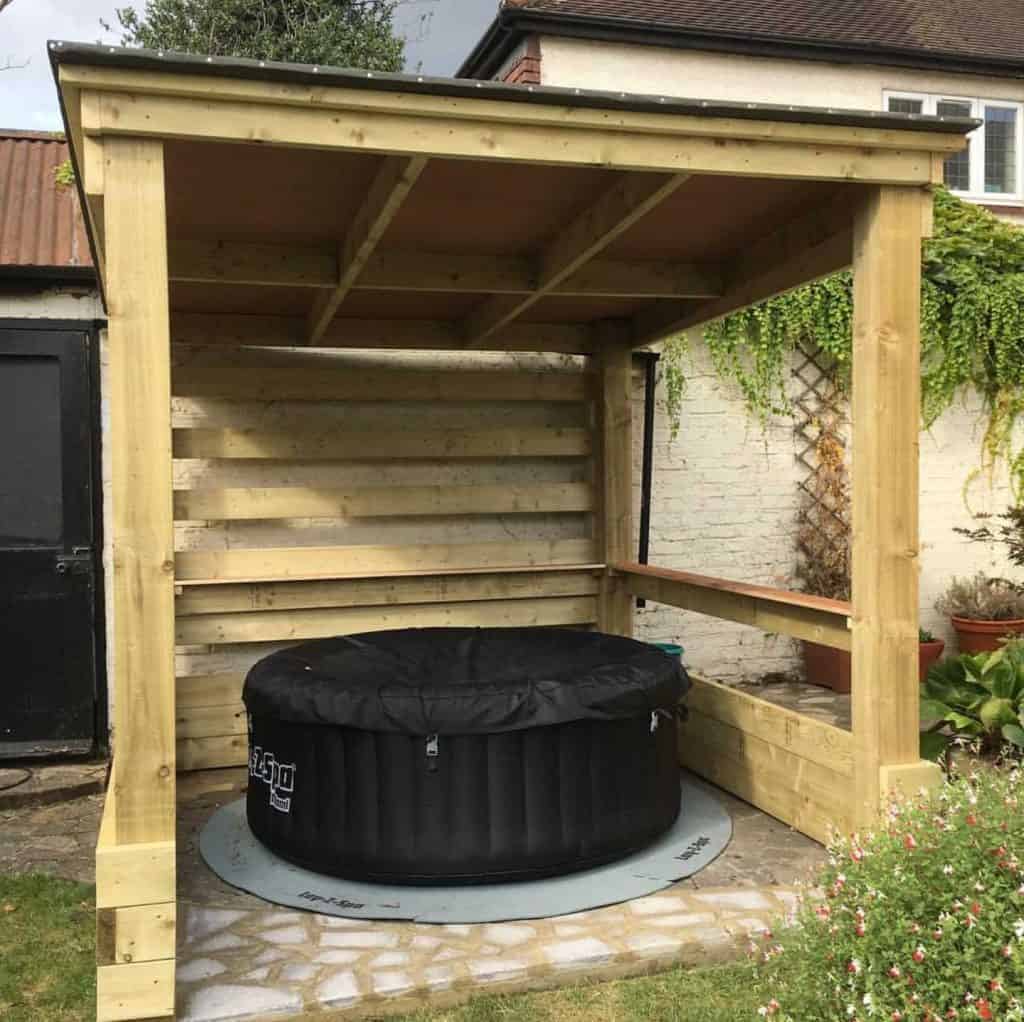 DIY hot tub enclosures make a satisfying weekend project. They're so easy to construct and you can enjoy them immediately. In fact, you can build one like this using reclaimed 4 x 4s from the local scrap yard. You'll only need a few because the sides don't need to be solid.
The farther you space the planks, the wider the gaps, and the easier it is for steam and hot air to escape. This makes you soak far more comfortable. The only caveat is to ensure you get the kind of wood that can survive water exposure. They could be painted or pressure-treated.
4. Lid Lifters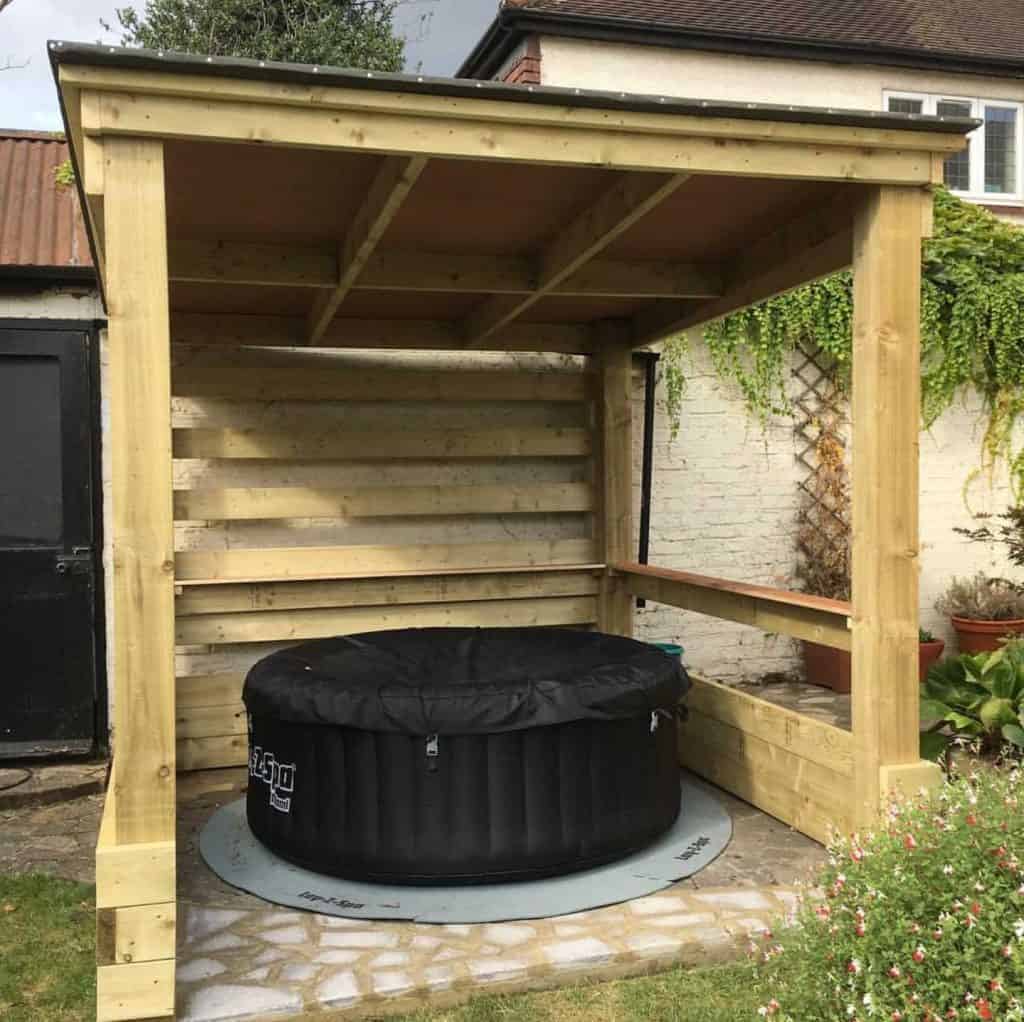 Covana is a commercial hot tub lid lifter. It comes attached to the hot tub and has a mechanical crank that opens and closes the hot tub cover. The arms of the lifter rise high enough to provide a makeshift enclosure for the whole hot tub (and anyone sitting inside it).
But if you have the right skills, you can jerry-rig a DIY hot tub enclosure that's attached to a homemade lid lifter. It's a complex project so study several demos and gather all your tools and materials. You may need a trial-and-error approach to figure it out, but it's worth it.
5. Wicker 'n Curtains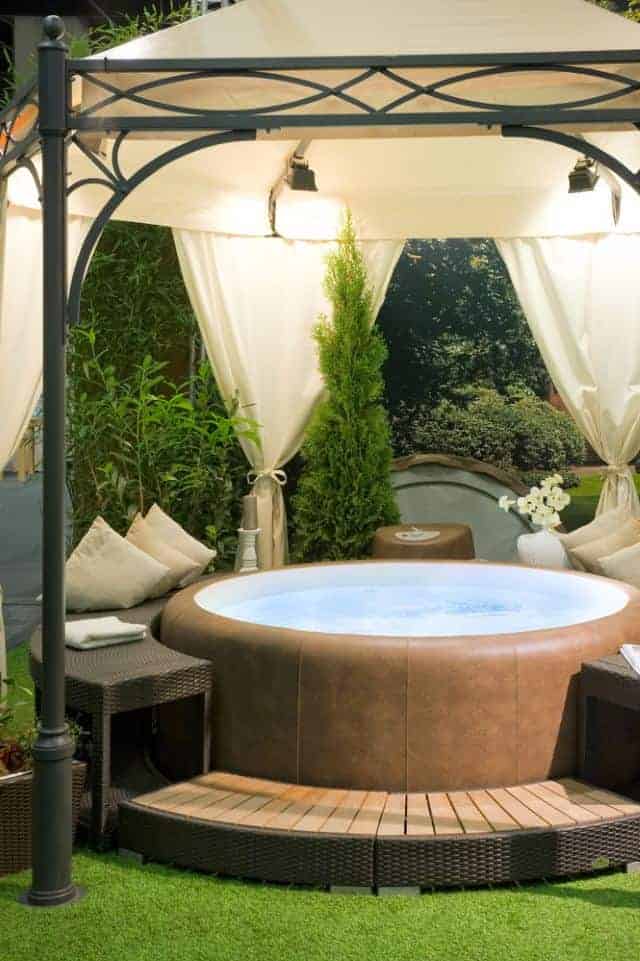 This concept for a DIY hot tub enclosure is an interesting one. You can buy the parts separately and assemble them. You'll need curved wicker benches and a raised wickerwork platform complete with wooden planks on the floor. You also metallic posts to hold it up.
The hot tub will sit in the middle of your wicker structure, surrounded by the metal posts. You can then drape pretty outdoor curtains at strategic points along the frame. These curtains can be pulled shut for privacy or left open when the hot tub becomes too stuffy.
6. Wooden Shed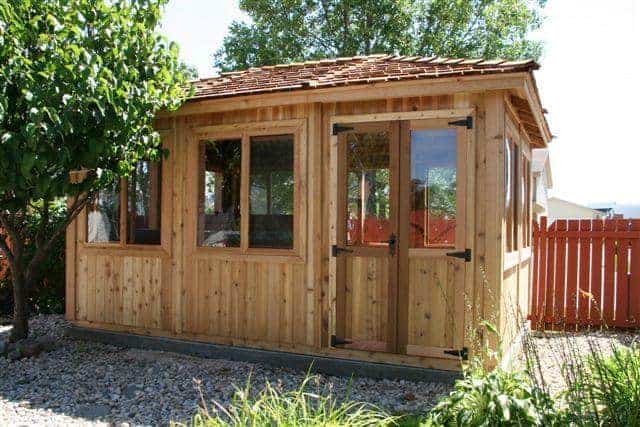 These days, you can erect a backyard garden shed in minutes. Okay, maybe 30 minutes. These sheds can be used for home offices, crafting studios, or clutter storage. They're prefab structures made of vinyl or composite materials. They come as a flat pack to be assembled.
But you can still put up an old-fashioned wooden shed as a DIY hot tub enclosure. Cedar is a popular material for this kind of project. But it has to be waterproof wood, and the enclosure will have lots of windows, doors, and skylight to ensure quick ventilation when it's needed.
7. Louvred Corner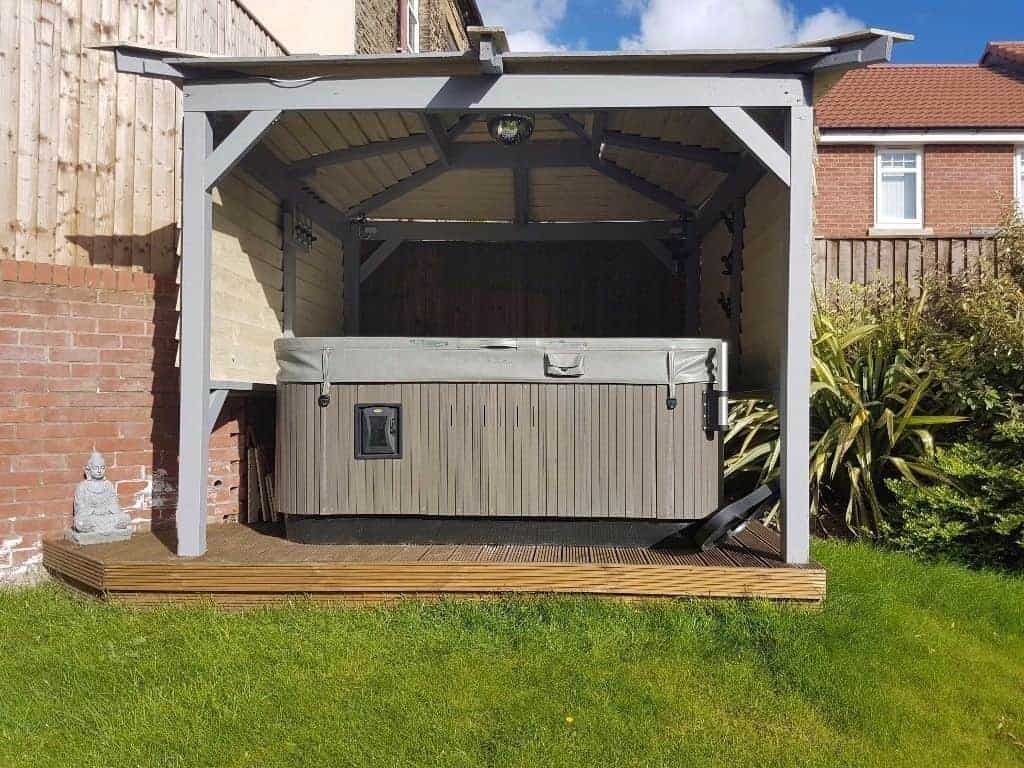 Corner enclosures are a good idea because you can use fewer construction materials. By positioning the shed at the corner, you only need two walls – the other two sides will be hemmed in by the house and the fence. In this case, the walls cover the top half of the shed.
This may seem counterintuitive, because hot air rises. But since the air is filled with vapour, it will sink to the bottom and float out of the open lower walls. This ensures your DIY hot tub enclosure stays well ventilated. Plus, the walls are louvred so you can control the gap size.
8. Gazebo Kit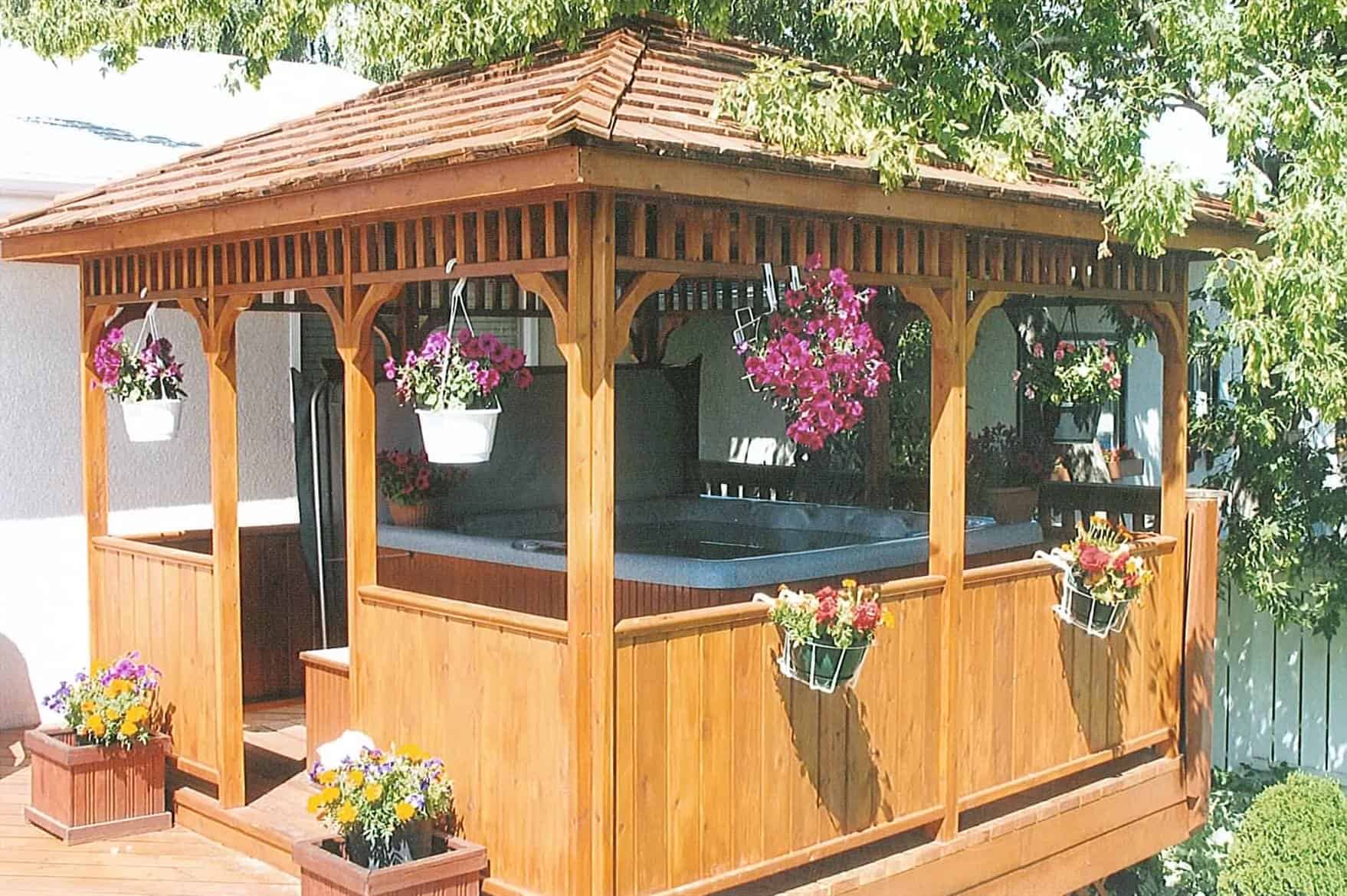 Building your DIY hot tub enclosure doesn't need donkey work. You don't have to chop down trees and bite off the bark. You can buy a gazebo kit that's a lot like those flatpack sheds we mentioned earlier. These gazebo kits come with pre-cut cedar and optional window screens.
The screens are made of netting, so they help with air circulation and will keep the hot tub from getting too steamy. You can also leave the screens off completely, or assemble them as loose flaps that you can open or shut. The gazebo kit has 10 x 10 sides and comes with tools.
9. Corner Deck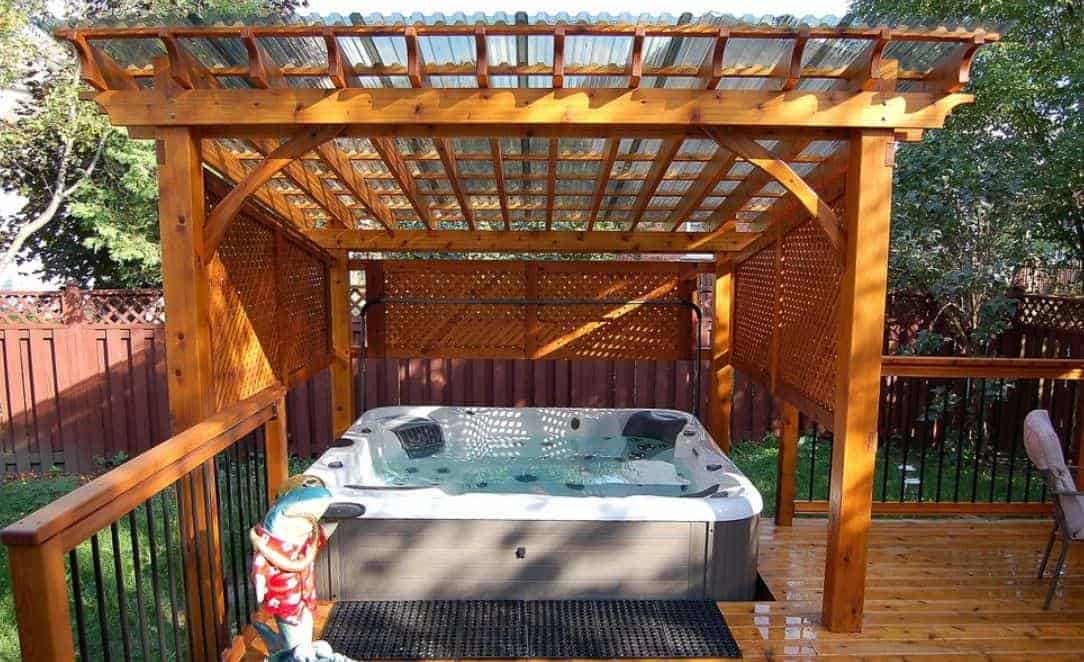 As you plan for your DIY hot tub enclosure, it can be helpful to rely on your existing structures. This house already has a deck for the sunken hot tub with a protective metal balustrade. The deck fence is waist-high and has wide gaps between its metal fence posts.
This perfect for ventilation, so you can simple add lattice screens and a roof on top of the balustrade. The roof can be clear corrugated plastic, allowing sunlight through. This means the hot tub is always bathed in natural light, and you can watch the moon and stars at night.
10. Private Screening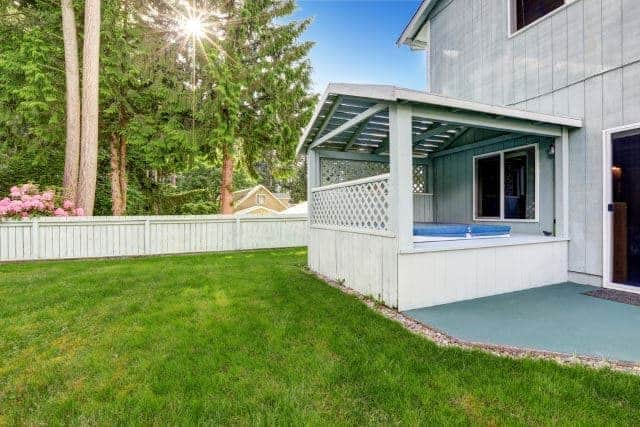 Another interesting tactic for your DIY hot tub enclosure is to use existing materials. This version uses the same grey clapboard that forms the house and the fence – there were probably some leftover after the home was completed. Add some lattices to the upper walls.
For the open sections, you can use the same mesh that covers your bug screens. It will keep away mosquitoes and summer bugs while letting steam out and cool fresh air into the enclosure. The structure sits at a corner between the home's back wall and its wooden fence.
11. Glass and Tiki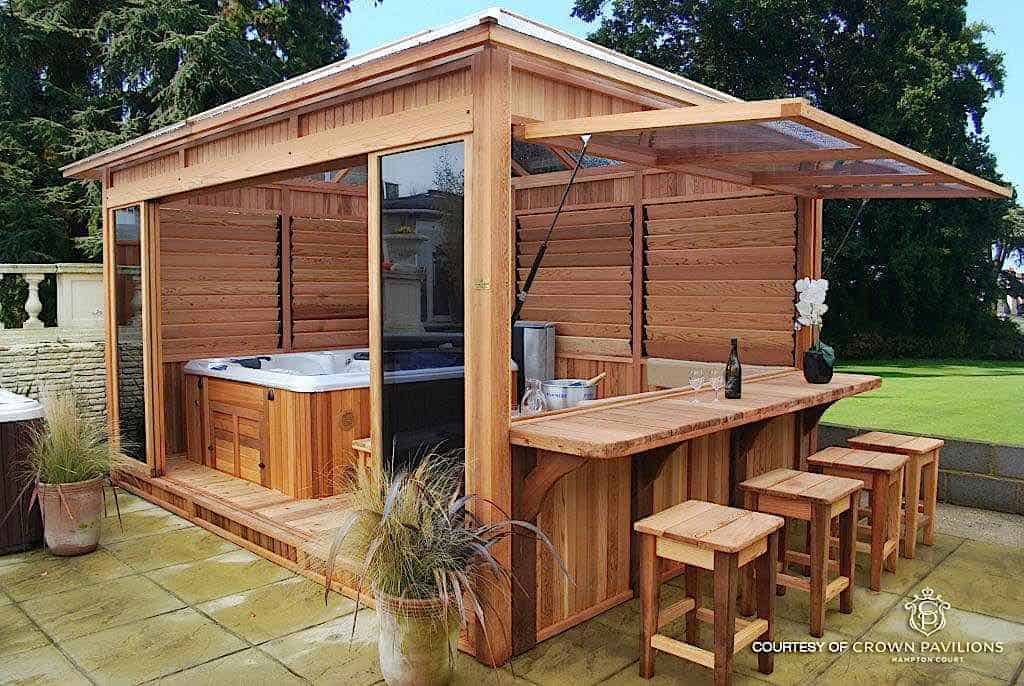 Turn your backyard into a tropical spa with this Tiki Bar enclosure for your hot tub. The wood is pressure-treated to protect it from water damage, and the planks are arranged in gapped louvers for maximum ventilation. The louvres can be operated by a crank system.
Sliding French doors offer access to the enclosure, and they have a tinted surface for added privacy. On the side that hosts the bar, the screen window can be raised or lowered with a lever. The roof is see-through, inviting natural daylight and allowing night-time stargazing.
 12. Poolside Perfection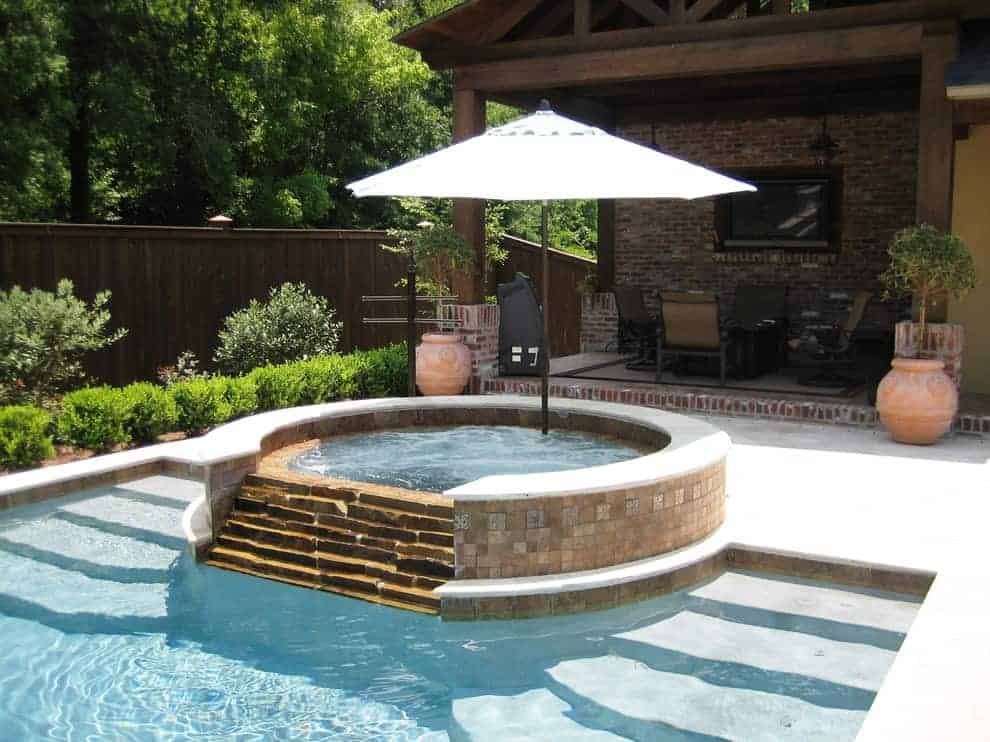 If you're putting in a pool or upgrading your existing one, it's a god excuse to set up your DIY hot tub enclosure. In this case, the Jacuzzi itself is built as an extension of the pool, sunk into the shallow end with tiled coping and steps leading down into the rest of the swimming pool.
As an gazebo cover, an umbrella is mounted at the edge of the hit tub. It's large enough to cover the whole Jacuzzi, leaving the sides open. And since the porch is only a few feet away, you can hop into the shade if the water gets cloying. The umbrella is removable for cleaning.
13. Glass Gazebo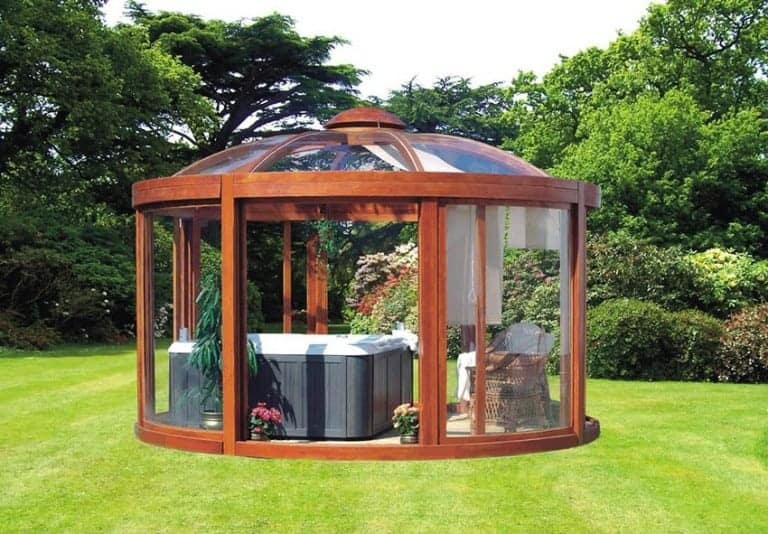 There's a reason most people avoid wood for their DIY hot tub enclosures. It because steam and wood don't mix. The wood will get damp, which can cause it warp, rot, crack, or attract termites. But with the right kind of timber, your enclosure can be safe and survive the heat.
This structure is made from fencing posts – which are already treated against fungal rot and insects. The spaces between the posts are filled with curved glass. The roof if curved glass as well, and all the walls/doors can slide open or closed to control the flow of steam and air.
14. Farmyard Spa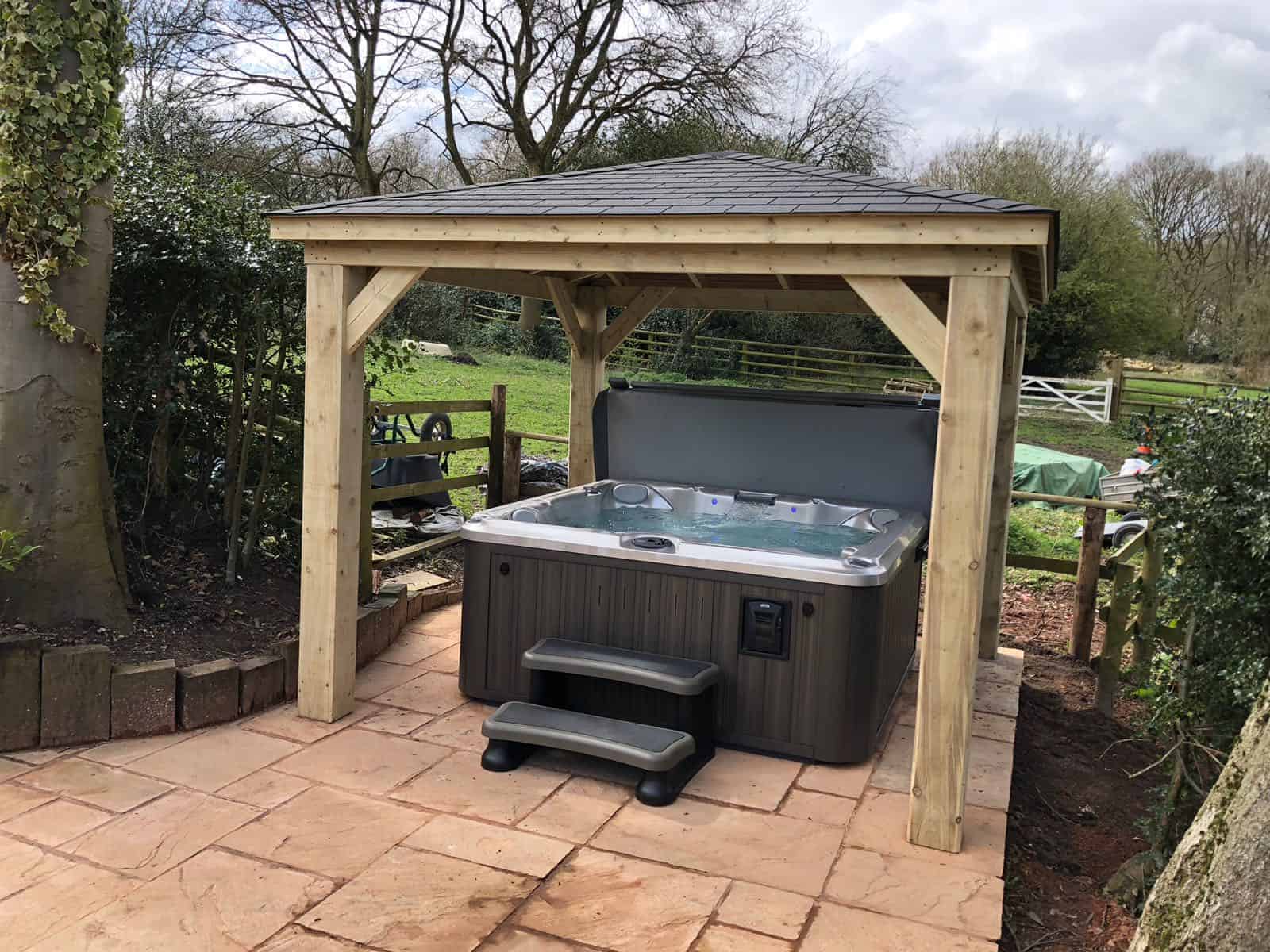 This gazebo is similar to the previous one, but its position is friendlier. It's mounted out in the open, right next to the lawn. The floor beneath is paved so it can handle the weight of a full hot tub. The sides are open and it has no glass walls, so hot air flows freely around.
But the roof is made of shingled, which are more suitable for outdoor conditions. And the mansard roof has four slopes, letting rain, leaves, and precipitation slip gently off the roof. You'll need to keep the Jacuzzi lid down though, to stop birds and rodents from taking a dip.
15. Pretty Woodwork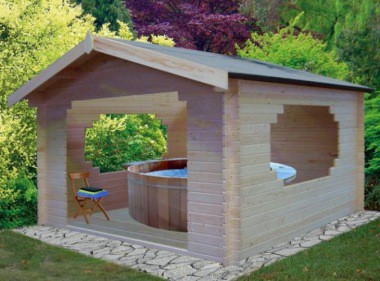 The most important aspect of any DIY hot tub enclosure is air flow. So if you insist on having proper walls (as opposed to open frames), you need to be creative about ventilation. In this case, the wooden walls have pretty decorative windows with intricately detailed carving.
The windows are stepped corners that would be cumbersome to dress and trim. But since they'll be left unfinished, they provide visual pleasure plus the practical purpose of letting steam and hot air circulate. The waterproof wooden walls are nude with optional clear stain.
16. Hardtop Enclosure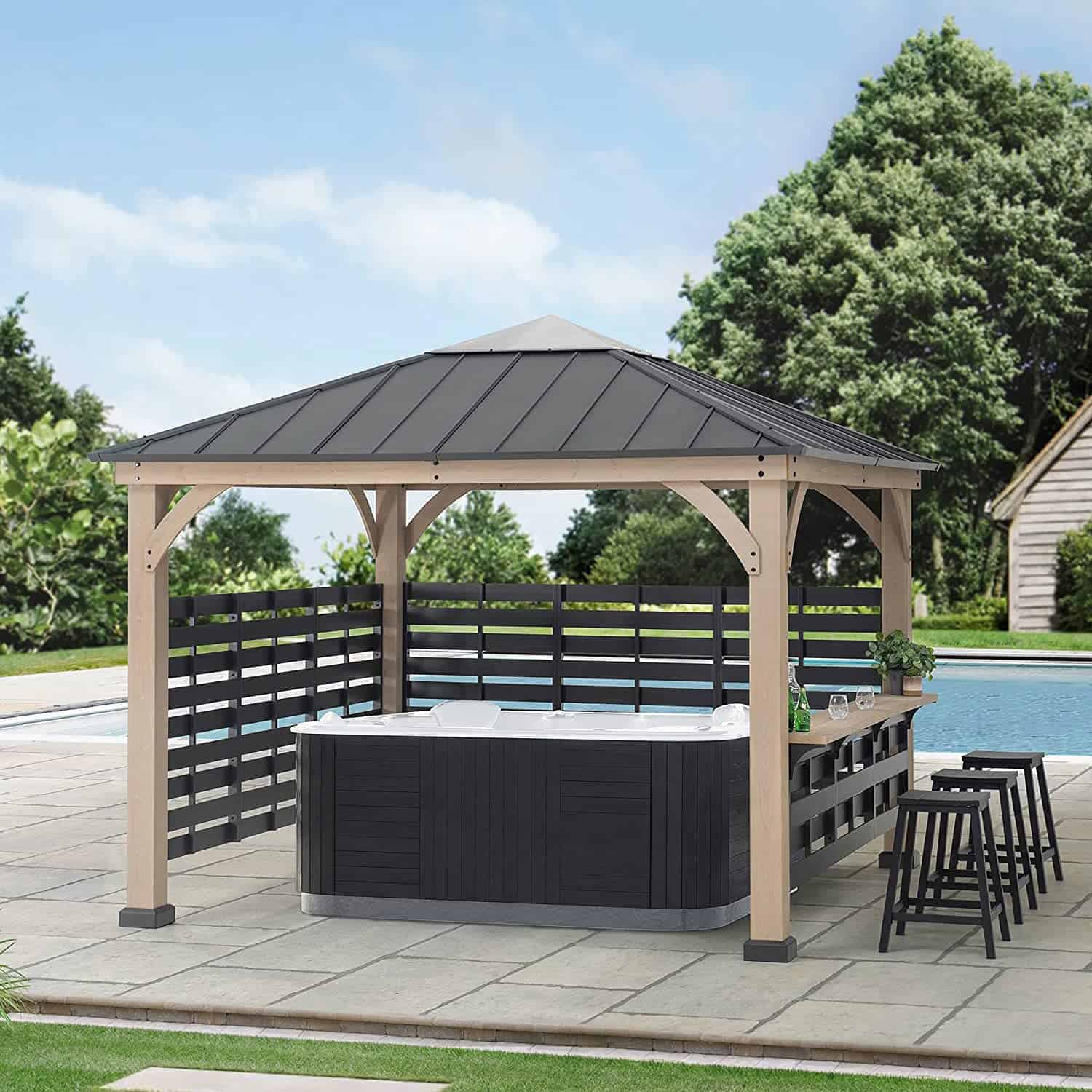 You may feel too shy and exposed to enjoy an open-sided hot tub. But if it's closed, you'll get uncomfortable quicker and may have to cut your soak short. Here's a compromise. The walls of this DIY hot tub enclosure have gapped cedar on alternating sides of the structural posts.
This means there's more open space for water to condense on and hot air to slip through. And the pattern invites cool air from around the gazebo, cooling you when you overheat. The steel roof has a polycarbonate skylight at its apex. For night use, the shed is fitted with bulbs.
17. Thatch That
Colonial communities considered indigenous ideas to be primitive and old-fashioned. But as modern homesteaders revert to cob houses (made of mud and straw), the world is starting to see the wisdom of those nature-friendly construction techniques. And you can try them too!
While you don't need cob for your DIY hot tub enclosure, you can make a thatched roof that allows steam to filter through while keeping out the rain and snow. Thatched roofs need to be replaced once a year or so, but you can use thatch tiles. They're easier than loose thatch.
18. Temporary Solarium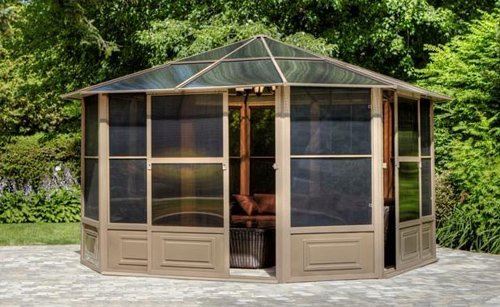 If you live in an area with extreme weather, you probably prefer to keep the hot tub indoors during the snowy months. So a seasonal DIY hot tub enclosure may be a smarter option. This version is lightweight enough that you can shift it as needed. Only the bottom section is solid.
It's made of vinyl or wood panels as a base with mesh screen walls and conical roof, which is also made of mesh. The netting lets wind blow through the enclosure, which reduces your chances of overheating. It won't keep rain out though, so you may need to shift if it drizzles.
19. Permanent Pergola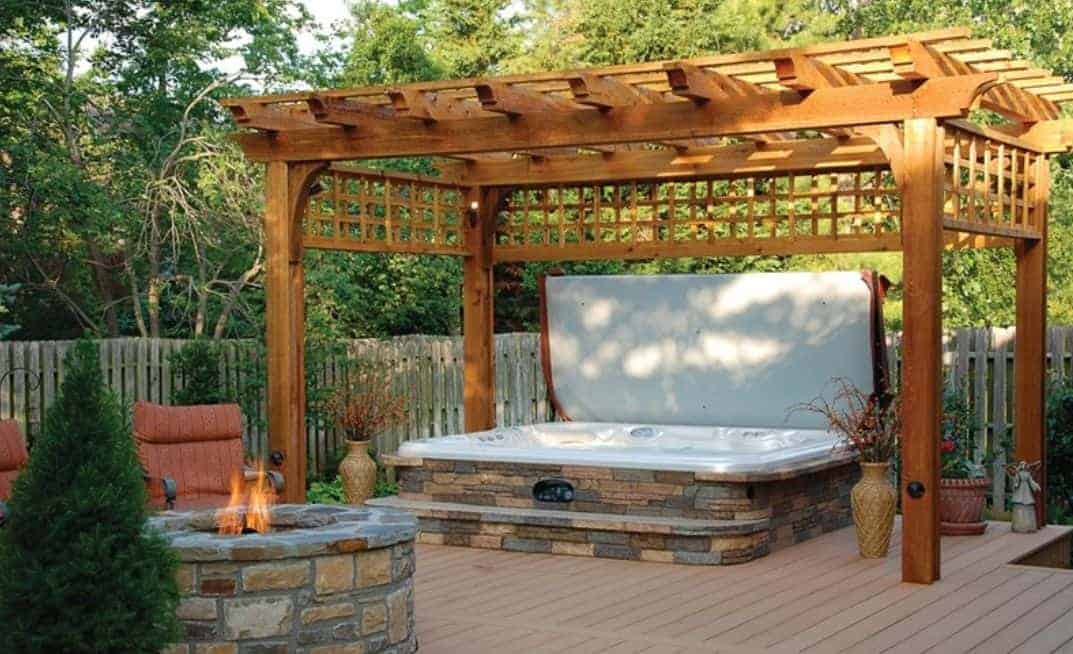 This backyard is a study in style and beauty. The firepit and Jacuzzi surround are both made of stone while the hot tub itself is fiberglass. Because the tub has a hard cover, you don't need to worry about rain or leaves falling in. Meaning you can use an open gridwork pergola roof.
This roof lets light freely in, and you can weave flowery vines through it to create a pretty arbour. The sides of the enclosure are open as well, while about a foot of lattice work closer to the top. You can intertwine creepers through these lattices too. The deck floor is wooden.
20. Half on Half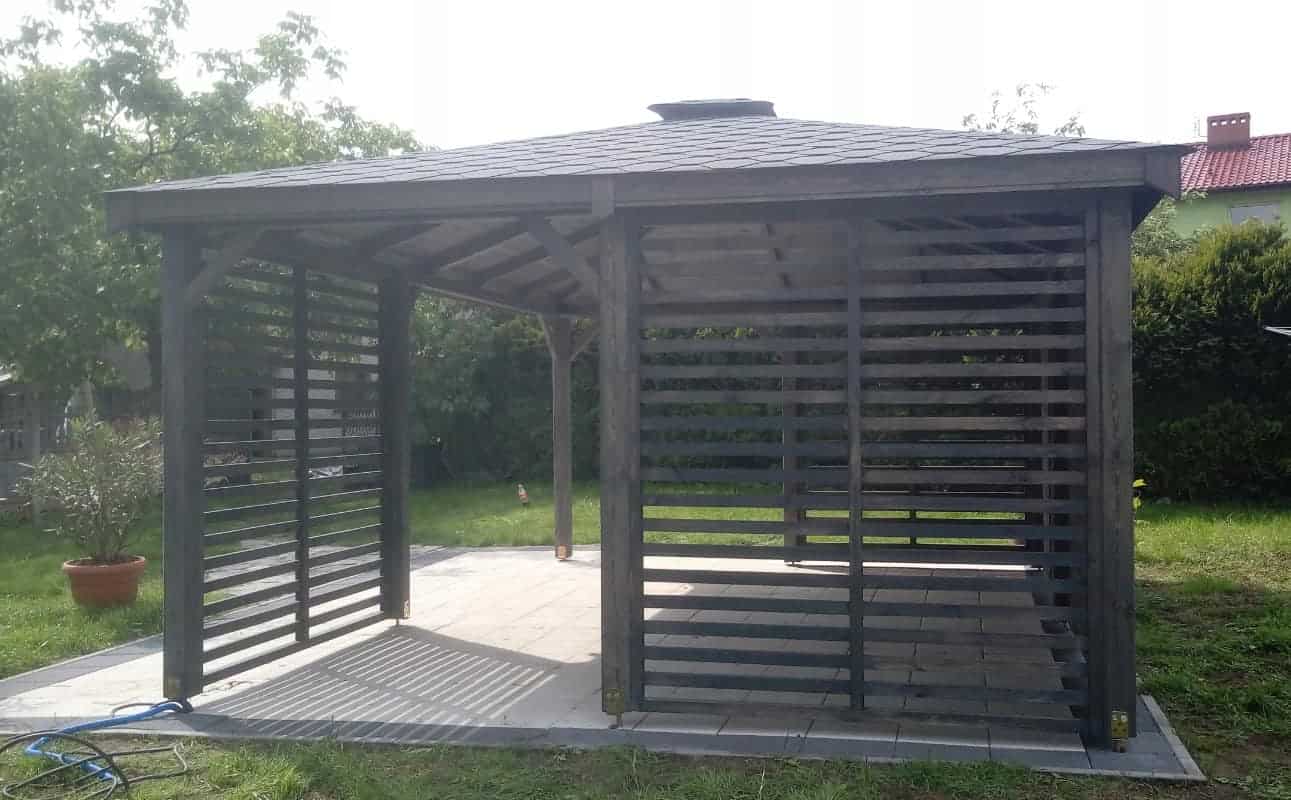 When you're looking for a compromise between ventilation and privacy, you could opt for this kind of DIY hot tub enclosure. The rear wall is solid, but the other walls are half open and half covered by gapped planks of wood. The gaps may seem unwisely wide at a glance.
But from a few feet away, your eyes will blur the lines and simulate a solid block, so you won't see the person in the tub unless you press your face right at the wall. The roofing tiles have a raised peephole in the middle, allowing hot air to siphon out just like a chimney.
21. Hot Tub Poolside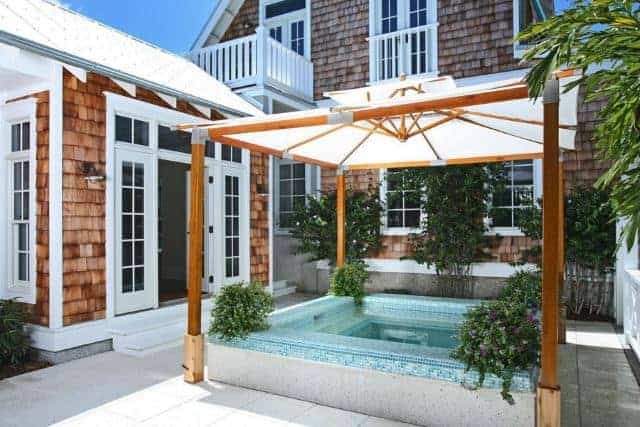 Even if you opt for a simple DIY hot tub enclosure, you can dress it up in other ways. This structure has open sides with a wooden post at each corner, holding up retractable canvas cover with an opening in the middle. You can use a crank to open or close the canopy.
To heighten the elegance of the hot tub, it's sunk into the deck and hemmed in with a concrete foundation. This helps support the weight of the water. The upper surface of the concrete frame has mosaic coping in varying shades of blue, so it mimics a swimming pool.
22. Floating Windows
There's some debate about the top or bottom half of DIY hot tub enclosures – which should be open? This design has a sort of upside-down design because the windows float off the ceiling instead of rising out of the ground. The bottom half is exposed so the tub fits snug.
The sliding windows have mesh netting so they allow air to flow freely even when the windows are shut. And the front of the enclosure has no windows at all – it just has pretty curtains that you can open or close to meet your needs. The legs sit firmly on a concrete slab.
23. Zip-up Enclosure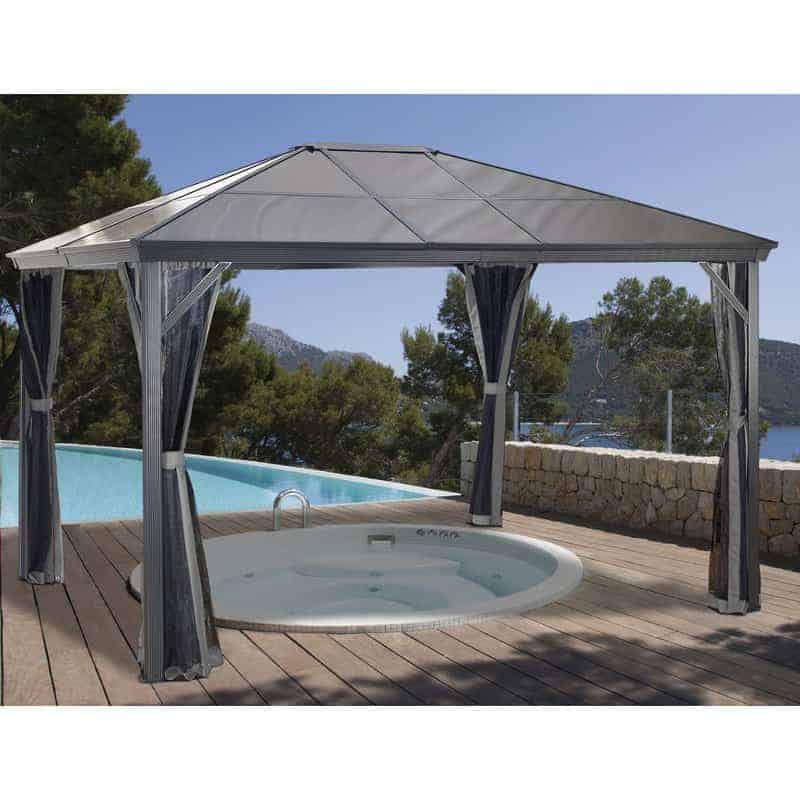 What's the criteria for a DIY hot tub enclosure? The category covered sheds constructed fro scratch, flat-pack prefabs you assemble at home or even this temporary sip-up enclosure. The side walls have waterproof netting that you can zip open or shut when you need to.
The enclosure has posts that can attach to any surface – a wooden deck, a concrete floor, or even ceramic tiles. The walls and roof are strong enough that they won't get blown away in the breeze and they can withstand harsh sunlight. But the shed folds for easy storage.
24. Glass Dome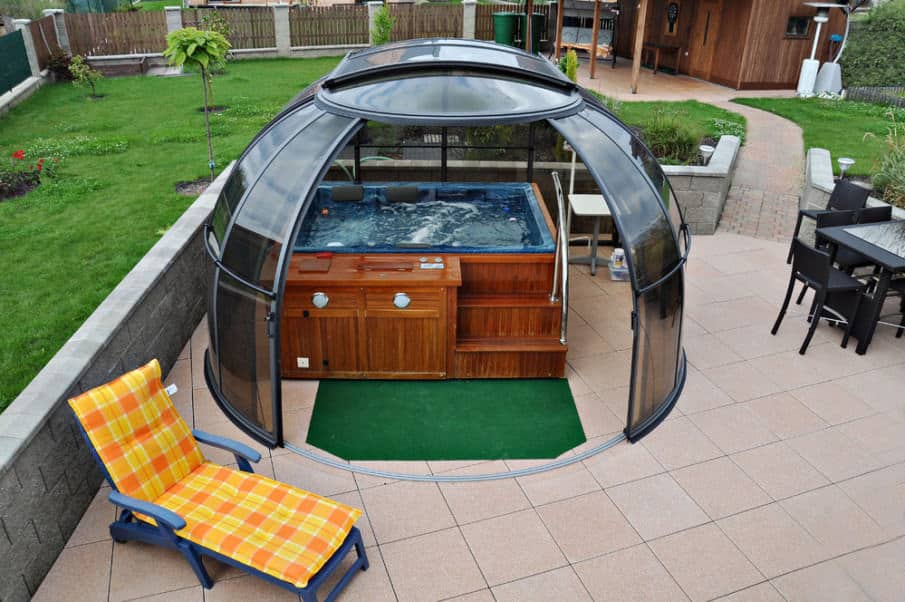 We've looked at a round glass gazebo before, but that one had wooden posts. This one is pure tempered glass with metal grids holding the curvy walls in place. The glass is tinted for added privacy and everything is anchored on a round metal track, just like French Doors.
The walls – as well as the roofing panel – can slide open or shut. And since the glass is tempered, you can leave the DIY hot tub enclosure outside, even harsh weather. You won't even have to winterise the hot tub. But never leave kids or pets near it unsupervised.
25. Temporary Tent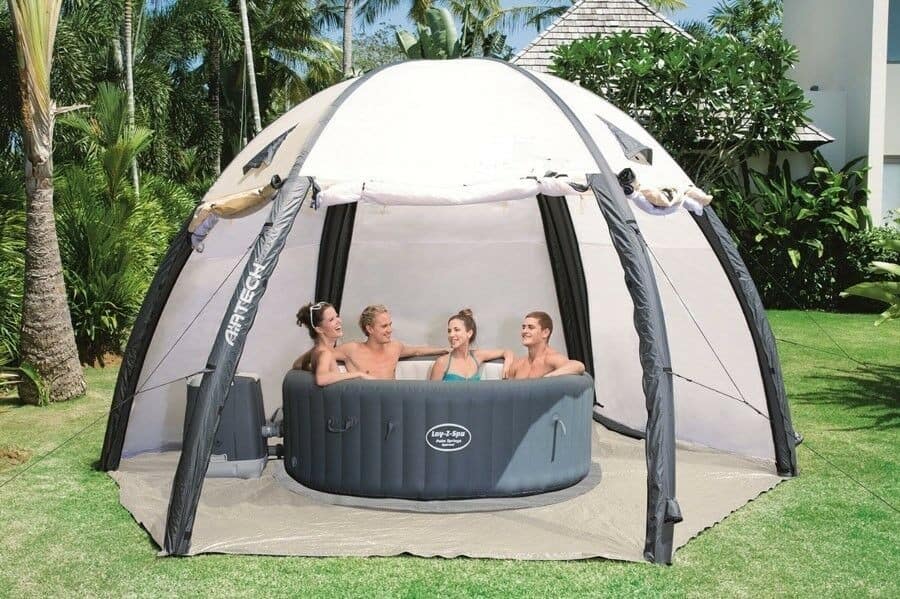 This last DIY hot tub enclosure is designed for people who love camping. It works best with an inflatable hot tub because it won't damage the tent floor. The tent has a dome shape and roll-up sides that you can raise or lower to achieve the right amount of steam circulation.
You can inflate the tent using the same pump that inflates the hot tub. And once inflated, the tent will hold its rigid shape for up to a week before it needs more air. If you opt for a non-inflatable type, the anchors, ropes, pegs, and posts will come as part of the tent package.
What's your favourite DIY hot tub enclosure? Show us photos in the comments section!