Making soap is a fun but practical activity. Kids love playing with the bubbles and pretty colors. Plus, once they're done, they'll happily jump into the bathtub or shower to try out their new creations. But adults enjoy DIY soap jellies too! So here are some recipes to try.
Some pro tips before we begin. Try silicone molds – they're easier to pop out. If you want to use a plastic or metal mold, grease it so the bath jelly can easily slide out after it sets. Also, bath jellies and shower jellies are the same thing, so we'll swap the terms throughout this list.
1. Whatsup Moms DIY Bath Jelly
For this quick-and-easy DIY bath jelly recipe, you'll need glycerine, soap molds, gelatin, soap coloring, water, and kid-friendly essential oil. If you don't want to use glycerine soap (or if you don't have any), you can use a see-through liquid soap instead. It has to be clear so that your soap jellies stay glossy and translucent. Boil, cool, and pour the jellies into molds.
2. By Pink Lush-Inspired Shower Jellies
Kids love colorful DIY bath jellies floating in the tub. But as a grown-up, you may prefer shower jellies instead. Especially if your apartment has no bathtub space. Try this recipe with unflavoured gelatin and bold, sparkly colors. You can use food coloring, but soap coloring is less likely to stain. Add body wash to make your jellies foamy and bubblesome.
3. Kait's Lush-Inspired DIY Jellies
Bath bombs and shower bombs (sometimes called shower steamers) are slightly different because shower bombs have a flat bottom, no Epsom salt, no carrier oil, and extra fragrance oil. But in terms of jelly soap, bath jellies and shower jellies are identical, so we'll use them interchangeably. This shower jelly recipe has shower gel, hot water, pink salt, and gelatin.
4. Frugal Adventured DIY Bath Jellies
DIY bath jellies tend to froth and foam while you're mixing them. And some of these bubbles will float on top as you pour your bath jellies into their molds. Spray the tops of the liquid mixture with rubbing alcohol. It keeps your jellies smooth and stops them from trapping soap bubbles inside them as they form. Use boiling water to fully dissolve the gelatin and oil.
5. Lush Twilight DIY Shower Jellies
Lush inspires tons of homemade imitations, but if you want a more bona fide version, try their original recipe. It uses carrageenan extract in place of gelatin, and the colors include pink, blue, and sparkling mica. For the soap base, you can use any liquid soap flavored with fresh lavender buds. Scent the soap with a blend of lavender, ylang-ylang, and tonka oils.
6. Honey + Lavender DIY Shower Jellies
Using plain gelatin (as opposed to fruity flavors) stops kids from stuffing the soap in their mouths. But if the jelly is for adult skincare, you can slip some food items it. Like raw honey for softer skin. But hide the jelly from the kids! This DIY bath jelly recipe also has unscented castile soap and lavender essential oil. The floral molds have intricate flower petal details.
7. Gurl DIY Shower Jellies
The gelatin used in DIY bath jellies is the regular kind that's used for jello. Plain, unflavoured variants can stop your kids from eating their soap. You can add fragrance oils or essential oils to hide that bland gelatin smell. Use eco-glitter or edible glitter as opposed to non-toxic glitter, which often has plastic in it. A dash of salt helps the jelly set quicker while holding its shape.
8. DIY Lego Jiggly Jelly Soap
Stepping on Legos is as painful as stubbing your toes on furniture! But if the Legos are DIY soap jellies, you're probably safer. Just be sure to use suction bath maps to stop your kids from slipping on that Lego soap! As for the recipe, use a commercial glycerine jelly soap base and add soap dye and fragrance oil. Spray the mold with rubbing alcohol to reduce bubbles.
9. DIY Flower Jelly Soap
The secret to DIY bath jellies is boiling water to melt all the oils and gelatin. If you're using glycerine soap blobs (instead of gelatin), melt them in the microwave first. You can also use liquid body wash. Salt serves as a preservative and pseudo-emulsifier because the mixture of oil and water can get moldy. Put the flower in the middle and cover it with liquid soap jelly.
10. Squishy Soap Jelly DIY
In the old days, kids were punished for swearing by washing their mouths out with soap. The idea was to 'clean' their 'potty mouth'. But with today's sweet-smelling soap jellies, the kids might end up swearing even more! So stick to non-edible, perfumed, essential oil fragrances like bergamot. This recipe uses a shower gel or liquid body wash as a soap base for the jelly.
11. Testy Mama DIY Jelly Soap
Silicone molds are great for DIY bath jellies, but you can also set your soap in ice cube trays or muffin pans. Use a clear body wash if you want a gel-like result or a milky one if you want your bath jellies opaque. These bath jellies are scented with vanilla essential oil so you'll need to hide them from the kids! For a rainbow swirl effect, put the color straight into the mold.
12. Shimmery Summer DIY Bath Jellies
These DIY bath jellies look a lot like gummy cubes, right down to the warm colors and fruity scents. So you'll need to keep them in a locked cabinet or your kids will nibble them quick! Use any melt-and-pour soap base if you want to dodge the gelatin. Flavor your soapy mix with summery fragrance oil. For color, try edible glitter, canary, orange, and fuchsia.
13. Glamrs DIY Bath Jelly
Carrageenan extract isn't the only alternative to gelatin. You can also use Agar Agar powder (aka China grass) to give your DIY bath jellies the right texture and consistency. And it comes from seaweed, so it's vegan. This bath jelly is enriched with Vitamin E oil (from split capsules), essential oils, glitter, and flower petals. Use a clear liquid soap base and table salt.
14. DIY Galaxy Bath Jellies
DIY bath jellies are often sparkly, but you can elevate yours even more with this space-age recipe. The starry look will come from colored glitter. Particularly rose gold and midnight sky. Other night-sky colors you can slip in include blue, pink, and purple, indigo, or violet. Use a vegan melt-and-pour soap base like Catalina's. Ball-shaped spherical molds are best.
15. Ann Le's DIY Bath Jellies
Gelatin-based soap jellies have to be refrigerated or chilled for storage because they can melt at room temperature. All the more reason to avoid foo flavors and edible fragrances. These bath jellies are made in plastic dishes with the colors and flavors mixed into pretty stripes. This recipe uses jojoba oil, citrus body wash, and food coloring, but soap coloring is better.
16. Exotic DIY Bath Jelly
Part of the reason for using unflavoured gelatin is the sugar. Jello gets sticky because sugar crystals are mixed into the powder, and you don't want that gummy feeling, so look for plain, unsweetened gelatin. Check the instructions on the bath. Some need boiling water on the stove, others just want hot water. Use scent-free liquid soap or bubble bath as the base.
17. Maphie's Lush DIY Shower Jelly
Create your own Lush DIY bath jellies for under $5! All you have to buy is plain, unflavoured gelatin. You'll need a shower gel, salt, essential oils, and gel food coloring, but you probably have those at home. If you're unsure of the flavors and colors to use, check the ingredients on the Lush pack you're trying to reproduce. Sweetie Pie has cherry, coconut, and cassis.
18. Jen's Homemade Shower Jelly
In its most basic form, DIY bath jelly is just jiggly shower gel. And if you use gelatin to form it, it'll get watery in your shower caddy so it needs to stay refrigerated. This shower jelly recipe has body wash, boiling water, unflavoured gelatin, and soap coloring. So if your kids routinely fish through your beauty supplies, get a lockable mini fridge for your soap jellies.
19. Vegan DIY Bath Jelly
Jello doesn't necessarily have animal products in it, but if you're making DIY bath jelly as a gift for a vegan friend, it's best to use Vege-Gel gelatin, just to be sure. Also, use food/soap coloring that hasn't been tested on animals – they often specify this detail on the pack. The results on this video are hazy rather than gel-like, so use a clearer soap base if you want to.
20. Jillee's DIY Bath Jelly
Not everyone likes their bath jellies sparkly and colorful. So if you're more into the nude approach, skip the gel color and mica. This DIY bath jelly uses unscented castile soap as the base, so it won't foam as much as other recipes. The gelatin used is unflavoured, and salt helps to stabilize and disinfect the bath jellies. Alcohol spritz flattens any unwanted bubbles.
21. DIY Whoosh Bath Jelly
Lush is a top seller of bath products, so many DIY bath jellies look to Lush for inspiration. This recipe is based on Whoosh, a citrusy variant scented with honey, benzoin, lime, lemon, rosemary, and grapefruit. Lush uses juices for flavor, but you can try substituting essential oils. Add your gelatin soap base and add the right shade of soapy blue to the mix.
22. Three-Ingredient DIY Bath Jellies
Not everyone wants grueling and complicated DIY projects. Some of us would rather keep things quick and simple. So try this DIY bath jelly recipe that only needs gelatin, hot water, and body wash. The one used here is a glossy lavender-jasmine body wash with the slightest purple tinge. Pour your hot soap jelly concoction into an ice cube tray for a faster finish.
23. DIY Pink Custard Shower Jelly
Lush compounders don't use gelatin. They make their soap base out of carrageenan extract, glycerin, and flavoring. So when you're mixing DIY bath jellies, try substituting those for jello crystals or gelatin powder. These are foodie flavors so you don't want your little ones getting their tongues on these! You need brown sugar, syrup, lavender oil, and coconut milk.
24. Rookie's DIY Shower Jellies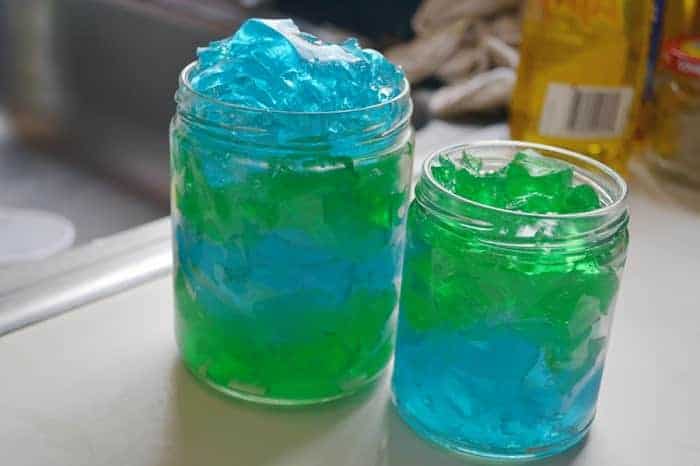 A fun way to color DIY bath jellies is to form them as solid blocks then cut or scoop out the pieces and mix them once they set. And this recipe alternates pretty stripes of sea green and pool blue. You can use body wash, shower gel, hand soap, or even tear-free shampoo as your soap base. Some form of gelatin is essential, but jojoba oil, color, and glitter are optional.
25. Young Living DIY Bath Jellies
When you're making products that might be used by kids (or adults with sensitive skin), you need to carefully dilute and blend your essential oils. This prevents skin irritation from that concentrated treat. This DIY bath jelly recipe has unflavoured gelatin in boiling water, a clear liquid soap, and a summery oil blend of tangerine, grapefruit, peppermint, and fresh citrus.
26. Crafty Girls DIY Bath & Shower Jellies
Shampoo makes a great base for DIY bath jellies because it's shiny and full of bubbles. But it's meant for hair, so it might over-dry your skin. If you use shampoo, add a moisturizing oil to soften your skin. This recipe has shampoo, gelatin, salt, and food dye. Gel food coloring can sometimes stain the bathtub (or your skin) so use it sparingly or get a soap dye instead.
27. Bitz 'n Giggles DIY Bath Jellies
Gelatin-based DIY bath jellies melt easily. If you leave them unrefrigerated or stand them in the shower, they soon turn watery. They can also get frothy and foamy when wet, so it helps to use small molds that you can finish during a single shower. This recipe has a soap base of body wash or liquid hand soap with plain gelatin + gel coloring dissolved in boiling water.
28. DIY Bubble Bath Jellies
Castile soap is an excellent soap base for DIY bath jellies and other bath products. But it doesn't have as many bubbles as commercial liquid soap, so use something else if you want a foaming bath jelly. This recipe uses a store-bought bubble bath liquid instead. The jellies are scented with cashmere fragrance oil. And if you use agar agar instead of gelatin, quadruple it.
29. Sugar, Spice & Glitter's Jiggly Jelly Soap
What's your priority in terms of DIY bath jellies? If you're focused on aromatherapy, use a carefully curated blend of essential oils. If you want a fun distraction for the kids, use low-foaming castile soap and playful cookie-cutter molds. But if your emphasis is on texture, use a thick gel body wash as your soap base. This recipe uses glittery mica and cute candy molds.
30. Nastia's DIY Lush Jelly Soap
If you're preparing a DIY recipe, it's psychologically soothing to use products from the same brand, because it feels like they go together better. This recipe uses gelatin and gel food coloring from Dr. Oetker, but any brand will do. Use liquid soap as a base and include an essential oil or fragrant oil blend of your choice.
31. Craft Bits DIY Bath Jellies
Foaming bath jellies will gradually diffuse in the bathtub or shower, just like regular soap. So you can make bite-sized jellies that get used up in one bath session, or you can store it in a jar for re-use. If the DIY bath jellies are for your kids, add a surprise toy to the jar so they can get a treat once their jelly soap is finished. Ingredients include liquid soap, gelatin, and salt.
What's your favorite recipe for DIY soap jellies? Show us how you make it in the comments!