When you're choosing your bathroom flooring, there's lots to think about. Will it fit with your design scheme and your budget? Will it cope with moisture and humidity? Will it be comfortable underfoot?
But it's also very important to make sure that it's safe. And if you or someone you live with is unsteady on their feet, that's doubly important.
So what is the best non-slip bathroom flooring? That's what we're here to find out! We're going to look at the range of different options out there. And we'll discover how easy it is to keep your footing on them – even if they get wet.
So if you're ready, step this way to find out more …
The challenges facing a bathroom floor
To begin with, it's important to remember that bathrooms offer a number of challenges when it comes to flooring. They're rooms that are often wet. And they can get very humid – especially if you enjoy a steaming shower or long soak in the tub!
That means that they're less suitable for some types of flooring – particularly wood. Wooden flooring isn't out of the question, but it will need to be sealed carefully and regularly resealed.
The problem is that the kinds of materials that keep wood safe from moisture can also create a slippery surface. Resin coatings, for example, will fill in the grain texture so it's smoother. That will make it much slicker when it gets wet.
So are there any flooring options you should steer clear of altogether in a bathroom?
Some options to avoid
We've already seen that wood can be tricky. If water gets onto it – which, let's face it, is almost unavoidable in a bathroom – it can swell and distort. Over time it can grow mold and mildew, and begin to rot away.
Some types of wood are more moisture resistant than others. And with proper installation and careful sealing, a wooden bathroom floor isn't out of the question. In fact, you'll find plenty of beautiful wooden floors in the bathroom interiors of glossy magazines.
But it's not the easiest material to maintain in this environment, For that reason, it doesn't make our shortlist.
And there are some other materials that are better avoided if you want your floor to be non-slip.
Top of the shop on this criterion is glass. Glass tiles can look great. They come in all sorts of colors, and have a beautiful translucent effect. But they're best kept for walls.
Use them as flooring, and a wet bathroom floor can become a veritable skating rink. The smooth surface of the glass simply won't offer any grip, even to bare feet. And if you take a tumble, the tiles are both hard enough to hurt and fragile enough to crack.
It's a similar story when it comes to some polished stone tiles. These two have a very smooth surface that will become slippery when wet.
If you're looking for stone, there are finishes that provide better slip-resistance. We'll take a look at those in a moment.
List of Non slip floor tiles for bathroom
We've ruled out some types of flooring that definitely aren't non-slip. The good news is, there are plenty of options left to choose from! So without further ado, let's take a look at what they are.
1. Textured stone
We've already seen that polished stone is a no-slip no-no. But that doesn't mean to say you have to forego stone altogether if you want a safer floor.
The answer here isn't anti-slip coating. This works better for stone used in pathways and other outdoor applications. It etches the surface of the stone, giving it a rougher texture, almost like sandpaper. It's not the feel you want under your toes when you step out of the shower!
You can, though, opt for sandblasted, brushed or tumbled stone tiles. These have a textured surface that's still comfortable underfoot.
But bear in mind that it's not going to be completely non-slip when wet. If the floor is going to be used by someone who's unsteady on their feet, use bathmats too.
Natural stone looks wonderful in a bathroom. And it's resistant to mold and mildew. But there are a few downsides to be aware of.
Firstly, it's expensive, both in terms of the tiles themselves and installation. Stone is more challenging to cut, so you're likely to need to pay a professional to lay your floor.
And it's heavy too. You'll need to be confident your floor is strong enough to take the weight. And if you need to reinforce it, that's more time and expense.
But if the money and effort doesn't put you off, natural stone will give you a great looking, non-slip floor.
2. Slip-resistant ceramic or porcelain
Ceramic and porcelain tiles are often found in bathrooms, both on walls and floors. In terms of their non-slip properties, they're similar to stone. Choose tiles with the right surface and they'll be less slippery. Choose wrong, and they can be a nightmare, especially when they get wet.
As with stone, you'll want to stay away from smooth surfaces. Some ceramic and porcelain tiles are actually classified as non-slip, so you can purchase them with confidence. In any case, what you're looking for is a tile with a lightly textured surface that will give you grip.
Look out for the "R-rating" of the tiles you're considering. This is also known as the "anti-slip grading", and most modern tiles have one.
The rating is determined by a test involving someone walking up a ramp paved in tiles with an oily coating. The incline of the ramp is made progressively steeper until the subject trips. (Who'd want to do that job?!) The test is repeated multiple times to get an average rating.
The R-rating goes from 9 to 13. The higher the number, the better the slip resistance.
You can use any R-rated tile on a bathroom floor as long as you use it with a bathmat. But if you want something more reliably non-slip, look for products with a rating of between 11 and 13. This is the grading required for tiles used in public pool surrounds.
There are lots of color and pattern options when it comes to ceramic or porcelain tiles. So no matter what kind of design scheme you're creating, you're sure to find one to suit.
Although the terms ceramic and porcelain are often used interchangeably, the two materials are actually quite different. Porcelain is fired at a higher temperature than ceramic. It will absorb less water and is more stain-resistant and hardwearing.
But it's also more expensive and more difficult to install. That means you're likely to require an expert to lay your floor.
3. Vinyl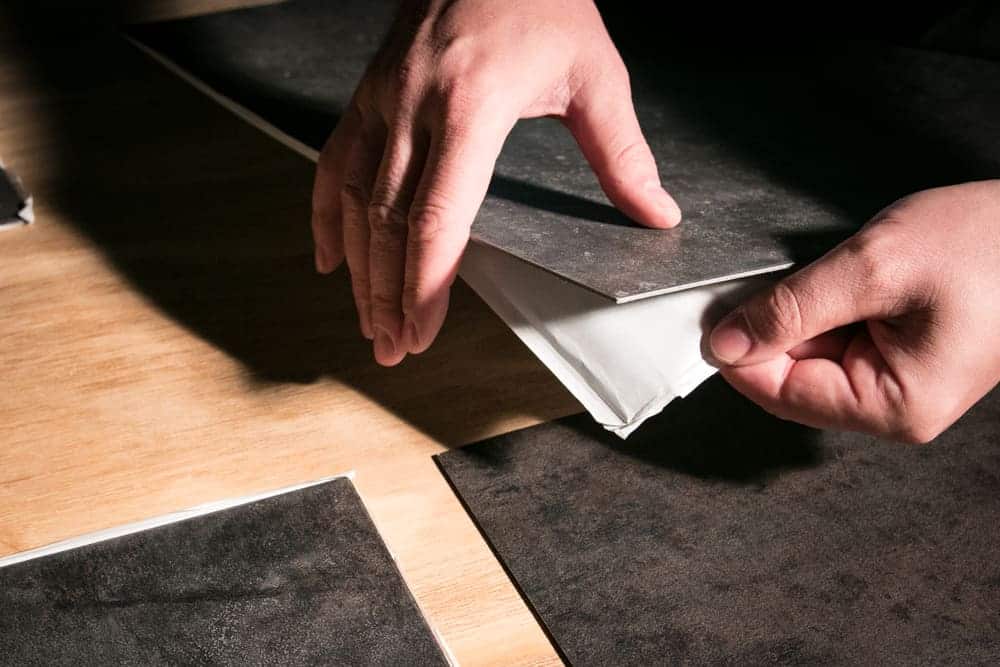 Vinyl is a good option for a budget-conscious bathroom floor. Non-slip products will have a lightly textured surface to provide more grip. And if you do fall, vinyl will provide a degree of cushioning when you land.
It's available in a wide range of different designs and colors. And you can also choose between tiles or sheet flooring. The former are available in a range of different thicknesses. The deepest are known as luxury vinyl tiles (LVT) or luxury vinyl planks (LVP).
If you're buying tiles or planks, you'll be able to choose between the kind you glue down, and those that lock together.
If you choose the click and lock variety, it can still be a good idea to add glue in a bathroom. That will prevent tiny drops of moisture from penetrating the gaps between the tiles. The result will be a completely waterproof floor.
If you don't glue the tiles in place, your floor will still have a good level of water-resistance. But you'll want to mop up spills fairly promptly to prevent damage over time.
Vinyl can be a good option if you're looking to recreate the appearance of other materials. If you want the appearance of wood without the extra maintenance required in a bathroom, it's a good option.
With some wood-look vinyl flooring, the textured surface is also "etched in register". That means the texture matches the print of the woodgrain. It provides extra grip while also making it difficult to tell apart from the real thing.
The major disadvantage of vinyl is that it's not an environmentally sustainable choice. It's made using non-renewable petrochemicals. And it can't be recycled at the end of its life.
It can also emit VOCs – volatile organic compounds – that have been linked to serious health harms, including cancer. If you choose vinyl, look for a product that's been certified by FloorScore. That means it will have been independently assessed as having low VOC emissions.
4. Linoleum
Linoleum, or lino as it's also known, has the same non-slip characteristics as vinyl. And it's every bit as water-resistant.
Its major advantage is that it's a natural product, and much kinder to the planet. No petrochemicals are used in its manufacture. And when it's time to replace your flooring, it can be recycled or even left on your compost heap.
There are just a couple of disadvantages to be aware of.
The first is that it's more expensive than vinyl.
The second is that it can discolor as it ages. The effect is known as "ambering" and it's the result of the linseed oil used in lino's composition. Time and UV exposure can give the floor a yellow cast. It can't be removed by cleaning. So if you can't live with it, the only solution is to remove the lino.
If your bathroom gets a lot of sunshine, that will speed up the ambering process. If you're looking for a pale floor in your sunny room, lino may not be the best choice.
5. Cork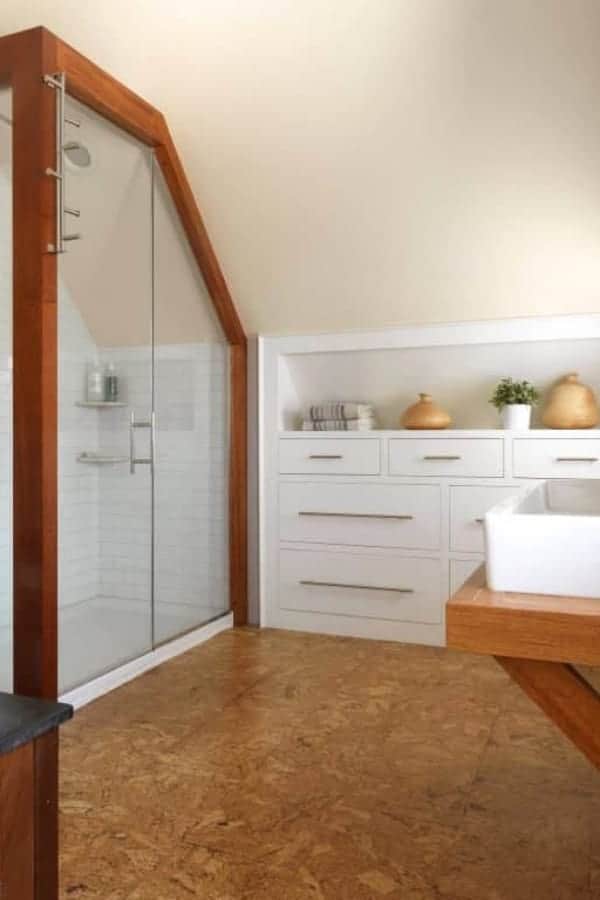 Cork is a great choice for non-slip flooring. Even when it's wet, its spongy surface means it's very difficult to lose your footing.
It has plenty of other advantages too. It's a natural, sustainable product. It comes from the bark of the cork oak, and the tree doesn't have to die for it to be harvested. As long as harvesting isn't too frequent, the tree will recover completely.
Cork flooring is also often made from repurposed materials – the stuff that's left over from making wine corks.
All this makes it a very environmentally conscious choice.
It's also naturally resistant to microbes, mold and mildew. It's an effective insulator. And it's easy to install.
So far so good. But are there any downsides to using it in a bathroom?
Sadly, yes. Cork is a very long way from being waterproof. And if water gets into it, it can cause serious damage.
For that reason, cork flooring must be sealed and resealed every couple of years. That's the case for any room you use it in. It's not impossible to put cork into a bathroom and rely on regular and expert sealing. But really, it's asking for trouble.
6. Rubber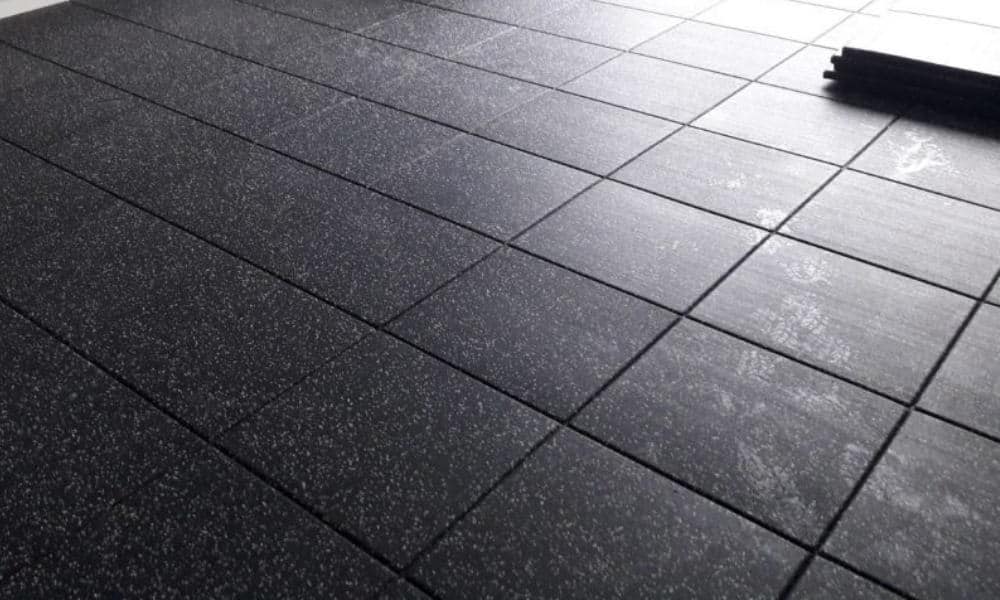 Last but not least of our non-slip bathroom flooring options is rubber. Once confined to gymnasiums, in recent years rubber flooring has been increasingly used in high end design schemes.
It has lots to recommend it. It's tough, water-resistant and soft underfoot. And like cork and lino, real rubber is a natural product that's environmentally sustainable.
But check the environmental credentials of the product before you buy. Some of what's called rubber is made with synthetic latex, which is a different matter altogether. That's made with the by-products of the crude oil industry, and it can also emit VOCs.
If you're thinking about using rubber for your bathroom, make sure you choose a textured surface. Raised studs or diamond patterns are common options. And they'll give you a good grip underfoot, even when the rubber is wet.
Smooth rubber, on the other hand, will get very slippery when there's water around, so steer clear.
There are an increasing number of colors and patterns of rubber flooring available. It can look amazing in a bold, modern design scheme.
But it won't fit well with a classic interior. And it's pretty expensive too.
Time to choose your non-slip bathroom flooring!
That brings us to the end of our look at the best non-slip bathroom flooring options. Whatever your design scheme or budget, there are plenty to choose from.
We think the best non-slip bathroom flooring is natural stone – as long as it's tumbled, sandblasted or brushed. Yes, it's expensive and difficult to install. But take care of it, and it will last a lifetime. And it will look just as good as the day you installed it.
Just remember that even a non-slip floor won't eliminate the risk of falls completely. It's always a good idea to use a bathmat or duckboard when you're getting out of the bath or shower.
Whatever flooring you choose, good luck with your project. Enjoy your beautiful – and safe – bathroom!