If you're into claw foot tubs and other standalone ideas, you may not take much interest in tub surrounds. But tub coping can be a low-key way to express your taste and style. And you don't have to go for the most expensive option. Lots of DIY tub surround ideas are gentler on your pocket. And they're simple enough to do on your own, so let's look into your options.
In case you're unclear, a bathtub surround is the outer lining of a built-in tub, but it may include the waterproof walls beside and behind the tub. Usually, the tub itself is metal, fiberglass, or porcelain. Its overhanging lip is filled in with concrete, tile, vinyl, or wood, creating a flat, flush appearance on the outside of the tub. This keeps dank and pests away.
Before you try to frame your bathtub, look up a few video demos. You want to make sure the tub surround is sturdy and waterproof. Otherwise, it may collapse the second you fill the tub. Worse, water may seep into the crevices, growing mold, attracting bugs and rodents, and causing water damage. So be sure you execute an idea that within your DIY skill level …
1. Wainscoting Tub Skirt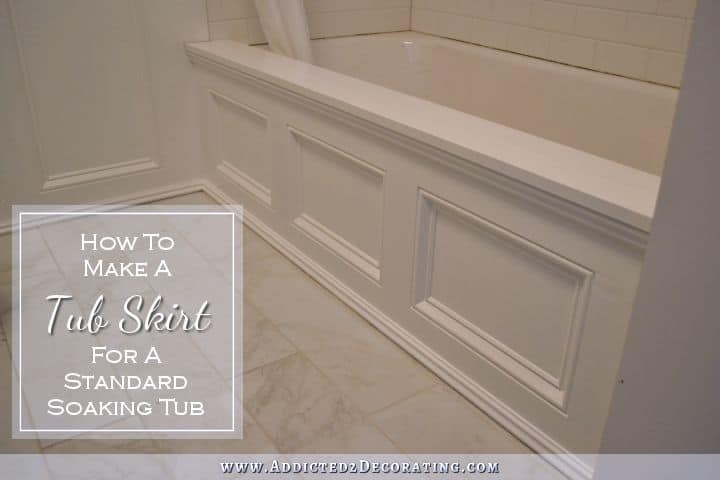 DIY tub surround ideas are sometimes described as tub skirts or tub coping, so we'll use the terms interchangeably throughout the article. The rest of the bathroom has wainscoting on its lower walls so this example uses vinyl panels to extend the concept. The frame is pre-primed timber and painted MDF so it's waterproof. It's held in place with silicone and nails.
2. Beadboard Bathtub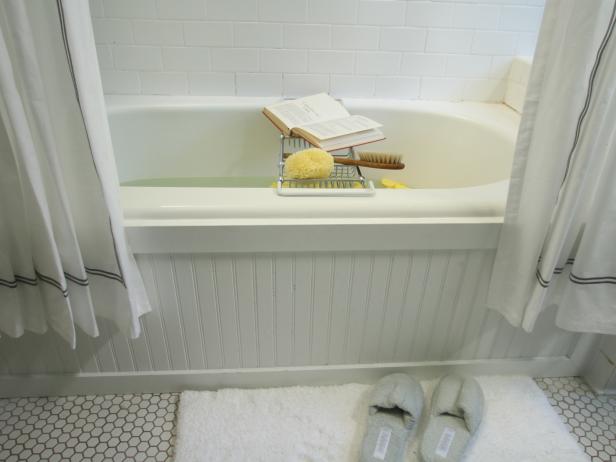 Yes, you can use wood for your DIY tub surround ideas, but you'd need pressure-treated timber. You can also waterproof the lumber using latex paint or oil paint. But beadboard is a common option too. Beadboard panels (aka wainscoting) are made of glue and wood fiber – which is sometimes called MDF. Use outdoor paint, since it can withstand damp bathrooms.
3. Shiplap Tub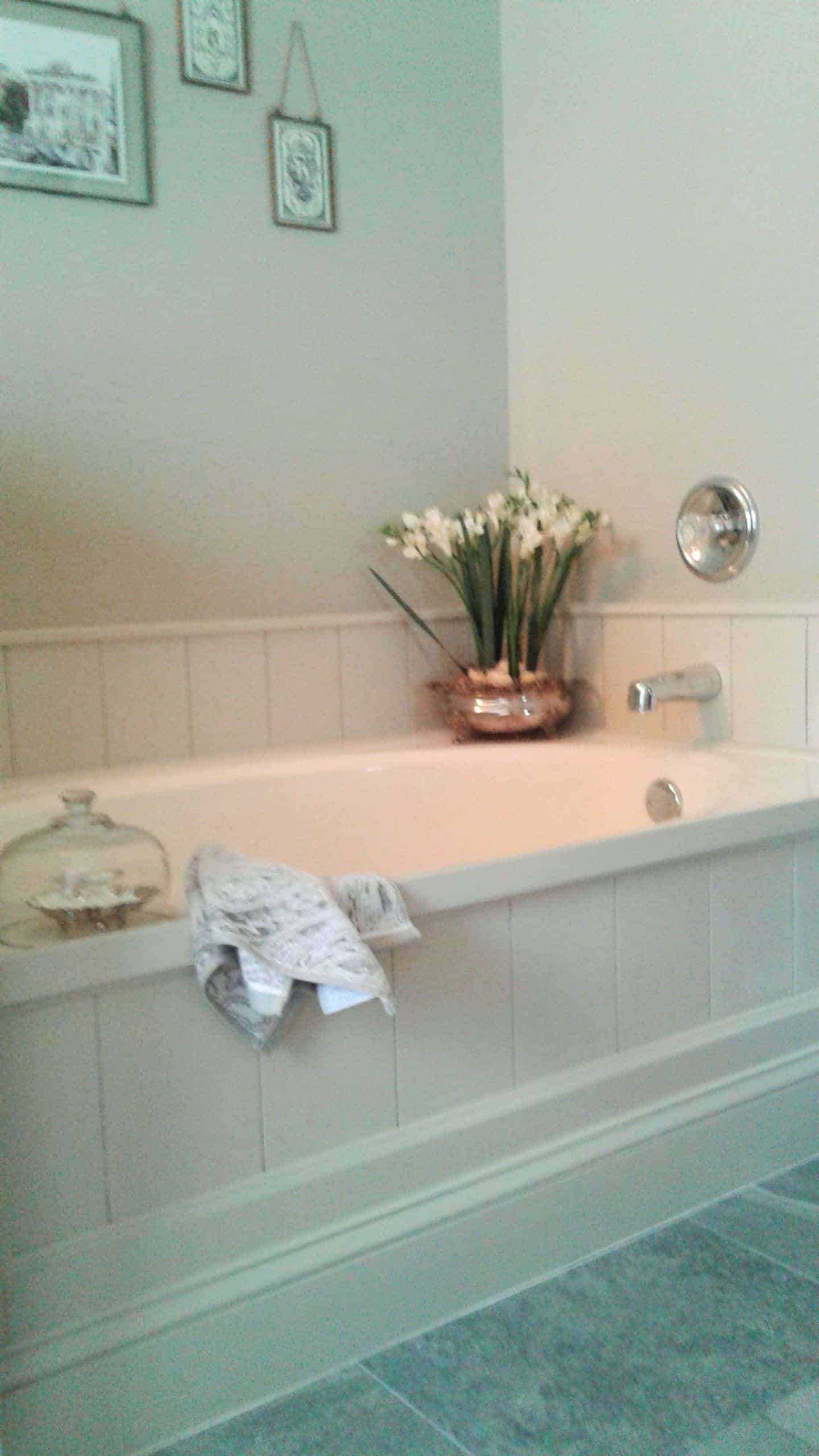 Both shiplap and beadboard can be made from MDF. And they're both popular options for DIY bathtub surrounds. The difference is how they're installed. Beadboard needs to be nailed and glued while shiplap panels have interlocking grids. In this example, the shiplap is wider than typical beadboard panels. But you still need good exterior paint and careful caulking.
4. Corian Couture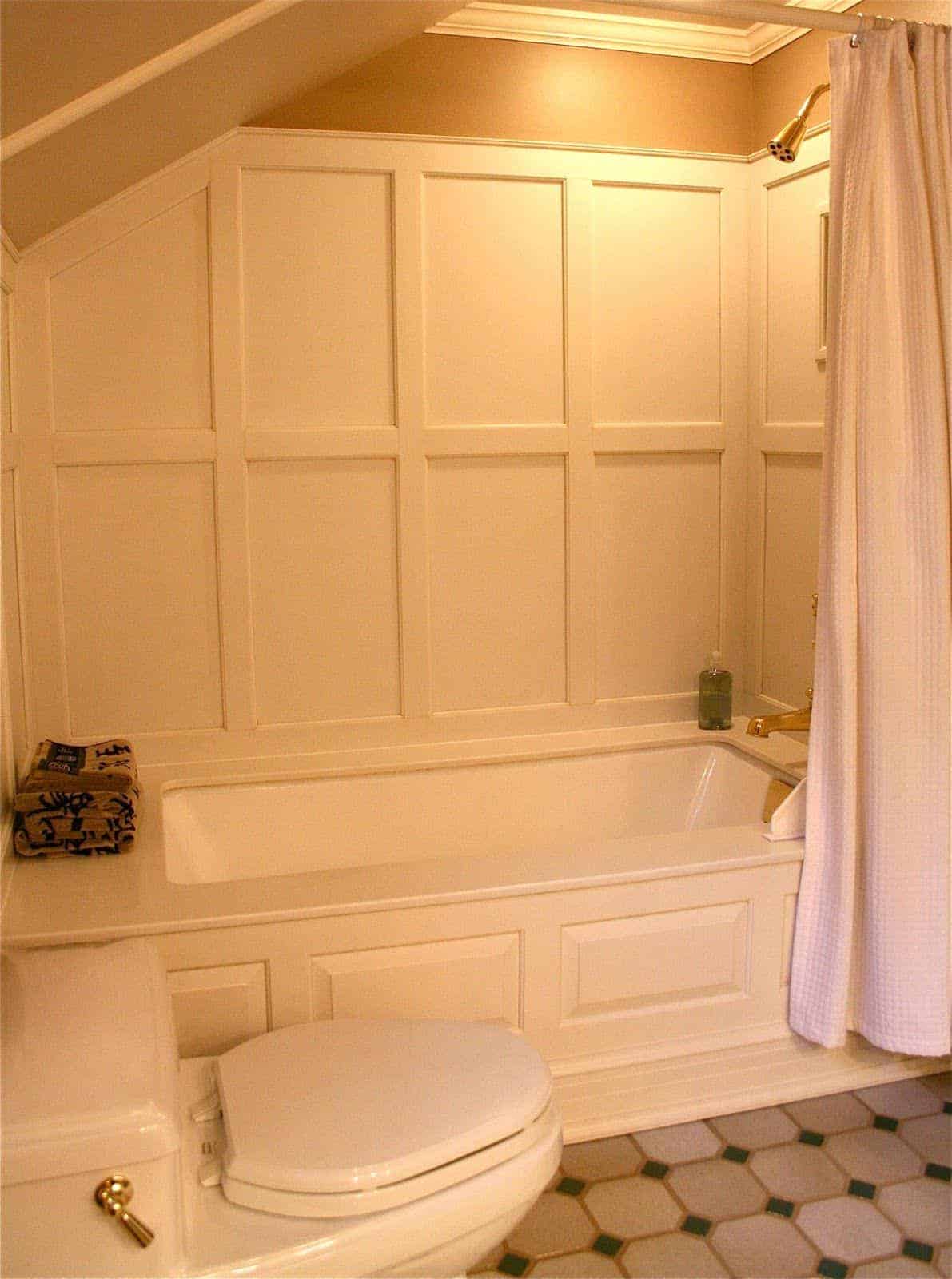 In this bathroom, the DIY tub surround extends to the wall behind the tub. But the styling is slightly different. Both the skirt and the wall are made of Corian – a mixture of metals and plastics invented by Dupont. The skirt uses oblong panels design to mimic the wooden door panels. The wall, meanwhile, has a simpler grid-work design truncated at the sloped ceiling.
5. Builder's Tub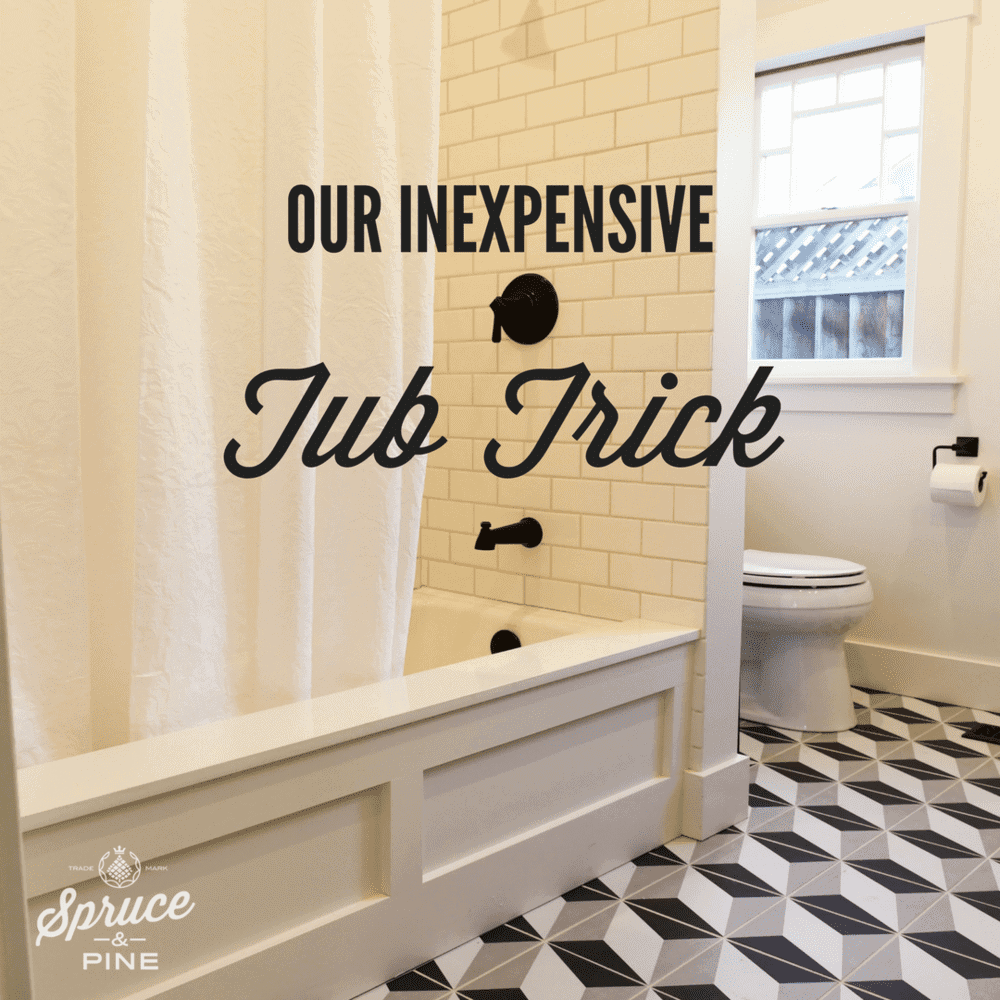 When you're looking to cut costs with your DIY tub surround ideas, it helps to start with the right tub. Invest in a builder's tub, because it comes with an apron (flat front surface) that's easier to dress. Use pre-primed or pressure-treated wood to raise the tub off the floor, then use more wood or stone to line the skirt. Use outdoor-grade adhesives and outdoor paint.
6. Low-Cost MDF
Sometimes, simplicity is the key to cutting costs. And while MDF is quite affordable, it all depends on how you use it. This simple tub renovation costs less than $25 (at the time of writing). And it's easy to do with the most basic handyman skills. You only need three pieces of MDF, and if you have the right measurements, they can cut the panels for you at the store.
7. Sideways Shiplap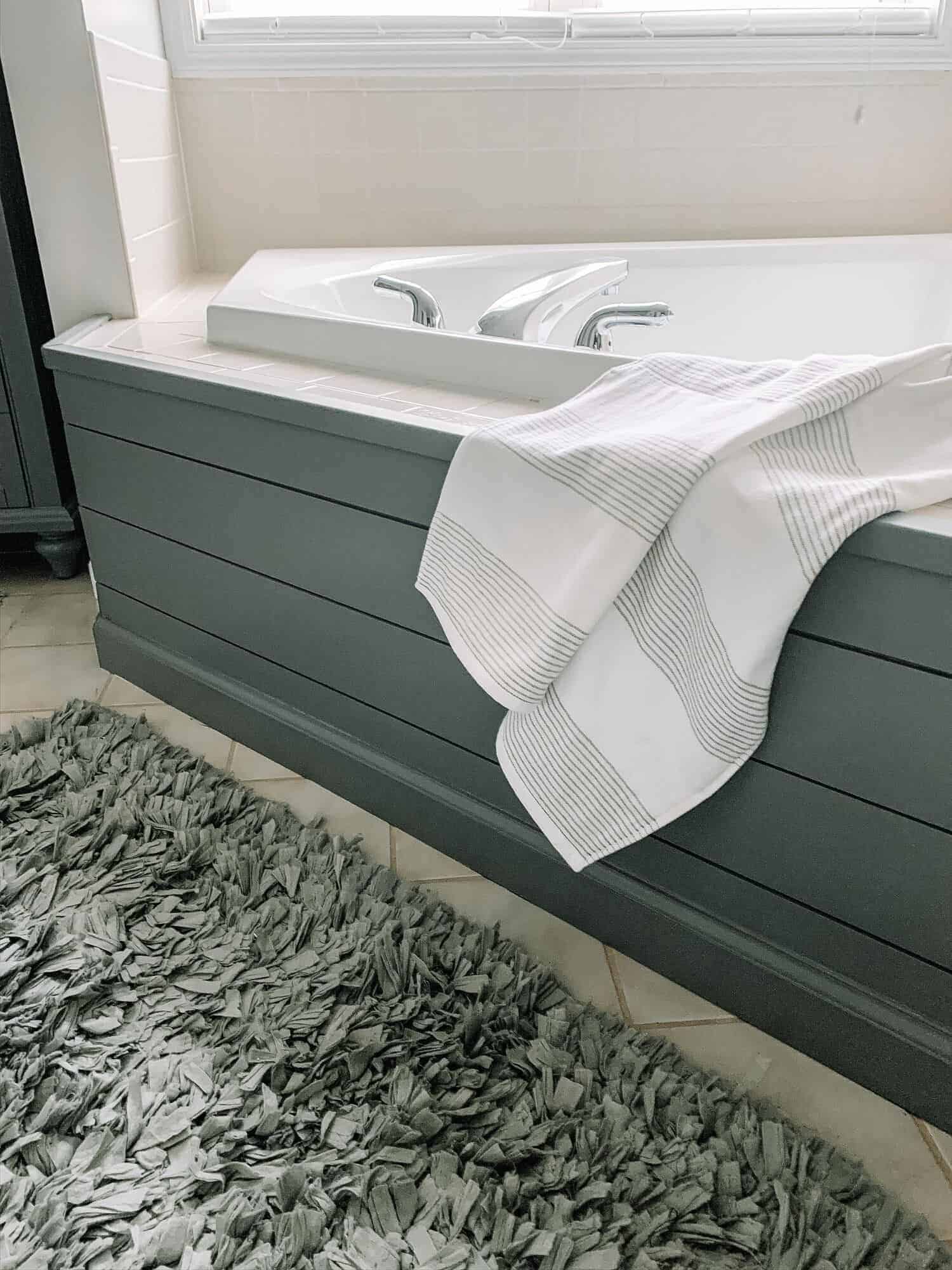 We've mentioned beadboard and shiplap as DIY tub surround ideas. Beadboard is often vertical. The planks come in identical lengths and widths. Shiplap – which is used on this corner tub – is more flexible. You can buy horizontal panels in pretty colors. This low-cost tub skirt costs roughly $20 because each of the four panels has a price point of just $5.48.
8. Ceramic Scenes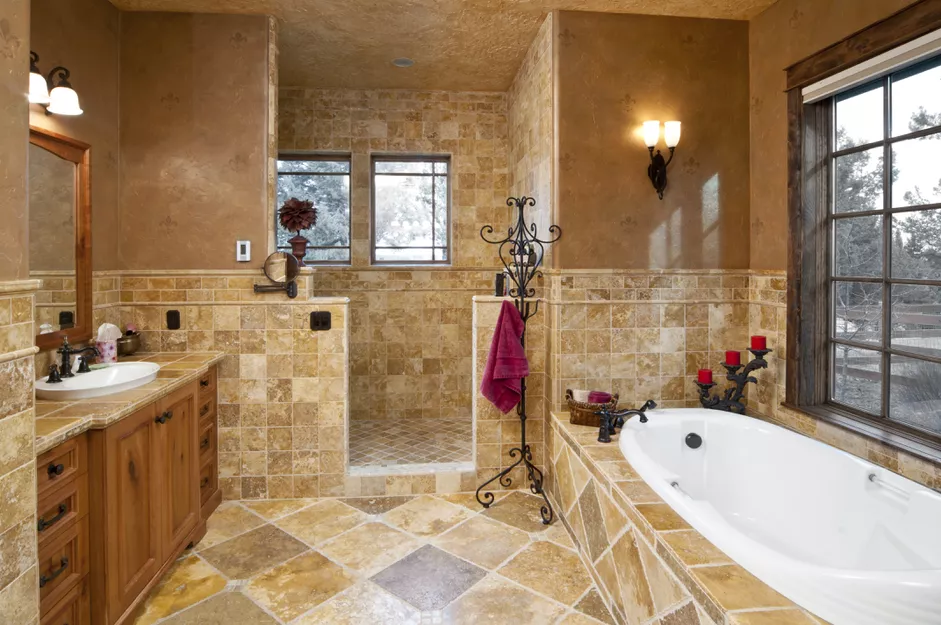 Think of a tub skirt as a backsplash for the bathtub. It can stretch to the ceiling or rise a few inches above the tub seam, where the basin meets the all. So if you're looking for an easy DIY tub surround idea, you can use the same ceramic tiles that are on your floors, sink counter, or shower walls. You could even pull accent tiles from the décor used on the vanity borders.
9. Vintage Timber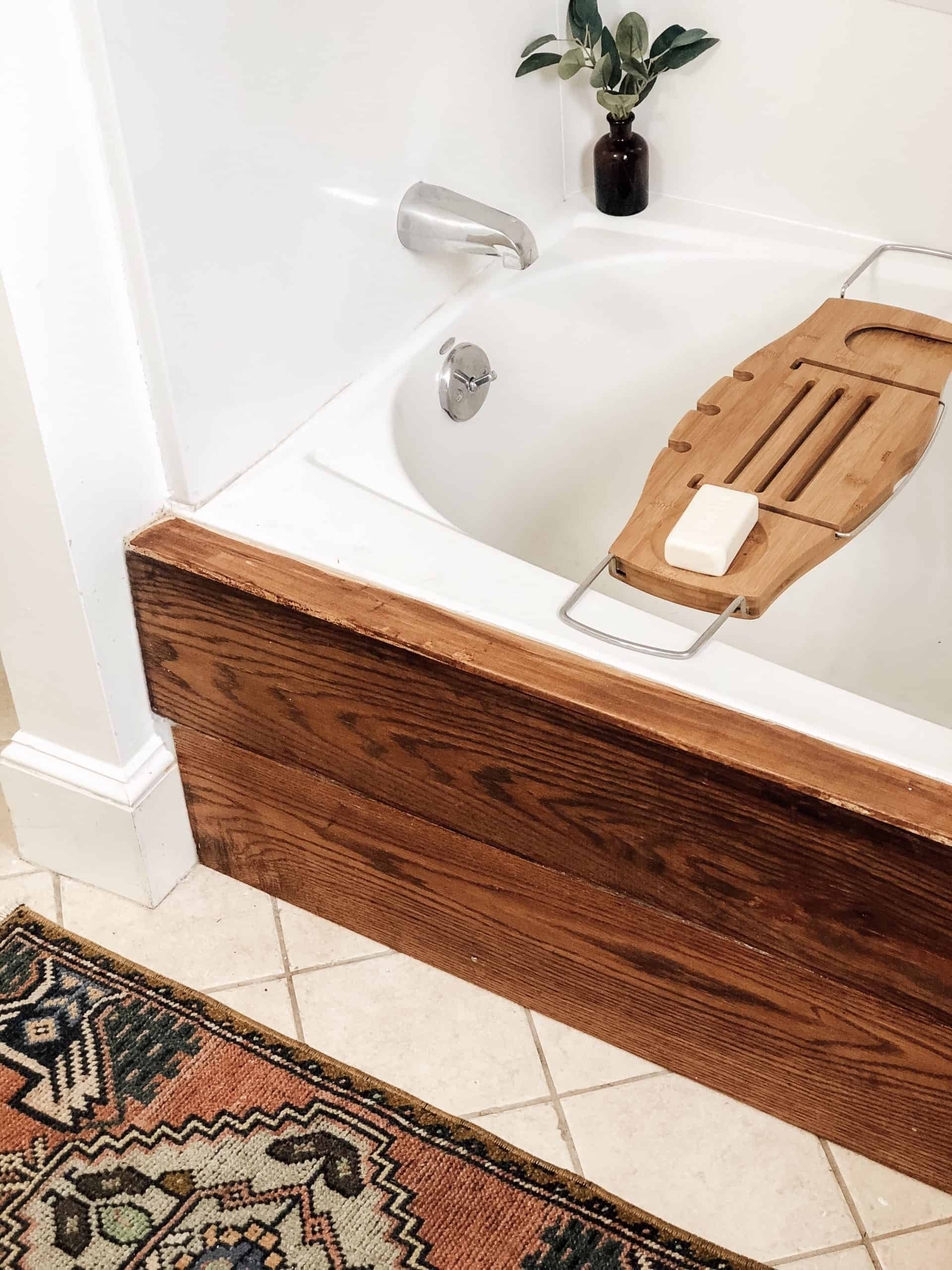 Ordinarily, wood is a fussy material that should be avoided in bathrooms. It's too susceptible to moisture damage. But if that pretty wood grain is a deal-breaker, you can get timber that's treated to repel water. This vintage DIY tub surround idea uses wood coated in canyon brown stain and sealant, but you can also use decorative laminate to make it waterproof.
10. Subtle Tile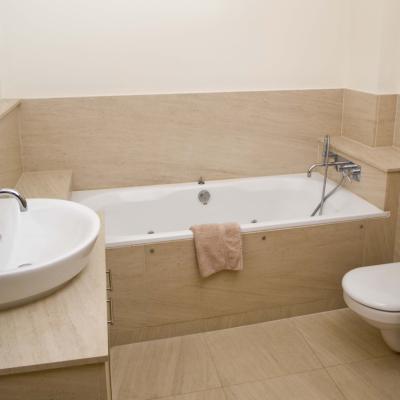 Tile is the simplest option for DIY tub surrounds, but only if you have the skills to do the tiling yourself. Luckily, it's a straightforward task that you can pick up by watching a few videos. This tub skirt uses subtle sand-colored tiles that cover the floor and half the wall. It copies its tone and grain from the wooden vanity, floating shelves, and bathroom cabinets.
11. Gorgeous Granite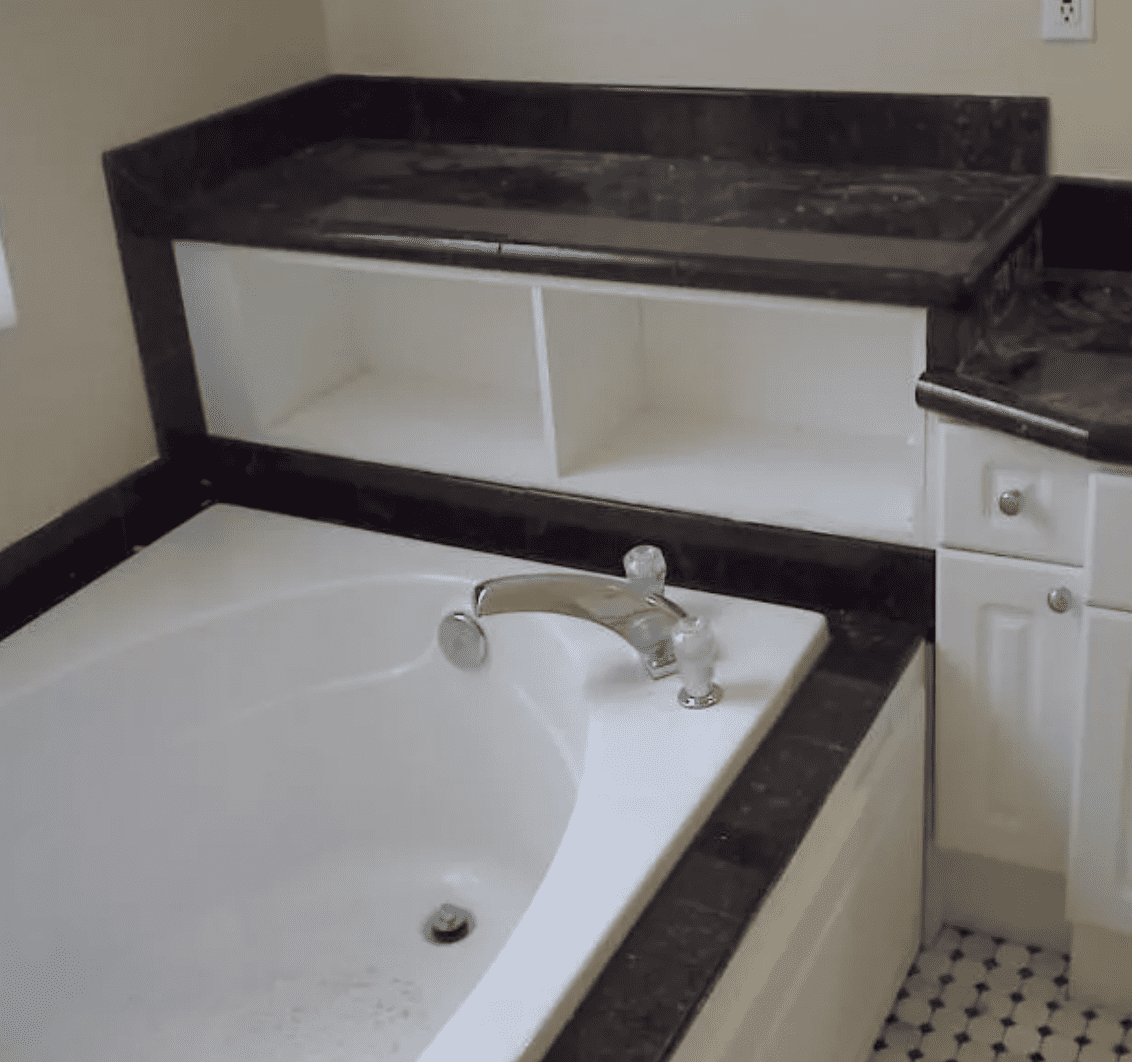 DIY tub surround ideas often focus on the outer side of the tub. But your tub also has a ledge that can be used decoratively. As you can see in this bathroom, the lip is lined with the same dark granite that forms the countertop and backsplash. The ledge goes all around the tub, including a margin that borders the back wall. It beautifully contrasts the white tub skirt.
12. Rustic Tub Skirt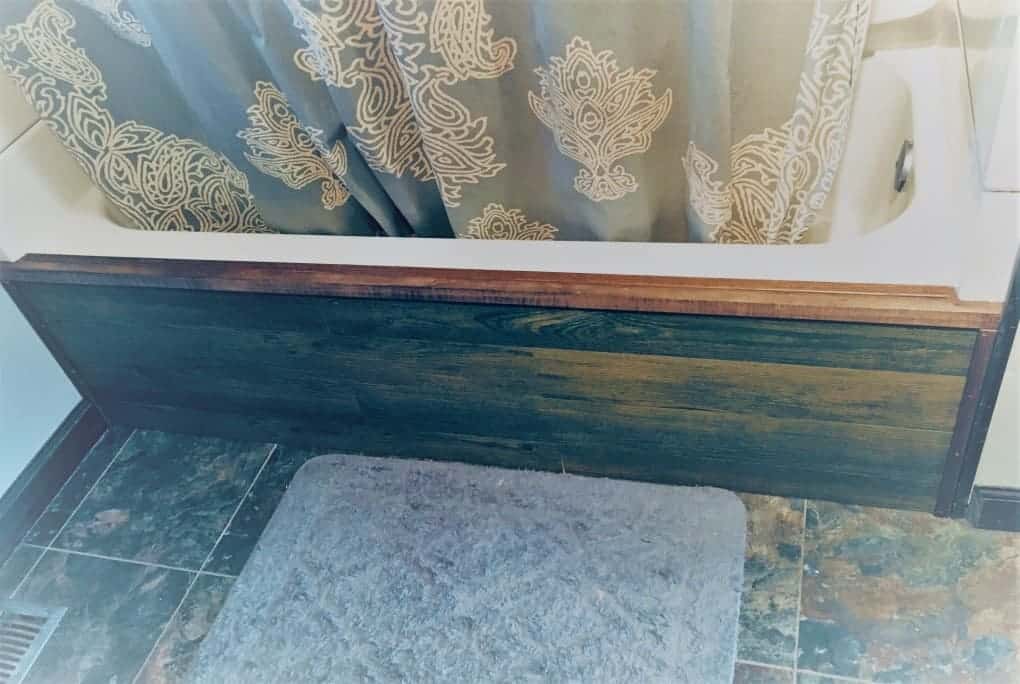 If you like a more laid-back design for your tub skirt, you'll love this raw wooden styling. This DIY tub surround uses a mix of plywood and adhesive vinyl for that authentically rustic effect. Liquid nails hold the plywood frame in place, reducing the likelihood of rust. For the top surface, peel-and-stick vinyl planks repel water while maintaining that low-fuss look.
13. Airstone Enclosure
Whether you want to build a bath cave or you're focusing on the skirt, faux stone makes an excellent DIY tub surround idea. This synthetic stone is often made from lightweight vinyl, but you can also find fake stone veneers infused with cement board, aluminum, or steel. The material comes in sheets or panels that are sometimes interlocked for easy installation.
14. Distressed Tubs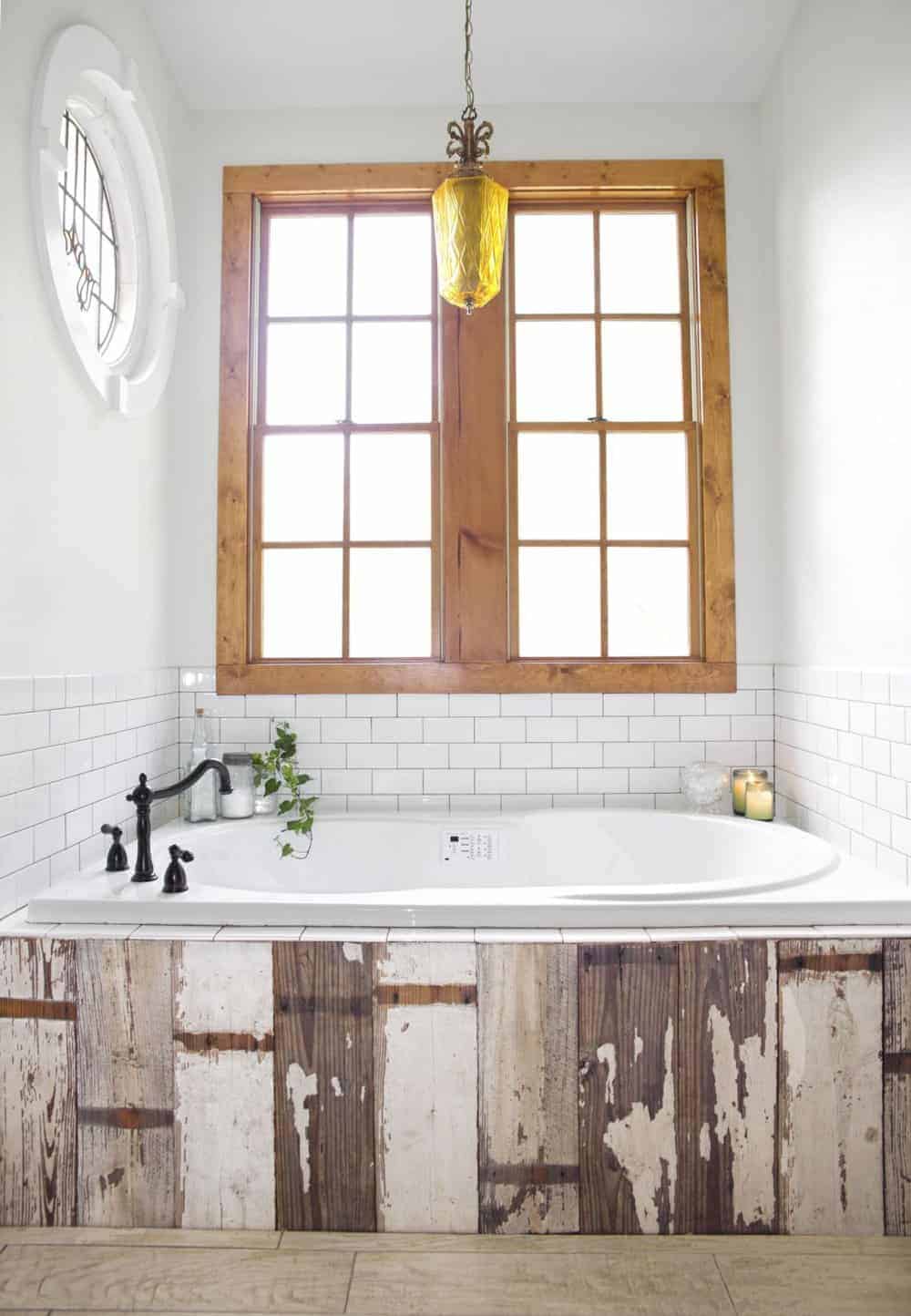 The lining on this bathtub appears to be made of distressed wood, possibly reclaimed from a local junkyard. But those stray wood planks are unlikely to be waterproof. So if you plan to use these bits of wood, you'll need to dry them thoroughly and coat them with a clear coat of waterproof, latex, or oil paint. Or buy self-adhesive vinyl with a distressed wood pattern.
15. Clay and Glass
Beauty is in the eye of the beholder … and taste is relative. So if this garish bathroom appeals to you, you can reproduce it using dull-colored tiles and glass. The back wall and the tub skirt employ the same DIY tub surround idea. But you can use various materials – tile, stone slabs, or vinyl. Use metallic tones for the wall and translucent tempered glass for the skirt.
16. Woody Stone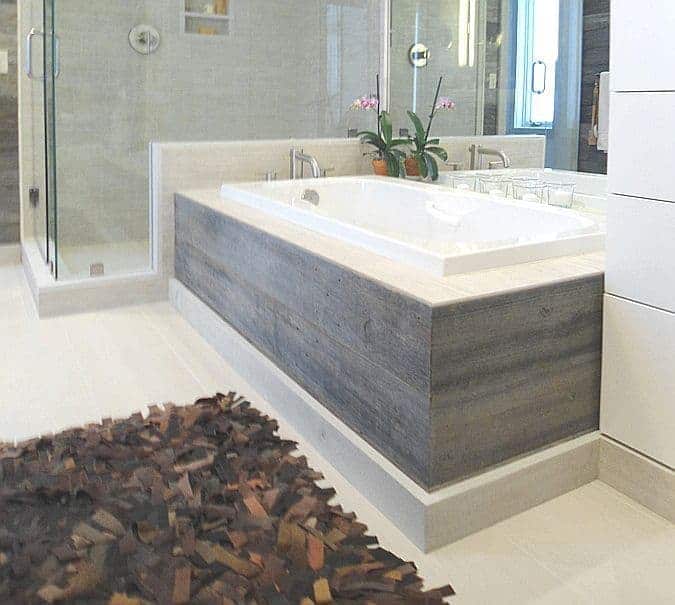 Wood can look beautiful if you carefully incorporate it into your DIY tub surround idea. But it can be a nightmare to maintain, especially in a busy bathroom. So consider opting for wood-patterned tile instead. This bathtub skirt seems to be cut from a single slab of grey tile or stone. It has a seamless grey wood-grain print, but being tile, it repels dirt and moisture.
17. Raw Timber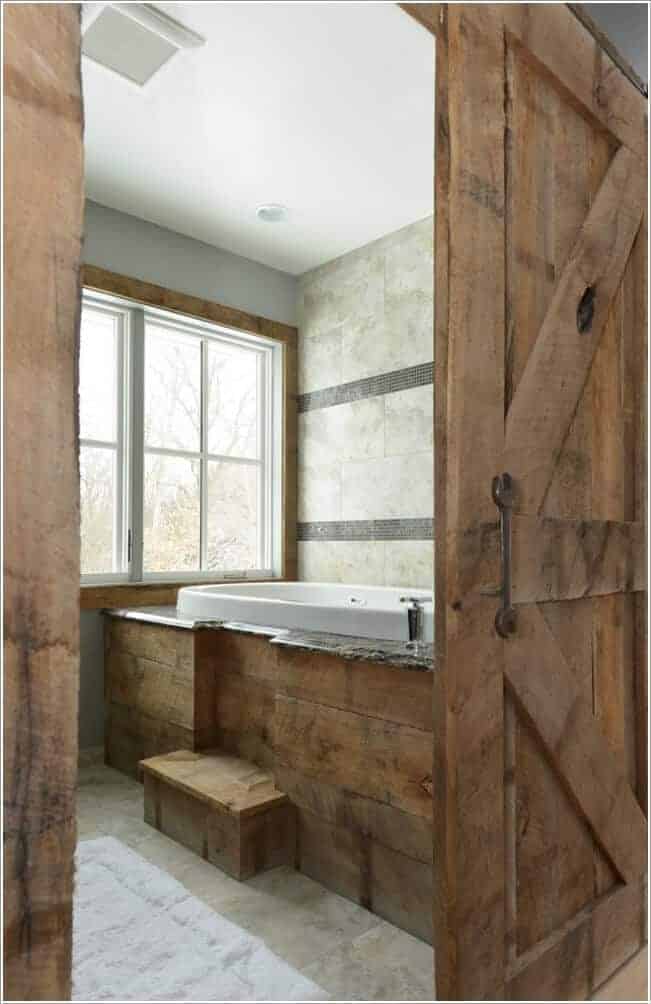 You may prefer a low-fuss look for your DIY tub surround. But be wary – this isn't any old wood. Yes, it looks like it was hacked off an old barn door, but while the wood is unfinished, it has to be pre-treated to avoid water damage and fungal rot. Talk to your local hardware or timber yard – they can advise you on how to ensure this wooden tub skirt doesn't crumble.
18. Stone Veneer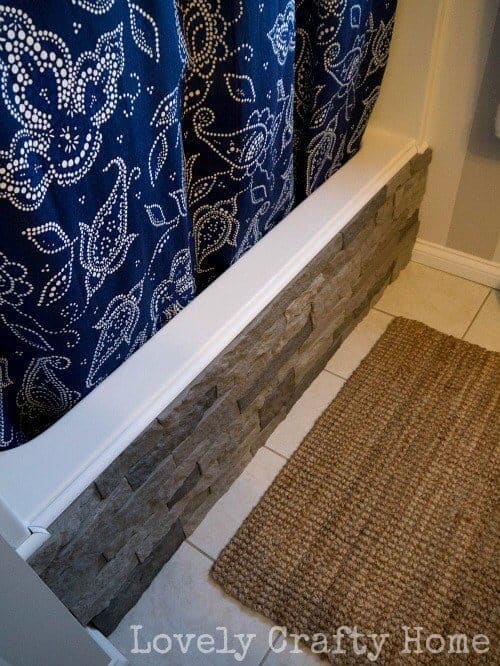 Stone veneers are a quick and easy option for DIY tub surround ideas. They can come in sheets, ledges, or single bricks with interlocking clips along their edges. You click the bits together to cover your desired surface. And you can mix colored blocks to create a pattern or make the gradient more realistic. These veneers are waterproof and low-maintenance.
19. Couture Corrugation
Did you know you can style a standalone tub to simulate a built-in one? You'd need a galvanized metal tub of the right size. You can paint it white with latex or oil paint to mimic a typical bathroom set-up. You can then set up a corrugated metal wall behind the tub to double as a backsplash and a DIY tub surround. Just make sure you set up the wall drainage.
20. Deck the Bath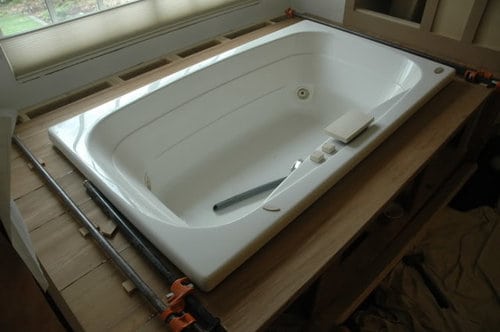 Do you get mixed up when you think of decks, patios, or porticos? A deck is generally built of wood, is mostly behind the house, and often involves a sunken pool. But you can still erect a deck for your above-ground pool … or even your bathtub. You'll just have to use waterproof wood and ensure no crevices or cracks let water seep into unreachable bathroom regions …
21. Coloured Tile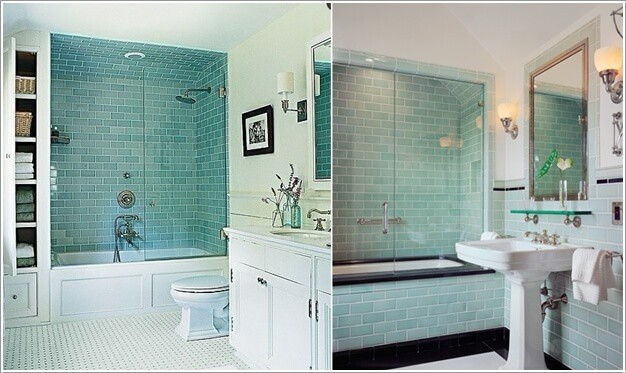 Changing the color of your tile can take your DIY tub surround idea from boring to exotic. Bathrooms often stick to whites and neutrals. But with a dash of daring, you can elevate the style of your tub. In this case, the rear wall and bathtub skirt are clad with staggered tile in a pretty shade of aqua. It gives the bathroom a tropical look that can be enhanced with shells.
 22. White on Black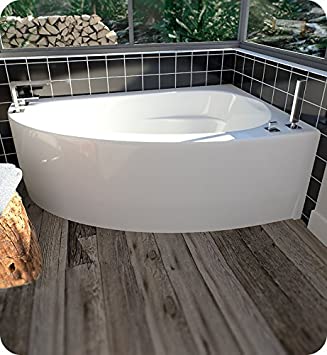 For an outdoor tub, simple DIY tub surround ideas are best. This curvy corner tub is gleaming white and weatherproof. Any dust or debris can easily be wiped off. To maintain the low-fuss aesthetic, the tub coping is plain black tile with white grout. It forms the wall behind the tub and complements the grey wood-grain flooring beneath the tub. The upper 'walls' are glass.
 23. Marble Magic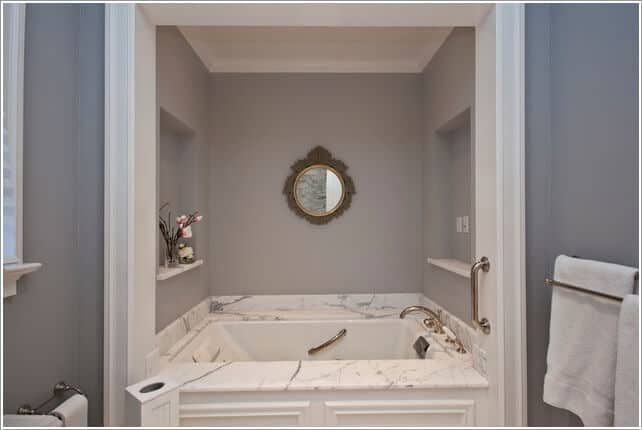 Marble is an extremely desirable material for bathtub surrounds, though you need special skills to make it a DIY project. Especially because marble is expensive so you can't afford to waste it with silly errors. If you're on a budget though, you can restrict the marble to the lip of the tub and maybe a listello. Use cheaper materials like MDF or vinyl for the skirt section.
 24. Dark and Lovely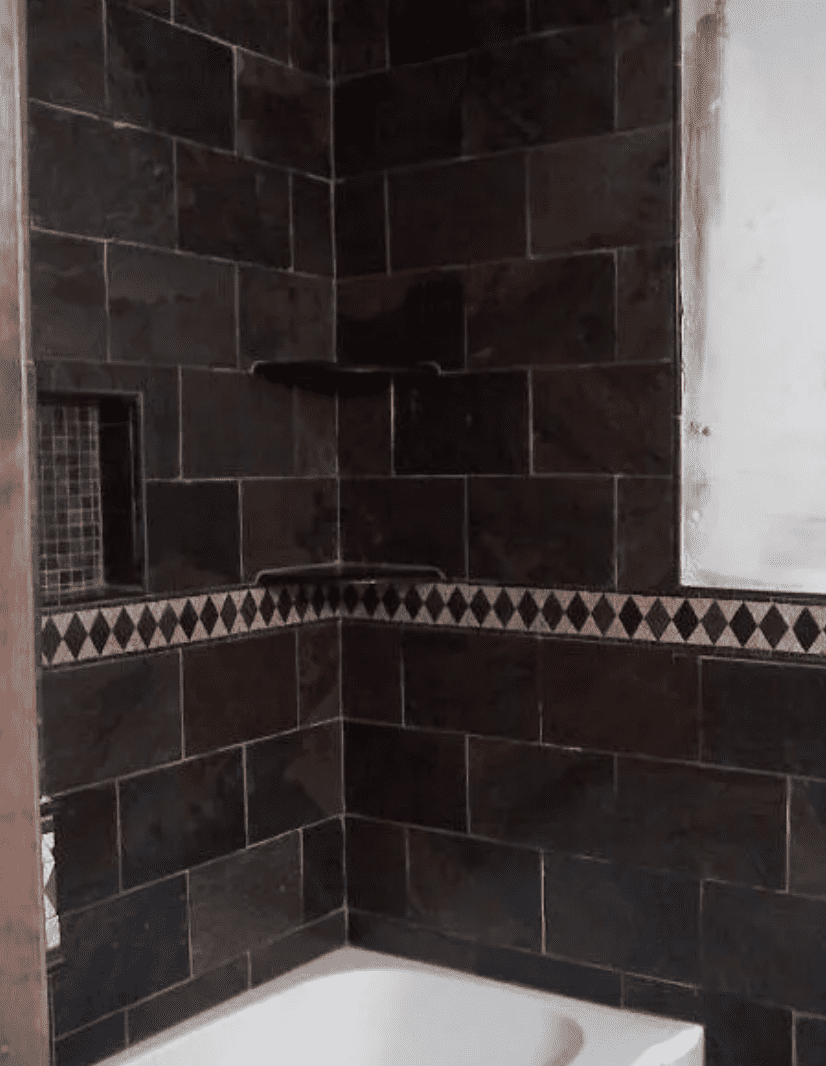 While the average bathtub is white, you can sometimes find retro ones in unusual shades of pink and teal. Conversely, modern tubs might come in black or brown fiberglass. Don't cover the color with a boring skirt. Instead, restrict your DIY tub surround idea to the wall behind the tub. A pale striated tile with a black listello could work. It echoes that bold black bathtub.
 25. Marvelous Moulding
If pretty marble is too rich for your budget, just use a hint of it in your DIY tub surround. This bathroom has sand-colored marble along the ledge and border of the bathtub. But to maintain that elegant ambiance, the skirt is formed from sandy molding that encases the tub. It creates a bathtub grotto, with a skylight introducing direct sunlight and warmth.
 26. Bullnose Borders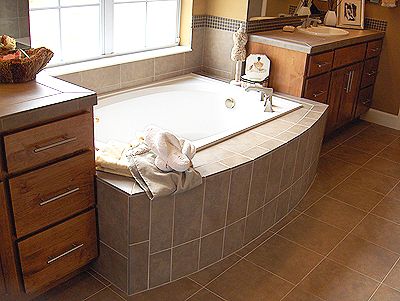 You've seen that listellos are a classy way to form a border in your bathroom. Bullnoses are another option you can slip into your DIY tub surround idea. A bullnose is a narrow strip at the top of your tile. It can be made of the same tile or it can be a metallic boundary. In this tub, the surround is made of dull brown tile with oblong bullnose tiles all around the edge.
27. Curious Canopy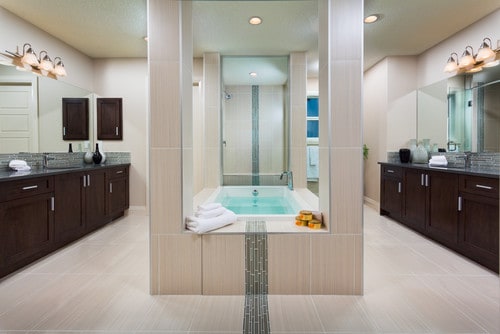 You've heard of four-poster canopy beds, but have you considered using similar styling for your DIY tub surround? In this case, four tiled pillars function as the 'canopy' that encloses your bathtub. The skirt is a simple sand-colored tile with metallic bullnoses along the tub and the pillars. A vertical listello dissects the tub and the shower wall that sits behind the bathtub.
28. Glassy and Gorgeous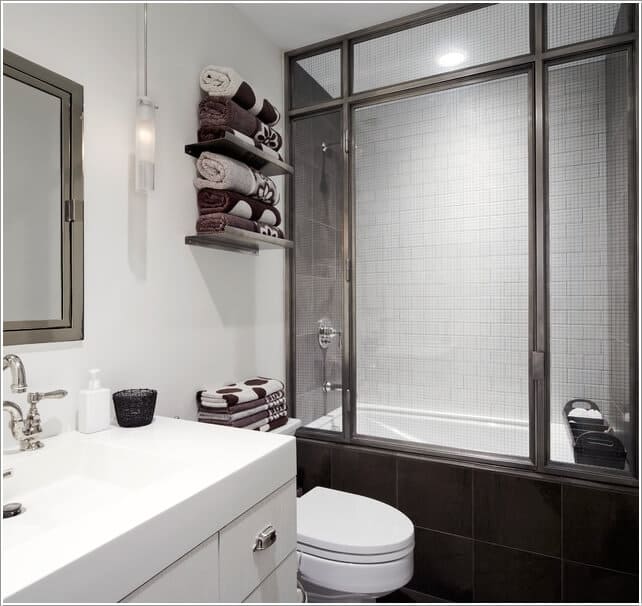 We mentioned glass once before. But in that case, the semi-reflective glass was worked into the bathtub skirt. But if you prefer clear glass in your DIY bathtub surround, you can install glass between the ceiling and the top of the tub. Depending on your bathroom layout, you can use sliding doors, frameless fronts, or doors with magnetic handles that open outwards.
29. Wonderful Whitewash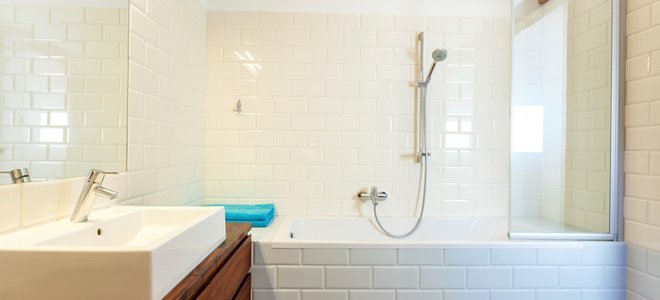 Brick can give any space a rustic appeal, and whitewashing the brick introduces a modern touch. But brick and bathrooms don't mix because that frequent steam will soon crumble the clay. One way to get around this is to use staggered white tile in your DIY tub surround. The gleaming tile works on the skirt, ledge, and all the walls. You can even spread it to the floor.
30. Mean Sea Green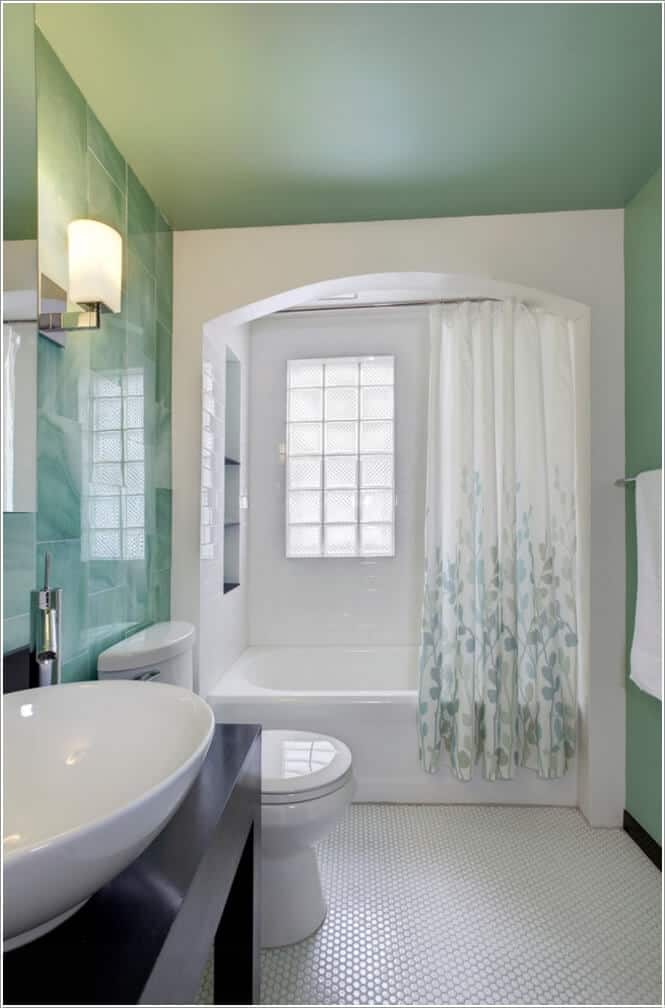 This bathroom employs a pretty shade of seaside green. The ceiling and one wall are painted in this shade while an accent wall is clad in a glossy green tile that's full of wavy striations. And because the walls are so vibrant, you can get away with a simpler solution for your DIY tub surround. It forms a plain white grotto that curves above and around the white bathtub.
31. Colorful Coral
This home probably belongs to an artist, judging by the cactus painting on the sidewall. And this artsy idea extends to the DIY tub surround. The tile walls above the tub are colored with a gradient of fuchsias, peaches, pinks, and corals that fade into the off-white ceiling. You can achieve this effect using paint or colored tile, with some diagonal tiles slipped in.
What's your favorite DIY tub surround idea? Show us your photos in the comments section!