What's the first thing that comes to mind when you think of bathrooms? Your answer probably involved tubs and tiles. They're quintessential parts of bathroom décor. Ceramic tiles are the most popular (and affordable), but they don't hold the monopoly on bathroom tile ideas.
If you have a higher budget, you could opt for natural stone tiles, or irregular stone slabs. For outdoor bathrooms, you might even settle for pavers. Either way bathroom tiles need to be waterproof, easy to clean, and in line with your bathroom décor. Let's look at a few examples.
1. Digital daring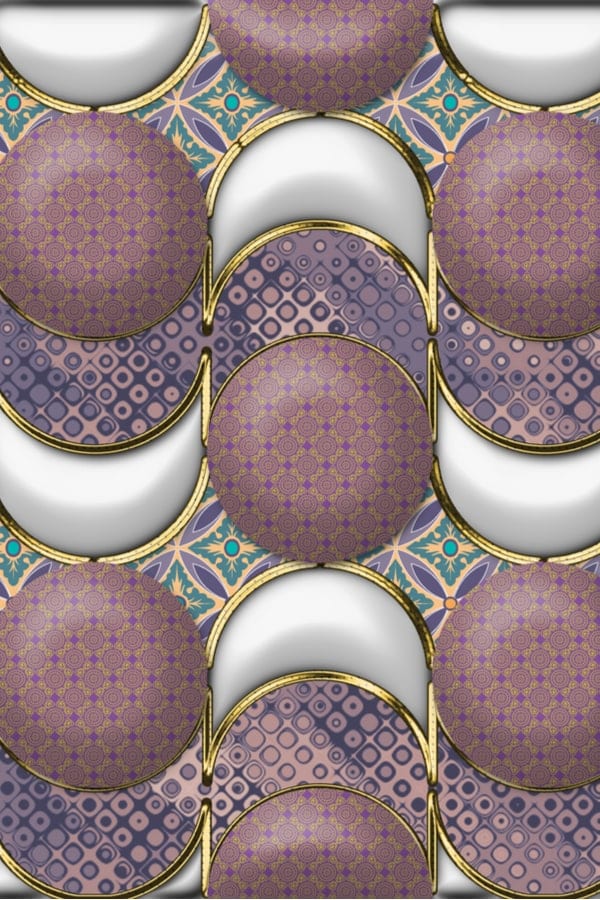 When we hear the word 'digital', we think of eCommerce and binary code. In this case, the term is used descriptively. These digital tiles have colorful sphere and crescent-shaped motifs.
But their fractal imaging is reminiscent of old Windows screensavers, particularly, the background art on the earliest versions of Windows Media Player. It's what makes them 'digital'.
These motifs comprise a mixed pattern with lots of different elements, so the design is busy. But the rich purples, textured shapes, and curvy coils create a 3D effect on your flat tile surfaces.
2. Textured tablets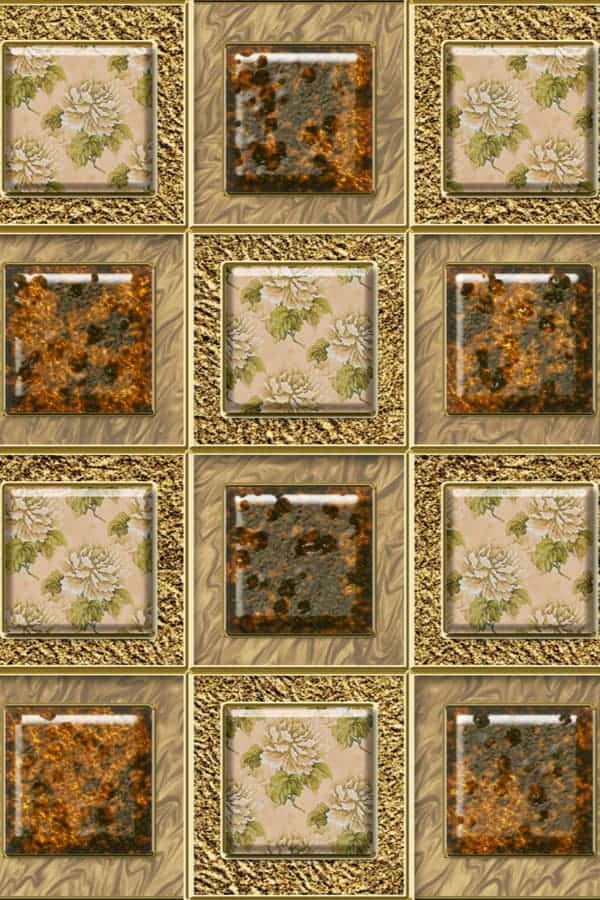 Micro-motifs can be an interesting feature in a bathroom. Instead of reading a magazine or staring at your phone, you can study the tiny designs in each cubic tile.
In this case, there are two repeating patterns, both on a background of textured tile. One cube has an abstract amber pattern while the other has leaves and flowers on a lighter background.
The 'base' of each pattern either has beige striations or rough simulated textures. While this tile is pretty 'busy', it works well in a bathroom whose main color ranges from brown to beige.
3. Faded gray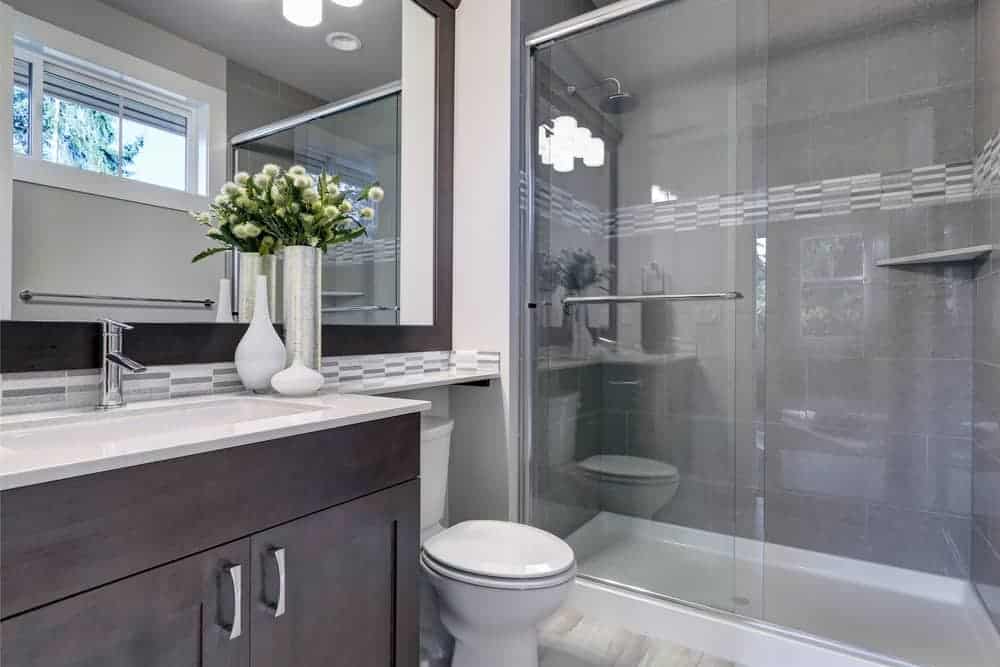 Sometimes, you prefer your tile to recede into the background. In a powder room, you could achieve this effect with matte paint. But if you're dealing with a wet room, it's inadequate.
Ceramic tiles are rarely matte, because it's that glossy top coating that makes them waterproof. So opt for larger gray tiles in natural stone, with white grouting between.
The larger each tile is, the simpler and less obtrusive your overall effect. So for the kind of muted effect seen in this bathroom, consider large rectangular tiles, each two or three feet long.
4. Brown and black
There's a lot going on in this bathroom, but the blended color choice holds it together nicely. The floor uses dark gray tiles in irregular sizes, though they're all square or rectangular.
To help the shower stand out – and keep water from spilling over to the rest of the bathroom – the shower cubicle is tucked behind black, knee-high tile. The rest of the bathroom tile is brown.
To create unity, there's a stripe of black tile halfway up the bath-tub wall. The brown on the walls is given extra character by the stone striation patterns. All the tile used is matte-colored.
5. Bowled bathroom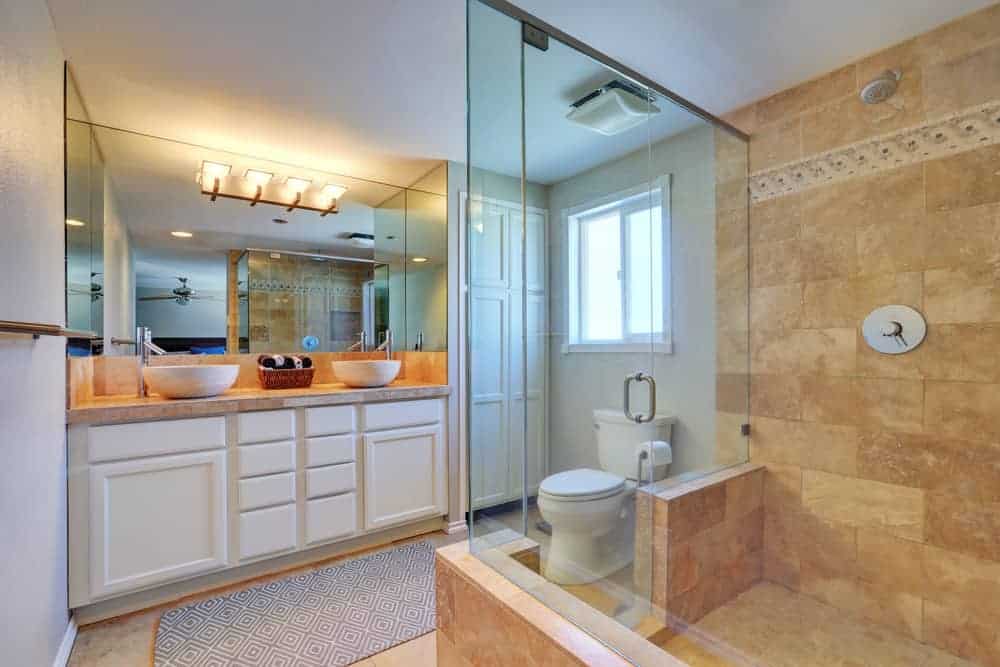 Glass partitions are an increasingly common choice for bathrooms. But the disadvantage of a see-through 'wall' is you can't define separate parts of the bathroom.
This master en-suite solves the problem by tiling the shower in light brown, then matching that color with the counter and the floor. Finish with his-and-hers bowl sinks and white vanities.
6. Baby blue
The amount of blue in this bathroom can feel overwhelming, but it works well if you're going for the monochrome effect. The grout color matches the blue, low-gloss tile on the walls.
For the floor, you can install white tiles, or pastel blue ones. This type of plain tile with a little less shine is popular for contemporary housing, especially for windowless bathrooms.
7. Trusty timber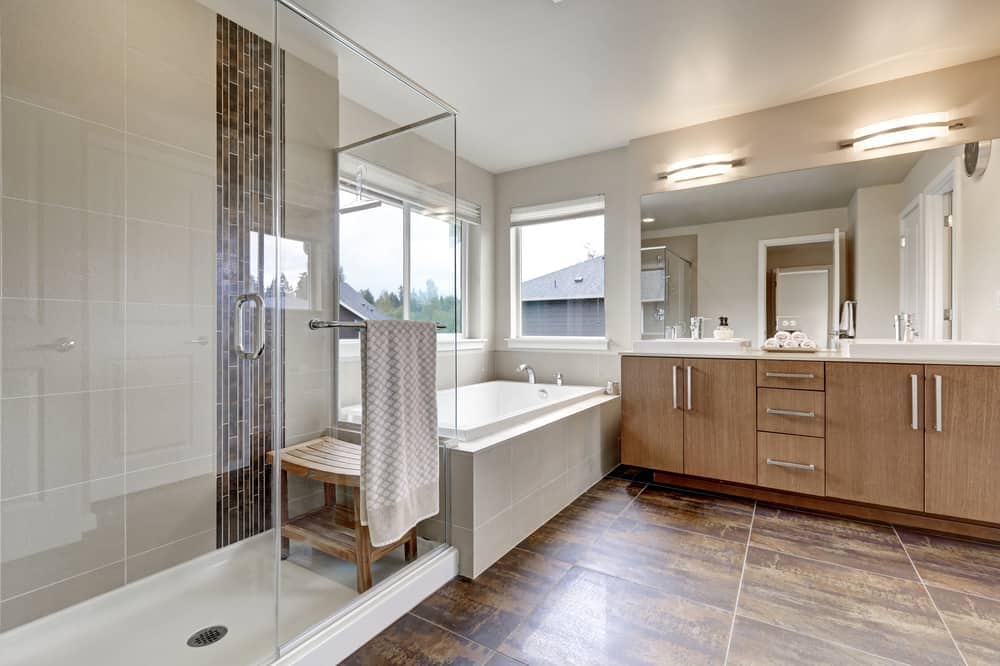 Wooden fixtures elevate the status of your home, but they need extra care, and are a no-go in the bathroom. Too much moisture! Still, if you a have varnished wood vanity, you need more wood!
Get around the water problem by installing wood-patterned floor tiles. They look like wood, but have the feel (and low-fuss care regime) of baked tile. Nothing could be simpler!
Finish your look with large two-foot wall tiles in white or gray, and a matching countertop. The example here has a size-able tub and a glass shower cubicle as well.
8. Gray, but never dull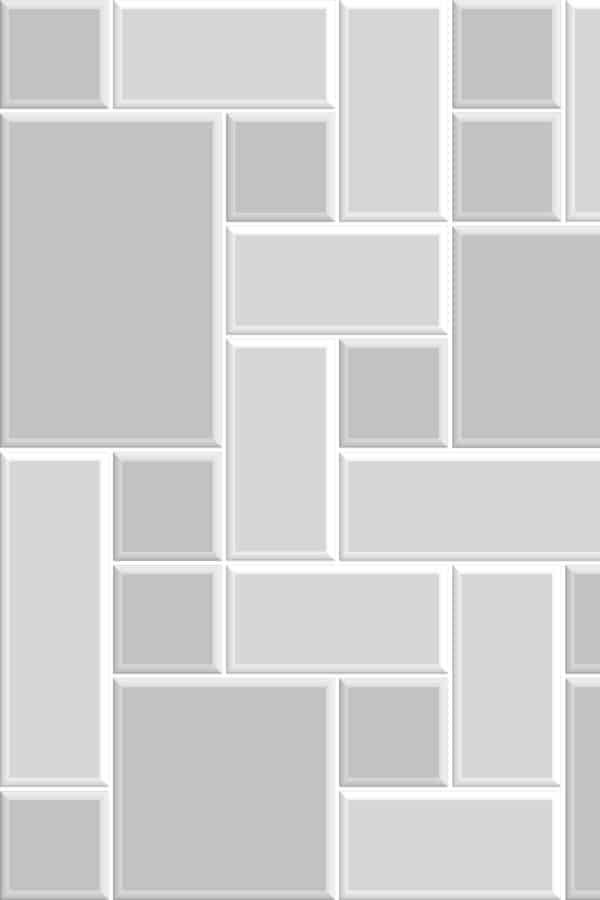 A gray bathroom seems like the most boring choice you could possibly settle for. But you can use shape and shade to jazz it up. For example, this bathroom uses tiles in mixed sizes.
They're all rectangular, but their position and angle add variety, creating a Tetris-like effect.  Using two similar shades of gray also adds visual interest to your tiling.
9. Round and reedy
Experts advise you to stick to tile and avoid wood for your bathrooms. But there are sneaky ways to buck convention without accruing expensive water damage. For example, reed flooring.
The rounded timber planks stay on the drier part of the bathroom, beneath circular mirrors and a two-sink vanity. Opposite the mirrors is an accent gray tile. The tub is beside the vanity.
You can position your tiled accent behind a glass shower wall, to ensure your wooden floor stays dry. Meanwhile, the tub sits on a water-safe, tweed-patterned floor of stone or tinted concrete.
10. Bathtub and beyond
If your bathroom is located at an angle with a view, consider full bay windows so you can soak up more of it, pun intended. Make your horizon even more stately by framing it with stone.
Cut the tiles in irregular shapes. Brown stone does well with gray grout and matching gray floor tiles. Wood detail and a chandelier will further enhance your luxurious bath-time glamour.
11. Step up to the bath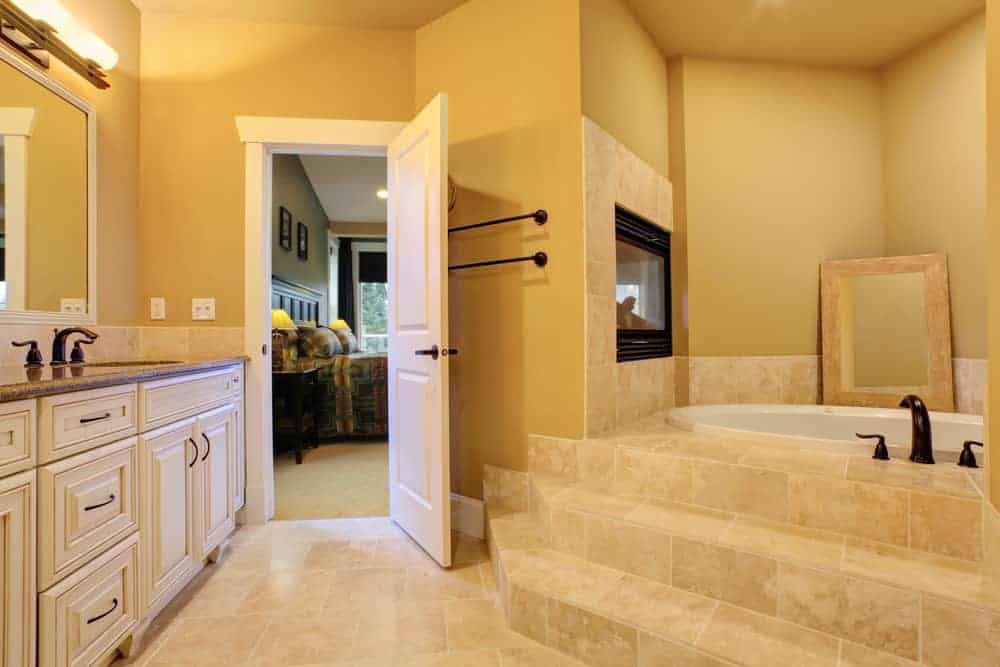 Master en-suites are about convenience, but they can also proffer luxury. The main color in this bathroom is a yellowish-brown. The brick-patterned floor tiles line steps that rise to the tub.
The tub is sunken, with rounded vintage spout faucets in black. A two-sided fireplace provides a view of glowing flames. You can enjoy this view both from the tub and the bed.
12. Rustic bath experience
Sometimes, you daydream about a tropical bath in the bush at sunset, just like those old-timey movies. Make this fantasy your daily bath experience with these pale brown bathroom tiles.
Separated by white grout and mimicking daylight tones, your sandy-shaded tile can be paired with a white tile flooring, a quirkily shaped bath-tub, and sparse faux-wood furnishings.
13. Fifty shades of white and gray
This bathroom has a varied feel, even though it's basically one color. Mixing up your shapes and textures makes your design choices feel far more diverse. Start with open shelves above the tub.
Then, brick-patterned white tile walls, hexagonal floor tiles in white and gray, zig-zag detail on the side of your tub, and lots of glass doors sealing off a perforated shower floor. Sublime.
14. Mossy mosaic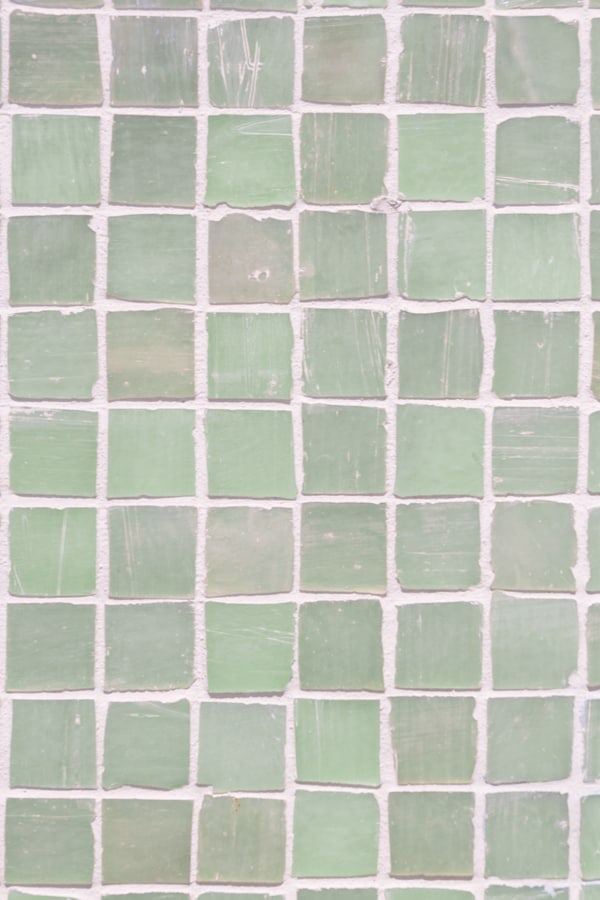 Mosaics are usually applied decoratively, creating some kind of artistic design. Another popular use is for swimming pool floors. In this case, the style has been transferred to bathrooms.
The tiny porcelain tiles are low-slip and low-gleam, possibly because porcelain isn't glazed as much. The mosaic here uses varying shades of green and gray for a variegated vintage effect.
15. Rotund relish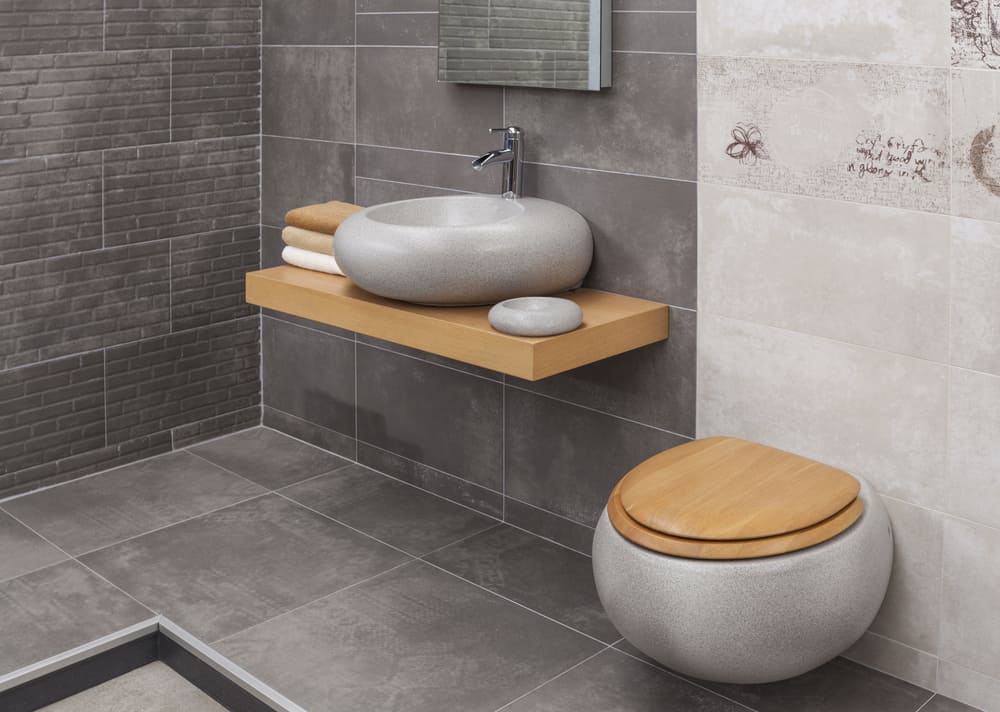 The simplest things are sometimes the most beautiful. Especially if you use them in unexpected ways. This bathroom uses a bowl sink and a bowl toilet, both finished with wood detail.
The sink's base and the toilet seat are unstained timber, while the sink, toilet, and soap dish are glossy gray stone. Where does tile come in? Darker gray walls and floors to bring everything together. The walls have a 'brick' pattern while the floors are massive matte tile squares.
16. Bathe in the yellow brick wall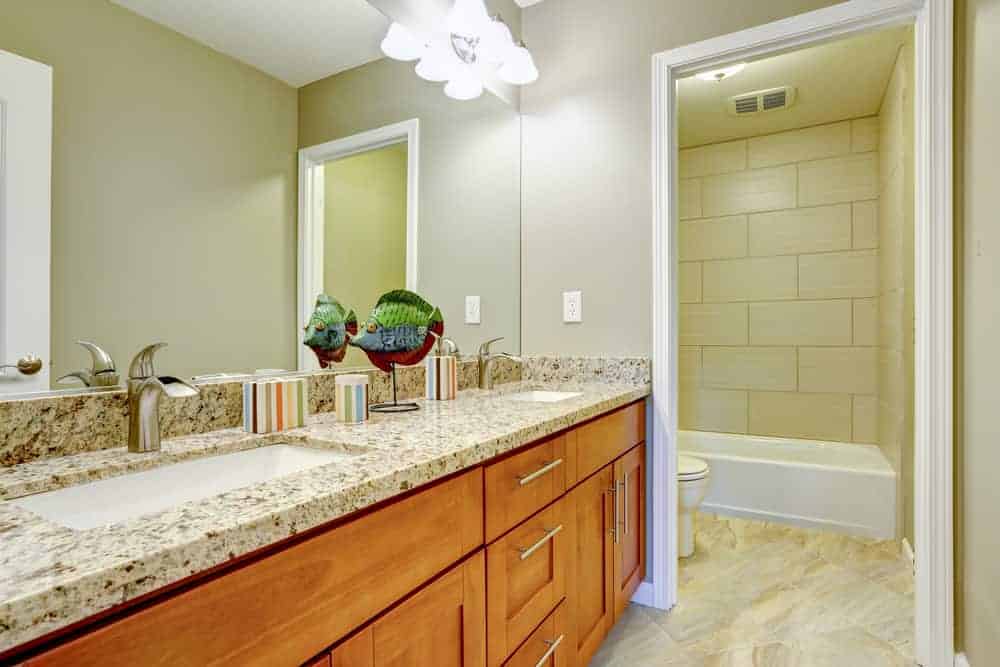 We're often frazzled when decorating small bathrooms, but larger ones can be just as puzzling. If you have enough room, considering having a separate space for your bathtub. In this example, the tub and toilet have their own room, with its own doorway.
It has yellow tile walls arranged in a brick pattern. In front of the door, there's a stone vanity and a massive mirror. The bathtub partition and extra-wide wall-to-wall mirror make the bathroom look bigger, but it's actually pretty narrow – the tub fills its entire width.
The uniform sandy-colored floor tile gives the 'two rooms' a unified feel, and the timber vanity is a nice touch. Keeping the bathtub separate keeps the wooden cabinets dry and mold-free.
17. Gilded glamour
Frameless fixtures give your bathroom a clean, contemporary look, but the right frame can add a lot of luxury to your bathroom. This particular one is finished with gold trim, from the faucets and lights to the towel hoops and wall hooks. Even the mirror had golden framing.
A brown granite counter, limestone-colored floor tiles, and yellow-tinged bulbs (instead of the usual fluorescent) contribute to the sunset tones of this gilded bathroom. Behind the glass shower plane, brown tile walls continue this richly detailed theme.
18. Low-fuss perfection
If simplicity and low-clutter are your bathroom goals, this look is just right for you. Large gray tiles on the wall lead into smaller gray tiles on the floor. The glass shower cubicle sits atop a white tray in one corner of the room. The cone-shaped sink bowl imbues character.
The rest of the bathroom is beautifully bare, creating a spacious, open feel. The lighting is just as understated, because it's recessed into the wall, sitting flush and flat, in the form of backlit mirrors. For storage, stainless steel racks and wall hooks do the trick.
19. Bath, white, and blue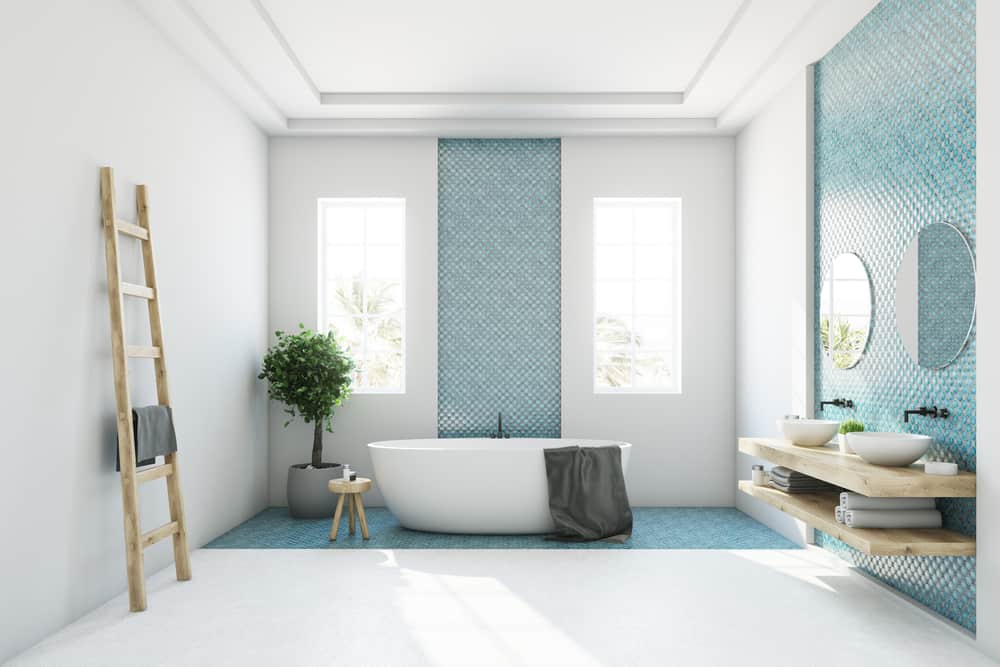 If your bathroom has a shower, it will emit way more steam than a tub, so tile is essential. In this example, there's a large, lovely tub and two round sinks, but no shower. This lets you mix painted walls and floors (in white) with diagonal tile mosaic (in blue).
It's a well-lit bathroom, so a tree is a nice touch. Wood detail elevates the open shelving beneath the sink bowls, with two round mirrors directly above them. The mirrors add light too.
20. Wet room water works
Wet rooms are open-plan bathrooms where the shower section and the rest of the room aren't distinctly separate. In this one, the same gray stone tile covers the walls and floors, all the way to the ceiling. A glass door sets off the tub, with two ceiling-mounted showerheads.
These drips directly onto the well-drained floor. On the other side of the glass, there's a low, wall-mounted toilet, and two sink basins sitting atop a wooden bench. The showerheads, faucets, and flushing mechanism are gleaming stainless steel.
21. Soothing reflections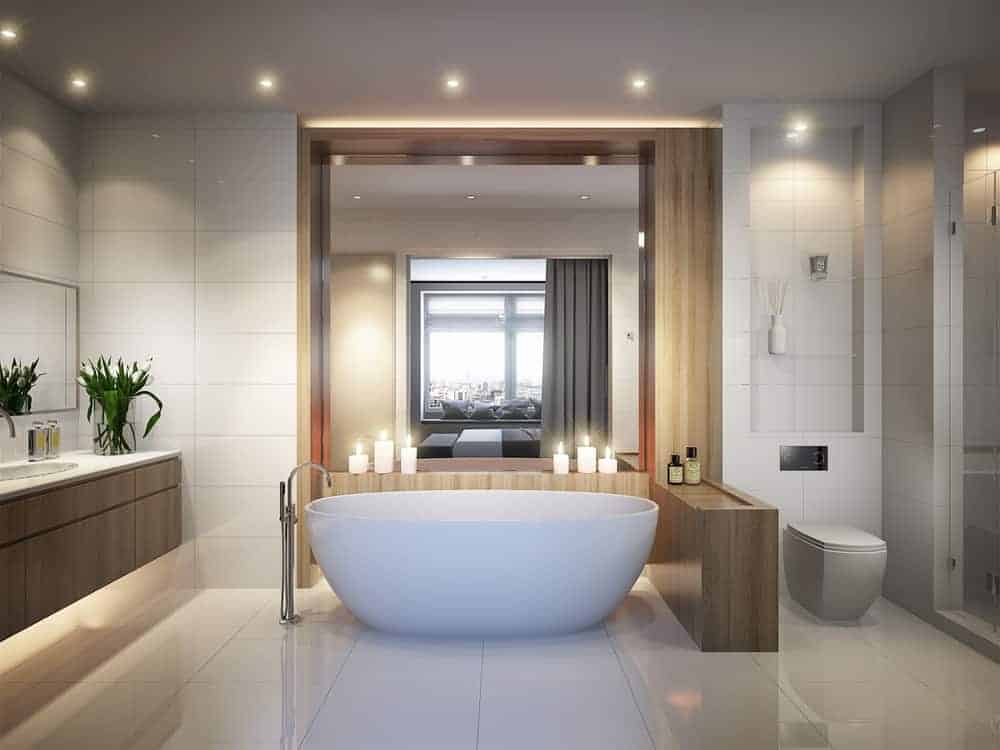 A well-placed mirror can double the size of your bathroom. This one uses a highly reflective white tile – squares for the floor and rectangles for the walls. The whole room is tiled, top to bottom.
The tub faucet rises out of the floor, and the toilet is wall-mounted, with the shower section in its own little side-cubby. The floating wood vanity makes the bathroom seem even more spacious.
A knee-high divider separates the tub from the toilet, with recessed tile shelving above the toilet. The huge mirror behind the tub bounces light off the vanity mirror, widening the room.
22. Upscale detail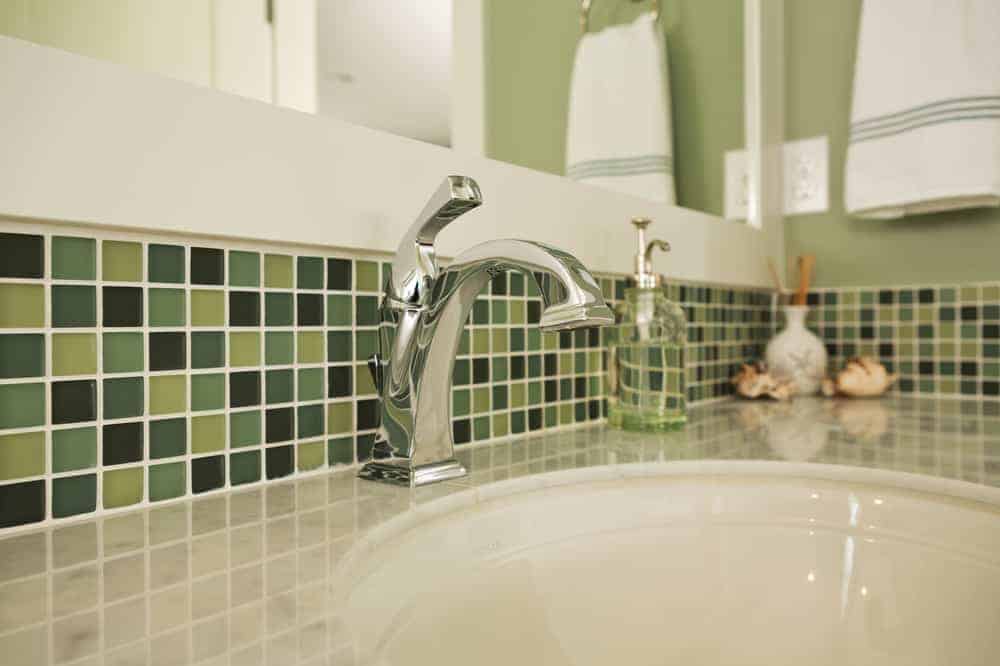 Sometimes, it's the little things that make a mark, and this is the perfect example. Regardless of the décor in the rest of this bathroom, the backsplash detail is what really catches your eye.
It's a mosaic of tiny tiles in varying shades of green. To be precise, three greens and a black, fitted with white grout. The highly reflective white counter heightens the effect, as does the large mirror above. See-through bathroom accessories (like soap dishes and dispensers) help too.
23. Cutting concrete corners
If you plan to install a bathroom in your attic or loft, you'll need some special touches. Skylights carved into the vaulted ceiling will light up the room. An extra-long right-angled tub and a wall-mounted right-angled toilet offer eccentricity and style, while making the room look bigger.
Set the tub into the large gray concrete tile, matching the floor and walls. For the shower walls and bathtub back-splash, blue-toned mosaic is good. Mix in the blue cubic tiles with some gray, yellow, and black pieces. They add a little flavor to the room.
24. Claw-foot couture
It seems gray is in – we've seen a lot of it so far. That said, if your bathroom is on the smaller side, neutrals still work. Instead of soaking up floor space, install a curvy, claw-foot, standalone tub. Match your gray wall tile with floor tile, leading the eye in an endless line.
This continuity enhances the illusion of space, making the bathroom seem bigger. Large windows and a square sink (with a mirror above it) are helpful 'space-makers' too. Install a floating wooden shelf beneath the sink, for storage and style.
25. Black and white make gray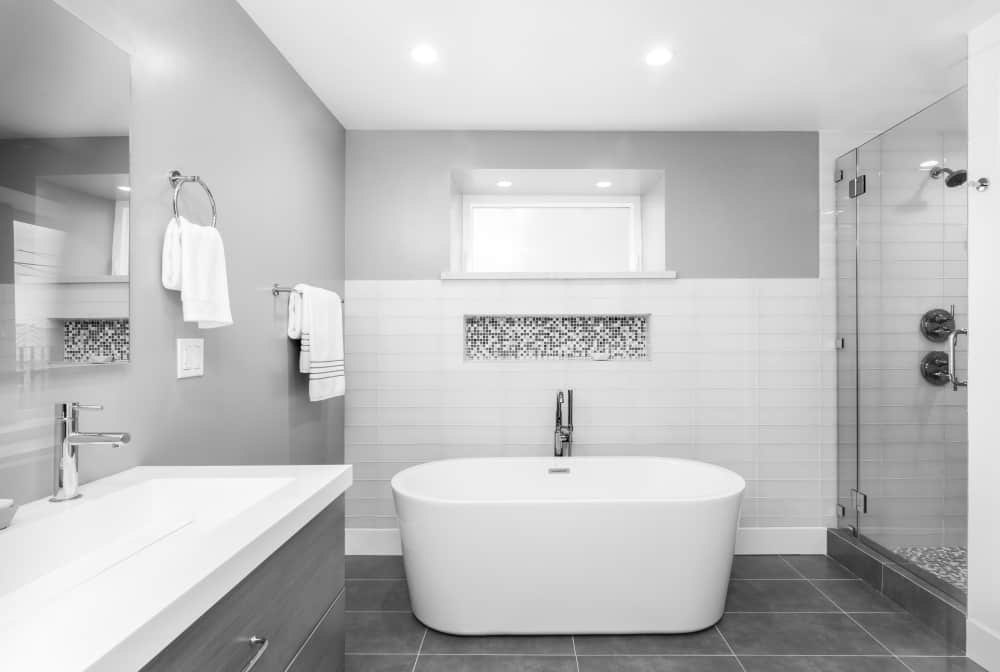 While this bathroom primarily contrasts white accessories with black tile, the effect still looks gray. The oval freestanding tub sits on gray tile, and is placed in front of a white tile that extends into the shower cubicle beside it. The wall has a narrow strip of black-and-white backsplash.
This backsplash mosaic is repeated on the shower floor, behind a gray tile threshold. On the other side of the tub is a white sink atop a gray vanity. Both the mirror and the glass shower door are frameless, giving the bathroom a clean, minimalist, modern look.
26. Bidet bedazzle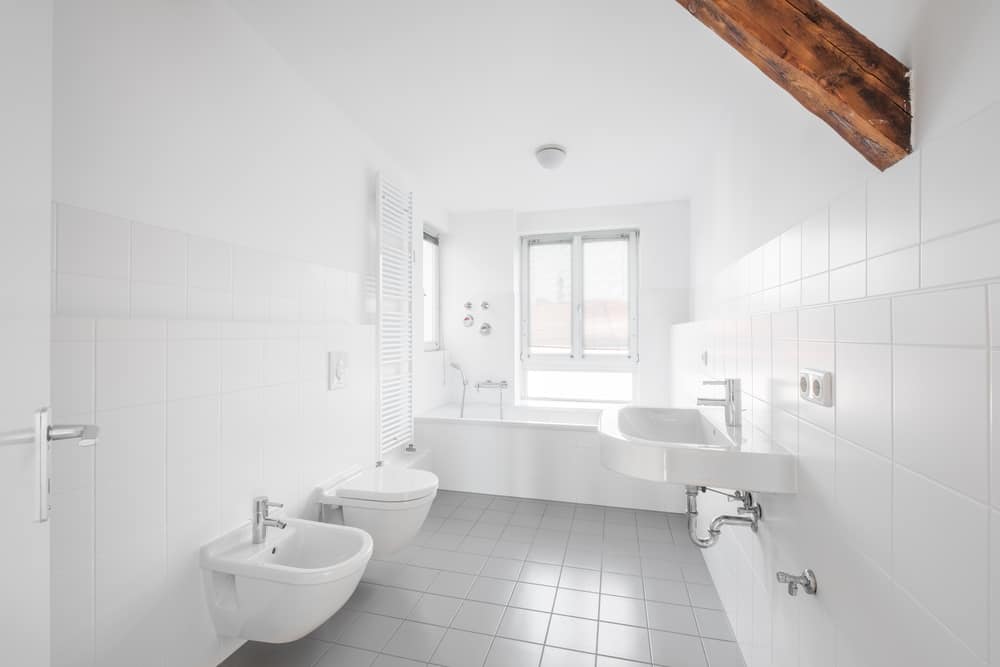 It's recommended to use white in small bathrooms, and this specific bathroom uses it to great effect. It makes the room seem less square, and the wooden truss peeping out of one wall heightens the effect, it's rich golden brown setting off the white beautifully.
This bathroom has white tile on the floor and two thirds up the wall, in addition to a gleaming white sink, bathtub, bidet, and regular toilet commode. It has no mirrors, but all that white plus two windows provide sufficient reflection. Just shave in another (bath)room.
27. Wood and herringbone
While this bathroom is invested in gray, you don't really feel it, because of how it's used. Behind the glass shower partition, the shower wall uses gray-to-white herringbone tile. The floor and backsplash have extra-large gray tiles, and the mirror frame extends into open shelving.
The bathroom's crowning glory is its all-white floating cabinet. It's not quite a vanity, because rather than the sink being carved into the counter, it takes the form of a white oval bowl that sits on top of this gleaming chest of drawers. It's served by stainless steel faucets directly above it.
28. Black tub bounty
A bathtub with a black exterior certainly makes a statement. The inside of the tub is still white, and the angular tub sits on patterned black-and-white tiles that pave the whole bathroom floor, including the shower floor behind its own glass door.
The tub and shower faucets are matte black, and the walls are tiled in white, all the way to the ceiling. There's a wooden cabinet for storage, safely outside the shower door. You might need to top it with a basin though, because this bathroom has no built-in sink.
29. Sandy float
Pale brown bathrooms might make you think of sunset beaches, which is not a bad thought when you're lounging in the tub. This beige bathroom is on the smaller side, but the separation of the tub from the rest of the room creates space, as does the floating vanity.
The wall-mounted floating toilet enlarges the space too, while the perpendicular line created by the vertical mosaic backsplash and horizontal tub mosaic expand the space. The wall and floor tile are large, sandy-colored, brick-patterned tile, while the mosaic is mixed shades of brown.
30. High-brow brown
Can a brown bathroom be luxurious? Yes, if you set it up right. This bathroom uses sandy tones and timber trim to create unexpected bathroom beauty. The floor is paved with wood-grain tile, which also covers the floating vanity, bathtub, wastebasket, and open shelves.
There are two – one above the tub, and the other below the mirror. A tall bathroom plant tops up the woodsy bathroom feel, while every other surface – from floor to ceiling – is paved in pale brown tile.  It looks elegant, and because brown masks dirt, your bathroom looks cleaner too.
31. Marble marvel
Natural stone tiles can be used to amazing effect in your bathroom. In this case, a small bathroom with one large window is paved with neutral marble tiles, giving it a pleasant antique feel. The walls and open shelves are pale brownish-gray while the floor is black.
A round, gray, stone basin is mounted on top of an open stone shelf with four cubbies and no doors. Smaller black stone tile is used to frame the mirror. It's also used to build floating open shelves, and as a backsplash for the floating wall-mounted, porcelain toilet.
32.  Baroque bathroom
We've already looked at one black-tub bathroom, but this one takes it up several notches by adding gilded trim. The tub is a black claw-foot, surrounded by painted white walls, and standing on white tile. There's a row of black border tile where the floor meets the wall.
The corners of each white tile are embellished with a black cube, and each tile streaked with black veining. Meanwhile, the counter is black slab with white striations, and the vanity below in all white, leaning against a wall of black tile mosaic. The faucets and light fixtures are gold.
33. Mix and match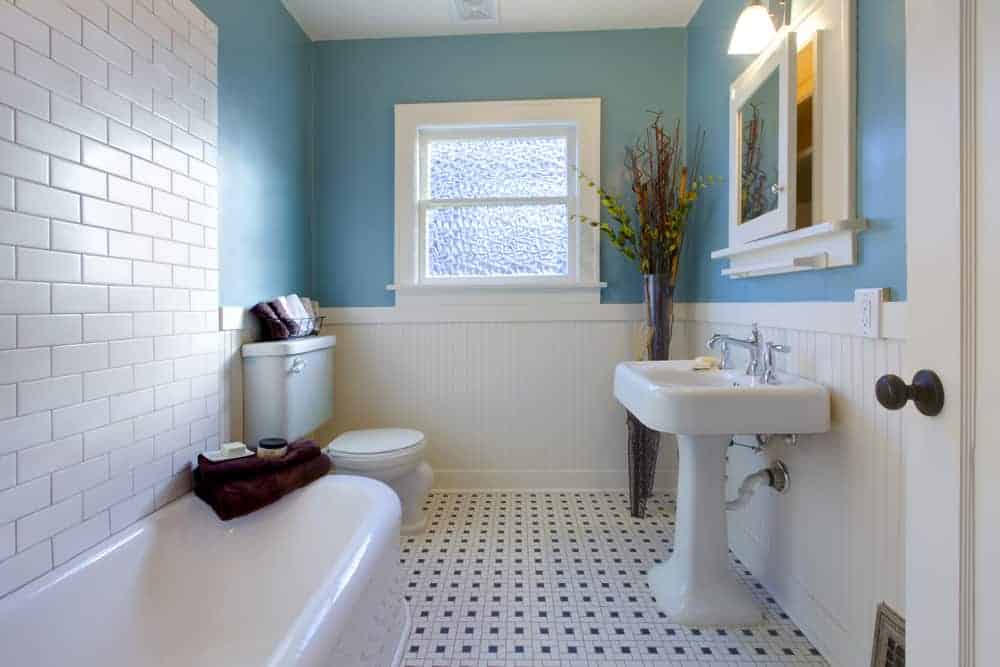 There isn't many tiles in this bathroom. The bottom half of the wall is PVC paneling while the top half is painted blue. The low toilet and pedestal sink free up floor space, while the black center cubes amid each black tile seem to recede the whole floor, making the bathroom look larger.
On one side, next to the toilet, there's a large porcelain tub with a backsplash of brick-shaped tile. This tile rises fairly high, stopping about a foot from the ceiling. A mirrored sliding door seals off the recessed medicine cabinet. Bathroom plants help to liven up the room.
34. Sinking silver
For powder rooms and half-bathrooms, there's no shower or tub. Instead, there's a sink and a toilet. The bathroom doesn't need tile, but you can still invest in your vanity and backsplash.
In this case, the countertop is reflective, brown, speckled granite, with an oval porcelain bowl positioned on top. The backsplash uses brown mosaic in colors that echo the counter.
The faucet is three-piece recessed stainless steel, with the piping hidden inside the wall. The sink itself is lit from above using yellow lights that bring out the golden highlights in your brown tile.
35. Blue on gray
Here's another example of the concept we've just discussed. In this case, the backsplash is made from irregular triangular patterns in blue, white, and gray. The tile runs down to the floor.
There's an open three-layered wooden shelf, which sits on alternate sides of the wall. The top shelf supports the oval sink bowl, while the second shelf serves as a base for a bathroom plant.
To round it off, there's an open bottom shelf for towels, with a frameless circular mirror up top. Both side walls are painted are faded black, with just a little bit of gloss.
37. Color coordination
Some hues don't seem to go together, but if you combine them creatively, you can make them work. For instance, this bathroom places a jungle-green claw-foot tub on a colored floor.
The tub has brass-colored feet, and the floor tile picks on each of the tones from the tub. The tile is a geometric mix of green, peach, red, blue, and black, so it looks fussy and busy.
The wall tile is a little less dramatic, with a row of peach tile at ground level, topped by plain white tile all the way up. With such a hectic floor, unadorned walls help to even things out.
38. Snowflakes in blue
There's a famous stencil that's always described as 'the shape of a snowflake under a microscope'. The blue prints on these white bathroom tiles seem to mimic that image. It's only in the central bathroom panel though, because one side is all white and the other is all blue.
The white tile side holds the toilet, while the blue side holds the shower. This clever use of color clearly demarcates the bathroom. The central panel has a round mounted mirror and a simple table, which supports a shallow wash tray and decorative figurines (bunnies and twin vases).
39. Quartz and marble
Marble is expensive, so it's usually restricted to borders and decorative detail (backsplashes or soap dishes and trinket bowls, for example). If you have the budget for it, use unbroken marble styles for the whole wall, add a freestanding tub, and finish with a classy chandelier.
The marble used here is Calcutta, known for its broad white swathes and distinct gray striations. For the floor, rectangular tiles with finer veins are used, while floating wooden cabinets end in a quartz countertop. The tub has a ground-mounted faucet, and the shower is surrounded in glass.
40. Scandinavian simplicity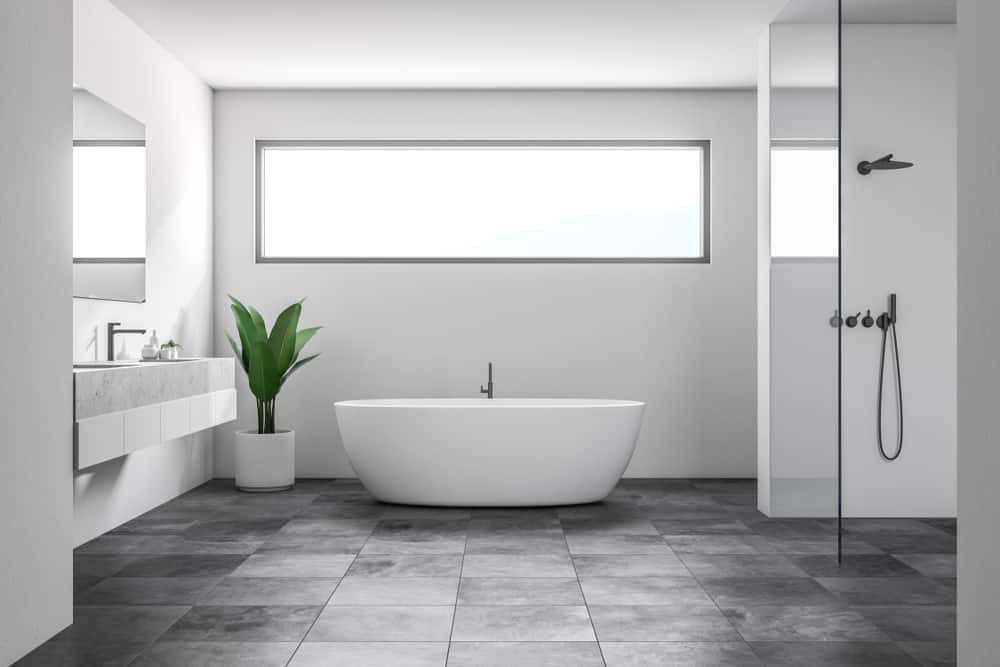 How big do you think this bathroom is? Look again. The frameless mirror reflects the equally frameless shower door to double the bathroom's square footage. In reality, it's small and simple.
In this case, glass is good, including that wide TV-like window above the tub. The walls themselves are painted white, while the floor is tiles black. It runs continuously from the open bathroom floor to the shower space behind the glass, creating a wet room effect.
41. Use your view
This bathroom applies that principle to the max. Bay windows let you take in the gorgeous horizon whether you're soaking in the sunken tub, staring through the glass shower cubicle, or sitting on the throne. The same sand-colored tile paves this bathroom's floors and walls.
The shower wall tiles are the same, though their sizing is smaller. There's also a mosaic backsplash in the same color range, and in one corner of the bathroom, there's a wooden dresser and make-up table. A wooden vanity sits opposite the tub, topped by a sink.
Tiled to perfection
The simplicity of popular bathroom tile ideas can be deceptive. You pick a style, apply a layer of grout, lay the tiles, and let them dry. Something so easy and pocket-friendly may seem restrictive and limiting. In reality, bathroom tile can be extremely versatile.
As we've seen, you can pick a monochromatic theme, or you can contrast the walls, floors, and fixtures. You can buy tile that convincingly imitates wood, fabric, or metal, while still offering the benefits of ceramics. What tile is in your bathroom right now?  Show us in the comments!