I suppose that you hate dirty wall behind the induction cooktop, kitchen sink, and garbage disposal as I do. Therefore, the backsplash is one of the necessities in the modern kitchen. Why wouldn't it be both useful and beautiful?
The old-fashioned belief is that the only solution at your disposal is to coat your wall with the same material you use for your countertop. However, I am convinced that it is a pity to ignore so many fantastic opportunities because of the propensity for uniformity. Don't you agree? If we are totally on the same wavelength, let's consider your options.
Small Kitchen Backsplash Ideas On a Budget
1. Diagonally placed backsplash white tiles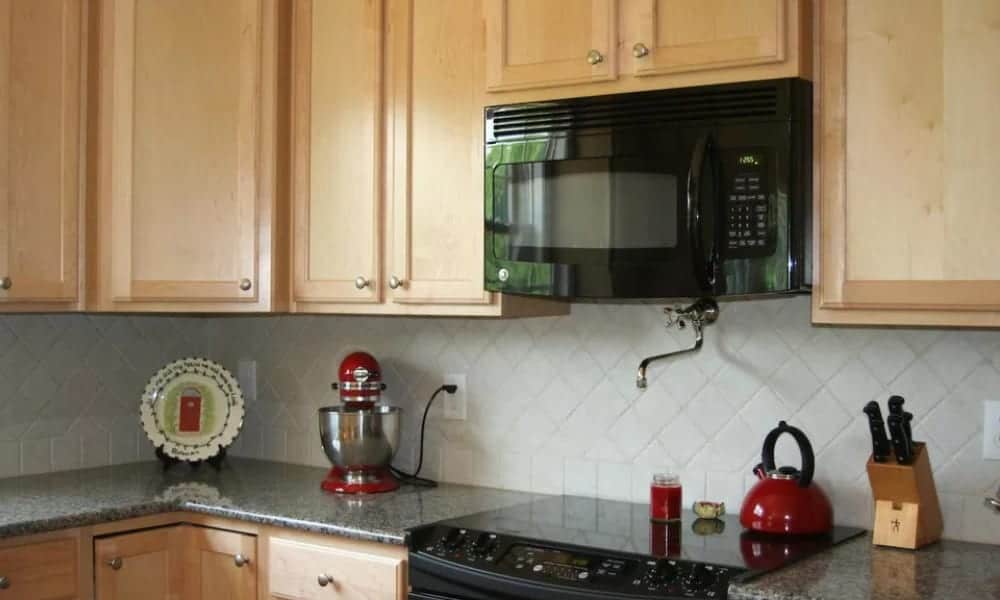 You can't make a mistake with 'good old' white tiles. They fit every space, style, and taste. However, there is a possibility to avoid making your kitchen a boring place. You can be creative even with this traditional and budget-friendly solution.
Purchase enough 4 x 4 inches (10 x 10 cm) white tiles and start working. Not to mention that the impression will be remarkable if your countertop is black!
2. Fake herringbone backsplash white tiles
You can always arrange white tiles the way to make a herringbone pattern. It is a highly elegant and eye-catching arrangement for the backsplash, which will transform your kitchen into a stylish place. However, if you can't afford to change tiles at this moment, but desire to improve the look of your kitchen, there is a simple solution for you.
The only thing you need is an oil-based paint marker and a little patient. Then, draw the tiles on the wall! It is both cheap and convenient option. Imagine the possibility of changing the scheme on your backsplash monthly! WOW!
3. Medallion backsplash white tiles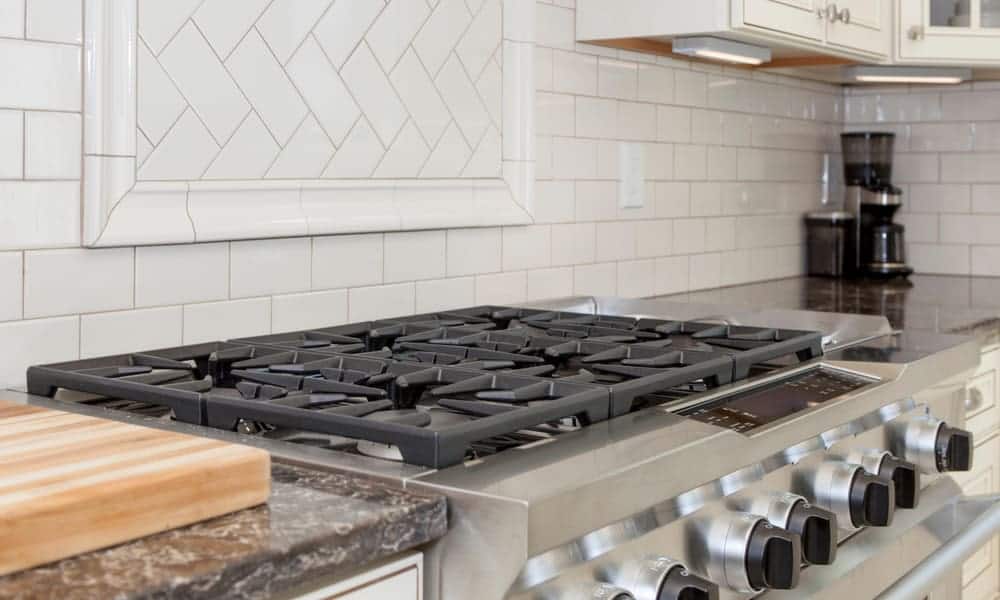 As you can see, this is one of those ideas which change the entire concept with so little effort. It is not hard transforming the ordinary kitchen to unique even though you use just white tiles. Well, while laying them on the wall, you should set a few of them diagonally.
If you do that in the central part of the wall, you will get a distinguish space surrounded by regularly arranged tiles. You can also choose tiles of a different color or to make a frame around them, as well. Nowadays, you can even purchase a ready-made tile medallion if you prefer an easy-to-do way.
4. Subway backsplash white tiles
It is a classic but timeless design choice for your kitchen. Doubtless, this method of laying the tiles provides more flexibility in the way you arrange your space, especially if you need to complement the industrial-chic style you love. You can play with colors and sizes to combine a tradition and contemporary style in one move.
5. Tiny subway backsplash white tiles
To make an old-fashioned style to ultra-modern is not really hard. It is enough to buy smaller, 1 x 2 inches (2.5 x 5 cm) long, tiles and arrange them in a traditional way. They will look lovely and give your kitchen backsplash the visual length.
6. Vertical subway backsplash white tile
By turning traditional subway tiles vertically, you will get an unexpecting and exciting result. In one move, you will add a beautiful design to your kitchen without spending too much money. In fact, a point of creativity is to make something extraordinary by using simple, ordinary things.
7. Brightly-colored subway backsplash tiles
If you find white subway tiles annoying and too ordinary, you can change the entire concept by changing their color. Pick out the standard dimensions, but bring red, purple, blue, or green in a combination. Not to mention that you can play with all the colors of the rainbow, as well.
As a bonus tip, I can offer you an unusual but budget-friendly solution. If the backsplash space in your kitchen is small, you can collect different tiles left after your friends renovated their kitchens. Then mix tiles of various sizes and colors in this traditional pattern. It is such a creative idea, isn't it!?
8. Oval ceramic backsplash white tiles
These days, manufacturers take one step further and offer unique oval pattern backsplash ceramic tiles you can use to beautify your kitchen. That way, you will reach the ultra-modern retro style that all of us desire to see these days.
These oval tiles are available in two standard sizes, including 2 x 3.75 inches (5 – 9.5 cm) and 2 x 5 inches (5 – 13 cm). Moreover, you can alternatively use tiles in shades of green-blue or red-purple to add some elegance in your space.
9. Unimaginably beautiful purple and pink backsplash tiles
Think outside the box and pick out multiple colored tiles, 6 inches (15 cm) long in diameter. Then, lay them on the wall the way you like the most. You can combine two, three, or more different colors in stripes or squares. Also, you can randomly arrange them as desired. Well done!
10. Harlequin backsplash tiles
Honestly, this pattern reminds me of the tiles on my granny's bathroom floor. Luckily, designers are more inventive these days and make miracles by mixing colors, styles, and sizes of tiles. As a result, these diamond-shaped ones can look truly attractive.
Use black and white combination, muted colors, or any other colorful arrangement you want and transform your kitchen backsplash into a real masterpiece.
11. Wood-look backsplash tiles
I like this practical and highly convenient way to make your kitchen looks traditional and easy-to-clean at the same time. You can pick out solid-body porcelain tiles painted the way, which will remind you to oak, walnut, ash, ebony, and a cherry tree. Then, lay them on the usual way, and enjoy the rustic appearance of your new backsplash.
12. Glass mosaics backsplash tiles
Luxurious glass mosaics will dazzle everyone who comes to your kitchen, and you will enjoy a play of light reflected from tiles every single day. They look gorgeous, and you can clean them quickly. Plus, these tiles are very trendy nowadays.
However, be aware of the possibility that this option may go out of style soon. Not to mention that this type of mosaic can be quite costly.
13. Metal backsplash tiles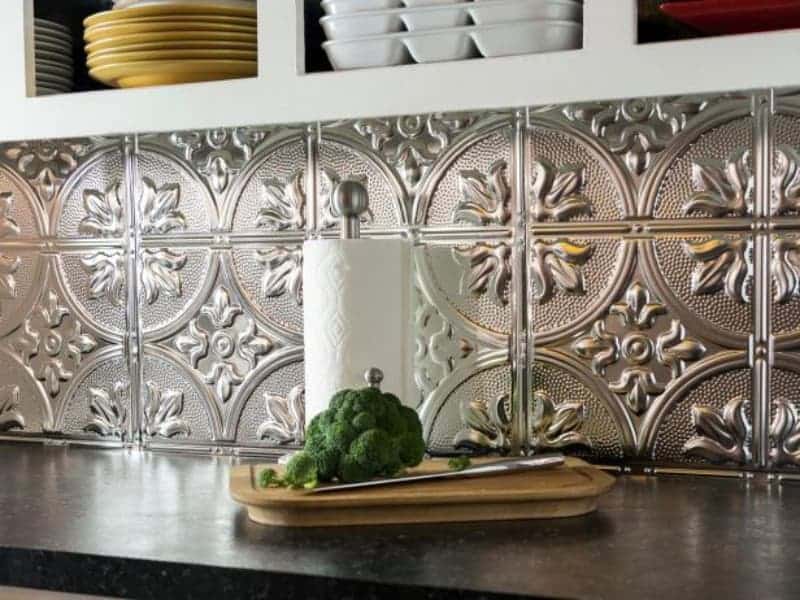 Making a metal kitchen backsplash is not complicated at all. You need stainless steel tiles applied to the wall by construction glue. The advantage of this solution is the absence of a messy thin-set mortar.
You can finish the entire super-clean installation by yourself. It is an elegant and long-lasting option for you if you are a modern and practical person.
14. Copper slate backsplash tiles
There are a few advantages of a copper backsplash I appreciate. It is a gorgeous, long-lasting, convenient, and highly heat-conductivity solution. On the other hand, copper requires regular maintenance, which can be quite tricky.
Even though this metal looks fabulous against stainless steel appliances and wood cabinetry, you should be aware that this type of backsplash will discolor naturally over time.
15. Natural stone backsplash tiles
One of the best options for unique, appealing, and attractive backsplash is real stone tiles, including granite and marble. You can choose among 2 x 2 inches (5 x 5 cm), 4 x 4 inches (10 x 10 cm), or 4 x 12 inches (10 x 30.5 cm) long ones.
After laying them properly, you can enjoy the new, rough, and wild appearance of your kitchen, which is combined with contemporary appliances adequately.
16. Slate mosaic backsplash tiles
Slate is a convenient, durable, beautiful, and practical material. Therefore, it is an ideal solution for your backsplash. It provides a rustic elegance and unique, vibrant hues of stone tile mosaics.
Lay them by using a pattern you prefer, including subway tiles, rugged cobble, Versailles style, or elongating Corinth. In any way, the slate will provide unique texture and depth you have always dreamed of.
17. Glass mosaic and stone backsplash tiles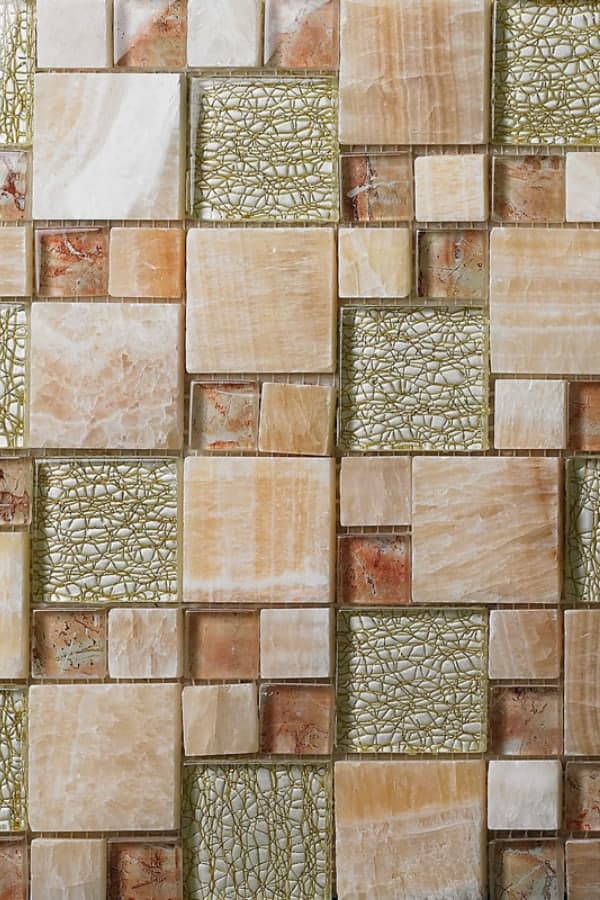 Have you ever thought about unusual combinations for backsplash such as this arrangement made of glass tiles and pieces of natural stone? You can lay them out in rows, on the harlequin way, or set them out randomly. In any case, with such backsplash, your kitchen will look stylish and fascinatingly unique.
18. Travertine backsplash tiles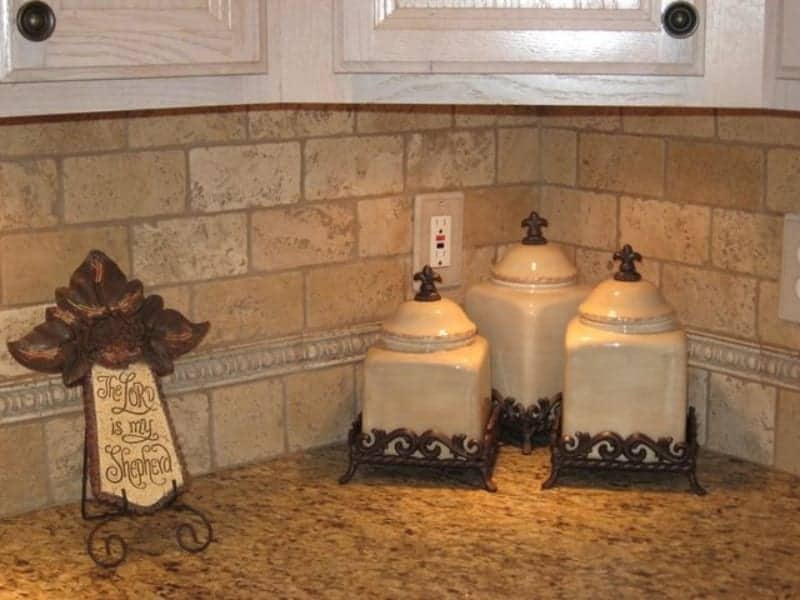 As a type of limestone, travertine is a strong natural backsplash material. Thanks to its multicolor pattern, you don't need to think of the way how to make the best combination. Pick out beautiful shades of ivory, gold, or beige and decide if you like the tumbled, polished, brushed, or honed variations.
19. Merging backsplash tiles
A very few people do this because you need to be really creative to get such an idea. Be innovative and create your backsplash uniquely and unusually. The system is not complicated at all.
You just need to merge regular backsplash tiles and counter ones to make a continuous effect. Enjoy your kitchen full of surprises without monotonous solutions.
DIY Small Kitchen Backsplash Ideas On a Budget
20. Cork backsplash sheets
I bet you have never heard that it is possible to get a backsplash made of recycled cork. You will need a few 12 x 12 inches (30.5 x 30.5 cm) long sheets and adequate adhesives. Glue them to the wall right away after installation. Keep in mind that you can't restore cork once when your lining becomes discolored or wet.
21. Wine cork backsplash
If you are a wine lover and have a lot of wine corks you don't know what to do with, there is an excellent backsplash match for you.  Cut them in half vertically and glue every piece to a plywood board.
You can do it random or by using the template you like. The only thing matter is to measure the surface of the wall you want to cover. Don't forget to seal corks immediately after laying.
22. Bottle caps backsplash
If the members of your family like soda or any other juice, you can start collecting plastic or metal bottle caps. Once you have sufficient quantity, you can grout the surface of the wall and add colorful plastic on it. There is one more option. You can use silicone or glue to add them one by one.
23. CDs or long-play records backsplash
No one uses CDs or long-play records anymore. If you have a ton of them in the basement, you can use them to make a budget-friendly backsplash for your kitchen. Break the material into pieces and glue each of them in the desired position. I am sure that you will enjoy the finished product.
Removable Small Kitchen Backsplash Ideas On a Budget
24. Painted tiles backsplash
If you are short of money but want to refresh your kitchen, there is an excellent budget-friendly solution for you. Use acrylic paints and paint your old tiles artistically. Make long horizontal and vertical strips, paint flowers, toys, or hearts.
Also, you can decorate your backsplash in abstract style or geometric patterns. The advantage of this project is that you can change the appearance of your kitchen whenever you want with a little cash, patience, and creativity.
25. Painted backsplash
You can always paint the wall directly without laying tiles. It is a cheap, challenging, and creative way to make your kitchen one of a kind. You will need highly-quality oil-based paint, paintbrush, an original and innovative idea, and a few hours to finish your project successfully.
26. Tile decals backsplash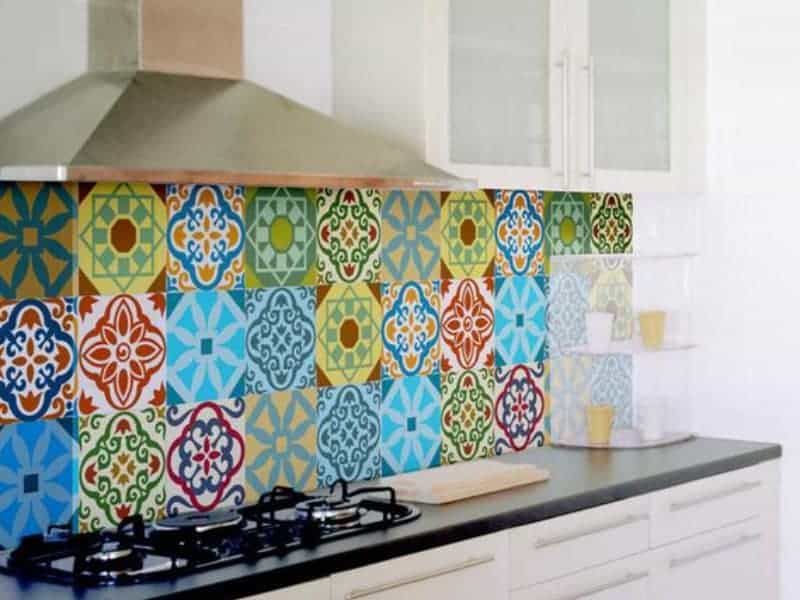 If you have already had old, damaged, and discolored tiles, especially around a range hood, you can make them fresh and beautiful again without much money spent. Find stylish or fun removable tile stickers, depending on your preferences, and apply one decal on each tile.
Basically, you can do whenever you want to change the appearance of your kitchen. The procedure includes peeling off the old sticker and gluing the other one. Yes, it's that simple.
27. Scrapbook paper backsplash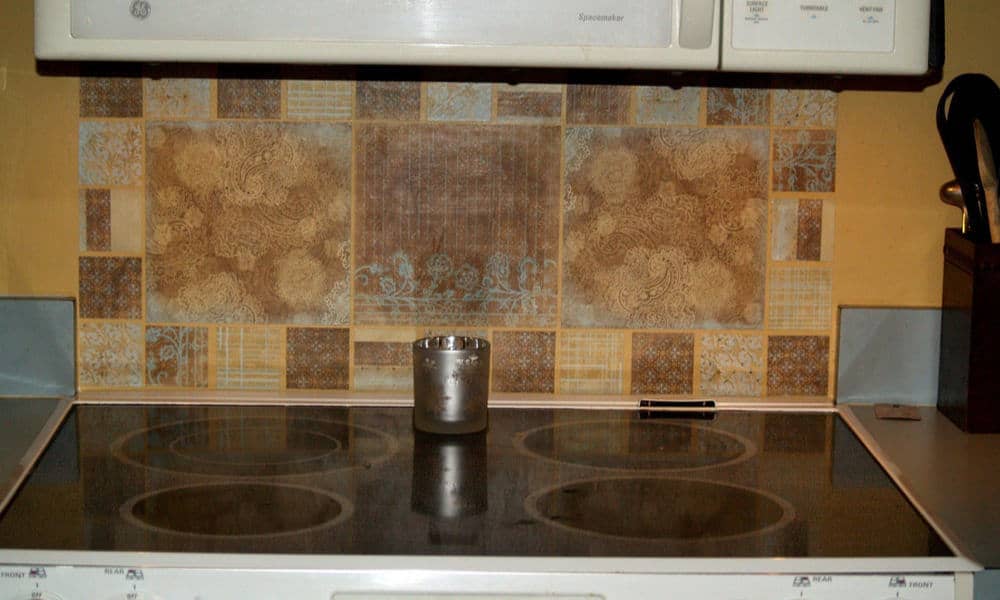 You will need just a couple of bucks to fake the look of colorful tile in your kitchen. Purchase heavyweight scrapbook paper and apply one sheet at a time with glue. The best option is to use water-resistant decoupage glue and seal the paper afterward.
Once you decide to remove it from your backsplash, you will need to spray the paper down with water. Then, peel it off and repeat the procedure with a new design.