Without any doubt, a contemporary multi-functional kitchen requires a versatile lighting scheme. If it sounds crazy to you, just think again. Even though the primary function of this room is cooking, it is increasingly becoming a gathering place for the whole family, especially if it is large, with a well-designed kitchen island in the middle.
Therefore, it is time to consider the installation of the right lighting. The fact is that well-spaced lighting can make small and unsightly kitchens larger and attractive. To achieve an excellent effect, you will need to organize the food preparation zone as a bright and shadow-free place, while space for eating requires dim lighting. There are three types of kitchen lighting ideas you should consider.
Ambient Kitchen Lighting Ideas for Small kitchens
This type of lighting is the primary source of light, which provides illumination from the ceiling. It's up to you to choose chandeliers, recessed lighting, pendant lights, or flush mounts.
1. Recessed kitchen downlighting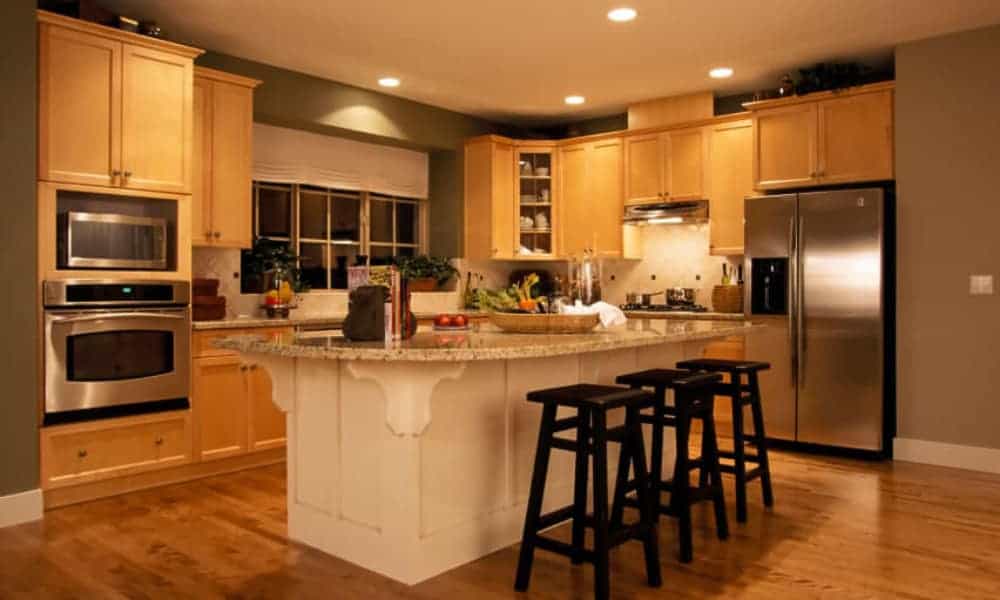 It is an excellent solution for ambient kitchen lighting, especially if your kitchen is one of the smaller. Depending on the size of your space, you will need one, two, four, or even more flush-mount ceiling lights if required.
Arrange them in the center of your kitchen or in a straight line along your countertop to get a customized lighting scheme you wish to get. Such an arrangement will spread the light evenly all over your working area. Moreover, by choosing this solution, you can control a range of your lighting by adding dimmers.
2, 3. Flush-mount kitchen lighting and semi-flush kitchen lighting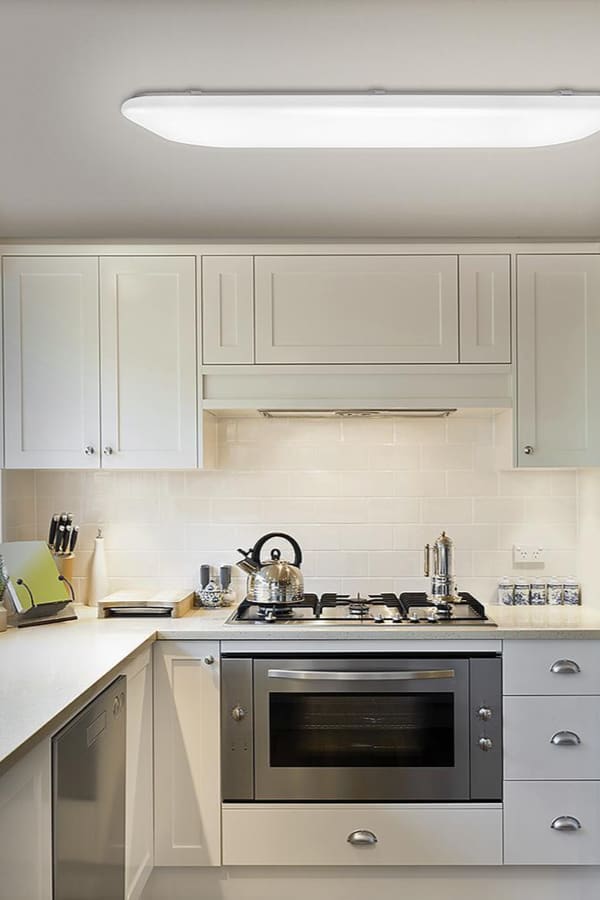 Both types of lighting are not suitable for large kitchens. However, if your kitchen is smaller, but you like adding a unique and stylish touch to it, you should consider installing this particular solution. Luckily, you can find a wide choice of these ceiling lamps on the market, suitable for every kitchen design.
You can choose a simple white model, which will fit a modern kitchen with a range hood made of stainless steel. On the other hand, some old-fashioned ones will be an ideal choice if your kitchen is more rustic, with a lot of wooden elements. It's up to you and your preferences what kind of solution you want to use.
4. Exposed beams and lighting
If you have decided to place your kitchen in the attic, you will probably have a few exposed beams above your head. It is an ideal opportunity to organize the lighting there uniquely and attractively.
Let the beams frame rounded spotlights arranged in lines along each of them. Keep in mind that the installation of this type of lighting requires professional help.
5. Kitchen chandelier
When I heard about the idea of installing a chandelier in the kitchen, it sounded quite weird to me. However, it is actually a fantastic idea to make your kitchen unique and attractive. It will depend on your taste, which one model you want to hang.
6. Shabby chic kitchen chandelier
For example, you can make a bold combination of the ultra-modern kitchen with shiny kitchen faucets and countertop made of stainless steel on one side and a shabby chic chandelier on the other.
7. Mason jar kitchen chandelier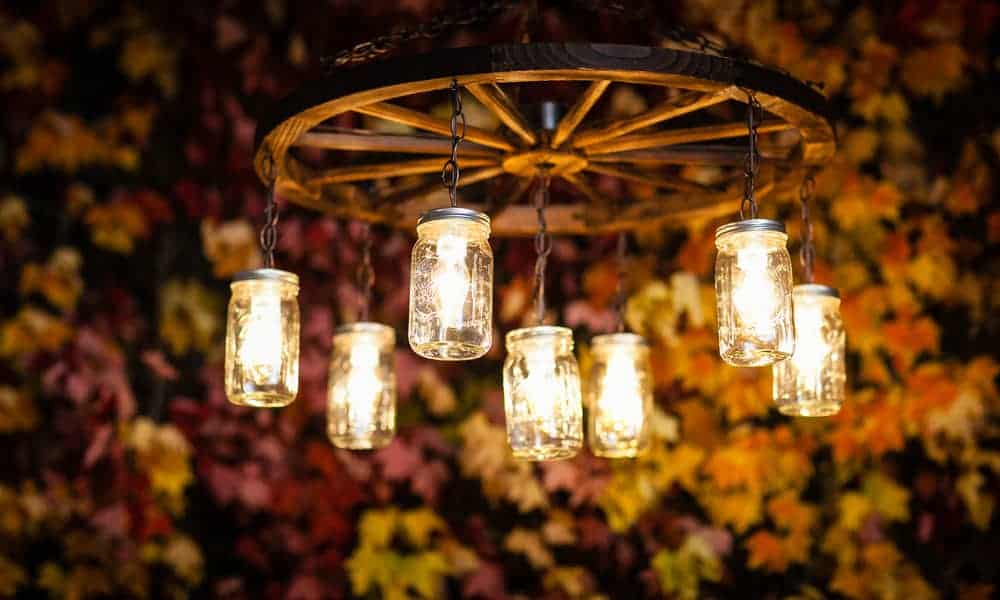 If you like making things for your home by yourself, there is a gorgeous DIY mason jar chandelier, which won't cost you an insanely high amount of money. On the other hand, it will look fantastic and charming in your rustic kitchen.
8. Gold kitchen chandelier
If you have always dreamed about the glamorous chandelier in your home, why wouldn't you install it in your kitchen? It will look gorgeous in combination with gold kitchen faucets, pastel cabinets, and an elegant butler kitchen sink.
Take care to attach your chandelier to the ceiling with gold chains, which will add a lot of style to your white kitchen island. That way, the island will become the focal point of the entire space. If you are extravagant enough, pick out the wooden flooring to frame the rustic charm to the kitchen.
9. Silver kitchen chandelier
You should always try to make an attractive combination, which will bring a note of sophistication to your kitchen. If the golden chandelier is too glamorous for your taste, you can pick out one of the fantastic silver models offered. Whatever of them you choose, it will fit the wooden kitchen island and countertops made of marble. Fabulous!
10. Brass kitchen chandelier
There is also a brass chandelier as a fantastic solution when you need to bring extra light to the entire space. Plus, it will accent your fixtures and details made of brass if you have some in your kitchen.
11. Capiz kitchen chandelier
Believe it or not, the Capiz chandelier can be an excellent choice for your kitchen, especially if you have an island in a rustic style. Since these oyster shells bring light to your kitchen, many designers use them as an alternative to glass these days.
12. Use the tree to make kitchen lights
If you are an outdoor person and nature lover, you should consider the possibility of bringing a piece of the outdoors inside your kitchen. You can make this so-called chandelier of an old stump or a bunch of branches taken from an old dried tree.
If you place everything the right way, you will get a light source reminding of tree roots growing from the ceiling. Keep in mind that this is not an easy-to-do project, and hiring a professional for this job is not a bad idea at all.
Task Kitchen Lighting
You should place this type of lighting in areas full of shadows, which require a higher focus. They will light cabinetry and work surfaces, and make it easy for you to read recipes and prepare meals. You can pick out puck lights or strip lights, depending on your preferences.
13. Under-cabinet kitchen lighting
Unfortunately, ambient lighting will leave a shadow under your cabinets. It is quite inconvenient since you need a full light in your working area. There is the importance of the under-cabinet kitchen lighting, which will brighten your undercabinet work surface properly.
You may need an expert to recommend an ideal option for your kitchen, including the material and size fitting the ambient. There are two different solutions at your disposal. You can choose strips or pucks.
14. Neon lights under a kitchen cabinet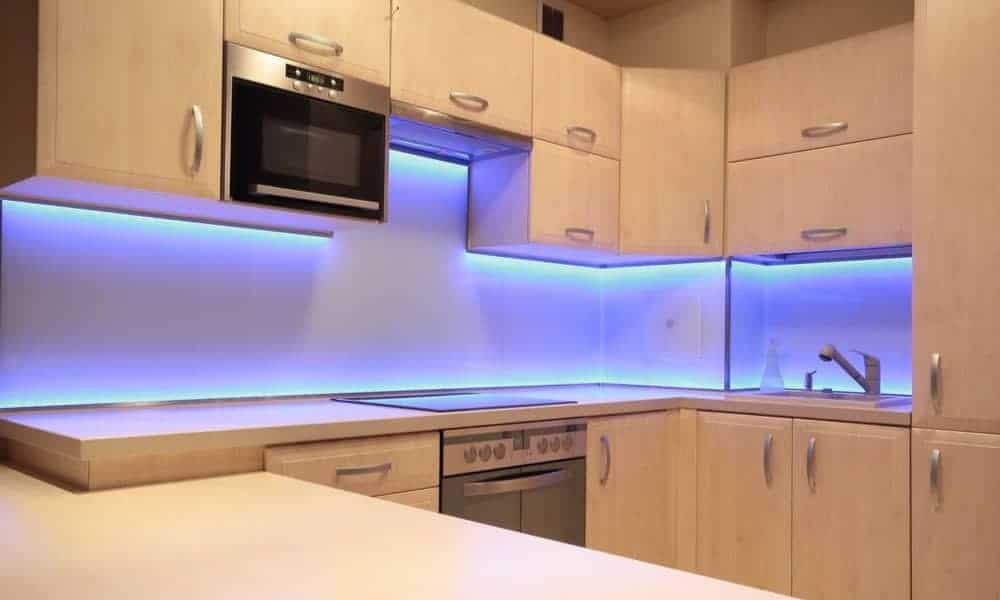 If you are a fan of a futuristic vibe, you can decorate your kitchen in that particular style. After installing neon lights or LEDs under the cabinets and along your countertop, you will transform your kitchen into a high-tech space, especially if you have a backsplash made of glass.
15. Strip under-cabinet kitchen lights
It is a fantastic and versatile option for illuminating the interior of your cabinet, particularly if it is positioned too low. In that case, this area won't receive enough ambient lighting. I prefer and highly recommend LED strip lights.
You can choose the color of lighting you like the most and lay them under your cabinets to beautify the working area, brighten the target space, and bring a lot of elegance in your kitchen.
16. Puck under-cabinet kitchen lights
You can find both round and oval puck lights on the market. They are an excellent option for mood lights, but you can use them to illuminate your countertop, as well. That way, you will get a bright working area in your kitchen and a romantic space at the same time.
You should choose this type of task kitchen lighting if you have kitchen shelves made of glass. Try to imagine your shining crystal under the warm light-yellow light! It looks unbelievable, I promise you!
Accent Kitchen Lighting Ideas for Small Kitchens
It is both a decorative element and a useful type of lighting. These lamps hanging from the ceiling will accentuate parts of your kitchen and the favorite details you want to show.
17. Enclosed pendant lights
If you hang a few gorgeous pendant lights above your kitchen island, it will be an elegant way to differentiate this space from the work zone in your kitchen. I like these irregular, fully enclosed white balls fitting your modern kitchen perfectly.
If you have a new, contemporary kitchen sink and black induction cooktop, you can pick out an industrial shape for full effect. Hang three pendants low over the island to accent the feeling of intimacy. Plus, they are an excellent source of light, which can break up the sharp lines of your cabinets.
18. Light up your kitchen with LEDs
Thanks to their low heat emission, LEDs (light-emitting diodes) are desirable lighting in many modern kitchen designs. We will probably use these lighting more in the future because of their high energy efficiency and lower electricity bills.
The fantastic thing is that you can expect them not to flicker after turning on. Plus, these lights won't need time to warm up before reaching the full brightness.
19. Kitchen lights with exposed wires
There is one weird thing considering modern design. Some of the solutions, once regarded as unfinished and cheap, are now ultra-modern. These bulbs with exposed wires are one of these trendy lighting ideas for the kitchen.
The crazy thing is that they are actually a fantastic solution! Not to mention how inexpensive it can be. There is one excellent advantage of the installation of this particular design. You can update it as soon as the trends change. Plus, if you prefer an industrial look, you can quickly add a personal touch to your kitchen without costly new lighting.
20. Pendant light for kitchen with a light bulb
I hope you like this fantastic combination of traditional and modern design as I do. Depending on your taste, you can choose incandescent bulbs, but also LED, halogen, CFL, or Wi-Fi enabled and color-changing ones.
No matter which option you choose, the bulb will look gorgeous inside the elegant metal square-shaped grid. You won't regret it if you select this unique accent lighting, which will bring luxury and convenience in the kitchen area. Plus, you can adjust its height to fit perfectly the interior.
21. Hanging Edison bulbs
If you are a fan of vintage design, you can use the previous idea but hang Edison bulbs above your kitchen island instead of LEDs ones. It depends on your style how many of them you want to install. If you are patient enough, you will find a model with one single bulb or even a bunch of them.
It is essential to pick out the right number considering the size of your kitchen and the area you want to lighten. Thanks to modern designers playing with older styles, you can find an old-fashioned, but also ultimately modern pieces, which will fit your kitchen perfectly. The additional advantage of this choice is the fact that exposed Edison bulbs won't obstruct your field of vision.
22. Lamps and open shelves
If you have a small kitchen with charming open shelves, you can make it more beautiful by installing a few convenient lamps nearby. That way, you will get the effect of reflecting the light from the surface of your cookware sorted by shelves. Can you imagine how attractive it can be if you put some crystal glasses under your lamps?
23. Large kitchen desk lamp
If your kitchen is not too large and you don't like ceiling lights, including corny chandeliers or ceilings that are difficult to maintain, you can have a large lamp instead.
Install a big desk lamp on the wall above your stainless-steel workspace, and you can work relaxed wherever needed. It would be perfect if you could include a kitchen sink into the island. That will make the entire space so cozy.
Conclusion
No matter what design you choose, take care to organize your kitchen the way to be both beautiful and functional. It is also crucial to make this part of your home by following your personality.
Also, your kitchen should fulfill the needs of all the members of your family. If you achieve that it fits the style of the rest of the house, you will enjoy the perfection. Well done!