I have always dreamed of a gorgeous and convenient kitchen island. It is an ideal place for a family gathering, cooking, eating, and even working. Since the island unit is so crucial to the whole family, you should take care to choose the practical, beautiful, and useful one. Plus, it needs to fit the design of your space.
Depending on the size of your kitchen, you should pick out a small island, an enormous one, or the one with incorporate seating, kitchen faucet, induction cooktop, kitchen sink, even a range hood. Choose an appropriate color, size, and model of the island and enjoy the elegance of this essential part of every home. I hope I will help you a bit with a few kitchen island ideas I like the most.
Unique Small Kitchen Island Ideas
1. Rolling cart kitchen island
I am not quite sure that you can consider this piece of furniture a kitchen island, but it looks lovely, isn't it? Anyway, you can use this rolling cart whenever you need a portable area where you want to prepare your meals.
The positive side of this model is that it is an easy-to-move and cheap piece of furniture. However, be careful since its wheels may unlock, and prevent this 'island' from staying firm on the floor.
2. Small, non-portable kitchen island
It is a model striving to imitate a real kitchen island. When you look for a simple, cozy piece, this particular one is the way to go. However, be prepared that they are really tiny, not more than 4 feet (1.2 m) long.
If you don't need to spend too much time in the kitchen and you have a dining room for your family meals, you shouldn't install a large island at all. Pick out this one, which will serve the purpose.
3. Kitchen island table
With a flat top and four legs, this island is actually a table positioned at the island spot. You can successfully prepare food there, but you won't have any space for storing things.
The highest advantage is that you can quickly bring and install it in your kitchen, and remove it when deciding that you don't like it anymore. The primary disadvantage of this solution is that the flat surface is just a table without a kitchen sink or backsplash.
4. Kitchen island cabinet storage
You can always use a kitchen island as a cabinet with a countertop. When you pick out a model with a lot of drawers and shelves, you will get a convenient space for storing. On the other hand, by choosing the one bigger than 12 x 24 inches (30.5 – 61 cm), you can install kitchen appliances in it.
If you don't need to have an island in your kitchen except for special events, you can purchase this particular model and place it in the corner of the kitchen ready for use when needed.
5. Fully functional kitchen island
If you are one of the lucky ones and have a large kitchen with a vast space for an island in the middle, you can use that advantage to install a fully functional one there.
These models can have electricity and water supplies installed, which makes them a regular countertop with a kitchen sink, drainage, induction cooktop, and sufficient countertop space. It is not an affordable solution, but it is an excellent place for a family gathering, cooking, and even working. WOW!
6. Kitchen island with seating for one person
If you pick out the right model of a kitchen island, you will get a multifunctional space for most of your needs at the same place. The point of this option is not long-lasting seating. It is the place where you can take a chair while reading your cookbook, putting down a new recipe, or chatting on the phone.
Sometimes it is enough that your island has enough space for you to sit with a cup of coffee in your hand while resting after the hard-working day. There is also a model with approximately 8 inches (20 cm) extended part at one end to place your knees under it comfortably.
7. Dual-level kitchen island for two
Once you have a dear person you want to live with in the same house, you will need a kitchen island with the seating place for two. The best option is the versatile, dual-level model with the separated dining space and the area for food preparation.
You can purchase the one which comes with a table and chairs to avoid additional searching for compatible furniture. In my opinion, it is an ideal multi-practical part of every home convenient for shared meals and working at the same time.
8. Kitchen island with a few seating
What do you think? Is it a kitchen island just a convenient space for cooking or an excellent solution to avoid having a table if there is no dining room in the house? Maybe you can use the big model and treat it as a place for eating with your family.
If you purchase an island with two stages, you will have a separate place for preparing food and the one for sitting. Keep in mind that you need a countertop with a standing part of 36 inches (0.9 m) and the bar top, which is at least 42 inches (1m) high.
9. Industrial kitchen island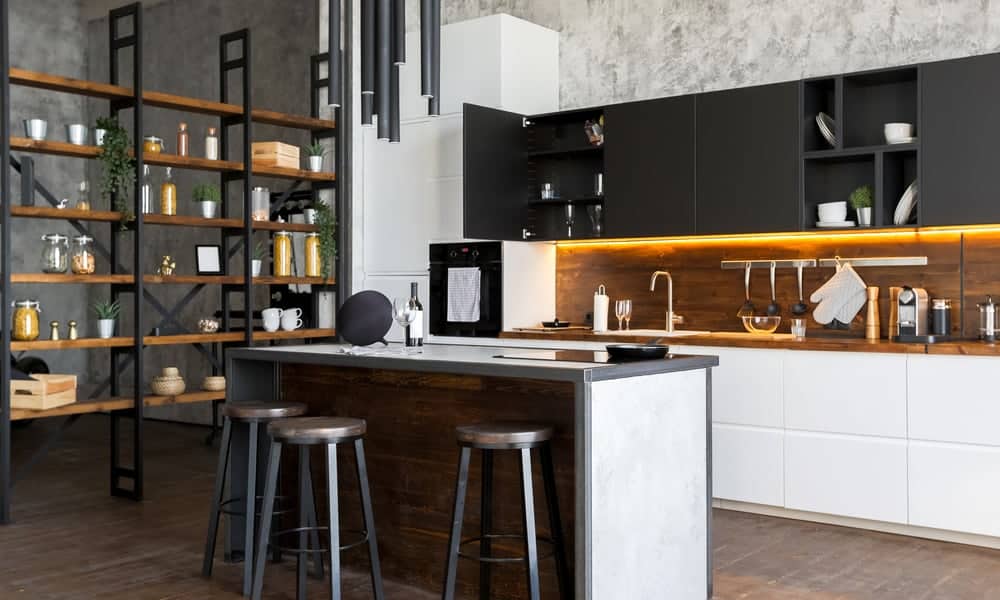 Industrial style is highly popular these days, so many people want to have a kitchen island fitting the rest of the kitchen designed that way. It is possible to find ordinary kitchen islands in a subtle-industrial style at a modest price.
It has the standard metal countertop, draws for extra storage, and accessories such as a towel rack. If you want to avoid ornate solutions and enjoy stylish ones, you should purchase one of these pieces for your kitchen.
10. Modern kitchen island
Modern pieces of furniture usually imply simple lines and the absence of ornaments or any unnecessary details. Of course, it doesn't mean that modern kitchen island can't be beautiful. Nowadays, designers are making an effort to create elegant and stylish pieces, which are highly practical and convenient at the same time.
If you like a combination of a quartz countertop and the extra warmth provided by the wood, this solution is as created for you. To complete this attractive look, you need to add a few industrial bar stools or well-designed chairs.
11. Antique look kitchen island
It is an ideal solution for you if you are romantic and admire the renaissance style. Even though you have a super modern induction cooktop, it can fit your new ornamental kitchen island perfectly. Find a piece made of solid hardwood, which dimensions will depend on the size of your kitchen.
If you have ample open space at your disposal, you should pick out a thick distressed oak board large enough to provide plenty of space for food preparation. Such a perfect mix of beauty and convenience!
12. Transform something old into the kitchen island
If you have always wanted to have a kitchen island, but you still can't get one, you can make your own model without spending too much money. To get a unique piece, you need something old from your grandma's house or a local antique store and adequate tools.
With a small reparation and painting, you can transform an ugly old dresser, rustic table, or even wood pallets into an extraordinary piece of kitchen furniture. It will add some antique vibe into space and provide enough storing space you need in your kitchen.
13. Small, circular, and movable kitchen island
Unlike typical rectangular kitchen islands, which homeowners usually prefer, you can make a more unique and creative option. If you pick out this visually refreshing model, you will bring a freshness of remarkableness into your space.
Besides, this lovely rounded kitchen island has an added functionality. Its two front doors can open, and you will get a lot of storage space for your plates, glasses, and pots.
14. Oval kitchen island
There is a medium solution for you if you are tired of rectangular kitchen islands but need more space than the tiny round model can provide.
Pick out an elongated oval model with a thick countertop and enough drawers and shelves for storing kitchen utensils and groceries. When adding a few chairs around, you will get a beautiful and convenient space for all members of your family.
15. Kitchen island with a rounded end
I like multifunctional pieces of furniture, and this one is an excellent example of it. Basically, this is an ordinary kitchen island with a rounded table at the end and a few chairs for sitting.
The regular part contains a lot of storing space, but you can't use this model for complete food preparation since there is no kitchen sink. The advantage of it is its high dining functionality and uniqueness that you can't often see in someone's home.
16. Farmhouse kitchen island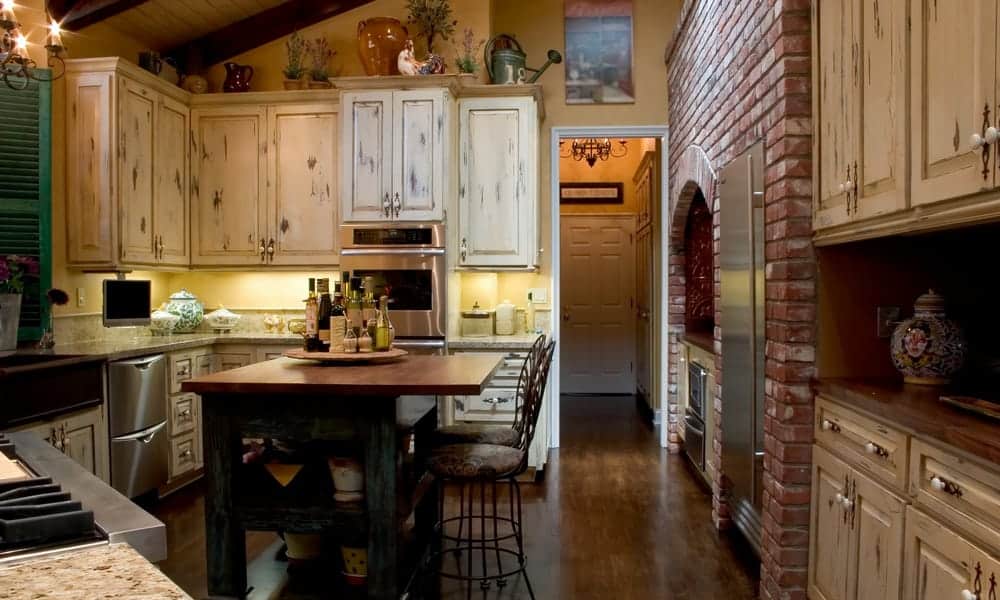 It will be surprising for you to discover how stylish and beautiful a farmhouse style kitchen island can be. Made of solid, high-quality wood, this type of furniture will bring some elegance, charm, and warmth into your kitchen.
With enough space for storing your pots and plates and place for sitting, this model is convenient for every family. You can also choose the one with a kitchen sink to make food preparation much more comfortable.
17. Kitchen island with integrate appliances
A kitchen island is basically an elegant and highly functional cooking countertop, but it can be much more, indeed. Nowadays, you can find models with an integrated refrigerator, wine fridge, microwave, induction cooktop, cooker, oven, kitchen sink, and even dishwasher.
If you lack counter space and lots of appliances in the kitchen, such a piece of furniture can be a real space saver. The more devices you place in this central area, the more space you will have for movement and other activities in the rest of the kitchen.
18. Kitchen island with a range hood
Most kitchen islands with an induction cooktop haven't the option of installing a range hood from the wall. If you want to install one, you should do it through the vent from the ceiling.
It is convenient having a hood and vent above the cooker, but its appearance in the middle of the kitchen is not highly esthetic at all. However, it is a better solution than installing one from the floor, which requires a lot of construction works.
19. Kitchen island with storage space
No matter how big my kitchen is, I always seem to lack the space to store things and groceries. If you have a similar problem, you can consider purchasing a kitchen island with enough storing space.
Another solution is to transform your current island into an excellent piece of furniture full of convenient drawers and shelves. If you add a few holders for kitchen cloths and accessories, you will get a beautiful and practical place, which will fulfill all your needs for necessary space.
20. Kitchen island with bookshelves
Such an extraordinary idea! I believe that a designer who invented this wanted to provide enough space for cookbooks and notes with recipes storing. However, this is a too good solution to remain just that.
Except for numerous cookbooks you have already put there, you can use your kitchen island with an integrated bookshelf to add child books, as well. It is also an excellent option to keep a book you are reading at the moment on the shelf while cooking the dish in the stove. It is undoubtedly my favorite model!
21. Kitchen island with a place for a pet
Instead of storing pet bowls everywhere, you can integrate them into the kitchen island. That way, you will get an eye-catching space and avoid possible injuries due to bowl stumbling or spilling of water.
On the other hand, you can use the space under the island and make there a lovely dog house or attractive sleeping space for your cat. It is also an ideal place for a cage with a hamster or bunny. It is such an excellent idea to spend time with your furry friend while preparing a meal for your family at the same time!