Choosing a water heater for your home can be a big decision. There are many options, and you need to get it right – water heaters are not cheap, and you are likely to be using the one you pick for many years to come.
When making your decision, there are a number of factors to take into account, but one major consideration is the brand you opt for. Many companies produce water heaters, and it can be hard to know which is best for you – so here are our top picks for best water heater brand to help you make up your mind.
Best & Most Reliable Water Heater Brands in the World
1. A.O. Smith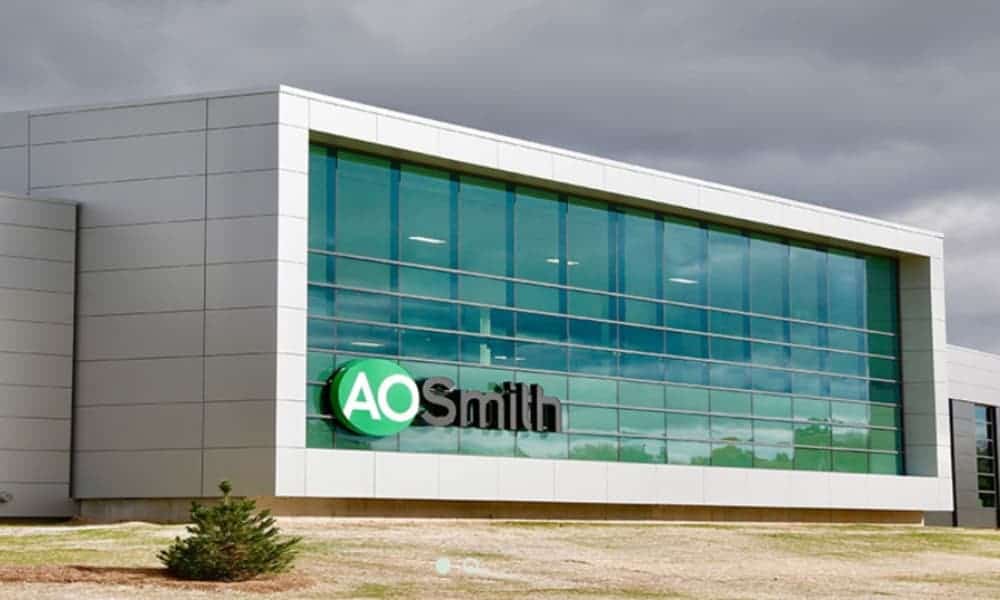 When it comes to water heaters in the North American market, one of the first companies to be mentioned will always be A.O. Smith. This company was founded in 1874 in Milwaukee, Wisconsin – and the company is still based there to this day.
When the company was formed, it was no more than a local hardware shop, but in the years that followed, the family outfit branched out into making steel car frames and then innovative water heaters.
Their products are now sold by plumbing wholesalers and contractors only, and their range includes tankless, hybrid, solar and tank-style heaters.
While any heater from A.O. Smith will be a solid investment, the company is especially known for its gas heaters – they are among the most reliable and most efficient currently available.
In fact, many of their products carry Energy Star efficiency certification, making them eligible for tax credits or rebates under some local energy-saving schemes.
The company produces a range of high-efficiency electric heaters that are worth checking out.
Many of the company's solar-powered options are also eligible for tax credits or rebates and could be a good option if you are looking to save yourself some cash in the long term.
2. Rheem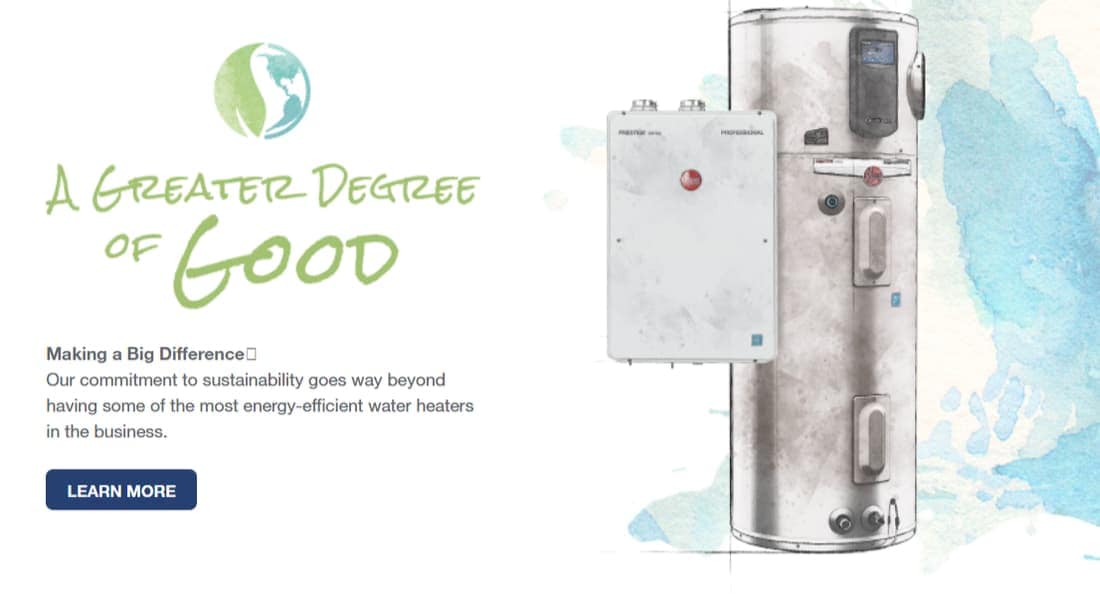 Rheem was founded in 1925 by two brothers, Donald and Richard Rheem – and with financial backing from a third brother, William.
Originally, the company was involved in galvanizing steel drums, but in the subsequent decades, they diversified into other areas, including water heaters among other things.
The company split in two in 1973, with one half focusing on air conditioning units while the other, the Water Heater Division, concentrated on water heaters.
Since then, the company has built a reputation for high-quality products, exceptional customer service and cutting-edge innovation.
Rheem now produces a full range of water heaters, including solar, gas, electric, tankless and heat pump models. Their tankless heaters are among the most popular in the US while their storage heaters are known for their reliability and their low maintenance requirements.
As one of the best-known and longest-established brands, their products come highly recommended – buying from a company with nearly 100 years of experience automatically gives you a certain amount of reassurance.
Furthermore, Rheem's tankless water heaters are among the best available in their category, and if this is the kind you are looking for, Rheem should be high on your list of possibilities when deciding which brand to go with.
Rheem Top Rated Tankless Water Heater: Rheem RTEX-18 18kW 240V Electric Tankless Water Heater
3. Kenmore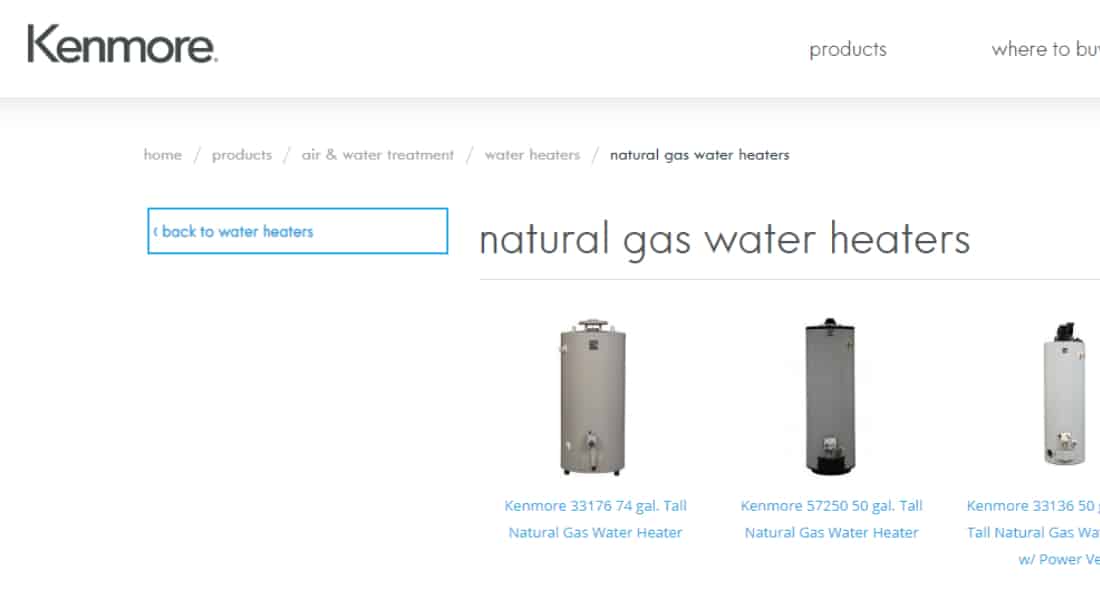 Kenmore might be better known for making household appliances such as kettles, coffee machines and vacuums, but the brand also produces a line of highly respected water heaters.
Founded in 1913, the company has hugely diversified its product range down the years. It is thought that one in three American homes now owns at least one Kenmore appliance.
In terms of the company's water heaters, the range includes electric, hybrid, natural gas and propane versions. As with the rest of Kenmore's range of appliances, the company's water heaters are known for their solid performance and their high levels of reliability.
The company is also willing to back its products, offering warranties of between six and 12 years, among the most generous you will find.
All Kenmore water heaters are built for efficiency, and the electric models, in particular, are good at retaining heat and therefore consuming less power.
Most recent models are also compatible with the Kenmore app, allowing you to control your water heater via your smartphone – which means you can change the settings even when you are away from home.
4. Bradford White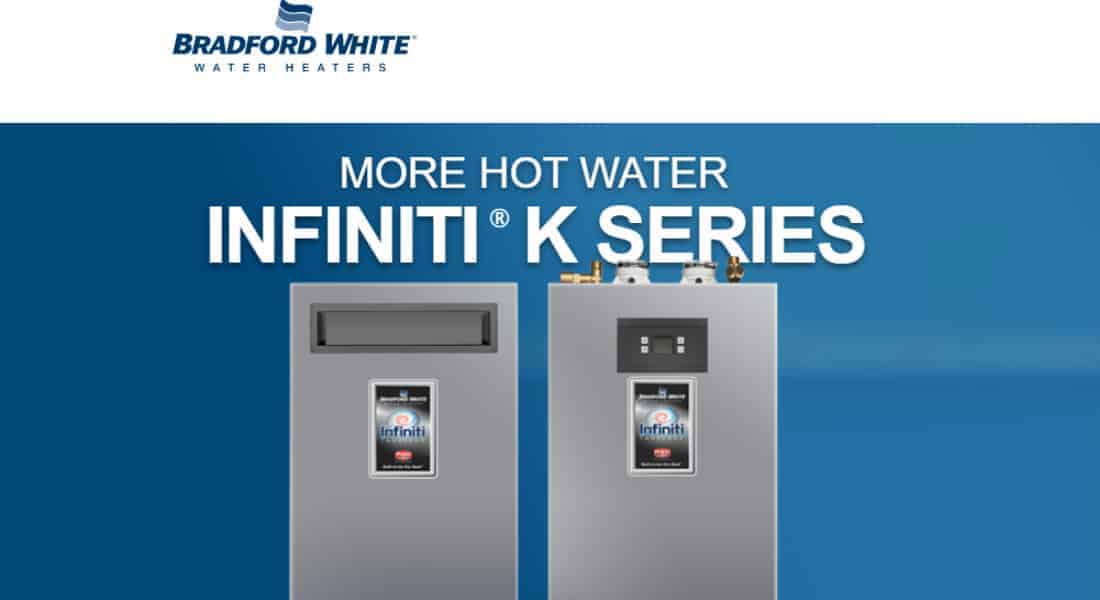 If you are the kind of person who believes buying products made in the USA is a guarantee of higher quality and reliability, then Bradford White is another manufacturer of water heaters that should be of interest.
This is a company that only sells their products via authorized representatives and wholesalers, meaning you can't simply go out and buy one for yourself. The company places great importance on producing the highest quality equipment, and by using a network of authorized dealers only, the company is able to monitor quality more closely.
The company only offers a warranty if their heaters are installed by authorized professionals – but as long as it is installed by an officially certified plumber, you will receive a warranty of around 10 years, among the best in the market.
Some people might baulk at the initial cost of choosing this brand – Bradford White heaters are generally priced quite a lot higher than many comparable options. However, their heaters are superior products, and the increased reliability and low maintenance costs down the line will mean you end up saving money in the long run.
The company produces both gas and electric models, and if you are the kind of person who is willing to pay more for the best products, this is a brand you should consider investigating further.
5. American Standard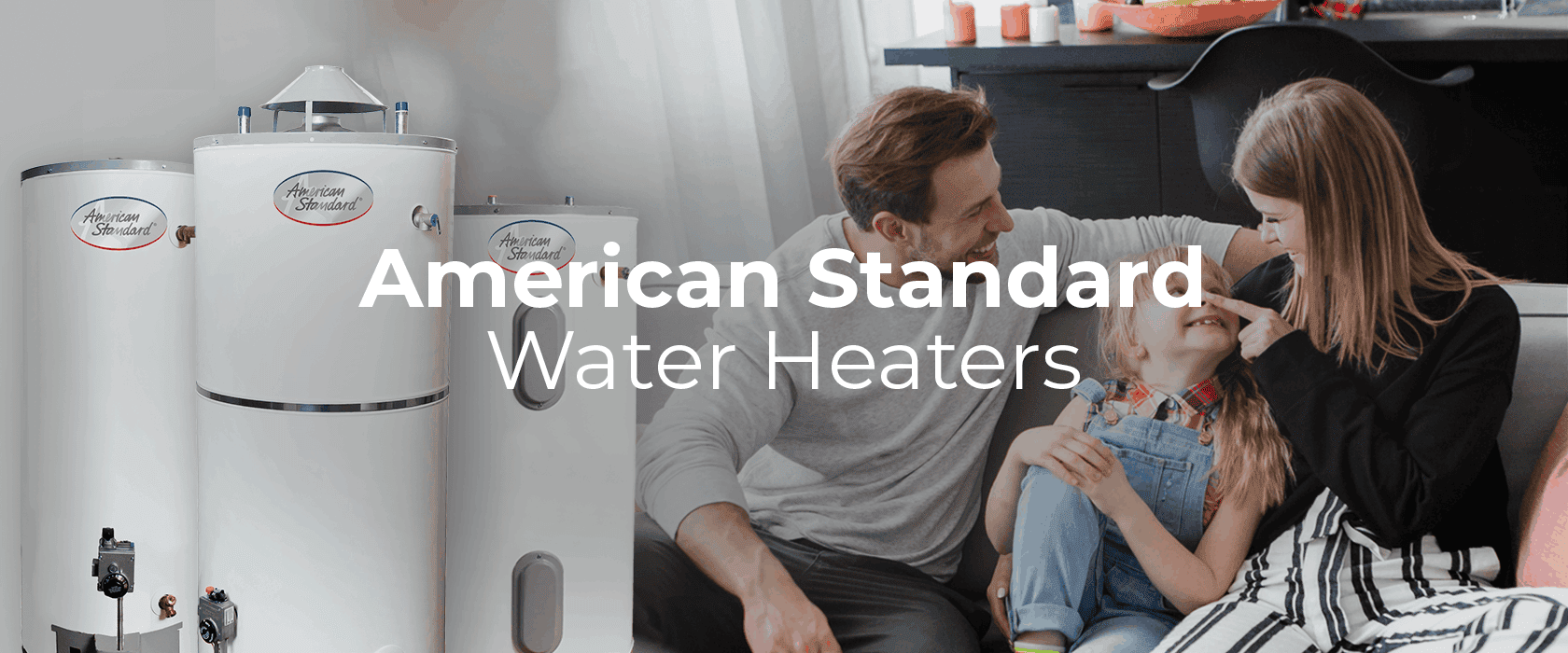 Founded over a century ago, American Standard is a well-known company with a wide range of products that includes bathtubs, sinks, faucets and many more kitchen- and bathroom-related fittings.
It also produces a range of high-quality and reliable water heaters of most types – the company produces electric, heat pump, natural gas, propane gas, tankless condensing and storage tank models.
The company's products are designed for both the commercial and residential markets, although many of their water heaters tend to be larger, more powerful models that are more suited to commercial applications.
Their units are often sold at higher prices than comparable models by some of the other brands in this review, and some home users might be unwilling to meet the price tag. However, if you are willing to pay more to get your hands on a water heater of superior quality, American Standard is a brand that should be on your radar.
In terms of the warranty, American Standard heaters come with four years as standard. While this is more than some brands offer, it is by no means industry-leading, and if a long warranty is one of the most important factors for you, better options are available – especially at the higher price you will pay for this brand.
American Standard Top Rated Water Heater: American Standard CE-12-AS 12 gallon Point of Use Electric Water Heater
6. American Water Heaters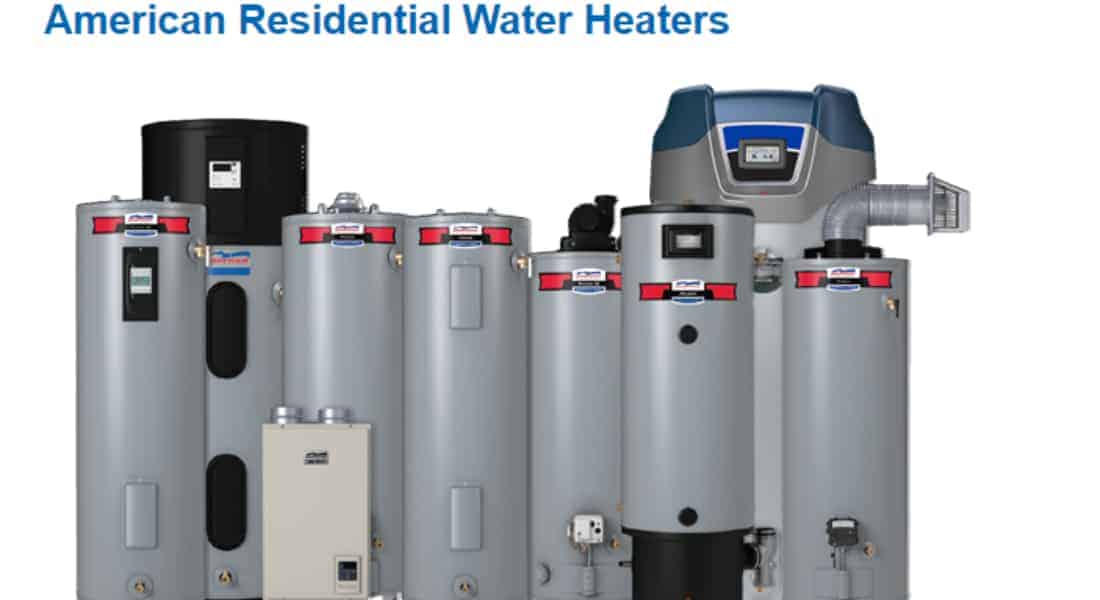 While this company might not have the pedigree of some its more venerable rivals – it was only founded as recently as the 1970s – it has worked quickly in a relatively short time to establish itself as a reputable manufacturer of water heaters.
The company is now owned by A.O. Smith but continues to make high-quality heaters under the American Water Heaters brand.
The company produces a range of different heaters including gas and propane models, electric heaters, tankless versions and solar-powered options. All models across the range, from the smallest and most basic, are known for their efficiency and reliability. In particular, most of the options in this company's range are good picks if you care about the environment.
For the most part, water heaters from this brand tend to be at the smaller end of the scale and are most suitable for small or medium-sized homes. The company also makes electric water heaters that are specifically designed for mobile homes, so if that's what you are looking for, this is a brand that should be near the top of your list.
7. Bosch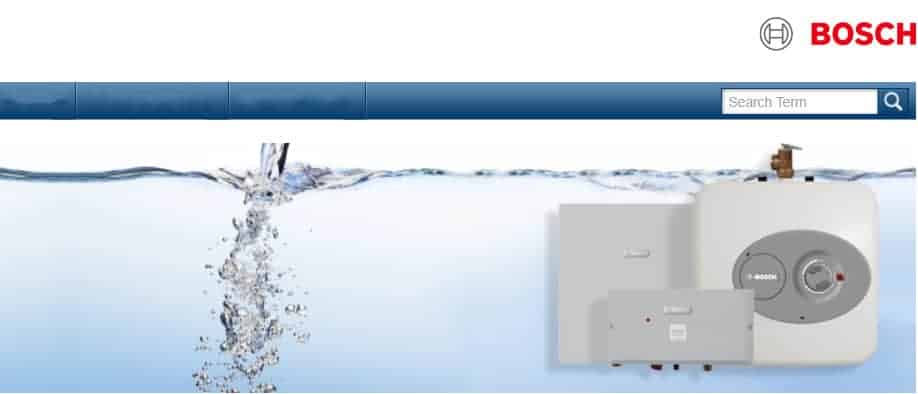 Founded in 1886 in Stuttgart, Germany, Bosch has long been at the forefront of engineering and technological innovation, and the company's hallmarks are high levels of quality and reliability.
Bosch currently produces a wide range of products, the best-known of which include power tools and household appliances. Unsurprisingly, the company's water heaters are also, without exception, excellent products that offer solid performance and reliability.
Bosch specializes in making tankless water heaters, and these products are among the most efficient on the market. Although Bosch heaters are not cheap, you will find that the increased efficiency will save you money over time, making a Bosch a good investment for the future.
Furthermore, since Bosch heaters are among the most reliable models, you can expect maintenance to be minimal – again, saving you money.
Bosch products also come with some of the longest warranties you will find.
All in all, a highly respected brand that produces a range of trustworthy products. If you value quality, reliability and performance and you appreciate typical German productions values, this is a brand that won't let you down.
Bosch Top Rated Water Heater: Bosch Electric Mini-Tank Water Heater
8. EcoSmart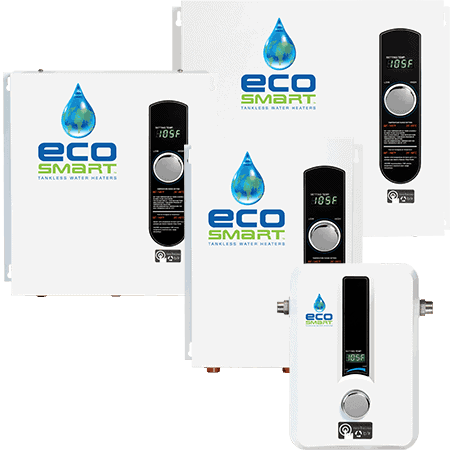 If you are looking for a water tank that gives you the best bang for your buck, is kind on the environment and that will also last a long time, EcoSmart is a brand that should be of interest.
This company specializes in producing efficient, environmentally-friendly electric tankless water heaters that sell for less than many of their competitors' units but that are able to outperform larger heaters due to their innovative SmartBoost technology.
In effect, this allows EcoSmart water heaters to produce the same amount of power as a unit of up to 45% larger. This, in turn, can help to reduce your monthly electricity bills by up to 60%.
You might imagine that for such an efficient unit that can reduce the amount you spend on electricity each month, you would have to pay more upfront. However, EcoSmart heaters cost less than many of their rivals, making this a no-brainer in many ways.
These units are also designed to last longer – the company is so confident in the quality of its products that they are willing to back it with a limited lifetime warranty.
For anyone who wants to save some cash and reduce their monthly bills while doing their bit for the environment, this brand is an obvious option. The only issue some people might have is that this company is a newcomer without the history or experience of some other brands. However, if you are willing to give them a go, you are unlikely to be disappointed.
EcoSmart Top Rated Water Heater: EcoSmart ECO 27 Electric Tankless Water Heater
9. Navien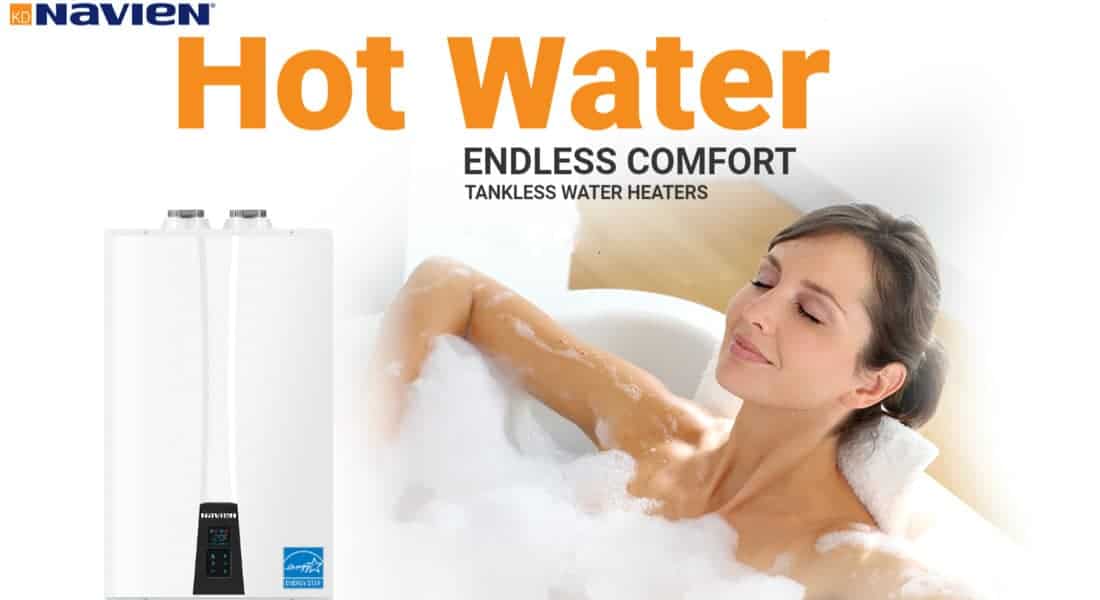 Navien is another young company with many of the same attributes as EcoSmart. Founded in 1978, the company set about establishing itself as a brand that's known for highly efficient, environmentally friendly water heaters.
The company specializes in making tankless water heaters, and their range is not extensive – instead, the company has limited itself to concentrating on only a handful of models and making sure each one is exceptional.
The company produces two lines of heaters, the NPE-S line, the standard models, and the NPE-A line, Navien's upgrade options. Both lines of heaters are among the most efficient available and will help reduce your electricity bills. All the company's heaters are Energy Star and LEED-certified.
This is perhaps not the best-known brand, but sometimes this can be an advantage. Although when buying from a less famous brand like Navien, you don't have the peace of mind that comes from buying a product from a well-established company. However, you are paying for the product only and not the name – and that means you are likely to get far better value for money.
10. Noritz
Noritz is not among the most famous brand name, but this is a company that specializes in producing a range of high-quality yet affordable tankless water heaters that represent great value for money.
The company was originally founded as Noritz Bath Industry in Kobe, Japan in 1951, and back then, the company's major focus was gas bath boilers and furnaces. In the years that followed, the company began making tankless water heaters and then instantaneous heaters.
Nowadays, the company has a presence in the US as well as in Europe and Australia. Noritz continues to produce outstanding and environmentally friendly tankless water heaters that help you save money at the same time as helping to protect the planet.
The most modern units are also compatible with the Noritz Wi-Fi Adapter, a device that can send data readouts directly to your smartphone and that is claimed to be the only such unit that can be installed both indoors and out.
Noritz Top Rated Water Heater: Noritz Natural Gas Indoor Condensing Direct Tankless Hot Water Heater
11. Reliance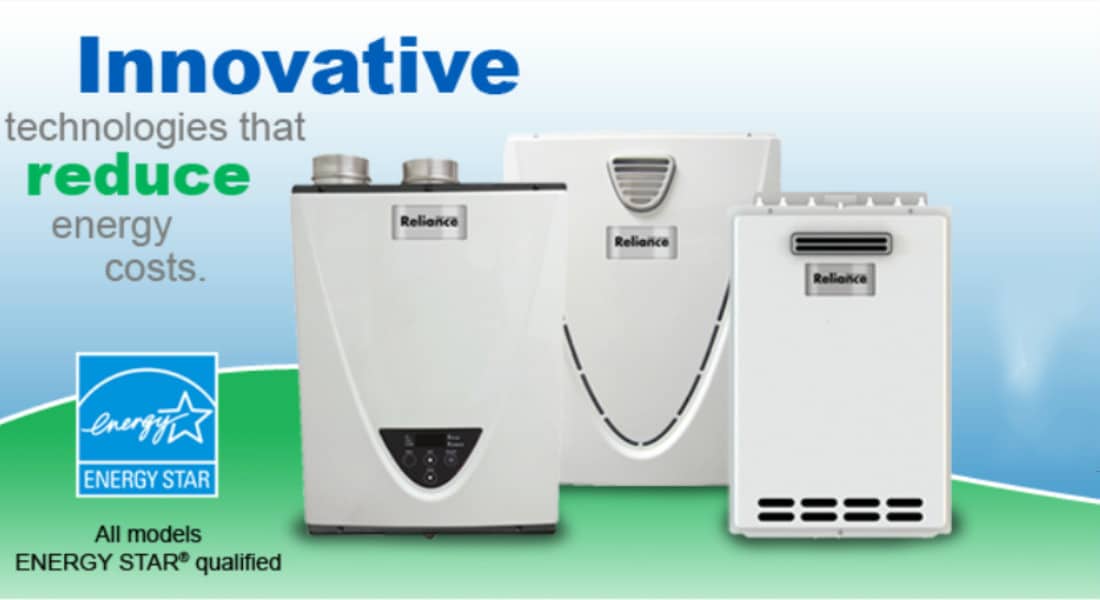 Reliance was originally a part of State Industries when it was launched in 1981 but has since been acquired by A.O. Smith. However, Reliance continues to produce its own branded water heaters, which are known as some of the greenest options available.
The brand makes gas and propane heaters, electric heaters and tankless heaters – Reliance tankless heaters, in particular, are considered to be among the best available.
All Reliance products incorporate the latest technology, and the brand is always trying to push forward with new developments. Reliance has a wide range of products, meaning most people should be able to find the right model for their requirements, and this a brand that many people would do well to consider.
12. Rinnai
Rinnai is another well-established brand that traces its history back to Japan, where it was founded in 1920. At the beginning, the company made gas appliances like pressurized cooking stoves. After a brief hiatus during the war years when they switched to making aircraft parts, the company went back to making its original area of expertise. They began making their first water heaters in the 1960s.
Their current range consists of four lines of tankless models with increasing efficiency as you progress from the standard units to the top-end versions. The heaters at the top of Rinnai's range are all Energy Star compliant, and all models are able to handle at least three or four fixtures simultaneously. All the most recent heaters are also Wi-Fi-enabled, allowing you to control them remotely via your smartphone.
Rinnai tankless water heaters are now considered to be among the world's most reliable. They may be a slightly more expensive option, but as always, you expect to pay more for quality. If you specifically want a tankless water heater and are looking for an efficient, high-performance model, Rinnai is a brand that's worth considering.
With the company's extra-long warranty, you also know you're covered should anything go wrong.
Rinnai Top Rated Water Heater: Rinnai V65IP Propane Tankless Water Heater
13. Stiebel Eltron
Stiebel Eltron is a German company that has been around since 1924 – and it is still owned by the descendants of Dr Theodor Stiebel, the man who founded it.
The company was originally launched to manufacture immersion water heaters for the German market. Since then, Stiebel Eltron has grown to become the largest manufacturer of water heaters in Germany, and the company also sells its products all around the world.
This brand produces a range of models and is especially known for smaller units, tankless heaters, and heat pump models.
This is a company that prides itself on high-quality, well-engineered products as well as its product development. Stiebel Eltron consistently strives to create heaters that use less energy, have an exceptional safety record and that give their customers the highest possible levels of comfort.
If these are the qualities you are looking for a heater, then this is a brand that is sure to deliver.
Stiebel Eltron Top Rated Water Heater: Stiebel Eltron On Demand Electric Tankless Water Heater
14. Takagi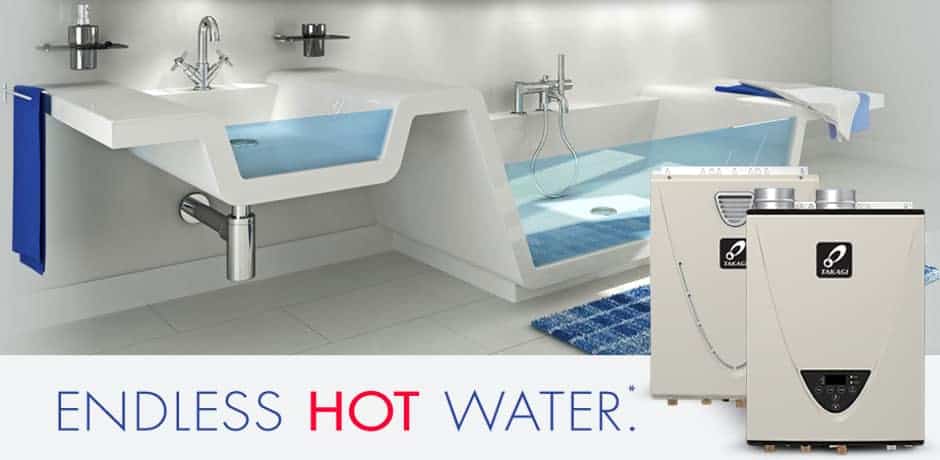 Takagi is another Japanese company that specializes in high-quality tankless water heaters that are designed to help save you money while also being kind to the environment.
Takagi was founded in 1951, and their range of commercial and residential heaters are sold by plumbing wholesalers and contractors only, allowing the company to maintain strict quality control. This is a company that takes pride in offering the highest levels of customer service and that also places great value on constantly driving innovation to offer an exceptional product.
The company claims to be the first company specializing in tankless-only water heaters for the North American market, and the company's heaters are highly efficient, compact and reliable.
All the company's North American operations were acquired by A.O Smith in 2010, so this brand is now also backed by one of North America's largest and best-known water heater companies.
This brand offers attractive warranty options, giving you peace of mind that the company will back you up should you have any problems with their products.
Takagi Top Rated Water Heater: Takagi T-H3-DV-N Condensing High Efficiency Natural Gas Indoor Tankless Water Heater
15. Whirlpool
Whirlpool is a brand that is probably most famous for making washing machines as well as a range of other household appliances. In fact, the company's first product, an early electric washing machine, was something of a failure, but through his determination, founder Lou Upton managed to turn it into a success, and the company has gone from strength to strength ever since.
Whirlpool now produces gas, propane and electric water heaters. The gas and propane versions are available in sizes ranging from 30 gallons to 50 gallons while the electric units are available from six gallons to 50 gallons.
As you would expect with such a well-known company, Whirlpool's heaters are all reliable units. Models are available for just about any size of home, and with warranties ranging from six to 12 years, you know you are buying a reliable product from a brand you can trust.
Many solid brands to choose from
As you can see, there are many brands to choose from. Some of them have been around for many years while others are relative newcomers to the scene, but each one has its relative strengths and weaknesses, and sometimes it can be hard to make a decision.
If you are in the market for a new water heater for your home but you are having a tough time deciding which brand to place your trust in, any of the manufacturers in this roundup would be a great place to start looking.