Whatever style you pick for your bathroom, the choice of door is the final addition to its appearance. Barn door for the bathroom is increasingly popular in modern homes. That is s safe and easy-to-use model, plus you can install it on your own.
Nowadays, you can choose among a variety of designs and colors of the barn doors available on the market and install one that fits the design of the rest of your home. However, keep in mind that this is not a long-lasting solution because of the material they are made of.
Advantages and Disadvantages of Barn Door for Bathroom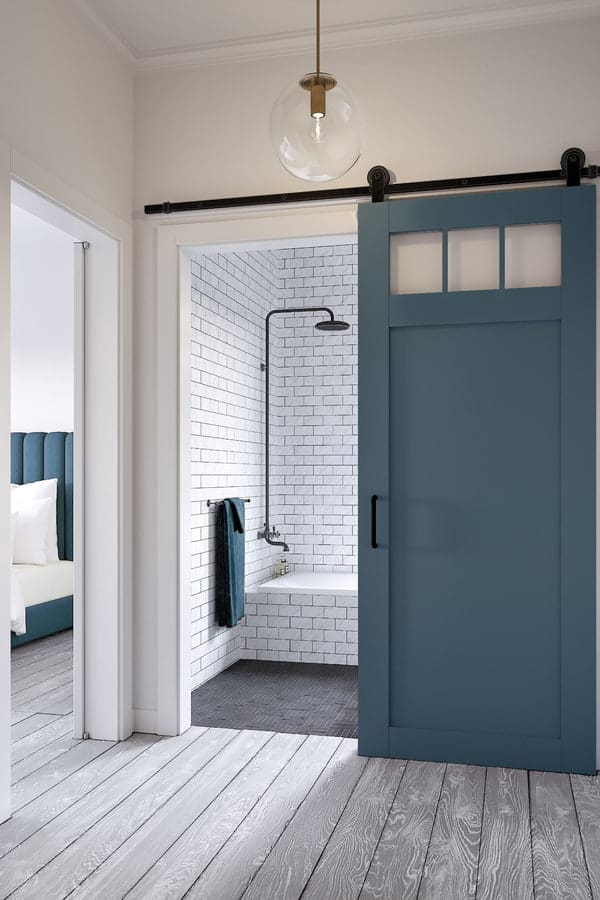 1. Save space
Many houses have small bathrooms. If this is your case, and you want to use every inch of space you have, a barn door for the bathroom is an excellent option for your home. As you probably know, traditional swinging doors take up space up to 11 sq. ft (1 m2).
On the other hand, the great advantage of a barn door for the bathroom is that it slides along the wall when you open it. That means you will get extra space for a cabinet or dirty laundry basket behind it.
2. Privacy concerns
The general complaint about barn doors is a lack of privacy since there are gaps on the top and both sides of it once you mount it. That means everyone has a free view behind the door from certain angles.
What you can do is to mount the door as close to the wall as possible. Another way to increase the privacy of the person using the bathroom is to choose the door that is significantly wider than the opening in the wall.
There is one more issue with the barn door for the bathroom. Well, sometimes it can slide on its own, which will lead to an uncomfortable situation, usually at the worst possible moment.
Therefore, you need to install a lock and wall- or floor-mounted guide. That way, you can be sure that your door will stay close after you shut it up. Plus, it won't bump or scratch your furniture uncontrollably.
3. Sound and odor protection
Although ordinary, hanging door requires some space, it closes tight. You can still hear the sounds from the bathroom, but they are quieter. Plus, no unpleasant smell can get in the room or hallway.
On the other hand, if you have the barn door for the bathroom, you can almost imagine you are in the bathroom with the person using it. Unfortunately, this model offers minimal sound and odor protection or none of it.
The blame for this flaw lies with the gaps between doors and walls or floor. They provide airflow between the rooms and allow the sound to pass the door barrier.
Therefore, if you only have one bathroom in the house and you share it with the rest of the family, this option is probably not for you. You don't want to share sounds of showering and using the toilet with everyone.
If you need this particular type of doors, you can make a difference by choosing quality material. For example, a solid wood door is slightly better at soundproofing than a hollow model.
There is one more thing you need to take care of. Since the barn door makes noise while you slide it, you should be careful while picking out the track. If you don't have a rug or hush wheels, the scraping of metal will start getting on your nerves very soon.
barn door for bathroom with lock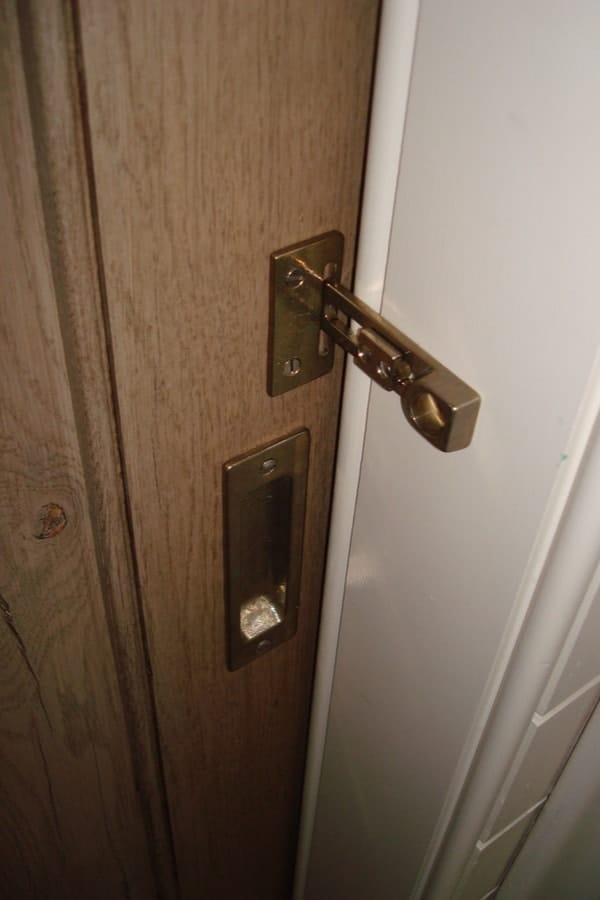 Barn door for the bathroom doesn't have the usual key and lock. Still, you may have a habit of locking the bathroom door, especially if you have a toddler. Plus, your guests won't feel comfortable while using an unlocked bathroom in someone else's house.
However, this doesn't mean you need to give up on the barn door. You can always install a teardrop latch, hook, or eye latch. All of them are affordable and easy to mount. In fact, everything you need for installation is a couple of screws.
If you are the kind of person who wants a more complex locking system, a self-latching barn door lock can be helpful. The best thing is that you can lock and unlock the door on both sides in such a case.
Bathroom barn door Design and Styles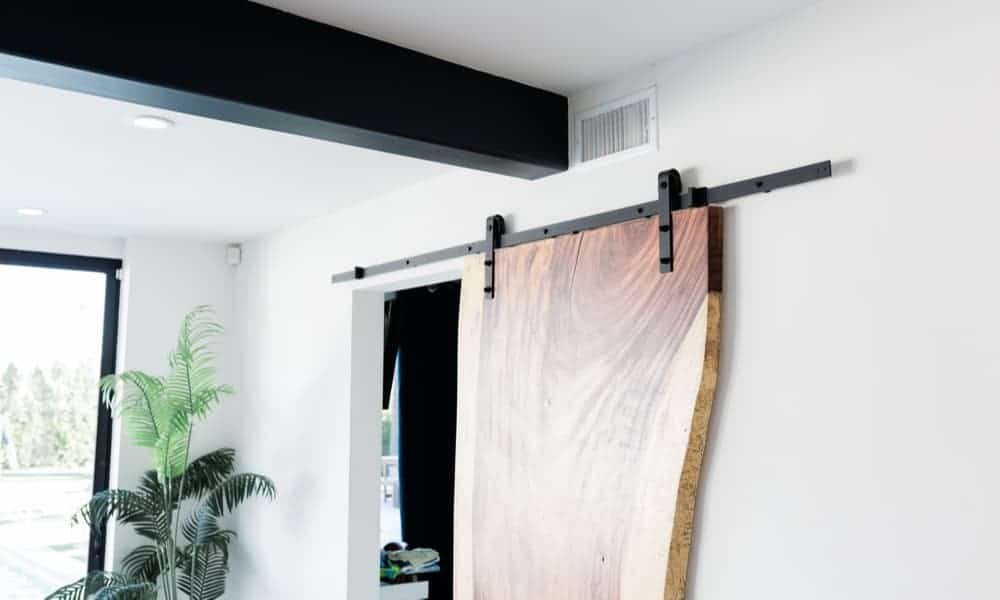 Most people's first thought when it comes to barn doors is that they are inconspicuous, plain, wooden sliding doors without particular beauty or elegance.
However, today you can order a custom-made barn door for the bathroom in numerous colors or designs. That way, the ordinary door will quickly become both a functional and decorative piece.
Also, you may think that a wooden barn door is the wrong choice for the bathroom where the humidity is high. However, these days you can avoid moisture problems by choosing a model made of wood with a water-resistant layer.
Plus, you can design your bathroom so that bathtub and shower come on the wall opposite the door. That way, the impact of moisture will be minimal. However, it wouldn't hurt to wipe your door with a dry cloth after taking a shower, just in case.
At the moment, one of the most popular choices is the wooden, carved barn doors in natural color. However, you can pick out a geometric pattern or so-called X-shape door. The excellent idea is to incorporate the full-length mirror on the inside of the door, as well.
Even though your door is not decorative by itself, you can add some hardware details like track rails or rustic drag handles, for example. If you decide to add a wrought iron on your barn door for the bathroom, it will become an exquisite and valuable piece.
One more thing! Every barn door has a functional door pulls. It's up to you to purchase an elegant model that will improve an overall esthetic effect. Go for unusual door pulls, such as ornamented or engraved ones, and enjoy their beauty.
Bathroom Barn Door Installation
If you are handy with DIY projects, you can hang a barn door by yourself. Basically, it is not a complicated task, but it can be quite physically strenuous. So, you should ask for help once you set up the track system and header.
The first thing you need to do is to attach the track system to a mounting board or blocking. You want to be sure that it can hold the weight of the door. If it is possible, ensure that track has at least double-width of the barn door.
Also, choose a door that is larger than the opening in the wall. That way, gaps between the wall and the door will be minimal. In an ideal case, your door can block all the light from the top and both sides when you close it.
Don't forget to contact a professional electrician if you have a switch or outlets on the wall, on which you plan to mount your new barn doors. You need to be sure that you won't damage the electric wires while drilling the holes for the track.
Always follow the instruction you got in a package and carefully hang the door. Check if you have problems with opening and closing it. In the end, add anti-jump discs on each end to prevent the door from coming off the track.
Bathroom Barn Door Costs
Many people think that the barn door for the bathroom is cheaper than a regular door because it doesn't require a doorframe. However, this may not always be true. In fact, the price of a barn door depends on both the dimensions and the material you choose.
For instance, the prices for the lightweight sliding door made of pine, vinyl, or a composite, start from $200 to $250. On the other hand, you need to pay up to $1000 for the doors made of solid wood, such as walnut, mahogany, or maple.

Plus, you need to calculate the price of a hardware track. It can vary from as little as $150 for the lightweight door to a few hundreds of dollars for decorative elements made of stylish, wrought iron.
Additionally, you should also add labor costs if you can't install the door yourself. It is worth paying a professional to install a door and save you a lot of effort and a few hours of work. On the other hand, it will cost you at least several hundred dollars.
Since the barn door for the bathroom can last for years, you can expect that the initial investment will pay off. Since this model requires only regular cleaning, you won't have to invest anything in future maintenance.
Summary
Choosing the barn door for the bathroom has its advantages, including a variety of styles and designs available, minimum space requirements, and quick installation.
However, there are a few downsides to this choice, such as lack of privacy. In the end, it all comes down to your personal preferences.