DIY is such a rewarding hobby, and much of the time, it can also save you a lot of money since you can build something yourself for much less than it would cost to buy it from a store.
For anyone who wants to build a bathroom vanity, we've scoured the internet to see what other people have been doing – and as a result, here are our favorite 27 homemade bathroom vanity plans you can DIY easily.
1. DIY Bathroom Vanity from Shanyt2Chic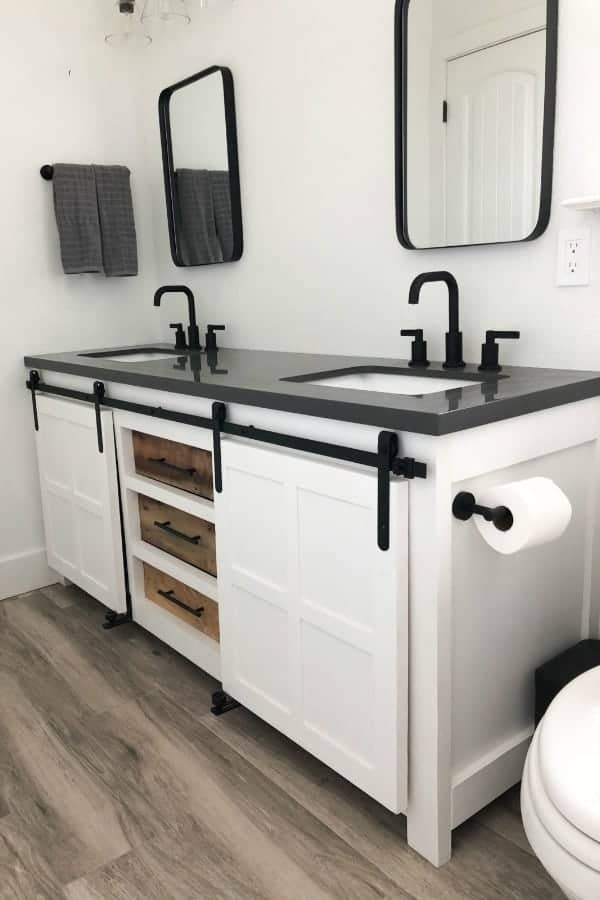 Here's a site we like a lot because their projects match our idea of what DIY should really be – where you take stuff you might already have at home or items that don't cost a lot to buy and turn them into something useful and attractive. That's just what they do here, and with this plan, you'll learn how to make a simple bathroom vanity that won't cost you a fortune. A great place to start if you're looking for ideas and inspiration.
2. How to Build a DIY Bathroom Vanity from Scratch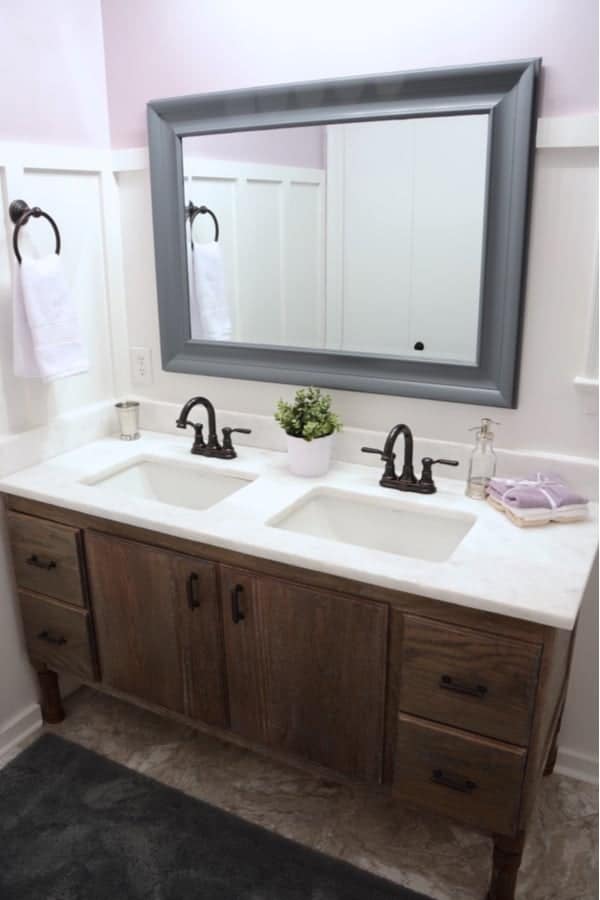 This is another site we enjoy visiting for DIY plans, and here, blogger Serena shows you how to make a bathroom vanity from scratch. We love the tone and the humor of this blog, and the instructions are also clear and easy to follow. There are some useful photos to show you what you should be doing at each step along with a picture of the final result – and it's stunning!
3. DIY Reclaimed Lumber Bath Vanity
If you want to build a rustic-style vanity without having to spend loads of money on the project, this video is one you need to watch. In it, this YouTuber shows you how he made a DIY vanity using reclaimed lumber. As he explains, he is not a professional woodworker, just a keen hobbyist. But if he can produce results like this, then so can you. And that should be a thought that inspires you to give it a go.
Click for more details
4. DIY Bathroom Vanity for $65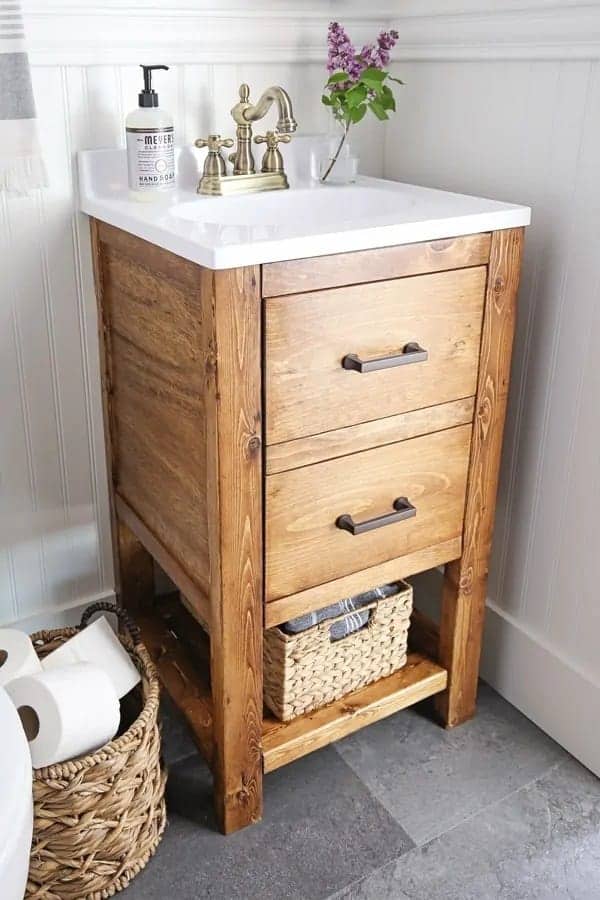 Even if you want to save yourself money by building your own vanity instead of buying one from a store, it's unreasonable to expect it to cost nothing – however, if you compare a mere $65 with what you would have to pay for a ready-made one, this is a plan that is still extremely budget-friendly. Interested in finding out how? Then go check it out!
5. How to Make a Dresser into a Vanity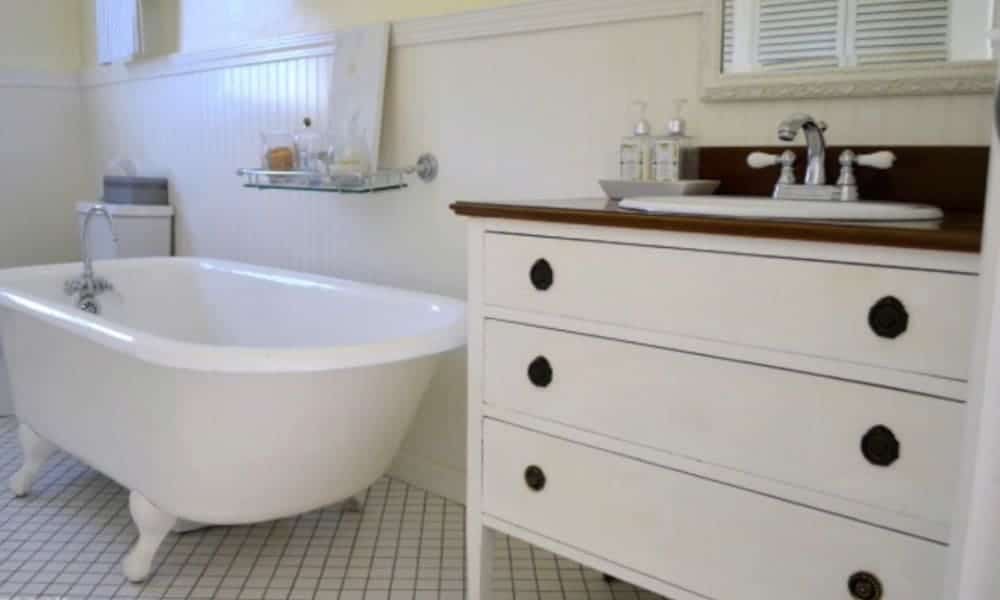 If you want a new vanity, you don't have to build it from nothing. You can also convert another piece of furniture to save you some time, and if you want to know how to make a vanity from an old dresser, this is a plan that explains how. As you can see, even if you have an ugly, old-fashioned dresser, you can still turn it into a beautiful modern bathroom vanity. And that's much better than just throwing it out!
6. DIY Bathroom Vanity (48")
With this plan, you'll need to invest a little more at the beginning – the DIYer expects this will cost you around $200 to build. However, when compared to some of the vanities you might see in a showroom, that's still a reasonable price. And as you'll see, this large bathroom vanity is gorgeous, so we think it's well worth spending the cash.
7. Ikea Hack: How to Build a Small DIY Bathroom Vanity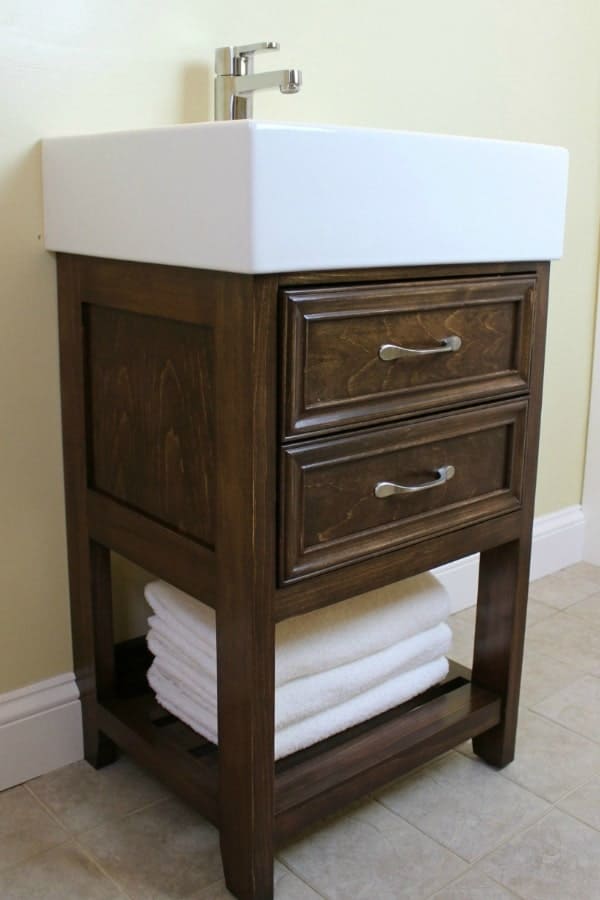 If you have a look online nowadays, there are quite a few Ikea hacks out there, guides to converting worn out Ikea furniture into something new and functional. That way, you can give old objects a second life while saving yourself some money buying new furniture. And of course, there's the sense of achievement you get from completing a rewarding DIY project. This is a hack for building a small bathroom vanity, and if that's what you need, this is a plan that's well worth a look.
8. DIY Bathroom Vanity with Bottom Drawers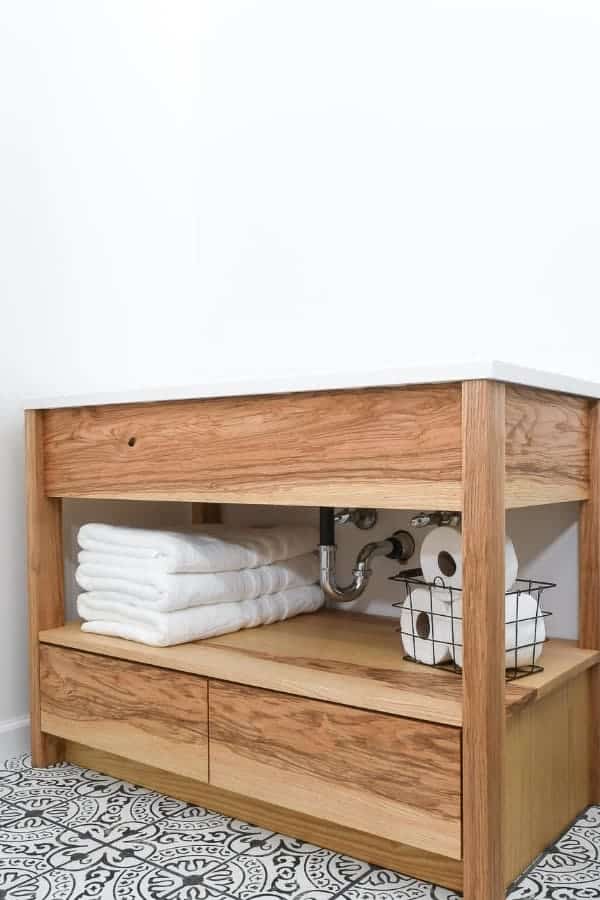 Here we have another DIY bathroom vanity project that is designed to save you money. As this blogger explains, refitting a bathroom can be extremely expensive, and not everyone has the budget for a complete makeover, However, if you follow this plan, you can build the vanity for less, leaving you a bit of extra cash to spend on other aspects of your redesign.
9. DIY Traditional Vanity Cabinet Build
For anyone looking for a plan that shows you how to remodel a whole bathroom, this video is worth checking out. This part is about how they made the vanity, but if you like their work, you can also check out the other videos on their channel that show the rest of the project. Another recommended watch.
10. Small Size, Big Style DIY Bathroom Vanity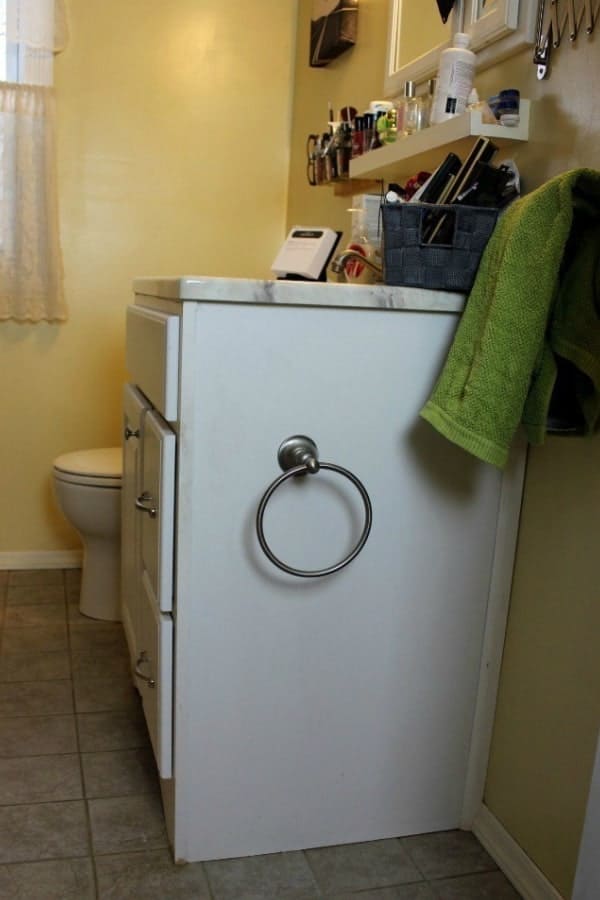 Just the title of this project makes it sound like something many people will be interested in trying. So many of us don't have the big bathroom of our dreams, and we have to make the most of limited space. If that sounds like something you can relate to and you want to build a beautiful vanity for a smaller bathroom, this could be the plan for you.
11. DIY Make a Wood Bathroom Vanity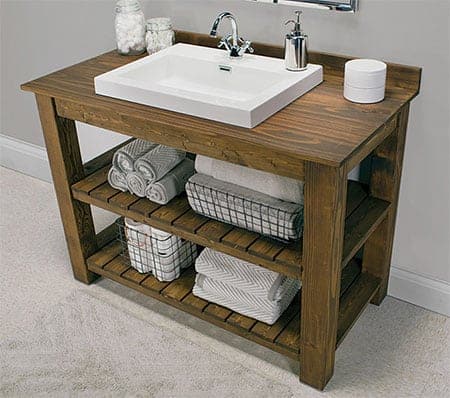 The first thing that stands out on this page is the photo of the vanity you're going to build. If you didn't know it was a DIY effort, you would never guess – it looks so professional. Some DIY projects look so…well, so DIY, but not this one. So if you want a high-quality addition to your bathroom that you can build with your own two hands, this plan is for you.
12. How to Make a Wall-Mounted Bathroom Vanity
This is a video that shows you how to build a wall-mounted vanity. Again, not everyone has as much space as they'd like, and if you need something compact that will help you make the most of a smaller bathroom, this DIYer will give you some ideas on how to do it.
13. Make a Floating Bathroom Vanity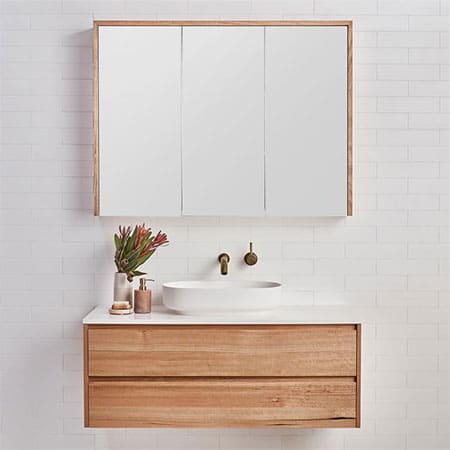 If you liked the classy vanity in #11, you should also check this plan out because it's written by the same people. Again, it looks totally pro, and visitors would never believe you'd build it yourself. This time it's a floating vanity, which is ideal when space is at a premium. If that sounds like your home, this is an idea you need to see.
14. How to Build a DIY Modern Floating Vanity or TV Console – by Shara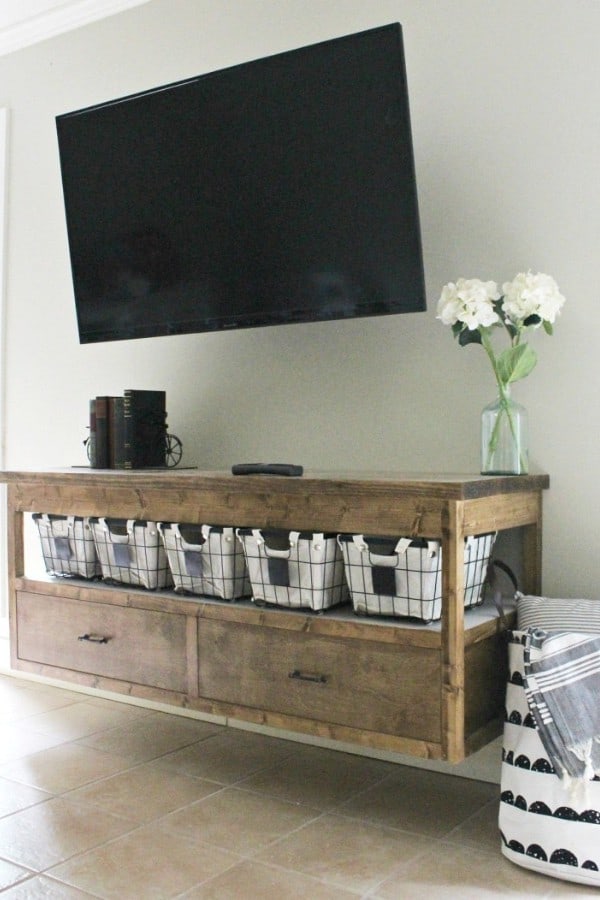 This is a versatile plan that can be adapted to make either a floating bathroom vanity or a place to put your TV. Since it's a more general plan, you might need to adapt it a little – but it's definitely one that should give you a few ideas about the kind of thing that's possible.
15. DIY Bathroom Vanity
Let's start by saying we think this video is a bit of a cheat since – as he admits right at the beginning – he didn't DIY it at all; he had his contractor build it for him. That aside, the vanity he had built is stunning, and this is a video that should be a source of inspiration at the very least.
16. DIY Bathroom Vanity – by Shara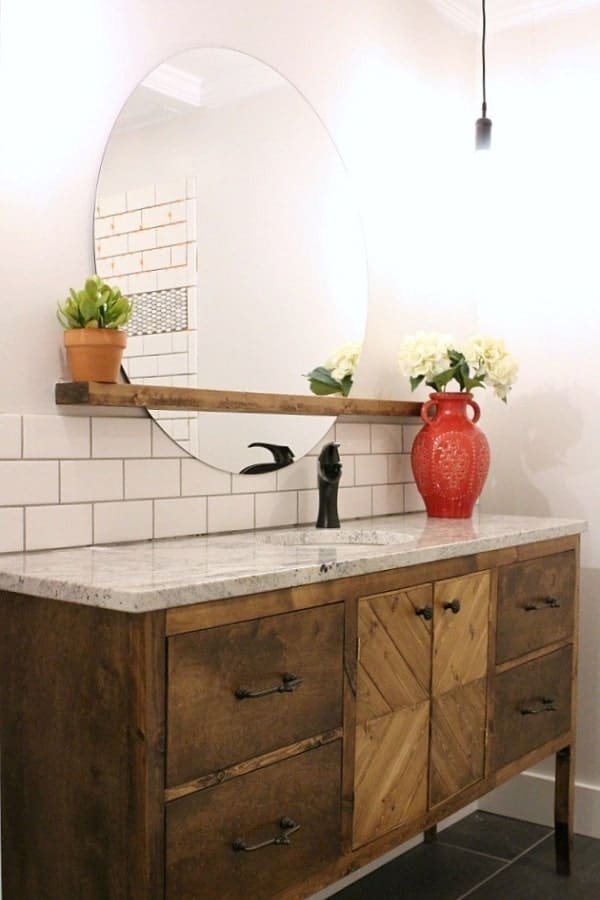 Here's another plan by Shara. In fact, we've included three of her plans – check out #17 below, too – but that's because she's a talented DIYer with lots of great ideas, so why not? The vanity she builds here is a large rustic-style model that we love – and if that's the look you like, this is a plan you might enjoy.
17. Faux Drawer DIY Double Bathroom Vanity – also by Shara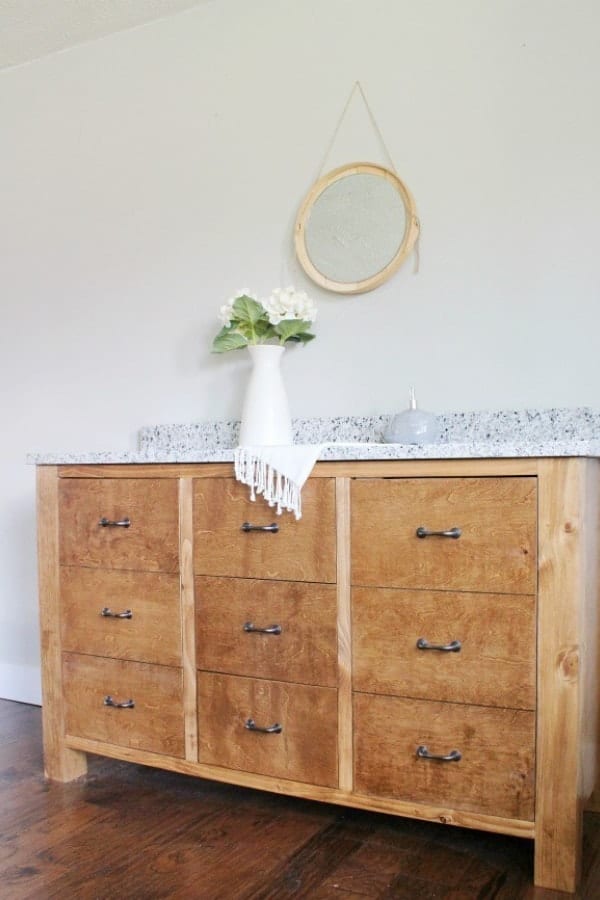 Shara's third plan in our list shows you how to build a double bathroom vanity with faux drawers. It looks fantastic, and as with her other plans, there are good instructions and plenty of photos to show you what you're supposed to be doing. Great job Shara, we're fans!
18. How to build a Small Bathroom Vanity DIY
This is a fun video that shows you how to build a small bathroom vanity from rustic hickory, an especially attractive wood to work with. As he explains, this is not a complicated project, making it a good option for anyone who doesn't necessarily have the most advanced DIY skills. This means even DIY novices will be able to finish the job in only a day or two. Want to try? Then give it a watch!
19. Vintage Dresser to Bathroom Vanity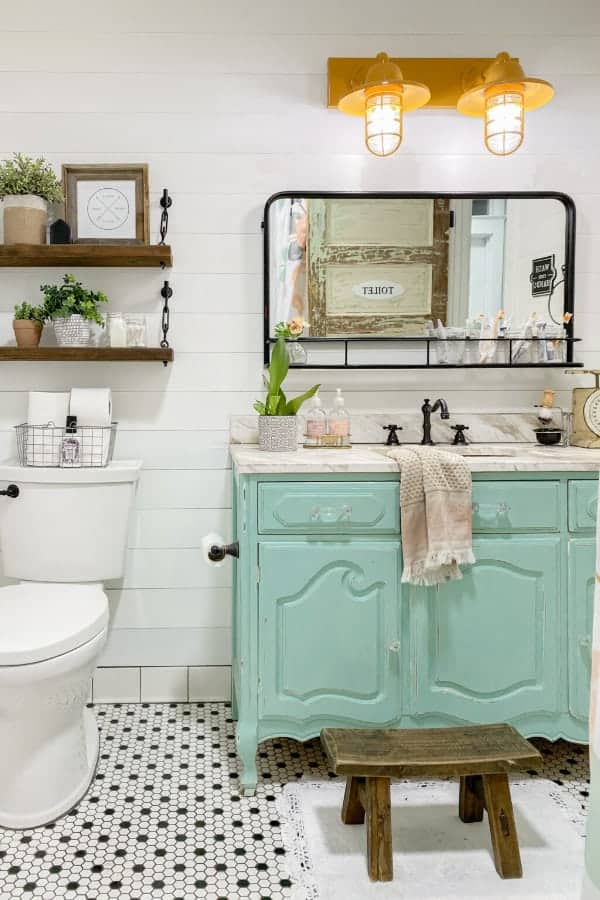 The vanity in this plan is one of our favorites. We love the vintage style, and the color scheme in the bathroom is adorable. This is another plan for a conversion, so if you want to make good use of an old, worn-out dresser, this plan will show you what to do.
20. How to build a bathroom vanity
We're not quite sure what to make of this since the choice of music seems a bit…unconventional. However, we always love watching these time-lapse videos of people working on their DIY projects because it's so much fun to see everything start to take shape. Check it out and decide for yourself!
21. DIY Floating Bathroom Vanity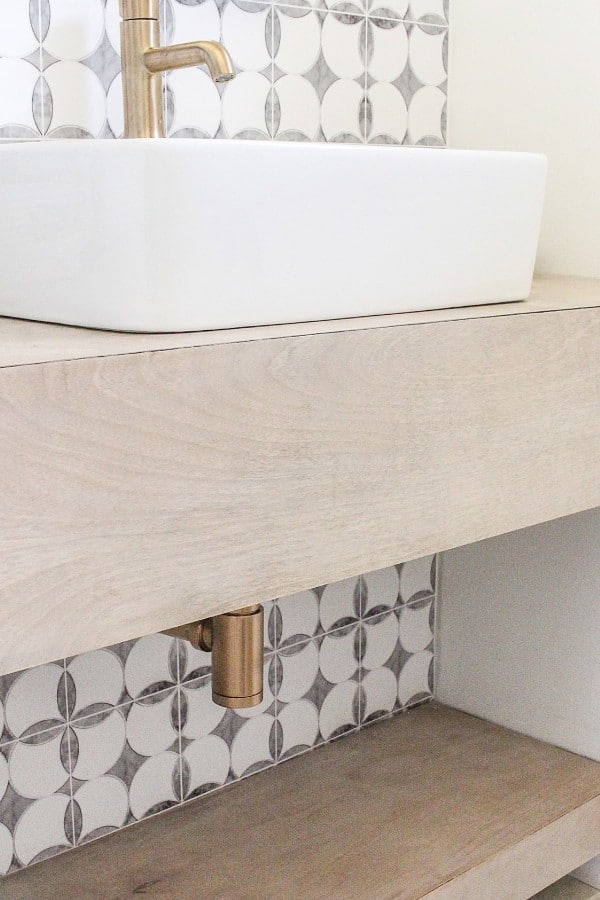 This is a simple plan for a floating vanity that's easy to follow and shouldn't cost you too much. You'll find a list of everything you need for the project along with clear instructions for what you need to do. The photos should give you plenty of inspiration, too.
22. Rimu Veneered floating vanity
Here's a video of a professional at work, so you might not have all the same tools as him at your disposal. However, we still think it's worth watching since you can pick up a lot of tips about improving your woodworking skills, and it should also give you a few ideas about the kinds of things you can achieve.
23. Small Bathroom Vanity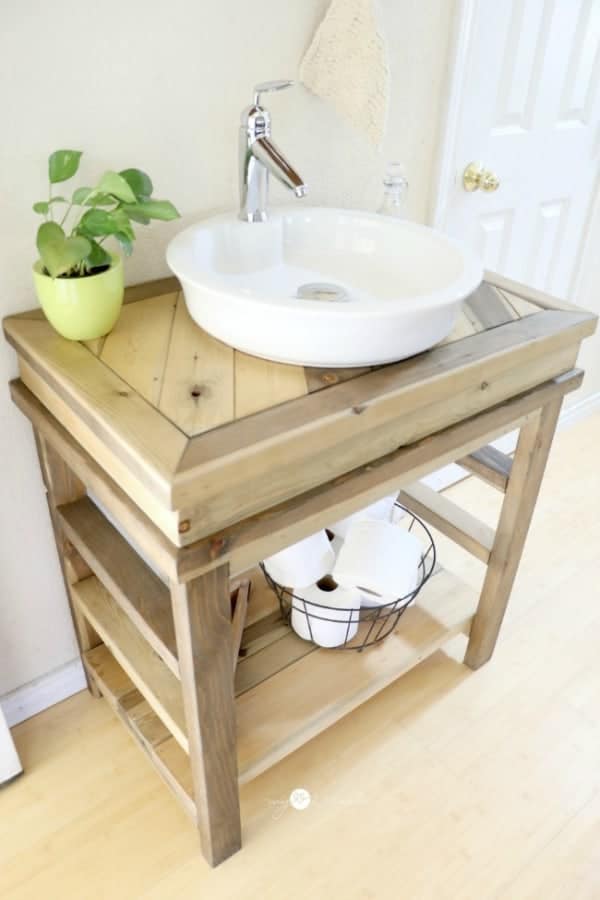 With this plan, you can make a small, uncomplicated vanity that will look great in your bathroom if you're short on space. There are plenty of explanations concerning the steps you should be following, and there are also lots of photos to show you what you need to do at each stage of the project.
24. 48″ Turned Leg Vanity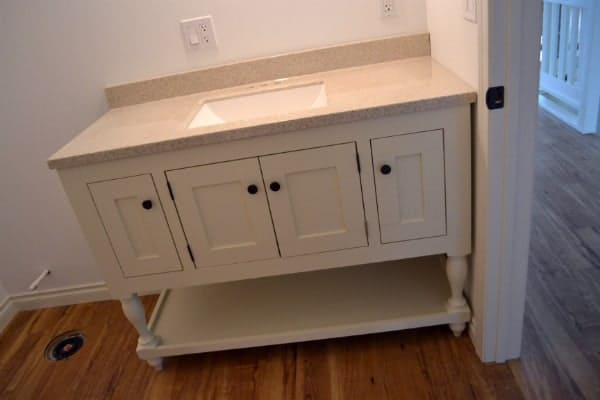 If you do have space, on the other hand, you can look at plans for larger bathroom vanities, and if you're fortunate enough to be in that position, this farmhouse-style option could be one that's worth considering. We especially like the clear photos and diagrams that show you exactly how to work out the measurements. A well-written plan that most people will find useful.
25. DIY Modern Bathroom Vanity
This is a simple video that is light on instructions but that rather just demonstrates what needs to be done. Again, the end result is highly professional, so if you want to have a go at something that will be sure to impress your guests, this could be another one that's worth trying.
26. How to Build a DIY Vanity for Less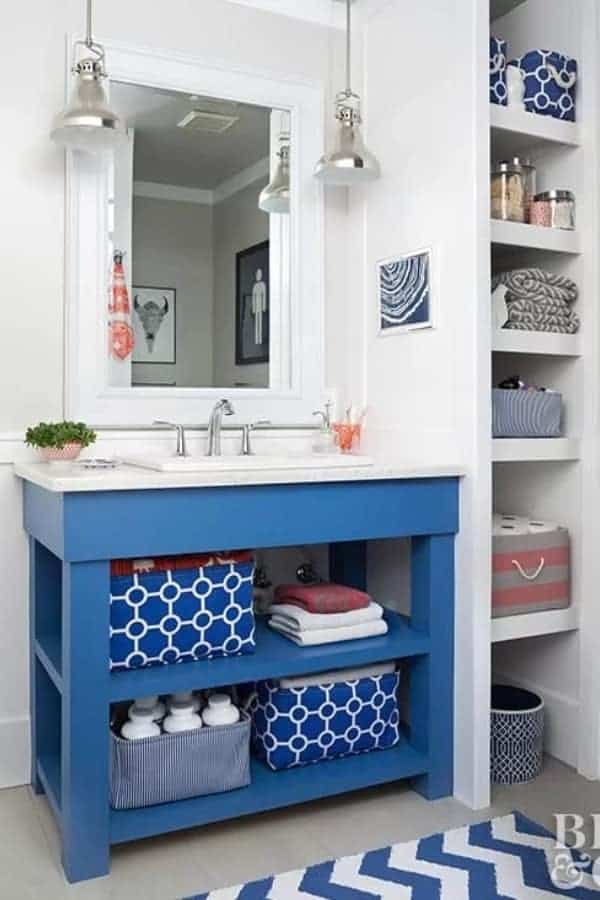 There are lots of reasons why people build DIY furniture. Some enjoy the process while for others it's the satisfaction of the finished project – but for many, the fact that it allows you to save some money comes high on the list. If that's something you can relate to, this budget-friendly DIY vanity could be the kind of thing that will appeal.
27. Building TWO Vanities for half the price of buying JUST ONE
In the final video we found, this YouTuber explains how he built these two vanities for a fraction of the price he would have paid buying jus one ready-made – and the quality is also way better than store-bought furniture. In fact, there are only advantages and no disadvantages, so why wouldn't you want to try?
So much inspiration to be found
We always love looking for DIY plans like this because the creativity and inventiveness on display never fail to inspire us to have a go ourselves.
We hope you've enjoyed these plans as much as we enjoyed finding them for you, and above all, we hope you've found the inspiration you need for your next DIY project.