Bathroom signs are a simple and inexpensive way to brighten up your bathroom with a bit of style or humor, and they're a great way to give your bathroom your own personal touch.
For those who want to have a go at making some themselves, we've had a look online to see what other people have been trying – and as a result, here are our favorite 27 plans for DIY bathroom signs you can easily attempt at home.
1. DIY Bathroom Farmhouse Wood Sign
One of the best things about signs is that, since you can include any message you like on them, they're an ideal way to personalize your bathroom. In this tutorial, you learn how to create a farmhouse wood sign with the help of a Cricut machine. It's simple to make and looks great, so if you like this style, it's a great plan to copy at home.
Click for more details
2. Easy Bathroom Sign DIY
In this video, this bubbly and enthusiastic YouTuber shows us how she made an easy bathroom sign using only basic techniques and a few inexpensive supplies that you probably already have at home. As she explains, there are several ways of creating the lettering, allowing you to come up with the design of your choice to add a stylish decorative touch to your room.
3. $1 DIY Bathroom Décor Ideas
If you like the video in #2, this is another one to check out – because it was uploaded by the same YouTuber. In this tutorial, she shares a few ideas for decorating your bathroom on a minimal budget, and one of the suggestions she includes is for a bathroom sign. However, you might find you like some of her other designs too, making it a video that's well worth a watch.
4. DIY Painted Bathroom Signs
Here's a tutorial for making a set of cute DIY bathroom signs that will add an extra personal touch to your bathroom. In it, this blogger shows us how to make the signs using some cheap wood boards, a bit of paint and some stencils for the writing. It's such a simple design to copy, but the result looks great – so why not have a go at making something similar yourself?
5. DIY Dollar Tree High-End Bathroom Sign Set
Some people might turn their nose up a little at the thought of DIY because they think things people make themselves look cheap and amateurish. However, if you know what you're doing, that doesn't have to be the case, as this tutorial proves. In it, this YouTuber teaches us how to make a bathroom sign set that looks high-end – but that was made with just a few inexpensive items from the Dollar Tree. Intrigued? Then check out the video to see how she did it!
6. DIY Bathroom Signs
This is an interesting blog post to read. In it, this DIYer tells us about a challenge she attempted with her blogging friends to make some high-quality decorative items using just dollar store supplies. Her effort included making a set of chic bathroom etiquette signs, and as she writes, they turned out looking "fabulous" and "high-end". And if that sounds like the kind of thing you want too, her post is well worth a read.
7. High-End-Looking DIY Bathroom Sign
In this video tutorial, this YouTuber demonstrates her process for producing stylish-looking wood signs that can add a cute personal touch to your bathroom. Her plan is easy to copy, but the sign she creates is large and bold, providing touch of humor that will make her guests smile every time they visit the bathroom.
8. DIY Bathroom Sign: Using the Cricut EasyPress on Wood
Adding a sign to your bathroom is a great way of expressing your personality through your décor, and you can easily imagine what kind of person the blogger who designed this "silly" wood sign is! As she tells us, brainstorming the words was almost as much fun as making the sign itself, so all in all, it sounds like a project lots of people will enjoy trying themselves.
9. Dollar Tree DIY Farmhouse Bathroom Signs
If you're looking for a detailed explanation for how to make signs for your bathroom, this could be just the tutorial you need. In it, this YouTuber takes you through all the steps you need to follow to make a set of your own, giving you a list of all the supplies you'll need and describing clearly everything you need to do to recreate her ideas at home. It's an easy plan to follow, and most people will be more than happy with the results, so all you need to do is come up with the messages you want to write.
10. DIY Industrial Farmhouse Bathroom Sign
The farmhouse style is incredibly fashionable at the moment, and there's no shortage of great plans to help you get inspired. This is one we liked a lot due to the high quality of the work and the professional look of the finished items. It's not difficult to copy either, so it's a plan we're sure lots of people will enjoy.
11. DIY Cute Bathroom Signs
In this plan, you get to learn how to make two different versions of bathroom signs, one, a classic framed version and the other, a more contemporary style. As she explains in the introduction, one of them she made using Photoshop – so you don't even need to have advanced software or materials to make something that's sure to impress your friends.
12. So Fresh and So Clean DIY Bathroom Sign
Here's a great idea for a stylish bathroom sign that's extremely affordable as well as being super-simple to make. The blogger even includes a free cut file, so if you like her design, you can copy what she did exactly, right down to the words and the font.
13. Dollar Tree Bathroom DIYs – Décor and Organization
Bargain Bethany is one of our favorite DIY YouTubers right now. She specializes in making attractive decorative items from Dollar Tree supplies, and she also has an irrepressible personality that makes every one of her videos a joy to watch. In this tutorial, she teaches us how to make a range of items for the bathroom – including bathroom signs – so if you're looking for ideas, this is a great video to check out.
14. DIY Nautical Bathroom Sign
Another enduringly popular bathroom style is the nautical theme, and if you want to bring a touch of sea, sun and sand to your home, this plan for seaside-related signs should give you a few ideas. There's a touch of humor in there too, but we won't spoil it – we'll let you check out the blog and find the joke for yourself!
15. Farmhouse Bathroom Decor DIY
"Farmhouse" is a funny style. It's supposed to look rustic and inexpensive, but at the same time, people often end up spending a whole lot of money trying to achieve the desired effect. However, if you want the countryside look without having to spend big bucks creating it, this is the video for you since it shows you how to make attractive signs that will cost you very little to recreate.
16. DIY Bathroom Door Signs
The signs this blogger made are quite an original design, and we enjoyed reading the story behind why she made them too. Her plan involves the use of a few basic craft supplies – including Mod Podge and vinyl lettering – and it's so simple that anyone will be able to do it themselves. It's easy to customize too, so you can use these ideas to make any signs you like.
17. Cricut Bathroom Sign DIY
If you have a Cricut machine, this is a plan that should be of interest. In it, we learn how to make a classic-style bathroom sign from wood along with lettering made using Cricut software. As the YouTuber tells us in the introduction, it was a fun project to attempt – so we're sure lots of other DIY fans will enjoy having a go at making something similar.
18. Easy Reverse Canvas Signs with Funny Bathroom Sayings
Have you ever wondered about the reverse canvas technique and why it's so popular? If so, this is the tutorial for you because it answers all your questions about why this method is so useful. It then teaches you how to make cute signs for your bathroom using the technique, allowing you to jump in and try it out right away.
19. DIY Farmhouse Bathroom Signs
A lot of the tutorials and plans we've seen for bathrooms signs are all quite similar, but the design this YouTuber has come up with is a bit more original. The letters appear to be "floating" free in the center of the frames, which creates an interesting, attractive look that many people will like – and if you're one of them, you shouldn't have too much difficulty making something similar for your bathroom.
20. DIY Victorian Cameo Bathroom Signs (with an optional Cricut Tutorial)
This is another of the more creative designs we've come across for bathroom signs because this one teaches you how to make them in a Victorian style. You can create the designs by hand, but if you have a Cricut, there's a tutorial for using that too, so this is an idea lots of people will be keen to recreate at home.
21. Dollar Tree DIY Bathroom Sign Quick and Easy Project
DIY bathrooms signs don't need to be expensive to make, and they don't need to take a long time either – as this tutorial shows you. In it, you'll learn how to make cute signs from affordable materials, and it's super-quick to do too!
22. DIY Hanging "Bath" Sign Tutorial
Almost all the plans for signs we've seen are for versions that are attached to the wall. However, this one teaches you how to make an impressive hanging sign – and it's a design we love. This sign can give your bathroom a wonderful old-times look, so if that's a style you appreciate, why not have a go at making one yourself?
Click for more details
23. Dollar Tree DIY – Farmhouse Bathroom Decor
The signs this YouTuber shows us are so simple and inexpensive to make, so you can easily create a set of them to place in different parts of your bathroom. You'll be pleased with how they look too, and any guests to your house are sure to love them.
24. DIY Dollar Store Farmhouse Decoration Ideas and Hacks
This blog gives you a range of fun dollar store suggestions for bathroom décor, including bathroom signs, so if you're in need of ideas and inspiration, this post is well worth a read. Our favorite is the bathroom sign with hessian – what about you?
25. $1 Easy and Practical Farmhouse Bathroom Décor DIYs That You Will Want to Try
Just like the blog post in #24, this YouTube video brings you a range of affordable ideas you can attempt to liven up your bathroom. Bathroom signs are among the possibilities, but there are plenty of others too, so if you want to give your bathroom a makeover, this video is recommended watching.
 26. DIY Bathroom Art with your Cricut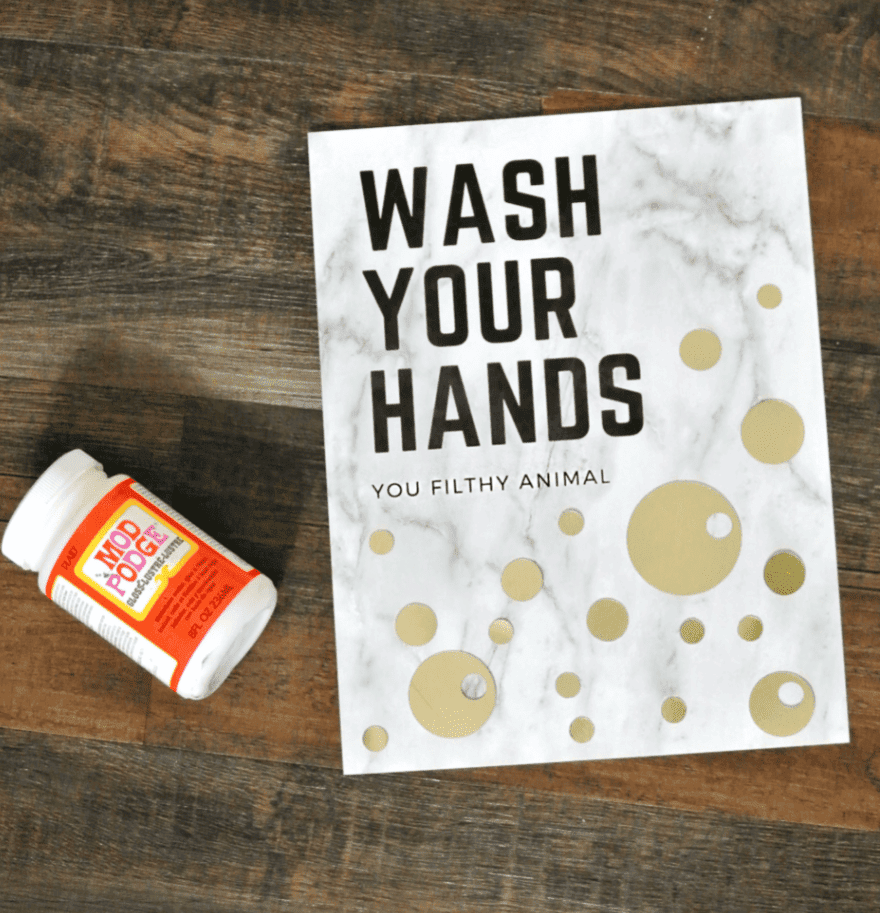 If you're serious about craft, a Cricut machine would be a smart purchase – and for anyone who owns one, plans like this idea for bathroom art will instantly become possible. These bathroom signs are simple to reproduce but look fantastic – check out the plan to see if you agree!
27. Easy DIY Reverse Canvas Bathroom Sign
Like the plan in #18, this is another idea for using the reverse canvas technique to create cute and stylish bathroom signs. The sign this blogger makes is a simple "bathroom" motif, but once you know how to do it, you can get as creative as you like making others yourself. But even if you just copy the one they made, it will still look great hanging on your bathroom door!
Plenty of ideas and creativity to inspire you
As you can see, there's no shortage of plans for bathroom signs to fire your imagination and get your creative juices flowing.
We've enjoyed collecting these plans for you, so we hope you've enjoyed watching and reading them too. And above all, we hope the plans we've included have helped you find the ideas and inspiration to get started on your next DIY project.