Most people love the beach and the sea, but not everyone is fortunate enough to live close enough to go to the seaside as often as they might like. So it's no wonder that beach-themed bathrooms are popular since they remind us of the sea when we don't have time to go there.
Giving your bathroom a nautical theme and a touch of sea, sand and sun is neither difficult nor expensive. We've had a look online to see what other people have been trying, and here are 27 plans for DIY beach bathroom décor that should give you some ideas for how to do it.
1. Budget-Friendly Beach Themed Bathroom Makeover
If you're looking for ideas for a beach-themed bathroom makeover, this blog will be a great place to start. Over six weeks, these DIYers worked on giving their bathroom a fresh new look, and in this, the final instalment, they reveal how the finished job looks. We have to say, we think they've done a fantastic job, and their design should also help you start thinking about the kind of thing you can do in your bathroom.
2. Dollar Tree DIY Coastal Beach Decor
Giving your bathroom a beach theme is all about the small touches and the decorative elements you add, and this video shows you how to make a range of them, all using Dollar Tree supplies. These are inexpensive ideas that anybody will be able to manage, and they'll give your bathroom an attractive beach feel that you'll love.
3. Beach-Themed Bathroom Decor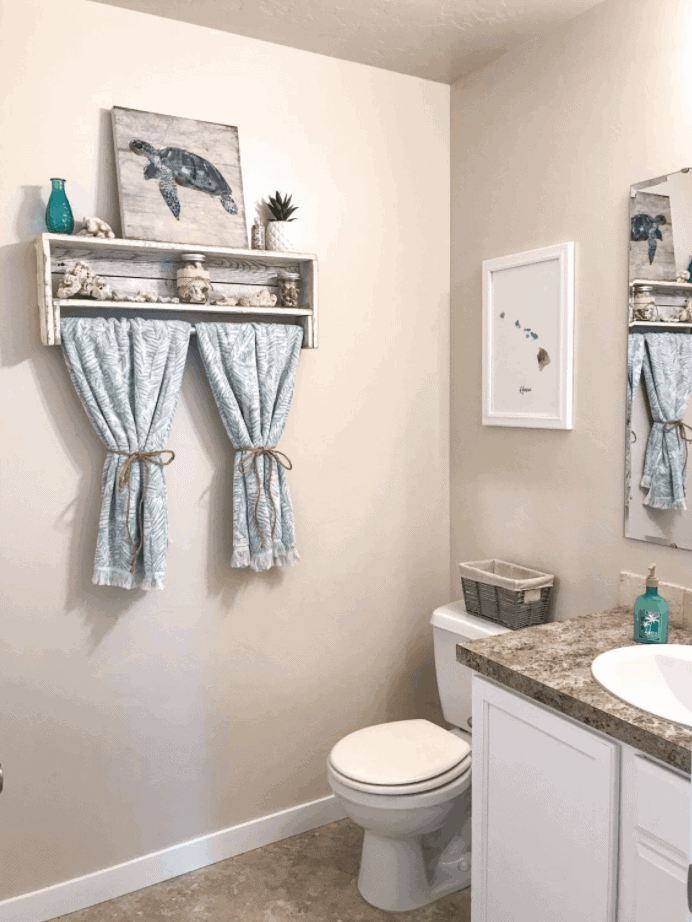 The bathroom makeover featured in this post was inspired by a trip to Hawaii's Big Island. After returning from their trip, this family decided they wanted to incorporate a bit of the beach into their bathroom to remind them of the sand and the sun when they couldn't be there for real. There are loads of cute elements to their design, but our favorite is the turtle. What about you?
Click for more details
4. Dollar Tree Beach Décor DIYs
One of the great things about the beach look is that, with a little creativity, it can be done on a shoestring budget. That's what this video tutorial teaches us because this YouTuber created her beach décor using only inexpensive Dollar Tree supplies. However, despite being highly affordable, we love the way it turned out. Check out the video to see what you think!
5. How to Get the Beach Bathroom Vibe Using Simple Design Details
Creating a beach theme in your bathroom helps give it a light, fresh and breezy feel, and as this blogger writes, the way to achieve it is to incorporate a few carefully considered details along with the right color scheme. And if you're looking for suggestions, this post goes on to give you plenty, allowing you to find the ideas you need that will work best in your interior space.
6. DIY Small Bathroom Makeover – Beach Theme
Even the smallest bathrooms can be livened up by giving them a beach theme, and if you're looking for inspiration, this video tutorial has all the ideas you need. From jars of shells to towels with seaside-related motifs and seahorse prints, there's so much here that you can adapt to your bathroom to give it a touch of that relaxing sun and sea vibe.
7. Inexpensive DIY Beach Decor Ideas
Ok, so this blog post is actually about a bedroom rather than a bathroom – but since creating a beach theme is all about the colors and the decorative elements you choose to include, many of the same ideas will work anywhere. There are loads of great suggestions here that will look great in a bathroom, so feel free to borrow anything you like!
8. Dollar Tree Beach-Themed Wall Décor DIY
This video tutorial teaches you how to make adorable beach-themed wall décor that's simple to create using nothing but supplies from the Dollar Tree. It includes shells, netting and turquoise jars, and although it's an easy design to copy, the effect is stunning. Another great idea that will contribute to your seaside-style bathroom.
9. DIY Beach Décor: Coastal Wall Art Collection
Here's a great plan for creating seaside-themed wall art using a mold. Once you've made the individual pieces, the uses for them are limitless – but we particularly like the way they've been framed in the photos. It looks like a fun project too, so if you're the type of person who enjoys a bit of craft, this could be a great idea to copy.
10. Dollar Tree DIY Nautical Decor
There's no shortage online of plans for creating DIY beach-themed decorative items using stuff from the Dollar Store, and here's one more we enjoyed a lot. In her video, this YouTuber shows us how to make several cute pieces that will instantly give your bathroom a nautical touch. They're all easy to make too, so just about anybody will be able to recreate her ideas at home.
11. A Slightly Coastal "Waterside" Home Tour
Here's a post that's full of coastal ideas – because in it, this blogger gives us a tour of her whole house, to which she has given a seaside theme. The bathroom itself has some attractive beach-type items, but the other rooms are all tastefully decorated too, so you should be able to find plenty of inspiration in what she's done.
12. Dollar Tree DIY – Nautical Beach Décor
If you like the Dollar Tree ideas we've already included and are looking for other similar things to try, here's another video you should enjoy. In it, we learn how to make cute decorative items like a lifebuoy and some model boats that will give your bathroom an unmistakable touch of the seaside.
13. Unique Ways to Use Lighthouses for Décor
Along with things like ships and shells, there are few things that say "coastal" like a lighthouse. So whether it's in the form of an image, a model or a motif, incorporating lighthouses into the décor of your bathroom will bring that quintessential seaside feel – and this blog post gives you several ideas for how to do it.
14. Dollar Tree DIY Nautical Decor
Giving your bathroom a nautical door will let your guests know what to expect when they pass through it, and if that's something you might be interested in trying, this tutorial shows you how to do it. Better still, it's all possible using only stuff you can pick up from the Dollar Tree, so it's an extremely affordable design too!
15. Dollar Tree Beach Home Décor Ideas
We loved this video because the YouTuber who made it has such a great sense of humor! She also has some pretty creative ideas about how to use Dollar Tree supplies to create a cool beach vibe, so give her tutorial a watch to see what she came up with.
16. DIY Nautical Bathroom Décor
The budget for this beach-themed bathroom makeover we see in this video was a little higher than for some others, although, at around $80, it can hardly be considered excessive. As you can see, each item incorporated in the overall design looks classy and stylish, so if you have a little more to spend, this could be a great place to look for ideas.
17. Beach bathroom Décor Slideshow
This slideshow of beach-related ideas for bathrooms from BHG is another great source of inspiration and ideas. Whether it's for seaside-style tiles, sea-glass décor or wood accessories you're sure to find a few things you'll want to include in your coastal bathroom.
18. DIY Dollar Tree Nautical Room Décor
As this YouTuber explains, she normally attempts a certain style of DIY projects, but she wanted to try something different, so she went for a nautical theme. She's obviously very talented though because even though it's only her first attempt, everything she makes looks fantastic. So if you're looking for an interesting tutorial for sea-related décor, this video should be of interest.
19. DIY Beachy Decor Driftwood Tree
To add a touch of the beach to your bathroom, what could be better than this DIY driftwood tree? And since all you need is a few pieces of wood you can pick up from your next trip to the beach, it won't cost you anything to make either. We think it looks perfect next to that turquoise bottle in the photo, transporting you right to the seaside in an instant.
20. How to DIY a Bathroom Backsplash with Dollar Store Gems
Here's a fun idea for making an inexpensive DIY backsplash using vase-filler gems that you can pick up from any local dollar store. The effect is stunning, and this kind of backsplash would be the ideal choice to complement a beach-themed bathroom, so if that's what you need, why not try replicating something like this in your home?
21. Apartment Décor DIY: Nautical Rope Shelf
This rope shelf is reminiscent of the kind of swing you might expect to find on the beach where you can sit a listen to the sound of the waves breaking on the shore. It makes an interesting little craft project to attempt too, so if you're looking for something creative to keep you occupied for a few hours, this could be just the thing.
22. Beach Themed Bathroom Decorating Ideas
If you're looking for suggestions to get your creative juices flowing, this lively video is well worth checking out. It gives you plenty of suggestions for the kind of thing you can include in your bathroom to create that seaside feel, and some of the examples they show us are stunning!
23. A Beach-Themed Bathroom on a Budget
There's no shortage of creativity and ideas in this post, where this blogger shares her designs for a beach-themed bathroom. She has included shells, starfish, driftwood and much to create that seaside feel that so many people love. And if you like her ideas, there's nothing too difficult or expensive to recreate in your bathroom at home.
24. Beach Bathroom Tour – Half Bath
In this video, we are given a guided tour of this YouTuber's rustic-style beach-inspired bathroom, and we love what she's done with it. She also takes the time to explain how she created the various elements, making it easy for anyone to reproduce a similar design themselves.
25. The Space Between Waterside Home Tour
We found quite a few blog posts that give you a guided tour of a beach-themed home, and this is another of our favorites. We especially like the framed pieces of coral on the wall, but there are lots of other ideas we appreciate too. And of course, even though some of their decorative items are not placed in their bathroom, they are ideas that could easily be used in any room you choose.
26. Dollar Tree DIY Farmhouse Coastal Beach Décor
As this YouTuber tells us in her introduction, she's very into making nautical stuff for her bathroom at the moment, probably because she's missing the beach so much! That's something we can totally relate to, and if you want something to remind you of the sea when you can't be there, her ideas for seaside-related bathroom items should give you some great ideas to try. Check it out to see what you think – our favorite is definitely the seahorse!
27. Beach House Tablescape Designs
To finish, here we have a blog that teaches you about sea-themed designs for tables, so it isn't something specifically intended for bathrooms. However, some of the creations in the photos look amazing, and you could easily use similar ideas to decorate shelves or tables in a bathroom, so we thought this was a post that merited a place on our list.
Loads of creative ideas to inspire you
As you can see, there's no shortage of ideas if you're looking for inspiration to give your bathroom a beach-themed makeover.
We've enjoyed collecting these plans for you because we love seeing all the creativity on display, so we hoped you've enjoyed reading and watching them too. And above all, we hope we've helped you find the ideas you needed to get started on your next DIY project!