Japanese bathrooms are becoming ever more popular. But what is it that makes them so irresistible?
Here we take a look at 16 reasons why people love Japanese bathrooms. And we find out there are lots of good ideas that can be transferred to any bathroom.
So let's get started!
Why Japanese Bathrooms Are the Best?
1. Japanese Bathrooms bring nature inside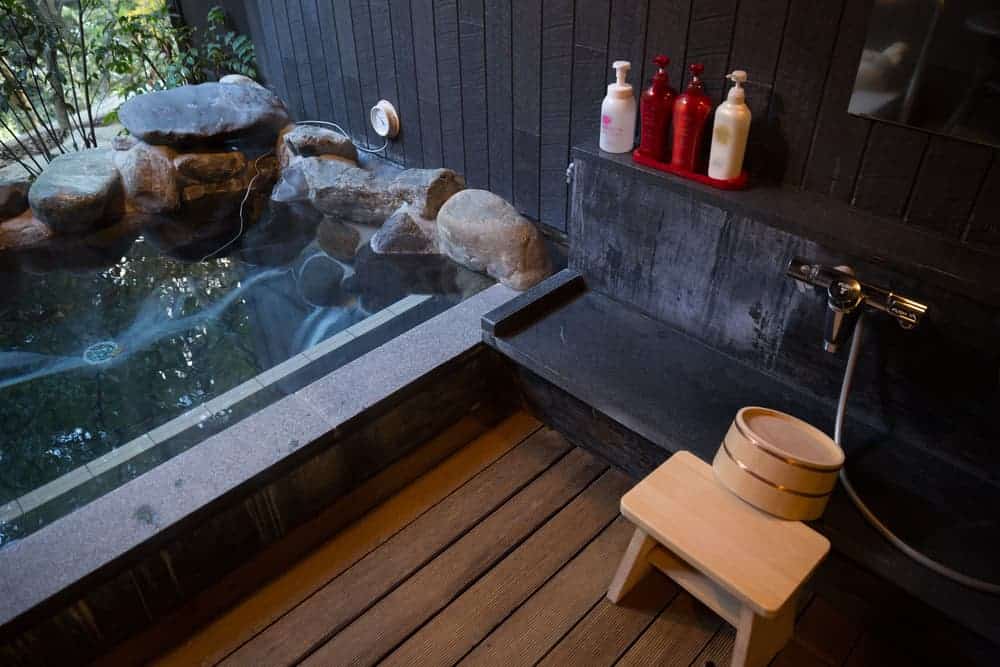 Traditional Japanese bathrooms excel at bringing the outside in, creating a natural haven inside the home.
Abundant greenery is often a feature. In some cases, like in this bathroom, it comes courtesy of large windows opening onto a garden. In others, you'll find lush pot plants inside the room.
Natural features are often mimicked in the bathroom design too. Here, the stones carefully positioned around the outside of the bathtub make it appear like a natural pool. The stone bench adds to the illusion.
The result is a bathroom that's a tranquil retreat away from everyday stresses and strains. And what's not to love about that?
2. Japanese Bathrooms use a soothing color palette
Japanese bathrooms often use the same colors throughout their design schemes. In doing so, they create a soothing space that doesn't draw the eye to any particular feature.
In this bathroom, there are only two tones. The bath panel, stool, accessories, wall, and floorboards are all the same shade of natural wood.  The wall tiles, bath, shower hardware, and towel are all white. The muted hues are relaxing and easy on the eye.
This is a room that's dedicated to tranquillity and relaxation.
3. Japanese Bathrooms are distinctive
One of the best things about Japanese bathrooms is that they're immediately distinctive. This wonderful example couldn't be anything but Japanese.
Look closer, and you'll see that this is just as true about the individual elements as the overall look. The paper lanterns – Japanese, of course. The large stones positioned around the bathing pool – clearly Japanese. The bamboo in the corner – okay, it could possibly be Chinese too.
Bring those individual elements together, and the effect is even more powerful. If you're looking for a design scheme with a real wow factor, you won't go wrong with a Japanese bathroom.
4. Japanese Bathrooms are contemporary
Even traditional Japanese bathrooms have an incredibly contemporary look. The natural materials and clean lines always look fresh and modern, and the muted color palette never goes out of date.
Anyone who's had to live with a 1970s avocado bathroom suite will appreciate the timeless appeal of a Japanese bathroom.
And of course, all this means that once it's installed, it will never go out of fashion. That makes it a seriously savvy investment for any style-conscious homeowner.
5. Japanese Bathrooms are minimalist
If you enjoy a minimalist aesthetic, Japanese bathrooms are among the best. You won't find any flounces or fussy details here. Everything is simple, clean and linear.
This bathroom perfectly demonstrates the minimalist Japanese look. Simple beige tiles on the wall are the same shade as those on the floor. Only the different shape helps you see where one ends and the other begins.
The floating toilet has no grooves or flourishes. There's not even a pedestal or cistern to interrupt the clean lines. The wooden clad bathtub and chrome faucet are both simple and luxurious.
But for all its simplicity, the attention to detail here is impressive. Notice how the sloping lines of the interior of the bathtub cleverly mirror the angles of the toilet bowl.
6. Japanese Bathrooms are luxurious
Japanese bathrooms might look simple, but they can also be very luxurious.
They're often divided into different areas, with the toilet separated from the shower. The shower is in turn separated from the bath and sink. This design scheme shows how it can look. The approach means that more than one person can use the bathroom at a time, whilst maintaining privacy.
The simple design keeps the spotlight on the high-quality materials used in the construction of fixtures and fittings. Tropical woods often take center stage. Faucets are simple and smooth to operate. And bathtubs are extra-large to facilitate a relaxing bath time experience.
7. Japanese Bathrooms are hi-tech
Japan is a world leader in technology, so perhaps it's not surprising that technological know-how extends to the bathroom. And nowhere is it more evident than in the truly astonishing marvel that is the Japanese toilet seat.
You won't need to worry about wiping over the seat with toilet roll in a Japanese bathroom. Instead, press a button, and it will be cleaned for you automatically.
And it's not just the toilet itself that can be cleaned in this way. When you've finished using it, you can also select from a number of different options to clean yourself up.
Push another button, and you can direct a spray of water to your nether regions. You can even choose precisely where you want it to go! Handy diagrams discreetly help you pick the correct button to avoid surprises.
And if all that wasn't enough, some models will even play music to you. Going to the toilet will never be the same again.
8. Japanese Bathrooms have great storage
If you long for a minimalist look but have maximalist tendencies, never fear. A well-designed Japanese bathroom has bags of storage to hide away your clutter.
This vanity unit is an excellent example. The clever design creates the illusion that the three deep drawers are floating in space. And having only one drawer on the right-hand side means that there's more space above for things that won't fit neatly inside.
Hideaway your toiletries, toilet roll, towels, and bathroom paraphernalia. Close the drawer and no-one will ever know they're there. Your secret is safe with us.
9. Japanese Bathrooms use natural materials
There's nothing synthetic about Japanese bathrooms. Here, natural materials are king, creating a calming and zen-like space. It also means that these are bathrooms that are very kind to the environment.
Every inch of this beautiful Japanese bathroom is natural. The sliding doors are solid wood, oiled to a gentle sheen. The floor is made of wood too.
A large stone trough filled with shingles and decorated with plants separates off the bathing pool. (There's no way something this large qualifies as a "tub"!) The pool itself is lined in stone, with matching stone tiles cladding the wall.
Look up, and you'll see a ceiling covered in bamboo. Even the generously proportioned faucet is made of wood.
The natural materials are counterbalanced by clean, sharp lines, creating a look that's contemporary rather than rustic.
10. Japanese Bathrooms have their own special slippers
One of our favorite things about Japanese bathrooms is what you wear to use. That's right, Japanese people have their very own bathroom slippers!
When you stop to think about it, it's an idea that makes perfect sense. Putting on some dedicated footwear means that any bathroom moisture stays in the bathroom. Anyone who's ever had to contend with a male housemate with a less-than-perfect aim will immediately get the point.
Bathroom slippers can be cute as a button too – just take a look at this example! Who wouldn't want to put on their own special slippers for a trip to the smallest room?
11. Japanese Bathrooms are very hygienic
We've already talked about the way Japanese bathrooms use technology to keep toilet seats pristine. But they're also ultra-hygienic in other ways.
Japanese people traditionally enjoy long soaks in the bathtub. But if you don't like the idea of wallowing in dirty water, never fear – that isn't what happens.
Instead, it's customary to rinse yourself off before you step into the bath. In this picture, you can see the grating on the floor next to the tub. There's usually a stool nearby too, so you can sit down as you use the showerhead.
So by the time you step into the bathtub, any loose dirt on your skin has already been washed away. And that means you can relax in the water for as long as you like, knowing it will still be clean.
Genius!
12. Japanese Bathrooms are environmentally-friendly
Japanese bathrooms include some very clever innovations to conserve water. One of them is to use gray water from the hand basin to flush the toilet.
As you can see with this space-saving design, the basin sits directly above the cistern. As you're washing your hands, the water is collected below and used for your next flush.
The same principle is also sometimes used with the bathwater, which can be routed to washing machines. Such systems, of course, make it doubly important to shower off before entering the tub. That way, the water used to wash your clothes will still be clean.
It might sound a bit odd, but it's very environmentally friendly. And with water set to become an ever more precious resource in the future, the principles used in Japanese bathrooms have a lot to teach us.
13. You can have a deep soak
A traditional onsen bathtub like this one is basically a large barrel. It means you can get a really deep soak – no more cold shoulders as you laze in the tub!
The large traditional faucet here means that it still fills with water quickly. And the lower surface area to volume ratio means that the water stays hot for longer. So once you're in, you'll be in no rush to leave! Take a book, light some candles and just relax.
The high sides do, though, mean that you'll need to be fairly nimble to climb in and out.
14. You can dry your laundry in them
Japanese bathrooms might be luxurious, but they're also practical. In much of Japan, space is at a premium, so every room needs to be put to good use.
When it comes to the bathroom, we've already seen that bathwater can be used for laundry. The hot air also means that it's a great place for drying clothes.
Many Japanese bathrooms have powerful fans to ventilate the space. They also mean that clothes dry quickly. Don't be surprised to see a rail of clothing hanging neatly at one side of the room.
15. Japanese Bathrooms are easy to clean
If you don't want to spend ages cleaning, you'll love a Japanese bathroom. They're designed to be super-easy to keep bright and sparkling.
The grate on the floor means you can simply direct the shower wand around the room to wash everything down. When you've finished spraying the surfaces, the water will quickly drain away.
And because the minimalist design is a key feature of Japanese bathrooms, there are no grooves or crevices to collect dirt. That means no need for endless scrubbing, and more time to relax in the tub!
When you've finished, you can just switch on the extractor fan or open a window. The room will be dry in no time.
16. There's no better setting for a bonsai tree
Who doesn't love the delicate beauty of a bonsai tree? Replicating the grandeur of a fully grown tree on a miniature scale, some examples can be decades old. They're a quintessential part of Japanese culture – and they look wonderful in a bathroom.
Position one near a window to give it plenty of light. Having it near the sink will also mean it's easy to keep it watered.
If you want to replicate this look, consider adding some pebbles around the base of the pot. Just a few will create the appearance of a miniature Japanese garden.
Hands up if you love Japanese bathrooms!
With so many reasons to love Japanese bathrooms, it's not surprising their popularity is on the rise.
The simple, clean designs and quality materials can bring a touch of luxury to any home. And the clever use of technology, and simple features like bathroom slippers, mean they're extremely hygienic too.
Whether you want to create a Japanese bathroom, or just add an oriental flavor to your home, we hope these ideas help. Comment and tell us which ideas you like – or perhaps there are some you're not sure will work for you. Either way, we'd love to hear from you!