Baths are nice. But detox baths are the difference between skim milk and full fat. So sometimes you need a deeper soak to send away the toxins. Epsom salts are a popular ingredient for DIY detox bath recipes because they soothe sore muscles and aches.
Epsom salts are magnesium sulfate crystals originally harvested from the town of Epsom, England. That's how they got their name. Meaning if you can't find Epsom salt, substitute it with sea salts like Himalayan, Hawaiian, Mediterranean, or Dead Sea. So let's get started.
1. Kayla's DIY Detox Bath Recipes
The benefits of a DIY detox bath include weight loss, immunity boosts, and overall wee-being. As you get out of that scented water, you just feel better. This video offers three recipes: one, bentonite clay + baking soda + lavender; two, peppermint + apple cider vinegar; and three, hydrogen peroxide + palmarosa. They all use Epsom salt as a foundation.
2. Loving Essentials DIY Detox Bath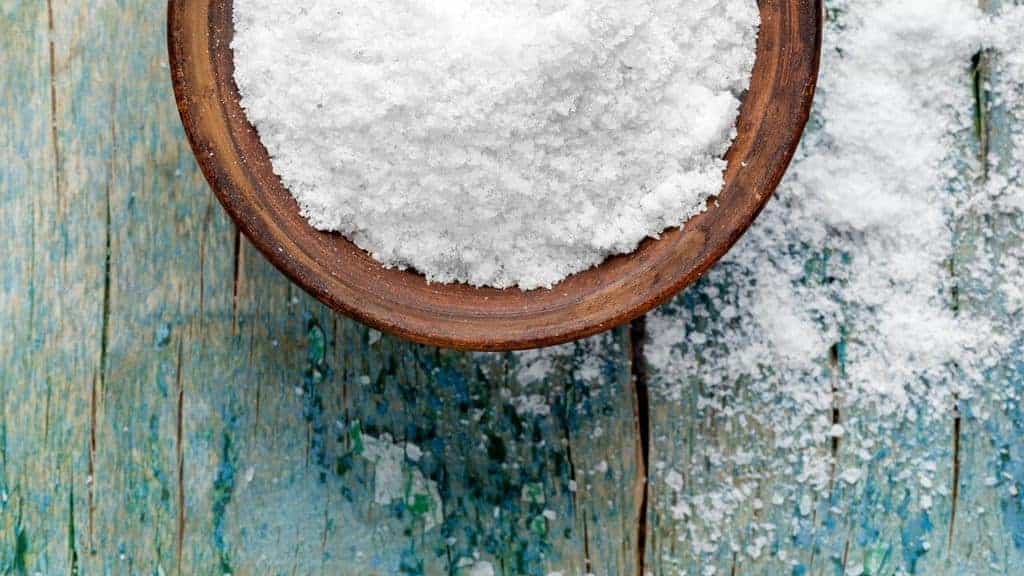 Magnesium is sometimes called the 'relaxation mineral' because it calms you, lowering anxiety and stress levels. And the magnesium sulfate in Epsom salts can be soaked in through your skin, delivering all those lovely benefits immediately. For this DIY detox bath, the Epsom is mixed with jojoba and several essential oils (lavender, geranium, lemongrass).
3. DIY Detox Bath for Weight Loss
As a DIY detox bath ingredient, the volcanic ash that forms bentonite clay can draw out metallic toxins. This DIY detox bath recipe also includes lavender essential oil and granulated alum pickle powder. It uses Himalayan pink salt as well as Epsom salt. And if you can't find pure bentonite clay, use Indian healing clay – it's infused with natural bentonite.
4. By Pink DIY Detox Bath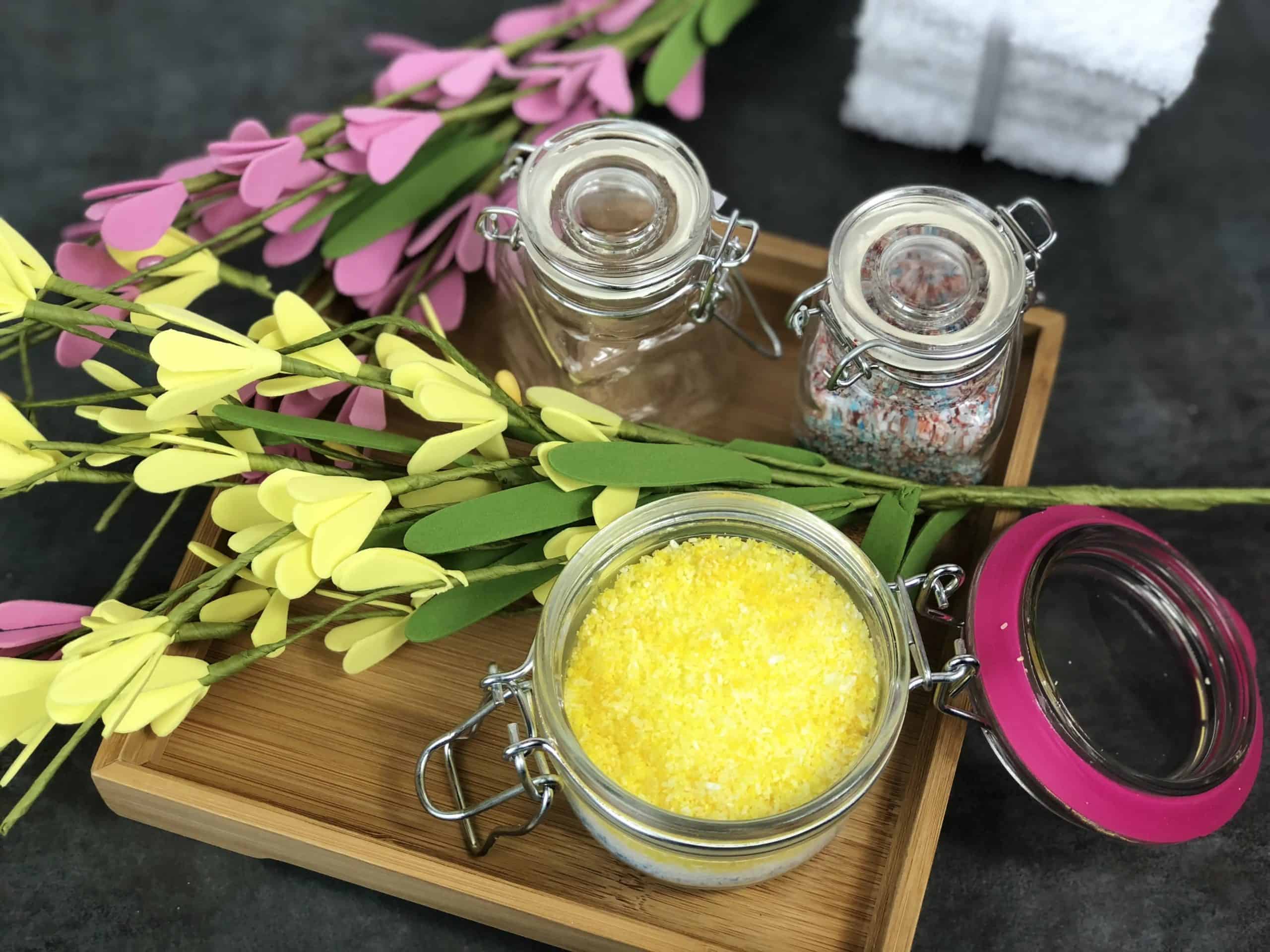 Baking soda (when mixed with vinegar) can clean anything! Mixed with citric or succinic acid, it releases a healing fizz. But even when you use it without an acid, it's a gentle exfoliant. It's an alkali so it balances out your body's acidity and boosts immunity. This DIY detox baking soda bath has olive oil, essential oils, and multicolored stripes of Epsom salt.
5. Healing Secrets DIY Detox HP Bath
Hydrogen peroxide is highly oxidizing, anti-bacterial, and anti-microbial, so it's great for medicinal baths. It energizes, boosts immunity, and breaks down toxins. But its smell can be off-putting though so you can mask it with fragrant oils or scented Epsom salt. They say your skin is your third kidney, so soak up in this oxidizing bath and let your organs go to work!
6. Essential Oil Haven DIY Detox Bath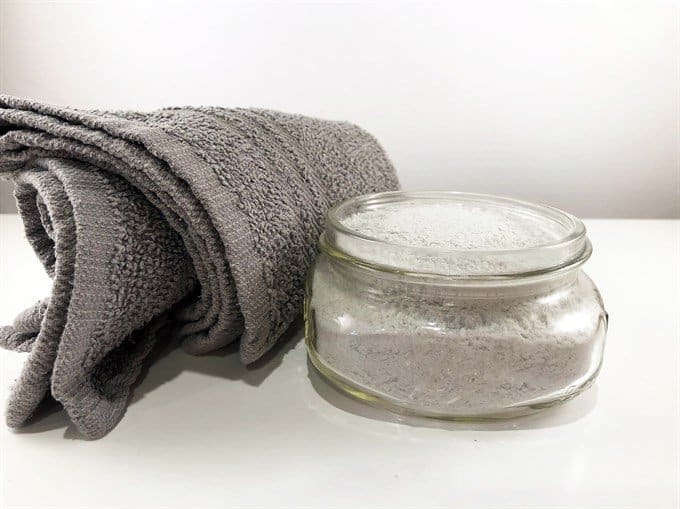 People travel miles to take mud baths in medicinal hot springs. Many of these baths use healing clays like bentonite. Being an alkali, it restores a healthy pH by neutralizing excess acids and extracting harmful wastes. Remember to add essential oils, bathe on an empty stomach, and get up slowly when you're done – a long bath could make you light-headed!
7. Comfort Life ACV DIY Detox Bath
ACV (apple cider vinegar) is a bit of a panacea. It's often combined with other food acids to rejuvenate your skin. It kills bad bacteria and yeast so it helps against conditions like eczema, acne, dandruff, and psoriasis. This DIY detox bath recipe uses Epsom salt, Himalayan pink salt, baking soda, ACV, and essential oils (tea tree and citrus). Use a food oil as your carrier.
8. DIY Ginger Detox Bath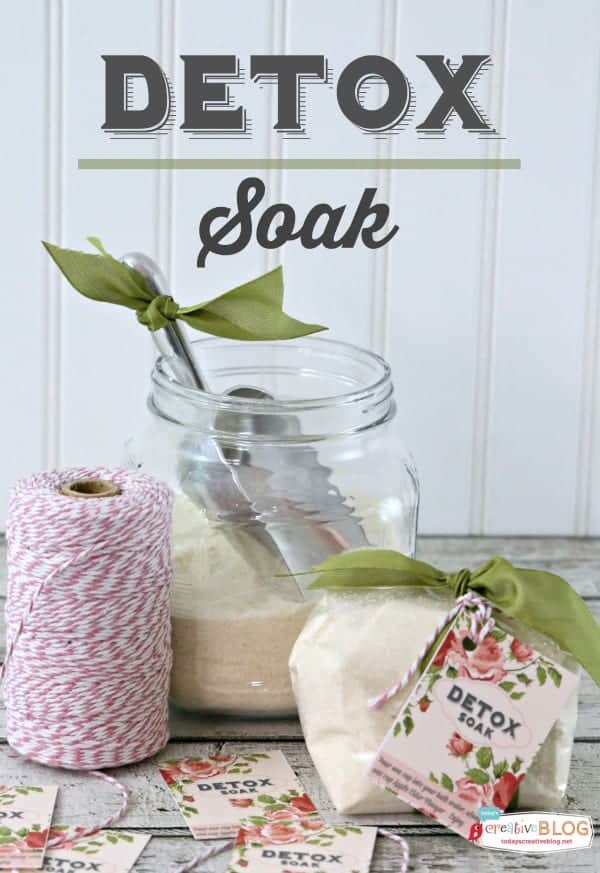 Is there some kind of bath etiquette you should follow to fully benefit from your DIY detox bath? Well, you should soak at least 30 minutes and if you like, you can take a cold shower to rinse off bath residue and prevent your body from overheating. Ginger is a 'hot' spice so it's likely to reinforce the hot water effect. A lukewarm shower is fine if you don't like it too cold.
9. DIY Baking Soda Detox Bath
Ironically, sitting in a hot bath for half an hour can dehydrate you! Your body temp is rising so you're sweating and losing fluids, so drink lots of water before and after your bath. Also, when your body's pH is too acidic, you may find yourself feeling tired and off. Baking soda balances this out and alkalizes your system, battling multiple skin conditions, so try it!
10. DIY Epsom Salt + Lavender Bath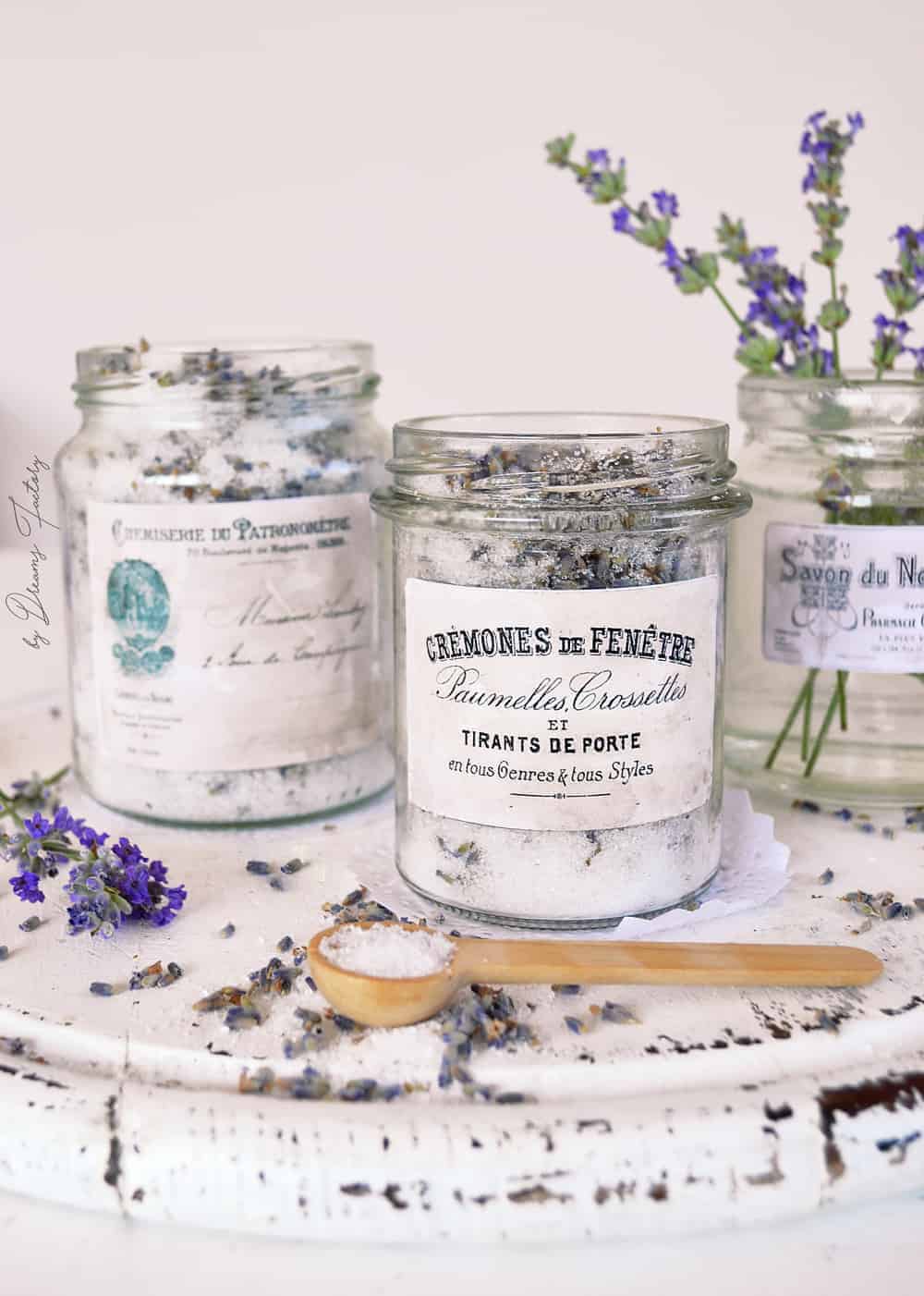 If you've ever taken a bath (and you probably have since you're reading this article), you know that as you get up, there are dark dots and debris in the water. That's just dead skin. You can reduce this by dry-brushing your skin to scrub off those old cells before your soak. Rinse off the dead skin under the shower before slipping into this lavender detox bath.
11. Momzest DIY Detox Bath
https://www.youtube.com/watch?v=wXc4MZgH_L0
When you're using ACV in a DIY detox bath, you want a brand with the Mother in it. That's the murky residue that settles at the bottom of the bottle, and it's where all the benefits hide. Before use, shake the bottle to evenly mix the Mother. And for this recipe, you'll combine the ACV with Epsom salt, baking soda, and essential oil. Tea tree oil works well with ACV.
12. Six One-Ingredient DIY Detox Bath Recipes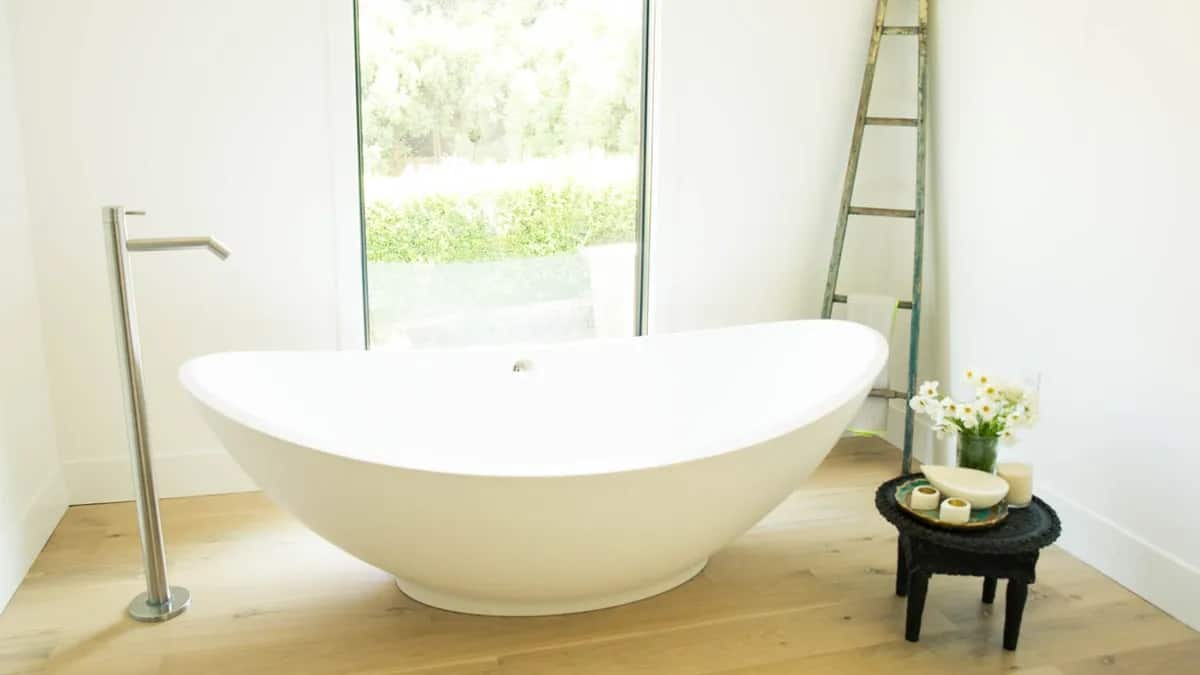 Dry-brushing is a good pre-conditioning move for your DIY detox bath. It can also be helpful to time your detox bath after a heavy workout. You'll have sweated, your muscles will be sore, and your pores will be open so your skin can truly soak up those salts. And with these six detox bath recipes, you can make that detox bath using whatever is currently in your pantry.
13. Amber's DIY Detox Bath Recipe
This DIY detox bath recipe is great for pain relief, and it's fairly simple. The base recipe is Epsom salt, baking soda, coconut oil, and apple cider vinegar (ACV). For essential oils, you could try tea tree, peppermint, thieves blend, rosemary, or oregano. For chronic joint pain and intensely sore muscles, try lavender or a PanAway oil blend. ACV is good for rashes.
14. Live Fit Energising DIY Detox Bath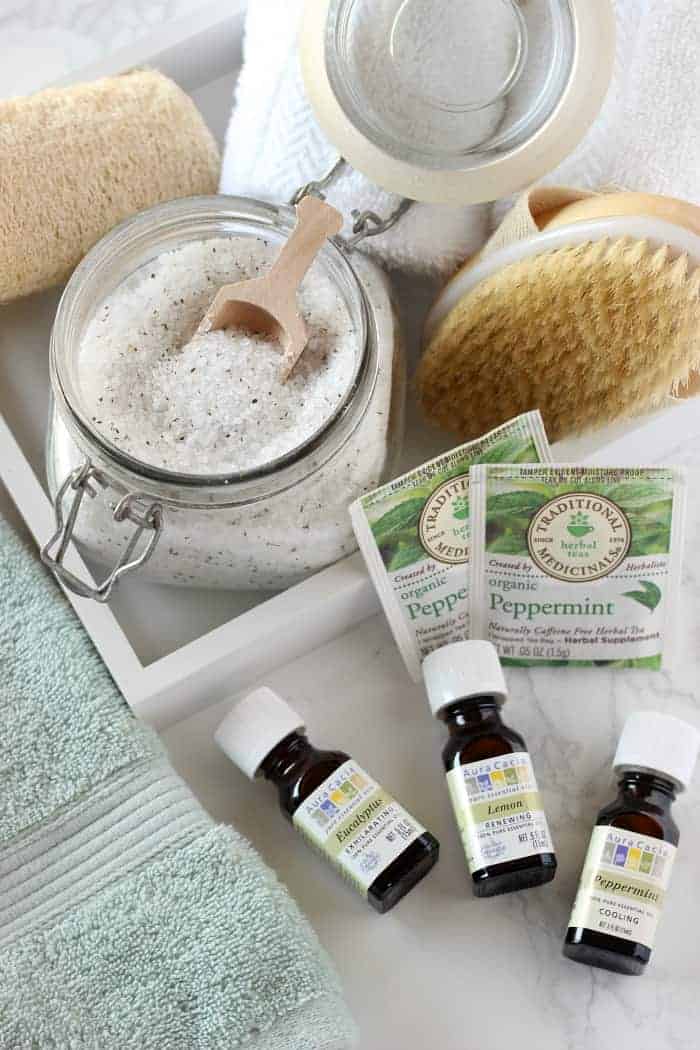 The easiest way to prepare a DIY detox bath is to put 10 or so tea bags in the tub. Herbal teas and green teas work best, so pick the flavors that match your targeted essential oil benefits. But while many baths are meant to be relaxing, you might want an energizing bath to get ready for a night out. Try this eucalyptus Epsom bath with lemon, sea salt, and peppermint.
15. Nicole's Natural DIY Detox Bath
Bentonite clay has over 70 trace minerals, so it's a miracle detox tool. If you don't have clay, you could try activated charcoal to draw out those toxins. But even without these ashy bits, you can raid the pantry for DIY detox bath ingredients. Try a mix of baking soda, Epsom salt, ACV, peppermint essential oil, fresh mint leaves, and citrus slices of grapefruit and lemon.
16. DIY Fir Needle Detox Bath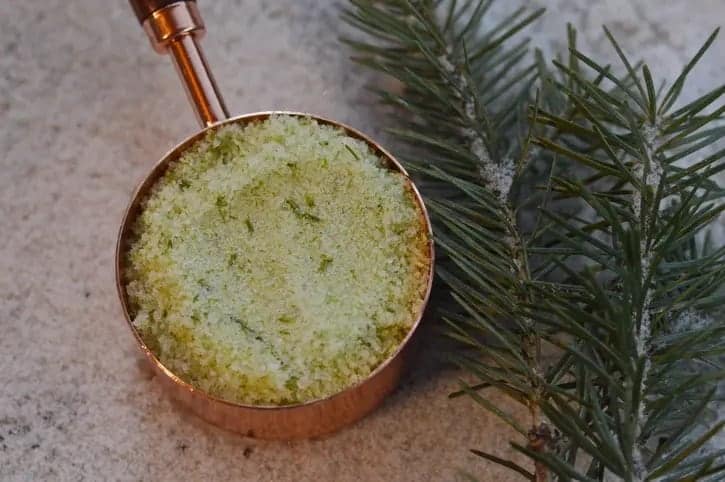 If you live in a wooded area, you can easily forage fir needles to drop in your detox bath. The fresher the better! Douglas fir works well, but you can also use needles from other conifers like juniper, spruce, or pine. Don't use yew though. The other DIY detox bath ingredients are Epsom salt, Dead Sea salt, olive oil, and an emulsifier like polysorbate or sunflower lecithin.
17. DIY Bentonite Clay Detox Bath
Natural mud baths can feel fun and playful. And spa baths feel luxurious and elegant. But bathing in mud at home can just seem messy. And all that clean-up! Try these tips to make it easier. Mix the clay with Epsom salt, ACV, and essential oils. Expect to get clay-baked. Rinse off the clay in a cool shower after bathing then moisturize your body with coconut oil.
18. Calming DIY Detox Bath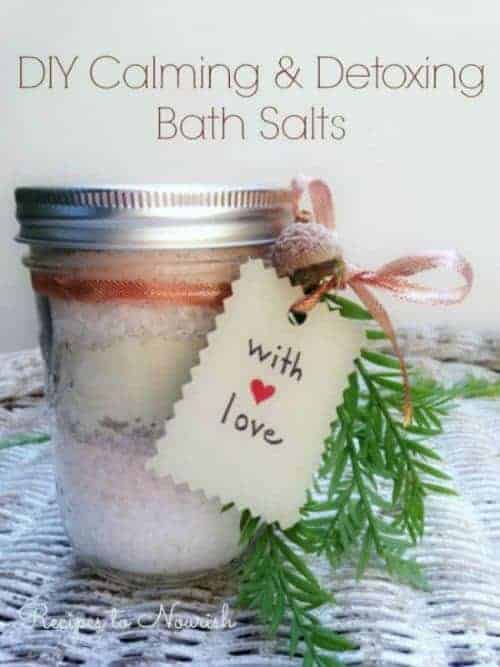 Sea salts are great in DIY detox baths. But when a recipe calls for Dead Sea salt, it's not describing a type of salt processing. The Dead Sea is a specific water body known for the cleansing quality of its salt. This recipe has Dead Sea salt plus Epsom salt and even table salt, which many recipes say you should avoid. For essential oils, use frankincense and lavender.
19. Merry Messy Detox Bath Recipe
When you're making a DIY detox bath mixture as a gift, you'll need a pretty jar and a decorative scoop. Olive wood spoons are popular, and you can tie it with a ribbon for extra flair. As for the recipe itself, it contains Epsom salt and essential oils. Try lavender or chamomile to relax. To set the mood for a night in, try bergamot, ylang-ylang, or jasmine.
20. Lemon Lavender DIY Detox Bath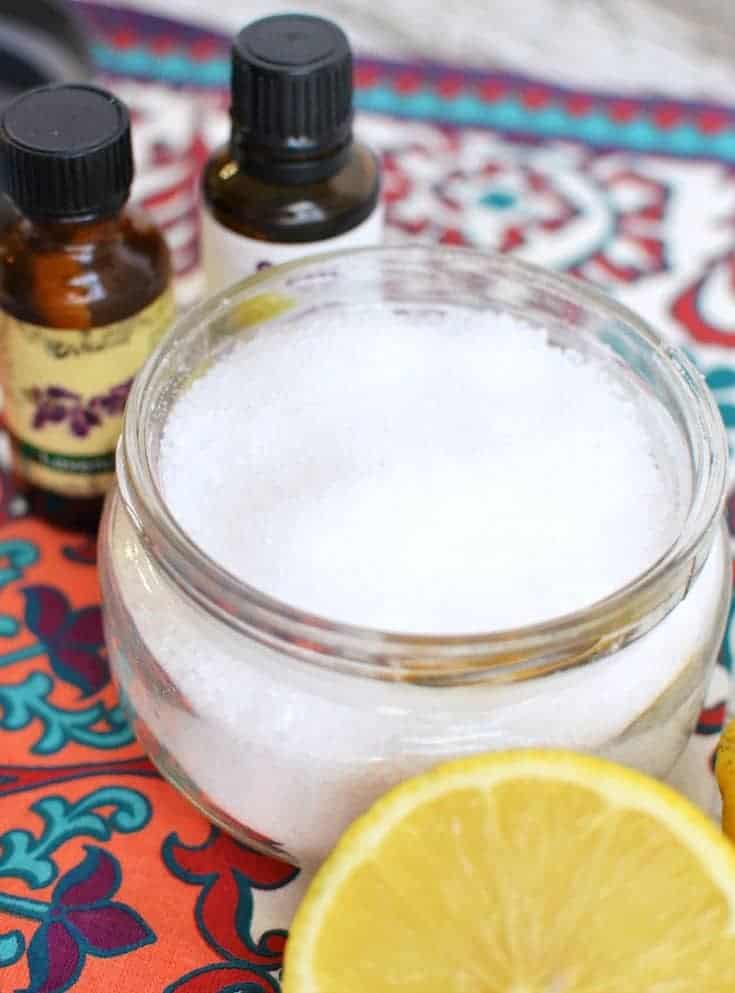 Essential oil experts can cycle through the uses and benefits of specific oils in seconds. But when you're starting out, you might not know which ones go together. While it seems counterintuitive, soothing lavender and energizing lemon are a good blend for DIY detox baths. This recipe also has Epsom salt and baking soda. And drink water after your bath!
21. Torera's DIY Detox Bath Recipe
Sometimes, the events around you can be overwhelming. At home, at work, or even in the news. So pop into the tub for a de-stressing half-hour soak. And if you don't have a bathtub, you can put your bath salts into a bucket and splash it all over yourself. Or use a portable shower. The recipe is simple – Epsom salt, baking soda, bentonite clay, and essential oil.
22. DIY Activated Charcoal Detox Bath Bombs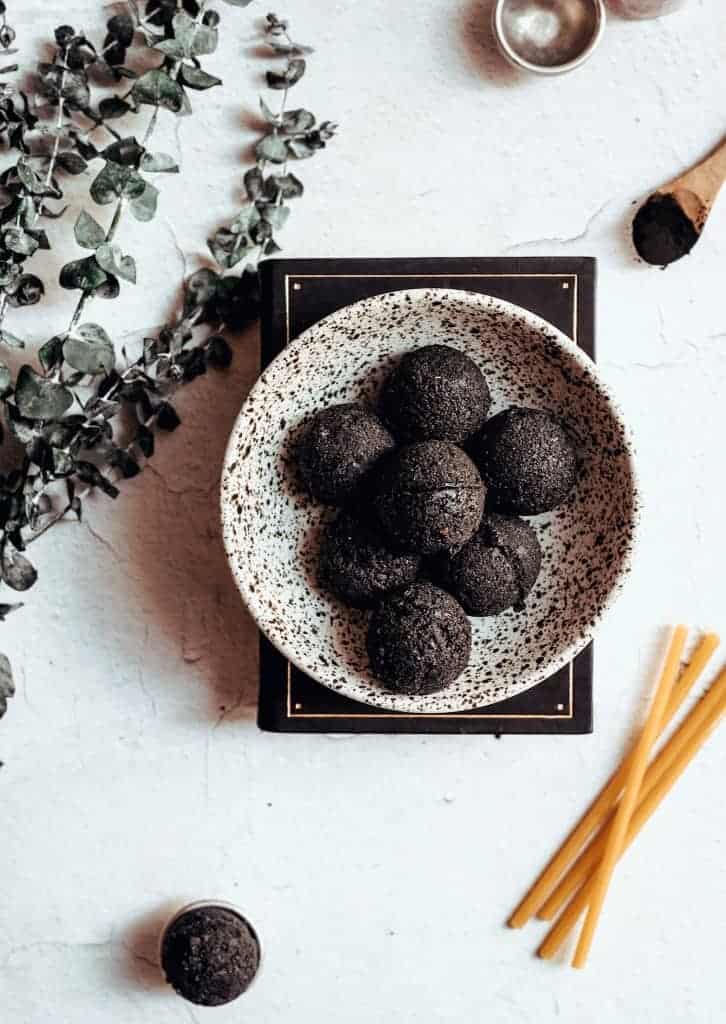 Detox baths aren't like regular baths. A standard milk bath or bubble bath feels lazy and luxurious. But detox baths are actively drawing toxins out of your body and massaging sore muscles, so you may feel uncomfortable. You could reduce some of that physical unease by using a playful bath bomb to seed your DIY detox bath. This one has activated charcoal in it.
23. DIY Detox Bath for Cellulite
It seems scammy to claim a bath can cure cellulite or cause weight loss. But these DIY detox baths work on a sub-dermal level. They alkalize your body's pH, balance your hormones, lower your water retention, and clear toxins out of your lymph system to help you shed excess fat. This recipe contains grapefruit, pine, black pepper, and mandarin essential oils.
24. Warming Mustard DIY Detox Bath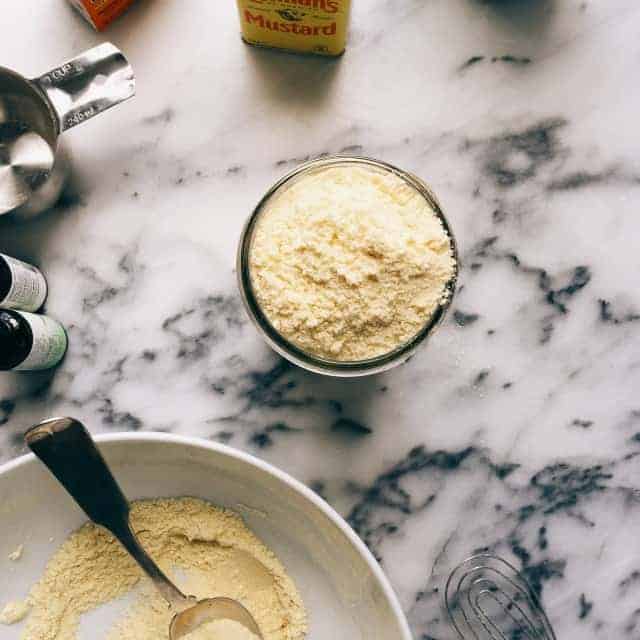 Do you know what the different parts of DIY bath mixtures do? Milks (oats, coconut, goat, buttermilk) are for soothing, moisturizing, and relieving itchy skin. Salts are for exfoliation and detox. Oils are for hydration and aromatherapy. So while this recipe isn't specifically branded as a detox formula, the Epsom salt and mustard powder will sweat your toxins out.
25. DIY Detox Bath Salts
Different detox mixtures offer different benefits and results. Try these medleys to match your mood. All the recipes have Epsom salt, baking soda, and a blend of essential oil. After a hiking trip or heavy yard work, try lavender oil + cardamom pods + oats. For mental clarity and pain relief, try lemon zest + ginger. Orange peels + green tea are perfect for soft skin.
26. Coconut Mama's DIY Detox Bath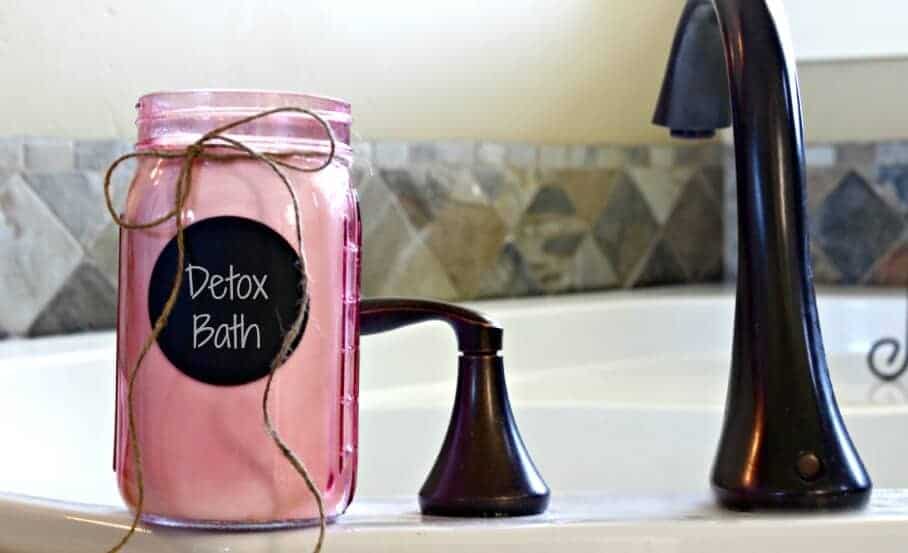 If you're ever in doubt about which essential oil to mix into your bath, remember the following basics – lulling lavender put you to sleep, and energizing eucalyptus wakes you up. This recipe has lavender, Epsom salt, baking soda, plus bentonite clay for toxin extraction. Detox baths don't need carrier oils, but this Coconut Mama so there's no harm adding some.
27. DIY Blue Detox Lemon Bath
Citrus baths are helpful for mental alertness and respiratory relief. So try this when you're feeling sluggish and under the weather. It's also good for a post-workout soak. Infuse the bathwater with Argan Epsom salt, lavender castile soap, and a de-stress oil blend (lavender + frankincense). Add lemon slices and hydrangea petals to the bath and feel fully pampered.
28. Simple Mom's DIY Detox Bath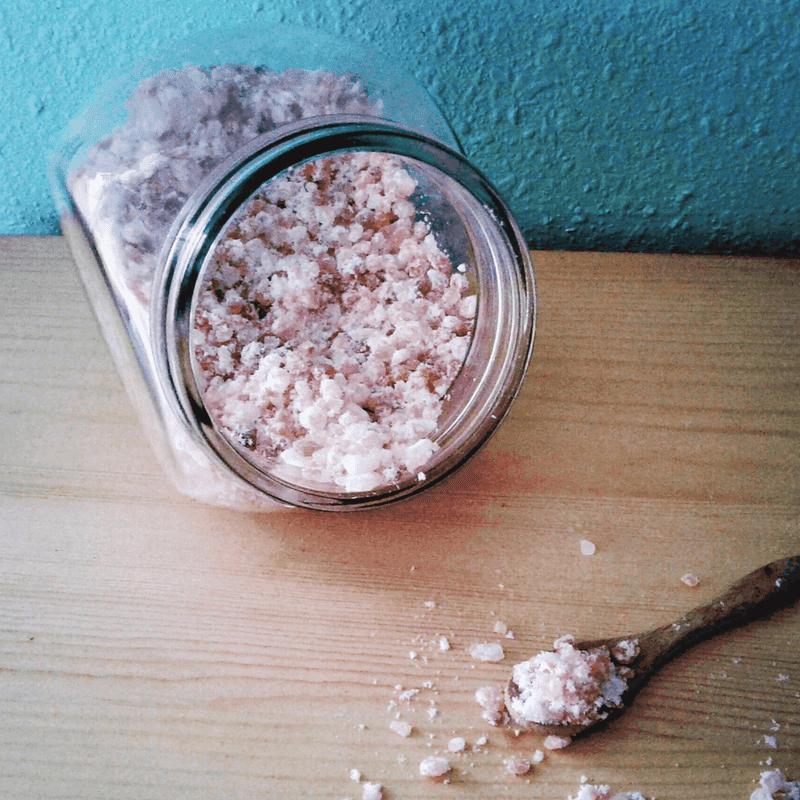 Sometimes, you want a quick recipe that you can drop directly into the bath. So you may not even bother to pre-mix the ingredients! Other times, you want a pretty package that adorns your bathroom cabinets. In that case, try this DIY detox bath with coarse pink Himalayan salt, baking soda, fractionated coconut oil, and essential oil (lavender is a top selection).
29. FitLife DIY Detox Bath Recipe
Now let's try one for the guys. Yes, these oils seem girly, but they're great for relaxing your mind and soothing your body. So don't leave out the lavender and chamomile. The base of the recipe is Epsom salt or sea salt, which are both magnesium-rich for easing muscle tension. Baking soda is a trusted alkaliser while ginger reduces pain and inflammation.
30. Anti-Inflammatory DIY Detox Bath Bombs
Maybe you've been working out (or working outside, pun intended) and all your joints feel sore and swollen. Or maybe your muscles feel bloated after a cheesy treat or a hormonal event. Try these anti-inflammatory DIY detox bath bombs.  They have Epsom salt, baking soda, arrowroot starch (or corn starch), lemon juice, turmeric, coconut oil, and essential oil.
31. Wamika's DIY Bentonite Clay Detox Bath
To close things off, let's finish with this bentonite clay DIY detox bath. The 'mud' has a negative charge so it detoxifies you by binding to toxins that have a positive charge, reacting with them, and therefore neutralizing them. Top it off with lavender essential oil which smells great, relaxes you, helps you sleep, and is also an anti-fungal acne treatment.
What's your favorite detox bath recipe? Show us how to make it in the comments!