A bathroom vanity can be the beautiful centerpiece of your bathroom – but it can just as easily be an ugly eyesore that you despise.
Not to worry though because with just a little DIY know-how and the right ideas you can transform the latter into the former – and here are 27 DIY bathroom vanity makeover plans we found that show you how to do it.
1. DIY Bathroom Vanity Makeover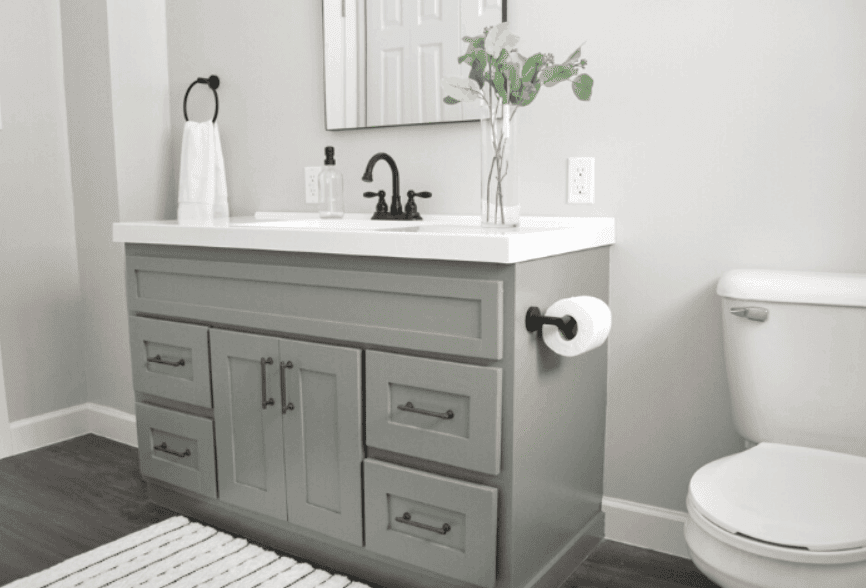 The vanity in this blog post starts out as nothing short of a monstrosity, but by the time these DIYers have finished with it, the result can only be described as stunning. It was quite a big job but didn't cost too much – and it's also the kind of thing that anyone will be able to tackle, which means if this is your style, you can come up with something similar too.
2. DIY Bathroom Vanity and Countertop Makeover
For anyone living in rented property, this is a video that should be of interest. The problem with renting is you're never really free to personalize your home without risking losing your deposit. But with a little creativity and a bit of skill, you can still give your bathroom vanity a fresh look – and this video tutorial shows you how.
3. This DIY Vanity to Give Your Bathroom A Facelift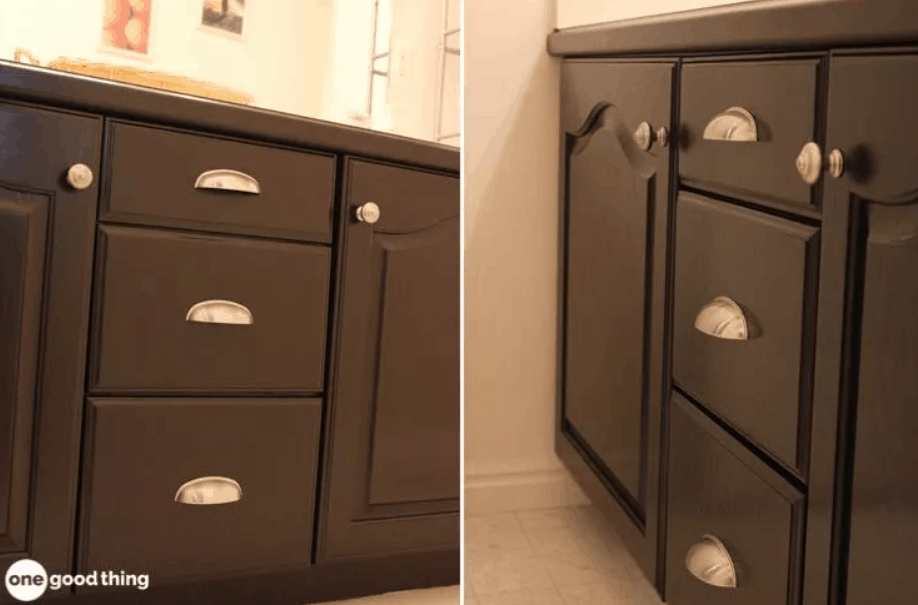 DIY is a fun hobby that gives you a creative outlet while also saving you a lot of money – but not every project is suitable for beginners. However, we all have to start somewhere, and if you're a novice looking for a manageable job you can tackle, this plan for upgrading a plain and aging wood bathroom vanity could be just the thing.
4. DIY Bathroom Vanity Makeover – from Start to Finish
In this video, this YouTuber shows us how he recovered an old vanity he found sitting by the side of the road, took it home, refurbished it and gave it a stylish new look. The difference between the before and after photos is highly impressive, and the whole job cost very little to complete. Check out the video to see how it went!
5. DIY Bathroom Vanity Makeover for Under $100
The story of this bathroom vanity upgrade starts with a DIY fail because this blogger painted half of hers white before realizing she hated it. The rest of the post details how she saved her vanity by giving it a second makeover, creating a cute pink version that she much preferred. She managed to do it all for under $100 too, so if that's the kind of budget you're looking at, this post is well worth a read.
6. DIY Bathroom Makeover on a Budget
Here's another video that should be of interest to renters since it shows you how to do a whole bathroom makeover that won't upset your landlord. Part of the makeover includes the vanity, so if you're looking for ideas to give your bathroom a new look without doing any major structural work, this is a video that should appeal.
7. DIY Vanity Makeover (On a Budget!)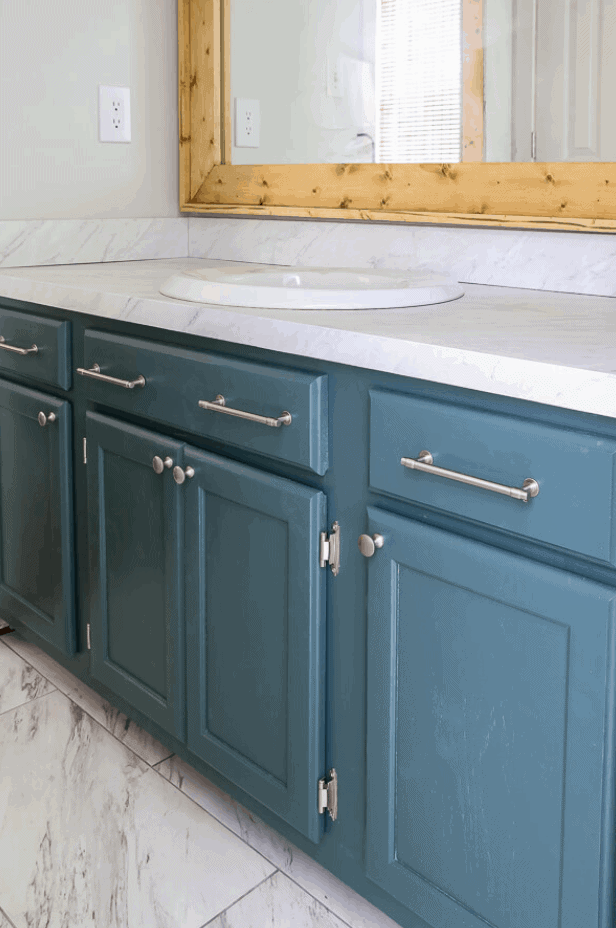 One of the simplest ways to give a bathroom vanity a makeover on the tiniest budget is to apply a new coat of paint. It's an easy job that anyone with basic DIY skills will be able to manage, and it can leave your bathroom with a whole new look. That's the project these bloggers tell you about in their post, and if it's the kind of thing you're thinking of attempting, it's worth checking out before you start.
8. Painting a Vanity – DIY Bathroom Makeover
Here's another example of how much a simple coat of paint can change the whole complexion of a bathroom. These DIYers start with an uninspiring, old-fashioned wood vanity and transform it into a beautiful new version with a "ripe olive" exterior. The video includes clear instructions for how they did it, making it an easy project to recreate at home.
9. DIY Bathroom Vanity Makeover from Hunker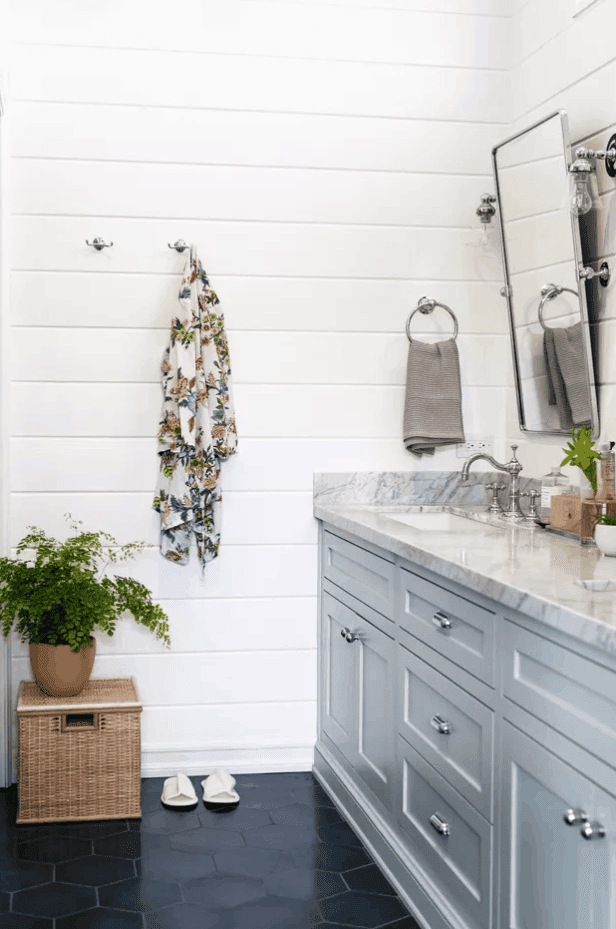 As this blog post explains, by renovating an old bathroom vanity, you can give the whole room a makeover without spending a fortune. The tutorial then takes you through all the detailed steps you need to follow, allowing you to create a high-class and sophisticated vanity like the one in the photos with a minimum of effort and expense.
10. $30 Bathroom Vanity Makeover
For those on the tightest of budgets, this is a video plan that should be of interest – because in it, this YouTube DIYer demonstrates how she gave her vanity a new look without spending more than around $30. We love how she explains everything so clearly, and her handiwork is impressive too. Want to try something similar? Then give her video a watch!
11. Easy Bathroom Vanity Makeover
If you're thinking of giving your bathroom vanity a new paint job, you might be concerned about how long the look will last – because in the hot and humid environment of a bathroom, some paints might not have the longest of lifespans. However, as this blogger explains, if you choose the right paint, you won't need to do the work again for a long time. So for anyone preparing for a repaint, make sure you check out her post first.
12. DIY Vanity/Cabinet Makeover
As this YouTuber explains, this is the second in a series of videos he made showing you how he upgraded his bathroom, and in this instalment, he shows us the job he did on the doors of his vanity. The first video in the series also shows how he gave the vanity a new surface with a paint kit – so check that out too if you like the way it looks.
13. Totally Transformed: Updating an Old Bathroom Vanity
In the intro to this blog entry, we're told that the goal of this makeover job is to transform an old, dated bathroom vanity into an attractive modern piece using nothing more than a little paint and a few "inexpensive accents". It's a fun tutorial to read since you get to see as the old vanity disappears and the new one emerges in its place. And the result? A functional yet stylish vanity that most people would love to own.
14. How to Paint a Vanity
Painting a vanity is the simplest and most affordable way to give it a makeover, but it's not a job you can just jump in and start working on if you don't know what you're doing. Fortunately, this video tutorial from Lowe's takes you through all the steps, including sanding and repairing the vanity for painting, priming the surface, painting the vanity and reassembling it at the end. And if you follow their guide, you can't fail to do a great job.
15. DIY Bathroom Makeover in a Month: Before & After
If you want to give your bathroom a serious makeover, you'll need to set aside a certain amount of time – but with a month, you can hope to achieve spectacular results like these bloggers. Of course, part of their makeover included the vanity – so check out their post to see the luxurious double-sink model they created.
16. How to Makeover an Antique Dresser to a Bathroom Vanity
When doing a DIY bathroom vanity makeover, there's no rule that says you need to start with an old vanity. Instead, you can make a vanity out of something else, like the old antique dresser this YouTuber uses. And when it's done, the vanity she builds looks just as good as almost any of the others we've seen.
17. DIY Vanity Makeover: Concrete Overlay
For those who have never worked with concrete before, we understand that it's a material that might seem a little intimidating. However, this blog post shows that there's nothing to be afraid of if you want to DIY a bathroom vanity countertop in concrete – and it could cost you as little as $50!
18. DIY Vanity Makeover
It's all very well watching seasoned pros demonstrating the amazing projects they've completed – but sometimes they can seem out of reach to your average amateur DIYer. However, in this video, we get to see how this YouTuber tackled the first DIY makeover in her property. It's safe to say she was pleased with how it turned out – and if she did it, so can you!
19. Our Painted Bathroom Vanity: Before and After and a How-To Guide
Bathroom vanity upgrades are the kinds of project that tend to get put off and put off. That's what this blogger did for a long time – until she finally got round to doing it and saw what a difference it made to the room. It's true that the old one didn't look so appealing – but with just a bit of paint and some minor alterations, the new one is a vast improvement!
20. DIY Bathroom Vanity
The plan these YouTubers give us is not so much for a bathroom vanity makeover as an idea for building one from scratch. That way, you can customize the design to your needs and stylistic preferences, giving your whole bathroom a new look without spending a whole lot of cash.
21. Our Master Bathroom Vanity Makeover
The bathroom vanity these bloggers had before didn't look that bad – although maybe it was a bit "studenty" – but they still decided they wanted something a bit more grown-up and sophisticated. To cut a long story short, the upgraded version is almost unrecognizable from the original, and we're sure pretty much everyone will agree that this was mission accomplished. It's clean, stylish and a highly professional job – we approve!
22. Can I DIY a Thrifted Dresser into a Pinterest Bathroom Vanity?!
The project this YouTuber attempts – changing a plain second-hand dresser into a stylish dresser – is an ambitious project, but as one of the comments below reads, she "nailed it". It's quite a long video, so there's plenty of detail about how she did everything, and she's also got loads of charisma, making it fun to hear her talk. So for anyone who wants to try something similar, this is a great video to watch.
23. Easy DIY Bathroom Vanity Makeover
Whether you move into somewhere new or simply wait too long to upgrade old stuff, most people inevitably end up with furniture or fittings that are way overdue an upgrade. A prime example is this blogger's 1990s gold-oak vanity, which might have looked great in its day but certainly doesn't any longer. Yet for just a few cents above $70, this blogger turned it into something contemporary and attractive – and if you're curious, give her post a read to see how it went.
24. Home DIY – $15 Bathroom Vanity Makeover
This bathroom vanity makeover cost no more than $15, making it perhaps the most inexpensive we've seen. In the video, we get to see how this YouTuber achieved fantastic results with nothing more than a few basic Home Depot and Dollar Tree supplies, so if you're on a tight budget too, why not copy some of her ideas?
25. DIY Chalk Paint Bathroom Vanity Makeover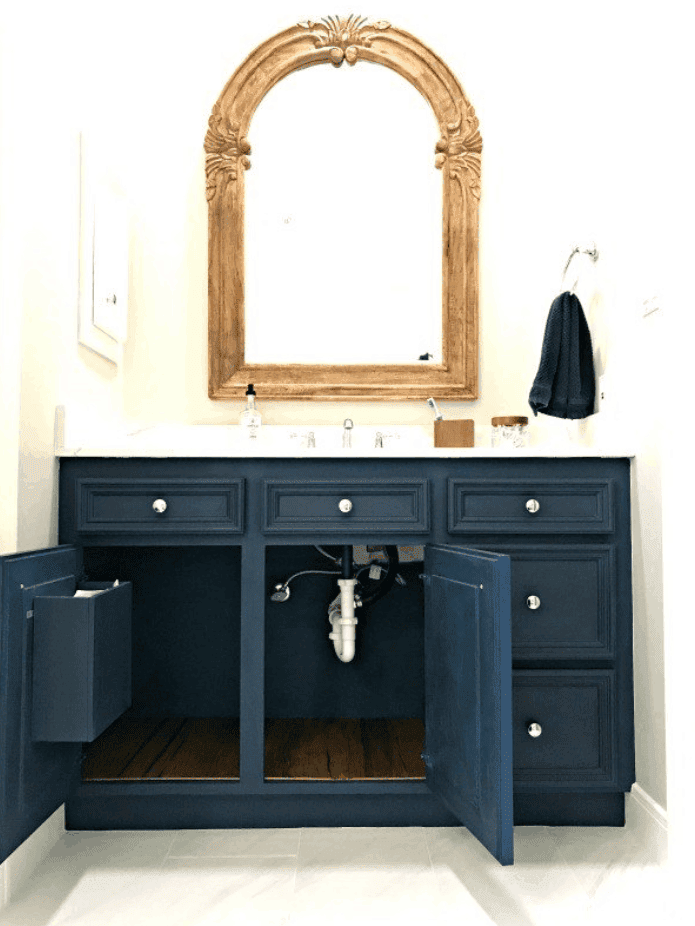 Here's a simple makeover tutorial that will leave you a bold-looking vanity you can be proud of. We love the rich blue color she painted it, and the touches like the built-in garbage cans are great. All in all, a plan we enjoyed reading, and we're sure lots of other people will too.
26. DIY Bathroom Vanity
This blogger introduces herself as a DIY enthusiast who loves to create beautiful things on a budget. We're certain there are lots of others who would describe themselves in a similar way, and if you're one of them, her plan for a bathroom vanity makeover should be one you enjoy. She gives you a list of everything you need as well as a step-by-step guide to how to do it. Her work looks stunning too – so why not have a go and see if you can do produce something similar?
27. Hall Bathroom Vanity Makeover – From Ewwww to Ooooh
We love the title of this blog entry because it tells you exactly what to expect. It's a tutorial for how to upgrade an unloved bathroom vanity to something special, freshening up your bathroom's look in the process. It's another design we loved, and it's super easy to copy, making it another DIY project you might like to attempt yourself.
Loads of creative ideas to inspire you
It's been fun collecting these plans for you because the amount of creativity we've seen is so inspiring. We hope you've enjoyed reading and watching them all too – and above all, we hope we've helped you find the ideas you needed to get started on your next DIY project!