A farmhouse bathroom will bring rustic charm to any home. If you're looking for inspiration, head this way for some great examples of farmhouse bathroom décor.
We'll look at everything from wall coverings to bathtubs, and accessories to add the final touch. So grab your mood board, and let's get started!
1. Timber cladding
You don't need to have a wooden-framed home to enjoy the warmth of a timber-walled bathroom. Installing wood cladding is easy to do and creates an instant rustic atmosphere. And as long as you have a good extractor fan, it will cope with moisture in the bathroom just fine.
Here it's left with a natural finish and paired with a rough-hewn stone sink to enhance the farmhouse look.
2. Free-standing furniture
Choose free-standing furniture for a casual boho aesthetic. This beautiful vanity unit oozes charm, reminiscent of the butcher's block you'd find in a traditional farmhouse kitchen.
Natural timber finishes always look good. And positioned next to the lavatory, the solid side provides a handy home for your loo roll dispenser.
3. Pendant lighting
Getting your lighting right is essential to creating an authentic farmhouse look. Here, a low hanging pendant light creates a stylish feature. The traditional shape complements the wooden walls and provides a pleasing contrast to the clean lines of the shower enclosure.
Just make sure you position pendant lights carefully. A long cord can look great, but you don't want to be constantly hitting your head on the shade!
4. Floating shelves
Exposed timber is a key component of farmhouse bathroom décor, and floating shelves are a great way to introduce it. Look for options with deep profiles and edges that aren't too neatly finished.
They're great for storing big fluffy towels. And they provide a wonderful home to display other farmhouse accessories too.
5. Rolltop bath
The bathtub is the focal point of your bathroom, so choosing the right one will create an instant farmhouse look.
Traditional rolltop baths like this one work brilliantly. We love the muted tones of the exterior, which look great against the painted shiplap walls. The scrubbing brush hanging in the background is a lovely touch.
6. Ladder towel rails
A wooden ladder makes a fantastic towel rail in a rustic bathroom. Look for something that will fit comfortably in the space. And as with all farmhouse bathroom décor, irregular lines and natural finishes are perfect.
The organic lines of this ladder look just as good when there are no towels on display. And here, the chrome faucet adds a contemporary twist to the rustic mood.
7. Traditional mirrors
A mirror is a must in any bathroom, but with farmhouse décor, you'll want to keep it simple. Avoid anything with lighting built-in, and position lamps nearby instead.
Here, a simple cast iron frame looks great against the white wall. The long hanging chain adds to the vintage look.
8. Blend farmhouse with modern
Rustic accents can work brilliantly alongside a contemporary bathroom. Here, a few key features add a farmhouse edge to what would otherwise be a typical loft-style room.
Exposed, stripped back beams add a sense of age and authenticity. They're complemented by the simple wooden-framed mirror and vanity unit.
9. Polished floorboards
A great way to bring rustic wooden finishes into your bathroom is with floorboards. They're warm underfoot too, making them more comfortable than tiles for anyone without underfloor heating.
Stain them, paint them or simply give them a clear coat of varnish. Whatever you choose, they'll look fantastic. Here, a natural finish works beautifully alongside the stripped back window frame and matching mirror and vanity unit.
10. Simple window treatments
As with all other aspects of farmhouse bathroom décor, simplicity is key when it comes to window treatments. Steer clear of valances, flounces, and pleats. A cast-iron curtain pole and sill-length drapes are perfect.
In this bathroom, the owners have chosen a warm red to bring a pop of color to space.
11. Classic washbasins
For classic farmhouse style, traditional ceramic basins like this one look the part. The curved front and oval basin would look right at home in a Provencal farmhouse.
Alternatively, square stone basins can work perfectly – as long as they don't have sharp corners or ultra-clean lines. And if you can find one, a traditional Belfast sink is gorgeous.
12. Cast iron faucets
You've chosen the perfect bathtub and washbasin – but don't neglect the faucets! The finish here is all-important. Cast iron will have just the right vintage look, or if you prefer a warmer tone, consider oiled bronze.
And although you want a rustic appearance, you don't need to abandon modern comforts! There are plenty of mixer faucets, like the one pictured here, that ooze farmhouse appeal.
13. Shaker-style cabinets
Contemporary basins can look wonderful in a farmhouse bathroom, as long as they're standing on something suitably rustic. Shaker-style cabinets like these are a luxurious solution. Big enough to accommodate twin sinks, the simple style, and warm-hued timber maintain a homely look.
In this bathroom, they work with both the traditional bathtub and modern basins, tying the whole look together.
14. Simple storage
In a bathroom with farmhouse décor, you can let your creativity run wild when it comes to storage solutions. The designer here has used a wooden crate, a kitchen chair, and a rustic stool.
Stools, in particular, are a great way of reaching toiletries from a stand-alone bath. Three-legged versions like this one could have come straight from the milking parlor.
15. Painted furniture
While natural finishes look great in farmhouse bathrooms, you don't have to miss out on color. Painted cabinets in chalky finishes are equally appealing – and can be repainted when you fancy a change.
Here, freestanding units in traditional styles combine elegance with rustic charm. The color complements the floor tiles too.
16. Home-made and handsome
If you're handy, why not try your hand at making your rustic vanity unit? Salvaged wood is a perfect match for a farmhouse interior, and cast iron handles and hinges look great as accents.
In this example, a simple cabinet is paired with a sharply modern basin in an ultra-stylish combination. The wooden countertop would look just as good in a farmhouse kitchen.
17. Hanging hooks
Hanging hooks are a great way of adding a farmhouse vibe to your bathroom. Look for options that use ceramic and natural materials like cast iron, timber, and sisal.
A series of hooks add to the effect. Either space them out neatly, as in this example, or position them at different levels for a more relaxed look.
18. Natural accessories…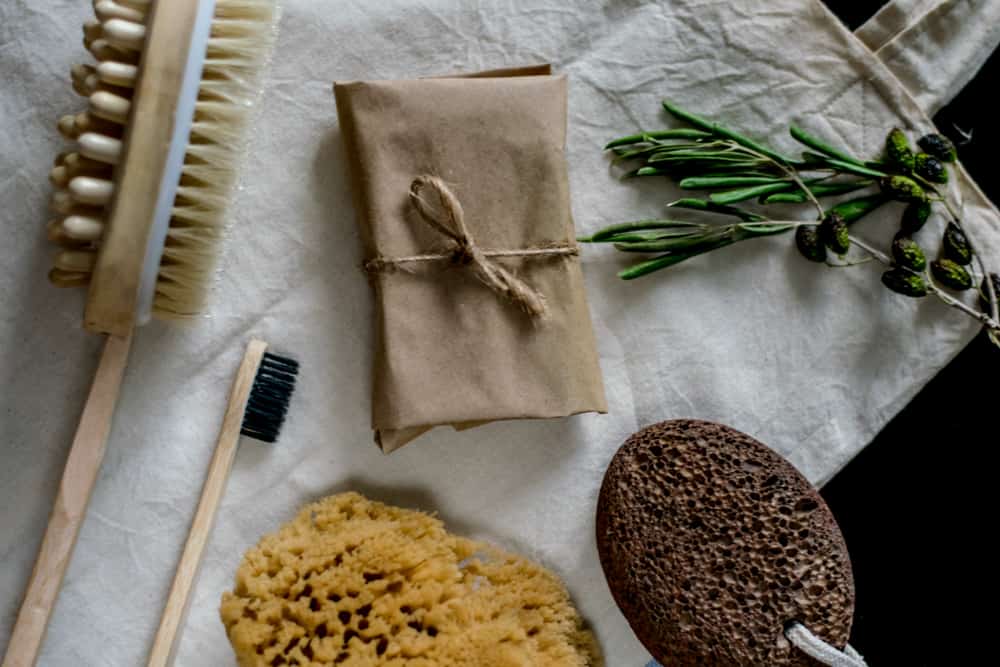 The last thing you want in your rustic bathroom is plastic toothbrushes or shower squeegees on display! Hide them away in a cabinet, or, better yet, look for alternatives made from natural materials.
Natural sponges, pumice and wooden-handled brushes and toothbrushes will all add farmhouse appeal. And they'll be kinder to the environment too.
19. …And natural toiletries
Beautifully made and packaged toiletries are both a joy to use and attractive to look at. For a farmhouse bathroom, look for creamy slabs of hand-made soap. Wooden bowls filled with bath crystals will look great too.
And keep an eye out for vintage glass bottles at flea markets. Filled with bath and shower gel they'll add to the rustic look.
20. Flowers and plants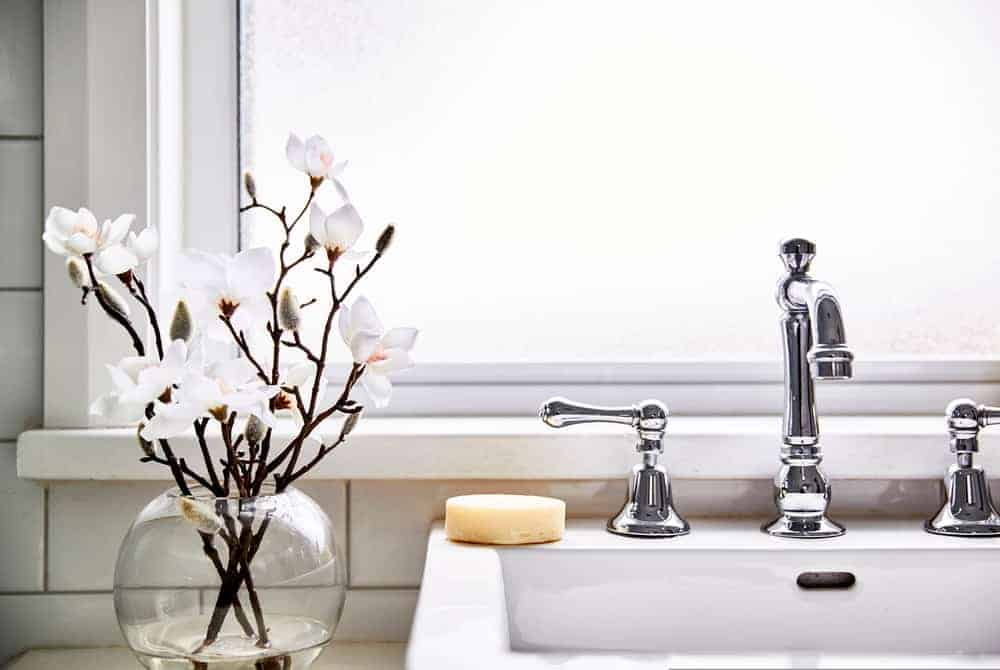 Flowers and plants can create a huge impact in a bathroom. A simple vase of wildflowers positioned next to the handbasin will lift the whole room.
In this French bathroom, a few stems of magnolia add a touch of sophistication to a traditional interior. If you prefer potted plants, daffodils or hyacinths will look wonderful in spring. And in summer, lavender will offer both beauty and fragrance.
21. Quirky details
Little touches can be a great way to bring together your farmhouse décor. This doorknob has bags of vintage style. Wooden or ceramic light pulls, enamel laundry pails, even a wrought iron loo roll holder can all add rustic charm.
Craft fairs and flea markets are great places to hunt out a vintage treasure. Keep your eyes peeled and you never know what you might find!
22. Rustic candles
Add some luxury to your farmhouse bathroom by positioning some candles around your bathtub. Simple pillar candles or white candles in glass jars work perfectly.
Use as few or as many as you like. A single candle in a lantern will look wonderful, and the glass will magnify the glow. A series of pillar candles of varying height will throw different shadows and create more flickering light.
23. Fluffy towels
Make a feature of your bath towels by rolling them up and placing them inside a wicker or sisal basket. White towels always look great, but you don't have to say no to color in a farmhouse bathroom. Here, muted shades of dusky pink, lavender, and dove gray work beautifully together.
They'll look just as good piled on a floating shelf, or draped over a rustic ladder.
24. Traditional washstand
Nothing says farmhouse bathroom more than a traditional ewer and basin. But if you don't fancy a daily trip to the well for water, they work just as well as decorative pieces.
Stand them on a cabinet or stool to create instant countryside charm. You could even use the ewer as a vase for fresh or dried wildflowers.
25. Hanging cistern WC
Antique plumbing won't be to everyone's taste, but there are plenty of modern takes on the classic hanging cistern WC. Investing in a new loo with the vintage appeal can turn your bathroom into a real talking point.
Here, the smart white ceramic and gleaming pipework provide a pleasing contrast to the traditional design.
26. Woven baskets
Homespun craft ware like baskets will look right at home in a farmhouse bathroom. The uses are endless. Small baskets make perfect containers for cotton wool, tissues, and toiletries. We've even seen smaller versions acting as toothbrush holders.
Larger options are great for towels or laundry. Line shallow baskets with cotton for an extra dose of country charm.
27. Wooden shutters
Wooden shutters work brilliantly to create a Mediterranean farmhouse look. Paint them white to keep things fresh and breezy, or opt for a natural finish. And if you have painted cabinetry, you can choose a shade to match.
Stick to wood or iron for the latches to keep them looking rustic.
28. Laundry bags
If you're pushed for floor space, a laundry bag is a stylish alternative to a basket. Choose one in a shade to coordinate with your towels, and hang it from a hook on the wall.
If you have room, hanging things in groups of three always works well. Go for the same shade or coordinating colors, and hang them in size order. They'll look great, and you'll be able to separate bath towels from hand towels and underwear.
29. Artwork
Bathrooms are often forgotten when it comes to locations for hanging artwork, but that needn't be the case. After all, what better place than a luxurious bathtub for gazing at some treasured pictures?
Here, a collection of vintage prints and an embroidered sampler add interest to the corner of the room. Keep frames simple but mix up shapes and finishes to maintain the farmhouse look.
30. Wooden accents
Timber is a great way to create farmhouse appeal, but it doesn't have to be everywhere. Consider adding a single wooden panel to add interest and texture to your wall.
In this bathroom, a sheet of natural wood looks great behind the WC. Choosing the same finish as the cabinet ties the whole look together.
31. Louver doors
Louver doors look great in bathrooms. Even better, because they allow air to circulate, they prevent the contents of cupboards from getting damp.
Look for wooden louvers on cabinets and vanity units. Natural finishes or matte colors will work brilliantly with a farmhouse aesthetic.
32. Architectural details
Drawing attention to original features can bring farmhouse charm to an otherwise conventional bathroom. Showcase beams or uneven plaster walls to get that natural countryside look.
In this bathroom, leaving the stone arch uncovered gives a modern space rustic appeal.
33. Vintage radiators
A vintage radiator will warm up your bathroom whilst avoiding any shiny new plumbing detracting from the farmhouse look.
Here, the sunny shade complements the traditional blue and yellow tiles. Leaving pipework exposed will add to the casual country feel.
Ready to create your farmhouse bathroom?
From light pulls to storage, bathtubs to toiletries, there are loads of options for farmhouse bathroom décor. Natural materials and unfussy fixtures are the keys. Pick a few ideas to add rustic accents to a contemporary room, or go all-out for a cozy look.
We hope you've enjoyed looking at these design ideas, and perhaps found some inspiration for your own home. And if you've already got a farmhouse bathroom, please comment and tell me about it! We'd love to hear about your favorite features.