After you add a bathroom to your home, it will increase its value by approximately 67% on the west coast of the US. On the east coast, you can get up to a 47% better price for the house with the bathroom, on average.
However, these percentages may vary significantly, which will depend on the quality of the materials, size of the bathroom itself, and the State where you live. Building a new bathroom is expensive, so adding it somewhere in your house is a more affordable option. Let's see how much does it cost to add a bathroom.
Before You Start
After checking overall costs, you will see that you may need from $3,000 to 5,000 for a simple installing of the bathroom when you have free space at your disposal. On the other hand, the national average costs for a brand-new bathroom of 100 sq. ft (9 m2) is about $75,000. So, be careful and do your math on time.
For you, the best option is to pick an existing room in the house and make a bathroom there. It can be a basement or bigger closet if you have access to plumbing and electrical installations. In such a case, you should prepare about $3,000.
If that space is without plumbing, the overall cost will be at least $15,000. With $25,000, you can add the bathroom anywhere in the house. That costs include electrical and plumbing work, as well as all bathroom elements necessary.
You can add two types of bathrooms in your house:
A full bath – It includes all pieces necessary, such as a toilet, sink, and shower or bathtub. This option will add more value to your home.
A half-bath – It includes a toilet and sink. Since it is a cheaper option, you should choose it when your budget is limited. The average dimensions of this room include the width of at least 3 to 4 feet (0.9 – 1.2 m) and length of 6 to 8 feet (1.8 – 2,4 m).
Keep in mind that you can increase the value of your home by at least 20% once you convert a half-bath to a full bath.
Bathroom Addition Cost Factors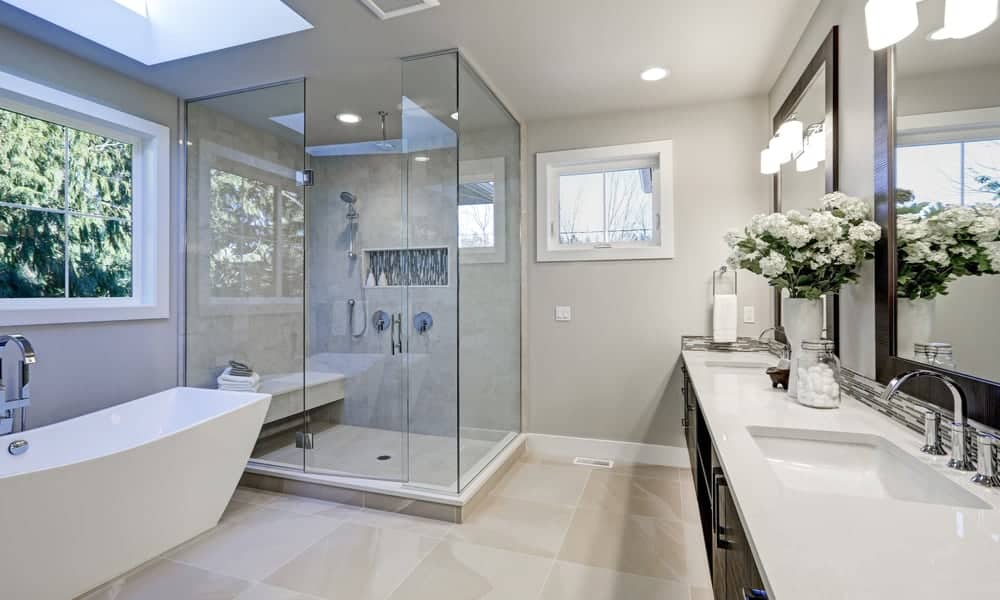 How much does it cost to add a bathroom will depend on many variables, including:
Location – As I have already mentioned, the final costs will primarily depend on existing plumbing. You will need to pay extra for bringing vents, plumbing, and waste lines to the chosen space.
Date of construction of the house – You should check the condition of the plumbing and electrical work in your home before you start working, especially if you live in an old house. Be prepared that this will affect the overall costs significantly.
Size – You should calculate the dimensions of your new bathroom. Obviously, you will pay more if you need to knock out one or more walls to make a bigger room.
Unexpecting expenses – You should always count on unpleasant surprises once you start working. It can be anything, including water leaking, pests, mold, or asbestos.
Shower or Bathtub Installation Cost
Both a shower and bathtub are the central parts of every bathroom. The amount of money you have to set aside for it will depend on:
Location and weight
You need to determine the exact place for your new tub or shower and its dimensions. Check if the floor can support the total weight of a bathtub and the heaviest member of your household to prevent possible damage and injuries.
Style
It won't be the same if you pick out the ordinary tub or top-notch shower cabin. Be prepared to choose the best option that fits your budget.
Amenities
If you can spend more money and want to enjoy a massaging, you should purchase a tub or shower with all-over body jets. Also, you can find models with lighting, built-in seating, handles, shampoo holders, stereos, and addition for aromatherapy.
Shower installation cost
The average cost for a shower cabin is approximately $3,000. However, you will need to pay a lot more (at least $10,000) if you plan to install a super modern shower. However, the final number will depend on many factors, including the price of:
Glass shower doors – $650 to $1,000
Frameless shower doors – $900 to $1,300
Shower glass panels – $850 to $1,200
Shower pan: $200 to $700
Shower stall doors – $200 to $500
Shower tiling: $300 to $3,000
Shower inserts: $50 to $500
Showerhead – $25 to $250
Bathtub installation cost
The average cost of a tub installation is about $2,800. The price for the tub without installation are:
Steel tub – $300 to $500
Fiberglass tub – $300 to $500
Cast iron tub – $400 to $2,500
Acrylic tub – $600 to $900
Cultured marble tub – $1,700 to $2,500
The average hourly wage for a plumber is about $27, so you need to spend about $140 for this type of work.
Bathroom Tile Installation Cost
You will probably try to match tiles to your space. Their size, pattern, and colors will depend on the dimensions of the bathroom, the existence or absence of the bathroom window, and your wishes.
However, avoid shower flooring tiles larger than 6 by 6 inches (15 x 15 cm) since they can make a drain slope shaping difficult. You can find tiles with the average cost in a range from $1.00 to $18.00 per 1 sq. ft (0.09 m2), which will depend on the material they are made of.
The cost of tile flooring installation ranges from $10 to $15 per 1 sq. ft (0.09 m2). On the other hand, you should pay from $7 to $25 per 1 sq. ft (0.09 m2) for the installation of tiles for walls.
Toilet, Vanity, and Sink Installation Cost
Since these elements define the appearance of the bathroom, you need to choose them carefully. They should be elegant and modern, and to fit the style of your home.
Dimensions – Pick out the model of the toilet that matches your high. Also, take care to adjust the height of the sink so that it allows comfortable use.
Faucets – Artistic, modern, or old-fashioned faucets will define the style of your bathroom and make a sink functional.
Vanity – Its design will affect the appearance of the entire space, so you should take care to adjust its dimensions and style.
Toilet installation cost
Basically, you don't need a glamorous toilet, but a functional piece, which will serve the primary purpose. The price for most toilets is from $100 to $200, but you need to add $120 to $230 for installation.
That means the average cost for a toilet installation ranges from approximately $250.00 for standard toilets to $600.00 for luxurious models. The price will mostly depend on the brand and whether a pipe connection already exists or not.
Keep in mind that you will pay less when choosing a one-piece toilet, but the price will depend on the type of toilet bowl, as well. If you decide to mount a wall-hung toilet, you should be aware of future costs since their repair is expensive.
Vanity installation cost
The installation cost for vanities will depend on their width, which comes in a range from 24 to 72 inches (61 cm – 1.8 m).
24 inches (61 cm) – The price is from $70 to $2,200
30 inches (76 cm) – The price is from $140 to $2,800
36 inches (0.9 m) – The price is from $180 to $4,000
48 inches (1.2 m) – The price is from $330 to $,4,000
60 inches (1.5 m) – The price is from $400 to $4,200
72 inches (1.8 m) – The price is up to $4,500
Sink Installation Cost
How much money you need for the new sink will depend on its type and dimensions. However, you will need to pay from $200 to $500 to attach the faucet to the existing water lines and mount the system. Calculate your cost regarding the desirable type of sinks:
Drop-in sink – Since it is cut into the counter, this design looks sleek and stylish. You need to set aside at least $35 for it, but the price can go up to $2,000.
Undermount sink – It is a contemporary model you should install under the counter. Its price is anywhere between $40 and $2,100.
Wall-mounted sink – It is a practical model that doesn't need a counter, but you attach it directly to the wall. Depending on the model you like, you should pay from $40 to $1,550 for it.
Pedestal sink – The cost of this free-standing sink will depend on the design. It can come in one piece, or you can choose a model that has a separate sink and base. The average price is from $60 to $300.
Vessel sink – This contemporary, bowl-like piece will sit on the top of your counter and cost from $80 to $2,750.
Corner sink – This type is an ideal choice for you if you have a small bathroom. It is attached and doesn't take up much space. You will pay it from $120 to $800, depending on the model desired.
The price will also depend on the hardware and the material the sink is made of. In most cases, you can choose between:
Acrylic sink, the most affordable material
Stainless steel
Cast iron
Fireclay, the most expensive sink you can find on the market