No matter how large or small your bathroom is, it's never a bad thing to have extra storage options to help organize your stuff – and since shelves are so easy to DIY, making them yourself rather than buying them is a great way to save yourself a bit of cash.
So for anyone who thinks they might like to have a go, we've had a look online to see what other people have been trying – and as a result, here are 27 great plans for DIY bathroom shelves you might be interested in building yourself.
1. Personalized Storage Shelves
Here's a very simple plan to begin with that just goes to show how making a set of DIY shelves doesn't need to be complicated or expensive. The result is a rustic-looking shelf that's easy to personalize, and since the design is so versatile, you can adapt it to your bathroom, putting in as many as you need. A fun plan that anyone will be able to copy, so well worth a look if you're looking for ideas and inspiration.
2. Building a DIY Bathroom Wall Shelf for Less Than $20
In this video, you'll learn how to make a highly attractive bathroom wall shelf using scrap wood and old paint. We like the way the video is so informative, explaining carefully everything this YouTuber did and demonstrating the work at every step. We also love the result, and we're sure plenty of others will be itching to try making something similar themselves.
3. DIY Bathroom Storage Shelf
The shelves in this plan are a more modern style, so if that's the kind of look you like, this is a plan you should check out. You'll find all the instructions you'll need, along with plenty of beautiful photos showing you the kind of thing you should end up with. And if you appreciate what this blogger has created, why not have a go at copying her idea?
4. DIY Bathroom Shelves from Living to DIY with Rachel Metz
If you're looking for a solution for adding a bit of extra storage to your bathroom and you want to keep things as uncomplicated as possible, this video tutorial should be of interest. As the YouTuber writes in the introduction, this project is "insanely simple", and all you'll need are a few pieces of wood, some wall brackets and some screws. Want to know more? Then check out her video!
5. DIY Bathroom Shelves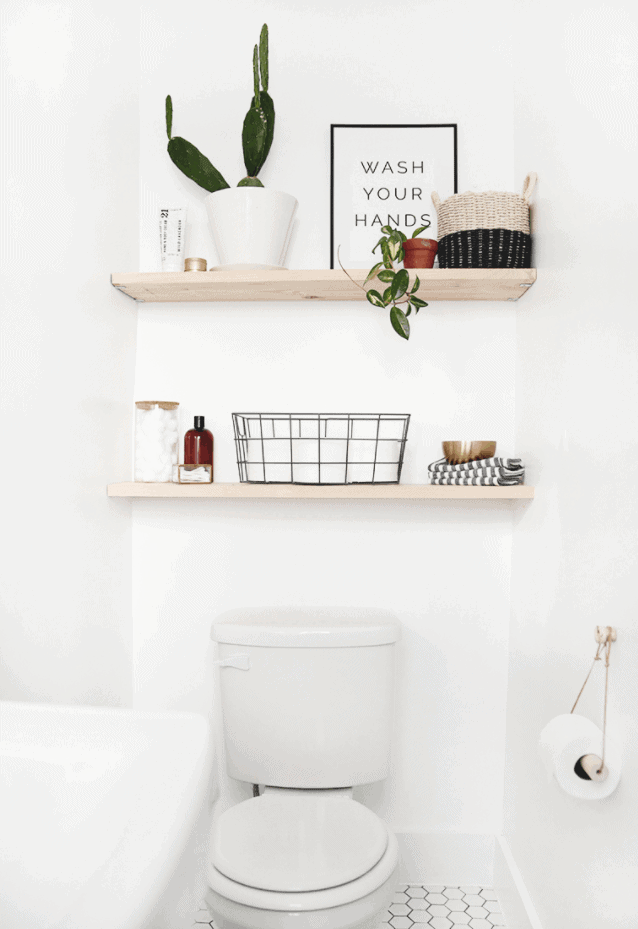 The problem with a lot of bathrooms is that they are just too small, which makes finding anywhere to store stuff a problem. However, in this tutorial, this blogger explains how she made some simple DIY shelves using only basic tools and supplies. And as you can see from the "before" and "after" photos, the result looks amazing!
6. How to Make a Cheap DIY Wooden Bathroom Shelving
This YouTuber claims that this bathroom storage unit he built for his wife is "nothing fancy". Well, maybe it isn't, but it's still a highly impressive bit of DIY. In his video, he takes you through all the steps required to build it, and as you can see, it hardly cost anything to make. Sound like something you'd like to try? Then why not check out his video to see how?
7. Rustic Bathroom Shelving That You Can DIY
In this plan, you learn how to make a simple and inexpensive pipe shelf from a reclaimed piece of wood and some other fittings that you can pick up for very little money – or perhaps even for free. There's plenty of detail explaining how to do it, and there are also some useful photos to show you what you need to do. Another original plan we enjoyed a lot – and well worth a read.
8. Easy DIY Floating Shelves with No bracket
If you want to add storage to your bathroom but you're on a restricted budget, this could be the plan for you – because in it, this YouTuber shows us how to make a set of attractive and convenient floating shelves for less than $10. He also includes a list of all the tools and supplies you'll need, so copying his ideas could hardly be easier.
9. Bathroom Shelves!
Want to know how to make a set of stunning contemporary bathroom shelves without spending a fortune? Then here's a plan that deserves a look. In it, this blogger explains how she installed some extra storage space for her bathroom using only inexpensive supplies. We think the result looks amazing – so why not have a read and see if you agree?
10. Bathroom makeover and no-drill shelving! (DIY IKEA hack)
"Hacking" Ikea furniture to make creative and practical new items for your home has become almost a sub-genre of DIY in itself – and if you want to learn how to make bathroom shelves by recycling Ikea stuff instead of throwing it out, this is a plan that shows you how. It's super-easy, and the finished shelves look impressive too. Great job!
11. Easy-Build Box Shelves
The box shelves this plan teaches you how to make will create a bold look in any bathroom. They look great, but they're also extremely simple to make, so if this is something you can see in your bathroom, you should be able to replicate the design with no difficulties.
12. Easy Floating Bathroom Shelves
Lots of plans we've seen for shelves will cost very little to copy, but the shelves this YouTuber shows us how to make can be built pretty much for free. He made them using scrap wood, and this kind of minimalist style is sure to appeal to lots of people – while also adding valuable extra storage space to your bathroom.
13. How to Make a Hanging Bathroom Shelf for only $10
When it comes to DIY resources, Shanty 2 Chic is among our favorites, and with this plan, they've come up with the goods again. As the name of the site suggests, they specialize in making attractive household items from old junk, and this simple bathroom shelving solution is a great example of what these talented DIYers are capable of.
14. Creating a lot of Storage in a Tiny Bathroom with DIY Shelves
Here's a fun video tutorial from Belgium uploaded by a YouTuber who needed to add some extra storage to his tiny bathroom. It's a simple project, but he explains everything clearly, so you'll have no problem recreating the design at home. He has a great sense of humor too, which makes it a fun video to watch.
15. How to Style Shelves in your Bathroom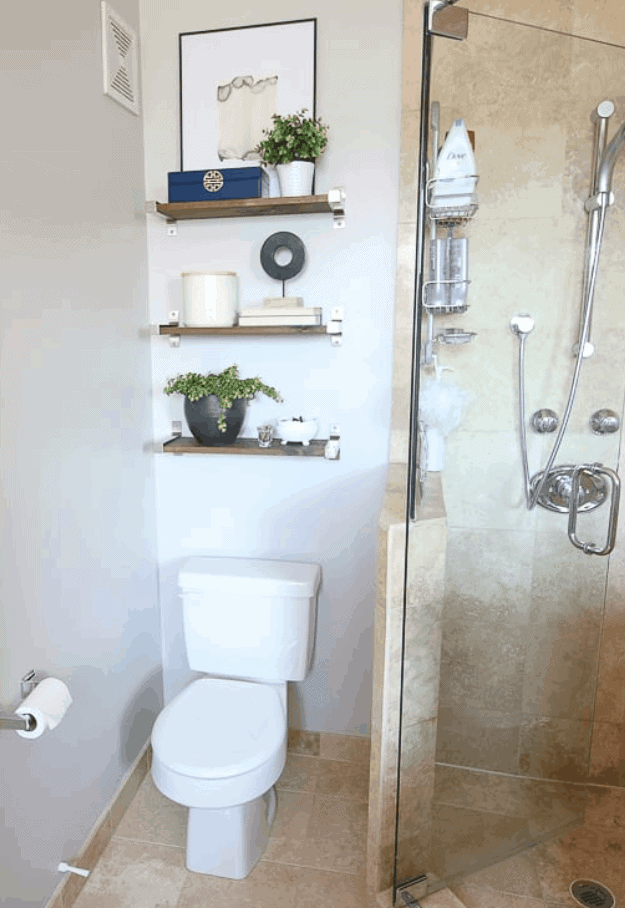 In this tutorial, you'll learn how to make some beautiful bathroom shelves to give you somewhere extra to keep your stuff – and there are also plenty of ideas for the kind of decorative items you can place on them too. They didn't cost much to make either, so if you want something similar, check out this blog to learn how it's done.
16. DIY Farmhouse Shelves
If you're a fan of farmhouse-style fittings, you're sure to love this set of gorgeous DIY shelves. As the YouTuber explains, you can make them in any size and place them anywhere you want, so they're a practical storage solution for the bathroom or anywhere else. It's easy to copy, too, so why not give it a go?
17. How to Build a Bathroom Storage Shelf
This plan for DIY bathroom storage comes from the official Black + Decker website, so as you'd expect, it's a high-quality tutorial. In it, you'll learn how to make corner shelves that will give you somewhere handy to store your clutter, and if that sounds like it might be useful, this plan gives you all the info you need to build one of your own.
18. DIY Floating Shelves & Dollar Tree Ideas
When it comes to inexpensive ideas for DIY shelving, pipe shelves are a great option – and this video tutorial will show you how to make them using cheap supplies you can pick up at Dollar Tree. However, despite being extremely inexpensive, they still look great, and if you agree, it will be an easy job to make something similar.
19. How to Build Bathroom Floating Shelves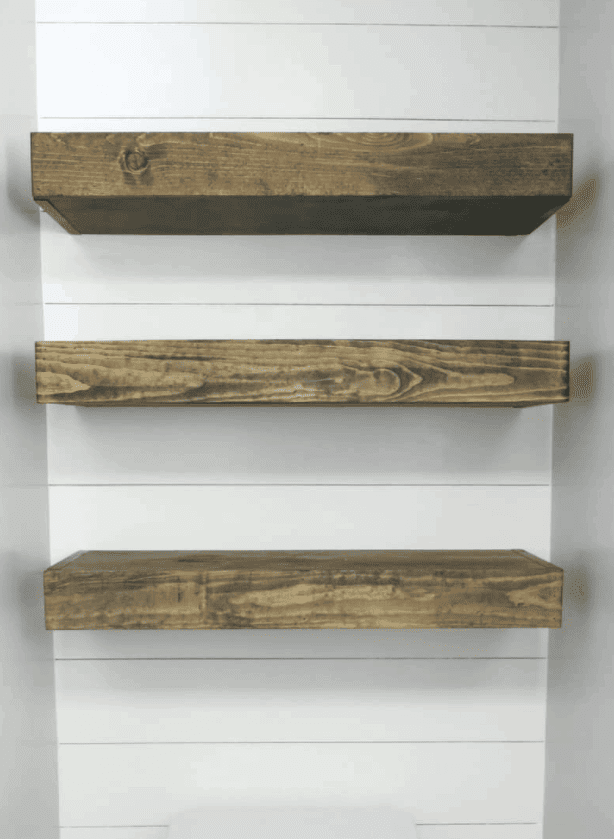 Floating shelves are a great storage solution for small rooms like bathrooms since they enable you to make the most of whatever limited space you have available – and they can also be extremely affordable to build. If that's something you're interested in trying, this blog post comes highly recommended since that's exactly what it teaches you to do.
20. Easy DIY Rustic Farmhouse shelf
Here's a fun video that shows you how these YouTubers made a set of DIY rustic shelves to give themselves a bit of extra storage space in their bathroom. We like the way the video shows you everything you need to do to copy the plan, so if this is a style you like, you can easily build something similar for your bathroom.
21. How to Build Shelves Next to Your Shower
If you have some unused space in your bathroom, it makes sense to convert it into storage, and this blog post teaches you how. We love the way the awkward wasted area beside the shower is turned into an attractive and useful storage area, and if you have a similar gap, this plan is sure to give you some ideas about how to use it.
22. How to Make Simple Floating Alcove Shelves
When it comes to DIY, it's always informative to learn from the pros since they spend their lives doing stuff like this so there's always so much they can teach us. In this video, this YouTuber shows us how he built some bathroom shelves for a customer (without using a nail gun), and it's a simple yet attractive design that just about anyone will be able to copy.
23. DIY Industrial Shelves for the Bathroom
Here's a super-simple idea for industrial-style bathroom shelving. The shelves consist of no more than a piece of wood and some wall brackets, so this is the kind of project even novice DIYers will be able to manage without any difficulty. They look great too, so why not see if you can do something similar?
24. The $20 Rustic Bathroom Cabinet – Easy DIY Project
In this YouTube video, you'll learn how to make a rustic bathroom cabinet for next to nothing. The supplies will only cost you around $20, and once you have everything you need, the rest is simple. We love the way it looks at the end, and we're sure lots of others will agree!
25. DIY Floating Bathroom Shelves
Here's another plan for floating shelves, and the blogger estimates it cost only around $20-30 for all the materials. This plan is easy to customize too, so you can create a set of shelves that perfectly matches the style of your home.
26. Build & Style DIY Shelves for my Bathroom
There's no shortage of plans online for building DIY shelves for bathrooms, but once you've finished them, what are you going to put on them to make your space look more beautiful? Well, if that's a problem you're facing, this tutorial is for you – because, in it, this YouTuber teaches you how to make shelves and then gives you suggestions for decorating them.
27. Bathroom Shelves: A DIY Homeowner's Guide
Putting up shelves in your bathroom is about more than just fitting the shelves themselves – you have to think about the style, the location, the size, the material and a whole lot more. So if you're thinking about installing shelves in your bathroom and are looking for guidance, this tutorial is essential reading because it contains all the information you need.
Loads of great ideas to try
We always love searching online for DIY projects because the amount of creativity and ingenuity on display never fails to inspire us.
We hope you've enjoyed reading and watching these plans as much as we have finding them for you – and above all, we hope we've helped you find the ideas you needed to get started on your next DIY project.