If you live in a home with a small or medium size bathroom, you know how essential it can be to organize your space accurately. You should take care of the size of every piece of furniture, including cabinets and vanities, and their distance from the shower and toilet. When you finish equipping, the last thing you want is to feel overcrowded.
Installing an appropriate bathroom vanity can be a functional and practical solution for you. At the same time, modern design and adequate bathroom vanity dimensions will enable you to create the atmosphere you like. This multifunctional piece will support the sink, hide the plumbs, and provide the most needed storage space in this room.
Types of Bathroom Vanity
The suitable bathroom vanity dimensions will depend on whether you have a family bathroom, a master bathroom, or a powder room. Its height is usually standard, but the depth and width can vary according to the model you choose.
At the very beginning, you should decide which type of bathroom vanity will suits your space the best. Available models include:
1. Freestanding vanity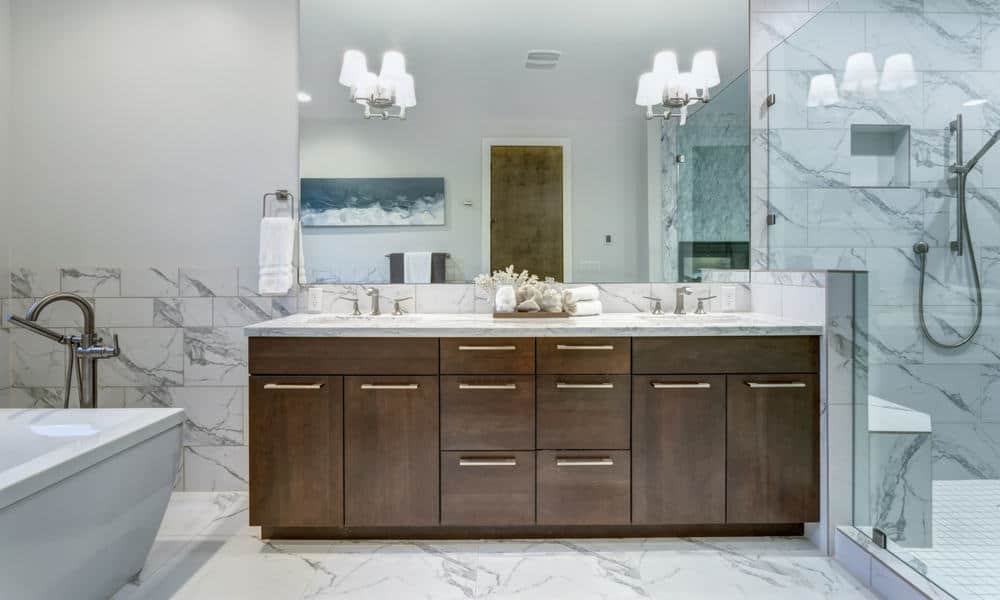 It is the most present bathroom vanity. It looks like a piece of furniture, which comes in various designs. Mostly made of wood, it can feature a closed or an opened bottom. The closed bottom will give you more space for storage and less space to clean.
On the other hand, it will be easier to wipe the excess water from the floor when you have the open bottom vanity. In that case, water won't go underneath and cause damage. It's up to you to choose the model you like more.
2. Floating vanity
This model has a modern design, and it is mounted in the wall, at least 12 inches (30.5 cm) away from the floor. This way of installing creates an impression of more space. Plus, you can quickly maintain the floor beneath since there will be no obstacles when you clean.  Still, you should be careful not to store heavy objects in this type of vanity.
3. Vessel sink vanity
This model will create an image of luxury and uniqueness in your bathroom. In case you choose this model, keep in mind that the entire sink is mounted on the top. So, when you calculate bathroom vanity dimensions, the height will include both vessel and the vanity. Keep in mind that this model has the biggest storage space.
4. Corner bathroom vanity
It is an ideal model for small bathrooms or powder rooms. It doesn't require much space, but it is a functional piece that provides enough space for storing.
Standard Bathroom Vanity Dimensions
Bathroom Vanity Height
When it comes to height, standard bathroom vanity dimensions vary from 30 to 32 inches (76 – 81 cm). Several decades ago, when there was only one bathroom in the house, the height of this piece was adjusted so that the children were able to use it.
Nowadays, the bathroom vanity is a bit higher, so you can choose so-called comfort height bathroom vanity. The term 'comfort' comes from the fact that you don't have to bend too much since it is positioned a bit higher, up to 36 inches (91.5 cm). A small stool for children will help them if you have this model.
Bathroom Vanity Depth
The standard depth of this piece is 21 inches (53.5 cm), but bathroom vanity dimensions don't include depth of a countertop positioned over it. That may add 1 to 2 inches (2.5 – 5 cm), so be aware of this when you do the calculation.
It is particularly crucial if you plan to place your vanity near the bathroom door to avoid blocking it. If your bathroom is tiny, or you want to mount the bathroom vanity in your powder room, you should pick out the 16 or 18 inches (40.5 – 46 cm) deep model. It will visually make the space larger.
Bathroom Vanity Width
Thanks to a range of width available on the market, you can choose among many models of bathroom vanity. You can find smaller ones, wide 24, 30, and 36 inches (61, 76, and 91.5 cm). However, there are wider models of 48, 60, or 72 inches (1.2, 1.5, or 1.8 m), as well.
Most of the single sink vanities are 30 to 48 inches (76 cm – 1.2 m) wide. The most expansive bathroom vanity dimensions usually come with the double sink vanities. In the US, the standard for double sink vanity is from 60 to 72 inches (1.5 – 1.8 m).
Of course, you can purchase a double sink vanity if your bathroom is spacious. Always check if it suits you by analyzing your daily routine. If two members of your family can use the bathroom at the same time, this model is an excellent idea. Otherwise, you should stick with the one sink bathroom vanity, which will save you money and space.
Ways to Extend Bathroom Vanity Dimensions
If you are a fan of DIY projects, you can think about extending the existing bathroom vanity dimensions. Do it quickly by removing the countertop you have already had, and then add a frame with new drawers on the top.
Take care not to exaggerate with the height and make sure that your plumbing features allow making these changes. You don't want to have the faucet too close to your sink.
The next way to make your bathroom vanity higher is to add adjustable legs to it, but be sure that its bottom can support these new legs. Otherwise, feel free to add one more frame, tighten the screws to the wood, and make the construction stable.
In the end, you can improve bathroom vanity dimensions by adding a wood foundation on its bottom. It will be enough to attach it to the floor with few screws to make it stable. That's it!
Summary
If you are creative and skillful and have the required tools, you should make a customized bathroom vanity on your own. The advantage of this project is that you can determine your bathroom vanity dimensions to fit your plans and needs. Plus, you will save some money in your pocket. Well done!