Storage space is important, especially if you only have a small bathroom, so anything that gives you somewhere convenient to keep your towels organized can be invaluable.
For anyone who wants to have a go at making something for themselves, we've had a look online to see what other people have been trying – and as a result, here are our 27 favorite DIY bathroom towel storage plans that you can recreate easily at home.
1. Towel Holder for Bathroom Do It Yourself
If you want to add extra towel storage to your bathroom while spending the least amount of money possible, this is a plan you should appreciate. In it, this YouTuber shows us how she made hers using nothing but supplies she picked up from the Dollar Tree. Inexpensive, yes – but it looks adorable when it's finished, so if you like it, why not make one just like it yourself?
2. Build & Style DIY Shelves for my Bathroom
One of the simplest and most elegant solutions for towel storage in a bathroom is just to add some shelves to the wall. That way, if you have attractive towels, they become part of your bathroom décor themselves. Sound like an interesting idea? then check out this video tutorial to see how to do it.
3. DIY Bathroom Towel Storage in Under 5 Minutes
Need a bathroom towel storage solution in a hurry? Then this is the plan for you because it teaches you how to knock something together in under five minutes. You might think that's not possible, but as you can see from this blog post, with the right ideas, five minutes is all you need!
4. How to Build a Bathroom Towel Cabinet
Another classic storage solution for bathroom towels and a whole range of other bathroom items is to add a bathroom cabinet. It might be a bigger job than some of the simpler options, but when it's finished, it will look great. And if you want to know how to do it, this tutorial will show you everything you need to know.
5. Hand Towel Rack from Reused Wood & $50 Dowel
Check out the old towel holder at the start of this video. Super-ugly, right? But it's the kind that so many people have, and if you're one of them, you're almost certainly on the lookout for DIY ideas that will let you create something more attractive. Just keep watching then, because this video teaches you how to make a simple but stylish wood towel holder that looks way better than the one it replaced.
6. DIY Towel Rack & Bathroom Organizer
Here's a fun idea for a DIY project that plenty of people will enjoy tackling. The tutorial teaches you how to build a classy and stylish wood bathroom organizer that will give you somewhere to keep towels, toilet paper and everything else. It's easy to make too, so if you like it, you shouldn't find it too difficult to replicate this plan at home.
7. Lucite Towel Bar DIY
If you didn't already know, Lucite is a proprietary term for a type of clear acrylic, and as this blogger writes, it's a material that's been making a comeback in recent years. In her blog post, she shows you how she used it to make a handy towel holder, providing you with all the details you need if you want to copy her idea.
8. DIY Wooden Bathroom Shelving Open Frame Storage Unit Like the Ikea Molger
Most people have some Ikea furniture in their home, right? But when you think about it, lots of stuff from the Swedish home furnishings giant is actually very basic, which means if you want to copy their designs, it's really not that hard. That's what this plan is all about since it teaches you how to make a towel holder in the style of the Ikea "Molger" – so why spend money buying one if you can just make one yourself?
9. DIY Bathroom Cabinet
This plan comes from one of our favorite DIY blogs because we find all the designs she comes up with are so stylish and chic. If you agree, and you want a bathroom cabinet like hers to store your towels in, this post will give you all the info you need.
10. Creating a Lot of Storage in a Tiny Bathroom
This video was uploaded by a Belgian DIYer who has a great sense of humor, which makes his videos a lot of fun to watch. In this tutorial, he shows us how he made some extra storage for his tiny bathroom – and since many of us face similar problems, it's a tutorial that plenty of people are likely to find extremely useful!
11. Make a Super-Simple Bath Cabinet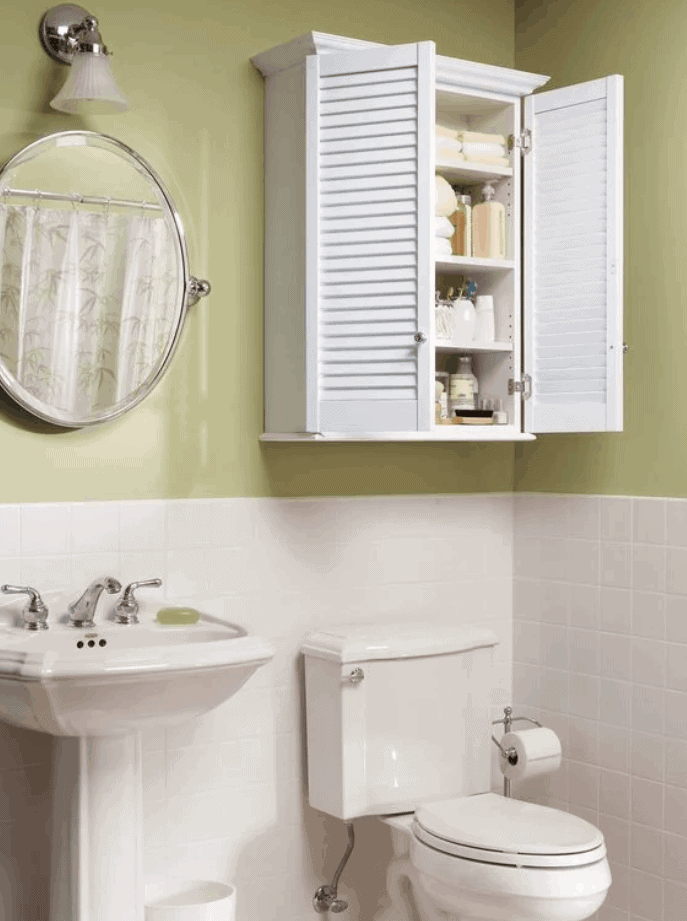 This is a high-quality DIY plan for making a classic bathroom cabinet from wood. You can use it to store your towels, but it will be just as useful for organizing any other bathroom items you have, making it a plan that's well worth checking out.
12. Bathroom makeover and no-drill shelving! (DIY IKEA hack)
"Hacking" stuff from Ikea has become a whole separate sub-genre of DIY in recent years, and there are loads of videos and blog posts online that show people recreating useful new items from all manner of old shelves, cabinets and more. This "hack" is a little different because this YouTuber bought a set of suction-cup towel holders from Ikea especially for the job – but she modified them and incorporated them into her design, and as you can see, the result looks perfect!
13. DIY Bathroom Storage Shelves
This DIY plan teaches you how to make a set of bathroom shelves that go above your toilet, allowing you to keep your towels organized while also keeping a spare roll of paper close at hand. We love the curves she added at the bottom to give it a classic farmhouse look, and we think the result looks fantastic.
14. Cheap and Easy Wooden Ladder DIY FOR $10
As this YouTuber rightly points out, paying $30 or $40 for a blanket ladder is excessive, especially since it's essentially just a few pieces of wood – so she set about making one of her own. If anything, hers looks better than a store-bought version anyway, and if you like her design, it's extremely easy to replicate.
15. DIY Bathroom Wall Cabinet
Here's another blog post that will teach you how to save yourself a lot of cash. In it, this DIYer explains that when she saw a beautiful set of shelves from Pottery Barn that was priced at $437, rather than spend the money, she decided to make something similar herself. Hers looks just like the original too – we're so impressed!
16. $5 Blanket Ladder – Build and Free Plans
In this video, this YouTuber gives us another plan for making a blanket ladder, this time for only around $5. It's a fun project to attempt, and at that kind of price, you can hardly go wrong – so why not have a go and see if you can make one just like it?
17. DIY Scrap Wood Towel Rack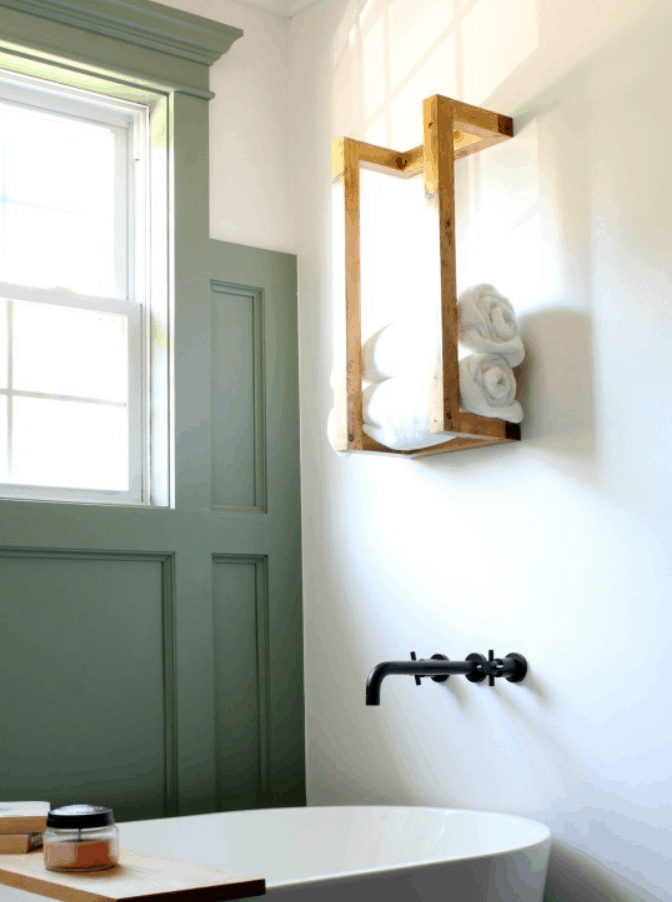 This design for a towel rack is one of our favorites, partly because she made it using just a few pieces of scrap wood she had left over from other projects. That means if you have some spare wood lying around, you won't need to spend anything at all to recreate her original design, giving you stylish extra towel storage for free!
18. DIY $3 Towel Holder
Although this project for a DIY towel holder isn't quite free, at only $3, it might as well be. As this DIYer explains in his introduction, if you have a small bathroom that causes problems finding space to store everything, making a towel rack like this can give you vital extra capacity for organizing towels. It's super-simple too, so it's a project just about anyone can attempt.
19. How to Build a Wooden Bathroom Cabinet
If you're looking for a rewarding woodwork project to keep you busy, this one could be just what you need. It's an idea for building a classic bathroom cabinet from pine board and birch ply, and it will give you somewhere to store your towels and any other bathroom clutter. There's a list of the tools and materials required along with clear instructions and plenty of photos, showing you how to recreate this design at home.
20. Build a Rustic Towel Rack – Easy DIY Project
For anyone who enjoys a bit of banter with their DIY, this is a YouTube channel you'll enjoy, and in this video, these DIYers teach us how to make a rustic towel rack. As you can guess from the name of the channel – Everyone Can Do DIY – it's a project that's suitable for beginners. That makes it a great option for anyone looking to level up their DIY skills.
21. Repurposed Window Bathroom Towel Rack
This is one of the most ingenious and original designs for towel storage we've seen because this DIYer created it from a salvaged window she found by the roadside! It's an adorable idea, and we love the way she gave it a seaside theme by adding a couple of starfish. This is one of our favorite towel storage plans, and we sure plenty of others will love it too.
22. DIY Towel Rack Tutorial
This is a slightly strange video tutorial since, as far as we can tell, there's no sound. No music, no speaking, nothing! But what you do get is a DIYer demonstrating the process for making a beautiful yet functional towel rack that lots of people are sure to want to copy, so this is a video that merits a place on our list all the same
23. DIY Doorknob Towel Rack
Here's a great idea that not many people would have thought of! It's a plan for making a towel holder using old doorknobs attached to a piece of wood that's then fixed to the wall. It's easy to customize, and if you have a few old doorknobs and some scrap wood available, it won't even cost you anything to make, so it's also a great way to recycle old junk that would otherwise have been thrown out.
24. Making a Bathroom Towel Cabinet
The towel cabinet this YouTuber shows us how to make is a little more ambitious, so this is an ideal job to attempt if you're looking for something that will keep you busy for a couple of days. The design is for a classic-style cabinet that is placed in a space between the wall and another antique-looking piece of furniture, so if that's your style, this is a video you should enjoy.
25. DIY Bathroom Shelf and Towel Rack
The shelf and towel rack in this tutorial looks like it might have been made in the 1970s (the post is actually from 2017), so if you're into the retro look, this is the plan for you. It's a simple design and will give you some valuable extra storage space in your bathroom, so if you like the way it looks, why not try making one yourself?
26. Bathroom Refresh and DIY Towel Ladder
If you like the idea of a towel ladder and you also appreciate a chic and classy style, this is a design you'll love. It's super-easy to make, and it will look great in any minimalist contemporary bathroom – as well as in many other settings.
27. DIY Rope Towel Holder
Here's a great idea for towel storage that will also give your bathroom a slightly nautical feel. All you need to do is fasten two clips to the wall and hang a piece of rope between them, so it's an inexpensive and easy solution, but we think it looks great – which just goes to show, sometimes the simplest options are also the best!
Loads of creative designs for bathroom towel storage
As you can see, lots of people have been coming up with a whole range of innovative solutions for bathroom towel storage, giving you plenty of options if you want to try making something yourself.
We've enjoyed collecting these plans for you, so we hope you've enjoyed reading and watching them too. And above all, we hoped we've helped you find the ideas and inspiration you needed to get started on your next DIY project.