With a typical toilet, waste is flushed down the trap and into the sewers. But your bathroom might be in a basement. Or it may have been converted from a room that wasn't originally a bathroom. In both cases, your toilet has no drains, plumbing pipes, or septic tanks.
Upflush toilets are ideal in these scenarios. They push waste into a temporary storage tank, macerate the waste, then pump it 'upwards' or 'sideways' to your main sewer line. But how can you tell which macerating toilet you should buy? Here are ten models you may want to try.
Saniflo Sanicompact Self-Contained Upflush Toilet
It can push waste up to 100 feet horizontally and 9 feet up.
The impeller blade and macerator blade rotate simultaneously on the same spindle, providing enhanced flushing efficiency.
It's great for water conservation, using 1 gallon in light liquid flush and 1.28 gallons in heavy solid flush.
Jabsco Electric Marine Macerator Upflush Toilet
It has a back-flow valve that stops slurry pouring back into the toilet.
It can pump waste 3 feet above the toilet.
Its motor is magnetic and is fully enclosed to prevent friction and corrosion.
The Best Upflush Toilet on the Market 2023
1. Liberty Pumps Macerating Toilet
You can't identify an upflush toilet just by looking at it, and this can be a good thing. After all, upflush toilets blend your waste right there in your bathroom. That's not an image anybody wants to picture. It can also get pretty smelly inside the tank, though it's often scent-sealed.
Liberty upflush toilets are EPA-friendly though. This one uses 1.28 GPF, so it's suitable for California and other low-water states. This unit is comprehensive. It has a toilet bowl, toilet seat, macerator, and ventilation pipes. It uses a rechargeable battery, which is included in the box.
When you charge the battery, it lasts 3 and a half hours, meaning you can use the toilet even if the power is out. The elongated 20-inch seat is a comfy fit, and its white china design has the same aesthetics as ordinary toilets. It has options to attach a sink and tub to the macerator.
This Liberty toilet is mounted on the floor with rear vents. You can lay your plumbing either vertically (for basements) or horizontally (for other un-plumbed parts of the house) Like many macerator toilets, the drainpipe is 1 inch thick, while normal toilets have 2 to 4-inch traps.
If you want a toilet that looks 'normal' but lacks built-in drainage, the Liberty works well. But don't forget to charge the battery. Otherwise, things could get messy.
Pros:
The macerator has patented RazorCut technology for better grinding.
It has a service panel that's easy to remove during maintenance.
It comes with a toilet bowl and a toilet seat.
Cons:
It comes in three separate pieces, so you still need to assemble it.
2. Saniflo Sanicompact Self-Contained Upflush Toilet (

Our Top Pick

)
In most houses, your guest bathroom is a half bath. This means it has a toilet and a sink but no bathtub or shower. If you entertain frequently, or if your kids are getting older and require more privacy, you may want extra bathrooms. This is most urgent when the kids hit teenage.
SaniFlo's 023 Compact is a quick, cost-effective way to provide these much needed extra bathrooms. You can fit it into any space, whether it's a broom closet or a cordoned-off corner of the hallway. You don't even need any prior plumbing – that's the whole point.
SaniFlo Compact has its bowl, cistern, and macerator pump all housed in the same skirted base. You can safely link it to a sink, and release both sources separately. The gray water from the sink is independently disposed from dual flushing toilet waste. This saves water and power.
Unlike many toilets, the SaniCompact has no external scent circulation because it's self-venting. The trap always has water in it, and this water helps absorb toilet odor. The toilet plugs directly into the wall to power the macerator pump, and the toilet can't work without electricity.
For a compact, convenient one-piece toilet for tight spaces, invest in the SaniCompact. Its tank and pump and built into the base, and its soft-closing seat prevents injuries.
Pros:
It can push waste up to 100 feet horizontally and 9 feet up.
The impeller blade and macerator blade rotate simultaneously on the same spindle, providing enhanced flushing efficiency.
It's great for water conservation, using 1 gallon in light liquid flush and 1.28 gallons in heavy solid flush.
Con:
The toilet only has two inlets, so it wouldn't work for a full bath (with a shower/tub).
3. SaniFlo SaniPlus Two-Piece Upflush Toilet
Most toilets send waste away from you. They push it into underground sewers that send it to treatment plants. Or they guide it into your septic tank, which gets emptied by a sewer truck. Upflush toilets like SaniFlo SaniPlus take care of the waste right inside your bathroom.
They do this if your bathroom is under the sewers, meaning you have to pump the waste upwards. Or if the room didn't have plumbing pipes when it was built. Macerators make the waste softer, wetter, finer, and lighter so it's easier to push. They also keep the smell in.
SaniPlus toilets can be installed in basements that are 15 feet below your sewers, and horizontal distances up to 150 feet away from a septic tank. You need electricity to work your SaniPlus, and you can attach a shower, tub, or sink to your drainage system without diluting your waste pump.
SaniPlus uses a pressure pump that starts and stops automatically to prevent overflowing. Your macerating blades are constantly submerged and covered in potential corrosive waste. Also, they're made of stainless steel to strengthen and lengthen their life span.
This is a two-piece toilet, and like many brands, you have to buy the toilet seat separately. Its height is ADA compliant though, even without the seat. The SaniPlus pumps at 10 PSI and uses 1.6 GPF, making it unsuitable for California or Colorado. And it can't refill while the power is off.
This toilet is aesthetically pleasing, and it can push waste 12 feet up or 150 feet sideways, making it ideal for any part of the house. It disposes grey water as well, so it's a dual function toilet.
Pros:
The motor is submerged in oil to keep it lubricated and prevent rust.
Its impellers and macerator blades spin around the same spindle, meaning your SaniPlus has minimal moving parts.
Both blades run at 3,600 RPM (rotations per minute).
Cons:
It doesn't have a battery, so while it can flush once without electricity, the tank won't refill, and the pressure mechanism won't function until the power comes back on.
4. Jabsco Electric Marine Macerator Upflush Toilet (

Budget Pick

)
Many marine toilets are round, so the Jabsco stands out, with its d-shaped seat. This seat is made of baked enamel, which is more sturdy than typical plastic seat lids. Also, unlike other macerating pump motors that are submerged in oil, this motor is fully magnetic.
To protect the motor, it's installed inside a stainless steel case. This prevents damage from sea salt and marine elements. When you install the toilet at home, the steel casing is a good measure against excessive steam and corrosive bathroom products. The bowl is made of china.
Marine toilets generally have a hull holding tank that's emptied when they hit port. For domestic use, you can pump the toilet into your regular sewer or septic tank. The pump only pushes waste 1 m away though, so be careful where you install it. Underground locations won't work.
The toilet uses 12v to pump, and its pump capacity is quite high. But if your electrical supply is shaky, consider replacing it with a manual flushing system. On boats, the toilet pulls seawater and uses it to flush. For home use, you can connect to your regular freshwater mains.
Marine toilets are small and compact, so they're a nice touch if your house has limited square footage. They're great for converting unused corners and awkward spaces into extra bathrooms.
Pros:
It has a back-flow valve that stops slurry pouring back into the toilet.
It can pump waste 3 feet above the toilet.
Its motor is magnetic and is fully enclosed to prevent friction and corrosion.
Con:
Like many marine toilets, the seat is a bit on the shorter side.
5. Lift Assure American Macerating Toilet
If you have to install a toilet in a room without pre-installed drainage, you'd have to tear up the floor. That includes cracking concrete and breaking tiles. Or you could just install a Lift Assure macerating toilet, no plumbing or contractors' fees required. It'll barely take you one weekend.
Lift Assure is a dual flush toilet, so it saves water while enhancing your flushing power. The complete kit includes a toilet bowl, macerator, toilet seat, screws, bolts, washers, and toilet valves. The macerator pump needs 120V to run, so you do need to plug it into a wall outlet.
The toilet has three inlet ports, meaning you can simultaneously connect it to a toilet, sink, and bathtub or shower. Its soft-closing lid is an added safety measure. It prevents you from banging your fingers (or breaking the lid) as it slams shut. You can opt for a round or elongated model.
The pump packs 800W of power, and the three-step macerator works better than previous models. Improved impeller blades rip through potential cloggers like thick toilet paper. It can also grind feminine hygiene products such as sanitary towels or make-up removal pads.
This toilet is small enough to be installed inside a closet and powerful enough to vertically pump waste up to 10 feet. Plus, you can install it yourself, so it's a convenient option.
Pros:
It has additional anti-clogging impeller blades.
It's a fast toilet that can pump 3.85 GPM.
It's a DIY brand so you can install it without a contractor or plumber.
Cons:
The seat is only 15 inches high while 'right height' is 17 to 18 inches.
6. Bathroom Anywhere Bisque Macerating Toilet
This aptly named macerating toilet enables you to install a toilet wherever you like. If the toilet is underground, it can pump water upwards 18 feet. If it's installed at ground level, the pump can push water and waste 150 feet across. The pipes can be exposed or hidden behind the wall.
Maceration generates a stronger smell than regular toilets because it exposes a larger surface area of waste material. To keep the smell contained, Bathroom Anywhere toilets use a two-way air vent to enclose particulate scent. And the toilet can pump waste in 3 seconds or less.
It's a conservative WaterSense toilet that only uses 1.28 GPF. Its universal height is comfortable for users of all ages and abilities. While the toilet seat and mounting hardware are included, the cistern and pump are not. They add quite a bit to your budget, so don't forget to factor them in.
To keep your fingers safe, the toilet seat has a built-in soft-closing hinge. The macerator pump uses electricity, but it's quieter than many competitors. It sounds like a regular non-electric toilet. And with an 18.5-inch height, it works well with invalids and elderly users as per ADA.
This bisque-colored water-saving toilet complies with ANSI requirements. Its vitreous china bowl has a unique shape, but the tank and pump are separate, which eats into your discount.
Pros:
It has eye-catching curves and is ultra-quiet.
Its centrifugal split pump is extra clog-resistant and works in under 3 seconds.
It measures 19.5 inches from the floor to the seat-top.
Cons:
You have to cough up more cash for the macerator and the cistern – they're not included.
7. Zoeller Ultima Elongated Upflush Toilet
The most important part of an upflush toilet is its tank. It needs the speed and blade sharpness to make fine, consistent slurry. If the sludge is too thick, it won't fit through those 1-inch pipes. And if the pump lacks power, it won't overcome the resistance of those same narrow pipes.
It also won't have the pressure to push sludge all the way to the sewer. This can cause clogs, burst pipes, and terrifying messes. Zoeller is a pump manufacturer, so they have the hardware down. Their pumps power many other brands, so they decided to build a toilet of their own.
They named it the Qwik Jon Ultima Closet and armed it with all the right features. It has an elongated bowl for comfortable seating and a height of 15.5 inches. That's a tad below 'right height' but it works well for kids. The upflush unit can be described as 'kiddie-sized' as well.
Rather than a full-sized macerator, the Qwik Jon has a mini grinder pump. This pump is made from thermoplastic, so it resists corrosion. Its grinder is made of 404 stainless steel and cuts 250,000 times per minute. Its ball bearings swim in oil and its shaft is coated in ceramic carbon.
The pump works by spinning its vortex impellers at extreme speeds. It continues to function at temperatures of up to 130°F. The most popular models are the 202 (which has a toilet, tank, and pump), and the 203 (no toilet, just the pump, and the tank). 203 is compliant with other brands.
Zoeller's Qwik Jon is effective and stylish. It can macerate tough toilet products including condoms and non-flushable wipes. Confirm your purchase has the tank and pump included.
Pros:
The pump and cistern are pre-assembled, so they're ready-to-use and easier to install.
Its stainless steel Tri-slice cutters can snip fabric, latex, and other toilet wipes.
It has automated protection against overloading and overheating.
Con:
At 1.6 GPF, it's not suitable for specific states like Texas and Colorado.
8. IntelFlo 600 Watt Dual Flush Macerator
When you first look at this toilet, you may be wary. It seems to have no tank or pump attached. And since similar designs sell them separately, your wallet may start to shiver. You may begin to worry about the additional cost implied by this sleek, curvy aesthetic. But you can relax.
The reason this IntelFlo dual flush toilet looks like a one-piece is because it's self-contained. Its macerator is built into its thick skirted base. And it doesn't need a separate tank because its flushing mechanism receives its water supply directly from the mains.
It's extremely economical in terms of water usage. In liquid flush, it uses 0.75 GPF, while solid flush caps at 1 GPF. This is well below WaterSense stipulations. When you press the flush button, it automatically initiates the suction and slicing action needed to macerate waste.
This one-piece upflush toilet occupies minimal space, so you can tuck it into attic nooks or niches under the stairs. Despite its tiny size, it can pump 20 feet up and 160 feet across. It's just under 60 pounds and runs on 4 to 5 HP. No batteries though, so it needs live power to work.
We assume upflush toilets are just for basements. But if you have limited space and your taps are seeping due to low water pressure, consider installing an IntelFlo Dual Flush toilet.
Pros:
The pump was prodded and perfected for 11 years to remove all kinks.
The flushing mechanism is built-in so it doesn't need a cistern.
It has a cute curvy shape and skirted bottom for easier maintenance.
Con:
It's a compact one-piece without an inlet, so you can't attach it to showers or sinks.
9. Thetford Marine Nano Eco Macerating Toilet
We used to call them caravans, RVs, or mobile homes. Now we call them Tiny Houses and they're suddenly cool, with or without wheels. In the same way, we've brought tour-bus accessories into permanent homes, we can insert marine toilets into land-lubber living.
Marine toilets are designed to work without sewer systems, so they're perfect for basement homes and 'non-bathroom' bathrooms. Thetford's Tecma Nano electrical model is a tiny turbo toilet that stands just 11.6 inches high, making it the smallest toilet on the market.
Packaging includes a soft-closing plastic toilet seat with a curvy lid. The toilet itself is made from vitreous china.  It doesn't need a separate tank or pump – they're built into its curvy cute base. But you do have to buy a separate switch and intake for this quiet, quick-flushing toilet.
Your intake is what guides flush-water into the toilet. You can buy a pressure system or a raw water system. This nano toilet only uses 12V of electricity and 0.1 to 0.7 GPF. Its inlet is a narrow 0.75 inches, but at 1.5 inches, its outlet is wider than most upflush toilets.
Even if you don't have a houseboat, you can squeeze this tiny toilet into limited living space. It consumes minimal power and water, and it makes a beautiful bathroom fixture.
Pros:
It conserves space, power, and energy so it's perfect for small green living.
It has a two-year limited warranty so you're not on your own.
Its high-pressure nozzle jet offers a faster, cleaner flush.
Con:
The water inlet system has to be bought separately, which can be expensive.
10. Five Oceans TMC Marine Macerating Toilet
If you love the ocean or are nostalgic for your sailing past, a marine toilet could be a good way to celebrate your seafaring days. The Five Oceans TMC toilet scratches this itch quite nicely. It's an extremely lightweight toilet at just 33 pounds, and it stands 13 inches high.
It's perfectly round seat is 17.5 inches in diameter and has a slow-closing toilet. This is essential to prevent slamming on choppy seas. But it can also protect your fingers … and other body parts when you install it at home. To flush the toilet, press the button and trigger the macerator.
The toilet bowl is made of China and has automated pre-wetting so it doesn't need much maintenance. At sea, it's advised to install the toilet 25 inches above the water's surface. Meaning at home, the upflush pump can only push waste 2 feet high. That's not high enough.
If you want the toilet to pump higher or further, you need a pressurized water system with a solenoid valve. This has to be bought from a different company since TNC doesn't manufacture them. Meaning your external valve could end up being incompatible with your toilet.
The Five Oceans TMC toilet conserves water and electricity. It also takes less time and energy to clean. But its low-pressure pump limits the places where you can install it.
Pros:
Its unusual shape gives your bathroom some unexpected style.
Its low height is suitable for kids and height-impaired users.
It has a built-in battery so it can work for short periods without power.
Con:
It's designed for boats and reaches a maximum pumping height of 25 inches, so it won't work for basement placement.
Also check our guide on Bidet Toilet Seat!
Buying Guide
An upflush toilet is sometimes called a macerating toilet. It's the type of toilet you install in a basement. You can also install it in a bathroom that doesn't have its own plumbing or drainage system. This can be helpful when you're renovating a room that wasn't originally a bathroom.
Instead of pushing 'normal' waste, macerators turn it into a semi-liquid slurry. This slurry is made by cutting, grinding, mashing, and blending the waste. It gets softer and lighter. This helps because you're working against gravity, and pumping it through thinner plumbing pipes.
There are lots of different macerating toilets on the market. Their purchase price is higher than 'normal' toilets, though their installation fee is lower. For many buyers, this is a good thing because plumbers are expensive! But how can you be sure you bought the best upflush toilet?
Flushing Options
Typical toilets empty into the sewer, which is way below the toilet. These underground drainage pipes use gravity to pull your waste down. Upflush toilets are often below your septic tank because the toilet is in the basement. Other times, it has no access to the sewers at all.
This means you need some kind of pump. This pump pushes your waste 'upwards' towards the sewer. This is why they're called upflush toilets. Ask questions and read manuals to find out exactly how this pump works. If you buy an electrical upflush, you need consistent electricity.
Alternatively, you might need to push the waste 'sideways' towards a septic tank a few meters away. In that case, the pump needs enough power. It has to push waste all the way to the sewers. Some toilets don't use electricity at all. Instead, they use your existing indoor water pressure.
But these are older models, so while you'll save on power, you might have a hard time finding spare parts. McPherson was a pretty popular upflush brand, but they've since gone out of business. So if you find an eerily cheap one on the market, buyer beware …
Toilet Location
A basement toilet has to push waste up into the main house drain, or sideways to the external septic tank. This affects three things – the length of your pipes, the power of pumps, and the amount of electricity you'll need. Buy a toilet that has the right specs for your requirements.
The location also influences ventilation. You don't want your space to be constantly dank and smelly. You might need heavy-duty fans and scent-proof toilet fixtures. Location isn't just about the room. It's also about the positioning of your commode. Where does the toilet bowl sit?
Some designs dig a hole, line it with concrete, and sink the upflush sewer system inside it. Other designs use a self-contained sump which installs directly on a flat floor. The commode is then installed on top of the sewer sump, meaning your toilet is slightly raised.
The location of your toilet affects traffic too. If your basement is a rental, you might have an entire family living down there. So the toilet needs enough capacity to serve them all without flooding. But if it's a man-cave or teenage gaming room, the toilet won't be used as often.
Additional Fixtures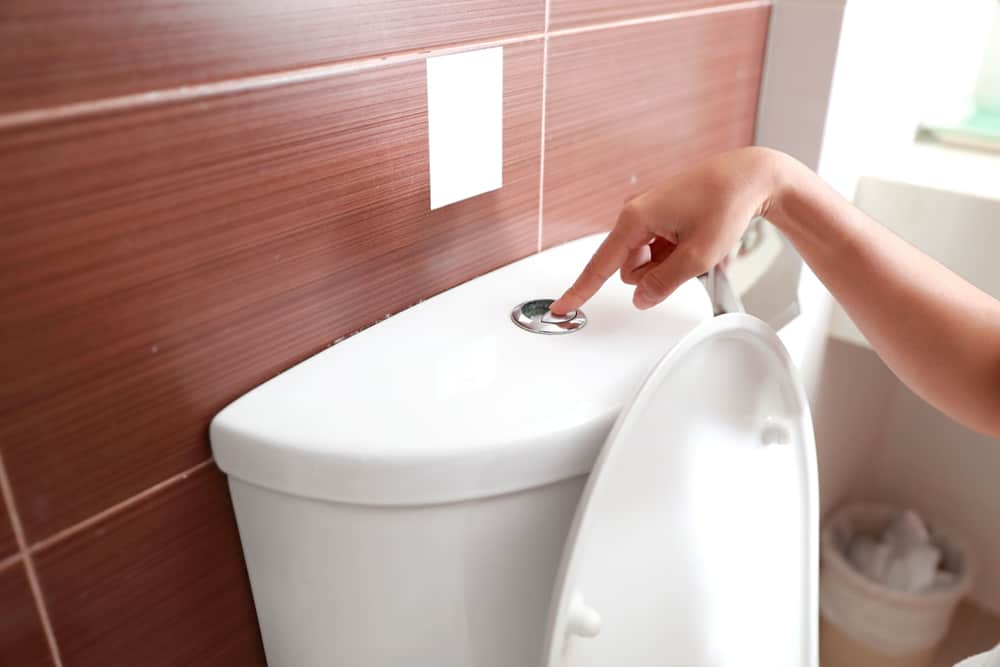 Macerating toilets work by cutting, grinding, and mixing up your waste into a sludgy mess. This compressed waste occupies less space and is easier to pump. And if this improvised bathroom has no built-in plumbing, you may need to attach a sink, tub, or shower to make it usable.
So if you're building a half-bath or full-bath, make sure you buy a model that lets you link these fixtures. They'll introduce a lot more liquid to your make-shift sewer system. So if they're not tailored for this purpose, your system will soon clog. Or worse, it might overflow.
Design choices also include materials. Your commode will probably be vitreous china or porcelain. But your piping might be PVC. Think about the toilet chemicals (and even the toilet paper) you use, and whether they're suitable for upflush toilets. Some may corrode your piping.
Other macerating toilets are fussy about the type of (recycled) paper you can flush. You want to be sure your macerator has enough power to grind it. Check restrictions carefully or you'll have a clog after every use. Also, be sure pipe extension and spares are available – and affordable.
Appropriate upflushing
Given all these caveats, we think the best choice for your macerating toilet is the SaniFlo SaniCompact. With a horizontal push of between 100 and 120 feet, you can squeeze it into the farthest, smallest corners of your home. The pump also has a 9-foot vertical push.
The soft-closing toilet seat and the skirted bottom increase the longevity of your toilet while lowering its maintenance requirements. You can attach a sink to your upflush toilet and get rid of gray water without affecting toilet operation. It's aesthetically pleasing as well, so buy it!