Towels are meant to be absorbent. It's their entire reason for existing. But bathrooms are often humid. And keeping damp towels can create a health hazard. Plus, it's just icky.
So your bathroom towel storage ideas need to be … airy. They should help your towels dry faster, avoiding mold and stuffiness. Let's check out some smart storage suggestions.
1. Low Shelves
A typical bathroom vanity is waist-high. But remember, hot air and steam rises. So the areas closer to the ceiling are likely to be more humid. Meaning the towel storage should be closer to the ground. In this bathroom, The knee-high cabinet is perfect for towels. You can roll them and stack them on top of the shelf. Or you can tuck them in the dresser drawers.
2. Above the Tub
That may seem like a silly place to put a towel rack. It's directly in the pathway of your steaming bathtub! But the rack is also directly in front of the massive window. So it has access to direct sunlight and a breeze, meaning it'll dry faster. Once it's warm and crispy, you can roll your towel and tuck it behind the glass cabinet door. The glass prevents mold.
3. Open and Close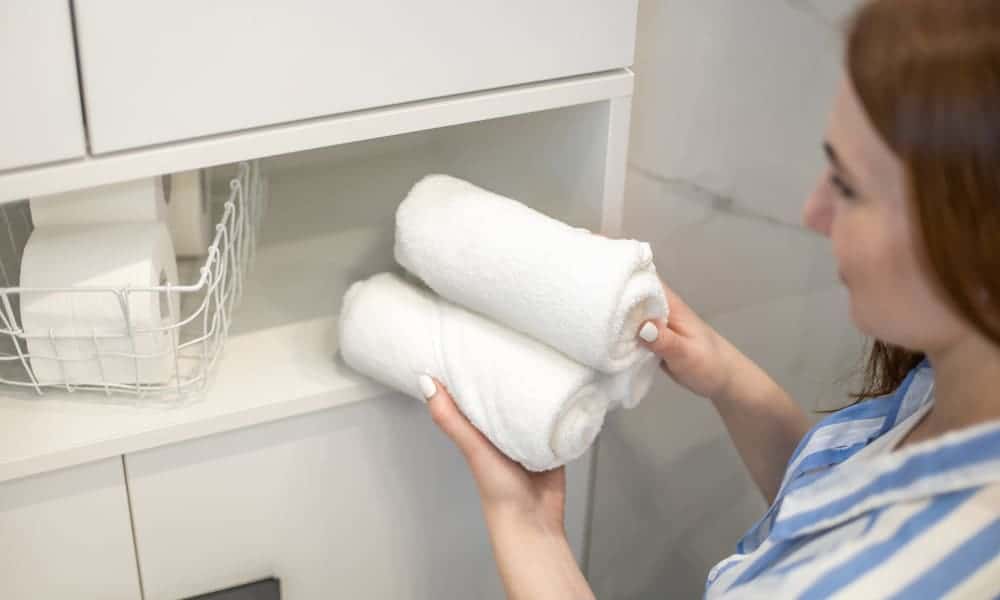 Your bathroom cabinets probably have open and closed shelves. So maybe you're unsure of what goes where. If your cabinet has glass doors, it's a good way to keep the moisture out. But if the doors are wooden, any moisture trapped inside could damage the timber and make your towels musty. So dry your towels completely then roll and stack them on airy shelves.
4. Spread the Out
The more you splay a towel, the faster it dries. And the better it resists mold. So instead of squashing used towels onto a single rack, mount several towel rails around the bathroom. In this space, there's a rack on the glass shower door. Two more racks hang on either side of the bathroom mirror. Once dry, you can fold the towels and tuck them in your vanity drawers.
5. Stainless Shelving
This towel rack is perfect for bathrooms. The metal is rust-proof and the shelf has no sides or drawers. Air flows freely all around the shelf so your towels will dry quicker. The shelf is portable – it has casters on its feet. So you can move it away from the wall when you want to drape the towels. Once they've dried, stack them on the rack and push it back into place.
6. Wood and Wicker
The massive windows in the bathroom let a lot of daylight in. Meaning everything in the bathroom will dry faster. Open shelves are a safe choice then because heat and steam dissipate quite quickly. The shelf here has wooden frames without doors or drawers. The shelves are stacked with wicker baskets for additional bathroom storage.
7. Side Door Storage
Towel racks are the easiest bathroom storage ideas. And they're intuitive because you'll automatically hang the towel once you're done with it. (Unless you're the type of dude that tosses it on the floor.) In this bathroom, the rack is mounted on the glass bathroom door for easy access. On the side, a narrow closet can hold the rolled-up towels once they're dry.
8. Vanities and Vented Doors
This bathroom has a gorgeous wooden vanity in reddish-brown wood. Those cabinets are ideal for towels and other bath linens. And projecting bulbous sink is unexpectedly aesthetic. On the side, the covered closet has vents in its door to prevent stuffiness. If you choose to keep towels there, you may need silica gel bags or a dehumidifier to stop them from getting damp.
9. Intricate Storage Options
Lots of bathrooms have stained glass. But those bathrooms are often eerie and dim. The colors from the stained glass can tint the whole room a disturbing green, blue, or orange. The stained glass has bright colors that leave the bathroom bright. That ornate off-white vanity with its curvy sink and gold-tone knobs is pretty, and the towel hoop helps too.
10. Cabinetry Everywhere
If you've ever gone house-hunting with a woman (or a confidently gendered man), you'll know you can never have too many closets. And this bathroom is packed with them. The twin vanities both have drawers. An extra cabinet sits above the toilet (watch your head!) Opposite the shower, a three-door closet is built into the walls. It stretches to the ceiling.
11. Nook to Door
You may not be feeling that built-in closet vibe. Or maybe you don't have space for it. So instead of a walk-n, this bathroom has crafted a nook and tucked a vanity into it. The vanity shelves run wall-to-wall within the nook. It's bordered on one side by a longitudinal cabinet that stretches floor-to-ceiling. Dry your towels on the towel hoop before putting them away.
12. Sit and Shine
This twin vanity has a simple feature that makes it remarkable. The middle section between the two sinks is sunken, leaving an open section below. You can tuck a chair there and use it to do your hair, make-up, shaving, or anything. You can also drape a towel over the open spot and let it dry. The vanity has tons of doors and drawers where you can stash towels.
13. Retro Chic
The beige color scheme and distressed tiles give this bathroom a vintage feel. The columns and arches framing the mirror heighten the effect. Even the vanity is retro, with its distinct wood grain and its neon blue doorknobs. So the bathroom is full of bathroom towel storage ideas. A tall closet is tucked into one corner, topped by plants and flanked with flowers.
Clever decorators know how to bring a room together. They put in little touches and accents echo each other in a type of interior décor call-and-response. In this case, a slim wooden plank runs parallel to the countertop, forming a border between the backsplash and the rest of the wall. Opposite, a towel rack mimics the wooden line while providing towel storage.
15. Rear Reinforcement
We've already looked at the front view of this bathroom. The one with a sunken mid-section. Opposite the mirror, a large bathtub is installed under a massive window. A towel rack on the sidewall lets your linens soak upwind and sun after a soothing soak. Don't let the towel hang too long though – the direct sunlight disinfects wet fabric … but it also discolors cloth.
16. Buzzing Bathroom
A lot is going on in this bathroom. Between the seeming miniature fixtures, the quirky colored vanity, and the mixed tiles, you're not sure where to look. It can be a tad unsettling. But if this is your aesthetic, enjoy it. It's certainly not short on bathroom towel storage ideas, pun intended. Towels are draped over the tub, on the side stool, and a wooden wall rack.
17. Home-made Shelves
For those with woodwork skills and a good set of tools, storage options are simple. This bathroom has two open shelves made from salvaged timber. These distressed planks are smoothened then mounted to the wall. It's a simple fix that will barely take one afternoon. Screw (or drill) the nails into studded sections of the wall to avoid forming cracks in the wall.
18. Seats and Drawers
A bright, vibrant bathroom is a treasure. And this one is warm and colorful, with its mint walls, ocean blue countertop (plus backsplash), and its numerous wooden cabinets. The vanity drawers match the closet opposite the mirror. But a second set of drawers is mounted just under the window for added storage. The top is padded with portable blue cushions.
19. Corners of Aqua
Someone described this color as aqua, but you may see it more as olive or gray. Either way, this tight powder room still has storage space. The vanity fills the entire width of the room – which isn't that much to start with. It has several MDF drawers where your towels can sit.
20. Bathroom or Washroom?
In polite society, we sometimes say 'washroom' instead of toilet. But in this case, the bathroom is a literal washroom. It has a large washbasin and an overhead washing machine. It may have a tub or toilet that didn't make it into the photo. Beside the washing machine, open shelving lets you store your clean, dry towels after they leave the machine.
21. Racks and Ladders
Foldable racks are a good way to provide storage while saving space. And the ladder rack here is both practical and pretty. You can fold it and lean it against the wall. Or stash it in the closet. But you can also open it and stack the shelves with towels and other bathroom items.
22. White Wonder
Usually, when a bathroom is done in white, the tiles are glossy. In this case, the brick wall is painted in matte white. Whitewashed wicker baskets and a portable open shelf complete the snowy theme. This makes a good weekend DIY project. You can find these shelves and baskets on the cheap at junkyards, storage lockers, and garage sales. Then add white paint.
23. Set the Table
Here's a slightly more complex storage project – a bathroom table. You can buy it or build it, but make sure the white paint is sealed to keep it moisture-proof. The table-top serves as a bathroom work-surface while the platform below offers storage for towels and other things.
24. Shelf and Stool
What if you need a smaller footprint? In this bathroom, a simple stool takes the place of a bathroom table. Beside it, a white open shelf provides more permanent storage. Why? The stool is functional, at some point you may want to shift the towel and sit or stand on it …
25. Layers and Levels
This Spartan bathroom still manages to look elegant, with its matte black walls and beige flooring. For storage, a waist-high wicker basket is paired with two split-level metallic stools. Use the towel rack above the stools to dry the towels first. Then you can fold and stash them.
26. Floating Shelves
Raised vanities leave open space beneath their lowest surfaces. This can make your bathroom seem larger and airier. But this bathroom takes a step further, mounting the floating shelf overhead. Sliding doors give you easy access. The dark wood is gorgeous.
27. Coils and Coppers
Towel racks are so simple – just install a rail and secure it to the wall. But with a few aesthetic touches, you can elevate that towel storage idea. In this bathroom, the racks are made of curved copper tubes and mounted in three layers. Look out for patina and greening.
28. Hook and Fix
Is there a simpler solution than towel racks? Yes! If you want cheap, instant bathroom towel storage ideas, visit a hardware store. Or a bath supply shop. They have shiny bathroom hooks that are great for hanging towels. Ask about the mounting procedure to avoid damaging your bathroom walls. Some are sold with suction cups or tile-friendly escutcheon plates.
29. Wiry Baskets
We've seen tons of wicker baskets so far. But what if you prefer metal? These wire baskets are cute and discreet. And the mesh sides allow air circulation so your towels won't stay damp. For bathrooms that don't have space, you can place these baskets over the toilet or on open shelves drilled into the wall. Keep the baskets in your bedroom if there's no bathroom space.
30. Metal Floaters
Timber is expensive and high0maintenance. Especially for bathrooms. So if you want open shelves without the drama, buy a metal floating rack from any hardware or bath supply shop. It's the same concept as the metal hooks we checked out earlier, but the design is more intricate and there's more storage space. Multiple towels can drape off the hooks and rails.
31. Vintage Vantage
Pass by any estate sale or 'storage locker unboxing'. You can even visit junkyards. If you're patient and methodical, you're sure to spot one of these vintage shelves. It's unlikely to be this clean or done-up. You may need to sand it, remove rust and scuff marks, then paint it. Two styles are shown here – a stenciled one with holes and an arched one with open grills.
What bathroom storage ideas are you using? Show us some photos in the comments!