If you look up 'bath salts' online, you'll find two rather polar descriptions. One is harmful to teens. The other means they might never leave the bathroom! We're talking about the latter – a concoction of soluble minerals and salts you can add to bathwater. They tingle on your skin and simulate the effect of soaking in natural hot springs. Or even the hot tub at the spa.
But commercial bath salts often have chemicals and additives that could cause skin issues. Also, they're expensive. So lots of bath lovers prefer to brew their own DIY bath salts at home. It's much easier than you'd think and doesn't take long. Plus, once you make a batch, you can store it for months. So let's check out some simple bath salt recipes you can try.
1. Amandatory Peppermint DIY Bath Salts
The difference between bath salts and bath bombs is the 'packaging'. Bath bombs are shaped into compact balls that dissolve slowly. Bath salts are often stored in granulated crystal form. Combine Dead Sea salt, Himalayan pink salt, and Hawaiian black lava salt, red rose petals, and sparkly mica to make a colorful mix. For fragrance and aromatherapy, add peppermint.
2. Ten-Minute DIY Bath Salts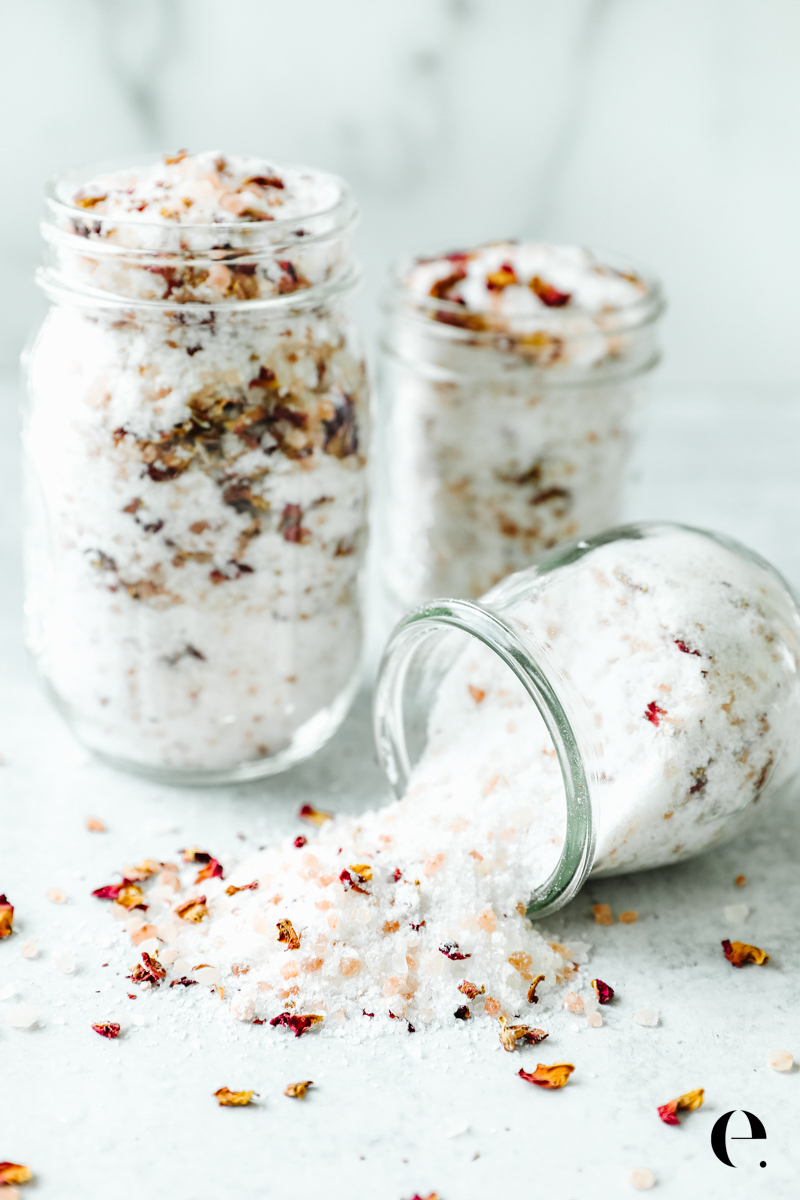 The process of making DIY bath salts is simple – just mix and bottle! But you may be unsure of what flavors and variants go well together. This recipe uses Epsom salt, coarse pink sea salt, baking soda, and essential oils. You can add crushed flower petals and a moisturizing body oil of your choice. Coconut and almond are good options. Poke holes in the lid if you need to.
3. Lakishaa's Oil-Infused Bath Salts
Dollar Tree bath salts are pretty and pocket-friendly. But when you want a premium product on a tight budget, you elevate those cents-worthy scents with a few simple tricks. Lakishaa mixes pink and purple store-bought bath salts with an oil blend (olive, coconut, tea-tree, vitamin A + E) aloe vera, glycerine + rose water, rosemary, fennel, and bath splash.
4. Healthy Maven DIY Bath Salts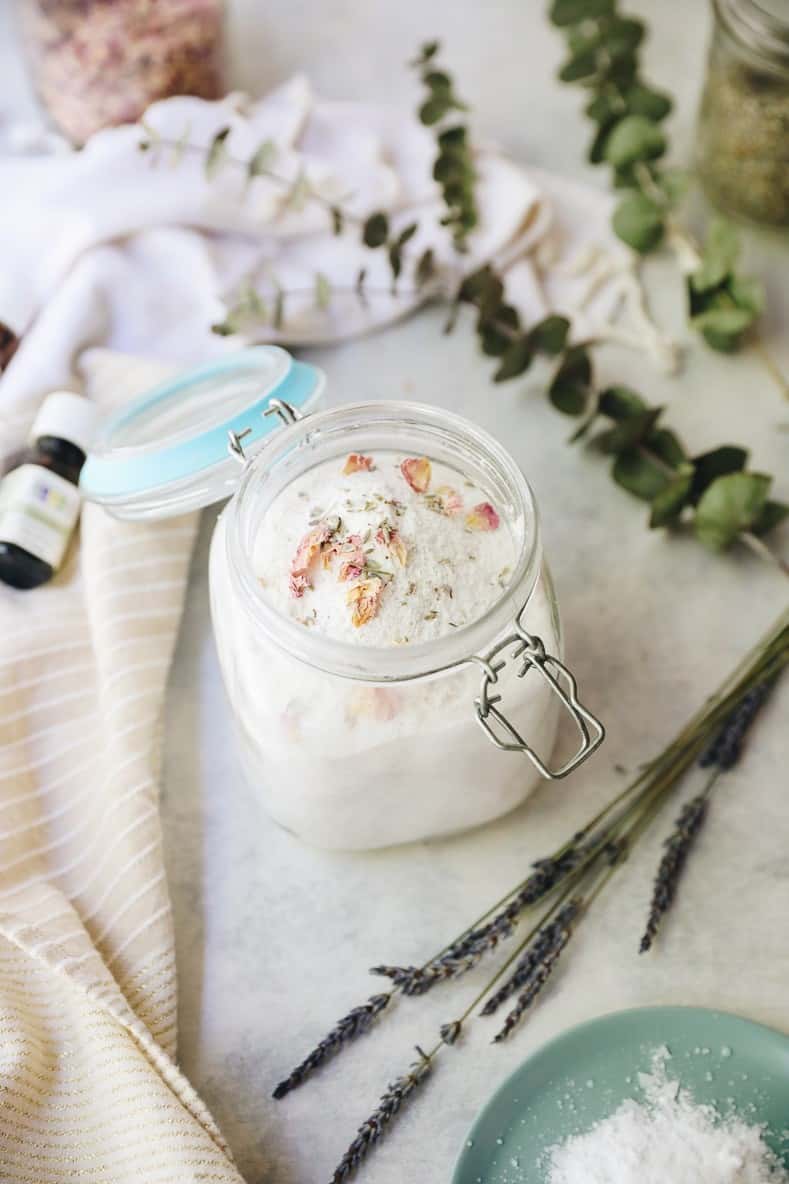 The same base ingredients can form multiple variants of DIY bath salts. These are Epsom salt, Dead Sea salt, Himalayan pink salt, assorted essential oils, and assorted dried herbs. Davida's four favourite mixes are lavender + chamomile for sleep; rose + coconut for skin; neroli + sandalwood for relaxing; or eucalyptus + grapefruit + cloves + rosemary for energy.
5. Sparkling Unicorn Bath Salts
When you're making bath salts at home, store them in see-through jars. That helps you visually enjoy the sparkles and patterns in your bath salts. This recipe mixes pink, blue, white, and purple salt to form sparkly unicorn stripes. Other ingredients in this DIY bath salt recipe include multi-colored mica, holographic glitter, liquid coloring, and Natrasorb.
6. House & Homestead DIY Bath Salts
Baking soda is a common ingredient in DIY bath salts. But some say it gets explosive in airtight spaces. And bath salts are kept airtight to stop them clumping. So consider making smaller portions and using them quickly. This recipe has Epsom salt, baking soda, sea salt, and essential oils. Options include vetiver, frankincense, palmarosa, and tons of others.
7. BYOUniique Bath Salts
Yes, some people make DIY bath salts using regular table salt. They might color it, or they might use pre-colored salt like Himalayan pink or Hawaiian black lava. But this recipe uses designated salt. It lists the benefits of every ingredient so now you know why you love those salty soaks! The recipe has Epsom, pink salt, rose petals, mica, peppermint, and rosemary.
8. DIY Bath Salts For Girls and Guys
While bath bombs are more heavily perfumed than bath salts, the latter still have advantages for aromatherapy. And the fragrance you choose influences the effects of the bath salt. This variant uses Dead Sea salt and orange oil, which is soothing and relaxing. Or try the men's version with Epsom and Dead Sea salt plus lemongrass, ginger, and sweet almond oils.
9. Mrs. Soap & Clay Bath Salts
This lady filmed herself making soap every day for a year. And she has some useful tips for fizzy DIY bath salts. For one thing, she recommends using moisturizing oils as well as essential oils. This is because essential oils are extremely concentrated and often need a milder 'carrier' to prevent adverse reactions. Salt won't do it, so she adds grape seed oil.
10. Tiny Laguna Herbal Bath Salts
As you decide what herbs and spices to mix into DIY bath salts, remember the result. They look pretty in the jar and smell great in the water, but all those bits will cling to your skin, get rinsed off, and end up in the drain, so use organics where you can. This recipe has lavender, Tulsi basil, rose, and calendula herbs. The oils are cardamom and rosemary.
11. Soy and Shea Soaking Salts
Natrasorb is a starch made from tapioca roots. It's a secret weapon for DIY bath salts because it absorbs excess moisture, stopping the salts from clumping. It's also an amazingly effective carrier for oils and fragrances. This sleepy-time bath salt recipe has lavender, chamomile, and rose. A quick tip is to burst flavored infusion 'teabags' into your bath salts.
12. Luxurious Lavender DIY Bath Salt
The previous video had some great advice if you don't like flowers and herbs floating in the bath. Instead of putting your DIY bath salts straight into the water, put them in a drawstring muslin bag and steep it in the bathtub. These bags are great for scenting towels too. But for this DIY lavender bath salt, the colorful lavender petals and pink salt are the best part!
13. Mishika and Mumma's DIY Bath Salt
This adorable mother-daughter pair are making bath salts (with a muslin bag) for Father's Day. It's intended for a soothing soak after a hectic day, so there's a lot of lavender in there (buds, essential oil, petals, and coloring). Lavender is great for detox, relaxing muscles, and helping you sleep. The bath salt recipe also has lemon oil, lemon zest, rose, and peppermint.
14. Healing DIY Bath Salts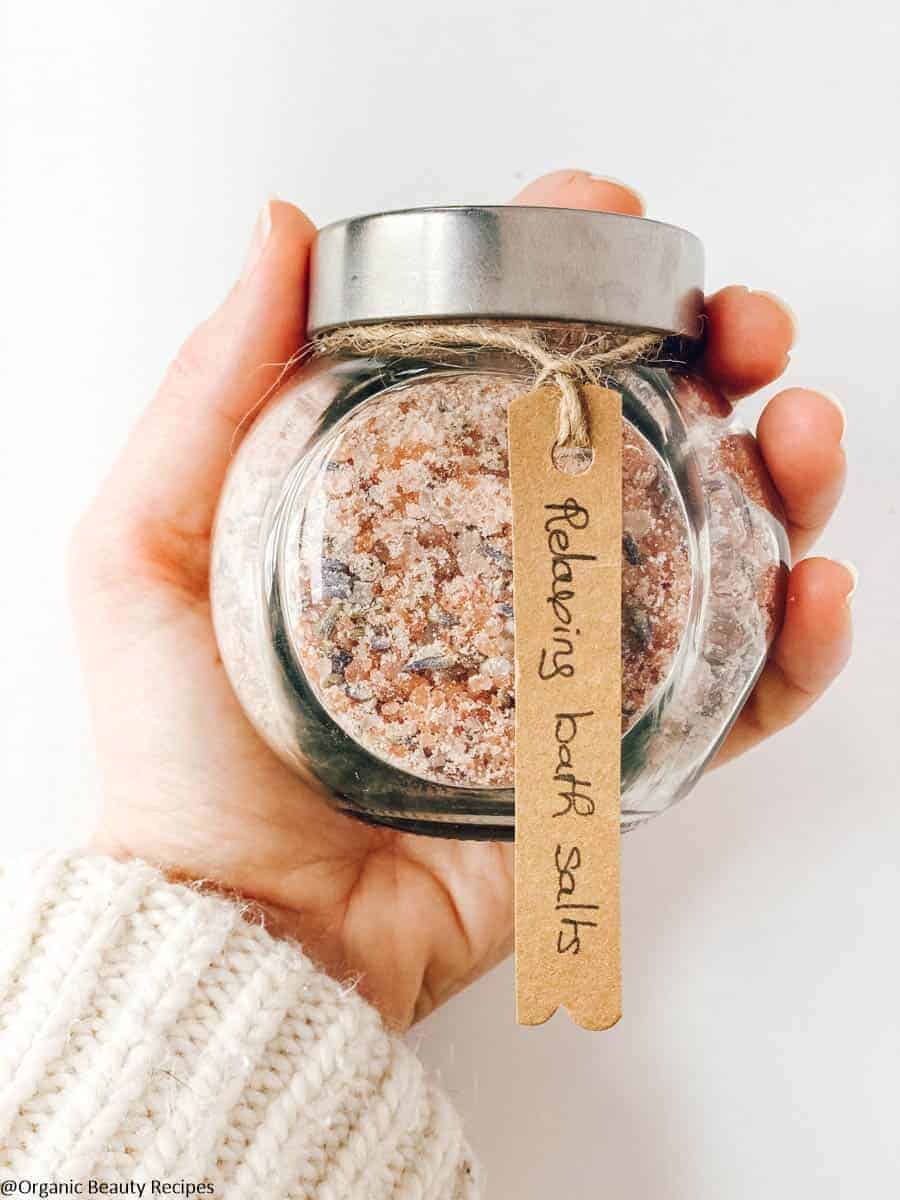 You may wonder which salt to use for your DIY bath salt recipe. This article explains what each salt 9and each essential oil) does, so you can effectively mingle them according to your needs. Dead Sea salt helps with allergies and skin conditions. Pink salt eases swelling and stress. Celtic salt is anti-inflammatory and good for the brain. Epsom salt soothes sore muscles.
15. Pure Nature DIY Bath Salts
If you'd like your DIY bath salts to fizz like bath bombs, you can mix baking soda and citric acid powder into the salt. Otherwise, take your choice of two or three salts (Epsom and pink salt are used here), a carrier oil like coconut, olive, or almond, and your chosen essential oil. This recipe adds rose petals, calendula, or lavender to different mixes. One even has oats!
16. Seven Recipes for DIY Bath Salts
Can't decide which of these bath salts you like? Make small batches of each and test them out. You need half a cup of your chosen salt, 2 tablespoons of carrier oil (jojoba or almond), and 6 to 8 drops of essential oil. Try lavender, eucalyptus, orange, cedarwood, frankincense, chamomile, clary sage, geranium, sandalwood, grapefruit, peppermint, or bergamot.
17. Scented DIY Bath Salts
Mixed textures make your bath salts look great on the shelf. This recipe uses fine Epsom salt, coarse sea salt, and baking soda. Food coloring or soap coloring add visual appeal and won't stain your skin or bathtub. The essential oil used here is a blend of lavender and vanilla. The bath salt is a gift, so twine, labels, and a cute wooden spoon are customized.
18. Oily House Fizzing Bath Salts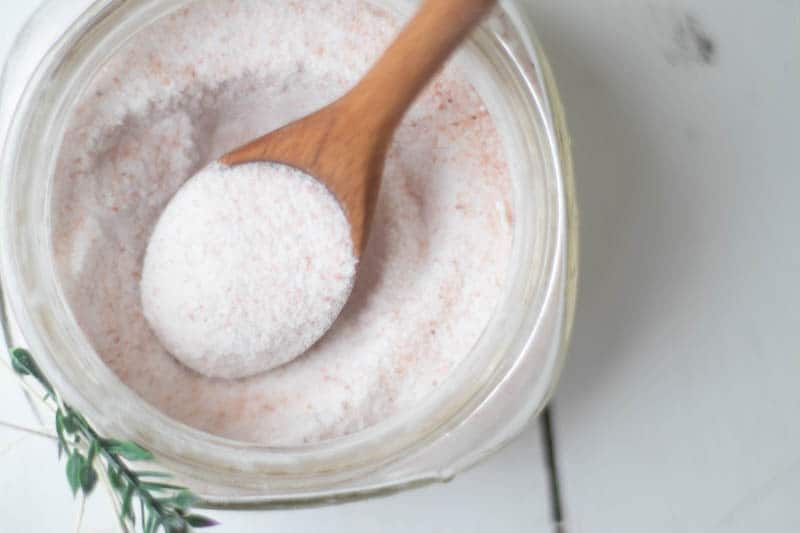 Not everyone wants their bath salts to bubble and fizz. (That's what bath bombs are for!) But here's a handy DIY recipe if you like that effervescence – citric acid and baking soda. It's that acid-alkali reaction that causes the frothy foam. This bath salt mix also has natural coloring, corn starch, fractionated coconut oil, and essential oils. Copaiba is great for sore muscles.
19. Aroma Hut DIY Bath Salt
We mentioned before that soap coloring and food coloring won't stain your tub. But some brands might be less kosher, so the safest option is to make organic coloring at home. Colour is optional though. This recipe mixes baking soda with Dead Sea salt, Epsom salt, and regular sea salt. It adds three essential oils (cedarwood, sweet orange, and lavender).
20. Quirky Inspired DIY Bath Salts
Bath salts are a great way to get rid of the day's negative energies. Both physically and psychologically. So try this batch that's based on Epsom salt and can be colored purple if you like. Other things you'll put into the DIY bath salt jar include lavender and orange essential oils. You can add lavender petals if you like, but use dried petals, not fresh ones.
21. Kylie Dupe DIY Bath Salts
This video is so fun to watch. And it's helpful too! Plus, her accent is divine. So if you have a hankering for Kylie Jenner bath salts but you don't have the budget for them, try this homemade clone instead. The audio and video lose sync at some point, so just listen and follow along. It has sea salt, pink salt, jasmine, rose, chamomile, lavender, apple, vitamin E, and pearl.
22. Merry Messy Detox Bath Salts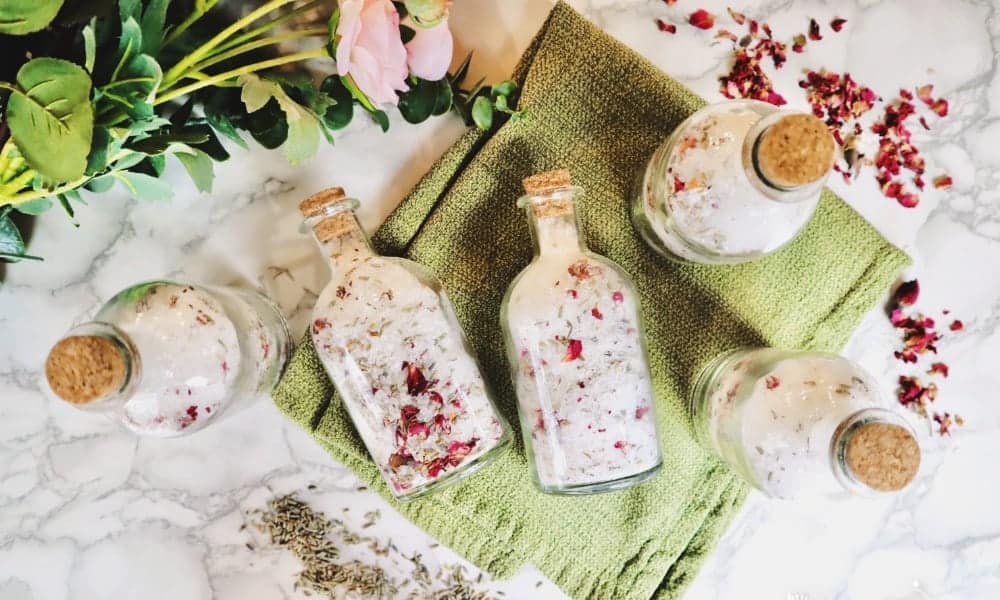 If you have sensitive skin, you may want to avoid 'hot' essential oils like citrus, peppermint, wintergreen, eucalyptus, or lavender. When these mix with warm bath water, they can 'burn' so keep them for foot soaks. For a mild DIY bath salt that still detoxifies your skin, try coarse Epsom salt and lavender oil. And you can still use flower petals from the 'hot' oils above.
23. Bramble Berry Milk Bath Salts
Who said you have to use tapioca (natrasorb) or corn starch? Have you tried mixing buttermilk powder into your DIY bath salts? It's a whole new level and goes great with pink salt. Yes, it will dissolve into the bath, but even Cleopatra bathed in milk, so dive in! Other ingredients include jasmine flowers, and an essential oil of your choice (jasmine works).
24. Fizzy Mermaid Bath Salts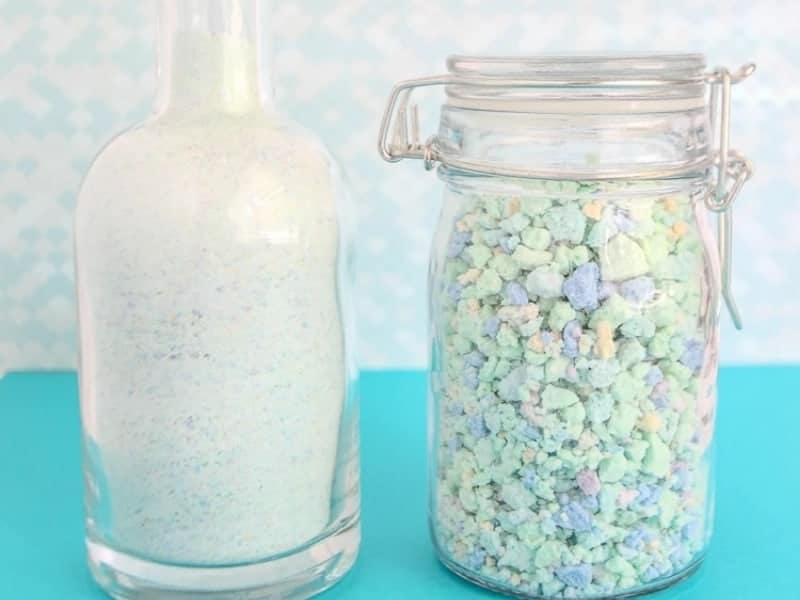 On this list, we've tried unicorn bath salts, where the colors were arranged in spirals 'like a unicorn horn'. Now let's try a mermaid bath salt. The trick is to use coarse salt in seaside soap colors from magical underwater kingdoms. These include turquoise, coral, sea-green, aqua, or ocean blue. Sparkly mica can mimic the glimmering sun or moon on the waves.
25. Super Wow Bath Salts
We mentioned at the start that bath salts feel like swimming in a hot spring. But you can also shower under a mineral waterfall and enjoy the same silky feeling on your skin. So if you don't have a tub, put the bath salts in a bucket or basin and just splash it over your body. This DIY bath salt recipe has Epsom salt, pink salt, peppermint essential oil, and petals.
26. Mojito Bath Salts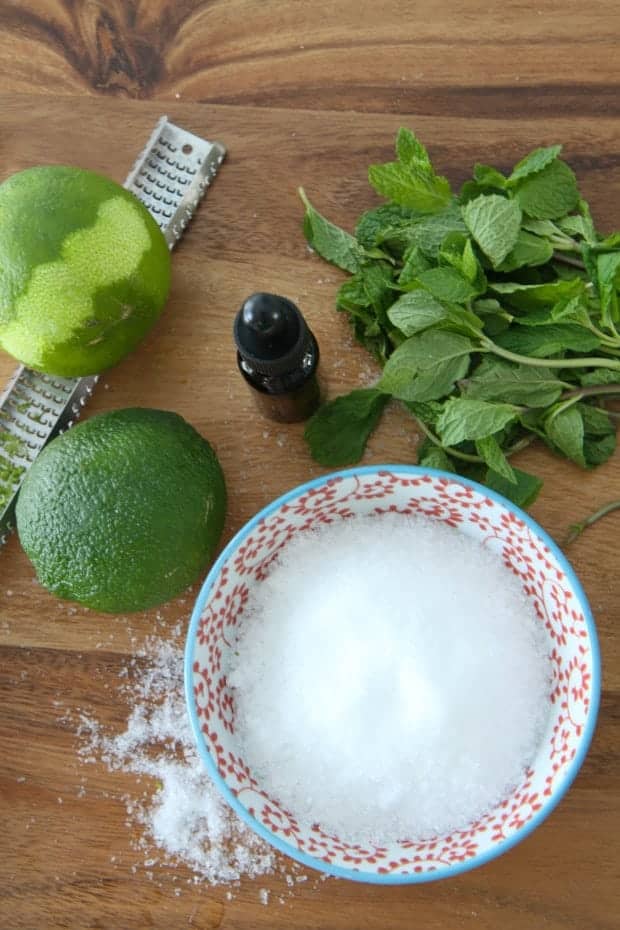 Don't worry, it won't get you drunk. But it does have the elements of a mojito (minus the booze). The main essential oil in this DIY bath salt is lime. The recipe also sneaks in a few drops of vanilla and peppermint oils. Add some fine Epsom salt, coarse sea salt, and lime zest for garnish. If you want a touch of sparkle, you could add green mica or neon coloring.
27. Oatmeal Bath Salts
Here's another milky solution to that rough day. If you were little, a warm glass of milk would cheer your right up. But as an adult, you probably have lactose issues, so just bathe in it instead! The recipe has milk powder, oatmeal powder, pink salt, Epsom salt, essential oils, and dried flower petals (lavender buds, rose, and chamomile). You may need to rinse off!
28. Candy Cane DIY Bath Salt
The tricky thing about striped bath salts is you may have to use the whole thing to enjoy all the layers. This set is inspired by candy canes, so it alternates layers of coarse pink salt, finer (white) Epsom salt, and green dried herbs (mint). It has no oils or fragrances though, so you may need a few drops of vanilla jojoba on the side. You can drip them straight into the tub.
29. DIY Ritual Bath Salts
No, you won't be sacrificed to spring solstice deities. But creating a pampering ritual for yourself can help you get through tough times. And a weekly soak in this DIY bath salt could be just the thing. The bath salt is fairly standard – essential oils, baking soda, Himalayan pink salt, Epsom salt, and dried flower petals. It also has dried fruit and soaking crystals.
30. Two-Ingredient Bath Salts
You don't always want a fuss when you're making DIY bath salts. And you might not want the hassle of cleaning flower petals, seeds, herbs, glitter, and color off the bathtub. If that's the case, try this easy peasy recipe – you just need a salt of your choice and an essential oil you like. Since there's no carrier, mix everything extra carefully to infuse the salt effectively.
31. DIY Aromatherapy Bath Salts
You may assume the essential oils in bath salts will only work externally. After all, you're not going to drink the water. But as your skin is soothed by oils and salts, you inhale some of those particulate scents. Hence aromatherapy. All three recipes here have Epsom salt and baking soda. Try vanilla + eucalyptus oils for flu. Or tea-tree oil + matcha powder for acne.
Have you tried any of these DIY bath salts before? Tell us what worked (and what didn't)!