Oats are becoming a healthy alternative in many different sectors. Their high fiber content has always been popular for porridge and baby food. And oats are gluten-free, so they're popping up a lot in cookies, pizza dough, bread, cakes, and more. Now colloidal oat flour is making waves in the beauty space, thanks to all its benefits. And oat baths are easy to prep.
Ideally, you want to use colloidal oats, either in flaked or powdered form. If you don't want the solid bits floating in your bath, put your oat mixture in a cotton or muslin drawstring bag. That way, the liquids, and solubles slip out while the petals and glittery decorations stay safely in the bag. So let's look at easy DIY oatmeal bath recipes you could experiment with.
1. Comfort Life DIY Oatmeal Bath
The oats you sprinkle in the bath aren't the same oats you mix into your muesli. For beauty purposes (like cleansing, reducing inflammation, treating eczema, and hydration), you want colloidal oats. These are finely powdered oats blended with Avena Sativa. Mix this with lavender essential oil, baking soda, and olive oil. Extra virgin olive oil gives the best results.
2. Beauty Crafter DIY Oatmeal Bath
The biggest benefit of oatmeal baths is skin binding. The oats tighten your skin and form a protective layer that keeps moisture in and irritants out. The oats are useful for rashes as well, whether the irritation was caused by diapers, poison ivy, allergies, or bugs. Be sure your colloidal oats are fine enough to dissolve in the bath. Add Epsom, lavender, and baking soda.
3. Krystal's DIY Oatmeal Bath Tea
When your skin feels bloated or puffy, a DIY oatmeal bath will soothe your discomfort. It's full of anti-inflammatory antioxidants that are great at reducing the swellings on your skin. This recipe has powdered milk, instant oatmeal, lavender essential oil, and Epsom salt. You can also add lavender buds. Use a muslin bag if you don't want the buds floating in the bath.
4. Up & Alive DIY Oatmeal Bath
Many DIY oatmeal recipes involve baking soda. It's a gentle abrasive and it stops your skin from itching. It also restores the oatmeal bath to a healthy pH. Meanwhile, the oils in the recipe prevent your skin from drying out as you soak. This recipe also uses dried lavender. You can buy whole oats and grind them at home (with the dried lavender)to save cash.
5. Baby Eczema Oatmeal Bath
The reason DIY oatmeal baths have such strong healing power is in the itch-relief. You scratch less, so you get fewer scars and your rash has time to heal. This is especially helpful for babies since they don't have the willpower to resist scratching. Because this is a baby's formula, it's gentle enough for adults with sensitive skin. The recipe has goat milk too.
6. Waxing Kara DIY Oatmeal Bath
Rumour has it Cleopatra would bathe in sour donkey milk. Her Ancient Egyptian mystics believed the lactic acid would peel off aging surface skin cells, revealing the younger, fresher smoother skin below. So you could try this DIY oatmeal bath concoction with 'cooked' full-fat milk and honey. Other ingredients are lavender essential oil, ground oats, and almond oil.
7. Robin's DIY Oatmeal Bath
An oatmeal bath can ease that 'swollen skin' feeling you sometimes get during your period. It can also heal hives, heat rash, and sunburn. Blend quick oats, baking soda, lavender essential oil, and Epsom salt in a food processor or coffee grinder. You can use a regular blender too, but only if its blades will give you a fine, powdery consistency. You need a flour-like texture.
8. Just a Pinch DIY Oatmeal Bath
Itching and irritation can be caused by anything from perfumed laundry detergent to lotion and shower gel. So when your skin feels raw from scratching, assemble a simple oatmeal bath and soak in it. If you don't have a bathtub, just put the oatmeal mixture in a bucket of warm water and splash it over yourself. This recipe has oatmeal, baking powder, and coconut oil.
9. Quaker DIY Oatmeal Bath
Quaker Oats are among the most famous brand around. So of course we're including their one-ingredient recommended recipe here. A quick way to get your oatmeal into the tub is to stuff the DIY oatmeal bath tea into a (clean) sock or pantyhose. Hold the sock open (or knot the nylons shut), place that under the faucet, and let the 'oatmeal water' run into the bath.
10. Our Oily House DIY Oatmeal Bath
You might wonder why so many beauty recipes use goat milk instead of cow milk. It's because goat milk has less lactose and more fats, so it's a deeper moisturizer. This DIY oatmeal bath recipe uses powdered goat milk, colloidal oatmeal, natrasorb (this tapioca starch carries fragrant oil beautifully!), baking soda, and dried lavender flower petals.
11. DIY Oatmeal + Honey Bath Bomb
When you want a simple recipe, you stuff plain oats in a sock and swing the sock through the bath. But when you want a complicated DIY project, try this oatmeal-honey bath bomb. It dissolves into the tub with a fuss and a fizz that has satisfying sizzle and a soothing scent. You'll need a bath bomb mold. Use a honeyed-fragrance oil rather than raw honey itself.
12. DIY Oatmeal + Coconut Bath Recipe
They say coconuts have 99 uses. One of them is carrying fragrances and other oils since pressed coconut is light and soluble. But this recipe uses powdered coconut milk rather than melted coconut oil. Other ingredients are Dead Sea salt and colloidal oatmeal. You could use oat flour instead, but it's less nutritious (for your skin) because they remove all the bran in it.
13. DIY Colloidal Oatmeal Bath
Some people argue against colloidal oatmeal because it's costly. They'd rather use blended breakfast oats or oat flour. But colloidal oats are far finer and often have Avena Sativa mixed in, so they dissolve easily and leave less residue on your skin. If you're taking the bath to heal eczema, you can apply Aveeno Eczema Therapy to your air-dried body after your oatsy bath.
14. DIY Honey + Oats + Epsom Bath
Honey improves your immunity because it's antiseptic, antibacterial, and anti-inflammatory. It's a humectant too, so it keeps your skin hydrated. Meanwhile, Epsom salt soothes aching muscles and cleanses your skin. So these two pair perfectly with oatmeal soaks. If you want a coarse texture, use larger salt granules, and don't pulse the blender too long after adding salt.
15. Seven Natural DIY Oatmeal Baths
https://www.youtube.com/watch?v=xTZBOIVh6pk
Can't decide which recipe to use? Or maybe you get bored using the same one each time. Then you'll love the seven variants on this video. Cycle through them and have a different bath every week. Or do a 7-day oatmeal detox. Use colloidal oats (sometimes sold as bath oats) rather than 'kitchen oats'. Try adding cinnamon, almond oil, chamomile, guava, etc.
16. Chamomile + Lavender DIY Oatmeal Bath
When you're making a DIY oatmeal bath with floral notes, you can use dried buds, dried petals, essential oil, fragrance oil, or all five. This recipe mingles lavender and chamomile for complete relaxation. This recipe has oils, flowers, buds, plus Epsom salt, and blended oatmeal. Its texture is coarse and breadcrumby. Use a cloth bag if you want to avoid floaties.
Click for more Details
17. Rob's Oatmeal Bath
Many modern men are embracing skincare. But most of them doing by secretly raiding their woman's stash. So if your favorite shower gel or DIY oatmeal bath is running suspiciously low, send him this video. Then he can make his own bath milk without feeling emasculated. I mean, just look at those beards and tattoos! And this manly recipe only has oats and water!
18. DIY Peppermint + Oatmeal Bath
Lots of beauty experts warn against 'hot spices' if you have sensitive skin. And both peppermint and oats can irritate your skin if they're mixed in hot water. So you should only use warm baths for this DIY solution. You'll need oats, peppermint essential oil, and powdered coconut milk. Blend everything into a fine bath powder. Dissolve and enjoy.
19. eHow DIY Oatmeal Bath (for Adults)
You'll see a lot of oatmeal bath recipes aimed at babies. (Or rather, the people that wash said babies.) But adults can use it too. If anything, using a baby-friendly formula ensures your skin won't react. This recipe uses plain blended oatmeal, so any type will do. And since all you do is press the button, you can make enough for a single bath. It takes under 5 minutes.
20. DIY Oat Bath Salt Scrub
Not everyone enjoys the silky texture of a milky oat bath. So if you want the benefits of oats without that floury feeling, try this DIY oatmeal bath salt recipe. It uses oat extract rather than whole or powdered oats. It also has Epsom, polysorbate 80, and various forms of oats (colloidal oatmeal, regular oatmeal, oat extract, oat oil, and Oat+Milk+Honey fragrance oil).
21. Humblebee & Me Oat Bath + Body Oil
Ordinarily, you don't want to over-oil your bath products because you don't want the bath getting greasy. Or you could add something like Polysorbate 80 to your mixture. But this DIY oatmeal bath recipe doubles as bath oil. So this colloidal oatmeal treat is infused with various lubricants including sunflower, shea butter, emulsifying wax, almond oil, and essential oils.
22. Silky DIY Oat Bath Tea
The difference between bath tea and bath salts and bath soaks is the bag. It could be a flavored teabag you break into the bath – a clever shortcut to herbal bath spices. Or it could be a DIY oatmeal bath mix stored in a muslin bag or an old sock. The recipe here uses oats, lavender buds, and shaved cacao butter. Pack these in cloth bags to steep in your bathtub.
23. Amy's DIY Oatmeal Bath Recipe
This DIY oatmeal bath is super simple to make. Just grab some kitchen oats and grind them as fine as you can. You're not meant to rinse off the oats, so the finer the powder, the less gritty your skin will feel. You're targeting a smooth, silky feel inside that oat bath. Once you have the right powdery consistency, add powdered milk and baking soda. Mix in and label.
24. DIY Rose Oatmeal Milk Bath
This is the easiest, most fragrant DIY oatmeal bath recipe we've seen so far. Yes, you could argue that the plain oatmeal ones are simpler, but this one has scent and flair! The assembly process is pretty simple – just put some kitchen oats and dried rose petals into the blender and pulse the mixture into a fine flour. Pack the powder in an airtight jar or muslin baggies.
25. Vanilla + Rose DIY Oatmeal Milk Bath
We're going from two ingredients to seven. This DIY oatmeal bath has the usual colloidal oatmeal plus a mix of other powders. They include creamy buttermilk and titanium dioxide. For the salts, use Epsom salt and coarse sea salt. They soothe sores and give your bath mix a pretty texture. This bath milk is lubricated with shea + cocoa butter and vanilla sugar oil.
26. Nourishing DIY Oatmeal Milk Bath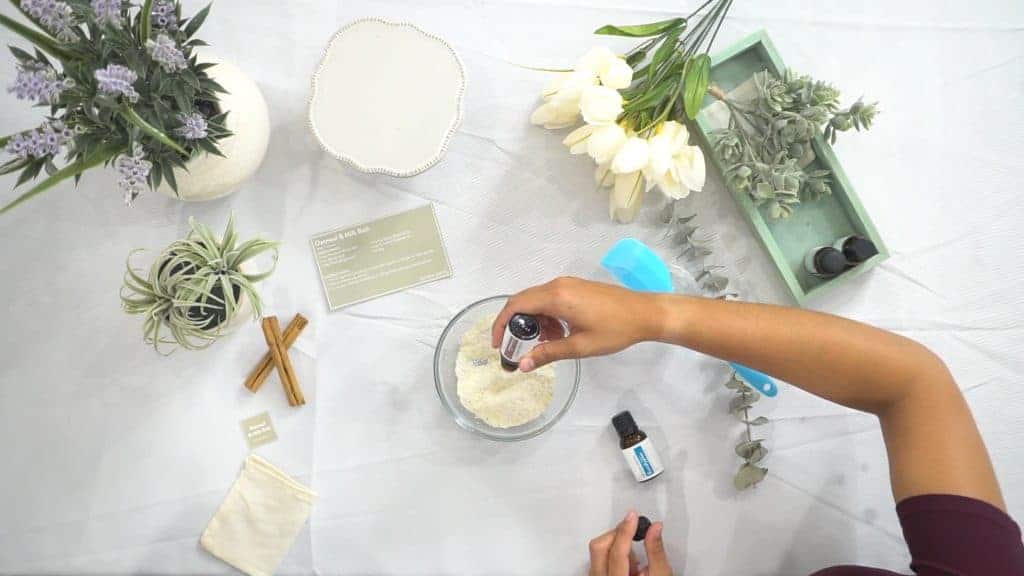 A lot of us bathe before bed. It sets the tone for downtime and prepares our bodies for a soothing sleep. But maybe it's a Friday night or a lazy Sunday afternoon. So yes, you want a soak, but it needs to nourish and rejuvenate you. Try a recipe with 'uppers' like cinnamon and eucalyptus in essential oil form. The oat bath also has milk powder and baking soda.
27. Kraft Bee DIY Oatmeal Bath Salts
Do you have a drier? Bath bags can be a great way to scent your towels – just toss it in there after use and as it dries, it will transfer the scent onto your towels. And because you used a bag, you don't have to worry about floaties clogging your pipes! This recipe (which can be bagged) has oats, Epsom, pink salt, milk powder, and flowers: rose + lavender + chamomile.
28. DIY Citrus Oat Soak
Even the ultimate skincare novice knows whether their skin is sensitive. If you're unsure, test a 'hot and spicy' essential oil on your skin. These include minty or citrusy scents. If you're sure you won't react, this milky tropical oat bath will be a delight. It has sweet orange essential oil, Epsom salt, and a cup of oats. You can add dried orange slices to the bathwater.
29. DIY Sunburn Oat Bath Remedy
When oats get wet, they release a healing gel that coats your skin. It keeps toxins out and healthy sebum in. The gel also reduces swelling and relieves itching. So it makes sense that it's a homemade tonic for sunburn. This video offers three natural recipes including an aloe vera spray. The second recipe is what we're interested in – it's an oatmeal bath with baking soda.
30. DIY Oatmeal and Olive Oil Bath Truffles
Oatmeal baths can take anything from10 to 30 minutes, depending on your tolerance. So using a bath melt/bomb/truffle lets the goodies soak in slowly and gently. This recipe uses olive oil, bath oats, body lotion, powdered milk, and essential oils. Mix everything, grind it in a blender, and roll it into a bath ball or truffle that you can drop into the tub.
31. Abby's DIY Oatmeal Milk Bath
For our final DIY oatmeal bath recipe, we're going to use actual milk (as opposed to milk powder). Depending on where you live, you could try using goat milk, camel milk, or even donkey milk for that exotic touch. This is the crudest version of an oatmeal bath, so just pour oat flakes, salt, and milk directly into your bathwater. You can add lavender if you have it.
What's your favorite DIY oatmeal bath recipe? Show us how you make it in the comments!