Perhaps you want a new sink vanity, maybe you want to know how to install a new sink yourself – or it could be that you want to have a go at making a sink yourself from scratch.
Whichever of these projects it is you're hoping to tackle, we've scoured the internet to see what other people have been trying – and as a result, here are our favorite 27 DIY bathroom sink plans you can have a go at recreating at home.
1. How to create a bathroom vanity sink for $200
To get us started, here's a great plan from a UK blogger who shows us how he solved the problem of not having enough storage in his tiny bathroom by DIYing his own bathroom vanity sink. When it was done, it gave him somewhere convenient to store all his family's stuff – and it looks great too! We're sure lots of other people be facing similar bathroom issues, and if you're one of them, this blog post could provide the solution you're looking for.
Click for more details
2. DIY Concrete Sink with a Cost Of $5
If you're searching for a plan that will allow you to DIY an actual sink rather than a sink vanity or the general sink area, this video tutorial should be worth a watch. In it, you'll find out about an ingenious way of creating a homemade sink using concrete and a plastic bowl – and it won't cost you more than about $5, making it a fun project to attempt at home.
3. DIY Double Bathroom Vanity
For those with plenty of space who want something big and bold in their bathroom, this plan for a double-sink vanity should give you a few ideas about the kind of thing you might like to try. It shows you how to build the whole thing from scratch – although the quartz countertop and sinks were bought ready-made. Still, the result is stunning, and we're sure lots of people who see it will want something similar in their homes too.
4. DIY Concrete Sink & Countertop Small Bathroom Renovation
In this video, this skilled DIYer shows us how he made a white concrete countertop with an integrated sink. We think this is a great way to make the most of limited space in a smaller bathroom – so if you're looking for ideas that will allow you to add a touch of luxury to a more modest-sized space, this is a video that should appeal.
5. How to Install a Bathroom Vanity and Sink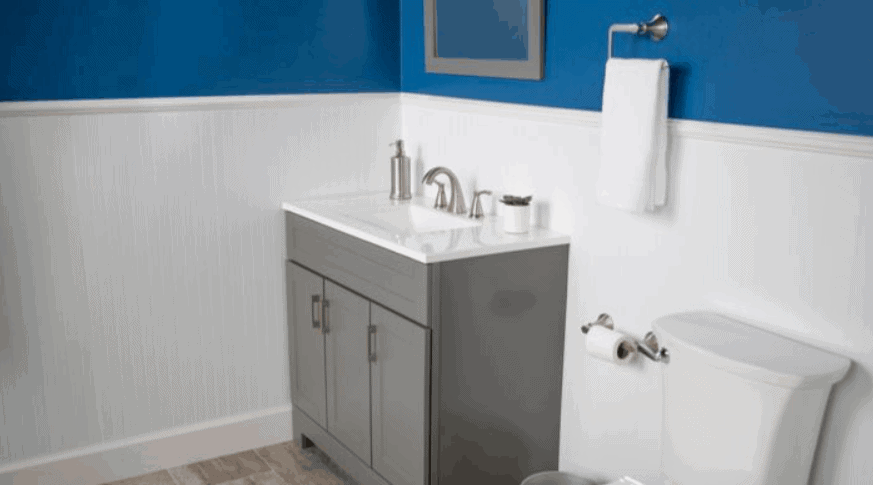 There are plenty of DIY plans online for making your own sink or building a homemade vanity – but if you've already bought them and just want to know how to install them without needing to call in a professional, this post has you covered. It takes you through all the steps required to get the job done, from removing the old one to plumbing in the new one and finishing the job. And when it's this easy, why pay someone else to do it for you?
6. DIY Poured Concrete Countertops
For some people, working with concrete for the first time can be intimidating, but our advice is simply to make sure you watch a few good tutorials before you start. And if that's what you're looking for, this one makes a good first stop – because it shows you everything you need to know. We love what it looks like at the end – and we're sure lots of others will agree.
7. DIY Painted Bathroom Sink Countertop
Sometimes there's no need to spend lots of money replacing a sink or countertop entirely. Instead, you can create a whole new look with just a coat of paint. It might not sound that impressive – but check out what these bloggers achieved in their bathroom on just a minimal budget and you might change your mind!
8. Monarca Concrete Sink
Here's a cool project to check out – in this video, this YouTuber shows how he created a sink from concrete from start to finish. It might not be a style that everyone appreciates, but we think it has a kind of brutal elegance to it. It's not difficult to do either, so if you think you'd like to have a go at making one, this video will show you how to go about it.
9. Turn an Antique Dough Bowl into a Sink
Of all the plans we've seen for making DIY sinks, we think this one has to rank very near the top of our list of favorites. In this plan, this blogger shows us how she turned an antique dough bowl into a large and stylish sink. It's a highly unusual piece that's sure to impress any guests who come to your house – especially when you tell them you did it yourself. So why not have a go at making something like this yourself?
10. DIY Floating Vanity [How to Make a Floating Vanity and Attach a Vessel Sink]
In this video, we learn how to make a floating vanity and sink unit, including all the details you need for waterproofing the wood with epoxy and plumbing in the sink. We love this minimalist modern design, and it's the kind of thing that would look perfect in smaller bathrooms where space is at a premium. We also appreciate how he explains everything so clearly, making this an easy plan to copy.
11. DIY Basic: How to Replace Your Bathroom Sink In 7 Easy Steps
Plumbing in a sink is not nearly as difficult as you might imagine, as long as you have the right tools and a good guide to follow. Plumbers can cost a lot too, so if you want to have a go at fitting a sink yourself, this is a tutorial that teaches you exactly how it's done.
Click for more details
12. How to Make a Bathroom Sink Vanity Unit
On this fun YouTube channel, this DIYer takes us through how she built furniture and fittings for her tiny apartment – including here, in the first video of the series, where she shows us how she made a bathroom sink vanity. She's obviously very talented, as you can see as the project unfolds – so if you need a few ideas to fire your imagination, this video could be just what you're looking for.
13. DIY Bathroom Vanity Plan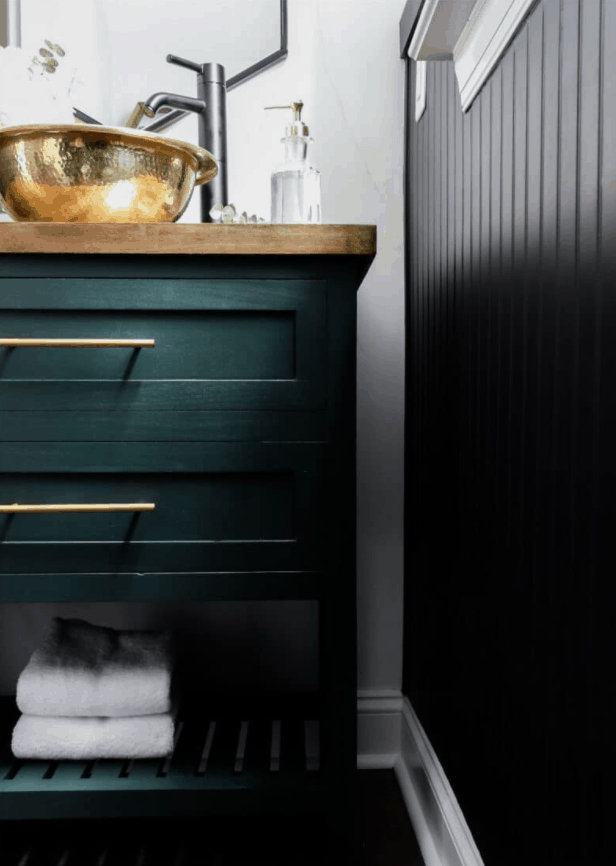 The blogger responsible for this plan rates it as hard, so it might not be the best option for DIY novices – but if you're up for a challenge, this could be a project you might enjoy tackling. You'll find clear step-by-step instructions along with plenty of photos to show you how it should be done. And what we love most is the stunning copper sink bowl itself that's just the icing on the cake.
14. DIY Bathroom Vanity for Your Rental Property
As anyone who lives in rented property knows, it can be frustrating not being able to make any modifications to your home, and if that's something you can relate to, this plan for a rental-friendly DIY bathroom sink vanity could be just the thing. With this plan, you'll be able to give your bathroom a small makeover – and still be able to get your deposit back when you move out. So what are you waiting for?
15. How to Paint a Sink
When you move into a new house, you probably won't be in love with all the fittings and appliances, and if it's an old place, things like the sink are sure to look way out of date. However, if you have something like the monstrosity this blogger inherited but don't have the time or the money to install a completely new sink, the other option is to repaint what you have. And if you think you might like to try, this blog will teach you the best way to do it.
16. From Blahh to Voilaaaa! ONLY $7 Bathroom Makeover!
Here's an idea that's sure to appeal to plenty of people – giving your sink and vanity a makeover for no more than $7. Want to know how she did it? Then check out this YouTuber's video to discover her secrets!
17. DIY Sink Stand
Experience is a great teacher, and we should all learn from mistakes. However, nobody said they have to be our own mistakes, and if you can learn from other people's experience instead, so much the better. Here you'll be able to read about building a sink stand, and these bloggers kindly tell you about what they did wrong – to help make sure when it's your turn, you do it right.
18. DIY Concrete Sink with a cost of $8
This is another video from the same guy who did #2. This time, at $8, his DIY sink cost slightly more – but it's another ingenious design for a concrete sink, and one we're sure lots of people will enjoy trying to replicate at home
19. How to DIY a Bathroom Vanity Out of Reclaimed Wood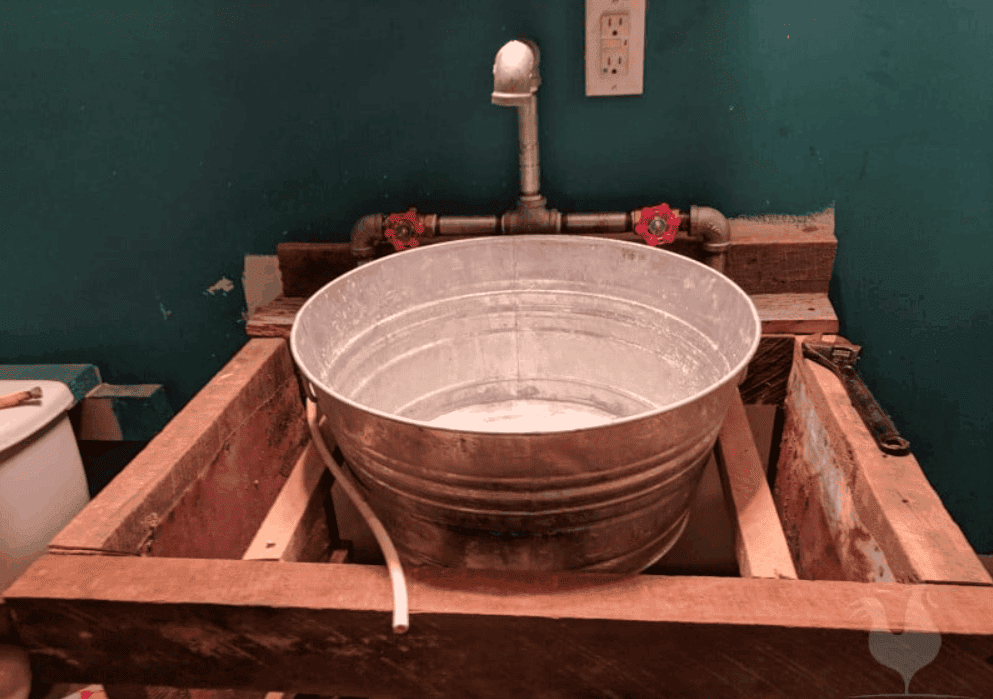 The best thing about DIY is that often, if you can salvage the materials you need instead of buying them, you hardly need to spend anything at all. And to show you what's possible, this blogger writes about how she made a sink and vanity from just some reclaimed barn wood, a galvanized tub and some pipes.
20. DIY Concrete Sink
If you want a plan for building a large concrete sink and vanity for your bathroom, this video tutorial goes into plenty of detail. It's a big job, but don't let that put you off because it's not hard when you know how – check out the second video to see how it looks when it's finished.
21. Vanities for Small Bathrooms
There are quite a few steps to fitting a sink and vanity in your bathroom, but probably the part most DIYers feel most unsure about is the plumbing. If that includes you – but you're not afraid to try – this blog post takes you through the whole project, including clear explanations for how to tackle the plumbing to help you avoid making any mistakes.
22. How to Install Bathroom Sink
To go with the blog post in #21, here's a YouTube tutorial that also takes you through a DIY sink installation. It might be a challenge if it's your first time, but with this guide, you should be able to manage with no problems.
23. How to Fit a Bathroom Sink
Here's one more guide to plumbing in your own sink – so if you want to avoid the costs of calling out a pro and install your bathroom sink with confidence, this is another great resource to check out before you start.
24. Creative Sink Designs
This is a video we enjoyed watching. In it, this YouTuber demonstrates his design for a metal sink that he made from an old beverage tub. It's quite "rustic", but it's a style that will still have its fans, and if that includes you, it could be a fun project to attempt.
25. DIY Bathroom Vanity Makeover
In this blog post, we're taken through a comprehensive vanity makeover that includes the countertop, the sink and all. It's quite an undertaking, but if you're serious about your DIY, it shouldn't be beyond your capabilities.
26. DIY Concrete Sink & Countertop
Do you dream of having a "Kim Kardashian sink" in your home? Do you want to have a go at making one yourself? If you answered "yes" and "yes", this tutorial is for you. And we have to say, the finished job looks amazing. Check out Part II after watching to see if you agree!
27. How to Install a Bathroom Sink
As this blog post points out, the DIY installation of a bathroom sink is a challenging task but not an impossible one. And since you stand to save up to $1,000 if you try, that's quite an incentive. And for anyone who isn't put off by a tricky job, this post gives you all the info you'll need.
Plenty of creative ideas to inspire you
It's been fun compiling this list of plans for you because all the creativity we've seen has inspired us – now we've got that DIY itch to get the tools out and have a go ourselves.
We hope you've enjoyed reading and watching these plans as much as we have finding them for you, and above all, we hope we've helped you find the inspiration and ideas you needed to get started on your next DIY project.