A bathroom countertop can be one of the most important features in your bathroom, acting as a focal point of the room's décor while also serving a functional purpose for daily washing and grooming.
Replacing a countertop can be expensive – but if you're willing to do it yourself, you can save a lot of cash – so we had a look online to see what other people have been trying, and as a result, here are 27 DIY bathroom countertop plans you can have a go at copying at home.
1. DIY Wood Bathroom Countertop in One Weekend
If you have an ugly, old-fashioned bathroom countertop and you're looking to replace it with something more attractive, this blog should provide you with a bit of inspiration. In it, this blogger explains how she took out her dated Formica countertop and replaced it with a gorgeous wooden one – and for under $50. So why not check it out to see how it went?
2. DIY Poured Concrete Countertops
Concrete can be an intimidating medium to work in if you don't have any experience, but it's really not that difficult with the right plan to follow – and you can save yourself a whole lot of cash by doing it yourself. And if you think you might be interested in trying, this video tutorial will show you everything you need to know.
3. How to Make a Wooden Countertop for Your Bathroom
Here's a plan for a wooden countertop that these bloggers settled on because it matched the floating shelves they already had. Since they have decent DIY skills, they decided to do it themselves rather than paying a professional – and the result is stunning, as you can see from their post.
4. How to Make a Simple Single Sink Bathroom Vanity
In this video, this YouTuber shows us how he removed the countertop from his old vanity and replaced it with a homemade wooden one. Here, we only get to see how he prepared the top – he doesn't show us how the finished job looked. But if you want to know how the story ended, there are some other videos on his channel showing how he made the other parts.
5. Update Your Outdated Countertops for LESS than $4
This is a blog entry that will be of interest to a lot of people – because it shows you how you can give your bathroom countertops a makeover for only around $4! It's a simple technique, and this blog has all the details you need to copy the idea, so if you want to upgrade your bathroom for next to nothing, this is the plan for you.
6. Spray on Countertops
There are lots of ways of saving lots of money by DIYing your bathroom countertops, and in this video, we learn how to do it with MDF and a spray-on surface coating. It's a simple solution, and almost anybody will be able to achieve great results, so why not check it out and see if you want to try?
7. DIY Painted Bathroom Countertop and Sink
If you have an oversized countertop you want to replace but don't have the budget for a new one, you can give the one you have a makeover – and this blog shows you how, using an inexpensive brush-on surface. We like the way they take you through their thought processes before going on to explain how they tackled their project. And the "before" and "after" photos are amazing!
8. Why You Should NOT Do Epoxy Resin Countertops [Do THIS Instead]
For anyone thinking about renovating their bathroom by installing a new countertop, epoxy is probably one of the options on the table. However, this YouTuber advises against it due to her bad experience. To find out why – and to see the alternative she suggests – give her video a watch.
9. How to Refinish the Bathroom Vanity Top with Epoxy Resin
Some people like the YouTuber in #8 might be against the use of epoxy, but others are confirmed fans, and the writer of this blog post is one of them. He starts by talking about what epoxy is before going on to explain how to use it to make a countertop, so for anyone who might want to try, this is a recommended read.
10. $25 DIY Bathroom Countertops
If you have an unlimited budget, you can spend a fortune on your beautiful new countertop, but for those with more restricted funds, it might be better to look at more affordable options. If that sounds like you, this plan should be of interest since it shows you how to create fresh new countertops for only around $25 using a spray-on stone surface.
11. Rustoleum Countertop Transformation
There are plenty of ways to give your bathroom countertop a classy new look without spending loads of money, and this video shows you how to do it using nothing more than an epoxy spray that will cost you only around $7. At that kind of price, you can hardly go wrong, so why not give it a try?
12. How to Replace A Bathroom Countertop
If, like this blogger, you have an unattractive, out-of-date countertop that needs replacing, you're probably thinking about your options for what to do with it, in which case, this project should give you plenty of ideas. The tutorial shows you how to remove and replace a countertop – theirs is from Ikea, and it looks great once it's installed. Their plan is super-easy to replicate too, so just about anyone should be able to do something similar themselves.
13. How to Build Bathroom Vanity Tops
It's always fun to see what other DIYers have been trying, but it's a smart idea to learn from the pros too. In this video, you get to see how this YouTuber builds wooden countertops for his clients, and you should be able to pick up plenty of tips from him for when the time comes to try something similar yourself.
14. How to Make a DIY Concrete Countertop – Bathroom sink update
As we said earlier, working with concrete can be a little scary if you haven't tried it before, but if you still want to have a go, perhaps the best thing you can do is check out plenty of useful tutorials like this to learn everything you need to know before you start. It's a big job, but it looks fantastic when it's done, and if you're feeling ambitious, you can try making one just like it.
15. How to Paint a Countertop — Don't Make These Mistakes!!!
When you decide to freshen up your countertop with a lick of paint, there are a few things you need to avoid doing if you want to make a success of it. Fortunately, these bloggers have the tips you need for getting it right first time, saving you some time and money in the process.
16. Dr Gene James- DIY Replacing a Bathroom Countertop
Even if you buy a ready-made countertop for your bathroom, you still need to take out the old one and fit the new one, which can be a surprisingly big job if you've never done it before. That means you'd do well to check out this video before you start since these YouTubers show you everything you need to know.
17. Half-Bath Makeover: DIY Faux Marble Countertop
Perhaps you have a countertop in your bathroom that you don't particularly like, but you don't have the time or the funds right now to replace it completely. In that case, freshening it up with a paint-on surface is a great temporary solution, and this blog shows you how great it can look.
18. DIY Solid Wood Countertops for under $50 w/ 2×10 Lumber
For those with some basic woodworking skills, making a new countertop from wood could be an interesting challenge, and this blog shows you how to do it for only around $50. These countertops aren't necessarily for bathrooms, but you can easily adapt this design for a bathroom or anywhere else in your home.
19. Paint Your Bathroom Countertop
Here's a great idea that will give you a new-looking countertop without costing you a fortune. Simply by using appliance epoxy, this blogger transformed her countertop from something she hated into something she was proud of – and it was a surprisingly simple job too.
20. Bathroom Countertop Installation Guide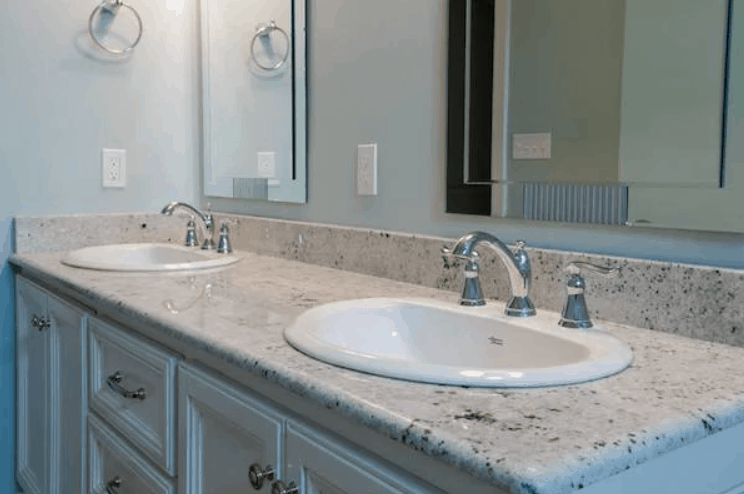 When thinking about replacing a countertop, there's a lot to consider, and if you're looking for relevant information, this blog is an excellent resource. It provides a comprehensive guide to DIY installation, so if you're thinking about having a go, make sure you give it a read first.
21. Vanity Made from Concrete – DIY for Less!
The concrete countertop featured in this blog is nothing short of stunning – and the best thing about it is how little it cost to make. Intrigued? Then head over to the site to see how they did it.
22. Painted Bathroom Sink and Countertop Makeover
In this post, we get to find out about how this blogger gave her bathroom sink and counter a makeover using a simple painting technique and some inexpensive supplies. We love the clean and contemporary style – and the whole thing cost under $40 to do. Great job!
23. The Foolproof Way to DIY Wood Countertops for a Bathroom
If you're not confident about your DIY skills but are still willing to have a go, this foolproof guide to making wood countertops is for you. We love the way the blogger makes everything so simple, and the finished job looks fantastic. And if you agree, it should be no problem to recreate it yourself.
24. How to Faux Marble Your Bathroom Countertop
Marble can cost serious money, so if you like the look but not the price, faux marble could be a smart alternative. As you can see from the pics, it looks totally believable but costs a fraction of the price – so we're sure that there will be plenty of people interested in trying something similar.
25. Butcher Block Bathroom Vanity – How to Build
As this blog explains, a butcher block bathroom vanity is created by gluing thin strips of wood together to create a unique and highly attractive look. All kinds of wood can be used, and if you do it right, the effect it creates can be stunning. The blogger then goes on to give you all the details for how to make and fit one, so if you like the style, you can recreate something just like it at home.
Click for more details
26. Creating a DIY Marble Countertop (on a Budget!)
One of our favorite things when reading other people's DIY plans is seeing the "before" and "after" photos to see how unrecognizable the new version is – and this blog is a perfect example. The countertop starts as a monolithic black lump that sucks the life out of the space – and ends up as a stylish piece that anyone would be happy to own. An impressive job and a blog post we enjoyed a lot!
27. Ikea Dresser to Bathroom Vanity DIY Hack
Something else we love in DIY is the sub-genre of "hacking" Ikea furniture and turning old stuff that would have been destined for the scrap heap into something new and appealing. In this video, we see how one YouTuber repurposed an old item from the Swedish home furnishings giant into a vanity with draws and a small countertop. We think it's much better to try something like this rather than just throw stuff out, and if you agree, check the video out to see how they did it.
Loads of creative ideas to inspire you
It's always great fun compiling lists of DIY plans because the amount of creativity and ingenuity on display never fails to inspire us – and as you can see, whatever your budget, there are plenty of great ideas for you to try.
We hope you've enjoyed watching and reading these plans as much as we have finding them for you – and above all, we hope we've helped you find your creative spark to get started on your next DIY project.