Can I use any flooring for my bathroom? Are there any bathroom flooring ideas on a budget? Well, if you're looking for the best flooring choices for baths to enhance its look elegantly you are at the right place.
Finding the right bathroom flooring isn't as easy as getting flooring for your kitchen or other rooms in your home. Bathroom flooring comes with so many difficulties and consideration. Also, it faces a lot of foot traffic, moisture, humidity and needs more upkeep.
Before you head to buy any bathroom flooring, it is best to carry out some little research. You need to know the material type, texture, and colors that will perfectly fit and blend with your bathroom interior designs. Also, consider the installation method that will be best for you.
However, since there are many bathroom flooring designs available, this makes it more challenging to choose the right one. Luckily, I've researched and selected 10 best flooring choices for bathroom that will make the space more attractive.
So what are you waiting for? Read on to get a sincere list of the best flooring choices for baths.
1. Engineered Hardwood Bathroom Flooring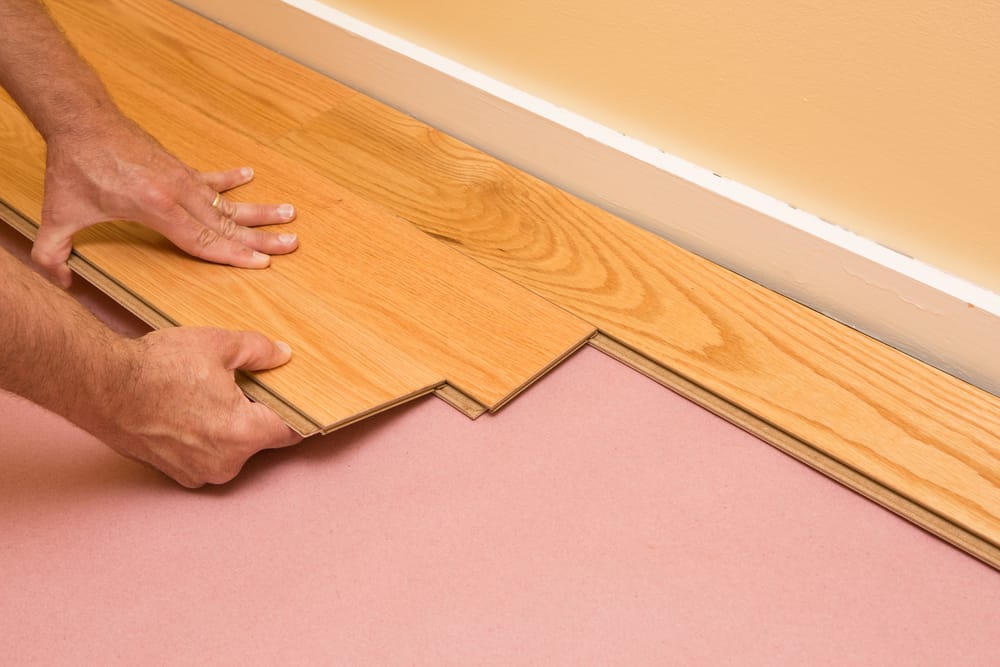 If you have dreams of using cork wood flooring, an engineered hardwood variant will serve you better.
This flooring comes as an ideal alternative against moisture and humidity because it has a strong plywood base. It also imitates the look of natural hardwood by having a surface of real bamboo or wood. Furthermore, it presents stability that fits moist environments.
Here are some of the pros and cons of investing in this type of flooring.
Why You Should Consider Engineered Hardwood
There are many reasons why this choice of flooring will suit your bathing area. First, it's ideal if you wish to go for the natural look in your bathroom. Next, it can withstand heat and moisture.
Drawbacks
Engineered hardwood might not be one of the best bathroom flooring ideas because it's expensive to install. It is also difficult to repair its damaged boards.
2. Laminate Bathroom Flooring
One of the best flooring choices to install in a bathroom is the laminate flooring. The Laminate is a resin-impregnated paper that contains a photograph of oaks, marble, or natural stone flooring materials. The surface of this flooring has a clear-plastic protectant known as the wear layer.
If you're to use laminate flooring, you will need to install it correctly to achieve a great look. You also need to consider the base layer of the laminate flooring because exposing this part to moisture makes it expands and wobbles. The good news is that you can limit moisture by using tight seams between the planks.
Finally, it is best to buy a laminate floor from a reliable company or online stores. They should also offer a decent warranty for the top layer.
Why You Should Consider Laminate Flooring for Bathroom
Laminate flooring has a top layer that looks attractive, and it comes at an affordable price. It is also easy to clean and doesn't require too many hassles to install. You can even do-it-yourself without the help of a professional.
Drawbacks
As I said earlier, this flooring easily can be damaged by excess moisture. It is also not easy to repair when it is damaged. Hence, you have to limit some portion in the bathroom when installing.
3. Natural Stone Tile Flooring For Bathroom
Are you interested in bathroom floorings that look elegant and modern? Then pick a flooring design based on natural stone tiles.
These attractive flooring options come in different types, such as marble, travertine, and limestone. Also, all three variants can handle the effects of spills during showers.
Stone tile floorings can last for many years without showing any wear and tear. All that you need to do is ensure it's well maintained regularly.
Apart from its durable build and nice finish, this flooring type can increase the market value of your home. Furthermore, scratches and dents do not affect this flooring.
Although it might cost a fortune to install, natural stone floorings are a perfect match for bathrooms. But, marble, limestone, quartz and other stone floor variants cannot adequately handle moisture.
Why You Should Consider Natural Stone Tile Flooring
You can create different looks for your bathroom with natural stone floorings because it comes in various surface appearance and textures. It's also durable and will help to add cost value to your home.
Drawbacks
Natural stone tile floorings are the worst options for DIY projects because they require the services of a professional. They also require regular cleaning and sealing.
4. Cork Bathroom Flooring
Cork flooring has a surface that feels soft, thus making it popular choice among homeowners. However, many people are not sure if it has the features expected from waterproof bathroom flooring.
Surprisingly, this green flooring option can handle the strains of moisture provided it's covered with a waterproof sealant. However, if it's not coated with this material, it will experience water damage while the coat cannot protect the wood during floods.
If you are afraid of slipping off your bathroom floors, you should consider choosing this option because it offers slip resistance. It even comes as ideal flooring if you are serious about getting eco-friendly material. Finally, it has a finish that will impress any homeowner.
Like most of the best flooring choices for bathrooms, this material has a few issues, which include scratches and dents. But you can repair these flaws with the help of a professional or use cork tiles.
Why You Should Consider Cork Bathroom Flooring
It has a surface that feels warm and soft to touch while offering features that can resist mold and mildew. Also, if you are looking for flooring that requires little maintenance, use this eco-friendly material.
Drawbacks
Initially, cork cannot withstand water except you coat its surface with a sealant. However, you will need to add more of this coating on sections of the flooring with unfinished tiles.
5. Vinyl Bathroom Flooring
Vinyl has a good looking surface that makes it an excellent choice for bathroom flooring. For decades, this flooring has been a popular choice for baths because of its durability, longevity, and resistance to water. Furthermore, it comes in different types, which include sheet, tile, and plank vinyl.
Sheet vinyl is one of the popular choices used in many homes, and it can be installed as a single piece. This flooring is the best option for children bathrooms, or if your bath floor usually gets a large amount of water. The reason is that it comes in a large size and does not require any tight seems when installing.
Plank vinyl come in a long strip measuring around 5 inches width and 48 in length. It is easier to install than sheet vinyl. However, Plank vinyl is also less resistance to water damage than the sheet vinyl because it has many seams.
Unlike the sheet and plank vinyl, the tile vinyl flooring comes in tile-shape. However, it requires many tight seams, which make it not a great option to use in the bathroom.
Overall, the best part about vinyl flooring is that it is easy to install, especially if you prefer to DIY. It also looks more like natural stone, tile, or hardwood flooring. It comes in many design, color, and pattern.
Why You Should Consider Vinyl Flooring For Bathroom
The sheet vinyl is 100% waterproofed and very cost effective to install. You can easily carry out a DIY installation for plank and tile vinyl. Furthermore, it doesn't require much hassle to replace, and you can as well install it over existing flooring.
Drawbacks
Using Vinyl flooring doesn't add cost value to your home. It also looks very shabby if you don't install it correctly. The worst part is that it contains harmful VOC.
6. Ceramic Tile Bathroom Flooring
Unlike engineered hardwood, this form of flooring is a popular style in many bathrooms. It's also a perfect choice if you are shopping for small bathroom flooring ideas.
I love this flooring because it has a rugged and durable build while sporting an attractive finish. Since it can withstand water damage, there's no need to panic after liquid spills occur.
Stains, scratches, dents do not affect this material. Furthermore, it can resist regular wear and tear, but you might need to check the space between the tiles for stains. Another reason why you should consider this type of flooring is that it has long term value.
Why You Should Consider Ceramic Tile Bathroom Flooring
You can create various looks in your bathroom as this flooring comes in many styles and colors. It's also moderately priced, thereby making it the best choice for a bathroom remodel project.
Drawbacks
If you prefer surfaces that feel soft or warm to touch, then these tiles are not for you. It also requires the services of a professional for its installation.
7. Porcelain Tile Bathroom Flooring
The porcelain is a perfect choice for those looking for a highly water-resistant and waterproofed bathroom flooring option. In fact, according to Porcelain Certification Agency (PTA), tile regarded as porcelain is to absorb less than 0.5% water.
Porcelain flooring gives the bathroom an outstanding look and works great for modern style bathrooms. Aside from its attractive appearance, it is stylish and inexpensive as it comes at a price closely similar to vinyl flooring.
What's more, is that porcelain flooring material is easy to clean and gives a textured feeling to the foot. However, due to less absorption of water, it can be very slippery when it gets wet.
Why You Should Consider Porcelain Flooring For Bathroom
First, the porcelain tile comes in many styles, size, and shape you could choose from. This flooring adds more cost resale value to your home and makes the bathroom cool. Another big plus is that it is easy to clean up.
Drawbacks
You have to be very careful when working walking on it because when wet, it can make you slip and fall. It feels cold and harder underfoot, which means you will find it difficult to stand on it for quite a long time.
8. Concrete Bathroom flooring
One of the easiest ways to give your bathroom a high-class modern appearance is to use concrete flooring. This flooring is entirely resistant to scratch, stain, and water. Furthermore, due to its strength and durability, concrete flooring is a reliable option for a large bathroom.
The best part is that it has a single material design that acts as both the finished surface layer and the structural floor. You can also lay other flooring material and certain aggregate over it for a more attractive look.
If you're looking for an eco-friendly and sustainable bathroom flooring options on a low budget, this is the best bet.
Why You Should Consider Concrete Flooring For Baths
Concrete flooring is a single material design which makes it inexpensive and eco-friendly. It doesn't get damaged easily, and it gives room to overlay other bathroom flooring material without hassle.
Drawbacks
One of the downsides is that it is difficult and expensive to replace if eventually it gets damaged. This is because you will have to remove the entire concrete flooring to replace it. However, if it is minor damage, you can lay other flooring materials to patch it up.
9. Linoleum Bathroom Flooring
It's common for homeowners to confuse vinyl and linoleum because they look similar. However, vinyl is synthetic while linoleum is made from natural products such as wood and linseed oil.
You can use linoleum as bathroom flooring because its oily component can handle stress, mold, and mildew. Also, it is resistant against scratches, water, and fire.
Like vinyl flooring, linoleum is available as sheets, planks, or tiles. Though planks are the easiest to install, sheets are the best option for bathrooms because they have fewer seams and joints for water to work its way through.
You can buy linoleum as sheets, planks, or tiles and install them easily. But I suggest that you use the sheet variants for your bathroom even if linoleum planks are easy to install.
Why You Should Consider Linoleum Flooring
This flooring consists of materials that are safe and environmentally friendly. They are also great if for use in bathrooms that witness heavy traffic.
Drawbacks
Linoleum flooring is ideal for areas that have a high rate of dampness and high traffic. However, it is expensive to install.
10. Terrazzo Flooring for Bathroom
Installing terrazzo flooring will give your bathroom minimalistic good looks. This flooring material made out of granite, marble, and glass chips is clean, durable, and artistically pleasing.
It is an excellent option for modern and contemporary style bathrooms. Furthermore, terrazzo flooring is resistant to stain, water, and bacteria, and requires minimal upkeep.
Terrazzo is one of the popular flooring choices used in many luxury bathrooms. And this is a result of its beautiful appearance.
Why You Should Consider Terrazzo Flooring For Bathroom
The big plus of this flooring material is that it doesn't need regular maintenance. It comes in several varieties of colors that will enhance your bathroom interior. Terrazzo flooring is also durable enough to withstand a high amount of foot traffic.
Drawbacks
One of the downsides is that terrazzo flooring materials are expensive. You will need expert ideas to install them in your bathroom. This flooring also feels hard on foot, meaning it can be uncomfortable to stand on it for a very long time.
Important Guides for Bathroom Flooring Design
As soon as you have chosen the ideal material for your bathroom floors, you will have to consider its texture, color, and finish. You will also need to know the size of the area.
The Size of the Flooring Material
The size of your room determines the dimensions of your choice of flooring. Ensure it fits the space perfectly, but if you are using different materials, you can increase its size.
The Color, Finish, and Texture of the Material
Most types of bathroom flooring are available in a variety of colors and patterns. Choose the color that best matches your bathroom style and décor.
You can apply special finishes to most flooring types after installing them. These finishes can make your flooring either brighter or more subdued, depending on your preferences.
Concerning colors, you should choose the ones that match the overall look of your bathroom. The finishes to use will be based on your preferences. If you're to select the flooring based on texture, it's best to go for the ones with either more grip or fewer textures for a polished look.
Extra Features
Heated floors are some of the ideal features on any flooring. This is because it delivers warmth on cool surfaces. You can enjoy this feature by placing heating mats under the flooring.
Budget
Cost also plays a vital role in selecting the ideal flooring for your space. For instance, if you are working on a tight budget, try using vinyl, ceramic or laminate floor styles but if you want to splurge, go for solid hardwood or terrazzo
Final Word for You
Looking for the best flooring choices for bathroom spaces can be difficult because of the issues of moisture and mold. You might even become confused due to the various flooring options on sale.
However, there is an easy way to make a great choice.
If you are working on a budget, use vinyl or ceramic.
If you want to go green, try cork while for timeless value, use engineered hardwood or natural stone.
Are you still confused about the type of flooring to use in your bathroom? Then we will like to see your comment below so we can help.