As you probably know, it can be quite expensive to remodel a bathroom. Among many things you need to fix and change, you may overlook the ceiling there, which is a common mistake. So, take care to follow the recommendation of the National Kitchen and Bath Association of a minimum height for bathroom ceiling of 80 inches (2 m). Then, start with choosing the material.
Nowadays, you can find many different types of materials suitable for this part of this house, and you can pick out the one you like the best. The primary features you need to check are durability, waterproof, mold-resistance, and cost of the material you want to use. Let's take a look at the most desirable and quality bathroom ceiling materials available on the market.
Best Bathroom Ceiling Material
1. Fiberglass
Fiberglass is probably the most common bathroom ceiling material used in American bathrooms. Since it is water-resistant and quite inexpensive, you can use it to install both a visually appealing ceiling and an all-around standing shower.
The great thing is that you can purchase the pre-cut fiberglass material and install the panels quickly on your own. Plus, fiberglass will provide necessary protection from water damage in the long run.
2. Ceiling tiles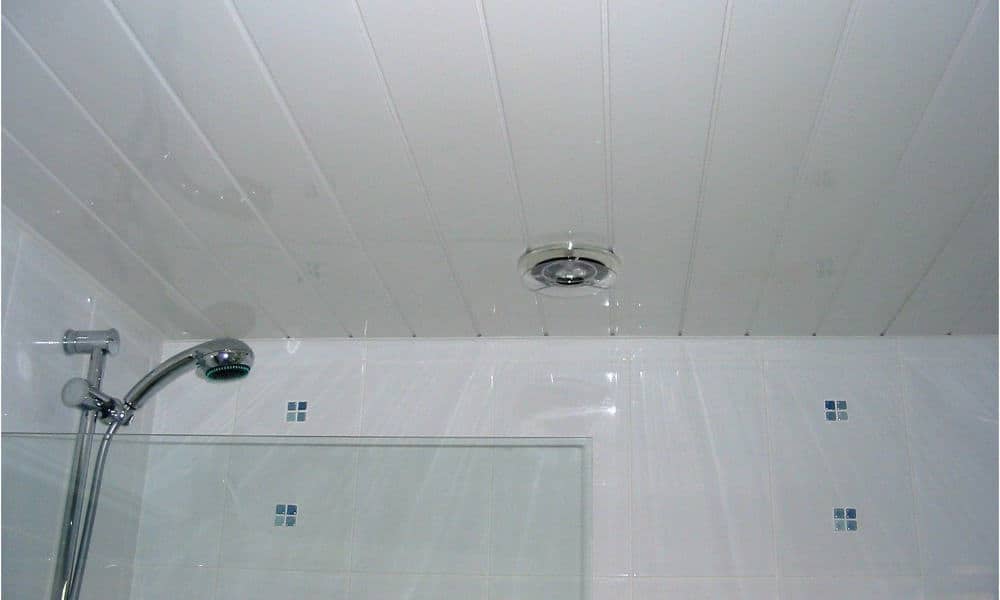 It is not a standard option, but you can mount polished, refined, and classy tiles on the ceiling, as well. They are an excellent choice since they are waterproof, noise-reductant, and easy-to-clean material. Take care to ensure waterproof materials for sealing the joints, as well. That way, you will keep your ceiling safe from the mold development, high moisture, and cracking.
The best part is that you can find some unique and intricate design work available on the market nowadays. Keep in mind that ceiling tiles are not the same as wall and floor ones. They are lightweight, and you can install them in your suspended ceiling system.
3. Polystyrene ceiling tiles
This type of ceiling tiles is a convenient solution for your bathroom if it is old and neglected. The advantage of this option is the possibility to avoid removing the old cover finish. You can quickly glue these tiles over the top of the existing cover and fix them with coving adhesive when necessary.
Use this lightweight and paintable option when you want to insulate the space and enhance the decor of your bathroom without spending too much money. However, you should be careful when making such a choice since polystyrene can be a fire risk.
4. Metal ceiling
Since metal is a durable, easy-to-clean, and practical bathroom ceiling material, you can use it in your bathroom. After polishing it, you will get a beautiful shiny surface that will bring a stylish vibe to your space.
In most cases, you will have a few types of this material at your disposal, including copper, aluminum, chrome, tin, brass, and galvanized iron.
You can pick out these embossed tiles or sheets when you want to hide unattractive pipes and wires, as well. Their primary advantages are low price, quick installation, and the possibility of removing only one damaged panel without replacing the entire ceiling when necessary.
5. Paint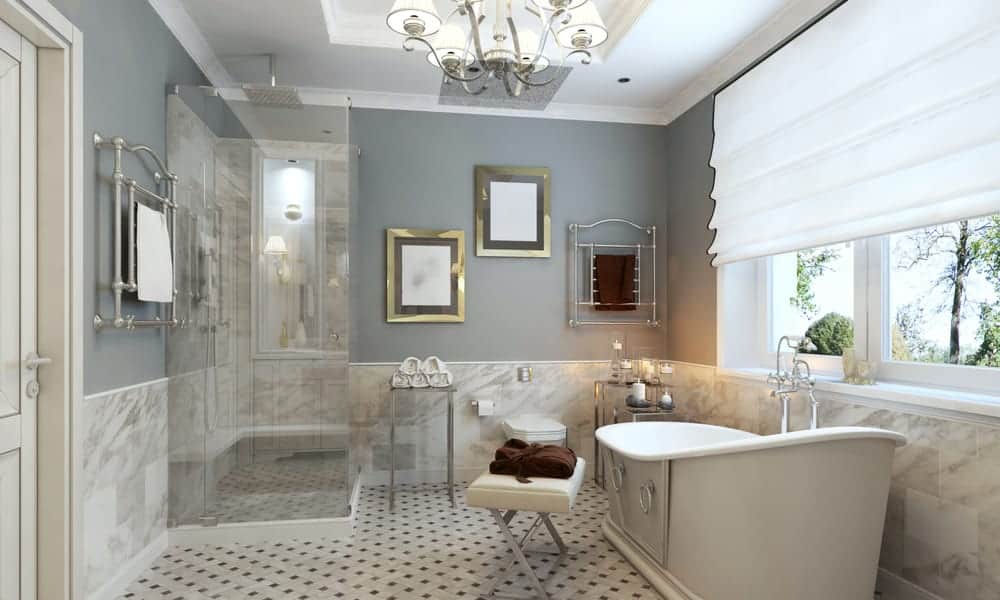 If you don't mind maintaining your ceiling frequently, you can paint it. It is a cheap and convenient solution, and you can do the entire job on your own if you need a few necessary tools.
Keep in mind that the painted bathroom ceiling is submissive to mold development and peeling after a while. The reason is water vapor coming from the shower and bathtub area and condensation. However, if you have a bathroom window or excellent ventilation, this practical option is the right choice for you.
The advantage of the painted ceiling is the possibility to transform the entire look of your space by changing the color annually. The best paints for this room are:
Flat paint – It hides existing imperfections of the surface and reduces glare. On the other hand, you will have trouble to clean it since this paint is not moisture resistant.
Semi-gloss paint – This shinier option is partially moisture-resistant, but its glare may get to your nerves. Plus, it will show all the imperfections existing on the wall surface.
6. Acrylic
Acrylic has become highly popular in recent years. You can choose among various sizes, patterns, colors, thicknesses, and designs available on the market. Depending on the features of your bathroom and your preferences, you can pick out either a transparent or opaque option, as well.
You can get a striking look of the space if you install LED lights and support the panels with L-shaped aluminum strips. Since acrylic sheets are lightweight, you can quickly remove them for regular maintenance when needed.
7. Drywall (green board)
There is one more highly moisture-resistant and inexpensive bathroom ceiling material you will love. The best option is to choose a popcorn, orange peel, or splatter texture to reduce sound and hide imperfections stayed after the installation.
For additional protection and appealing polished look, you can paint it with water-resistant paint color. The material itself is green, but you can choose any option that suits you the best. A well-painted ceiling won't require maintenance for years.
Usually, you need to attach it directly to the invisible, taped ceiling joists. That way, you can cover the damaged and old ceiling.
8. Cement board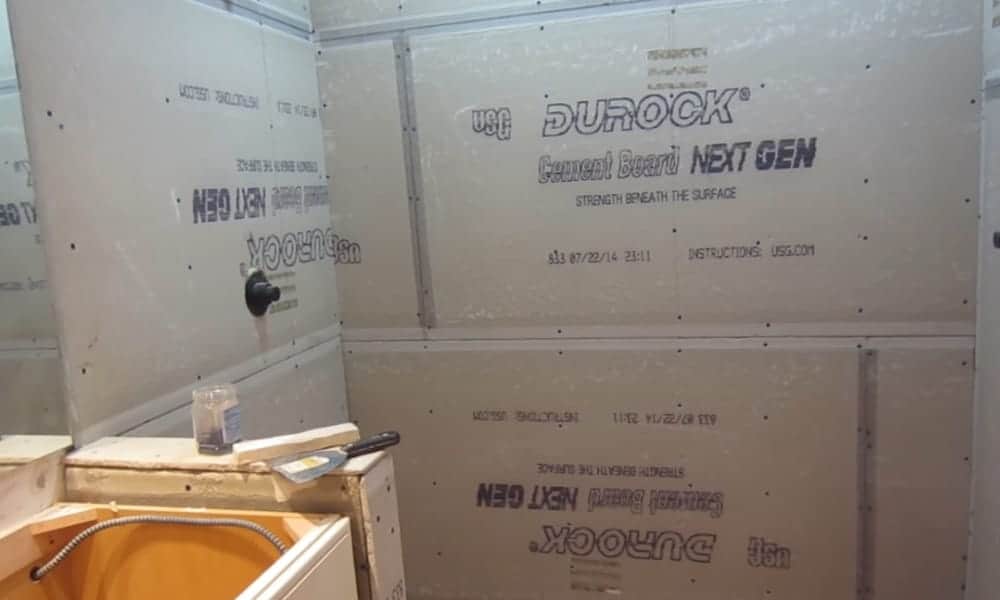 Cement-board is always an ideal material for wet spaces, such as a bathroom. You can use it as a backer material to cover the wall before installing tiles. Once they start cracking and leaking water through the wall, this coat will protect the ceiling from mold development.
It can be crucial in the wet segments, such as corners and ceiling above the shower cabin. Keep in mind that moisture can pass through cement-board since it is not impervious to water. So, you should glue plastic sheeting under it to make a moisture barrier.
This method of covering ceilings was highly popular 50 years ago. Nowadays, this option is actual again as an ideal option to hide the ugly and damaged ceiling. Keep in mind that you need to attach a framework first to fasten the panels over it securely. Nowadays, you can pick out one of the best panels available, depending on your needs:
ACP (aluminum composite panels)
These panels contain a core made of the thermoplastic polyethylene, which is placed between two aluminum sheets. This material is almost ideally flat, lightweight, and smooth, but strong at the same time.
It is the best option for bathrooms prone to moisture. Depending on your taste, you can choose plain, marble, or metal textures of the selected sheets.
Contemporary PVC ceiling panels are entirely waterproof, which makes them an excellent solution for bathrooms with condensation problems. This lightweight option is inexpensive, clean, durable, and visually appealing. You can mount them on your own as a perfect finish, which will protect your space from mold, bacteria, and fire.
10. Glass
Glass is a stylish and sophisticated solution for the ceiling in your bathroom. If you have one of these low-height bathrooms without windows, this material will make it visually more spacious.
11. Glass false ceiling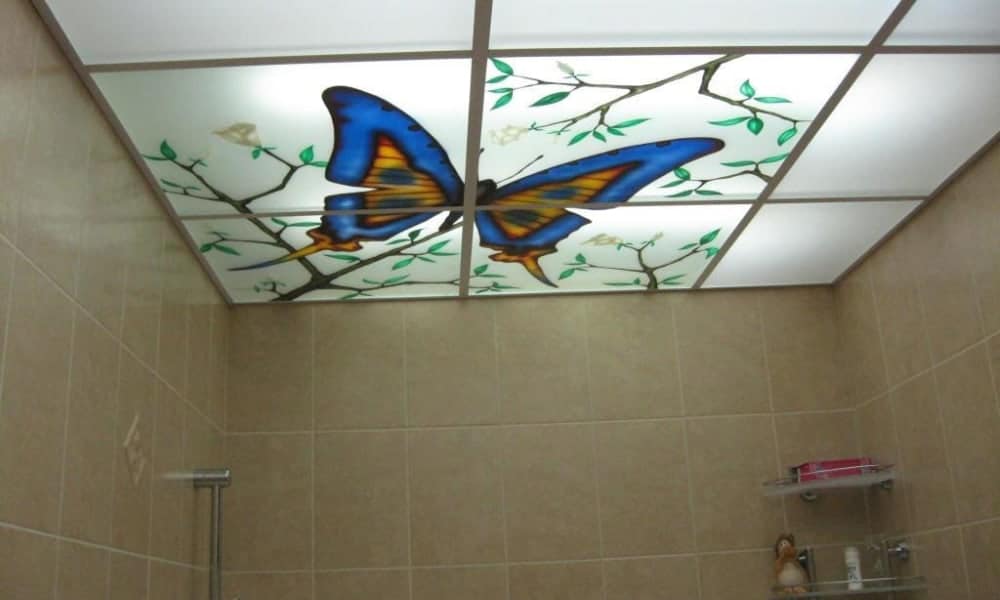 Many manufacturers offer a false ceiling made of non-crystalline glass because it is an excellent insulator and improves the aesthetical appearance of the space. They often add some admixtures to make it non-transparent and non-brittle, which transforms this bathroom ceiling material into an ideal option for your home.
12. PVC Cladding
Since it is a waterproof material, cladding is an excellent option for a bathroom ceiling. This material made of PVC panels is durable, easy-to-install, and doesn't require too much maintenance. Plus, it will prevent mold development, although the level of moisture in your toilet is high.
13. Timber cladding
Wood was a material of choice during the '60s and '70s, but not many people decide to install it in the bathroom nowadays. Wood will expand and contract in the environment with high humidity.
So, you need to paint or varnish it with advanced material to prevent it from damaging. Otherwise, wood will start rotting and become susceptible to mold over time. On the other hand, constructors use wooden boards as a component of the ceiling since they look stylish and sophisticated.
14. Gypsum (plaster of Paris)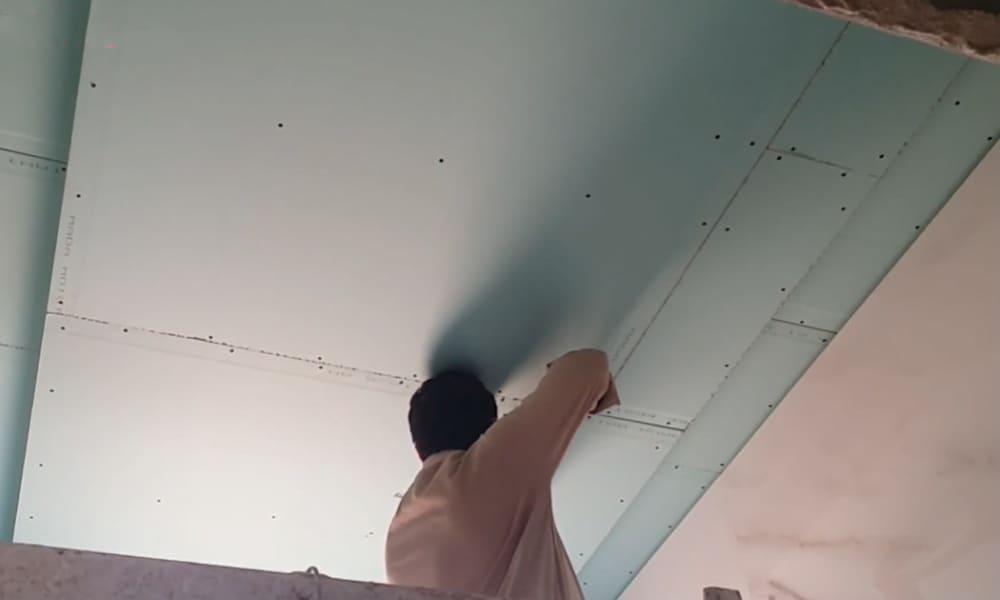 You can find inexpensive, water-resistant, and lightweight plaster of Paris sheets in many sizes. These gypsum boards are an excellent option for your shower ceiling since it is not prone to mold development. Plus, they are perfect if you want to sound and thermally insulate your space.
If your ceiling is ugly with visible ventilation ducts and other pipes, you can install this material to construct a false ceiling and make your bathroom more appealing and attractive. However, you can choose this bathroom ceiling material only if you live in a warm region.
15. Painted plaster
Even though the painted plaster is probably the most common bathroom ceiling material, it is one of the worst possible solutions you can use. The primary issue is the type of paint used that flakes and bubbles over time, plus you can spot the mold growth over time.