Do you want to give your unattractive bathroom a facelift without spending a fortune? Or does your bathroom look too old? Are there any affordable ideas on how to make my bathroom look elegant and add value to your home?
Such questions are common with many homeowners. After all, everyone loves a bright and functional bathroom. However, popular home remodeling ideas are expensive in terms of cost and time. Furthermore, these ideas make many people dread taking up such projects.
Well, if you're low on cash and looking for bathroom update ideas on a budget we got you covered. Fortunately, there are affordable ways you can make your bathroom look like something out of a home decor magazine.
We've compiled great 30+ bathroom remodel update ideas on a budget for you. Also, we have taken the time to break it into different categories for easy remodeling. Hence, read on as we will show you various inexpensive bathroom ideas for remodeling.
Let's get started with the floors before moving to other parts of your bathroom.
Floors
Floors are essential parts of the bathroom space because they offer walking support. Here are some ways you can remodel the flooring in this part of your home.
1. Purchase Affordable Materials that Look Expensive
If you wish to save money, renovating, or maintaining the original items in your space, come as ideal options. However, if they are worn out, avoid expensive materials, and purchase affordable lookalikes.
For instance, rather than replacing your flooring with real wood planks, settle for low-cost luxury vinyl flooring. We recommend this material because current vinyl styles such as luxury vinyl and plank vinyl resemble high-cost materials at a glance.
For your countertops, you can swap granite for top quality laminate or quartz variants. You may also abandon travertine and marble and choose faux stone ceramic or porcelain tiles.
2. Paint the Wooden Flooring
If it falls within your budget, you can replace the wooden floors in your bathroom with tile or engineered wood. But if you are low on cash and time, make the flooring brighter by applying some protective enamel paint.
We want to add that solid hardwood is a poor choice for bathroom flooring because of the moisture. However, if you already have one, the above tip will make it last longer.
Now let's move to cheap bathroom ideas for bathroom's wall.
Wall
3. Green Updates on the wall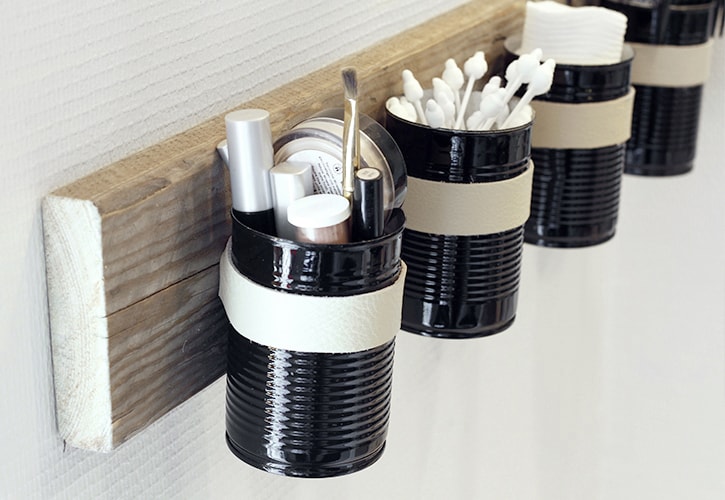 Go green to make your bathroom elegant. One easy way is to get three beautiful outdated tin cans and drill them on each side into a vintage plank of size 2 ft. After doing this, drill them onto the bathroom wall to get a stylish bathroom store.
After this process, you can then use them to keep your toothbrush, combs, toothpaste, toothbrushes, and other bathroom necessities. To add more beauty to the bathroom, you can even put garden-fresh flowers with fragrance in some of the cans.
4. Install Wainscot
One of the best ways to protect the lower portion of your wall is to install a wainscot. As you should know, this pre-fabricated board spreads as high as 48 inches. Using it in your bathroom erases the need to cover up minor holes and dings on the wall.
Keep in mind, if there is mold and mildew speckled on the wall, it will not be a good idea to cover it up. Instead, you should clean it thoroughly and change the affected wood portions of the wall.
5. Give the wall a statement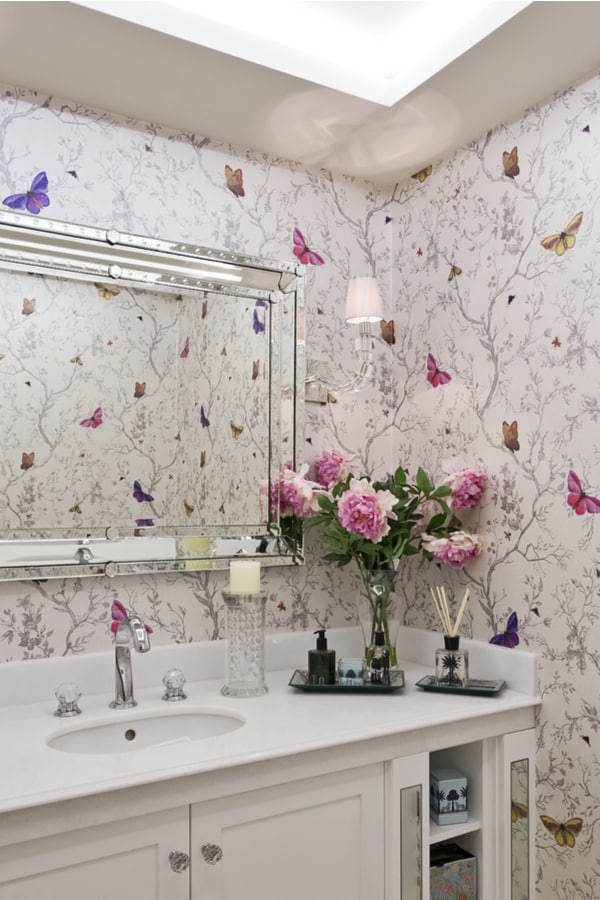 It is great to have a wall that catches the eye once you enter the bathroom. Using beautiful wallpaper or different paint color is one of the best ways to add decorative detail without a big budget.
Countertops
6. Spend Less on Counter Tops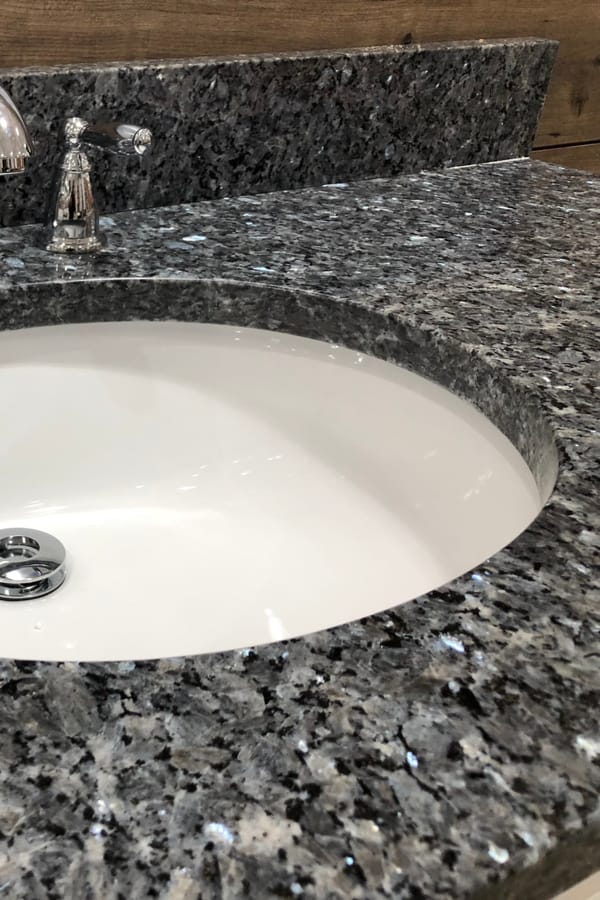 Popular remodeling culture advises homeowners to spend large amounts on granite countertops. Due to the size of this fitting, it is not as costly as the countertops used in other spaces in your home. However, it might be above your budget.
You can spend less on countertops by going for colors that are not popular with buyers. Colors which are in high demand and thereby expensive include light beige, tan and brown.
You can also get cheaper granite countertops by getting a slab with slight cracks or fissures. Furthermore, the higher the crack, the cheaper the slab. Do not worry about seeing the cracks because they will be located closer to the faucet or sink.
Dresser sinks are new ways to spice up your bathroom sink, but they are expensive. The good news is that you can make one by cutting a hole in any dresser and place a sink in the space. You can even add spaces for pipes by removing drawers.
7. Seek Low-Cost Alternatives to Granite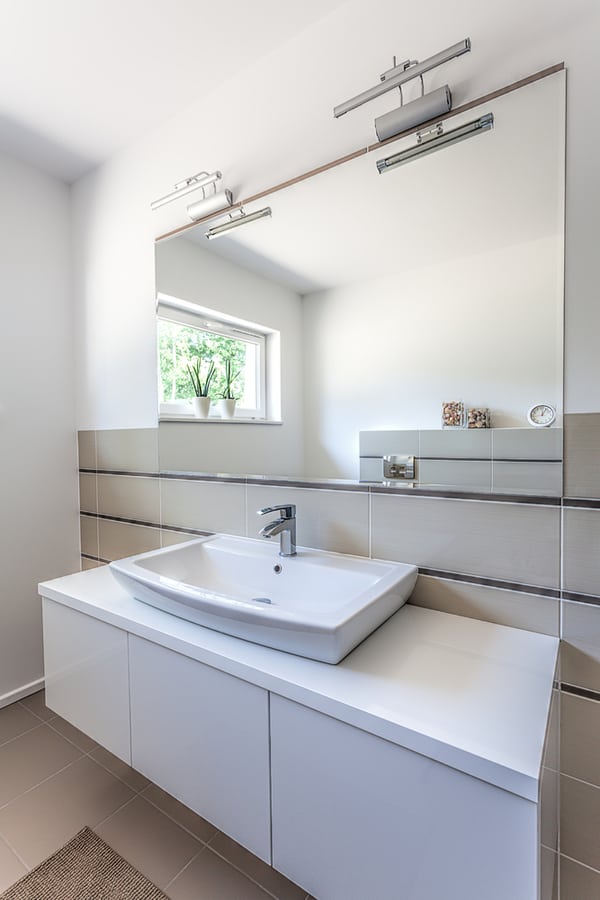 It is good to use imperfect granite when you use cheap bathroom ideas for bathrooms, but they might put a hole in your pocket. If this is your case, try high definition laminate, quartz, faux stone ceramic or porcelain tiles as affordable alternatives.
Tiles
8. Limit the amount of Tile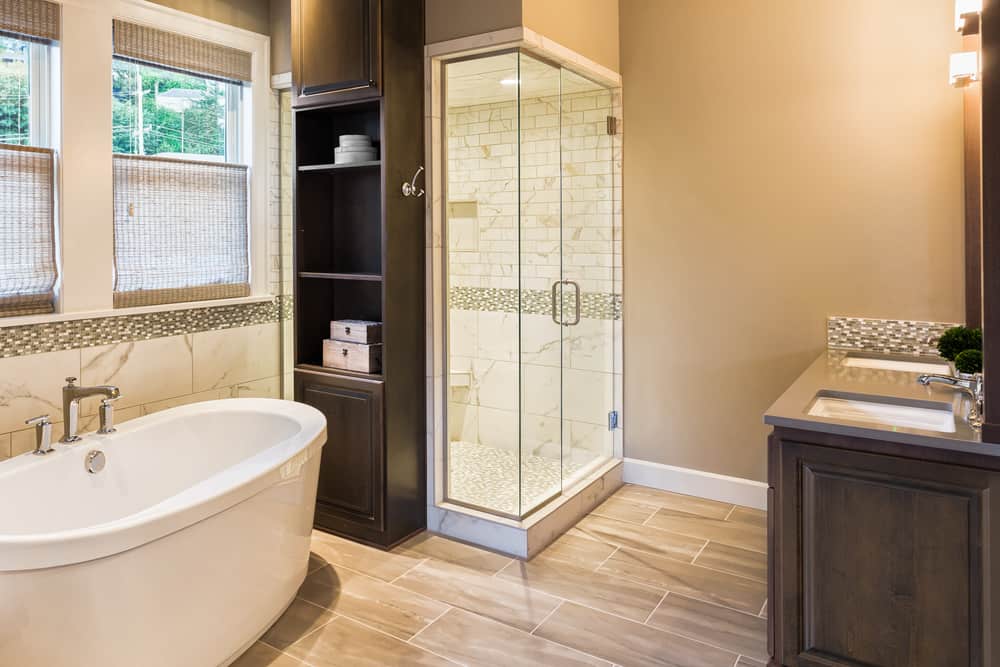 Buying bathroom tiles as well as hiring a contractor to lay it can increase your budget for remodeling. Hence, to save cost, you should reduce the amount of tile and exclude some portion in the bathroom. You can decide to focus on the delicate areas that encounter water like the floor, and shower areas.
Furthermore, if you're to consider using expensive tile with artistic design, it's best to mix with cheaper Tile. You can use the decorative tile to great pronunciation, while the cheaper ones create a beautiful division around it. Applying this idea will create an exciting attraction.
Another idea is to tile the floor, shower portion, one horizontal strip along the wall, and then paint the rest.
9. Change Some Tiles
You don't have to pull out the entire tiles. Instead, you could replace some of them with neutral glass tiles. Using these tiles will add a unique flair to the bathroom space. If you decide not to use the above neutral glass, you can apply gray tiles to create a youthful vibe in the bathroom.
10. Tile Alternatives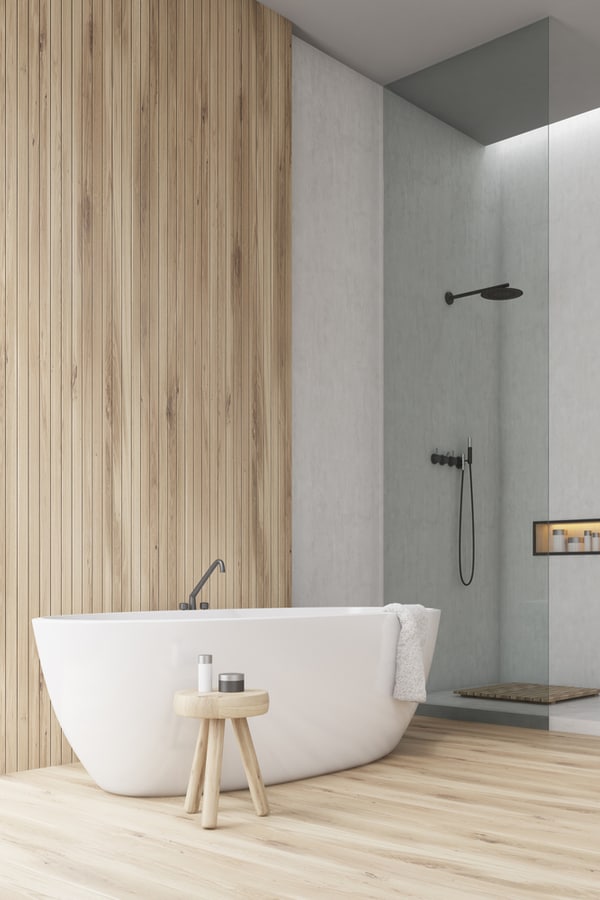 You don't have to tile the bath from the bottom up to the ceiling. Instead, employ other alternatives. Use materials like beadboard, board, and broken wood panels as a replacement for tile in some places. Wood makes interior warm and comfortable than tiles.
Mirror
Apart from swapping a mirror for a cheaper alternative or buying a used one, you can change its look with simple DIY projects. Below are simple ways you can bring your old mirror to life.
11. Decorate Your Mirror with a Mold
This project involves placing some decorative molding around the edges of your bathroom mirror. You might even paint it for a more attractive look. Overall, this project can make your bathroom look better.
12. Add a New Frame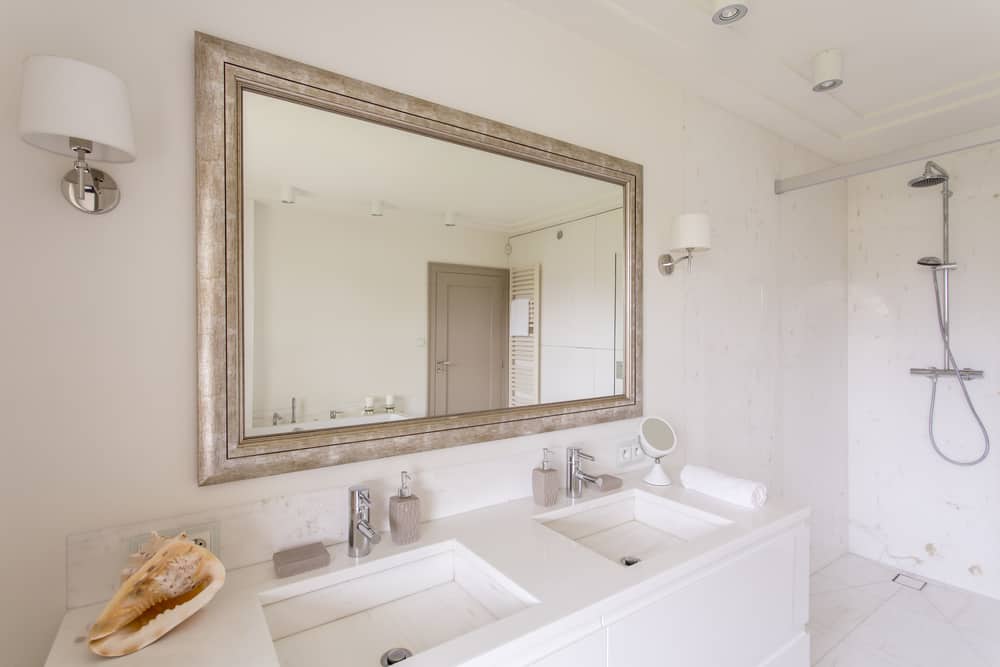 Over time, mirrors show some wear and tear along its edges, thereby making your bathroom look unattractive. Instead of splurging on a new mirror, place an elegant frame on your old one for an exciting look.
13. Swap for Stylish Alternatives
If it falls within your budget, you can dump the plain vanity mirror. Then visit home improvements stores and grab a stylish mirror with decorative details.
Vanity
14. Save On Most Items but Splurge on a Few
There's nothing wrong with spending extra cash on some things provided you saved on others. For instance, purchase low cost or used fittings. Take the extra money to buy a glamorous vanity piece.
15. Update your Vanity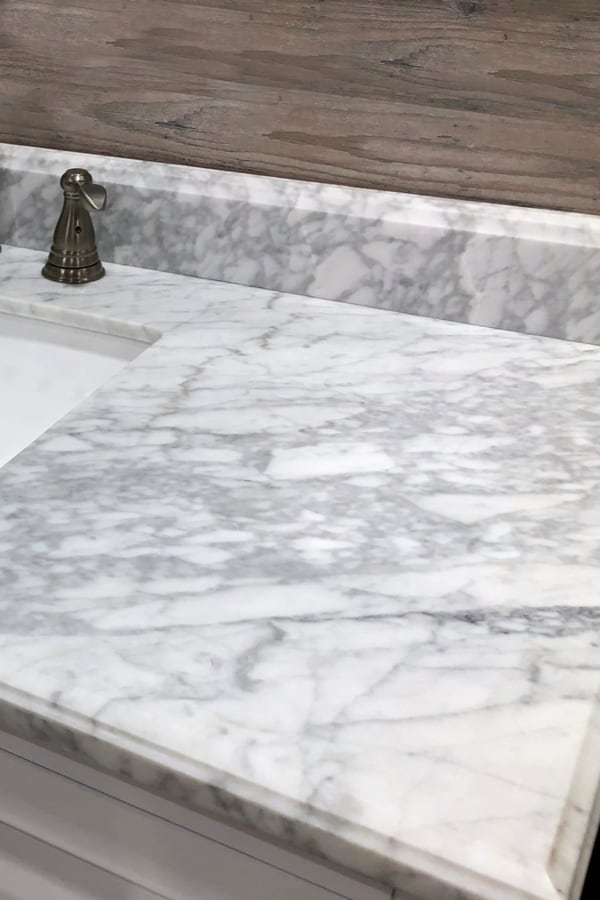 One of the 30 bathrooms remodel update ideas on a budget is to cover your vanity piece with fabric. For a better look, apply some paint to the furniture and place some accessories at the top.
16. Add New Faucets
Another simple way to jazz up vanity piece is to change its faucets. Faucets come in different styles so you will never be short of options.
However, ensure you know how many spaces are on the countertop before getting one. When you visit the nearest home improvement store, you will discover vanities sold in different forms to fit your current countertop.
17. Go with Granite
Investing in a slab granite variety might not be a bad idea, especially if your vanity is placed in a good spot in your bathroom. The reason is that it is an affordable way to brighten up the unattractive space.
Shower
18. Use Pre-Fabricated Shower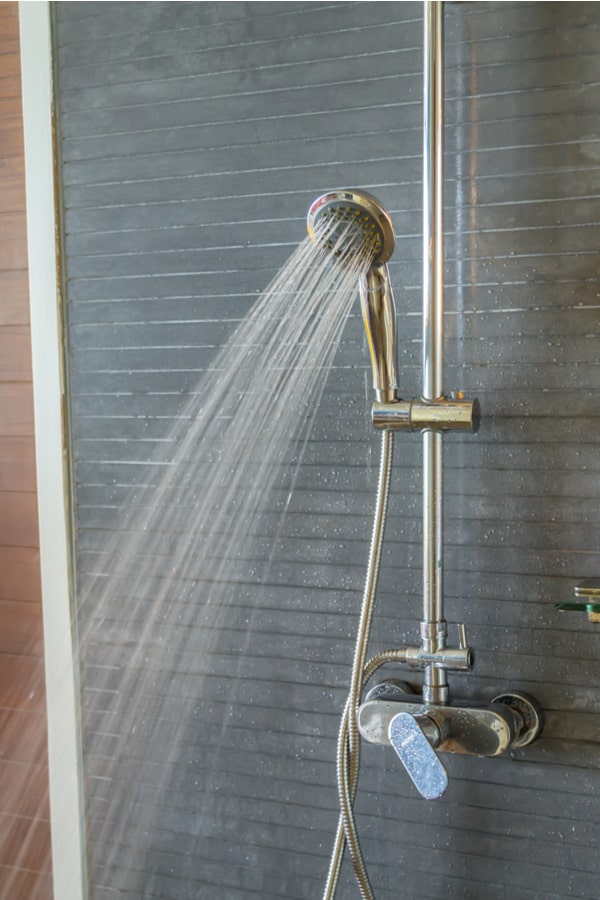 For those that want to do a bathroom remodeling under $2000 budget, it's more cost-effective to use pre-fabricated shower units than a site-built tiled shower. It also saves time and money since you won't have to hire an expert to build a unit of tile from the start.
Although site-built tile showers look extremely attractive and unique, it's best to use a pre-fabricated unit. However, if you decide to use tile showers, then consider combining a poly shower pan with the tile. This process helps to save cost and time.
Cabinet
Bathroom cabinets bring flair and personality to this part of your home. It's also crucial that you remember to work on them during your remodeling efforts. Here are various affordable ways you can spice up this furniture.
19. Switch to New Hardware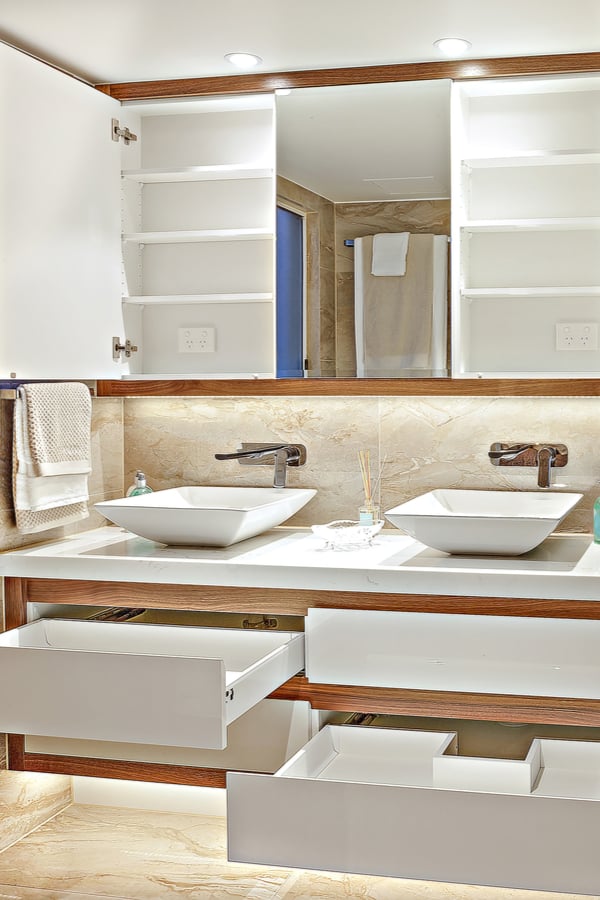 Adding new bathroom furniture such as cabinets cost a considerable amount. If you wish to save money, revamp your current cabinet by replacing its hardware. Such items include knobs, drawer slides, cabinet hinges, lid stays, and locks.
Before you invest in new hardware, ensure that its screws will fit the holes in your current cabinet. With this measure, you can avoid drilling new holes that might make yours look worse.
20. Invest in Open Storage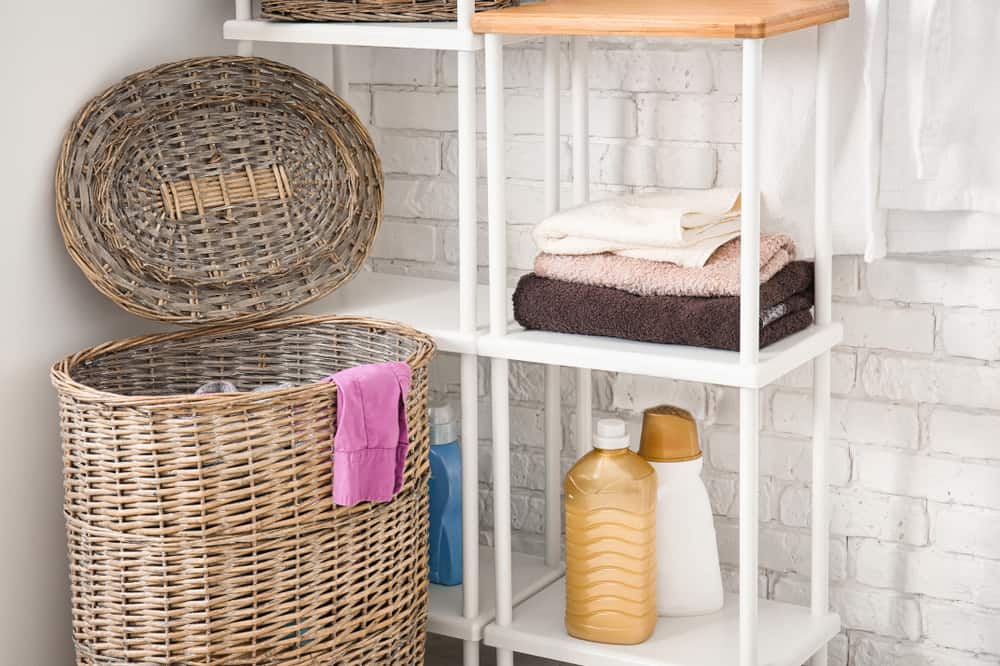 Open shelves are affordable ways to change your bathroom look because they maximize space. Ditch the cabinet and place your toiletries and towels in drawers or covered baskets on highly placed shelves.
Door
21. Door Décor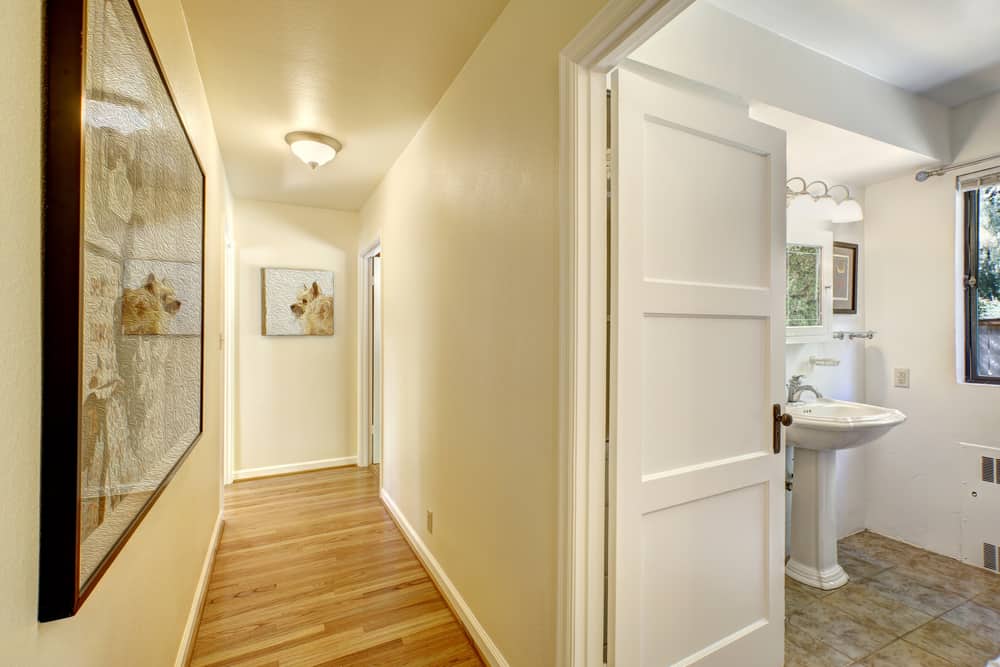 Today, the use of paneled hollow-core interior doors is common in most new homes. And at first glance, this door tends to look absurd to the eyes, but you can make it less noticeable. First, paint the door with the same color as the wall to minimize its presence.
Another great idea is to do an artistic design on the door. All you need is to support the hollow veneer of the doors and each featured piece with anchors.
Tub
Most bathroom remodeling projects require changing the look of the bathtub. You can restore this container with the following ideas.
22. Renovate Your Bathtub
Purchasing and installing a new bathtub consumes time and money. Thus, it should be considered as a last resort. To cut costs, check out relining or refinishing as ideal ways to brighten your space.
Refinishing is a perfect fit for issues such as holes, cracks, rust, or yellowing. You can also solve these problems with bathtub liners or tub inserts. However, tub refinishing lasts longer, looks better, and costs less than relining.
23. Add a Deck
Surround your bathtub with a tiled deck instead of choosing a fresh install. Decks protect the walls and enhance the look of your space. Add a single step to bring an elegant touch to your space.
Now let's see how to use lights for better spaces.
Lighting
24. Invest in Better Lightning
One of the easiest ways to make your space look clean and functional is by replacing the lighting fixtures. This idea helps change the mood of your bathroom with relative ease.
Adding light colors to your space help bring warmth and maximize space. But if you want to bring some romance to your bathroom, add a chandelier with some black and white tiles.
Most homes have bathroom lights that are plain or unsightly, which results in dull spaces. Such features make residents consider changing the fixtures.
You can use lights to have a cozy space by adding many light bulbs which come at a low price during sales at stores. Also, add natural light with Solatubes as this is another budget way to brighten your space.
Caulk and Grout
25. Freshen Caulk and Grout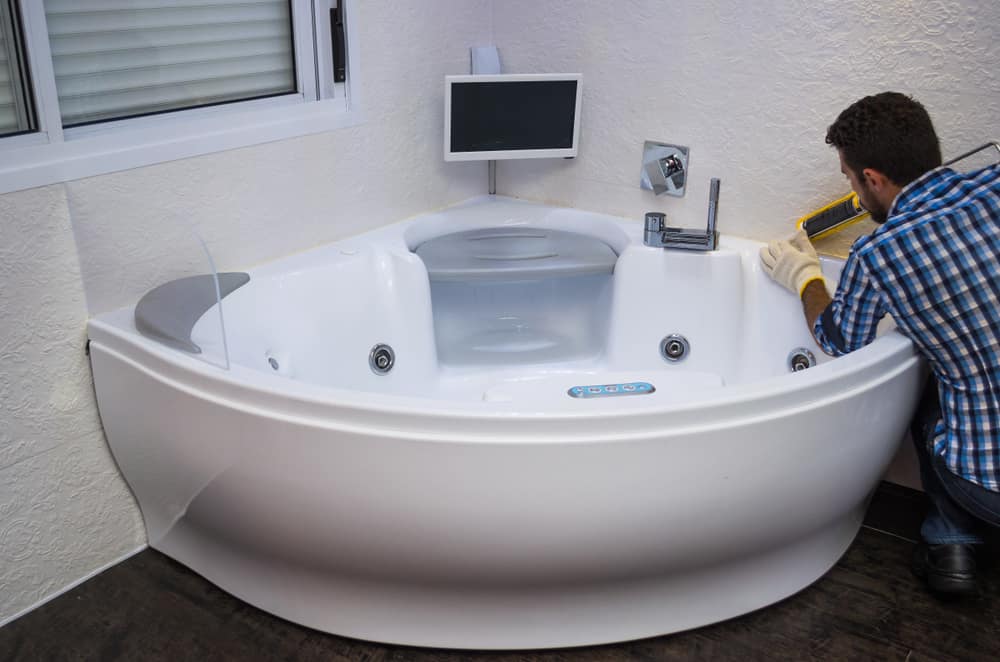 One of the details in a bathroom is the grout and caulk, but many tend to neglect them when remodeling. As you should know, their presence is unnoticed when they are dirty. Hence, the best thing is to clean the grout thoroughly and add clean straight lines of caulk around the tub.
Surely, you will be amazed by the outcome when you do the above guide. One exciting part is that grout and caulk aren't pricey, so this is a cheap way to facelift your bathroom.
Store
26. Simple storage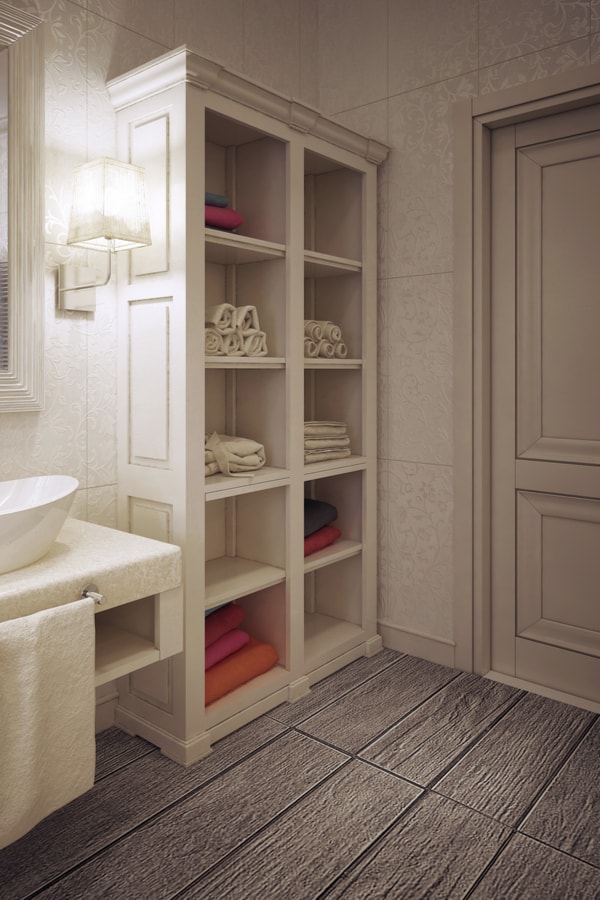 Using sleek open storage will make your bathroom feels spacious. When combined with various lighting option in the bathroom, this will help to highlight the hidden areas to create more comfort.
Sink
27. Simple changes
Replacing your old sink will make a completely new difference in your bathroom. You can consider opting for a brand new Suneli sink to the interior to give a more outstanding look.
Paint
28. Painting the Bathroom Is Great
For those without enough cash, then repainting will be one of the most economical and lucrative ways to brighten up your bathroom.
However, it might be time-consuming to get this done. The reason is that for a bathroom without much space. You have to slowly and calmly paint the corners of the wall, window, mirror, sink, toilet, the switch plates, and flooring. But when carrying this out you need to be patient enough to get the best.
Another key factor to take into consideration is the humidity of the bathroom. As you should know, mold and mildew develop rapidly due to excess moisture. Also, since temperature and humidity aren't stable, you have to consider getting the high-quality paint.
When you're shopping for the type to use, you should also consider looking for special bathroom paint for the ceiling. Painting it will help to prevent the growth of mold and mildew up there too.
29. Wooden Floor needs Painting
If you're using wood flooring in your bathroom, you shouldn't have to remove and replace it with a harder flooring material. Instead, you can save more energy, time, and money by painting the wooden floor with high-quality enamel.
The exciting part about this process is that it helps to protect the wood. With this being said, you have to resist any notion to change it to solid hardwood. But consider painting it to give a good look as long as possible.
30. Paint the Bathroom Interior Yourself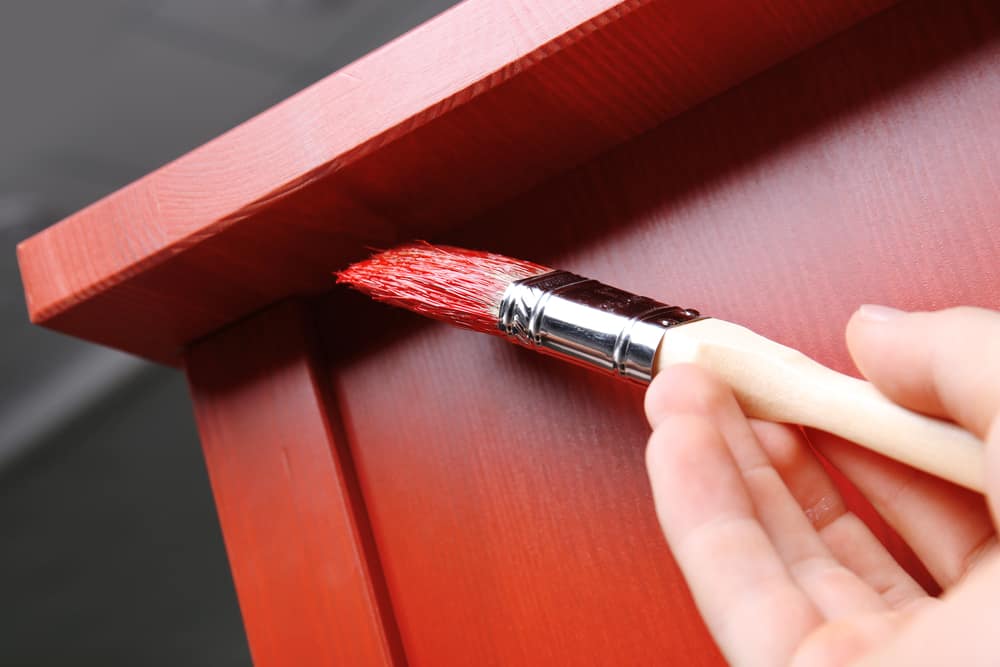 You might want to consider hiring a professional to do the painting, but it's best to do this yourself. Painting a bathroom interior doesn't require you to be an expert.
As you should know, most of the wall surface has been taken up with tiles, mirrors, bathtub, and cabinet. For this reason, only a few places will need Painting. With this said, you can carry this out on your own within 24 hours or less.
31. Fresh Coat and Paint Accessories
Remodeling your bathroom design does not require heavy demolition of existing accessories or complete re-installation. You can update the bathroom by recoating the accessories with matching interior colors and polishing the cabinet.
32. Apply Simple Artistic skills
When you purchase the paint and supplies, you can apply it to the bathroom walls with a beautiful pattern or bold mural. You could carry out hand painting and draw a small simple image stylishly to help add a unique beauty to the bath.
Fixtures
33. Replace Fixtures
During remodeling, we might tend to ignore older fixtures and fittings such as towel racks, and sink faucets. However, an upgrade of these items can make your bathroom look brighter and more elegant at an affordable cost.
If you are looking for bathroom ideas on a budget, get inspiration from sites such as MordenBathroom.com. You can get low alternatives to the items featured on this website. For instance, you could swap your rusty towel rack for fresh or old pipes.
34. Purchase Second Hand Fittings
Bathroom remodeling under $3000 is also possible if you buy second-hand fixtures. Popular sites where you can check for these items include eBay and Craigslist. You can even get used doors, mirrors, sinks, and other fixtures from non-profit stores.
Plumbing Bathroom Remodel Ideas
One of the aims of the best 30+ bathroom remodel update ideas on a budget is to save money. One of such places to apply this rule is the plumbing in this part of your home.
35. Avoid Changing the Position of Major Plumbing
Moving your bathing facilities and toilet are some of the expensive tasks in bathroom remodeling. Furthermore, switching your water supply or drainage can increase the cost of your remodeling.
DIY Bathroom Remodeling Ideas on a Budget
36. Reuse old Material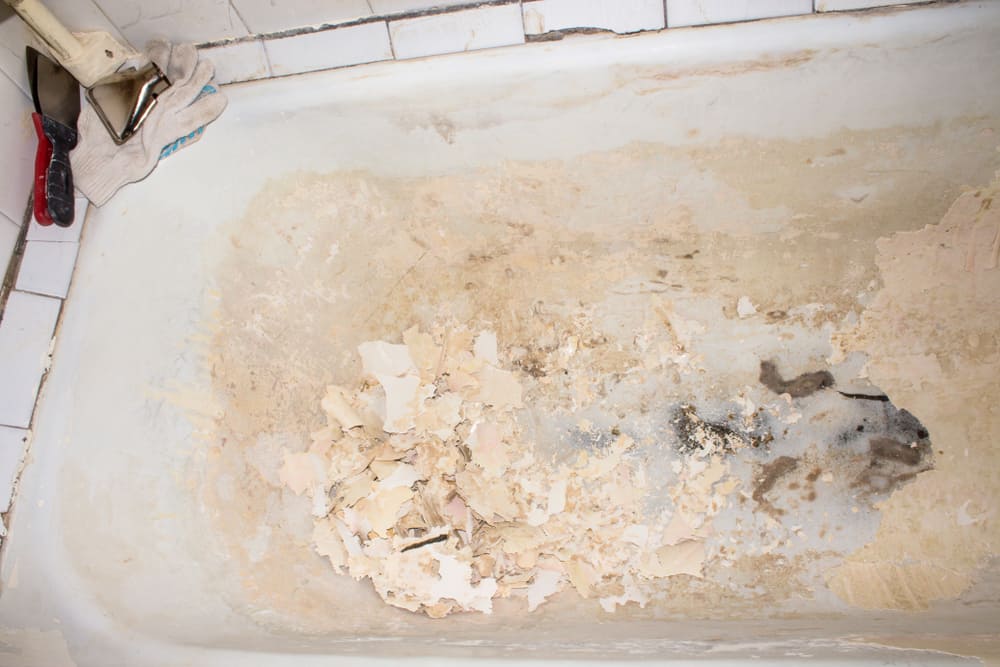 If there are old bathroom fixtures or vintage bathtub you don't want to change, the good news is that you can reuse them. You can do this by refinishing it yourself that's if they are made of fiberglass, porcelain, and cast iron.
However, DIY bathroom remodeling ideas might take time and investment as well. This is because you will need some essential supplies such as face masks, spray gun, sander, and paintbrushes, etc. Getting these supplies will cost you $100- $200.
Other Bathroom Ideas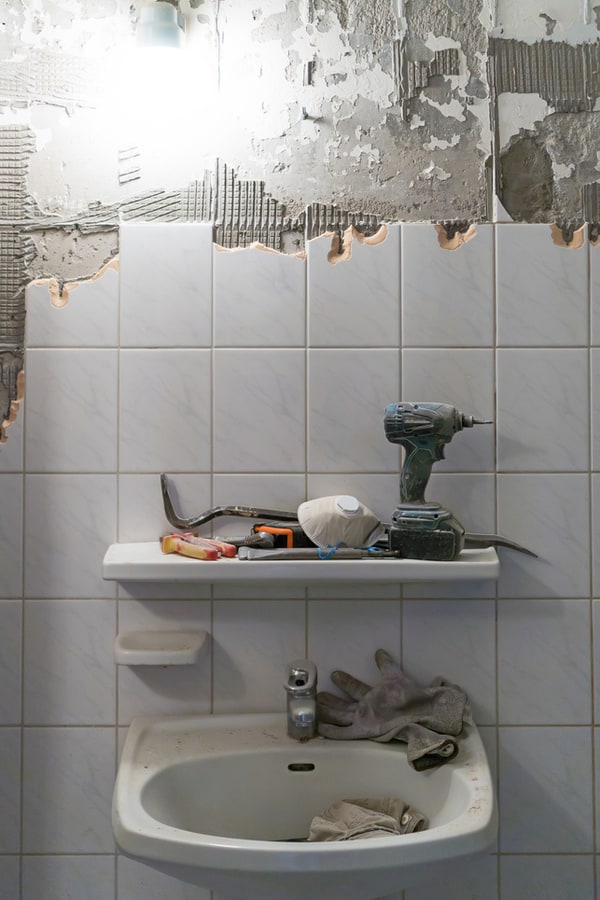 37. Move the Leftover Materials
If there are two or more bathroom and you want to remodel one of them, you shouldn't dispose of the removed materials. Instead, move them to the others for remodeling needs.
Whether you replace the shower curtain, picture frame, and store, it's cost-effective to move them to the other bathroom.
38. Reclaim Existing Bathroom Features
Instead of buying new items, you can save more money and remodel your bathroom by reusing existing features. You can install a cheap model and add a fresh coat of paint to existing bathroom vanity to brighten it up.
39. Consider other Cheap Alternatives
It is a good idea to think out of the box when remodeling. You should always search for matching alternatives that will help you save more money.
Hence, instead of installing a pricey solid marble slab, you can choose to use clean marble tile countertops. This will allow you to save cash for other remodeling needs.
40. Sell old bathroom materials
Save money on remodeling by selling old bathroom materials. Head online or search for buyers that need cheap old bathroom vanity and hardware. Then sell them to have to some cash for other remodeling needs.
41. Make Bargains Online
Many individuals and online retail stores are willing to give a higher discount on bathroom fixtures and materials. Hence, scourge the internet to find bargain-priced materials that suit your budget. Surely with this idea, you can achieve a comfortable bathroom remodel updates under $1000 budget.
Final Word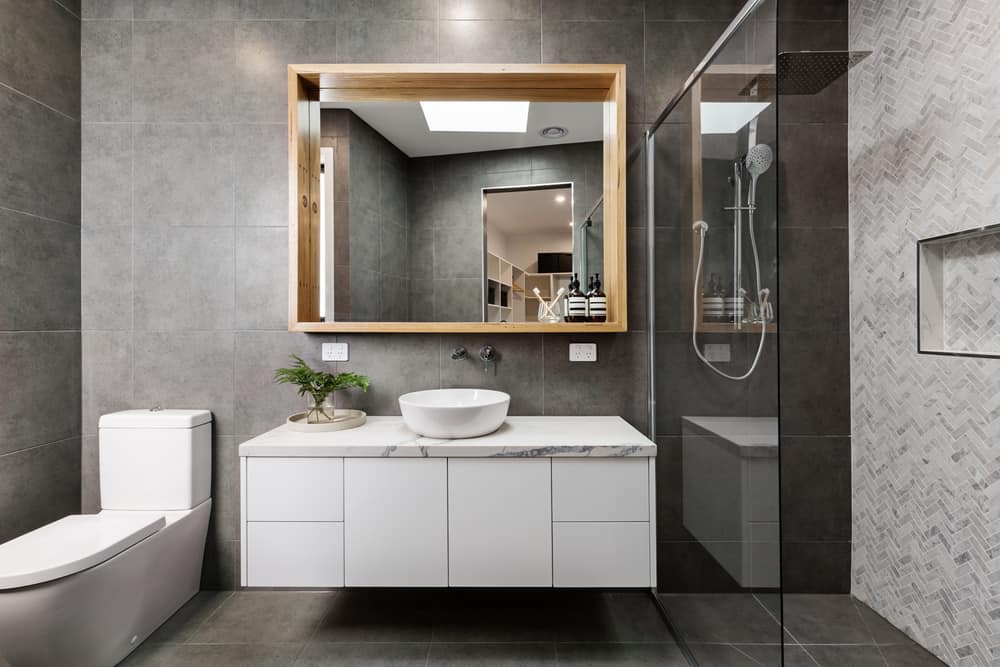 Bathrooms are an oasis of relaxation and hygiene. However, after some time, it might look like a nightmare with old fittings and furniture, and poor lighting. These problems make you consider remodeling.
However, you might expect bathroom remodeling projects to be expensive in terms of time and money. Fortunately, there is 30+ bathroom remodel update ideas on a budget that can make your space look amazing without extra cost.
Most of these ideas are simple and can be done by anyone rather than looking for the services of a professional. Various cheap ways to change your space include
using affordable substitutes.
Buying used fittings, and fixtures.
So there's no need for delays? It's time to make your bathroom look like a thousand bucks without spending that amount. Remember to consult the services of a professional for projects you can't handle or you leave a comment below about your opinion on bathroom remodeling.