Not all of us are lucky enough to have spacious bathrooms. But finding a toilet to fit comfortably in a small room can be a challenge.
Don't despair! If you need a loo to fit into a tight spot, you've come to the right place. Here, we review seven of the best compact toilets for a small space. And our buying guide will help you choose one that's perfect, wherever you need to locate it.
GALBA Small Toilet 24.5" Long X 13.5" Wide X 28.5" High Inch 1-Piece 24" 25" Short Compact Bathroom Tiny Mini Commode Water Closet Dual Flush Shortest Projection Elongated Concealed Trapway
The Best Small Toilet on the Market of 2020
1. HOROW HWMT-8733 Small Toilet
If you're looking for something that packs style into every inch of its diminutive size, try Horrow's HWMT-8733.
This compact toilet measures just 25 inches deep by 13.4 inches wide and 28.4 inches high. In all other respects, though, it looks like a standard toilet – just rather a classy one.
It uses a single piece design that will work just as well in a traditional as a contemporary bathroom. The flush is operated by a neat chrome button on top of the tank. And the trapway is concealed to give a stylish finish and to cover up any spaces where dirt might collect.
And if you're worried that a compact loo might mean a seat that's too small for comfort – don't be. The bowl here is a standard elongated version. The space is saved on the tank shape and size, shaving about four inches off the depth of a standard toilet.
It has a siphon flush, with two options. The full flush uses 1.6 gallons of water, while the light flush uses 1.28 gallons. That gives you plenty of power to ensure the bowl is clean.
The flush is quiet too. And there's a soft-closing seat to avoid any clattering when you use the loo. If you're looking for a toilet to keep the peace in an en suite bathroom, it's a good option.
The fully glazed bowl is designed to stay clean, so you won't need to get out the loo brush often. And it comes with a five-year limited warranty against fading or staining.
Installation is pretty straightforward. The toilet designed to be floor-mounted, and it comes with a wax ring. It needs a 12-inch rough-in from the wall to the outlet. And note that it's fitted for a 0.75-inch water line. An adapter for a 0.5-inch line is included in the package.
So is there anything here that's less than ideal?
Well, the soft-closing seat won't be to everyone's taste. It's made of lightweight polypropylene. While there is a compatible UF seat for those who prefer something sturdier, you'll have to buy that separately.
And the flange bolts only have one nut in each one. A second nut would make installation that little bit easier.
Overall, though, these are minor points for a well-designed loo at an economical price. And we've heard great things about Horrow's customer service too.
Pros:
Stylish toilet for either classic or contemporary bathrooms
Powerful dual flush
Quiet flush and soft-close seat for peaceful use
Cons:
The seat will be too lightweight for some
The flange bolts could do with an extra bolt.
2. Galba Small Toilet
Galba's compact toilet looks very similar to the offering from Horrow. It has the same clean lines and simple design that work equally well in modern or traditional bathrooms. As with the Horrow, it comes in a single color, white. And the trapway is concealed for style and hygiene.
There's one difference between the two toilets, though, that you'll notice almost immediately: the price. You'll have to fork out twice as much money for Galba's version as Horrow's. So what do you get for all that cash?
The dimensions are similar to the Horrow. The width and height are virtually the same. But at 24.5 inches deep, you'll have an extra half an inch of space with this one.
That might not sound like a lot – but every little counts when you're working with a tiny room. That half inch could be the difference between having your knees free or jammed against the bathroom door!
The shallow depth is achieved with a very narrow tank, so there's no compromise on the bowl size. And the seat here is more substantial than the one that comes with the Horrow. It's made of UF plastic. And if you do decide you'd prefer something different, it's designed to be easy to disconnect.
The Vortex Vormax flush will produce plenty of power. And there are dual flushing options to help save water. A full flush uses 1.6 gallons, while the light flush uses just half that.
The glazed surface is designed to be self-cleaning, and won't stain, fade or scratch.
So far, so good. But there are a couple of issues to be aware of.
We've heard of some instances where the spring mechanism for the flush has popped out. It's easy to slot back in again, but it's not ideal for what is quite an expensive toilet.
And make sure that you have at least a 12-inch rough-in, or this toilet won't fit. Some retailers will make you pay the shipping cost of returns, and this can be very expensive.
All in all, a great toilet if you're willing and able to pay the price.
Pros:
Excellent space saver with very shallow profile
Substantial UF seat
Highly efficient dual flush – great for saving water
Cons:
The spring mechanism in the flush is prone to popping out
You'll need deep pockets for this one.
3. Woodbridge T-0031/B0500 Compact Toilet
If you hate the task of reaching into grooves to clean, consider the T-0031/B0500 from Woodbridge. You'll be hard-pressed to find a compact toilet with flatter, smoother surfaces.
It comes in white only, and its minimalist aesthetic will work particularly well in contemporary design schemes. The skirted trapway gives it a sleek look, as well as taking the effort out of cleaning around the base.
There's a dual flush, operated by twin buttons on top of the tank. They're finished in chrome with a chrome surround for a high-end look.
The flushing system itself is fully glazed to keep the water moving with force. And the dual flush gives you the option of using less or more water as the situation demands.
Its depth of just under 24.5 inches makes this one of the shallowest toilets on the market. It is, though, an inch wider than the Horrow and Galba models. It's just under 28 inches tall, with a height of 15.5 inches to the loo seat.
That seat is soft-closing to avoid noisy bathroom visits. And there's a stainless steel hinge to inhibit germs. If you want to remove the seat to give a deeper clean, it's easy to do.
Both the toilet seat and water fitting come pre-installed to make your life easier. The package also includes a wax ring, floor bolts, and a hand wrench to tighten the fixings in awkward spaces.
The porcelain carries a five-year limited warranty against fading or staining. There's also a one-year warranty on the toilet seat and flushing mechanism.
This is a great toilet once it's in place. But you should be aware of issues with the installation.
The wide base means it's hard to line up the wax ring when you set the toilet in place. And a number of customers have experienced issues with the nuts and bolts supplied. If this is the toilet you choose, get it installed by an experienced plumber.
Pros:
Classy and easy-clean design
One of the shallowest loos available
Pre-installed soft-close toilet seat
Cons:
Installation is a real pain
A little wider than some other compact toilets.
4. Saniflo 023 Sani Compact Small Toilet
Do you have a small closet you've always wanted to turn into a half-bathroom? If so, Saniflo's 023 compact toilet could be the answer to your prayers.
It includes its own macerator, so it can be installed in locations where a gravity drain isn't possible. As long as you have an electrical point and a nearby water supply, this will work. Under stairs, in basements or attics, even in a garage – all are possible locations for this loo.
Installation is simple. The toilet is secured to the floor using mounting hardware supplied as part of the package.
You can even connect it to a sink, if you want to use grey water for flushing. That's a great option for cutting your water usage.
It comes with a dual flush too. Select the full flush and you'll use 1.28 gallons of water. On a light flush, that's cut to one gallon.
Waste can be discharged up to nine feet vertically, and up to 120 feet horizontally. The toilet is self-venting, so there's no need for a vent pipe.
There's no external water tank here, so it's very compact. The whole thing protrudes just 18.25 inches from the wall, and it's 14.5 inches wide.
With a toilet of this kind, there are some compromises. Its bijou size means it won't be comfortable for everyone. This isn't the kind of toilet you'll sit on reading War and Peace.
The macerator isn't as quiet as a standard flush. And the flush isn't as powerful as others. Occasionally, you may need a second flush to dispose of solid waste.
But if you're looking for a toilet that will fit in locations others won't, none of this will matter. This will do the job just fine.
Pros
Can be installed in places where a gravity drain isn't possible
Extremely compact – just 18 inches deep and 14.5 inches wide
Dual flush and can be plumbed to use grey water
Cons:
The macerator is louder than a standard flush
The flush isn't the most powerful.
5. American Standard Cadet-3 FloWise One-Piece Small Toilet
If you're looking for a compact toilet with a higher seat, consider the Cadet-3 from American Standard. This offers a 16.5-inch rim height to make it easier for anyone with mobility difficulties to use.
It's available in a choice of white, linen or bone colorways. And while it isn't the most contemporary toilet on the block, it will look fine in classic bathrooms.
The shallow tank means that this toilet offers an elongated bowl in the same space as a standard round-bowl loo. At 28.5 inches deep, though, you will need a little more room than some other compact toilets.
It's formed in a single piece, so there are no nooks and crannies to gather dirt and germs. The porcelain is glazed with an "Ever-Clean" surface, to inhibit the growth of bacteria and mold. And there's a clever tab to lift the toilet seat hygienically.
That toilet seat is designed to close softly for safety and discretion. And it's made of a heavier weight plastic than some soft-close seats out there. If you prefer a sturdier seat for your bathroom visits, this is a good option.
There's only a single flush here, but it's very efficient in its use of water. One flush will consume 1.28 gallons. And the "Power-Scrub" action will help keep the bowl clean without a second flush.
It isn't, though, the quietest flush out there. If you're looking for something to go in an en suite bathroom, you might prefer a different option.
And the flush handle is a bit old-fashioned. If you've got a classically styled bathroom, it won't look out of place. But don't choose this if you want a contemporary look.
Pros:
5-inch height seat for easier use by people with mobility difficulties
Clever tab for hygienic opening and closing of the seat
Easy-clean surface
Cons:
The flush is louder than some
The flush handle is a bit old-fashioned.
6. Renovator's Supply Small Toilet for Space Saving
If you've been searching for a toilet that will fit into a corner, your search ends here.
This traditionally-styled toilet from Renovator's Supply isn't much smaller than a standard loo. It projects 32.5 inches from the wall, is 18.5 inches wide and 31 inches tall. But the ability to pop it in a corner allows it to fit in places others won't.
There are lots of fiddly bits to the design here, with moulded details around the tank and base. They'll look attractive in the right bathroom, but you'll need to be prepared to get into the grooves when cleaning. The vitreous porcelain is, however, both scratch- and stain-proof.
There's a dual flush, making this efficient in its use of water. You'll use 1.6 gallons on a full flush, but only 0.8 gallons on a light one.
Note that it doesn't come with floor bolts or bolt covers, so you'll need to buy these separately.
The seat and seat cover are plastic, which looks less appealing with the ornate base and tank design. For a classically styled bathroom, we'd recommend replacing them with wooden versions.
And beware that if things go wrong, this isn't the easiest toilet to fix. There are a number of bespoke elements to the internal workings. You'll need a professional plumber with a good network of contacts to find replacement parts.
But if you have a 12-inch rough-in and a corner location to fill, this could be the toilet for you. It's very economically priced too.
Pros:
Full-sized toilet will fit neatly into a corner
Scratch- and stain-proof porcelain construction
Water-saving design uses only 0.8 gallons of water on a light flush
Cons:
The plastic seat and seat cover don't suit the ornate design
Replacement parts are hard to find if things go wrong.
7. Tiny Bathrooms Julius Compact Toilet, model YD44
The Julius toilet from Tiny Bathrooms is one of the smallest standard-plumbed toilets on our list. It has a depth of just 24 inches, is 14.25 inches wide, and stands 27 inches tall. If you don't want the noise of a macerator, it's about the most compact loo out there.
It's another toilet that's available only in white, and the design is simple. It's formed in a single piece with a plain base and tank and concealed trapway. There are no tight corners or intricate design features to trap dirt and germs.
It has a dual flush operated by buttons on the top of the tank. The buttons are shaped to form a chrome circle with a chrome surround for an elegant finish.
There's a slow closing seat so nocturnal bathroom visits won't disturb people sleeping. And the flush is powerful and fairly quiet.
This comes with its own ring for mounting, but it's not the easiest to use. You may prefer to buy a wax ring from a hardware store. They're not expensive and it will make installation much simpler.
As with many other toilets on our list, you'll need a 12-inch rough-in for this one. Make sure you measure before you buy, as you may have to pay the shipping cost of returns. For a toilet weighing 90 pounds, that won't be cheap.
And note too that the seat and cover are plastic. If you prefer something heavier weight, you'll have to replace them.
Pros:
Very compact design protrudes just 24 inches from the wall
No corners or grooves to trap dirt
Dual flush for water efficiency
Cons:
The mounting ring included in the package is tricky to use – buy your own instead
The plastic seat and cover won't be to everyone's taste.
Buying guide
So you've read all the reviews and you're still not sure which is the right compact toilet for you. Don't worry, we're here to help! Read on for our guide to what to look for before you make your final choice.
Think about your space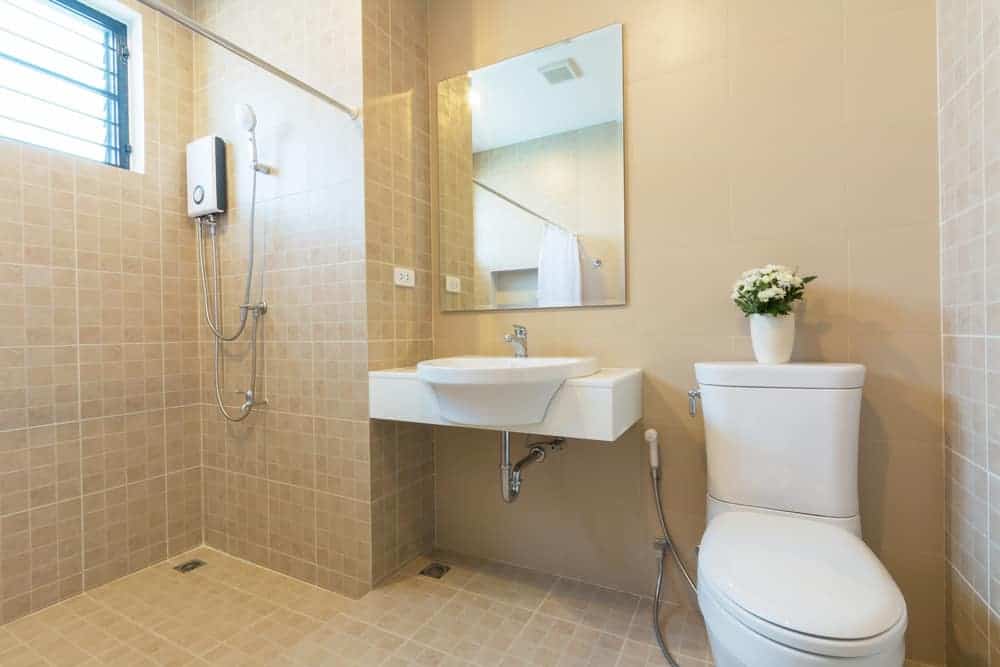 Yes, you want a compact toilet – but just how compact do you need?
Do you have a shallow room where you need to avoid knees pressing against the door whilst using the loo? Or are you fitting in a toilet alongside a bathtub, and want a narrow unit so it won't look cramped?
Compact toilets aren't a standard size. Measure your space to make sure your toilet will fit.
It's also a good idea to mark out the dimensions of your preferred toilet using tape on the floor. That will give you a better idea of how it will look when it's in place. Remember: you don't just want to squeeze it in. You want it to look good too.
And consider the possibility that your space is just awkwardly shaped, rather than particularly small. Would a corner-fitting toilet make better use of the available room?
Don't forget to measure your rough-in – that's the position of the water pipes – too. Different toilets require different lengths of rough-in, so make sure your ideal model will fit with your pipework.
And if you're trying to find a toilet for a location where a gravity drain isn't an option, don't despair. A macerating loo like the Saniflo will work fine, as long as there's an electrical feed and nearby water supply.
Be kind to the environment – and your wallet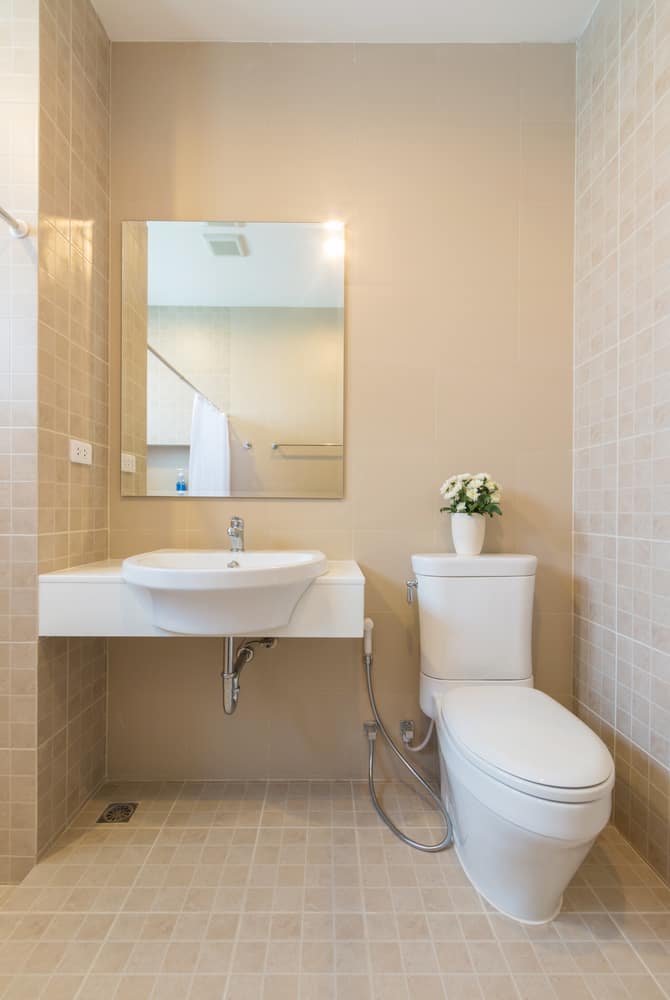 Toilets can vary a surprising degree in the amount of water they use. Choose a water-efficient loo, and you'll be saving both the environment and your water bills.
Dual flushes are particularly good. That's because they allow you to vary the amount of water depending on the circumstances. Choose the full flush to dispose of solid waste, and the light flush for liquid.
And consider plumbing your sink into your toilet so that you can use grey water for flushing. The Saniflo comes with a length of rubber hose to enable you to do just that.
Don't forget design
Toilets are one household fitting that are used everyday – so don't underestimate the importance of aesthetic appeal.
If you have a traditionally styled bathroom, look for a traditional shape. Two-piece toilets will work well. And if you have a contemporary suite, go for a single-piece toilet with an unobtrusive flush.
Many of the toilets on our list come in white only. But if you need to match your toilet to an existing suite, you may need other options. Check out the different color ways of American Standard's Cadet-3 toilet.
Time to choose!
That brings us to the end of our low-down of the best compact toilets for a small space. We hope we've given you what you need to make the best choice for you.
Our top pick is Galba's small toilet. It's pricey, but its good looks, shallow profile and water-efficient operation make it a winner.
And if you're on a budget, Horrow's offering provides many of the same features for a fraction of the price. You may just need to change the toilet seat if you prefer something more substantial.
Whichever option you choose, we hope we've demonstrated that a small space needn't prevent you getting the bathroom of your dreams.