When it comes to bathrooms, the right design scheme is all important. And choosing the right tiles will tie your whole look together.
But if you've already started searching, you'll know there are lots of options to choose from. So how do you pick the right one for your bathroom?
That's where we come in! We're going to take you through nine of the best tiles for bathroom floors. And we'll talk you through their pros and cons, from installation through to maintenance.
So if you're ready, let's get started!
The Best Tile for Bathroom Floors
1. Ceramic
One of the most popular choices for bathroom floor tiles is ceramic. The surface is fresh, bright and easy to keep clean. And once the tiles have been properly grouted in place, you'll have a completely waterproof surface.
There's a huge range of different options, from plain colors to detailed patterns. Whether you're looking for a sophisticated minimalist look, or heritage glamor, there'll be plenty to choose from.
And because ceramic tiles are pretty lightweight, they're easy to install. You won't have to worry about reinforcing your floor. And if you want to continue the look on your walls, they won't damage your drywall.
Remember to get a tile that's tough enough to be used on floors. Most products will tell you whether or not they're suitable. The Porcelain Enamel Institute grades the strength of ceramic tiles, and the higher the rating, the more durable the tile.
For floor tiles, a grading of between 1 and 5 will be fine. Wall tiles usually have a grading of 0.
Ceramic tiles can be glazed or unglazed. Choosing glazed tiles will mean they're impervious to water and won't harbor bacteria. If you choose an unglazed product, you'll need to seal them to get that protection.
One thing to be aware of, though, is that the glaze can discolor over time. That's particularly likely to be a problem if your bathroom gets strong sunshine.
And ceramic tiles can be cold underfoot, and slippery when they get wet. So add bath mats to help you keep your footing and prevent accidents.
2. Porcelain
Ceramic and porcelain are often used interchangeably, and the two tile types share many characteristics.
As with ceramic, porcelain tiles can be found in myriad different shapes, sizes and designs. And depending on their strength, they can be used on either floors or walls.
But there are some important differences between porcelain and ceramic too.
Porcelain is the more expensive of the two materials. It will absorb considerably less water than ceramic. That's because it's fired at a much higher temperature.
The difference is significant. A ceramic tile can absorb as much as 4 percent of its weight in water. With a porcelain tile, that figure is reduced to a maximum of 0.5 percent. That means there's less risk of porcelain tiles shrinking or cracking over time.
If you're lucky enough to have a bathroom adjoining an outdoor space, porcelain tiles have another advantage over ceramic. You'll be able to use them outdoors as well as indoors, creating a seamless transition.
And because the color runs right through the tile, any chips that appear over time will be hard to spot.
But there are some disadvantages, besides the higher price.
Porcelain tiles are more challenging than ceramic to install. The denser material is harder to cut, and more prone to cracking. And they can be very heavy, so make sure your floor is strong enough to take the weight.
3. Glass
Glass tiles provide a beautiful luminosity. Used on your bathroom floor they can create a wonderful three-dimensional effect. And they're a great way of making the most of the light in your room.
They're often used in mosaic designs, but are also available in a wide range of other sizes and shapes. They're usually found attached to a backing strip to make them easier to apply to the wall or floor. It's still a job best left to a professional, however.
Once they're in place, they're very easy to maintain. Glass won't absorb water, so there's no need to seal the tiles. And they won't grow mold or mildew. Cleaning them is easy too.
The main disadvantage of using glass on a bathroom floor, though, is that it can get very slippery. Don't even consider stepping on it with wet feet unless there's a duckboard or bathmat between you and the surface.
4. Terracotta
If you've ever been to a Mediterranean country, chances are you've set foot in a bathroom with terracotta tiles. The attractive red clay floors are as much a part of Mediterranean life as sunshine and olive oil!
The reason they're so popular is they're a great way of keeping rooms cool in a hot climate. And they can be used both indoors and outdoors, creating seamless transitions between home and balcony or garden.
Terracotta is a natural substance, so you won't have to worry about any chemicals affecting your home's air quality. And it's a great choice for bathrooms, as it resists bacteria and mold.
It's not the easiest material to install, however. Cutting it is challenging. And because it's porous, it will need to be sealed and resealed every couple of years.
5. Stone
Stone tiles are a great option to give your room a feel of real luxury. Because it's a natural material, every tile will be different. And stone has a timeless elegance that's hard to beat.
There's a wide range of different products to choose from. Marble is a classic choice for bathrooms. But granite, limestone, slate and sandstone look amazing too.
They're all hardwearing enough to be suitable for rooms that get a lot of traffic. And they're another material that can be used outdoors too. That makes them a good candidate if you want to extend your flooring to a balcony or patio. Keeping the material the same will create the illusion of a larger space.
Stone floor tiles will keep a room cool in hot weather. But they can get very cold when the temperature drops. The good news is that most kinds of stone can be paired with underfloor heating to good effect.
Another thing to be aware of is that stone is a very heavy material. You may need to reinforce your sub-floor in order for it to carry the weight. And if you want to use stone tiles on your walls, it's best to employ the services of a specialist installer.
Once they're in place, the tiles will need to be sealed and periodically resealed to keep them in good condition. That will prevent chips and cracks, and any staining as a result of water seeping in.
Stone is expensive but can offer great value for money. If you care for it properly, a stone floor will last a lifetime.
6. Vinyl
If you're looking for an inexpensive product that can mimic virtually any other surface, vinyl could be the answer.
Vinyl tiles are available in a range of different thicknesses. The sturdiest – and most expensive – are known as luxury vinyl tiles, or sometimes luxury viny planks. They're printed with photographic reproductions of materials like stone or wood. And some are made to look like patterned ceramic tiles.
They're very easy to cut and install, although thinner versions will require a sub-floor that's smooth and level. They're a great choice for DIY installation. You can choose between glue-down or click-lock options. And some of the former are self-adhesive, so you just press them into place.
If installed correctly, you'll have a water resistant and durable floor. Exactly how long it will last will depend on the quality of the vinyl. But there are plenty of options out there with long warranty periods for peace of mind.
One thing to bear in mind with vinyl is that it's not a very sustainable material. It's made from petrochemicals, and some kinds can emit VOCs – volatile organic compounds – that have been linked to health problems. Look for products certified by FloorScore to make sure they won't harm air quality.
And note that vinyl can't be recycled either. When you've finished with your floor, the only option will be for it to be sent to landfill.
7. Linoleum
If you like vinyl but worry about VOCs and its environmental impact, linoleum is a great alternative. As with vinyl, it's available in pretty much any finish you could imagine. And linoleum tiles are relatively easy to install, whether glued in place or clicked together.
It's made of wood fibers, natural resin, cork dust, mineral pigments and linseed oil – all natural materials. Its usually backed with canvas or jute and bonded with latex. All this means it's naturally low in VOCs.
It's also anti-microbial and will resist both water and stains. It's springy and comfortable underfoot. And because the color goes all the way through, any scratches or chips will be less noticeable.
When it's time to replace your floor, lino, unlike vinyl, will decompose completely. You could even put it into your composter.
But it's more expensive than vinyl. And the linseed oil it contains can rise to the surface and discolor over time. The effect is known as "ambering". Because it's an inherent characteristic of linoleum, it won't be covered by manufacturers' warranties.
It will also need more maintenance than vinyl. Over time, regular cleaning will take away its sheen, requiring it to be stripped and rewaxed.
8. Cork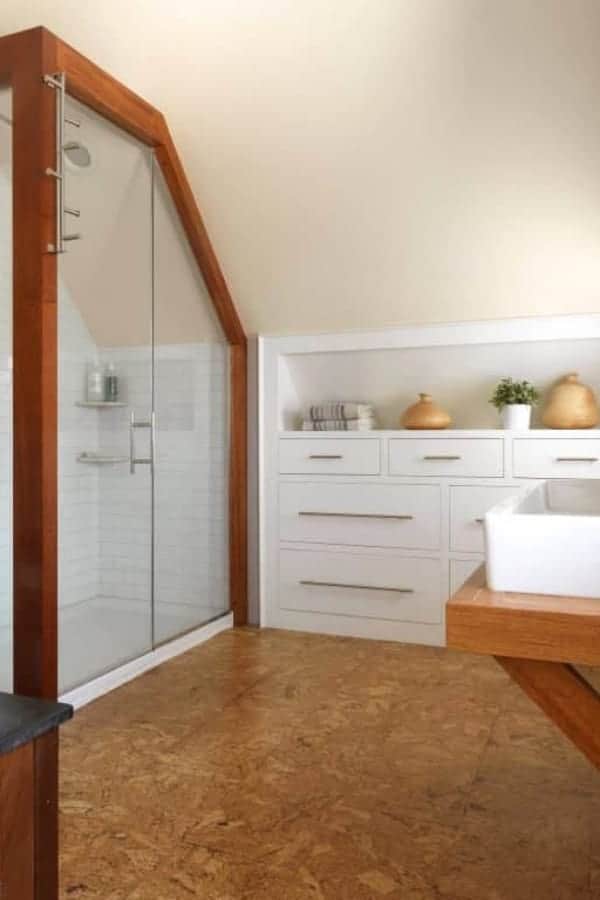 Cork is another flooring choice that's environmentally friendly. It comes from the bark of the cork oak tree, and the tree naturally replenishes it after it's harvested.
It's a good choice for anyone with asthma or other allergies, as it's hypoallergenic. It's naturally antimicrobial and resists mildew and mold. And it also repels dust mites and dander better than most other flooring options.
It's soft and comfortable underfoot too. The spongey surface eases pressure on your joints. And it's an excellent thermal insulator, meaning you won't have to worry about cold toes in the winter!
As ever, however, there are some disadvantages to be aware of too. Cork isn't maintenance-free. The soft surface can dent and sag over time. And it's sensitive to humidity – a particular drawback in bathrooms.
It isn't waterproof either. Its resistance to moisture can be improved with careful sealing. But you'll still need to wipe up spills promptly. And you'll need to reseal your floor every couple of years.
9. Cement
Cement tiles have become increasingly popular in recent years. They come in a wide variety of patterns and textures. So whatever your preferred color or design scheme, there'll be one to suit. And unlike many other kinds of tiles, they're non-slip, even when they're wet.
There are two different kinds of cement tiles – those that are pressed by hand, and those that are machine pressed.
With the hand-pressed versions, installation is likely to trickier. That's because the sizes won't be perfectly consistent. Calling in a professional with experience of working with cement tiles will be money well spent.
Machine pressed tiles, on the other hand, are an easier proposition. If you're buying your tiles from one of the larger manufacturers, they're most likely to have been hydraulically pressed.
Cement tiles have no flexibility, so your sub-floor needs to be very smooth and even. That's even more important if you're using large tiles.
They're also porous, so they'll absorb moisture. If you're using them in a bathroom, they'll need to be sealed before grouting, and sealed again afterwards.
They will also be stained if they come into contact with acid. That will be less of a problem in the bathroom than the kitchen, where spilling ketchup could spell disaster. But you'll still need to take care to avoid spilled shampoo or other products.
So to sum up …
Whatever type of tile you choose for your bathroom will have pros and cons. So decide what's most important to you. Do you need a tile to keep your room cool in hot weather? One to reflect the light? Do you want something that's maintenance free, or are you happy to do some regular upkeep?
Answer those questions and you'll be well on the way to choosing the perfect tile for your bathroom.  Good luck with your project and happy shopping!