In some parts of the world, an outdoor bathroom is the norm. Especially if you live in a beach town. Or maybe you have kids that play in the yard a lot, so you need to hose them down before they come indoors. It might even be a shower station for your pool or a space for your pets.
Whatever inspires your decision, outdoor bathrooms range from simple DIY installations to complicated pool houses and saunas. You could erect a separate building or simply mount a canopy over your hot tub! So let's explore some outdoor bathroom ideas.
1. Trim and Texture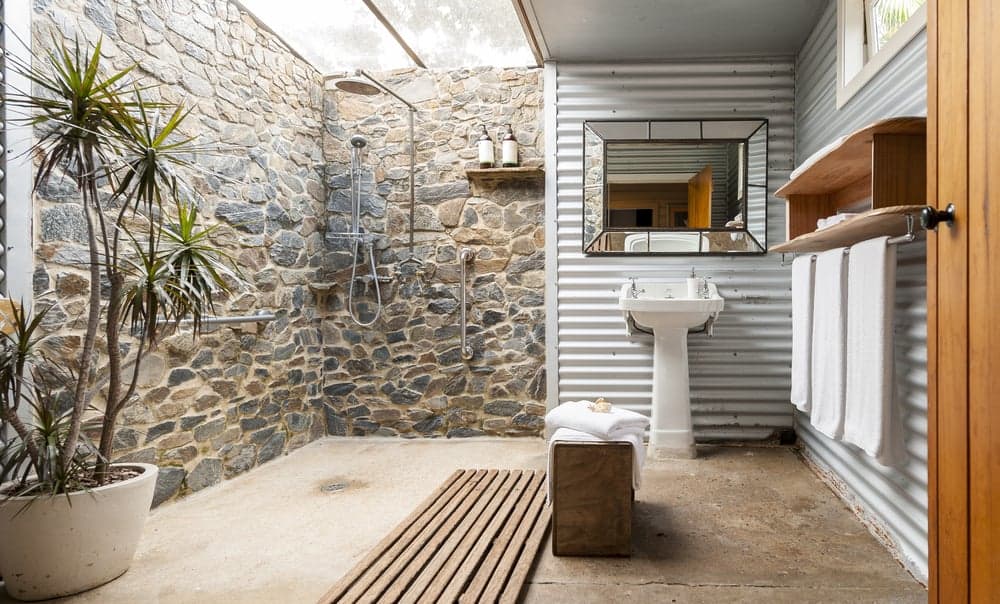 We often worry about bathroom fittings being too expensive. But you can use color and texture in clever ways to achieve amazing results. This outdoor bathroom contrasts rounded cobblestone with corrugated siding. A skylight gives the bathroom an alfresco feel without compromising your privacy or exposing you to the elements.
2. Walls of Wonder
Outdoor bathroom ideas don't always involve open air. This luxurious bathroom attains that outdoor ambiance by making one wall wholly glass. The rest of the room is painted white and sparsely furnished to maintain that airy wide-open feeling. The floating vanity and standalone bathtub also keep the bathroom bare and beautiful, keeping up the outdoorsy mood.
3. One-Tub Wonder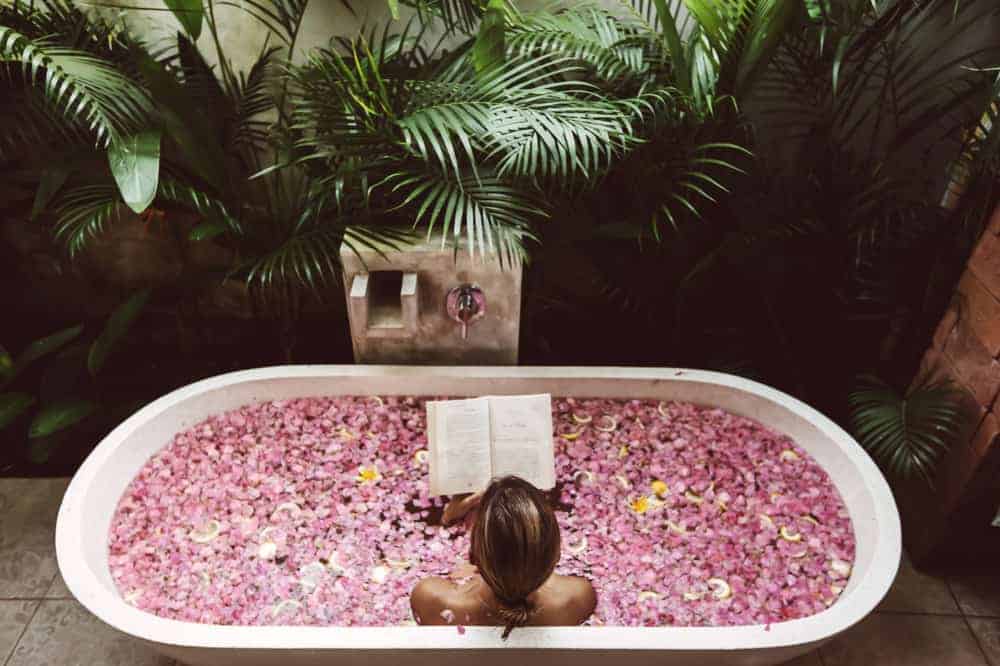 For the most basic outdoor bathroom décor, you need three things: a large freestanding bathtub, a solid floor, and bug spray. With that, you can essentially turn any veranda, patio, or yard space into a bathroom. But ensure the floor is sturdy enough to support a full tub without collapsing.
4. Salvaged Bathtub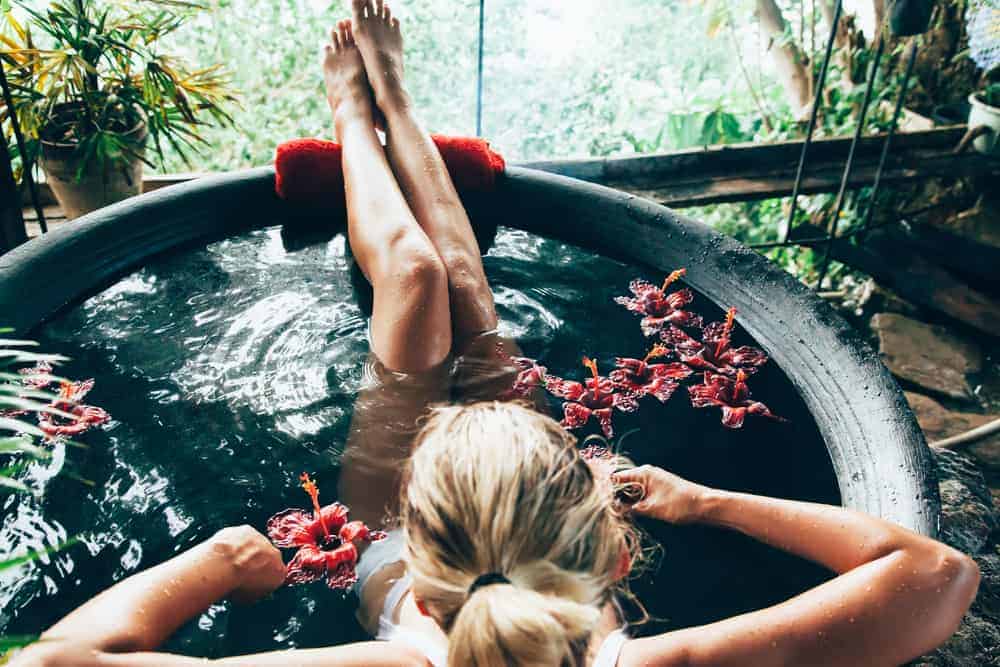 Here's another way to apply your outdoor bathroom ideas. This tub is on a balcony, wit a footrest that hangs over the balcony frame. But since the floor space is limited, use a round tub instead of an oval or rectangular one. You can repurpose a salvaged beer barrel, oil drum, or even used trailer tires. Waterproof the inner surface to help it hold your bathwater.
5. Perfect Pergola
Pergolas aren't just for plants and weddings. This simple bathroom idea is gorgeous. The bathroom is built around a freestanding bathtub. The sides are concrete walls with brick-shaped perforations. The roof is a grid of reeds that lets the light through. But it also lets the rain in so …
6. Concrete Couture
We often think ceramics are affordably luxurious while concrete is cheap and drab. But as these outdoor bathroom ideas prove, cement can be just as elegant. This bathroom uses an elliptical concrete bathtub mounted at the patio corner. A bamboo ladder serves as a towel rack.
7. Justified Jacuzzi
This tub has a concrete shell too, but its innards form a high-end hot tub. The wood beneath the Jacuzzi is wood paneling. The glass balustrade provides a windbreak without stifling your gorgeous ocean view. Concrete is good here because it can withstand sand and sea salt.
8. Reedy Railing
This bathroom has a rustic, organic feel. The trapezoid tub is natural stone with concrete finishing on its inner surface. This shape is replicated in your bath stools, which are two inverted trapezia. Bamboo reeds form the walls of your outdoor bathroom. The reeds are held in place using fiber ropes and wooden railings, creating a polished DIY look-and-feel.
9. Path to the Beach
Because this bathroom is enclosed on five sides, it has a somewhat indoorsy feel. But the sixth wall is left open, leading straight onto a sandy beach. It's a good way to employ outdoor bathroom ideas while still keeping your tub out of the rain. But beware of ocean waves!
10. Plant Wall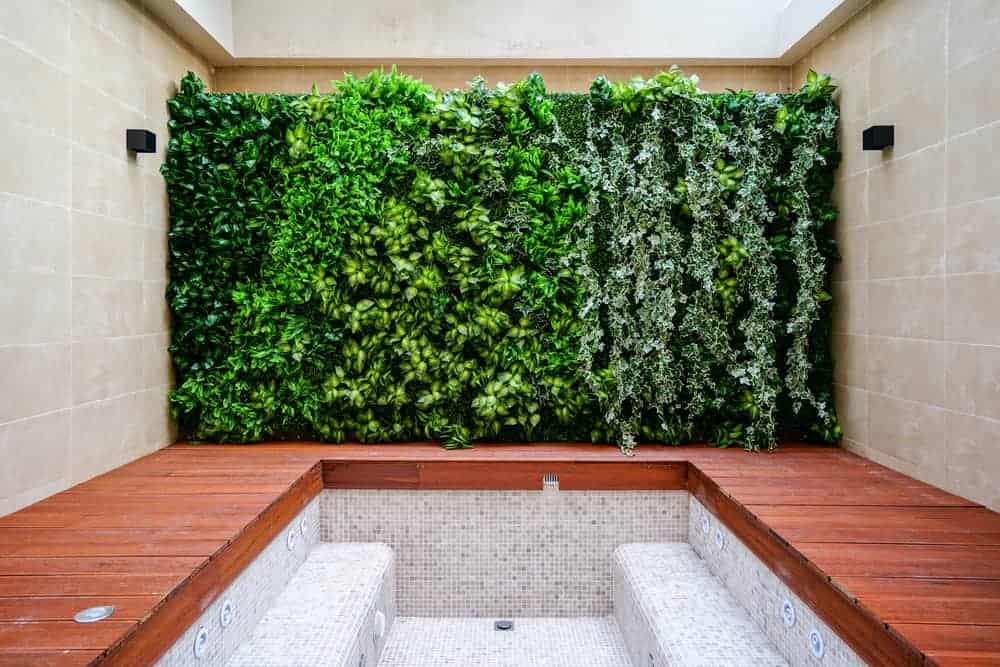 This elaborate outdoor bathroom looks more like a swimming pool! The extra-large sunken tub has stairs so you can step into the bathtub. The tub has mosaic tiles on its floor and sides, and wooden deck coping. The roof is left open, though you can install skylights if you're worried about the weather. One wall is a live hedge while the rest are tan tiles.
11. Wide Open Skies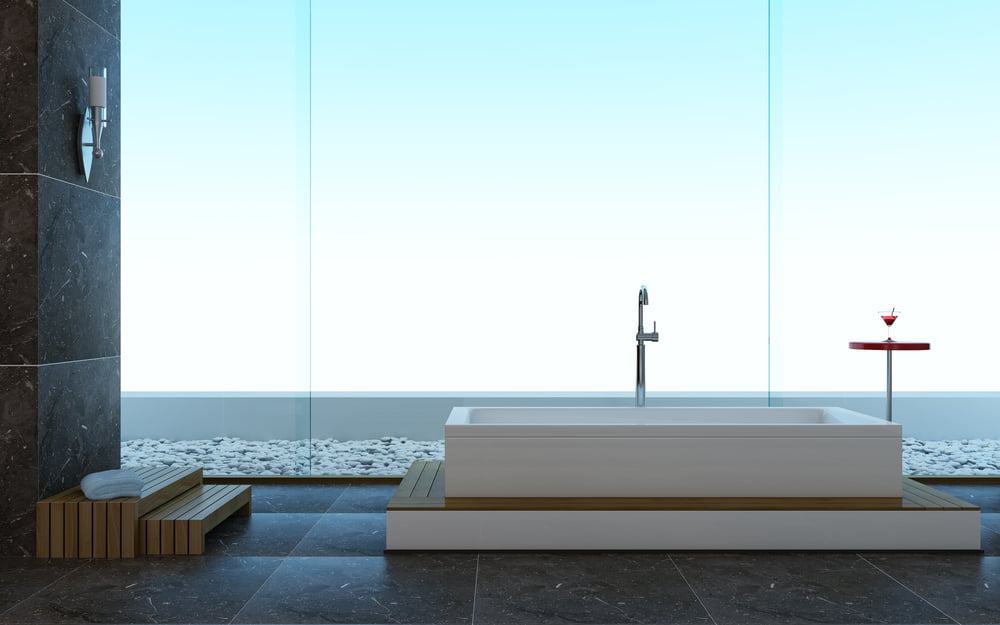 This elevated bathtub sits on a wooden platform and faces a wall of glass that makes it feel like bathing in the open air. A similar pair of wooden steps leads to the wall-mounted shower nearby. Behind the glass, rounded pebbles and a stone fence shield you from the outside.
12. Tree-house Shower
Looking for a long-term project. These outdoor bathroom ideas should keep you busy for a week or two. And they don't need much space. Put up a timber shack with adequate ventilation, corrugated roofing, rounded pebble flooring, and separate sections for the shower and bathtub.
13. Decking Safari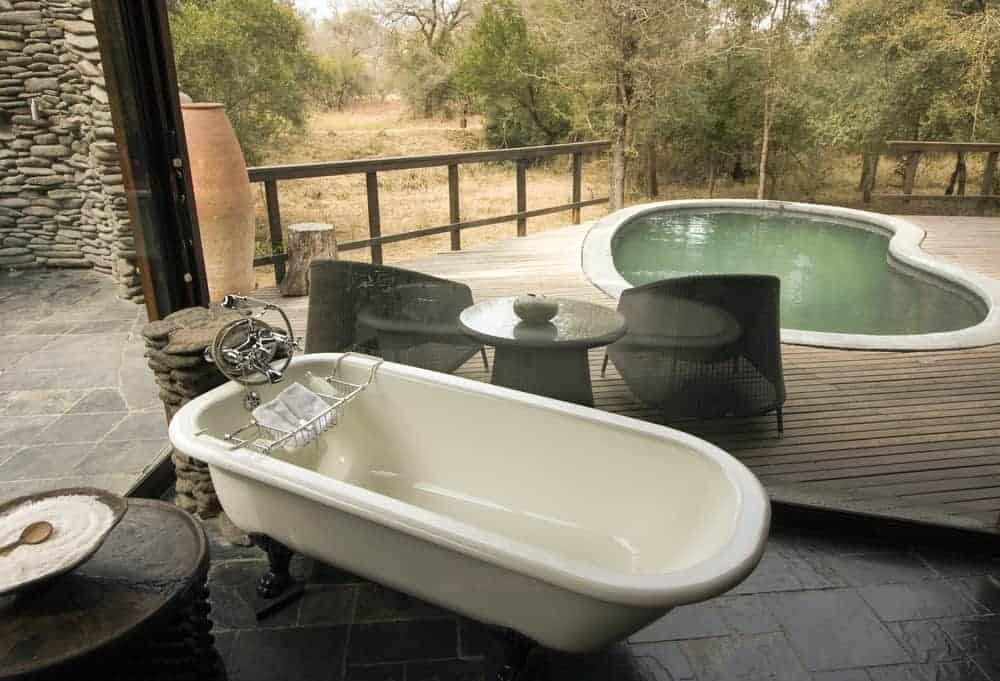 The view from your bathroom window can make it seem outdoorsy. In this case, the bathtub is adjacent to the lumber pool deck. Behind the tub, an outdoor shower cubicle has stacked stone walls and tile floors. The partitions between the pool, shower, and tub can be glass or open air.
14. Glass Doorways
This outdoor shower lies next to a pool as well. But instead of a clawfoot tub, this bathroom uses a glass shower cubicle. The piping is on the main house wall, possibly facing the indoor bathroom so they can share plumbing fixtures. The deck is painted white for better lighting.
15. Barrels for Vanities
Installing an outdoor vanity can be tricky. But clever outdoor bathroom ideas can help you solve this challenge. In this case, vintage wooden barrels are fitted with gooseneck faucets to create twin vessels. The countertop is sandstone and a fabric curtain hides any space under the sinks.
16. Odd Corners
For this outdoor bathroom, the adjoining bathroom wall provides the plumbing. But the corner is tight and awkward, so a grid wall of glass or corrugated plastic creates a boundary. A concrete surface forms the outer wall, while the small gap in between building lets your daylight in.
17. Au Naturel
This outdoor bathroom has a nude feel, pun intended. The standalone bathtub and floating vanity allow air to flow freely which maximizes that outdoor ambiance. The glass wall that leads to the rest of the house is flanked by tropical plants, adding to that modern jungle spirit.
18. Outdoor Furnishing
Outdoor bathroom ideas are tough to implement when it comes to furniture. You want your cabinets to be weather-proof but not too pricy. Here's a sneaky option. Use a distressed stool and whitewash it to prevent moisture absorption. For shower caddies and towel racks, install hanging hooks or decorative nails on your outdoor shower wall. Quick and simple!
19. Accent Wall
We make the mistake of renewing all our furnishings. But sometimes, the vintage effect works best. This concrete wall looks old and abandoned, but its mossy patches also look tropical and verdant. An accent wall matte black houses the showerhead that hangs over the luxurious bathtub. Rounded pebbles form the floor beneath the tub, comfortably supporting its weight.
20. Round and Robust
This thick, round bathtub retains heat well, so you can soak for longer periods as you enjoy the views. A decorative bamboo ladder doubles as a towel rack. The wall and floor are concrete while a balustrade of glass keeps the breeze out of your face. The greenery beyond adds extra beauty.
21. Brass Pantastic
What defines outdoor bathroom ideas? In our case, if at least one wall is uncovered, then it's technically outdoors. In this case, the space is covered, but one side is left open. The rear bathroom wall is stenciled glass with floral patterns and wooden grid munchins. The vessel sinks are brass woks. The countertop and backsplash are herringbone tiles in aquatic colors.
22. Tiny Tub
Your deck doesn't need a pool to make it luxurious. In this case, there's probably a swimming area beyond our eye-line. But for now, the thick rectangular bathtub has a smaller cavern carved into it that's just enough for one. The tub is surrounded by the leafy fronds of palm trees. Gravel paving and dark wood decking complete your outdoor bathroom décor.
23. Daring Doodies
If you prefer to do your thing outdoors but you still want modern plumbing, here's an option you can try. The commode sits on a raised stone ring above rounded pebbles. Similar stone circles map out the wall-mounted sink, mirror, and showerhead. He side hedge provides some privacy.
24. Simplest Solution
When you're looking for outdoor bathroom ideas that are certified low-fuss, this is an easy out. Buy a reed fence and use it to erect a shower enclosure. Position a rainwater showerhead in the middle of one wall, and pave the floor with rounded stones, concrete, reed mats, or any other permeable material. Ensure your floor drains well, and that the ground beneath it does too.
25. Curtains to the Sea
With outdoor bathrooms, the view is everything. In this case, the bathroom forms a sort of pier over the ocean. The bathtub sits on a floor of gray concrete slabs surrounded by timber deck panels. Curtains can expose or obscure the tub as needed, and a glass fence is optional.
26. Tile and Glass
If your home has an indoor-outdoor space, you'll be advised to turn it into an entertainment area. But you could make it a bathroom too. Plastic canopies or skylights can provide shelter from the rain without blocking your light source. French doors with drop-down shades separate you from the uncovered back yard. Now you just need a pretty bathtub and you're done.
27. Shower Station
You don't need a fully-fledged bathroom for your outdoor space. If you're comfortable just having a shower, you'll have way more outdoor bathroom ideas to play with. In this case, there's a twin shower station made of concrete, laid on rounded pebbles, and surrounded by topiary.
28. Crafty Corridors
Some spaces in your yard seem forgotten like they have no clear purpose. Why not turn them into an outdoor bathroom? Line the ground with pavers and rounded pebbles to improve your shower drainage. Then simply install a suitable showerhead and you're done. The louvers on your outdoor window shutters can be used as towel racks and caddies for your soap.
29. Green and Cozy
These outdoor bathroom ideas blend with nature quite well. The shower almost seems to be growing out of the hedge! And all the wastewater from this shower waters the surrounding greenery, so everything stays fresh and vibrant. You can only use organic shampoos though!
30. Cheeky Cheeks
If you're the type of person that lives off-grid or has a quirky sense of humor, you could draw inspiration from traditional outhouses. Nestled among palm trees and mangroves, this thatched outdoor toilet is filled with rustic charm and modern plumbing. If you like, you could widen it to include a toilet and a shower stall, making your outdoor bathroom ideas more utilitarian.
31. Vessel Variety
You can also set up a stylish outdoor bathroom using salvaged materials. The wash station here uses driftwood and salvaged planks to make a counter. You can tell its salvaged wood because the logs are waterproofed by burning, a traditional tactic. The vessel sinks are deep elliptical bowls fitted with contemporary faucets and timber trim.
32. Dark Wood Delight
Psychological, deep brown wood seems fancy and sophisticated while concrete is seen as cheap and Spartan. But this bathroom combines them to luxurious effect. The high vaulted ceilings and exposed beams use dark wood and timber panels for added elegance. The bathtub and vessel sink are concrete. The mirrors and open walls maintain the outdoor theme.
33. Banal Bamboo
We assume outdoor showers are just for beach villas and luxurious back-yard pool-houses. But if you do a lot of farm work, you may need outdoor bathroom ideas. They'll help you wash off the mud and sweat before you drag that dirt indoors. This simple version is a roofless shack made of bamboo reeds. A rainwater showerhead rises above the walls while a reed floor allows drainage.