Since I adore cooking outside during the summer, I always look for new and cheap outdoor kitchen ideas. If you share the same passion and have extra space in your yard, you can take a look at the list I have made for you.
Moreover, you can combine your outdoor kitchen with a seating area, bar, grill, and even storage for stuff you have no place to keep in the house. If you have a covered space in the yard where the kitchen can stay during the winter without damage, you can install kitchen sink and induction cooktop, as well. Let's consider your options.
Cheap Outdoor Kitchen Layout & Design Ideas
1. Rooftop outdoor kitchen
It is one of the best outdoor kitchen ideas ever, especially if you live in a high skyscraper in the big city. You can find many highly popular restaurants organized on the roof, but there are no many people who have a privilege to have their own kitchen in such a perfect place. Be one of them, take advantage of your creativity, and build your culinary kingdom as soon as possible.
2. Outdoor kitchen with a dining space
Cooking outside is a pure pleasure when you do that near a pool. However, you should consider organizing an adequate dining space next to your beautiful outdoor kitchen, whether you have a swimming pool in the yard or not.
Besides ordinary kitchen stuff, you will need a lovely dining table with the appropriate number of chairs. Dinner is served, my dear guests! You are welcome!
3. Outdoor kitchen with a bar
Having an outdoor kitchen is an excellent idea, but adding a bar there is something extraordinary! That way, you will optimize this space for entertaining.
You should purchase contemporary high bar stools and decorative tiles. Then install an island with a sink, shiny kitchen faucet, and a hidden place for cocktail preparation beyond. After arranging the site, everything you need to do is to call your friends, and the party can begin!
4. Outdoor kitchen with a fire pit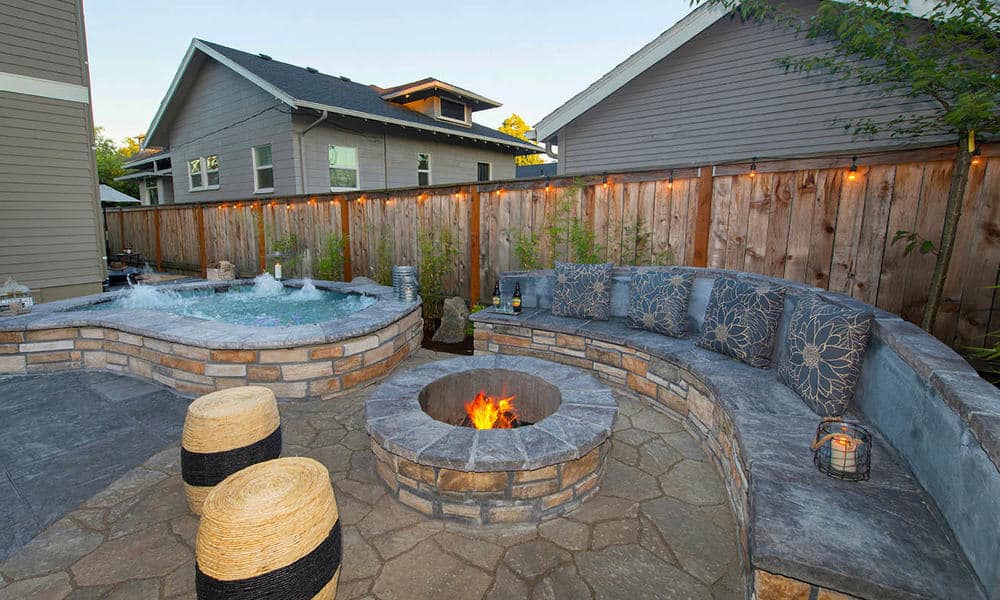 If you have the privilege of having a yard around your house, you should organize an adorable outdoor kitchen space there. Make a fire pit in the middle and place a dining table with a specified number of chairs nearby.
With additional kitchen appliances, you will get an ideal place for your family and friends gathering on weekends. You can also separate the kitchen and the part around the fire. Add there a garden set or make a stone bench, and arrange an ideal resting place.
5. Greek blue outdoor kitchen in your yard
If you have traveled to Greece at least once, you will never be able to forget it. Therefore, you can do your best to bring a piece of spirit from your favorite Greek island into your yard.
Start with a blue kitchen island, a few plastic chairs, and lovely open shelves for all the kitchen utensils you need. With a bunch of flowers and greenery around, your pleasure will be complete.
6. Italian countryside open kitchen
If you are a romantic and have always dreamed about visited Italy, you can take a small step in this direction by organizing your open kitchen in Italian style first. Install a pizza oven, grill, kitchen sink, and fridge. That way, you will have everything prepared for family dinners and gatherings with your friends. Well done!
7. Outdoor stone kitchen
Depending on the region you live in, your budget, and space available, you should consider investing in a permanent outdoor oasis with all necessary appliances. Besides kitchen island with a kitchen sink, induction cooktop, and built-in oven, you can add a dining table, elegant chairs, and grill, as well.
The real pearl of this place will be a floor made of hard stone and granite countertop. If it is possible, install an attractive pizza oven and include a lot of LED solar lights among fragrant flowers for a romantic vibe.
8. Brick porch outdoor kitchen
Why wouldn't you take advantage of a spacy porch? Pave it with bricks and organize a rustic kitchen there with a wooden dining table and long benches with metal legs.
By adding a stainless-steel cooker and grill, you will get an attractive combination of rustic kitchen and ultra-modern appliances. Don't forget to install an elegant range hood above them, if possible. WOW!
9. DIY wood and stone outdoor kitchen
By using natural elements, you can create a fantastic outdoor kitchen without much money. You will need pieces of stone or old bricks for making a floor, as well as wooden boards and crates for a table, countertop, and cabinets.
After adding a grill and kitchen sink, you will get an excellently equipped space for preparing and eating your family meals. If you have a lot of space around, you can add some lighting and organize parties with friends and birthday celebrations for your kids.
10. Outdoor kitchen with a fireplace
If you are blessed with a big yard, you can make a spacy covered patio with a summer kitchen, imposing fireplace, grill, and all other necessary appliances for pure pleasure.
Cover the place with limestone, include convenient kitchen storage behind the counter, and add a cozy backyard seating set. Enjoy the luxury and elegance in the best way possible.
11. Outdoor kitchen and living room
Once you create your outdoor kitchen, you may decide to use the remaining space for organizing the living room next to it. There is nothing better than preparing and eating a meal outdoors and spending summer nights sitting in an armchair with unobstructed views of the flower garden.
Make pergola and add all necessary kitchen appliances, fireplace, and comfortable furniture for your new space to relax and enjoy. Who says we need a lot to be happy?
12. Move the whole kitchen into the yard
If you are a lucky one and live in the part of the country with long summers, you have an opportunity to organize an outdoor kitchen in the long run.
Use stained oak to make the ceiling and a kitchen island with an elegant marble countertop. Add a grill and build-in oven to transform the part of your yard into a cooking place from your dreams.
13. Patio as an outdoor kitchenette
Take advantage of your beautiful patio and transform it into a charming kitchenette you can use throughout the summer. Organize a concrete counter, convenient cabinets, a sink with a kitchen faucet, refrigerator, and unavoidable built-in grill.
If the summers in your area are long and without rainy days, you can include a TV, convenient backsplash, and extra shelving into the inventory of your beloved kitchen.
14. Nautical style outdoor kitchen
If you live near the sea, you don't need to work hard to organize an ideal place for your outdoor kitchen. The sea will finish the most thing by its existence.
Everything you need is to open a window and transform your windowsill into a countertop made of marble or wood. With a few chairs and palm trees in pots, you will get a fantastic place for cooking and making parties all summer long.
15. Outdoor kitchen with an inspiring counter
If there is no opportunity to organize the real outdoor kitchen, you can always improvise. Use your extra-wide window and extend the counter made of marble or wood from your regular kitchen.
Place a dining table and a few chairs in open space, and serve dinner through the counter. What a lovely and practical idea!
16. DIY pallet sink and food prep space
Use wooden pallets to make a counter and an old kitchen sink for washing dishes when needed. Basically, it is a non-complicated, rustic food prep station you can make by yourself. Use this lovely, casual area to store larger pots and pans.
However, you can also make a few small shelves of pallets for keeping cups, glasses, as well as spices and herbs. By adding a gas cooker, you will get a complete outdoor kitchen, which will offer you a lot of pleasure during the summer.
17. Rustic outdoor kitchen and living room
There is an excellent and inexpensive way to organize your own outdoor kitchen. Pick out four wooden beams to make a canopy, a vintage cupboard for keeping cookware, several wooden bar stools, and rattan garden chairs with a small coffee table.
After building a stone kitchen island with a sink, induction cooktop, and built-in oven, you will get an excellent living space and a functional cooking area. Thanks to a solid roof and extensive patio, you can use this space even during the rainy days.
18. Small outdoor space for food prep
Even though you have just a small place next to the house, you can use it wisely and transform it into a lovely mini-kitchen for preparing delicious meals. With a few cleverly used boards, a little skill, and a lot of creativity, you can organize a stylish minimalist outdoor kitchen.
It can include everything you need, such as open shelving, a grill, and even a glass water dispenser. With a few plants around, you will get a pleasant and practical place for your family gathering.
19. Outdoor serving cart
Who said that you can't have an outdoor kitchen if there is no yard around your home? The secret is in improvising! Use a lovely serving cart, fill it with your favorite drinks and delicious food, and organize an outside dinner for your family. You can also use this system in the evening when your friends come to s party.
20. Patio storage cabinets
If you have a small kitchen in the house without enough storage space, you can organize convenient patio cabinets outdoor. You can keep there all the stuff you need from time to time or seasonally.
Plus, take advantage of the wooden countertop or cement board covering the boxes, and transform this mini storage into a temporary outdoor kitchen. During autumn and winter, use this space to keep your flowers safe.
21. Outdoor kitchen with pergola
An open pergola can't save your open kitchen from rain, but it can provide a romantic vibe you will love. If you are skillful and have proper tools, you should use light wood beams to make pergola.
In combination with a dark countertop and kitchen appliances made of stainless steel, you will make a well-balanced and luxurious place for preparing your family meals.
22. Outdoor kitchen with crate shelving
With a few crating and a lot of imagination, you can transform the corner of your porch into a lovely outdoor food prep station. You will need wooden board cabinets and several crates to create shelves for storing. After adding a kitchen sink and grill, you will get a lovely garden DIY kitchen.
23. Fully equipped outdoor kitchen
If you are a creative and skillful person willing to spend a lot of time working, this is an excellent option for you. With a built-in grill, stainless-steel kitchen sink, and even garbage disposal, you will get a fully-equipped place for preparing food under the sky.
Use stone or bricks for flooring and wood for cabinets and wall shelves. Make the feeling complete with a wooden dining table and long benches for sitting. Cover them with handmade blankets and decorate space with fragrant blooming. Yes, you are a lucky man!
24. Outdoor kitchen with a pool bar
If there is a perfect outdoor kitchen in the world, it is definitely this one. Perhaps you are the lucky one who can organize a food prep space I have dreamed of all my life. Basically, you need just enough space and the pool.
After meeting these basic requirements, you need to create a kitchen made of stone with a granite countertop. Then, add a wooden bar with a red parasol, beach chairs, and small tables to hold glasses with colorful cocktails on them. You can start cooking while I dream of swimming in your pool.
Summary
In the end, I can tell you one thing. If you have a yard, you should consider yourself a privileged person. Use all the advantages this place can offer, make a kitchen there, and try to enjoy the fresh air and open space as long as you can.
It doesn't matter if you can organize an exclusive kitchen next to the pool or just a humble shabby chic area. It is crucial to make it the best way possible and provide an excellent opportunity for you and your family to have a wonderful time throughout the summer.