Often, the mirrors we find installed in bathrooms can be plain and boring, and you might imagine that upgrading to something more appealing would cost a lot of money. However, making a DIY frame to liven up a mirror can be a simple and inexpensive solution.
For anyone who wants to have a go, we've had a look at what other people have been trying – and as a result, here are our 27 favorite DIY bathroom mirror plans you might like to copy at home.
1. How to Frame a Bathroom Mirror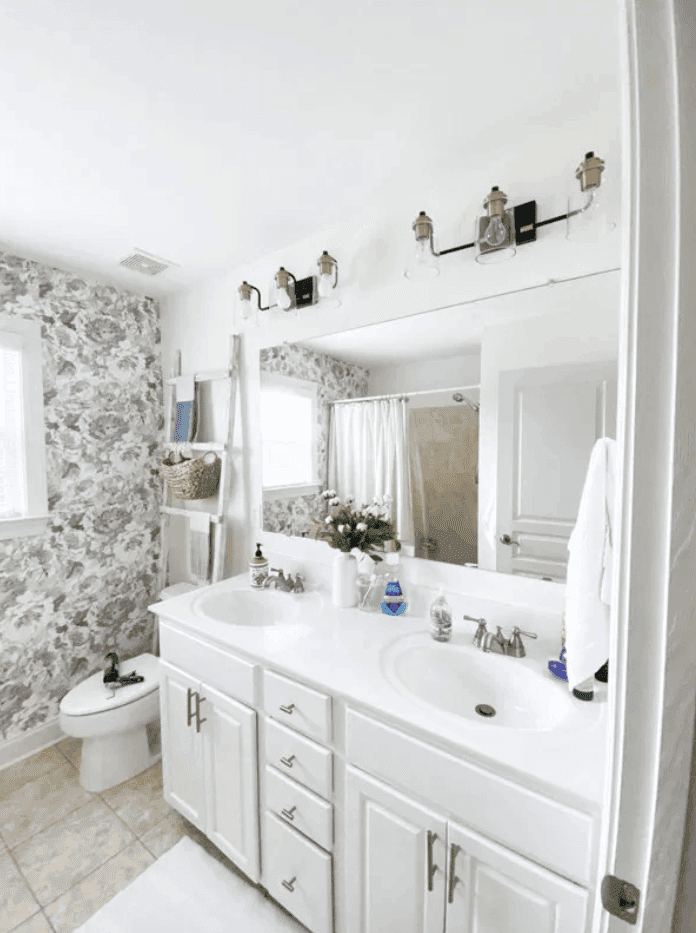 If you're looking for inexpensive ideas for bathroom makeovers, this blog would be a great place to start. In it, this DIYer shows us how she made a simple wood frame for her bathroom mirror, changing the whole complexion of the space. It's a smart idea, and easy to copy too – so if you like how it looks, you shouldn't have any problems doing something similar.
2. How to Easily Make A Custom Mirror Frame
In this YouTube video, this DIYer shows us his design for an industrial farmhouse mirror frame. We love the clear and logical progression of his tutorial, which starts by giving us a list of tools and supplies before going on to demonstrate how it's done. This makes it extremely easy to follow, so this would be a great video for DIY novices to learn from – as well as more experienced ones too.
3. DIY Bathroom Mirror Frame for Under $10
One of the great things about DIY is, when you know your stuff, it can cost next to nothing to give a room a fresh new look. This blog post is a great example of that since these DIYers make themselves a stylish new frame for their mirror for under $10. We love the way it looks, and we're sure lots of people will agree – check it out to see what we mean!
4. Renter-Friendly DIY Bathroom Mirror Frame
If you live in a rented property and are looking for ways to personalize your living space without forfeiting your deposit, this is a video that should be of interest. In it, this YouTuber shows how she made a DIY frame for her mirror that's simple to take down when you move out. You can easily adapt her plan to your own tastes, making your rented house or apartment feel more like a home.
5. How to Make a DIY Frame for a Bathroom Mirror
As this blogger explains, builder-grade mirrors aren't always the most inspiring items, but it's easy enough to upgrade one to something that looks far more attractive – and it doesn't even have to take longer than a couple of hours. Curious to see how it works? Then check out this post for more info!
6. How to Frame A Bathroom Mirror in Three Minutes
If you're pushed for time but are fed up with your plain and boring bathroom mirror, this is a plan for you – because in it, this YouTuber shows us how to make a DIY frame in just three minutes! Think it's not possible? Then check out his video to see how he did it!
7. DIY: How to Frame A Builder-Grade Bathroom Mirror
Here's a detailed plan for building a new frame for your mirror that will cost you very little to replicate. It includes a list of all the supplies you'll need along with easy-to-follow instructions for how to do it, so anyone who likes the look they create will easily be able to do something similar themselves.
8. How to Add a Frame to your Bathroom Mirror – Easy DIY
If you want a new frame for your mirror, one option is to buy a so-called peel-and-stick version. However, as this YouTuber points out, they can be expensive – and a great money-saving alternative is simply to make one yourself. It's an easy project too, so if you're looking for a fun little DIY job to tackle, this plan could be just what you need.
9. DIY Stick-On Mirror Frame
In this blog post, this DIYer explains that if you don't have the cash for a full bathroom renovation, you can give the space a whole new look simply by making your own stick-on mirror frame. As you can see from the photos, the frame she creates makes a big difference, giving the bathroom a whole new character for very little money.
10. Bathroom Mirror Makeover DIY
The introduction to this YouTube video promises to show you how to make an awesome DIY mirror frame that will make your bathroom design pop! She's right because her creation looks fantastic, and we love her enthusiasm too, all of which helps make this a fun and interesting video to watch.
11. How to Add a DIY Wood Frame to a Bathroom Mirror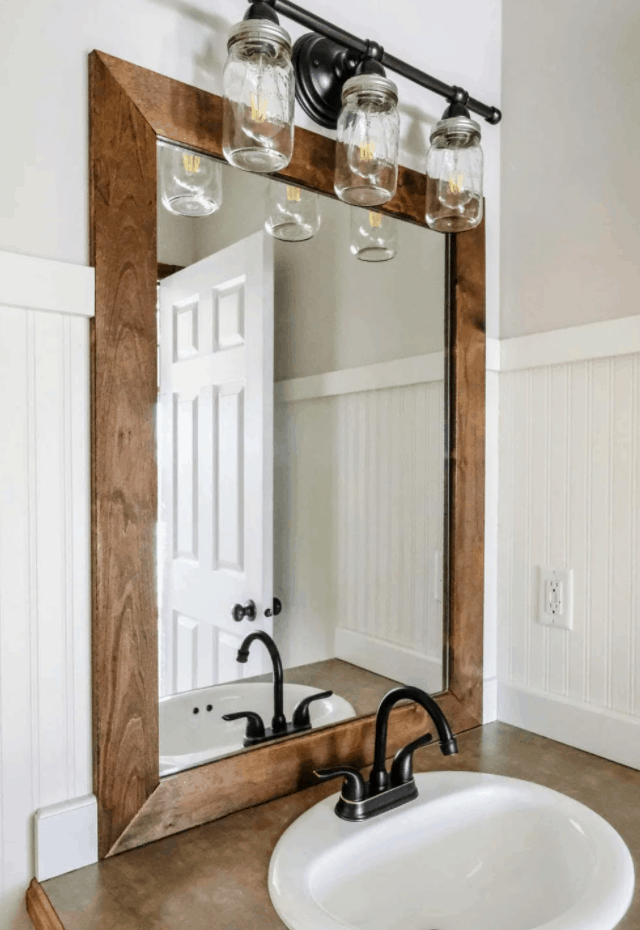 As part of a complete bathroom makeover, this blogger decided to make a DIY rustic wood bathroom mirror frame. The project took a weekend to complete, and the result looks highly professional – so if you like this style and have a couple of days to spare, why not see if you can make something similar yourself?
12. DIY Experts Share How-to Frame a "Builder Grade" Mirror
We think it's always a great idea to watch the pros at work because amateur DIY enthusiasts can always learn so much from what they do. If that's a sentiment you agree with and are looking to pick up a few tips and tricks from the experts, check out this video to watch how they add a stunning wood frame to this boring builder-grade mirror and completely transform the room in the process.
13. How to Frame Out that Builder Basic Bathroom Mirror (for $20 or less!)
We love DIY plans that show us how to make new stuff for very little money, so this was a blog post we enjoyed a lot. In it, you'll learn how this blogger made a new frame for an unattractive mirror, and the whole thing cost no more than around $20. Sound like something you'd be interested in? Then check out the post to see how it was done!
14. DIY Bathroom Mirror Frame Using Kitchen Tiles
Here's a great idea for giving your bathroom mirror a new look using some inexpensive kitchen tiles. This YouTuber saw something like this on Instagram and decided to have a go at doing it herself. And since it's such a simple idea, if you appreciate the style, you can easily do something just like it in your bathroom.
15. DIY Framed Bathroom Mirror
Some people do DIY to save money and others do it just because they enjoy it – but sometimes, if you can't find the perfect item for your home, the best solution can be to make something yourself instead. That's what happened here – this blogger couldn't find the right mirror frame for her bathroom, so she just made one herself. We're impressed by the design too, and the result looks amazing! Check it out to see if you agree.
16. DIY Stick-on Mirror Frames
If you have a plain old mirror and you want to "jazz it up" – in the words of this YouTuber – a DIY stick-on mirror frame could be just the solution you're looking for. It's a super-simple project that will hardly cost you anything but that will give your bathroom a whole new look. And if that sounds like something you might like to try, give this video a watch to see how to do it!
17. Easiest Way to Frame a Mirror
Here's another simple plan that will allow you to get the most out of your mirror by giving it a new frame – and you can do it in an hour without spending more than $20. As the blogger writes, the project was more complicated in her mind than in reality – so if you need ideas for a quick and easy bathroom upgrade, this is a post that's worth a read.
18. How to Upgrade a Bathroom Mirror DIY
If you're looking for ideas and inspiration to upgrade a plain mirror, this YouTuber has several suggestions that might be of interest. All of them are simple and inexpensive options, but all of them will leave your mirror looking far more attractive than a basic unframed version – and if any of her designs appeal to you, the video contains all the info you need to copy it.
19. DIY Framed Bathroom Mirrors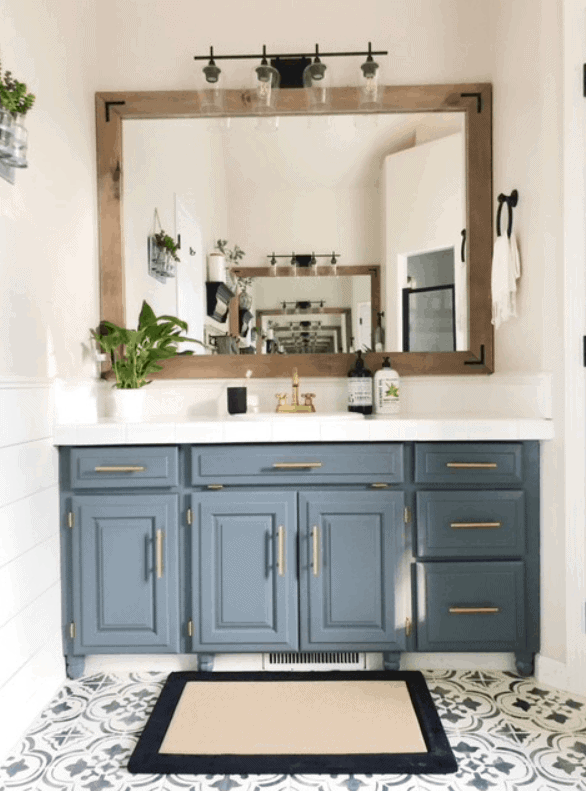 As part of a complete bathroom makeover, these bloggers wanted to upgrade their basic builder-grade mirrors to something a bit more exciting – and the idea was to do it for as little as possible. They did a great job too, coming up with a rustic mirror frame design that cost next to nothing. Want to see how it went? Then head over to their site to find out!
20. Easy and Affordable Bathroom Mirror Upgrade
At the start of this video, this YouTuber explains that her project is to upgrade her boring mirror and transform it into something more inspiring using a simple stick-and-peel frame. This is a great option for those with minimal DIY skills or those who don't have the time for anything more complicated – and if that includes you, it's a video you should enjoy.
21. How to Make a Custom DIY Bathroom Mirror Frame
Here's another plan that, in the words of this blogger, "allows you to make an awesome looking mirror but at the same time, not spending too much money". We love this classic rustic style, and we think it looks like it cost much more than he really spent on it. So for anyone who wants a stunning mirror frame that won't cost more than around $15, this plan is well worth a look.
22. Rustic Floor Mirror DIY – Easy Project
If you enjoy DIY but don't have much time to invest in your hobby, this video tutorial could be just what you're looking for. In it, this YouTuber shows us how to build a farmhouse-style mirror frame using just some cheap lumber and basic tools. Since you can finish the whole job in a weekend, it's the ideal project for those with limited time, and the finished job looks amazing.
23. How to Frame a Bathroom Mirror
In the introduction to this post, the blogger writes how a classy frame can make a mirror look far more expensive than it really was – and once she completed her attempt, she surprised even herself with how professional it looked. And if you like the classic style of what she did, it's easy to follow her plan to make one of your own.
24. Rustic Mirror Frame
The mirror frame this blogger shows us how to make is a highly versatile creation, so you could use it with a floor mirror or, as in the video, for a plain bathroom mirror. It only cost around $20 to make too, so it's a plan that won't cost lots to recreate at home.
25. Frame A Bathroom Mirror in Under Two Hours
This is another great plan for those who don't have a whole lot of time – because it teaches you how to frame a mirror in under two hours. You'll only need basic DIY tools to copy it, and we love the rustic style when it's finished. Want to know more? Then give it a read to see how they did it!
26. How to Make Your Boring Builder Grade Bathroom Mirror Look High-End
This video tutorial is short and to the point – in under three minutes, this YouTuber gives you a plan that will allow you to upgrade your bathroom in under two hours, transforming your builder-grade mirror into something elegant and stylish. With DIY, there's no need to spend a fortune to achieve a high-end look, and this video is the proof!
27. How to DIY Frame Bathroom Mirror
Sometimes, bathrooms can end up being neglected – but they always see plenty of traffic, so it's important to do what you can to make them look beautiful. In this blog entry, you'll learn about a simple and affordable way to frame your mirror, which will instantly transform the room into a cozier and more inviting place.
Plenty of great plans to inspire you
It's always great fun searching online for DIY plans because the creativity on display never fails to inspire us. We hope you've enjoyed reading and watching these plans too – and above all, we hope we've helped you find the ideas you need to get started on your next DIY project.