If you like a classic, rustic look and are in need of a storage and organization solution for your bathroom, you've almost certainly thought about using Mason jars – but if you've seen the prices for new store-bought versions, you may well have decided against it.
However, if you want to save yourself a whole lot of cash, there is another option: DIY. And for those who want to try, here are 25 plans for DIY Mason jar sets you can easily recreate at home.
1. Mason Jar Bathroom Storage and Accessories
There are several concerns you'll have to overcome if you want to make a set of Mason jars for the bathroom – for example, since craft paint is water-soluble, it's unlikely to last long in the hot and humid environment of a bathroom. However, there are solutions to problems like this, and to save you the time of finding them all yourself, this blogger tells you about them in her post.
2. DIY Mason Jar Bathroom Set Video Tutorial
This is a short and simple YouTube tutorial that shows you how to make an attractive Mason jar bathroom set using inexpensive supplies you can pick up from the Dollar Tree or somewhere similar. As she says in her video, buying something like this would usually cost you around $40, but since it's such an easy job, why not DIY it instead for under $10?
3. DIY Mason Jar Bathroom Set
If you're big on organization and you love the farmhouse style, Mason jars are the perfect solution to help keep your bathroom in order – and this blogger gives you all the information you need to make a set of your own. We love the rustic style of the set she makes – and we're sure lots of other people will too. So if you're one of them, why not see if you can produce something similar?
4. Mason Jar Bathroom Set & How to Make Chicken Wire
If you don't like the white color of the jars in the tutorial above, this video could be of more interest since the jars this YouTuber shows us are painted a classy black – although, of course, you can make yours any color you choose. This video also shows us how to make chicken wire for Mason jars – which is way more practical than buying it in quantities far larger than you'll ever need!
5. Mason Jar Bathroom Set
Another popular color for Mason jars, especially ones destined for the bathroom is turquoise – since, as this blogger tells us, you can't really go wrong with this color. We have to say that, after seeing the photos of her work, we'd tend to agree. So why not head over to her site and see if you're of the same opinion?
6. Mason Jar Bathroom Organizer
The Mason jar organizers we get to see in this video are among the most sophisticated and attractive we've seen. The key is the understated style and the way they're employed – they're not painted, and they're not trying to look fancy, they're just attached to a beautiful piece of stained wood and allowed to be themselves. This is a super-simple plan to replicate, and we're sure that plenty of people will adore this kind of look. Great ideas and a video we enjoyed watching a lot!
7. DIY Painted Mason Jar Bathroom Organizer
As this blogger writes, you can change the look of a room or freshen it up with nothing more than a pop of paint. For that, you have two main options – either you can paint the room itself or the fittings, or you can paint the accessories that go in there. For the latter option, Mason jars are an ideal choice, since you can paint them any color you choose to complement or alter the style of your bathroom. And when you want to change, you just pain them again. It's a simple way to keep things interesting, and this blog teaches you everything you need to know.
8. DIY Mason Jar Bathroom Set with Bradley Crafts
One of the great things about Mason jars is that they are so easy to customize, so you can make a set that most closely matches your sense of style, allowing you to get as creative as you please. You'll need to know a few important tips and tricks before you start though, so in this video, these two YouTubers teach you how to decorate your Mason jars to make sure everything goes according to plan.
9. Mason Jar for A DIY Tissue Holder
Although Mason jars have traditionally been used for storing food, they are incredibly versatile items that are suitable for a whole range of other uses – and that's part of what makes them so perfect for bathroom organization. In this blog, we learn how to turn a Mason jar into a cute tissue dispenser that looks far better than just having an ugly cardboard box on display. There are also instructions for making holders for other items from Mason jars, so when you've finished, you'll have a whole set!
10. Crafting 101 Tutorial #1 – Mason Jar Bathroom set
This is a simple and well-made video that will take you through how to make a set of gorgeous Mason jars for your bathroom. It starts by showing you everything you'll need before going on to demonstrating the process. It's all accompanied by a lively soundtrack, making it a pleasure to watch. And having a go at doing something similar at home should also be a lot of fun too!
11. DIY Mason Jar Bathroom Set – Make Your Own
Here's an original idea for decorating Mason jars for the bathroom – this blogger has wrapped hers in burlap. It's such an ingenious concept since once you have the supplies, putting everything together will take only a few minutes. They look super-cute though, and if you want something similar for your bathroom, this is an easy design to copy.
12. DIY Mason Jar Bathroom Organizer with Momslife 1011
The design in this YouTube tutorial is similar to the one in #6, but since that was one of our favorites, we decided to include this one too to give you another chance to see how it's done. Like in the other video, it's an easy plan to follow, and the jars look great as well as providing useful extra storage and organization in the bathroom. Give the video a watch to see what you think!
13. Farmhouse Mason Jar Bathroom Set
Since making Mason jar sets for bathrooms is a simple and popular project, there's no shortage of plans online. However, for the best results, you'll need a few pointers to help you avoid some of the most common mistakes. That's what this blog post gives you, allowing you to make a success of it first time. And this blogger's Mason jars are sure to give you some ideas too!
14. DIY Dollar Tree Mason Jar Soap Pump 2 Ways
In this video, you'll learn two ways of making Mason jars for your bathroom. Starting with a list of all the supplies you'll need before going on to explain all the steps in details, this tutorial is methodical, logical and easy to follow. We love the way this YouTuber explains everything so clearly, and we think her jars look great at the end – so why not see if you can replicate her design at home?
15. Mason Jar Bathroom Set from Food and DIY
In this post, we get to see how this crafty blogger made a set of simple Mason jars for her bathroom in just a couple of easy steps. The supplies you'll need to recreate this design cost next to nothing, and when they're done, you'll be able to show them off to any friends who come to visit. To top it all off, we love the final photo at the end. Great job!
16. DIY Mason Jars for Restroom – Elegant Look
Mason jars are such a great idea for bathroom décor and organization, and one of the reasons is that you can make your own set using nothing more than supplies picked up from the Dollar Tree. That means you can add an attractive decorative element to your bathroom for cheap – and this video tutorial shows you how.
17. DIY Mason Jar Bathroom Set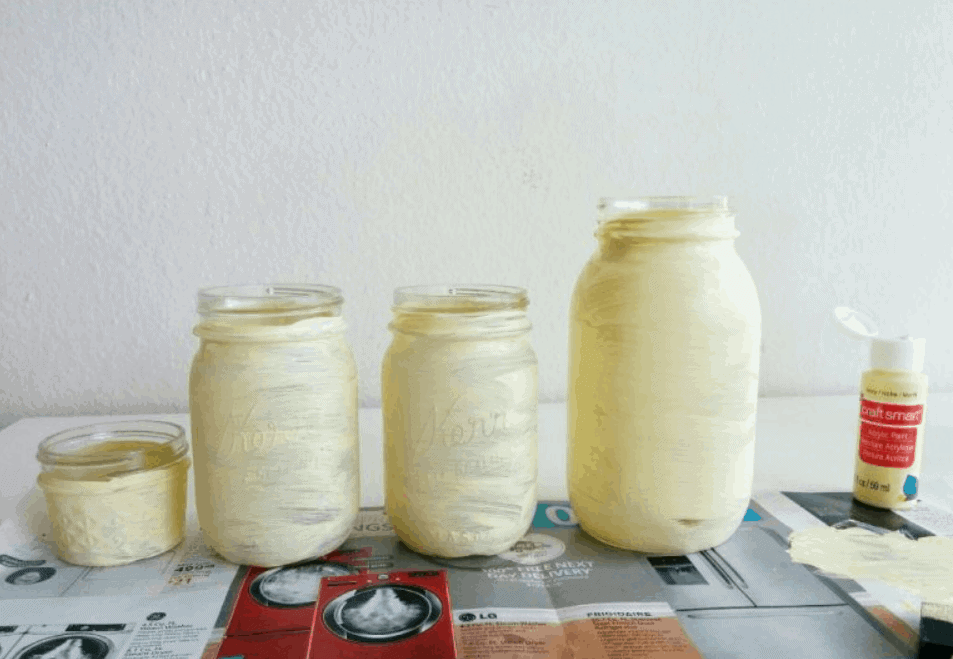 The word this blogger uses to sum up the set of Mason jars she shows us how to make is "quaint", and we think that captures the style perfectly. She goes on to write that they can add a hint of charm to otherwise plain surroundings – and best of all, doing it this way is so much cheaper than buying them ready-made. A great idea that we're sure lots of people will want to copy.
18. Mason Jar Bathroom Set with Emily Anthony
Mason jars are so versatile – add a pump and they become soap dispensers, attach chicken wire and you have somewhere to store your toothbrushes, make a hole in the lid and you've got a tissue dispenser. These are just a few basic ideas – so check out the video to learn about these and more!
19. Mason Jar Bathroom Decor DIY
The set of five painted a delicate shade of cream that you'll find at the top of this post encapsulates in a single image the full range of what you can do with Mason jars. They look so cute – and the blogger then goes on to tell you everything you need to know to make a set of your own.
20. DIY Mason Jar Dispenser
Mason jars are easy to decorate, but if you've seen them being used as soap dispensers, you might be wondering how to make one of those yourself. This is among the most challenging versions to make – although it's far from difficult – and this informative YouTube tutorial shows you how to do it.
21. How to Create a Mason Jar Organizer
The blogger who wrote this post starts by admitting to an obsession with Mason jars – something she attributes to their ability to transport her to a simpler, more stress-free world. Her design is suitably uncomplicated too, and one those who yearn for the innocent life of bygone times will fall in love with.
22. How to Make a DIY Mason Jar Organizer for Bathroom
We've seen a few plans for Mason jars clipped onto a board and then mounted on the wall, and it's a classy, understated design we love. This one differs slightly in the use of black clips rather than plain metal, making it a video that's worth a watch if you're interested in seeing some different possibilities.
23. DIY Mason Jar Bathroom Storage
Mason jars have become incredibly popular in recent years, but buying them ready-made can cost a fortune. However, as this blogger writes, jars from the grocery store cost just a couple of dollars, so by doing it yourself, you will save yourself a whole lot of cash. Sound interesting? Then check out her blog for ideas and a tutorial.
24. Dollar Tree DIY Farmhouse Bathroom Décor
Here's another plan for Mason jars that relies heavily on Dollar Tree products. That means it's an inexpensive idea that will allow you to create adorable jars to help organize your bathroom without burning a hole in your pocket. The YouTuber also included some printables for you, making it even easier to copy her ideas if you like the style.
25. DIY Mason Jar Organizer for the Bathroom with a Cricut Machine
In this tutorial, you'll learn how to make a bathroom organizer by attaching a set of Mason jars to a wood plaque with pipe clamps. It also shows you how to decorate the plaque using a Cricut machine, allowing you to customize the design however you like.
Loads of great ideas to inspire you
As you can see, when it comes to Mason jars, there are loads of great ideas and designs that should give you plenty to think about.
We hope you've enjoyed reading and watching these plans as much as we have collecting them for you – and above all, we hope we've helped you find the inspiration you needed to get started on your own DIY Mason jar project.