Bubbles make everyone happy – from cute kids to stressed parents to playful grandparents. Even pets love them. And in the bath, they can transform a simple cleaning ritual into a soothing spa experience. Bubble bath is often a thick, fragrant liquid soap with strong foam.
So while you can buy a fancy bottle from the store, you can also concoct DIY bubble bath ideas at home. And you can probably do it with ingredients that are already lying around the house. So let's look at some simple recipes you can try as you bring some bub into your tub.
1. Aroma Hut DIY Bubble Bath
Rebecca's recipe for DIY bubble bath is soothing, luxurious, and fully organic. For her soap base, she uses shampoo and castile soap. For silky skin and that pampered feeling, she adds fractionated coconut oil and glycerine. She has also mixed in four essential oils: lime, Ylang Ylang, rose, and white/pink grapefruit. For the Castile, use a liquid version or grate a bar.
2. Healthline DIY Bubble Bath
When your DIY bubble bath recipe comes from a popular medical website, you know you're on the right track. These recipes get medical reviews before publishing so there's research and proven bona fides. The recipe here includes soap, glycerine or coconut oil, and distilled water. Remember, water and oil stay separate so shake the bottle vigorously before each use.
3. Two-Ingredient DIY Bubble Bath
There's a lot you can use to enrich a DIY bubble bath. You could add honey, moisturizing carrier oils (like sweet almond, jojoba, or vitamin E), Epsom, aloe vera, egg white, flower petals, or even coconut milk (in addition to coconut oil). But the essentials – as we see here – are castile soap and glycerine. Stick with these two if you're in a rush and don't want to fuss.
4. Lazy Lavender DIY Bubble Bath
Lavender is a soothing herb with pretty purple flowers. It's a relaxant, so it makes a great additive for bathing before bed. You can add lavender petals to the bath or slip some in a muslin bag and suspend that in the bubble bath jar so it can infuse the oil. The bag goes in the bathtub too. Other ingredients include unscented dish soap, glycerine, and lavender oil.
5. Mithila's DIY Bubble Bath
When you slip dish soap into your DIY bubble bath recipe, make sure it's unscented. Why? Because product fragrances sometimes include alcohol. And since it's dish soap, the scent that de-greases dishes may be too harsh for your sensitive areas. Mithila's recipe is messy but safe and mild though, with bath-safe soap coloring and natural, alcohol-free fragrant oil.
6. Baby-Friendly Bubble Bath
Yes, tweens and toddlers love their frothy tubs. But those store-bought squeeze-bottles often have sodium lauryl sulfate, and this could hurt their eyes and skin. So try a child-friendly DIY bubble bath like this one. It uses a mild liquid body soap, vanilla extract, glycerine, food coloring in a shade your kids love, and chamomile (or any blend of 'pillow' essential oils).
7. Fresh Cutky DIY Bubble Bath
Making your DIY bubble bath doesn't have to be expensive. Use dollar store supplies and just get essential oils to make it feel premium. This recipe uses a cheap liquid soap base. It's not an organic recipe, so she adds SLSA powder (Sodium Lauryl Sulfoacetate) for extra foaming power. The recipe also has coconut oil, glitter, and polysorbate 80 for quick tub clean-up.
8. Creamy Honey Bubble Bath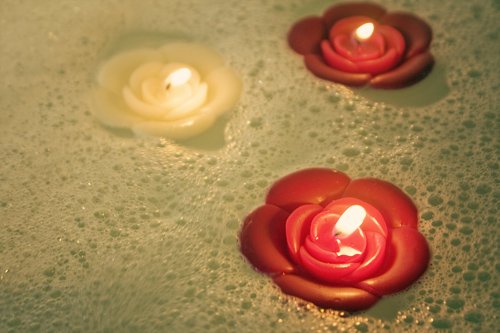 You might be wondering … won't this stick to your skin? It might … but said skin will feel so soothed and pampered. And you can always rinse off! The recipe uses sweet almond oil, liquid castile soap, and just a touch of honey (1/8 of a cup compared to the ¼ cup of sweet almond or the ½ cup of Castile). Round off the recipe with essential oils and vanilla extract.
9. Sir Markadoo's DIY Bubble Bath
If your guy is feeling shy about using bubble bath, show him this macho recipe. It'll stop him secretly raiding your favorite flavor when you're not looking (and sulkily denying it!). Plus making it himself gets him to feel all manly because he brewed it with his own hands.  He has a power tool and everything! The recipe uses Soul Sweet fragrance + liquid suspension soap.
10. DIY Bubble Bath Soaking Salts
For the most part, bubble baths are thick gel-like liquids. But you could try a different format if you want a hybrid. This DIY bubble bath idea merges bath salts with bubble bath. Mix your favorite body wash into Epsom salt and olive oil. To flavor your gorgeous granulated gems, split a chamomile teabag and a peppermint teabag, mixing them thoroughly into the salts.
11. Beverly Hills DIY Bubble Bath
You know who makes a mean DIY bubble bath? Skin doctors and plastic surgeons. As medically trained beauticians, they know what ingredients offer the best care without causing damage or over-drying your skin. This recipe has distilled water, glycerine (you can swap this for coconut oil if you prefer), liquid castile soap, and your preferred essential oil.
12. Unicorn DIY Bubble Bath Bars
We peeked at a salty version of DIY bubble bath … now let's try something solid and colorful. These bubble soap bars are great for kids. Mix some liquid bubble bath with corn starch and soap coloring in your microwave. Work it into a dough and shape it into bite-size pieces with a unicorn cookie cutter. Cut them small enough to dissolve in a single session.
13. ModaMob DIY Bubble Bath
How dense do you like your bubble bath? If you like it thinner, you could add distilled water, but if you want it thick and viscous, just use soap and fragrant oil. This recipe is on the lighter side, so it has liquid castile soap (though any bath-friendly liquid soap is fine), water, essential oils, and liquid coconut oil. You can melt the coconut oil first if it's in solid form.
14. Extra Soothing DIY Bubble Bath
Most people emphasize the foam when they're making DIY bubble bath. But the oil is more important because it keeps the heat and soap from stripping your skin dry. And this recipe is extra soothing because it uses coconut oil or glycerine. You'll see it described as vegetable glycerine, but most variants are veggie-based because nobody uses animal glycerine anymore!
15. Story Time DIY Bubble Bath
Here's the first DIY bubble bath recipe that uses a solid soap base. It uses a grated sodium coco sulfate as the primary surfactant. Secondary surfactants include coco betaine. Make your mix in a well-ventilated area (ideally outdoors) and wear a mask since these chemicals can irritate. Mix the surfactants separately then add water and the oils to 'cook'.
16. DIY Natural Bubble Bath
We're jumping from a synthetic chemical concoction to an all-natural one. So you can pick whichever DIY bubble bath recipe aligns with your lifestyle. This is one of the more basic variants – it just has glycerine, liquid castile soap, and essential oils. Incidentally, glycerine is often made from soy or coconut, so if you swap it for coconut, liquid coconut oil is easier.
17. Sulfate-free Bubble Bath
Sulfates are effective cleaning agents. But they're harsh on your skin and draw out a lot of your body's natural sebum. So if you're sensitive about sulfates, try this DIY bubble bath. Keep in mind the recipe has a lot of chemical elements, so it's not organic. It just doesn't have sulfates. But it has coco betaine, poly suga mulse, DLS, AOS 40, germall, and crothix.
18. Real Simple DIY Bubble Bath
You'd be surprised how many pantry items make it into your DIY bubble bath. Think of it this way – a bubble bath is a minimalist home spa. So if a pantry item can go on your face mask or hair conditioner, it's probably safe. This recipe incorporates egg white, honey or sugar, vanilla, liquid hand/body soap, and a light oil like canola, sunflower, or almond.
19. Healthy DIY Bubble Bath
Want to get your DIY bubble bath tutorial from a robot? This recipe is pretty good, but the audio is auto-generated from AI software so it sounds stilted. You can mute it if that bothers you. The video has a dozen variants you can experiment with. Otherwise, mix lavender and eucalyptus essential oils with Castile and glycerine. Or try the one with baby oil and honey.
20. Savvy Home Minty DIY Bubble Bath
Adding mint to your DIY bubble will give your skin an extra tingle. And the scent is so soothing. This is a chemically formulated recipe though, so buy the right synthetics! You want decyl glucoside, coco betaine, and lactic or citric acid to correct the pH. Other ingredients are glycerine, xantham thickener, and essential oils (peppermint + Ylang Ylang).
21. Merry Messy DIY Bubble Bath
Let's swing back to the organics. The four-ingredient categories are essential oils, water, glycerine, and castile soap. In this recipe, the oils used are frankincense, cedarwood, and lavender, which is a heady mix. These are all-natural ingredients, so you don't need a preservative. But if you'd like the voluminous foam, add Salsuds, a natural surfactant.
22. DIY Bubble Bath for Sensitive Skin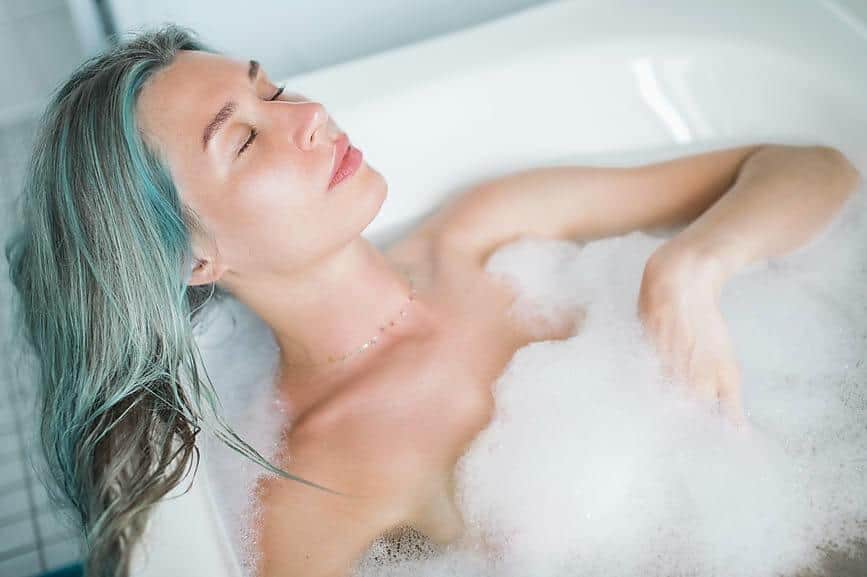 Honey and egg white are popular ingredients for a creamy DIY bubble bath. But if you do use eggs, your bubble bath will need to sit in the fridge to avoid the eggs going bad. Otherwise, it will be torture getting that 'rotten egg' smell off your skin and out of your nose! Apart from eggs, this bubble bath formula involves the usual glycerine, castile soap, and essential oils.
23. Blossoming Bubble Bath DIY
If you'd like an extremely mild DIY bubble bath, you can use baby oil as your carrier and baby wash as your soap base. But if you want a stronger scent (and aromatic advantages), blend jojoba and glycerine with scent-free dish soap or unscented hand soap. They foam far better than castile soap so they're more satisfying. Enrich the bubble bath batch with honey.
24. Aloe Vera DIY Bubble Bath
While it's tempting to add everything (and the kitchen sink!) to your DIY bubble bath, you can get just as much foam with far fewer ingredients. In general, if you want the froth levels of commercial soap and you're using Castile, you'll need an extra surfactant. But for now, try this low-foam Castile version with aloe vera juice, glycerine, and any essential oil you like.
25. Summer Rain DIY Bubble Bath
When you use surfactant needles or noodles for DIY bubble baths, it looks thick and gooey at first but clarifies as it cooks and cools. This recipe uses two synthetic liquid surfactants held together with glycerine. If your recipe uses water, you should add a preservative like germall. Add a light fragrance oil, though it could change your soap color. Citric acid adjusts the pH.
26. DIY Orange Creamsicle Bubble Bath
Even if you're not a fan of shower orange, you'll love the citrus burst of this invigorating DIY bubble bath. Apart from the standard castile soap (you can buy an orange-flavored one) and glycerine, these soapy suds are infused with sugar, orange extract, and vanilla extract. You can use orange essential oil, but it's far more intense than extract, so only use a few drops.
27. Milk + Oatmeal Bubble Bath Bags
You need baking soda, citric acid, natrasorb, tapioca, oil, sugar, cocoa butter, and a ton of other ingredients. Corn starch thickens things while SLSA adds bubbles. Use the full-fat milk, coconut milk, and oats in powder form. Add oat flakes, bentonite clay, and titanium dioxide. Pack the powder in cloth bags. You can dunk them in the bathtub for fizz and foam.
28. DIY Rose Bubble Bath
Does it feel like everybody wants a lavender-flavored bubble bath? That might be because lavender helps your sleep. But you could try other floral scents as well. Like rose essential oil blended into melted coconut oil. The base surfactant is castile soap, and you can add rose petals or pink coloring if you like. Liquid food dye or soap coloring are your best bets.
29. DIY Vegan Bubble Bath
Some say shampoo makes a bad bubble bath base. Yes, it's better than castile soap at making bubbles. But it strips your skin and can be harsh and over-dry, so add moisturizing oils to balance this out. The recipe here has unscented shampoo, jojoba, glycerine, and essential oils. She uses a no-sulfate shampoo so it's an ethical low-bubble high-fragrance formula.
30. Coconut Milk DIY Bubble Bath
Coconut is an ideal carrier oil because it's light and non-greasy. But if it's solid at room temperature, it may congeal in storage. No harm done, since it will re-melt once it hits the hot bathwater. But this recipe has a coconut flavor, not a coconut base.
31. DIY Powder Bubble Bath
Frothy soaks are psychologically soothing. The heat massages your muscles and the scents ease your mind. So when you're feeling extra antsy, try this variant formulated specifically to calm racing thoughts and fight-flight-freeze responses. It's a complex recipe with goat milk, suganate, Epsom, and baking soda. Pick essential oils that manage and mend your mood.
What's your favorite DIY bubble bath recipe? Show us how you make it in the comments!