When people decorate their bathrooms or other parts of their home, lighting is often overlooked, and then it gets added at the end, almost as an afterthought.
However, installing the right kind of lighting can change the whole complexion of your space, and light fixtures are easy to make yourself. So for anyone who wants to try, here are 27 plans for DIY bathroom light fixtures we found to help give you some ideas for how to do it.
1. DIY Industrial Bathroom Light Fixtures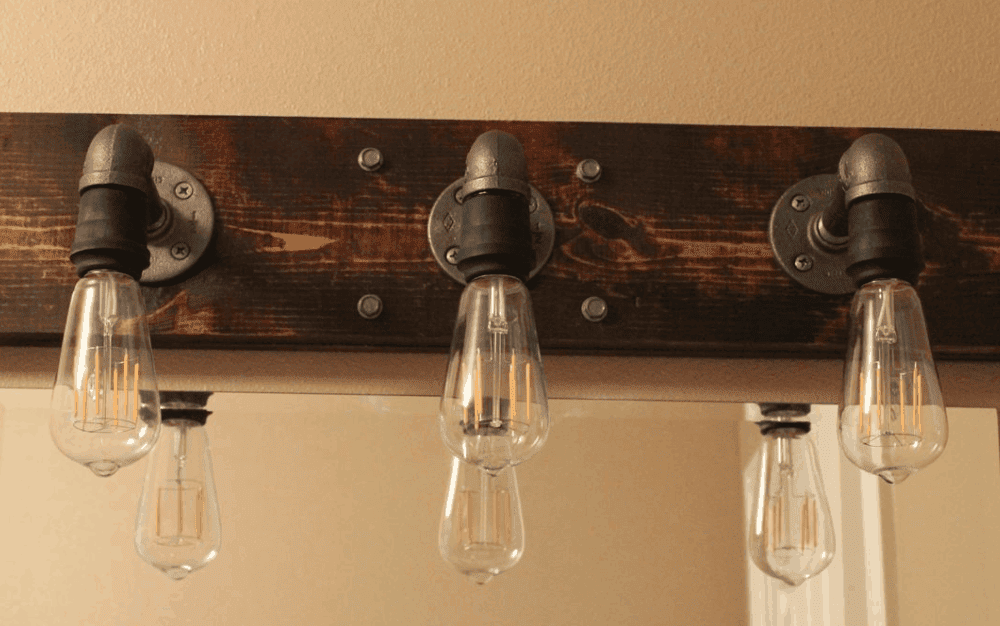 One of the simplest and most affordable ways to change the whole character of a room is to switch up the lighting, and this blog post will show you how to install a set of stylish industrial light fixtures that will give your bathroom a whole new look.
It's rated as an "intermediate" project, so it might be a bit challenging if you're a DIY newbie – but for everyone else, it could be a fun project to attempt.
2. How to Make a Bathroom Vanity Light
In this video, this YouTuber shows us how he went about replacing an old bathroom vanity light that's probably been there since the 70s or 80s when he was prepping his house for sale.
The project only cost him about $50 and was simple to complete, but it gave the bathroom a whole fresh new appearance, helping to boost the asking price when he puts the house on the market.
3. DIY Industrial Light Fixture
If you like the idea of industrial light fixtures and you're looking for a clear guide that teaches you how to make and install one, this post should be worth a look.
In it, you'll find step-by-step instructions along with a list of the supplies you'll need, allowing you to recreate something similar in your home.
4. $10 Bathroom Light Upgrade
One of the great things about DIY is that it allows you to upgrade different items in your home without spending a fortune.
If that sounds like the kind of thing that appeals, you should enjoy this video since it teaches you how to make new light fixtures for your bathroom for only $10.
We like the stylish contemporary design too, and if you want something like it, you shouldn't have any trouble making one of your own.
5. How to Build a DIY Bathroom Light Fixture from Ceiling
The hanging light fixture in this tutorial is a highly original design, and perhaps the best thing about it – apart from the striking look – is that it only cost around $40 to make.
It's an "intermediate" level job that will take about seven hours to complete, but if you're looking for a rewarding DIY challenge and want to give your bathroom a makeover, this is a project that could be an option.
6. DIY Vanity Lights
Industrial-style light fixtures are extremely fashionable at the moment, and if you see the example in these photos, you'll understand why.
We think they look stunning, but it's also not such a difficult DIY job, so if this is a look you appreciate, why not have a go at making a set yourself?
7. DIY Bathroom Lighting – How to Make Bathroom Light Cover
The tutorial in this video is among the least expensive on our list since it will only cost around $4 to replicate.
The plan is for a light cover, so perhaps it's not technically a light fixture, but if you're exploring the options for new lighting in your bathroom, it's worth checking out.
8. DIY Farmhouse Bathroom Vanity Light Fixture
"Farmhouse" is another extremely popular style right now, and this high-quality blog teaches you how to make a set of gorgeous rustic light fixtures that many people will adore.
The whole bathroom is beautiful, and the fixtures complement it perfectly, so this is a blog post that should give you plenty of ideas about how to decorate your home.
9. DIY Bathroom Vanity Lights
As this YouTuber explains in the introduction, these DIY industrial bathroom vanity lights are a budget-friendly upgrade from standard builder-grade lights, and since they're so easy to make, it's a project anyone will be able to manage.
Sound interesting? Then check out the video and see how she did it!
10. How to Make a DIY Mason Jar Bathroom Vanity Light
Here's a creative idea for a bathroom light fixture – in this post, these bloggers write about how they made a stylish new installation using Mason jars.
As they tell us, the project only cost them around $20, but the effect is super-cute, and we're sure lots of people will be keen to try making something similar themselves.
11. How to Replace a Bathroom Light Fixture DIY
This video is not so much about how to make an attractive new fixture for your bathroom as it is about the technical aspects of the job.
Working with electricity can be a little scary for some people, so you need to know how to do it properly – and this tutorial teaches you everything you need to know to do it safely.
12. DIY Bathroom Lighting Fixture Makeover
One of our favorite resources for DIY plans is the Instructables site, and it's always one of our first stops when we need inspiration.
This plan includes a list of the tools and materials you'll need for the project, a simple step-by-step guide and plenty of useful photos to show you what you need to do.
There's even a video to help, so with this plan, you can hardly go wrong.
13. Make a Rustic Wood Iron Pipe Vanity Light DIY
The rustic light fixture in this video was made from rough barn wood and some metal pipe, and the unassuming and uncomplicated look it creates will look great in any farmhouse-style bathroom.
The tutorial also includes a list of everything you'll need to copy the plan, so if you like this kind of design, what are you waiting for?
14. "New" Industrial Bathroom Lighting for our Powder Room!
We love seeing "before" and "after" photos that show how different the new version looks after the makeover, and in this blog, the two are hardly recognizable.
This bathroom light fixture makeover only cost around $30 too, so if you like this idea, it won't cost you much to replicate yourself.
15. Bathroom Lighting: Quick Fix to Update a Dated Bathroom Vanity Light
This YouTuber describes her old light fixture as "dated" – which is probably about as big an understatement as you can imagine!
In any case, it desperately needed upgrading and updating, and in the video, we get to see how she installed this chic new version without using any power tools or doing any work with the wiring.
Highly impressive and a fascinating watch!
16. Simple and Inexpensive Light Fixture Makeover Using Mason Jars
Here's another plan for creating a cute farmhouse lighting fixture using Mason jars.
In this plan, the jars she uses have a slight blue tint, which adds to the effect, and the only other major work she needed to do was to spray-paint her existing fixture to give it a new look.
Check out her post to see how it went – we think she did a great job!
17. Farmhouse Mason Jar Light Fixture DIY
If you like the idea of using Mason jars for your fixtures and are looking for more ideas and inspiration, this is another plan you should enjoy.
While this fixture wasn't designed for a bathroom, the techniques are all still relevant, so it's another video that merits a look.
18. Bathroom Light Fixture Makeover
It's always so gratifying when a DIY project turns out even better than you expected – and this blogger must be doubly happy because of the horrendous old fixture the new one replaced!
We have to say that this is one of the most impressive light fixture DIYs we've seen, and we're sure lots of people will be excited to try making something similar.
19. Make Your Own DIY Master Bathroom Light Fixture with Metal Copper Wire Cages
In this video, we get to learn about how this YouTuber made a grand light fixture for her master bathroom using simple materials. The large fixture she creates includes copper wire cages, and the whole thing is highly impressive.
At just over two minutes long, the video gets right to the point too, so it could be a good one to watch if you're pushed for time.
20. How to Install a Bathroom Light Fixture – Easy DIY!
While some people will want to get creative making light fixtures themselves, others will be more interested in learning about how to DIY-install store-bought models.
If you belong to the latter group, this video will show you how it's done, so you won't need to waste money having a pro come out and do the work for you.
21. 4 Easy Ways to Update Your Light Fixtures
If you're more at the stage where you're just looking for ideas and inspiration rather than the point where you're looking for a specific plan to follow, this blog post is worth a read.
In it, you'll find four different ways of DIYing light fixtures, which should help give you a few ideas.
22. Bathroom Design Ideas: DIY Lighting Fixture Makeover
This video is an informative tutorial that shows you how to upgrade an existing light fixture to give your bathroom a new look while also making it more energy-efficient.
We like the way she gives you plenty of information about the project and how doing something like this will help lower your bills.
And with the price of electricity nowadays, that's something almost everyone will want to know more about!
23. How to Update a Bathroom Light Fixture Using Craft Store Supplies
What's impressive about this DIY is that this blogger did everything using just supplies from the craft store.
As she explains, bare, exposed bulbs give you harsh and unwelcoming lighting, but by creating light fixtures like this, she changed the whole ambience of the room.
In her words, the results were "quite dramatic" – which is true, and we love the way it turned out!
24. DIY Rustic Bathroom Vanity light
In this video, this YouTuber shows you how she built a simple but attractive rustic bathroom vanity light fixture using a piece of wood and some piping.
This is an extremely popular style currently, and if you're looking to install something like this in your bathroom, this video teaches you how to save money by making one yourself.
25. The Easiest Way to Refresh a Light Fixture
The light fixture in the "before" pictures on this blog didn't look terrible – but the stylish new one in its classy bathroom setting looks amazing.
As the title of the post suggests, it's an extremely easy job too, so if you like the style, you won't have any trouble copying this design yourself.
26. DIY Light Fixture – Home & Family
In this video from Hallmark's YouTube channel, we learn how to turn an old bathroom light fixture into a stylish, modern one. As you would expect, it's a high-quality tutorial with all the info you need to recreate the project at home.
The design incorporates a set of Mason jars, which look gorgeous, and we're sure plenty of people will want to try making something just like it.
27. Vintage DIY Rustic Light Fixture Build
The rustic light fixture they build in this video isn't really designed for a bathroom since it's probably on the large side.
However, if you have plenty of space in your bathroom and want to install the kind of fixture that makes a bold statement, creating something like this is an option that's worth considering.
Loads of fantastic ideas to help you get inspired
As you can see, if you're looking for ideas for bathroom light fixtures, there's no shortage of tutorials to turn to online.
We've enjoyed collecting these plans for you, so we hope you've enjoyed reading and watching them too. And above all, we hope we've helped you find the inspiration you needed to get started on your next DIY project.